The no rain no flowers tattoo design has surged in popularity in recent years and personally, I don't get why. I mean it's a nice tattoo but definitely there are far much better designs.
Having said that, we can't argue with the popularity of it so writing about it here makes sense. The parts that make up this tattoo can be broken up in three parts:
The original idea behind this tattoo design is that the rain drops will act as the flower leafs and it symbolize that flowers can't grow without rain or water, life needs to flourish, it needs energy. But like a lot of things, the tattoo got many different variations from just flowers, to just text or just rain drops.
In the gallery below we give you the 34 best no rain no flowers tattoo design we could find.
No rain no flowers tattoo designs
1. On the arm, the famous tattoo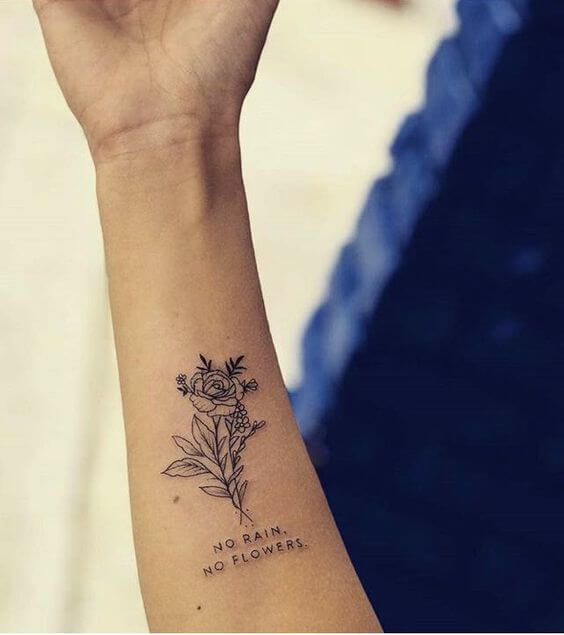 2. No rain no flowers tattoo on the back side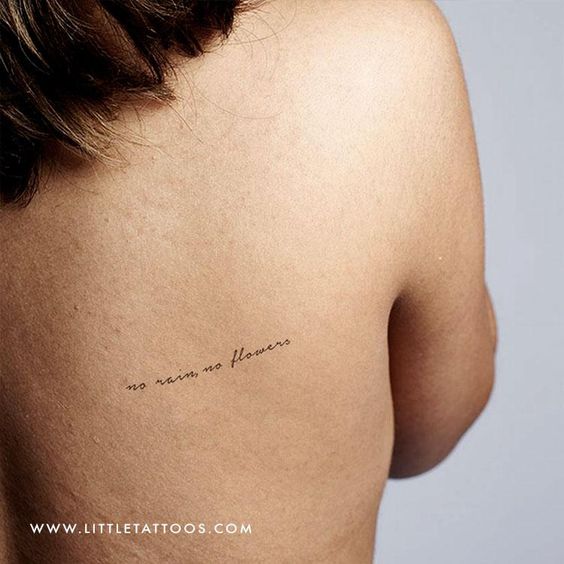 3. A unique design with a person hugging the flowers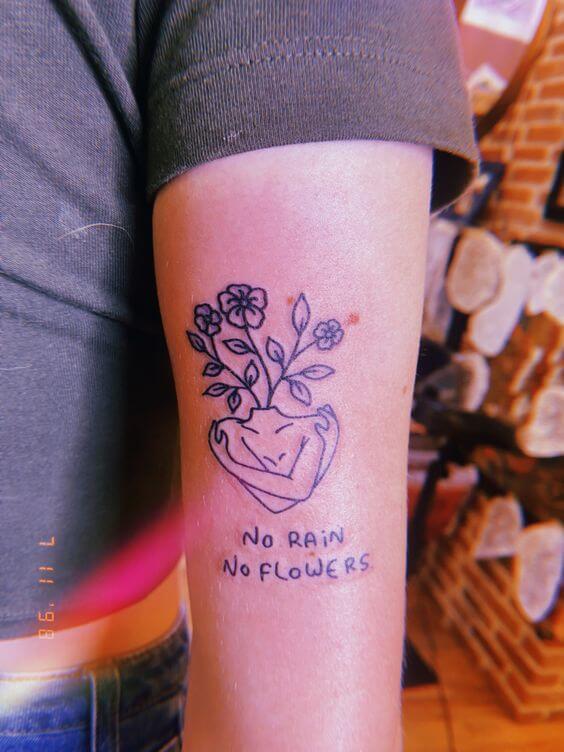 4. Shoulder side tattoo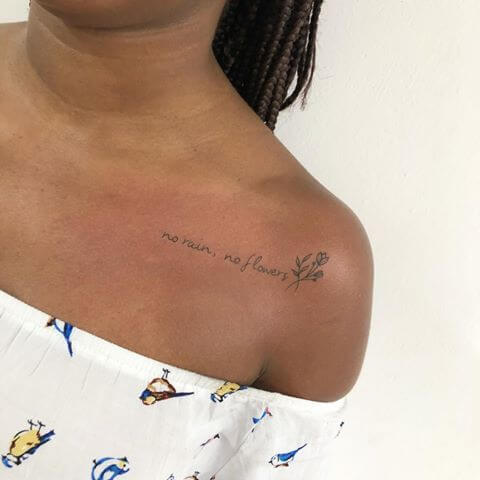 5. This looks more like a symbol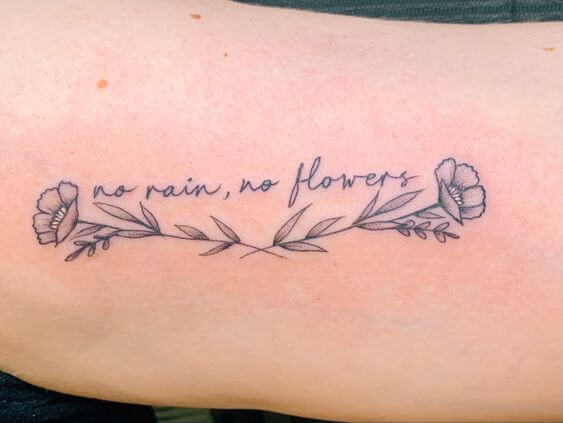 6. With a sunflower – nice
7. Ribs tattoos are always fun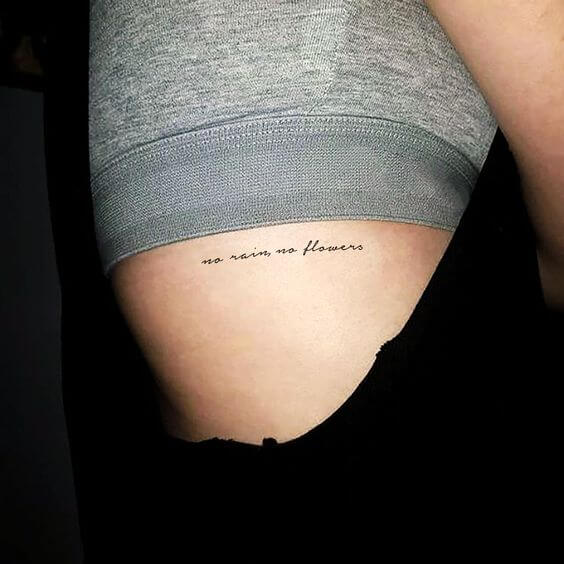 8. Nice little tattoo on the elbow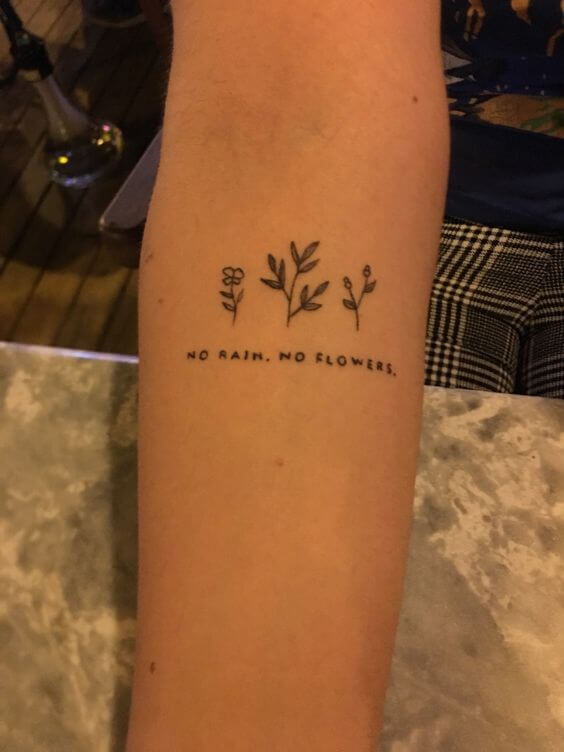 9. Without showing any flowers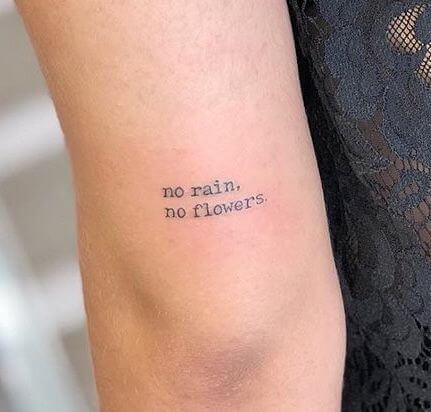 10. I love the way the spine is part of the tattoo here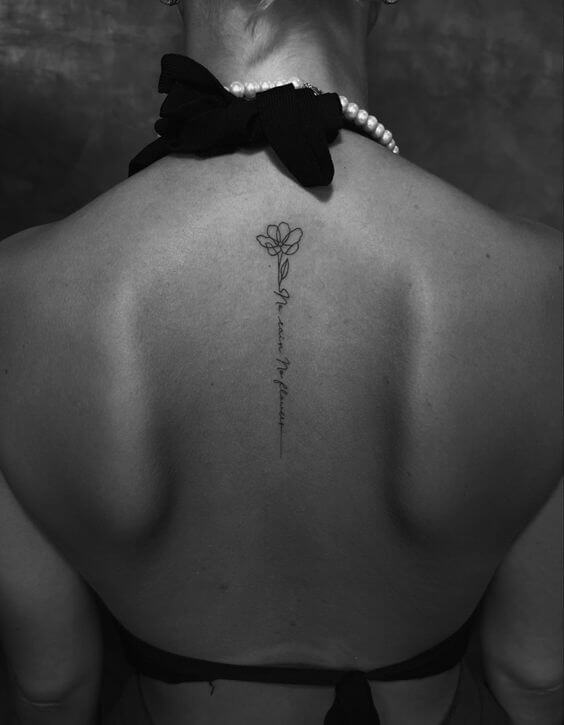 11. Template of the popular tattoo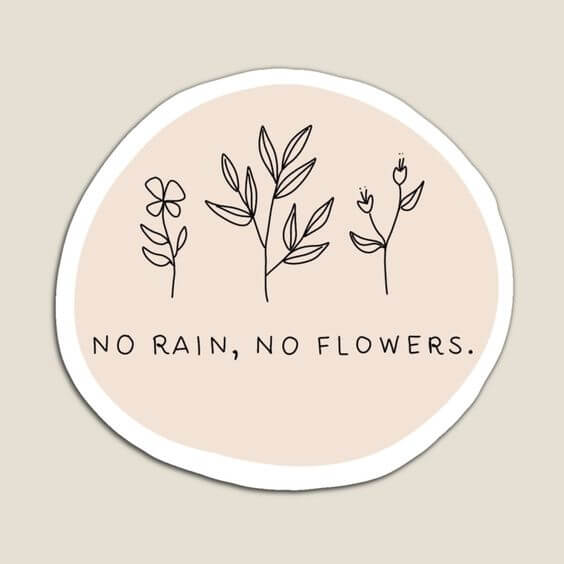 12. Drawing of the tattoo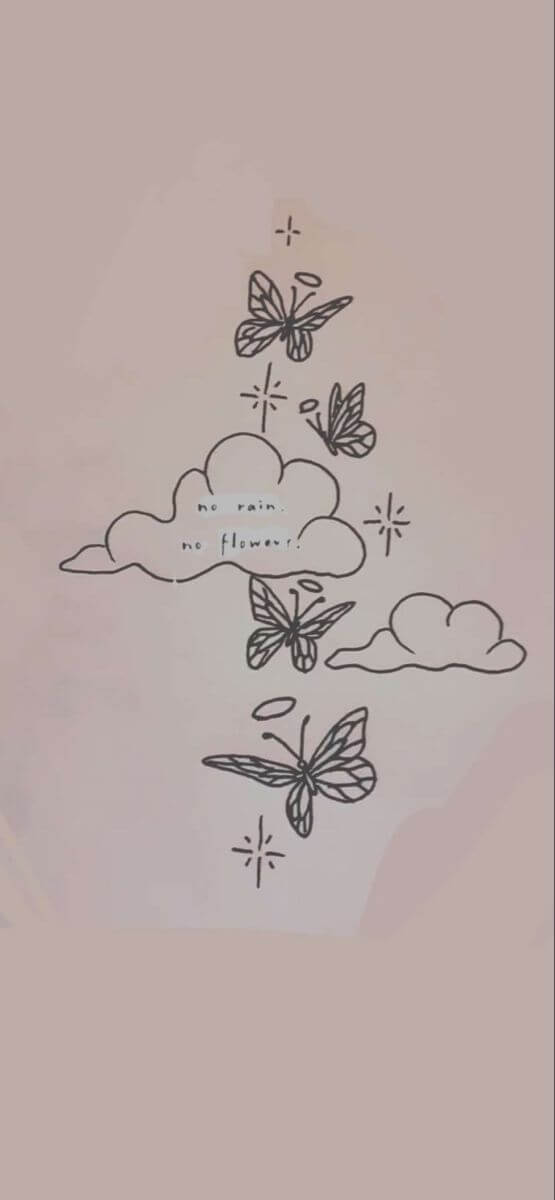 13. Circle shape tattoo design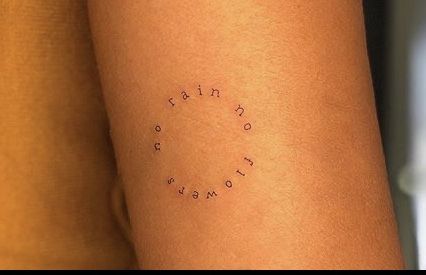 14. Rib cage big tattoo with 3 different flower designs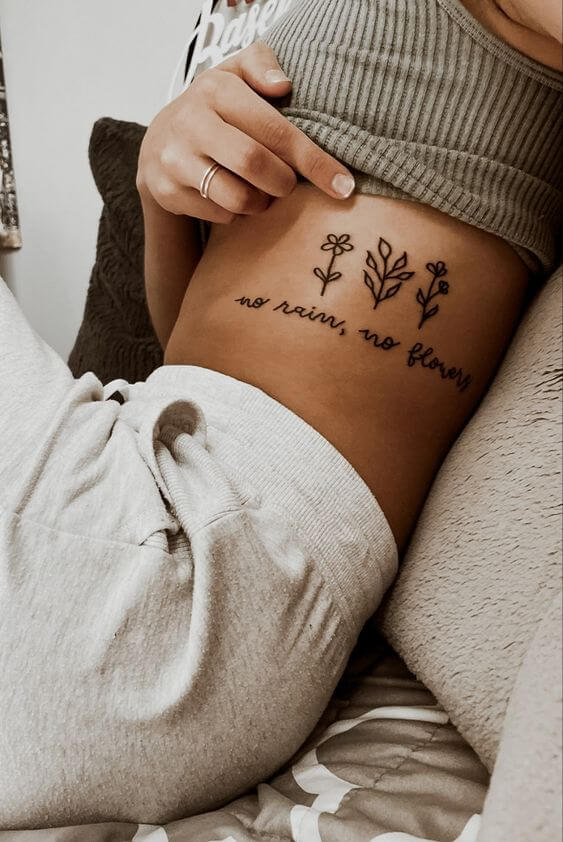 15. Heart shaped flowers tattoo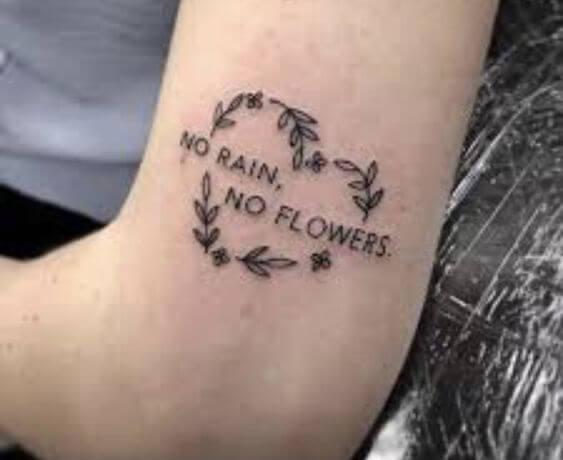 16. Huge blue butterfly tattoo on leg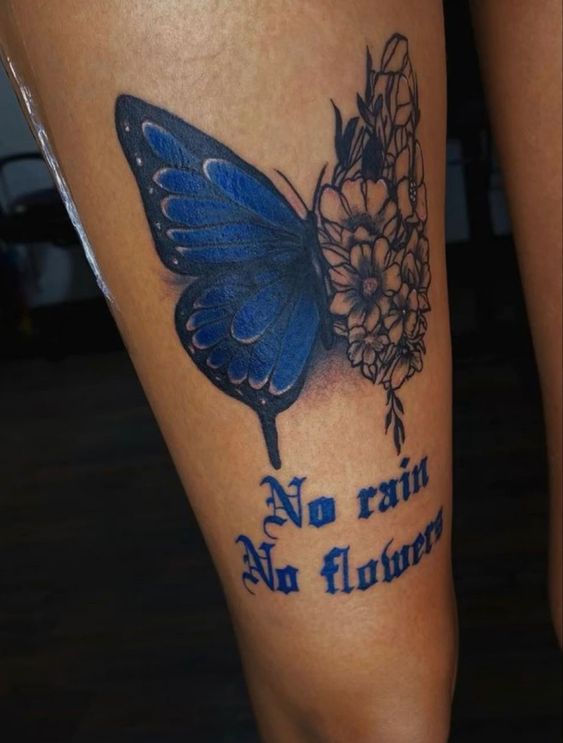 17. Huge tattoo of flowers on one leg, with the nrnf tattoo on the other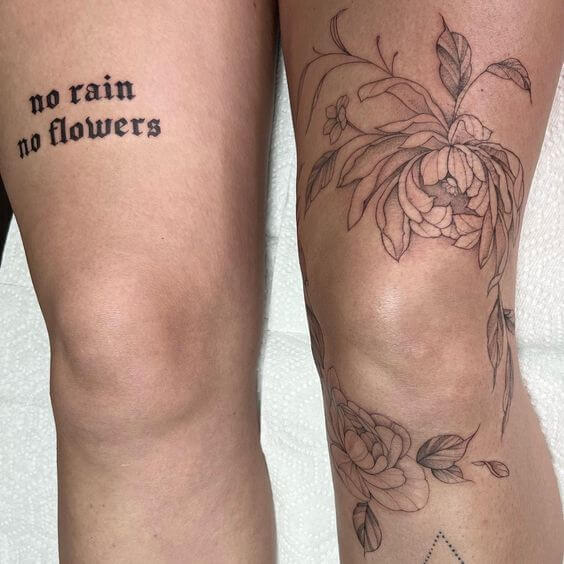 18. A painting of the famous tattoo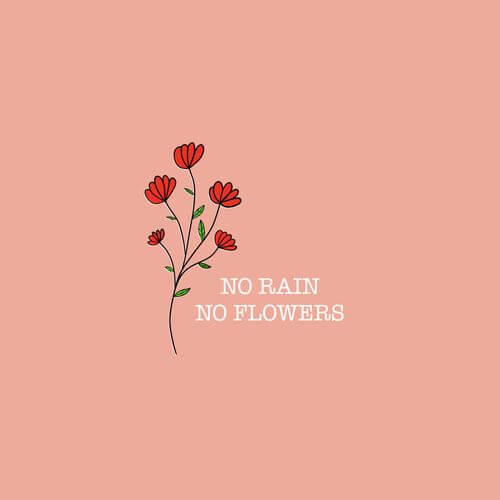 19. Very thin and delicate tattoo on the arm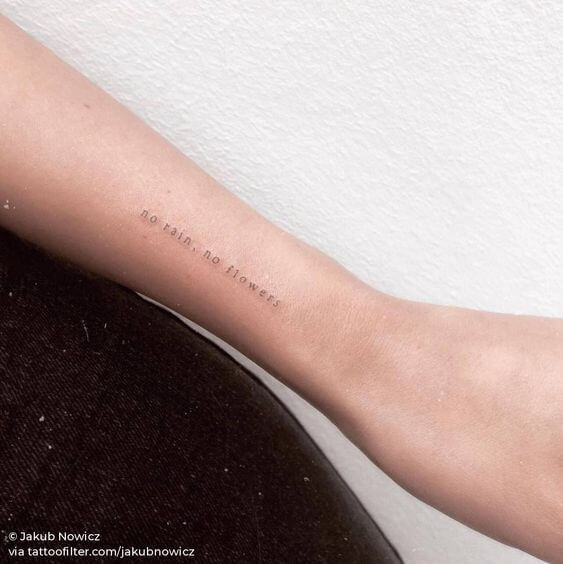 20. Lower spine tattoo of the wording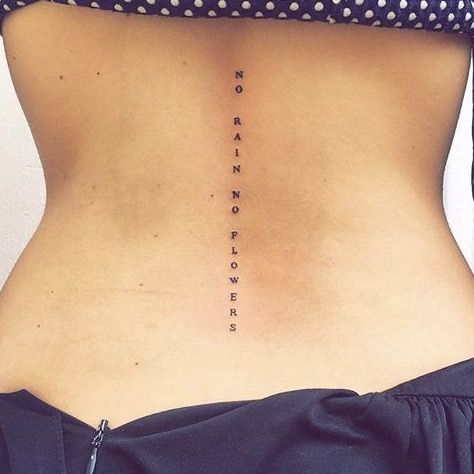 21.  Big chest tattoo of NRNF tattoo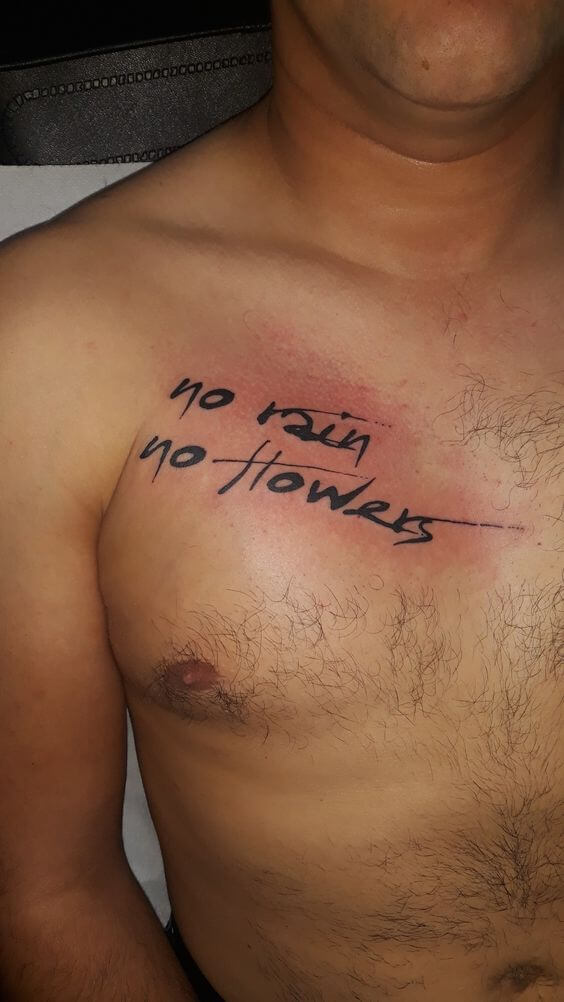 22. Huge firefly with the text above it tattoo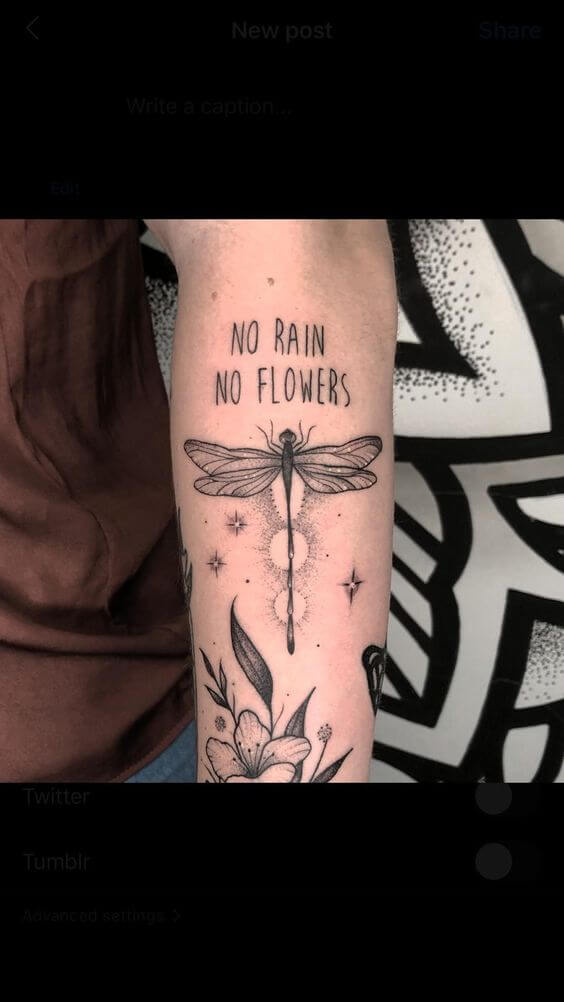 23. Above knee tattoo of the words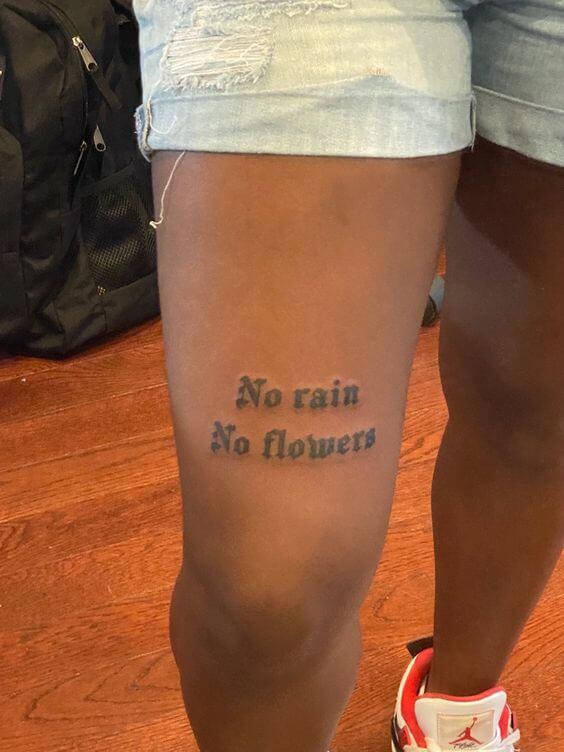 24. Half moon made up of flowers tattoo with little butterflies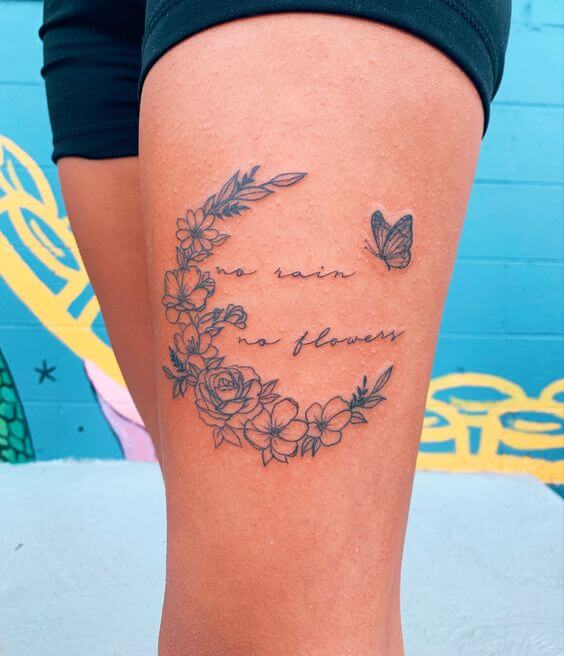 25. Thick bold text of the words on this design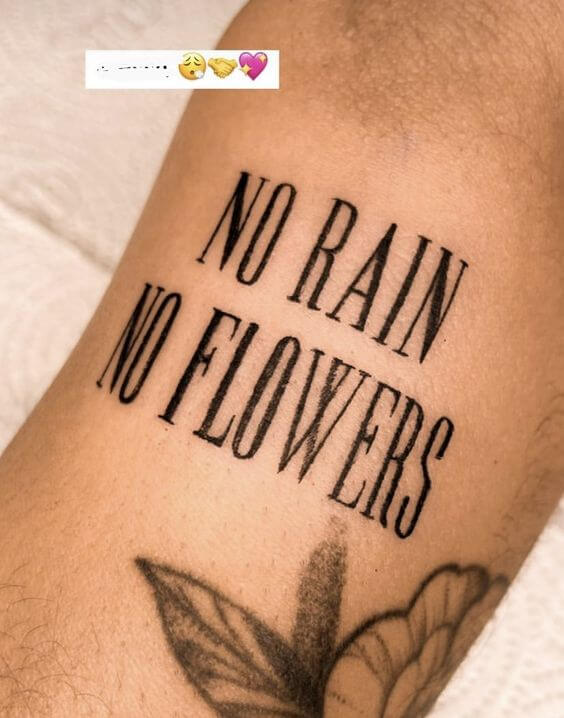 26. Two colors in this tattoo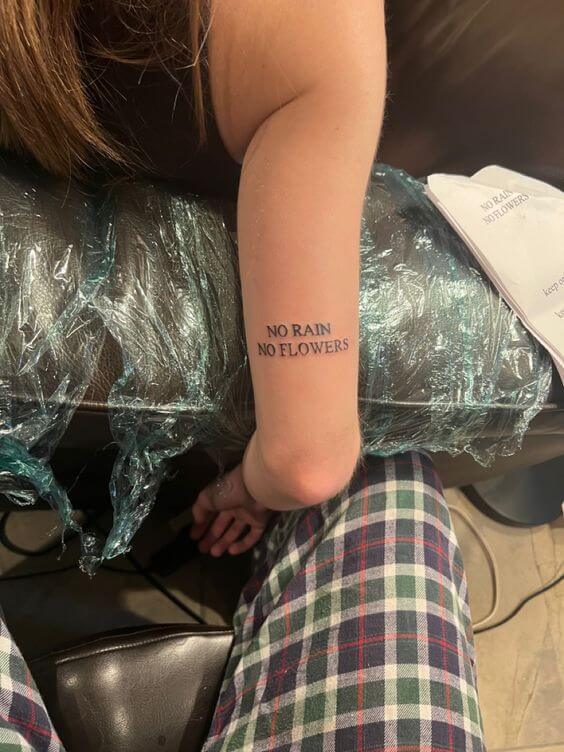 27. Cute tattoo with little drops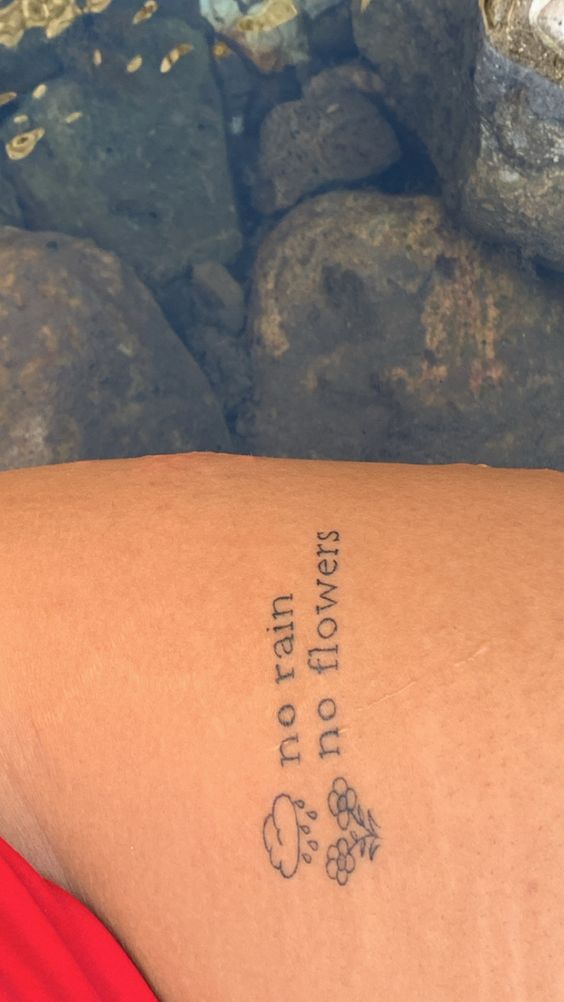 28. Thick bold text with goth font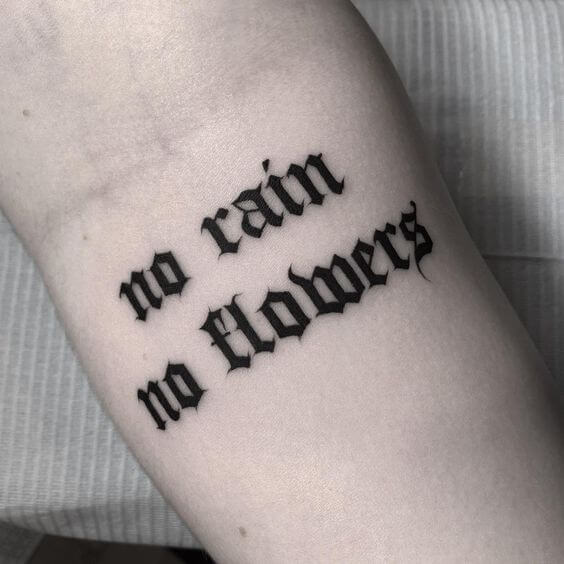 29. Tattoo design of the tattoo on paper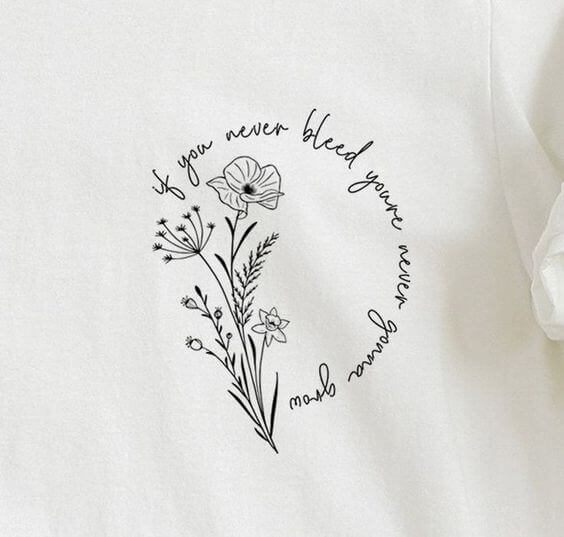 30. delicate text on back of elbow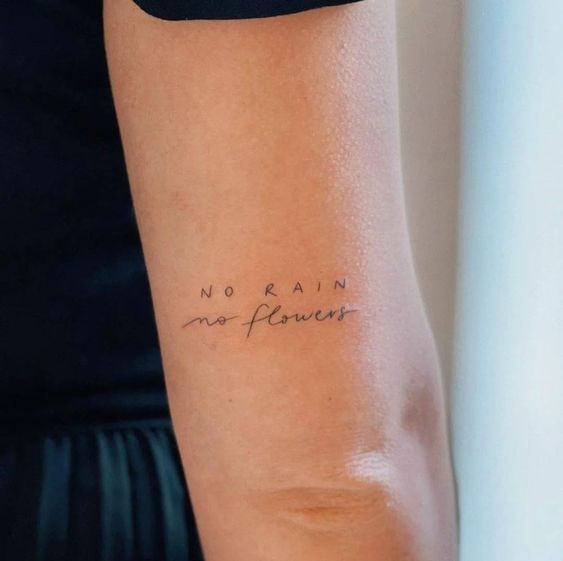 31. no rain no flowers text with circle of flowers around it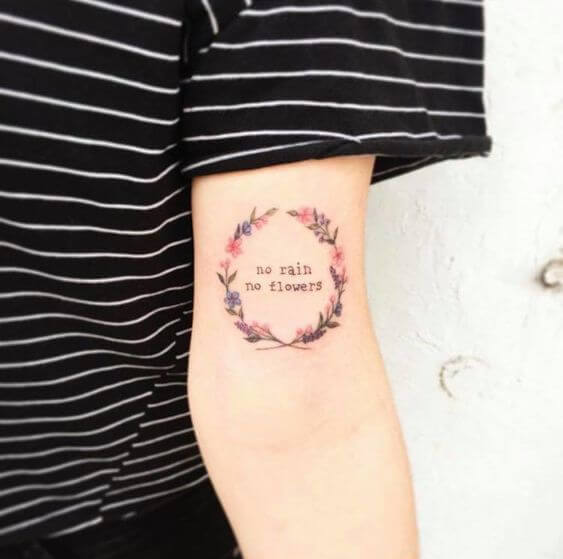 32. Put a bow on it tattoo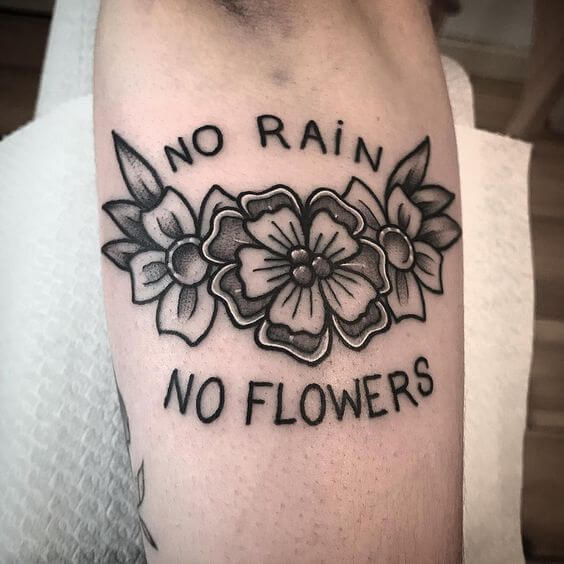 33. Sprinkle and stars tattoo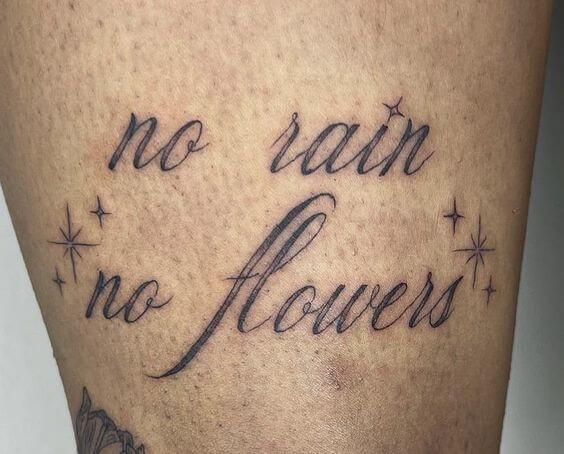 34. Lower ankle tattoo of the words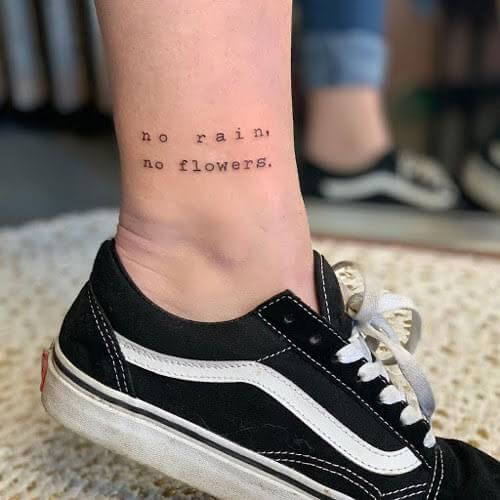 If you enjoyed this gallery, make sure you also check out this gallery about pixel tattoo designs and also these cool sister tattoos