Talented artist Jennifer Maestre captures a new perspective with her uniquely beautiful and eye-popping sculptures, made entirely out of colored pencils.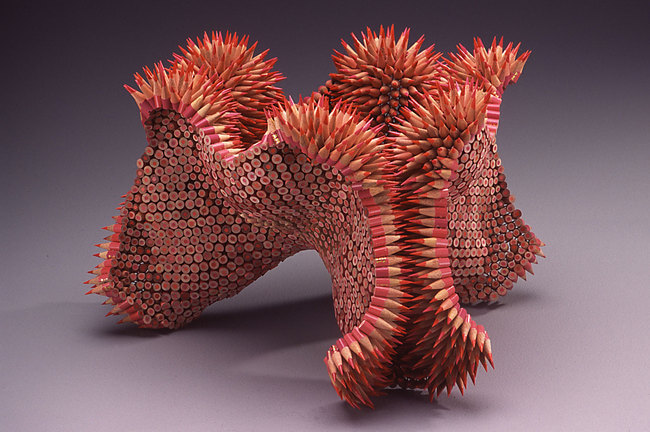 Maestre, a South African-born, Massachusetts-based artist, originally found her inspiration from the form and functions of the sea urchin.
SEE ALSO: Artist Carves A Miniature Railroad Sculptures Out Of Pencils
"The spines of the urchin, so dangerous yet beautiful, serve as an explicit warning against contact…the alluring texture of the spines draws the touch in spite of the possible consequences. The tension unveiled, we feel push and pull, desire and repulsion", her artist's statement reveals.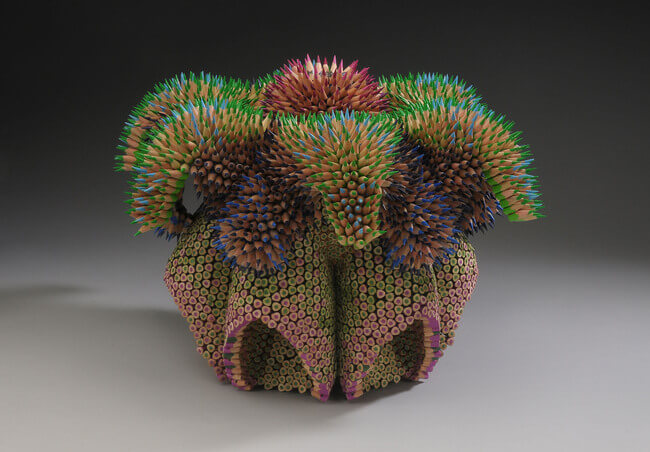 The pencil sculptures developed from an idea she had for a box with a secret compartment within that would contain a pearl.
The original idea for the box was to be shaped like a sea urchin, made of silver. And in order to reveal the secret compartment, you would pull on one of the sea urchin's spines.
The silver box idea was never completed, given that Maestre never developed the metalworking skills to create it.
To create the sculptures, she uses hundreds of pencils, cut into 1-inch sections. She drills a hole through each pencil tip, turning them into beads, and then sews them together, after sharpening each and every one. The beading technique used the most is called the "peyote stitch."
Why pencils? According to her artist's statement:
"Paradox and surprise are integral in my choice of materials. Quantities of industrially manufactured objects are used to create flexible forms reminiscent of the organic shapes of animals and nature…Pencils are common objects, here, these anonymous objects become the structure. There is true a fragility to the sometimes brutal aspect of the sculptures, vulnerability that is belied by the fearsome texture."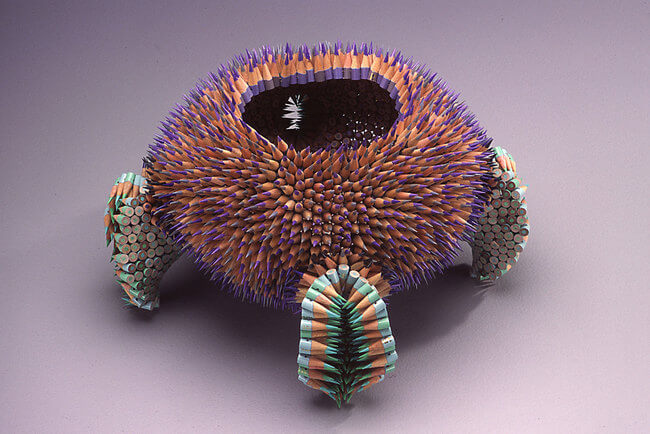 This talented artist also makes pencil jewelry! You can also check out her portfolio and website here.