Dubbed the Sin City, with its glitz and gambling, pool parties and colourful nightlife, Las Vegas might seem like an utter bacchanal night an day. However, there is much to this city than meets the eye and I think your eye would love to take a peek at this amazing Las Vegas street art.
Once you have come to terms with the casinos, gamblers and theatres, then you need to take a hard left on the "streets of art" and see Las Vegas like never before. But since we've all been confined to our homes these days, let us make it easy for you by showcasing the most interesting Las Vegas street art! 
Las Vegas street art is now on a hardcover
Yes, we're not the first ones to come up with this idea. In fact, photographers William Shea and Patrick Lai collaborated to create a book with the amazing street art and graffiti that sprang on the streets of Las Vegas between 2012 and 2018. The book documents everything, from well-known street artists, like Shephard Fairey, to anonymous talented ones.
However, we'd like to pay our own homage to the dynamic and unafraid, the creative and imaginative, the crazy and misfits whom these downtown Las Vegas murals speak of.

Here's a for a little taste of what you could get from downtown Las Vegas:
1. Full Moon by Puerto Rican artist Ana Maria Oritz
This ethereal Downtown Las Vegas mural was painted in 2015, as part of the Life is Beautiful Music Festival. You can find this mural depicting three birds gazing at a futuristic-looking rabbit entangled by octopus tentacles, at 209 North 7th Street.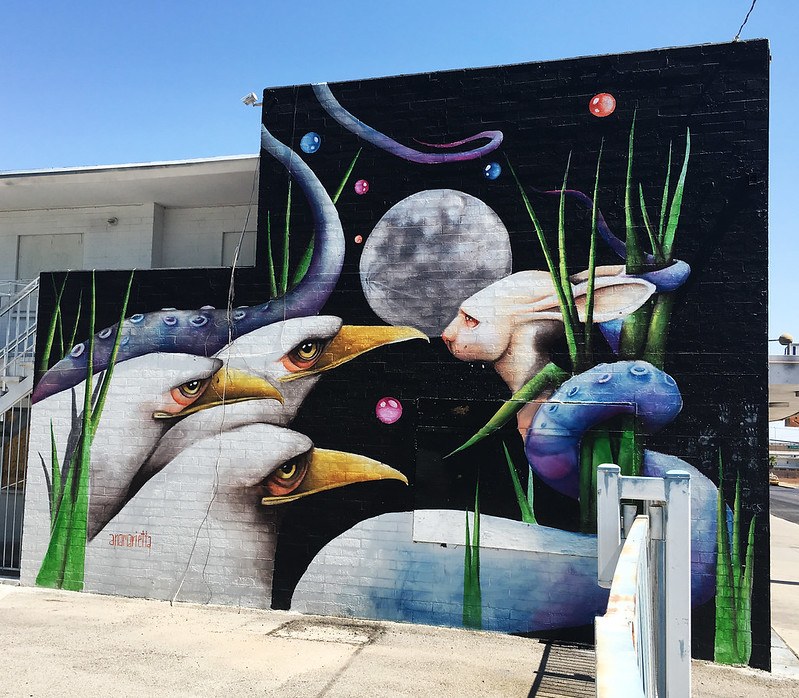 2. Horned Toad by ROA
This fully-detailed horned toad was also created for the Life is Beautiful Music Festival, in 2015. The mural stretches across the whole building at 598 Steward Ave. The red blood shooting from the lizard's eye is the only splash of colour on this monochrome mural and it is actually a protection mechanism. When horned lizards feel threatened, they would do this to startle the predator. If you look at it for some time, it looks like it's coming alive, wouldn't you say so?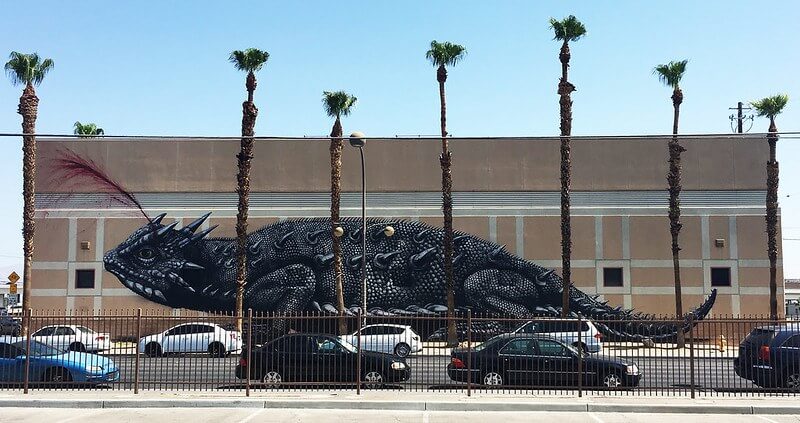 3. "The meaning" by Italian artist, Pixel Pancho
This mural was also designed for the 2015 Life is Beautiful Music Festival. The mural depicts two wrecked robots depicted here are meant to make us think of our society's obsession with spending too much on goods and useless pleasures, without considering the effects they might have on our planet. Found at 700 Fremont Street, this artwork is truly beautiful and insightful.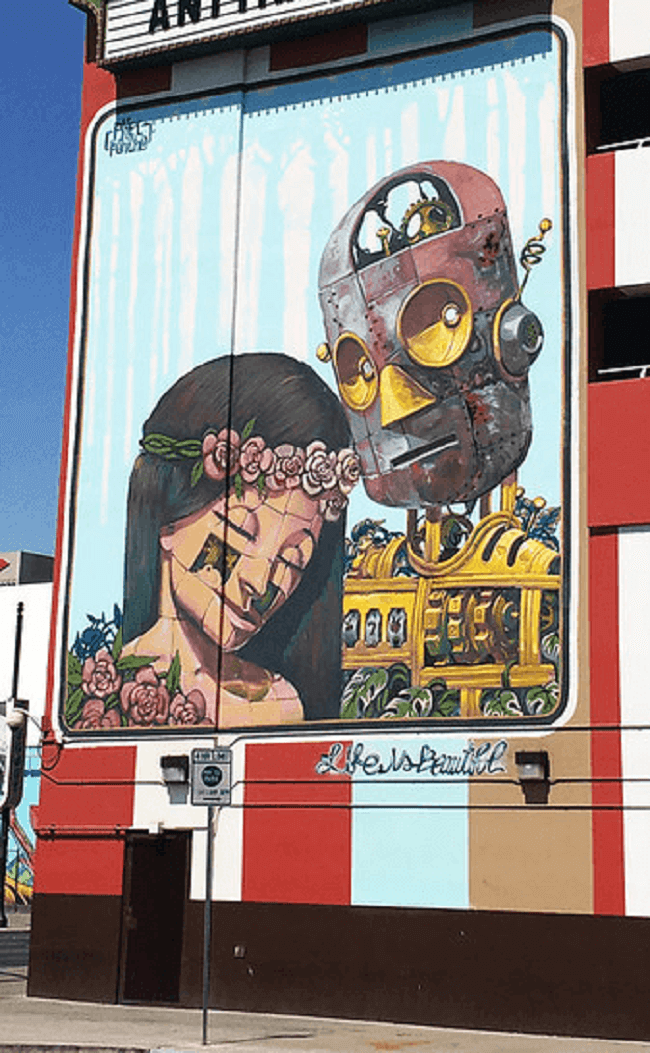 4. Fear and Loathing in Las Vegas mural by Ruben Sanchez
Ruben Sanchez' mural from 107 S. Las Vegas Blvd. might remind you a little bit of Pablo Picasso. Definitely borrowing some cubist styling, Sanchez' artwork depicts the main character and writer of Fear and Loathing in Las Vegas as he gets around Sin City while definitely on some haze-inducing drugs. This artwork was also created for the 2015 Life is Beautiful Music Festival.
5. Love Forever by D*Face
If you know D*Face art, then this mural depicting an attractive woman morphic into a sunken skull won't surprise you too much. The artist is well-known for his provocative style and his sexual themes. This piece was created for the 2014 Life is Beautiful and you can still find it at 700 Fremont Street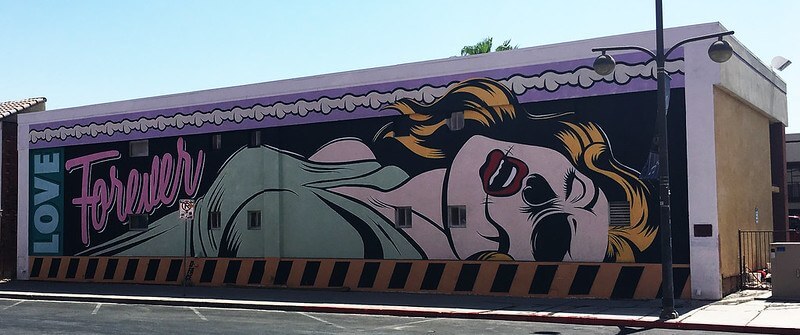 6. The Cycle of Civilization By Zio Ziegler
This mural was designed for the first Life is Beautiful Festival in 2013. It occupies the corner of 7th Street and Ogden in Downtown Las Vegas and it just what you need to occupy your eyes with. It's a modern tapestry of our society and you'll need some time to make out the meaning of it all.

7. Mural by Alexis Diaz
This one sits at 7th St., near the Neon Museum. It was created for the 2013 Life is Beautiful festival and, as you can see, it depicts a huge snail carrying a skull on its back. Moreover, the skull in itself is the place where a bird has built its nest. All of this is put on a red background which resembles an arid desert. This street art needs some more contemplation on our parts and, of course, when the time is right, a few Instagram pictures.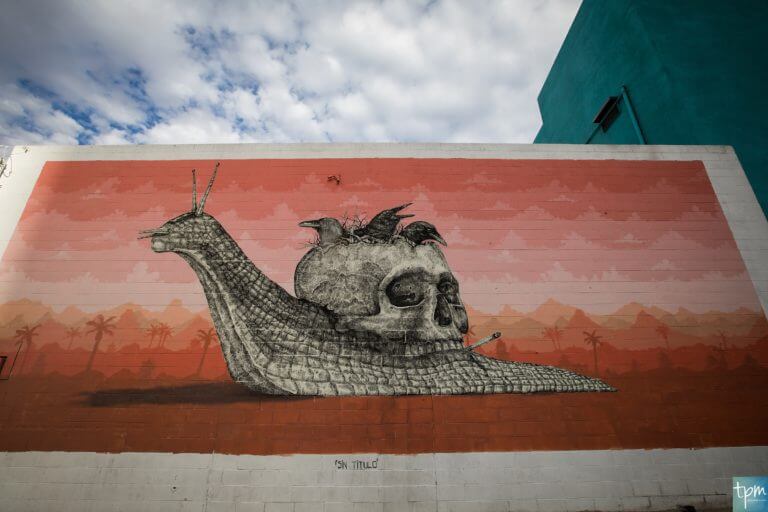 8. Peacemaker by D*Face
This mural speaks for itself: a golden gun shooting a "peace" golden bullet. It is located on an old hotel on 899 Fremont St. and it was created for the 2015 Life is Beautiful festival. Its statement is quite straightforward, I should say.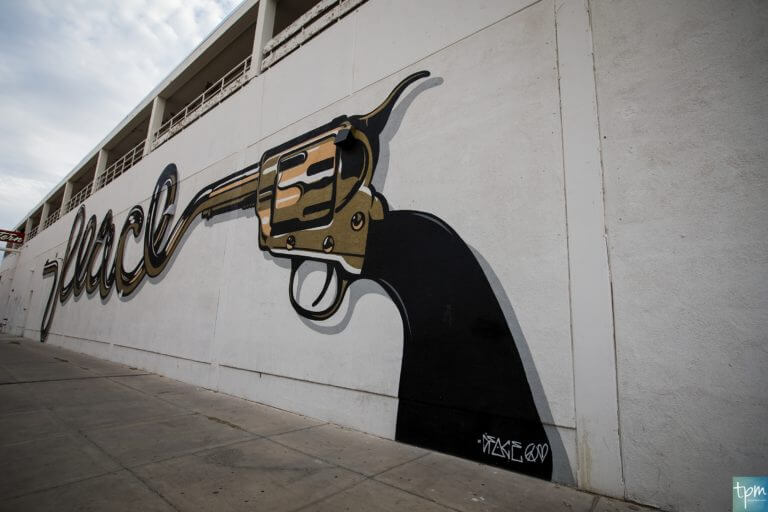 Other cool Las Vegas street art