What will you get to your Valentines this year? Are you tired of picking a unique and lovable present and going out for a fancy dinner year after year… Maybe it's time to change the routine a bit. We suggest you to make him/her a breakfast that she/him will remember forever. I bet you're going to nail it when you put these Heart-Shaped Strawberry Cream Cheese Breakfast Pastries in front of your loved one in the morning of February 14th. Yes, they take a little bit more effort to make them right than ordinary breakfast takes, but the excitement of your precious half is certainly worth it.
Take a look how delicious, soft and puffy they are at the photos below. Also, scroll down for the full recipe and directions according to Cooking Classy.
If you haven't decided yet how to surprise your Valentines, these strawberry heart-shaped pastries will make this Valentine's Day the one to remember.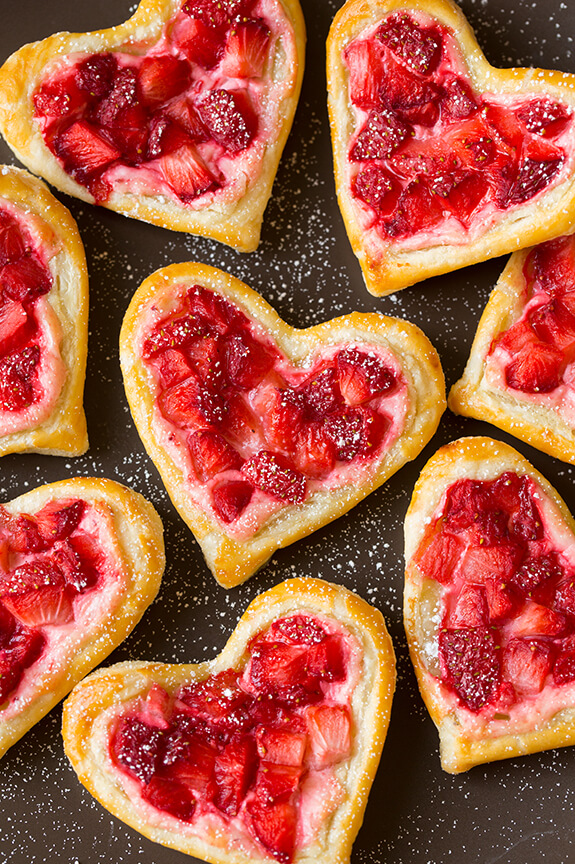 Ingredients to make the strawberry cream cheese pastries
1 sheet puff pastry

2 oz (1/4 cup) cream cheese, softened

1 1/2 Tbsp strawberry jam

1 drop red food coloring (optional)

2/3 cup very small diced strawberries

1 large egg whisked with 1 Tbsp water

Powdered sugar, for dusting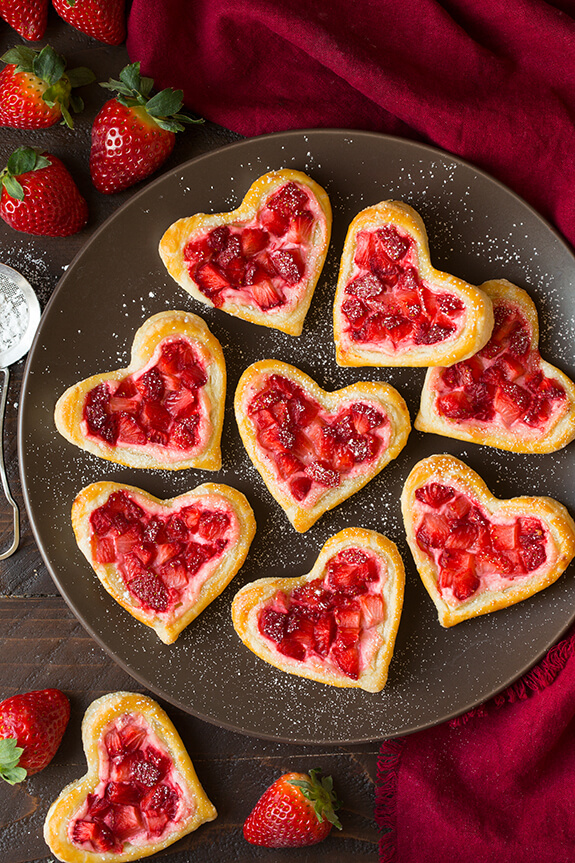 How to make:
Thaw puff pastry according to directions on the package and halfway through thawing preheat oven to 400 degrees. While the puff pastry is thawing, in a small bowl and using a rubber spatula, mix together cream cheese, jam and food coloring while pressing mixture along bottom and sides of bowl to smooth large lumps, transfer to refrigerator until ready to use (so it's not runny, you can flash chill in freezer if you prepared this near the end of the pastry thawing).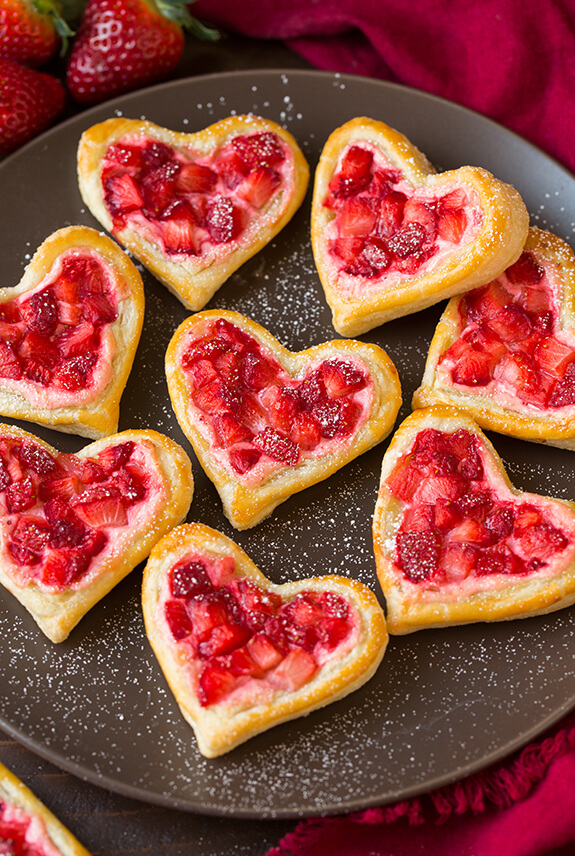 Cut pastry into heart shapes using a 3-inch heart-shaped cookie cutter (space them as close together as possible so you can get as many as you can out of the sheet).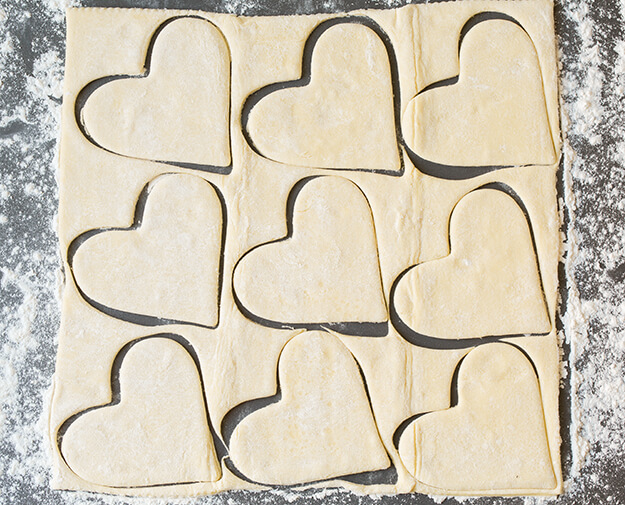 Transfer hearts to a baking sheet lined with a silicone liner or parchment paper, spacing 1 1/2-inches apart. Using a sharp paring knife, lightly score a heart inside of each cut-out heart coming about 1/3-inch from the edge, without cutting entirely through bottom of the dough.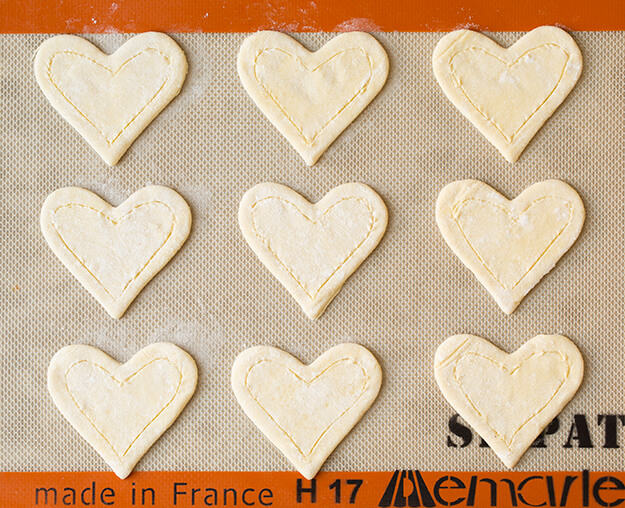 Add 1 tsp of the cream cheese mixture to center of each heart then spread outward without covering the 1/3-inch edge. Add strawberries over cream cheese layer, again without covering the edge.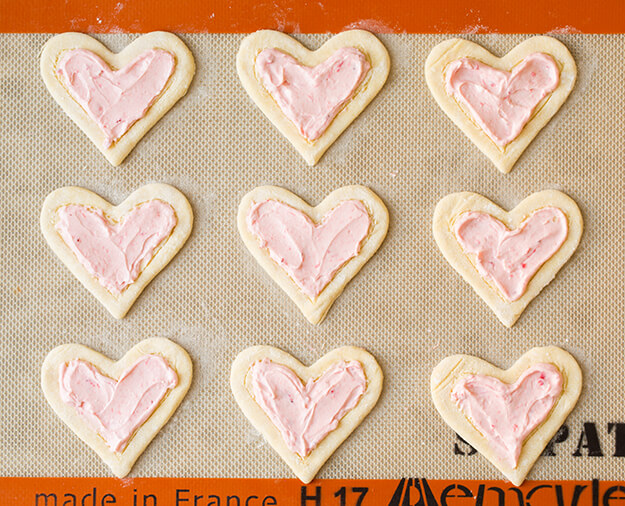 Using your fingertip brush the 1/3-inch edge with egg/water mixture. Bake in preheated oven 14 – 15 minutes until edges are golden brown.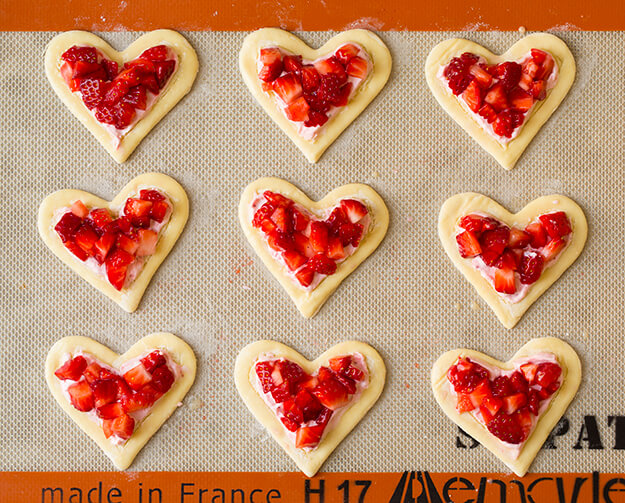 Let cool on a wire rack then dust with powdered sugar. Serve the day they are prepared.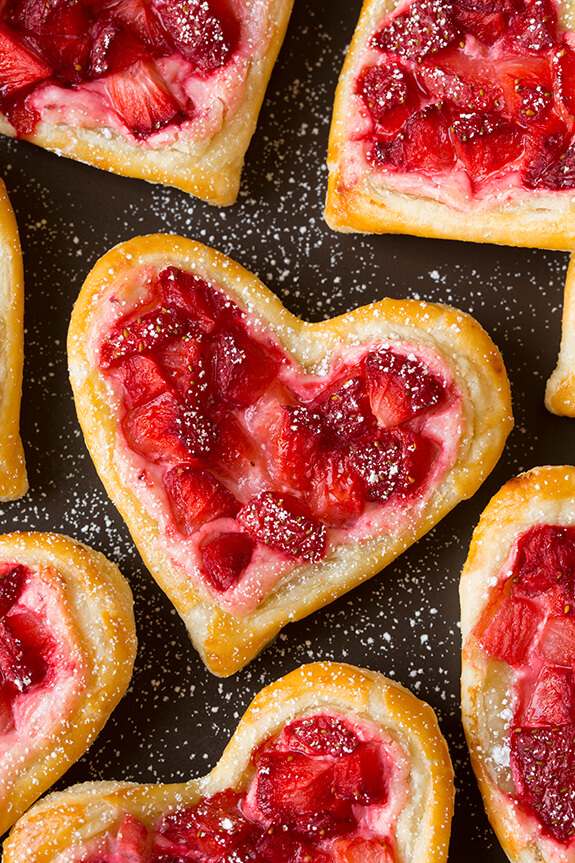 Your loved one will remember these strawberry cream cheese pastries forever, trust us.
Source: Cooking Classy