The screaming crow meme or the annoyed bird meme is a weird meme in the internet world. In this article we will try and shed some light on it so you can get the lingo and know what literally thousands of people are talking about.
Getting interrupted is one of the most annoying things to deal with. You could be enjoying a friendly debate with someone or it could be your turn in a conversation. All is well until someone just swoops in and cuts you off. Firstly, it's just plain rude.
Secondly and to make matters worse, people who interrupt tend to do so really loudly. It's enough to drive anybody crazy. 
However, there are times when a meme will be able to capture an experience like this so accurately that you take one look at it and say, "Same." It can turn an annoying experience into something to laugh about. The Screaming Crow meme, for instance, does exactly that.
What is the Screaming Crow meme?
The Screaming Crow or Annoyed bird meme is a webcomic that shows a bird singing until a crow comes a long to interrupt with its loud cawing.
The fourth and final panel of the webcomic shows the bird looking obviously irritated while the crow's screaming is seen in a speech bubble in the background.
How did the screaming crow meme gain popularity?
This meme is relatively recent, having been uploaded onto Reddit on September 26, 2017. The post was an instant hit, receiving 3,300 points with a 97% upvote rating in 9 months. 
Another Redditor uploaded a photoshopped version of the original comic in another subsection of Reddit became as popular as the original upload in 8 months. 
Other users continued to upload different versions of the meme in different subreddits (see below), which started the spread of the meme into popular internet culture.
Despacito screaming crow
PC gaming screaming crow
This meme is especially funny because it can be used by anyone for a variety of relatable situations.
Most of the time we can identify with the smaller singing bird who gets interrupted and annoyed. On the other hand, we might be able to relate to the crow as we yell about things that we are just so enthusiastic about.
It's certainly a meme where we get to laugh about it either way.
Here are a few Screaming Crow memes for your enjoyment.
1. It's just a competition to sing both parts of Bring Me To Life at this point.
2. Wait, are we watching The Lion King or The Prince of Egypt??
3. Please just let me sing All Star in peace.
4. Screaming Elsa Crow from Frozen 2 interrupting Singing Elsa Bird from Frozen? Hilarious (into the unknoooooown…).
5. The Witcher series was pretty good… wasn't it?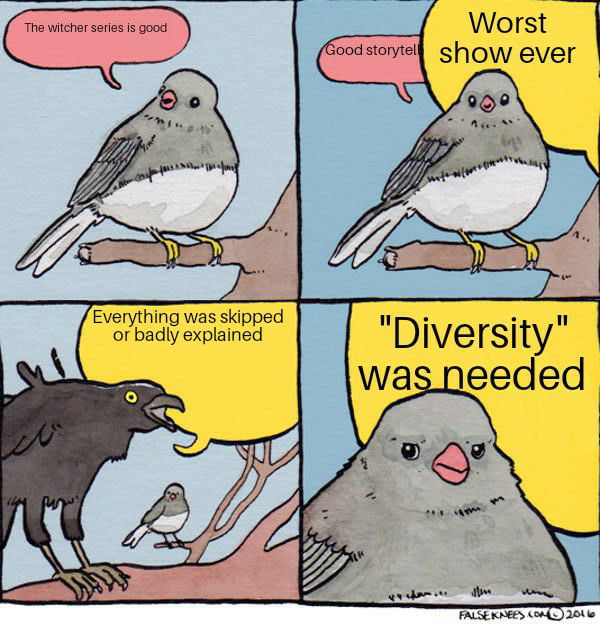 6. Listen, I just don't think it's a good game, man.
7. No more animal deaths! I just want my funny tweets.
8. I wanna be the very best – and the only one to sing the Pokemon intro song please.
9. Bird: *beautiful melodic notes*
Crow: *harsh sound waves*
10. Deep down, the bird really missed the crow's cawing in the end, and he was forever grateful for him.
Check out these meme articles that are related to this post as well: