Some videos just aren't meant to go viral, but they eventually do and produce some of the best top-quality memes with thousands of likes and reactions. You could even say that some viral memes are almost revelatory in nature since you didn't realize something like that could be so funny. Spirit of Truth Preacher agrees.
Take Reverend X, for example. Nobody is complaining that this video is resurfacing after more than a decade in hibernation because honestly, it's one of the best memes ever!
If you never thought you'd hear a reverend call you a "biatch" to encourage you to worship, then buckle your seatbelts because this reverend has got a lot more to say about the Lord and Savior "Je-suhs."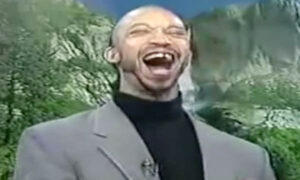 Source: World Star Hiphop
Who the hell is Reverend X
Don Vincent, known by his pseudonym Reverend X, was a host of a public-access TV segment called "The Spirit of Truth" in Los Angeles during the late 1990s.
He was immediately recognized for his aggressive religious rants, many of which were posted on video-streaming sites in the mid-2000s and have recently gained popularity online.
How This Meme Started
A television show titled "One Man Show" was being broadcasted to the Los Angeles public area in the late 1990s. One of the segments in this TV show was called "The Spirit of Truth," hosted by none other than Don Vincent (credited as Vincent Stewart).
It's no surprise that a meme even started because of Reverend X, as he liked to be called since he was a foul-mouthed evangelical preacher and self-proclaimed deity. He even went as far as referring to himself as God!
While the show remained a source of entertainment for the local audiences, it was eventually canceled when Vincent removed his pants while on the air, all the while demanding that viewers start "looking for sin."
Later in 2006, an audio clip from the show played during a radio segment in Florida. In the same year, a video recording of the program was included in a skeptic blog called Religious Freaks, which garnered several comments on how hilarious it was.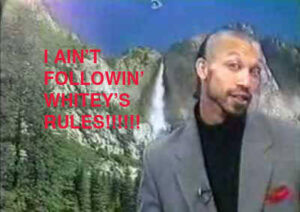 Source: Know Your Meme
Rise to Popularity the Spirit of Truth Preacher
On the day that the video recording of The Spirit of Truth was posted on Religious Freaks, an internet user named Shack submitted a YTMND site titled "Spirit of Truth" with Don Vincent preaching with lots of profanity!
The same clip was also featured on the viral video TV program "Web Junk 20," where Vincent gained his name "Reverend X" thanks to the show's host.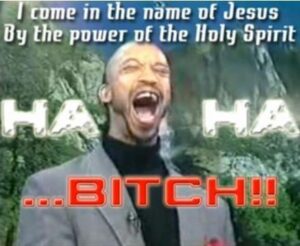 Source: Know Your Meme
The succeeding year is when Vincent's antics started to spread on YouTube. A user under the name emacc32 started uploading different episodes of The Spirit of Truth, including "The Healing Dance" where Vincent dances to a rap song. Other users started uploading extended versions of the episodes.
In 2008, Reverend X started gaining more recognition on the MySpace platform, where several embedded YouTube clips of the blasphemous preacher were added. While other blogs started to feature Vincent, humor websites and magazines also started featuring this one-of-a-kind character. 
As of 2021, a Facebook page for The Church of Reverend X has surfaced with over 700 likes.
Reverend X and the Spirit of Truth Memes
To fully appreciate the one and only Don Vincent, a.k.a. Reverend X, here are some of the best memes made in his honor.
Repeat as the Holy Reverend Says! Je-suhs has come!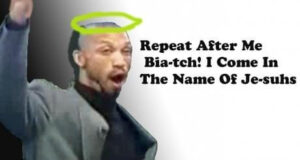 Source: Know Your Meme
There are some great things to be learned from Vincent's interpretation of the Scripture, including insight on thoughts.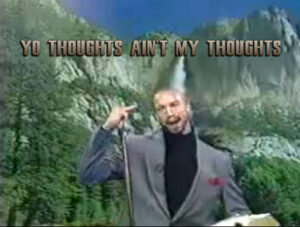 Source: Know Your Meme
The reverend ain't lying; that's how God said it!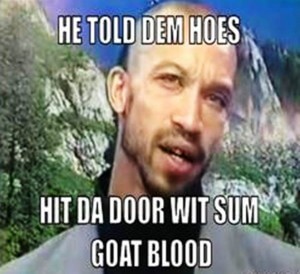 Source: Wasduk
Follow the Spirit of Truth, hang up the phone, and watch your language—just like the reverend!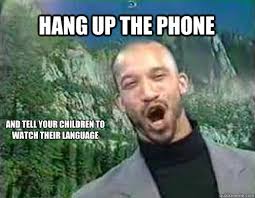 Source: Quick Meme
 When the Spirit of Truth compels you, you are fully obligated to preach this way!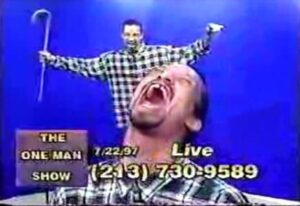 Source: Know Your Meme
Are you laughing yet?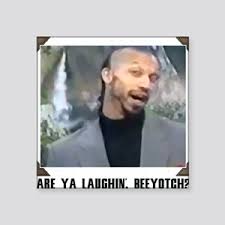 Source: Cafe Press
The reverend is nothing short of an artist of the Word of God, so someone paid homage to his legendary sermons with this lovely piece!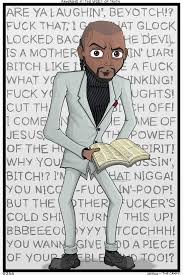 Source: Deviant Art
Think the Spirit of Truth Preacher memes are funny? Then you should check more meme articles on The Awesome Daily here.