It must be quite difficult to be a parent. Just imagine your child asking where babies come from, what is death and why are people sometimes mean to each other. How to you answer all their difficult questions? Would you spoil their natural and innate generosity by speaking about war and the Earth's problems as we know them? It's a little hard to do that. It is better to just tell them part of the truth in a beautiful and creative way, right?
And who has creativity left when it is all about dealing with all the logistics of having a child, sending him to school, cooking for him, cleaning after him? Tough life. And just imagine your little kid creating endless daily art projects that you will have to get out of the house, otherwise it will be buried underneath millions of sheets of paper. How do you tell your kid that you just threw away some of his works of art? Tough, really tough.
Inez Tan, the mother of Miya, 6, and Tyler, 3, does something incredibly beautiful with her child's drawings, though. She seems like a very imaginative mom. She created Inez Designs, where she makes embroidery and jewellery pieces inspired by children's doodles.
"I create embroidery art on hoops and accessories made to be loved and worn. I've always loved creating and working with my hands. When I left the fashion industry as a fashion merchandiser and buyer to be a full-time mother of two children, making jewellery and embroidery provided a meditative and creative outlet", she says.
The best kids' artwork for embroidery is black-and-white line drawings or drawings that are made with crayons, colored pencils and watercolor. You can just contact Inez and give her one of your kids' drawing. She will trace the resized image on fabric, give you a sketch and then wait for your approval to move forward. You can ask for specific colours or extra elements. But you will have to be patient with your order: "Embroidery is a slow process.It takes time and love as everything is handmade. International orders usually take from 24-31 days start to finish, including shipping" More info: Inez tan designs
See Inez Tan and her creative embroidery from kid drawings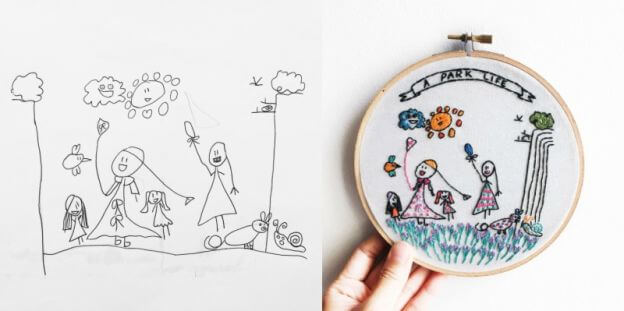 [the_ad id="71925″]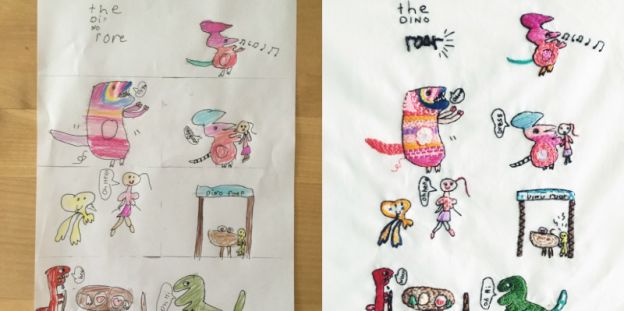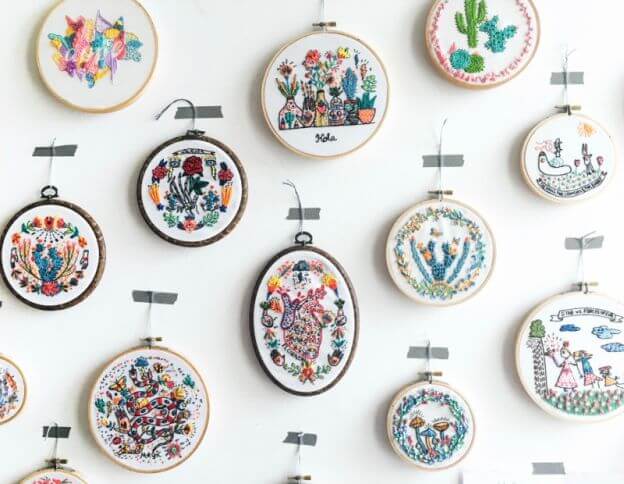 Inez Tan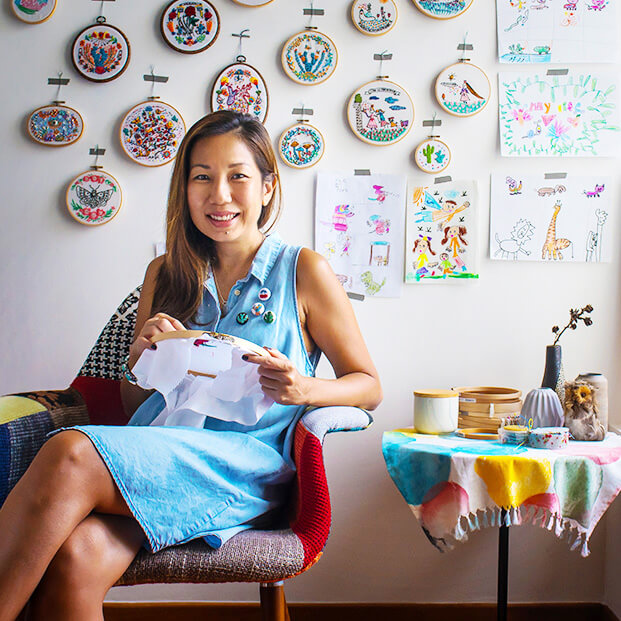 Image source: Inez Tan