Chocolate, chocolate, chocolate… it seems like we never have enough of this delicious energy booster that makes us feel closest as love does, some say. Though it's not a good thing to exaggerate with anything (except maybe with love), so neither is with chocolate. But what we can do is to raise the experience on the whole new level and try to open the door to heaven. To do so, we recommend this recipe which we found for your pleasure at just-add-sprinkles.com.
baileys cookies and cream parfaits! – the name of this desert already sounds delicious and just wait till we get into details.
"These boozy and delightful chocolate parfaits have a smooth, creamy texture combined with Oreo cookie crumbs that make one heck of a dessert," is it perfect or what?! And yes, that's correct, it has alcohol in it. Let's see how to make it. Keep scrolling.
Layers on layers of creamy chocolate and Bailey's spiked whipped cream and crushed Oreo cookies… Mmmm…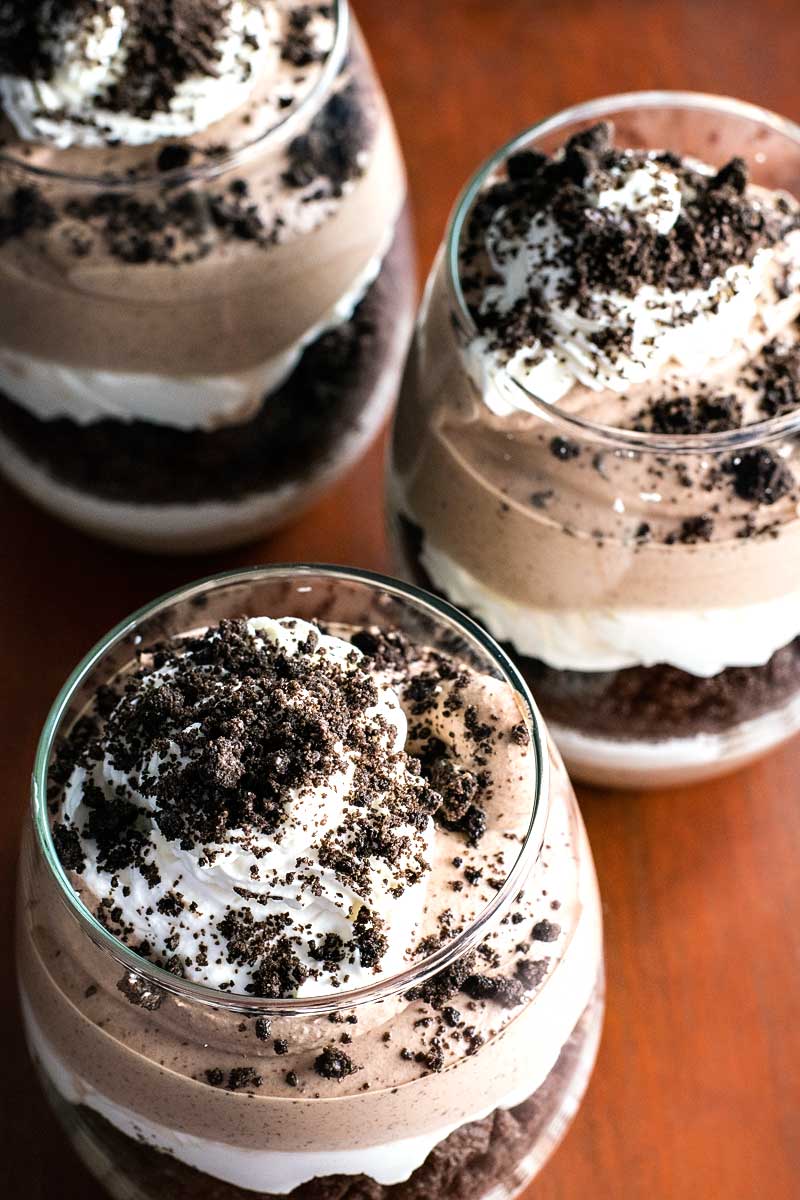 It's not too difficult to make them and they're fancy enough if you want to impress company.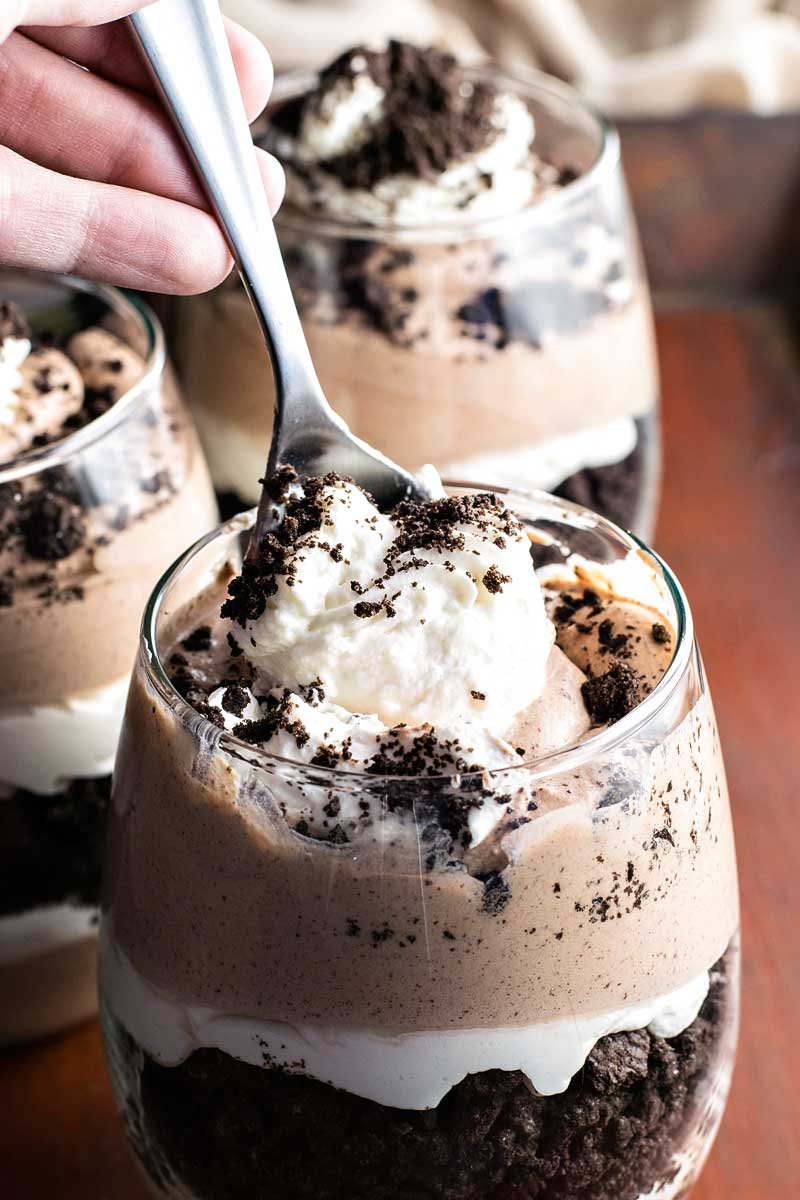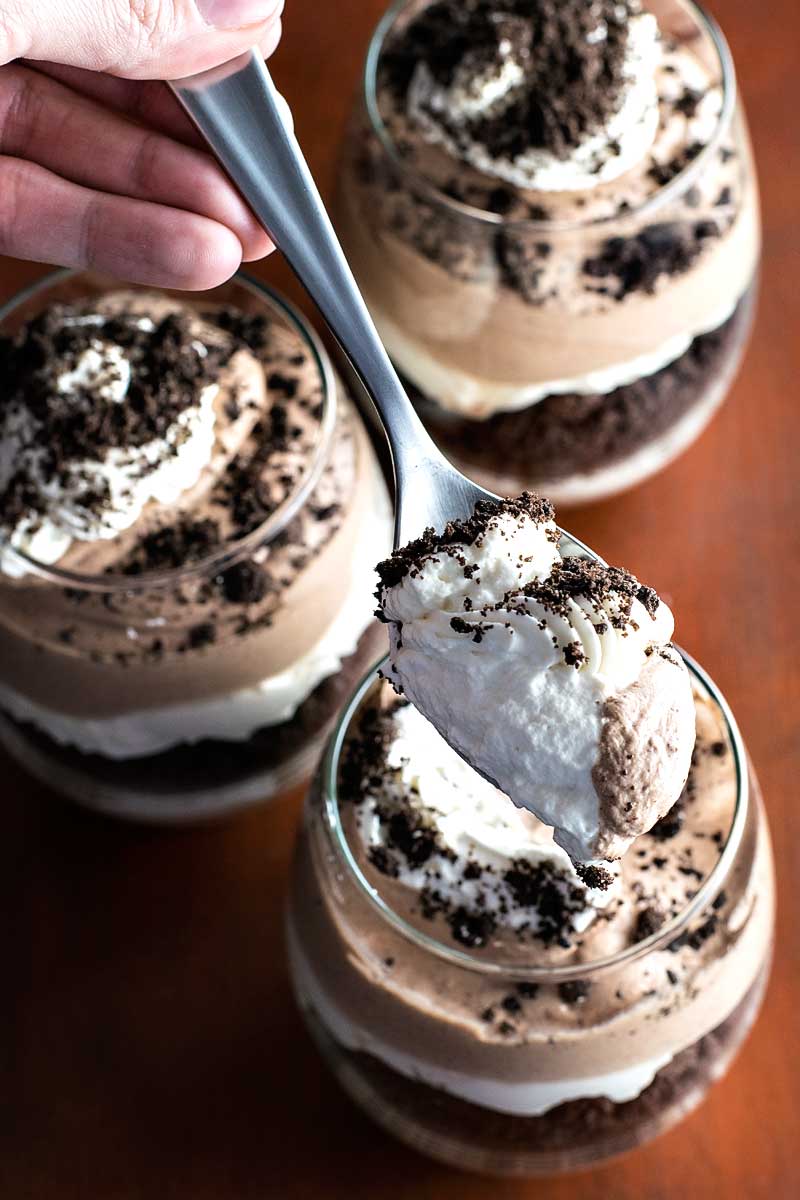 What you need (3 serves)
15 Oreos (crushed)
4 oz semi-sweet chocolate (roughly chopped)
1/2 cup milk
2 cup heavy whipping cream (chilled)
1/3 cup Bailey's Irish Creme (chilled)
1/4 cup powdered sugar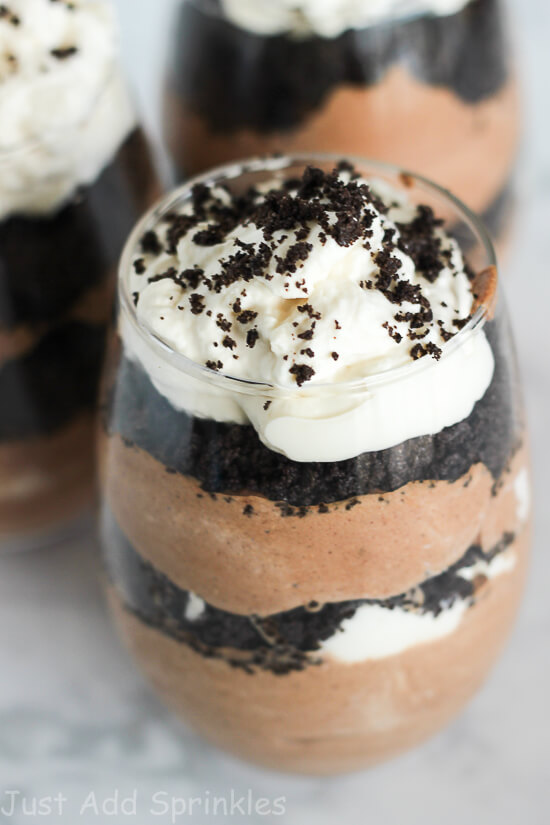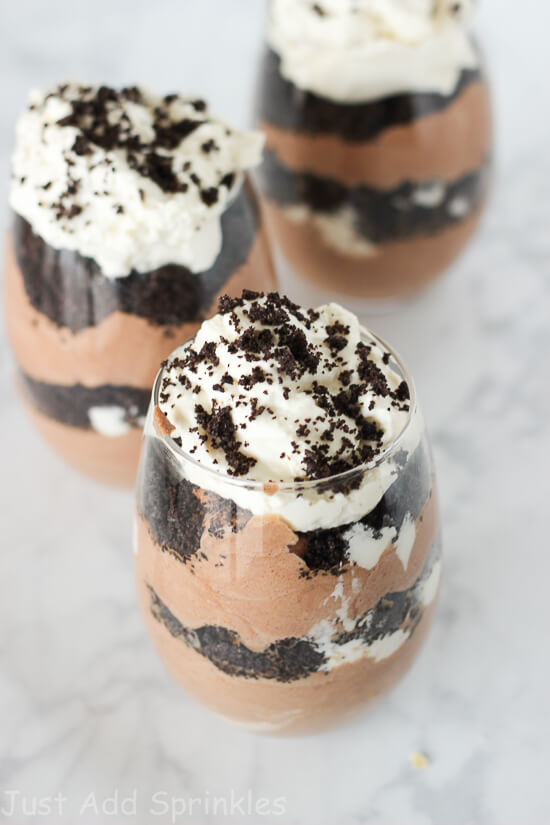 What to do
Place Oreo cookies in a food processor ( or use a zip lock bag & kitchen mallet) and pulse cookies until they resemble crumbs and set aside.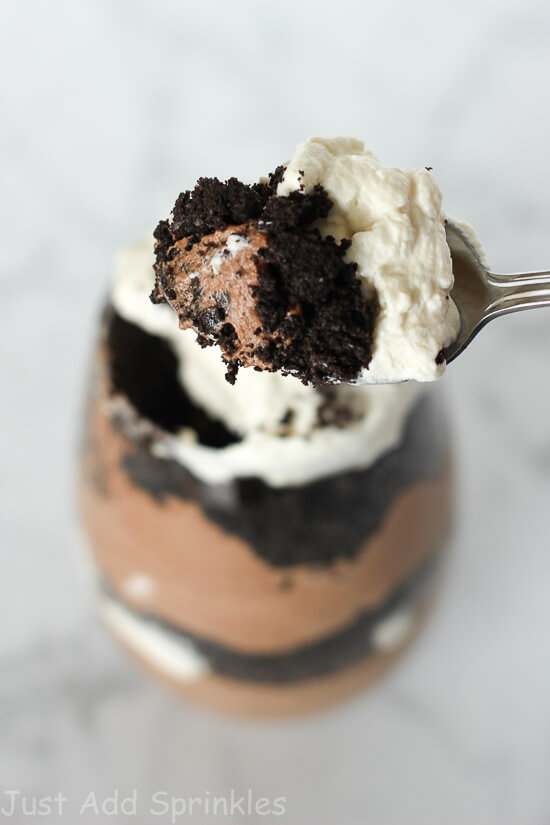 Roughly chop chocolate and place in a heat-safe (glass) bowl.
In a separate heat safe bowl heat up milk in the microwave until steaming, about a minute or so. Be careful not to burn the milk. Pour steamed milk over the chocolate and let sit for about 2 to 3 minutes. Stir the milk and chocolate together until thoroughly combined. The mixture should resemble dark chocolate milk. If chocolate does not melt completely you may want to reheat in the microwave for a few more seconds and stir the mixture until completely melted. Set chocolate/milk mixture to the side.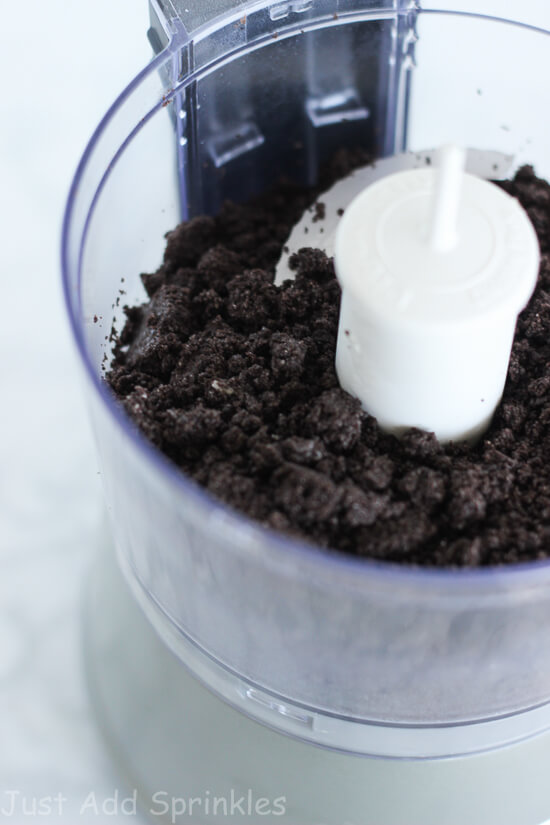 Using a stand mixer, beat heavy cream, Bailey's Irish Creme and powdered sugar on high speed until stiff peaks form, resembling whipped cream, about 5 to 7 minutes.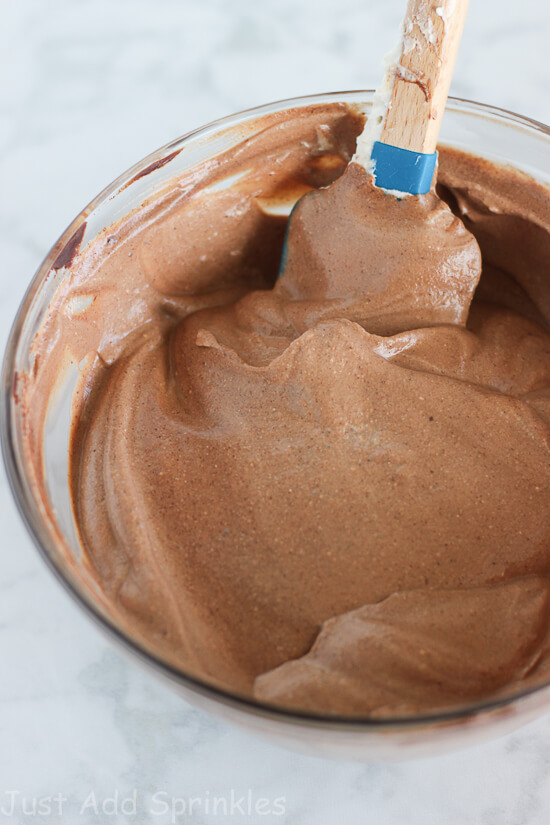 Divide the whipped cream in half.
Set half of the whipped cream aside in a separate bowl for the parfaits. The other half of the whipped cream will be combined with the chocolate/milk mixture. Slowly add the chocolate mixture over half of the whipped cream. Slowly fold the two together, until thoroughly combined. Be patient and take your time with this, you want the mixture to maintain a fluffy, whipped texture as much as possible.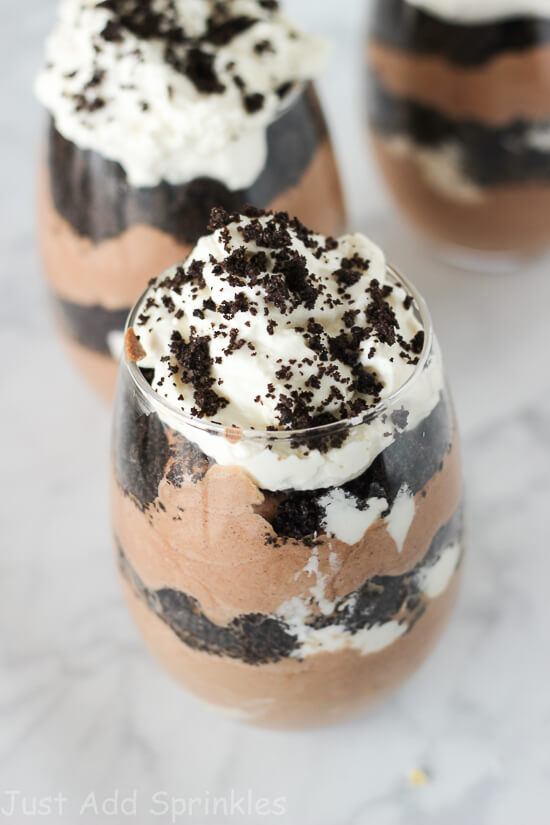 Now you're ready to assemble the parfaits. Use 3 small 8 ounce drinking glasses for the parfaits. You can either use a pastry bag or just a spoon and layer each glass until full. To get layers like seen in the pictures,  layer the chocolate mixture, then the whipped cream followed by cookie crumbs. Repeat one more time. Garnish the top of the parfaits with any left over cookie crumbs.
Parfaits are ready to be served immediately if desired or you can let them chill in the refrigerator for a few hours before serving so the whipped cream layers firm up slightly.
Watch the full video below
https://www.youtube.com/watch?v=-Ho8UvGRuBE
You can save or print the full baileys cookies and cream parfaits recipe here.
Source: just add sprinkles