By now, it's clear that anything can become a meme. This is especially true when it comes to events or situations that bear great cultural or social significance.
Whether it's politics, gas prices, or even world events, everything has meme potential — but only if people can find it funny. It's no surprise, then, that extended warranties for cars also became a meme in recent years.
"Your Car's Extended Warranty" is also known as "We've Been Trying To Reach You About Your Car's Extended Warranty." It is about phone scammers in the United States trying to trick people into renewing their car warranties. Scams are nothing new, and any unsuspecting person might fall for them.
However, this particular scam became so widespread that it became a meme!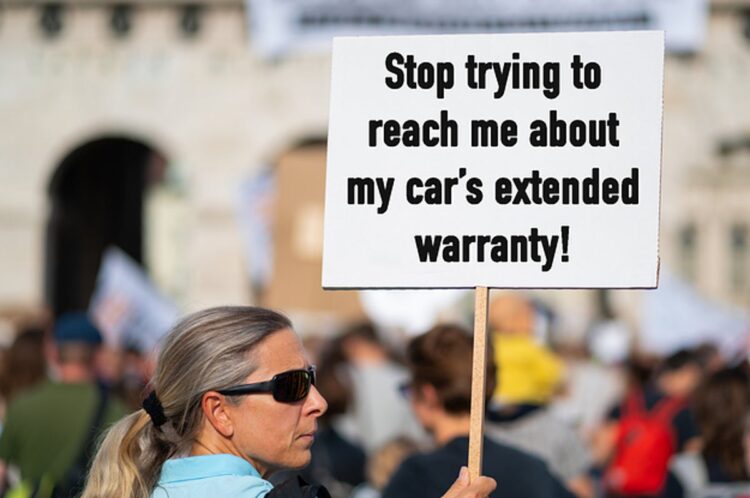 Source: Buzzfeed
Here's everything you need to know about " cars extended warranty meme "
How did the car's extended warranty meme start?
Scam calls are still rampant across the US. However, according to an interview conducted by NPR in 2021, this type of scamming started as early as 2007 to 2008.
They are usually masked as courtesy calls made to give the receiver a final warning about their car's extended warranty.
This is called robocalling, which are calls that deliver prerecorded messages to millions of people via auto-dialing software.
In 2007, a company called US Fidelis started a robocall campaign that tricked people into signing a contract with questionable fine print. It included a clause that exempted the company from paying car repairs.
People who were none the wiser signed the contract, unaware that only a car's manufacturer is authorized to sell a warranty.
Following the exposure of the scam, the former president of US Fidelis was then sentenced to eight years on state charges.
It wasn't until about 2016 that memes about these incidents surfaced. A user on Twitter with the account name @animals_advice posted the first known meme about car warranty scams as seen below: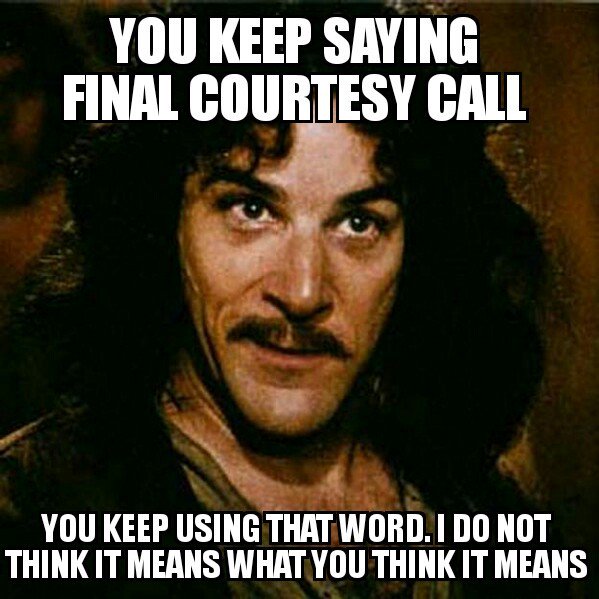 Source: Twitter
How the Meme Spread
Although the first meme barely gained any attention in 2016, making fun of the scams became more common in 2017 and 2018. More Twitter users started to post their own tweets, such as the ones below: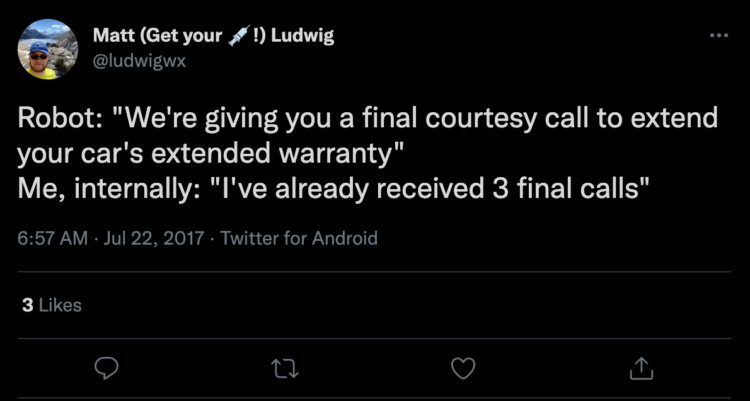 Source: Twitter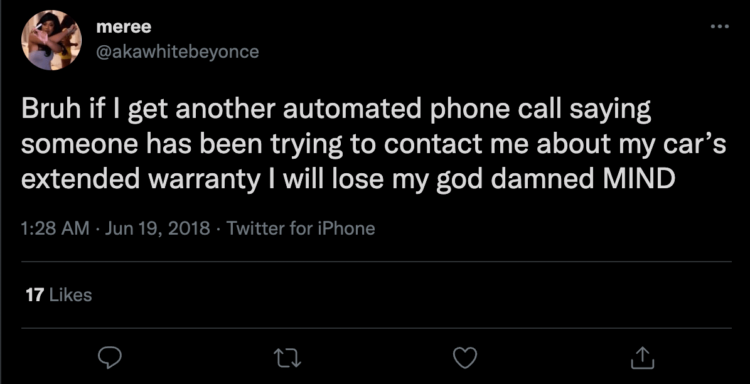 Source: Twitter
As more tweets appeared in late 2018, image memes also started to reference car warranty scams. Many of these appeared on social media platforms like Facebook and Instagram. One of the first known image memes was taken from a Facebook post and uploaded on Instagram, garnering about 600 likes.
On Facebook, another page used an already established meme format to post about the car warranty scams. It received about 7,000 reactions over three years.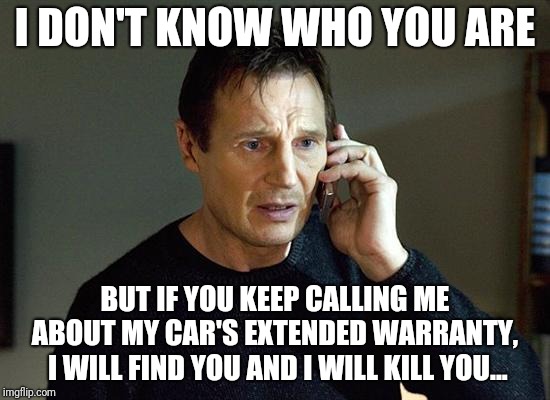 Source: Imgflip
Memes were also being posted on Reddit. A user uploaded the image below onto the /r/mildlyinfuriating Subreddit, which garnered 566 likes over a couple of years.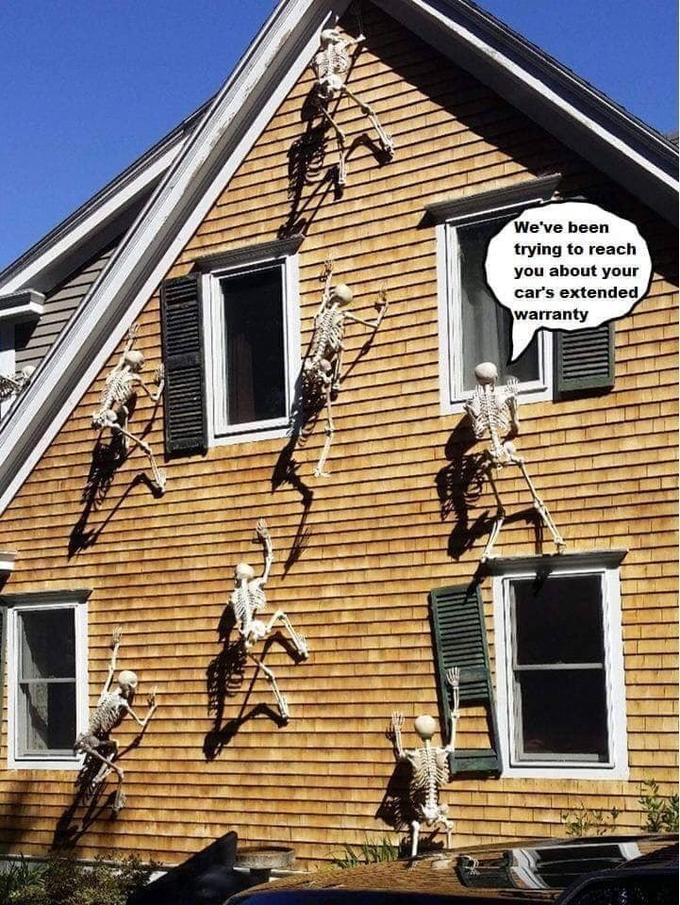 Source: Reddit
Since then, these memes have started trending again in 2020 and 2021. The Google Trends graph below shows a sharp increase in the number of search terms in April of 2020.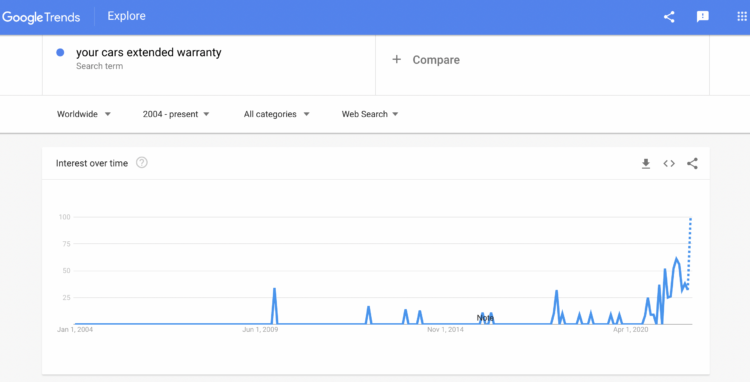 Source: Google Trends
Your Cars Extended Warranty Meme List
Here are some of the best "Your Car's Extended Warranty Memes" found on the web:
1. Nancy Pelosi's had just about enough of those wretched scam calls!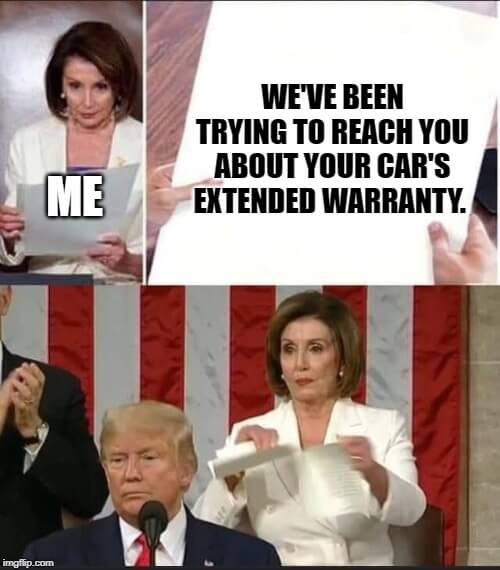 Source: Reddit
2. These callers will stop at nothing to reach people to scam.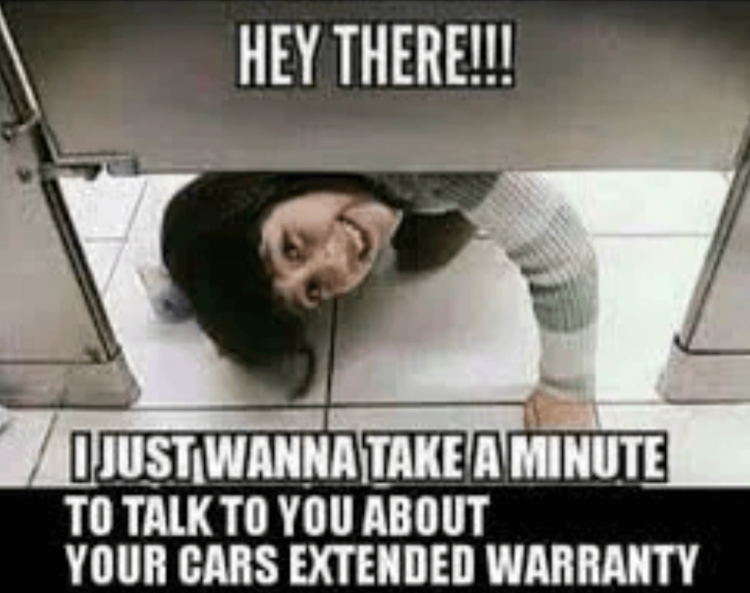 Source: 9gag
3. You might even find their spiel in your fortune cookies!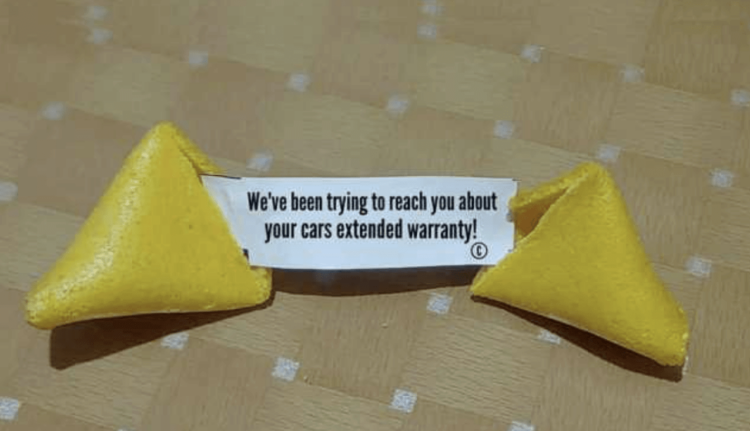 Source: TMO
4. The effort is real when it comes to calling again and again.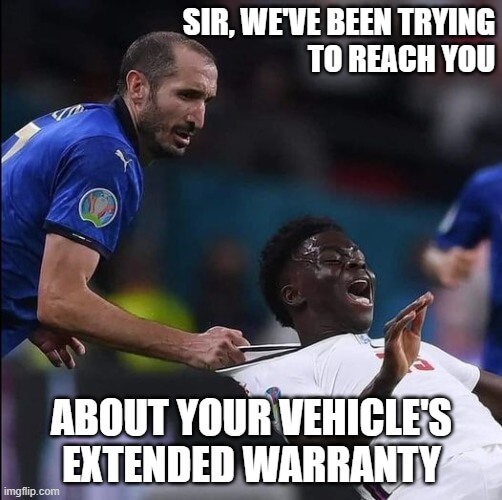 Source: Imgflip
5. You might even get a call in the bathroom.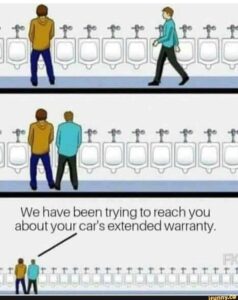 Source: Pinterest
6. In fact, they're probably called you enough times to bring you to tears.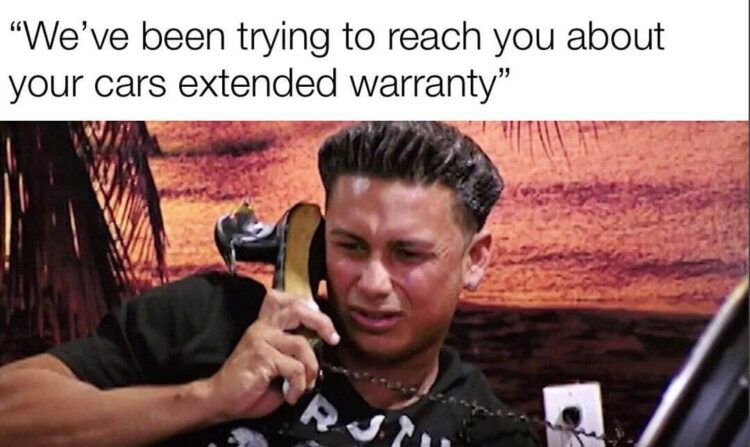 Source: Ah See It
7. There seems to be no way to run away from the problem.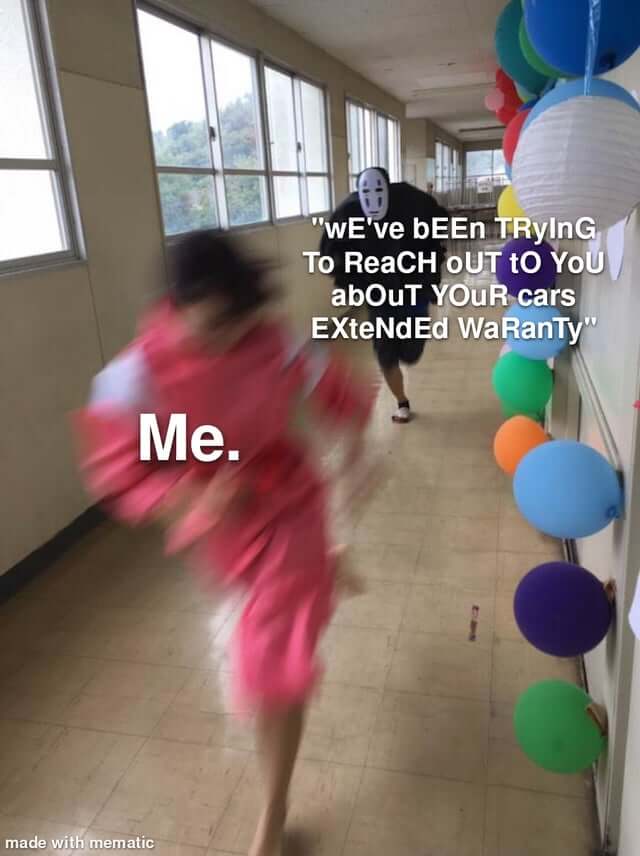 Source: Ah See It
8. And they have bugs EVERYWHERE!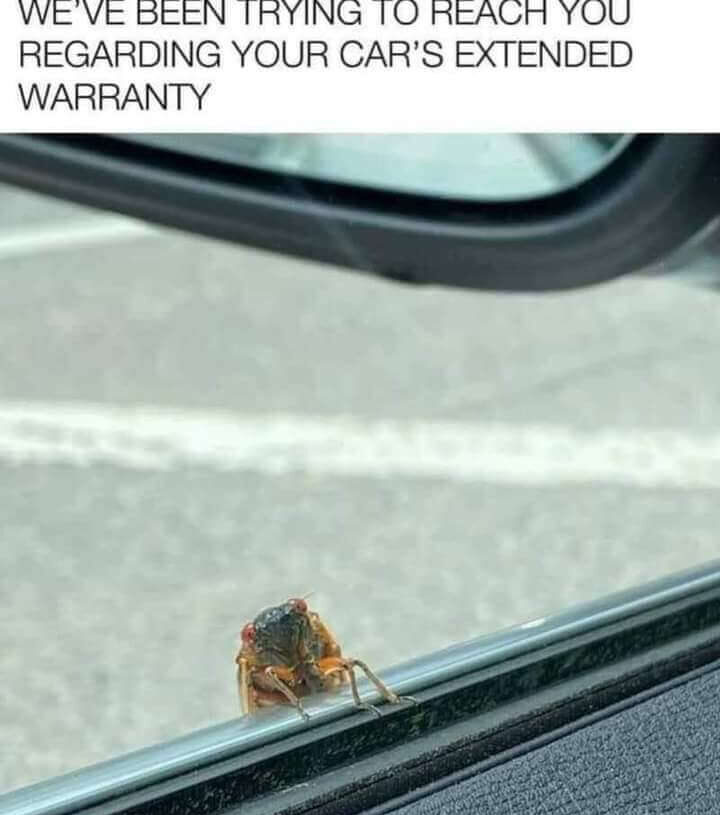 Source: Facebook
9. Sometimes a whole bunch of them can call you within a week.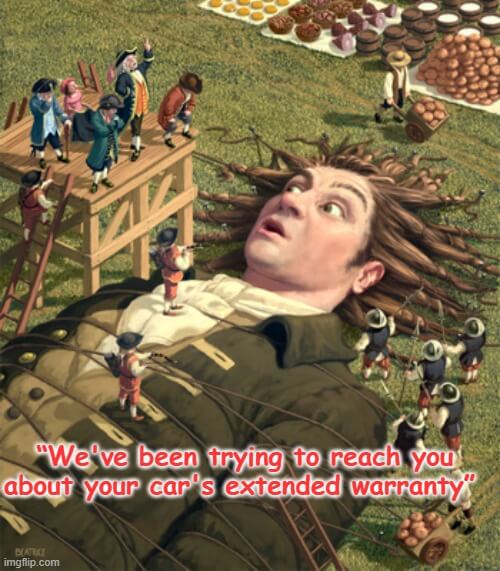 Source: Imgflip
10. These scammers are even going through Batman to get that call.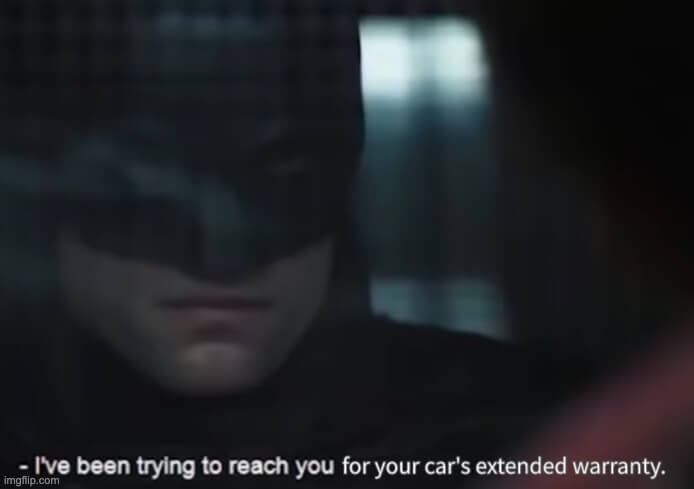 Source: Imgflip
11. Don't let this cute fella fool you; he could be in on it too.
Source: Know Your Meme
12. Even if you were stranded on a desert island, these car warranty scammers would find a way to call you.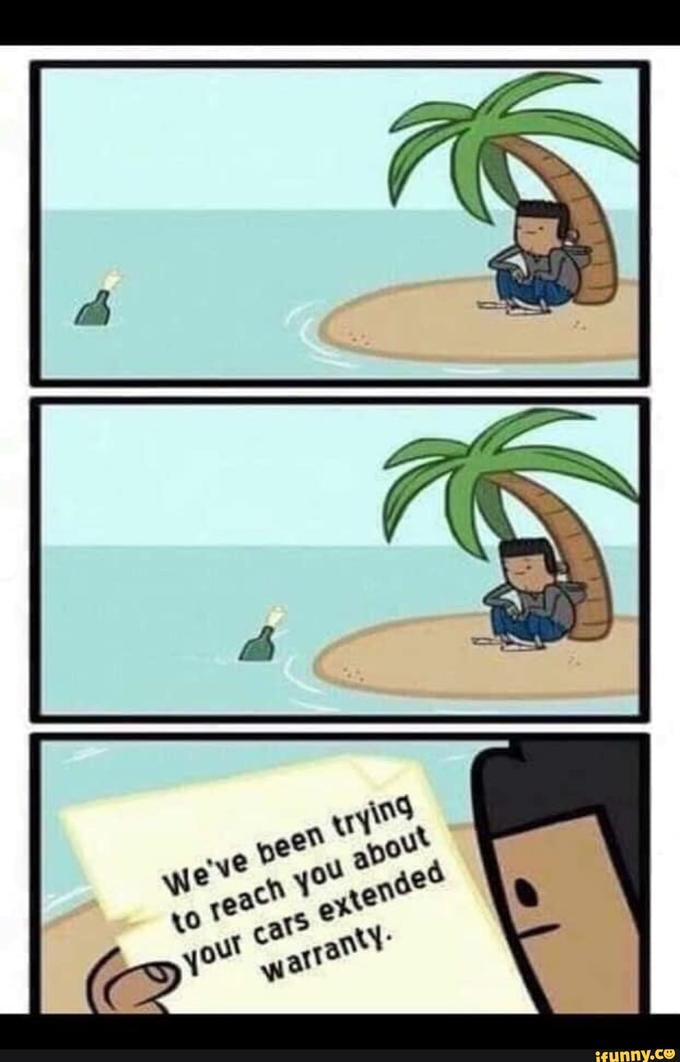 Source: Know Your Meme
13. Getting these calls over and over again is enough to drive anybody insane.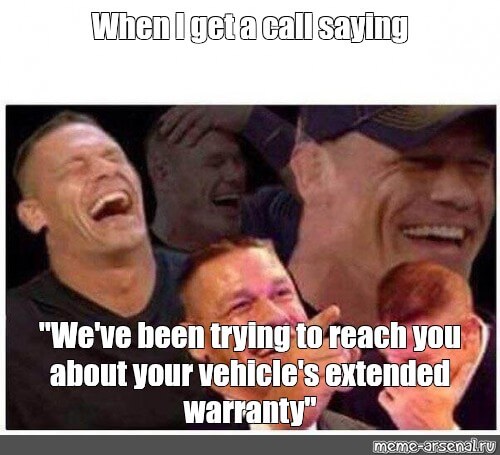 Source: Meme Arsenal
14. You might find their message in the most unlikely of places.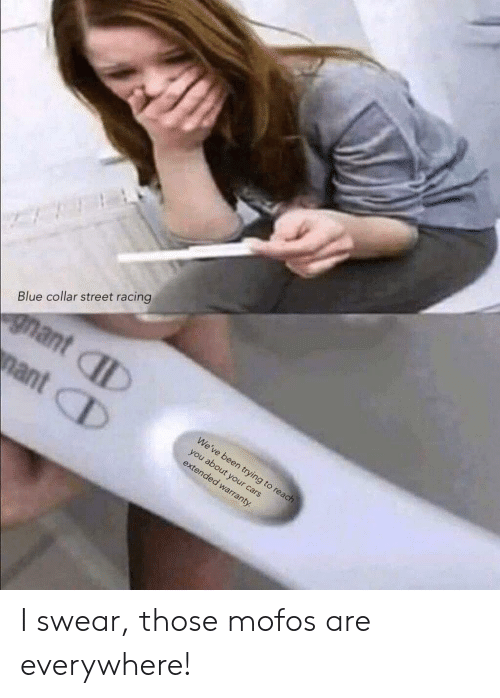 Source: King Mess
15. They're so aggressive they might as well be animals breaking through your car window.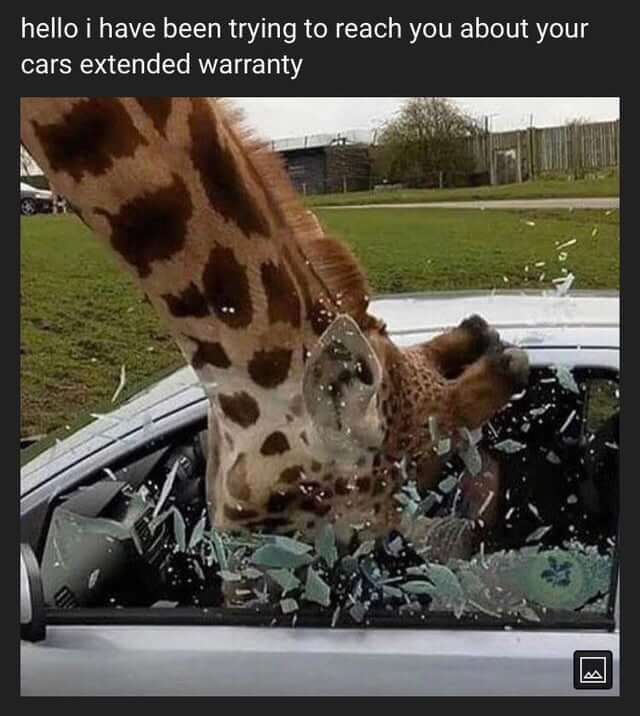 Source: Ah See It
16. Your Car's Extended Warranty Meme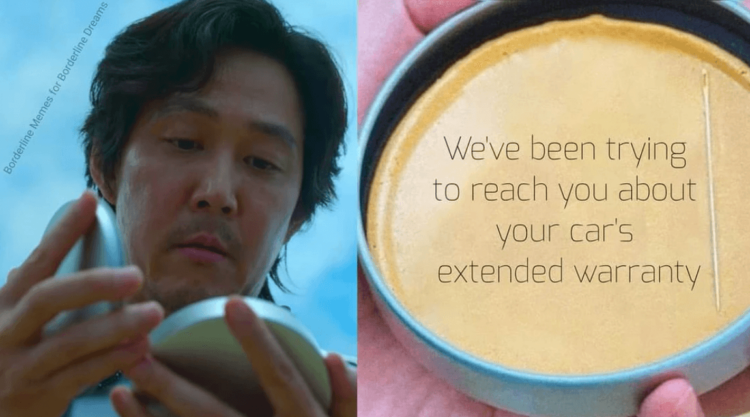 Source: 99 Memes
17. Bet those were their first words!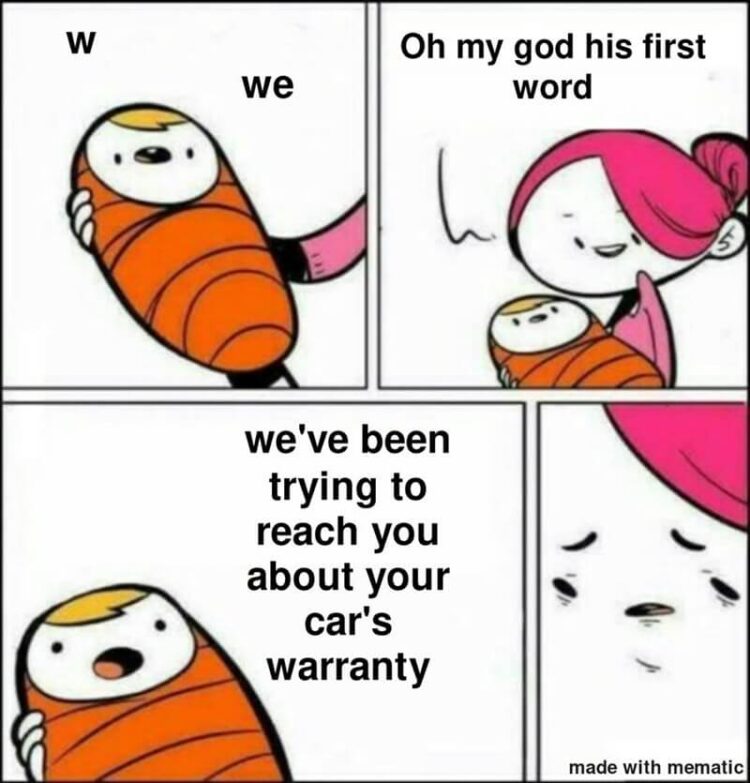 Source: Cheezburger
18. On vacation with no phone, they'll still be able to contact you.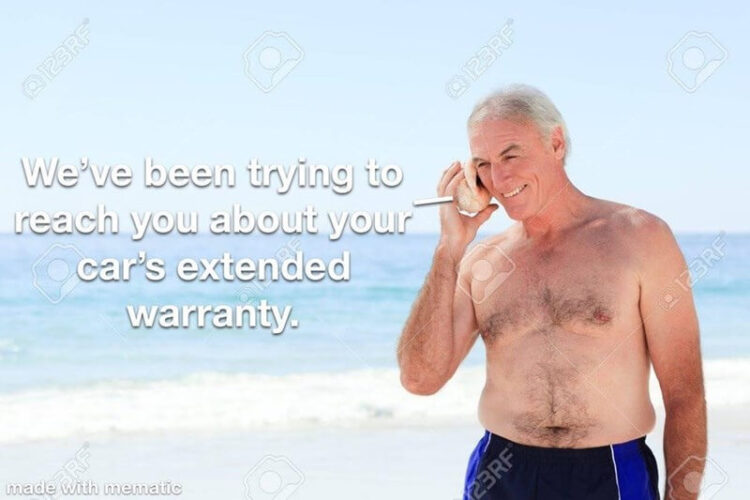 Source: Cheezburger
19. These scammers are so persistent that they'll call literally anybody.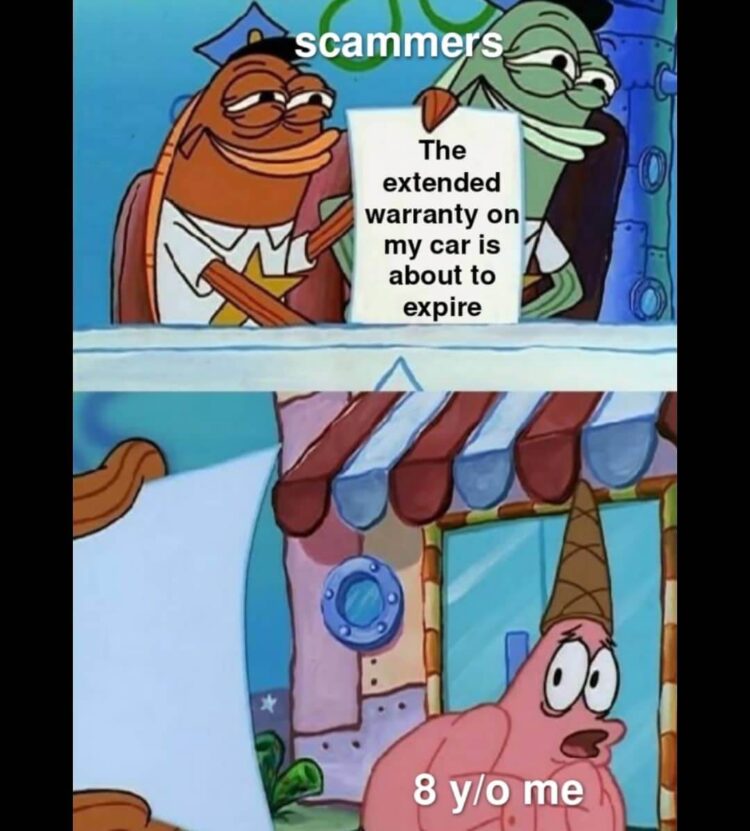 Source: Car Talk
20. Avoiding them is like avoiding a tackle in a game of football.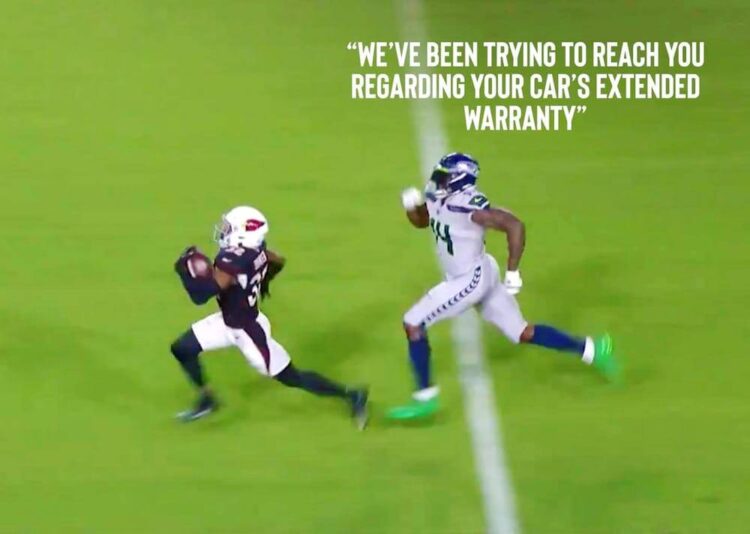 Source: Car Talk
21. Car warranty scammers will also try to get on your good side.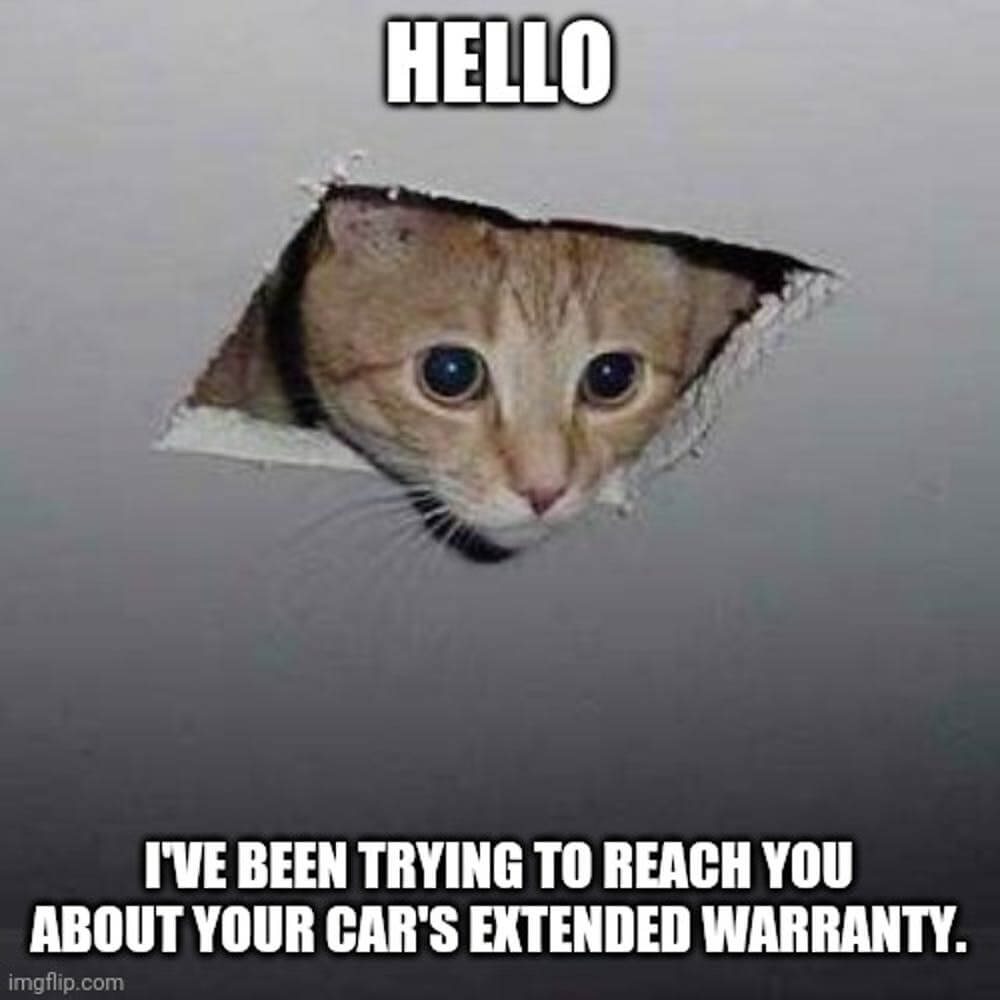 Source: Car Talk
22. If you accept the call, then these scammers might go on for hours — without realizing that you don't even have a car!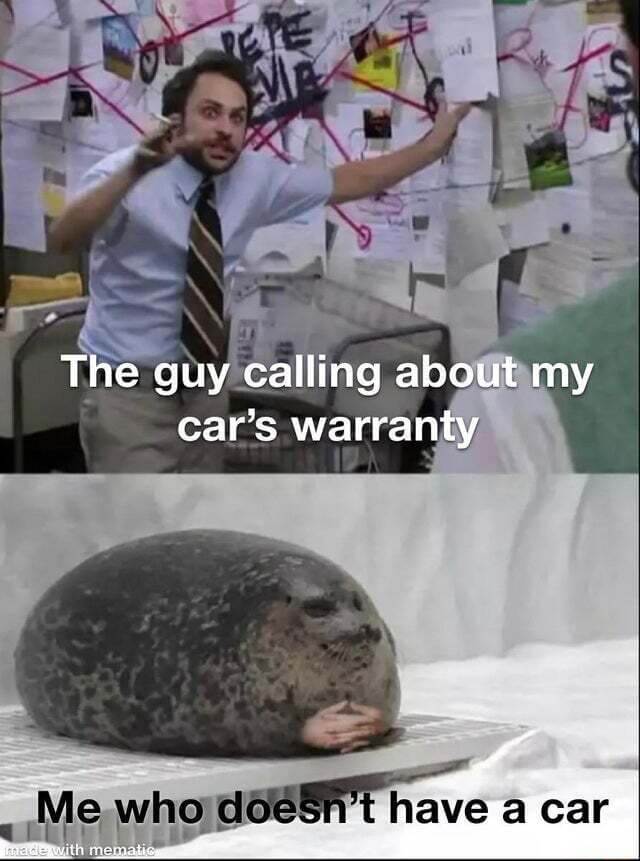 Source: Funny Lax
23. Every phone call from an anonymous number starts to feel like a threat.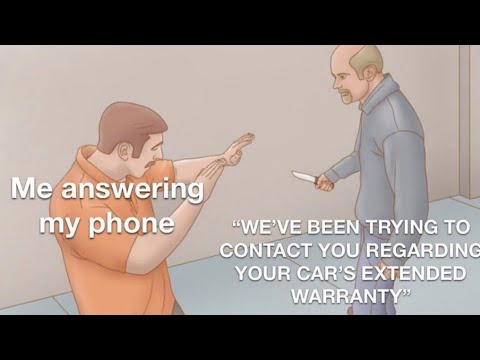 Source: YouTube
24. … And they can hide in the unlikeliest of places.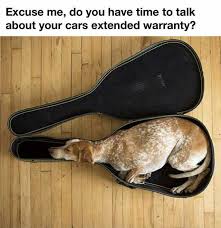 Source: Dopl3r
25. Getting another car warranty phone call is like being chased down by an angry orangutan.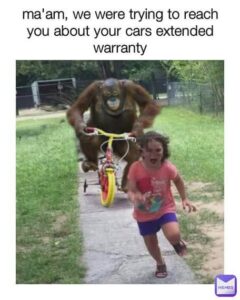 Source: Memes.com
26. Not even their cute tricks can fool you, though!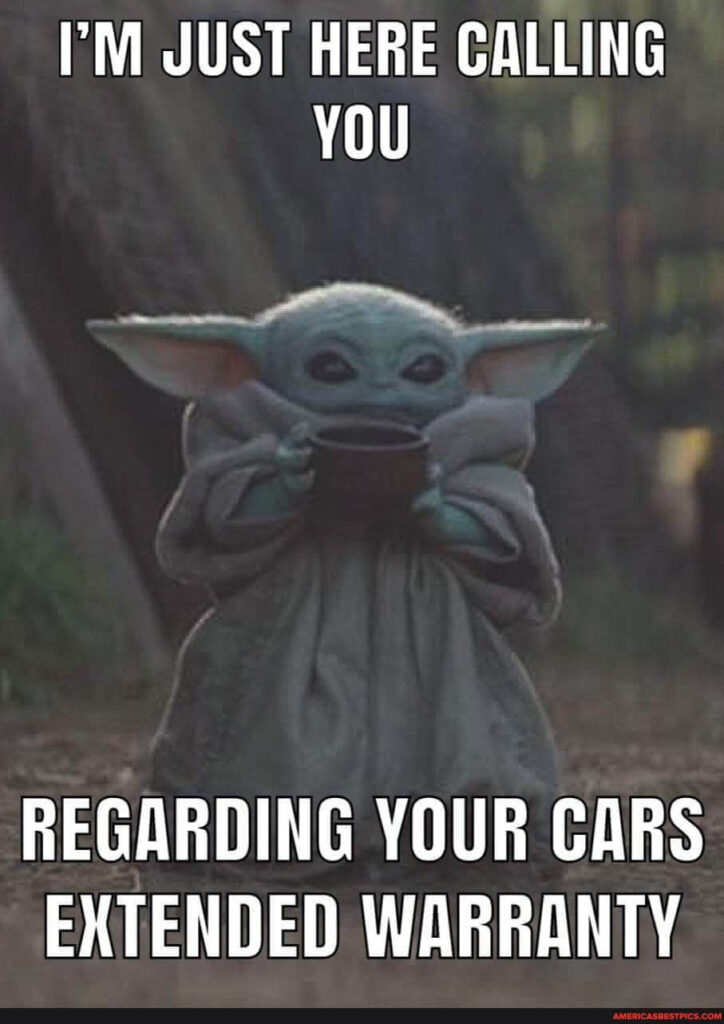 Source: America's Best Pics
27. But sometimes they'll catch you off guard.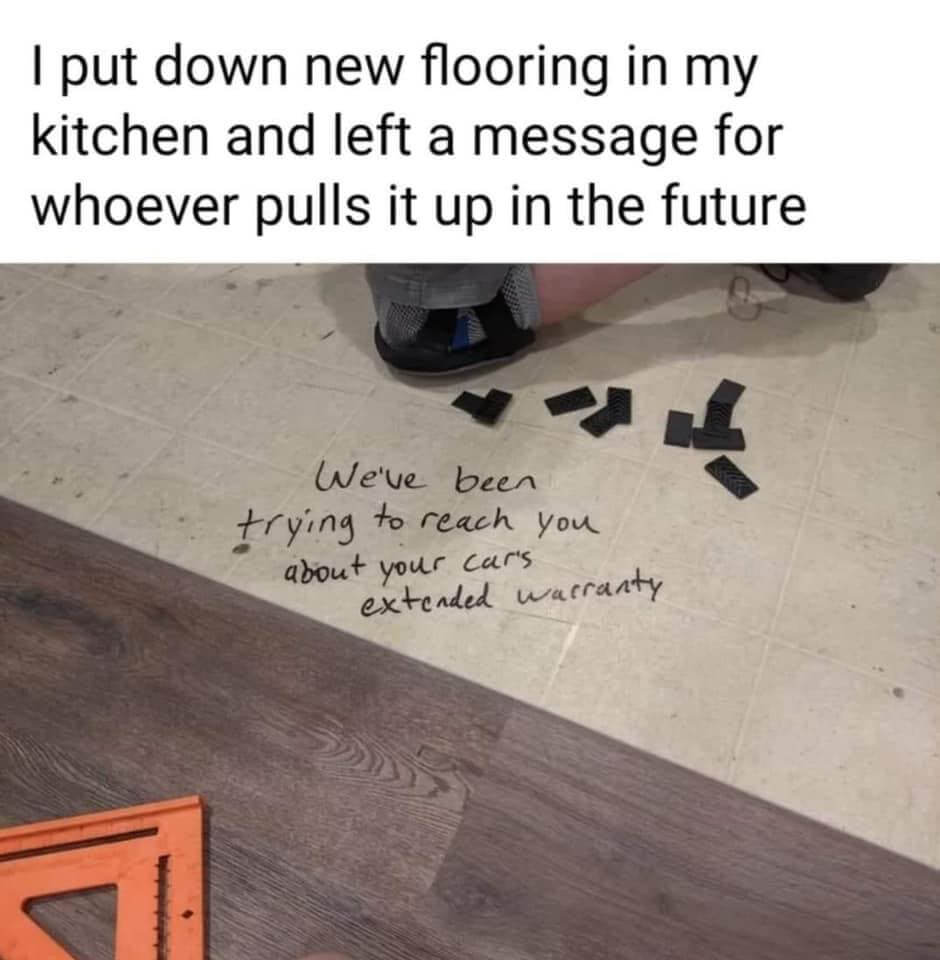 Source: Facebook
28. Their attempts might even disgust you.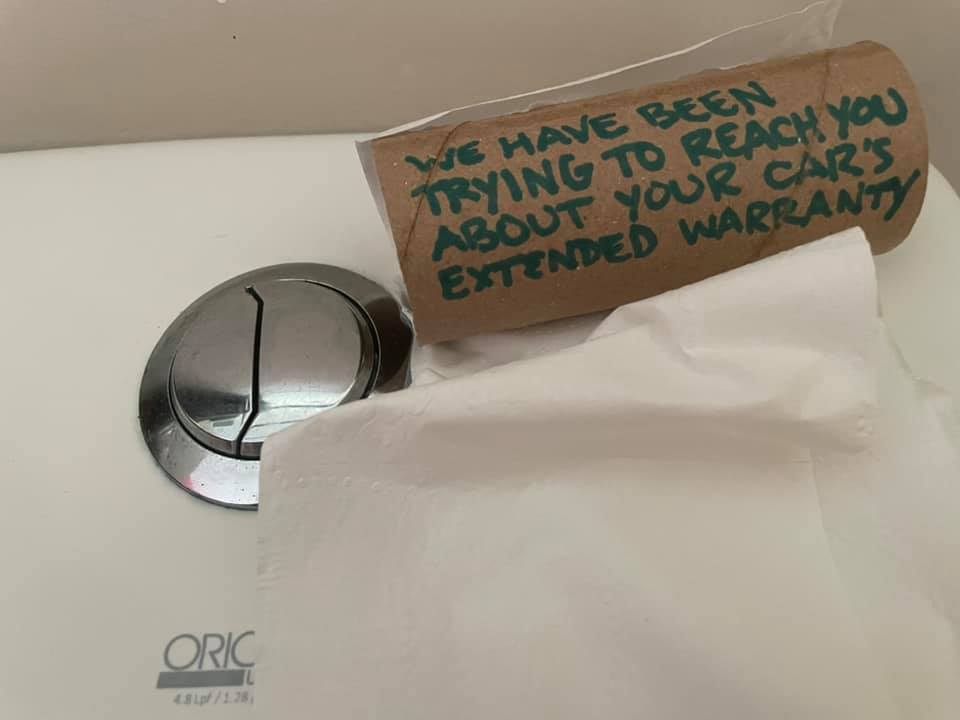 Source: Facebook
29. No matter what they do to get your attention, it's not worth it.
Source: Meme Arsenal
30. Because after all, it is one of the biggest and funniest scams to exist.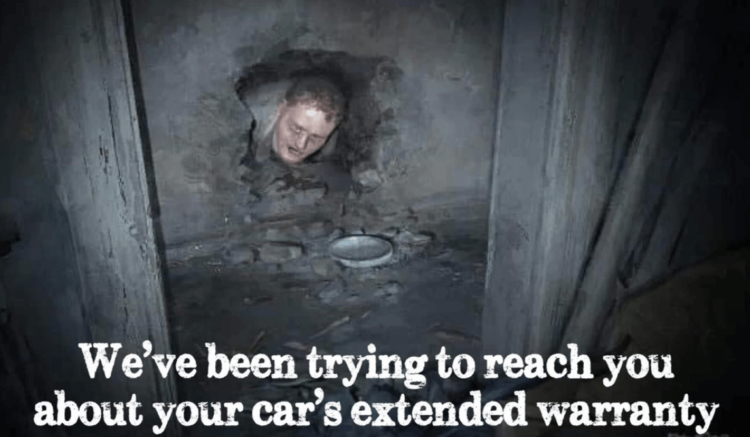 Source: iFunny
If you enjoyed learning about Your Cars Extended Warranty Meme, then don't forget to check out our other articles about memes here!