Mobile games have taken the world by storm in recent years, and their popularity continues to rise due to the movement ban for COVID-19. Game of War is one of the list and existence of its meme tells about its popularity in the gaming world. 
No matter where you are, mobile games have made it easier to stay entertained on the go, whether you're commuting to work or spending a Saturday afternoon unwinding.
One of the most popular online games is Mobile Legends, a multiplayer online battle arena that has become especially widespread in Southeast Asia after its release in 2016. Recently, Genshin Impact has started to gain a similar trajectory.
Sometimes, however, it isn't easy to keep up with which game is which. Many share the same gaming mechanism, and app development makes it easy for new games to come out every year.
Even their advertising is starting to look the same! There would have to be something really creative or compelling to get you to play a new mobile game, and there was one game that advertising got everybody's attention. The ad gained so much traction that it eventually became a meme. Can you imagine better marketing?
How TheLegend27 turned Game of War: Fire Age into a meme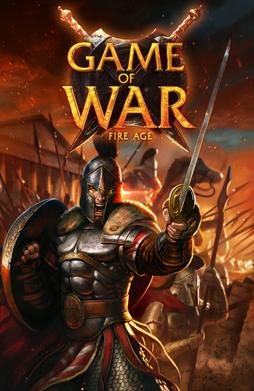 Source: Wikipedia
Origin of the Meme
It all started with an ad named "Campfire Stories," added to the Game of War official YouTube channel in 2016.
In the commercial, four Game of War players sit around a campfire to discuss how a player with the username TheLegend27 kept defeating all of them. It turns out that TheLegend27 was one of them, revealing her identity towards the ad's end.
The video went viral, gaining over 43 million views over the course of two months. Today, it has over 168 million views.
Source: YouTube
How the Meme Spread
Days after the ad's release, it began circulating on CollegeHumor and inspired many copypastas on Reddit. Remixes began to appear on YouTube as the meme started to spread as well.
Source: YouTube
Rise in Popularity and Becoming a Meme
As more and more video parodies of the ad appeared all over the internet, memes started popping up as well.
The appeal or the joke of the meme might seem elusive, but it's all about the opening line of the commercial, which goes, "I'm supposed to be playing Game of War, but this one player keeps kicking my ass." As the copypastas on Reddit gained popularity, this specific ad's opening line started to become pretty iconic!
Here are some of the best memes born out of this ad that garnered Game of War and TheLegend27 the spotlight.
1. When your entire army can't sleep because of TheLegend27.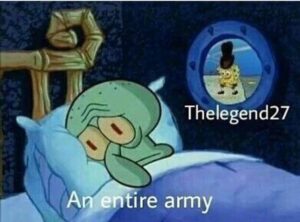 Source: Reddit
2. Think you can say your skull's a hard one? TheLegend27 definitely can.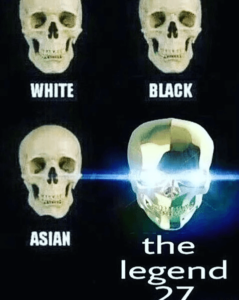 Source: Reddit
3. A line so iconic it can apply to every game!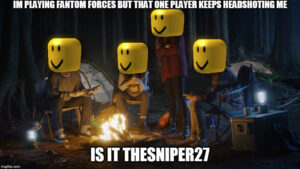 Source: Imgflip
4. If the U.S. government thought Area1 was foolproof, they definitely didn't see TheLegend27 coming.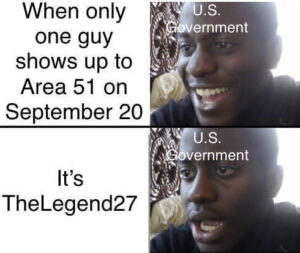 Source: Reddit
5. So I'm guessing you like TheLegend27.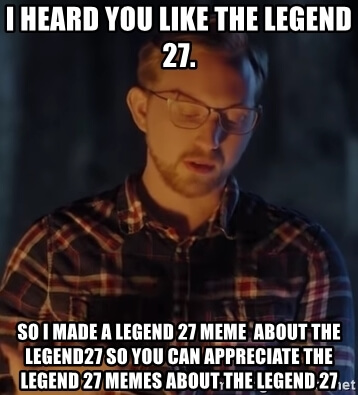 Source: Meme Generator
6. That's what you think!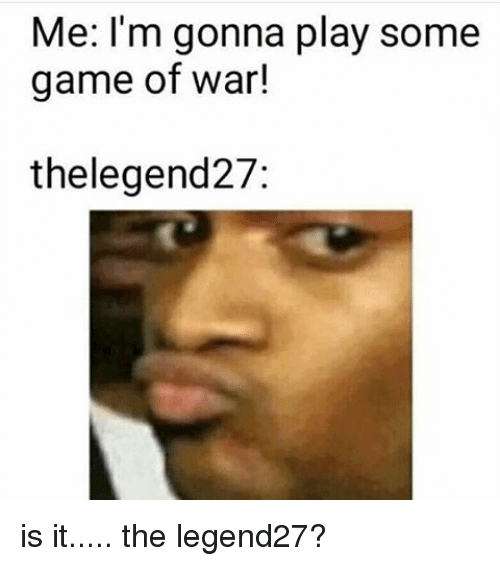 Source: Me.me
7. Battle of the memes! Will TheLegend27 win?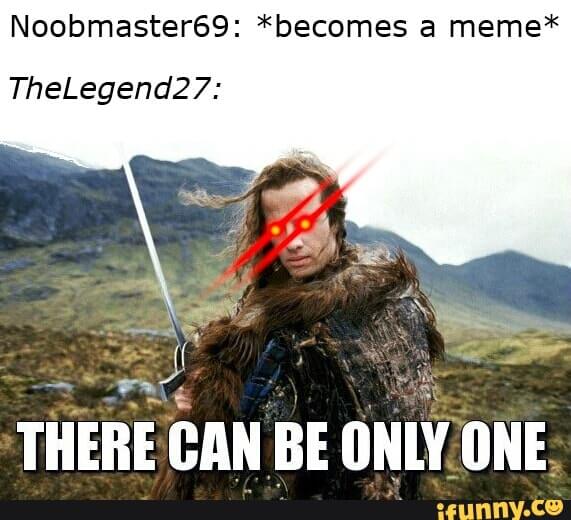 Source: iFunny
8. Hmm, tell me more about you being TheLegend27.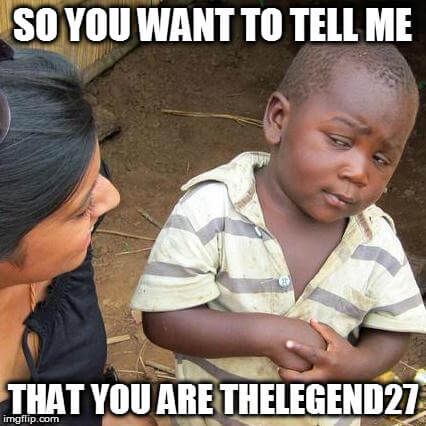 Source: Imgflip
9. When you're winning and feel like TheLegend27.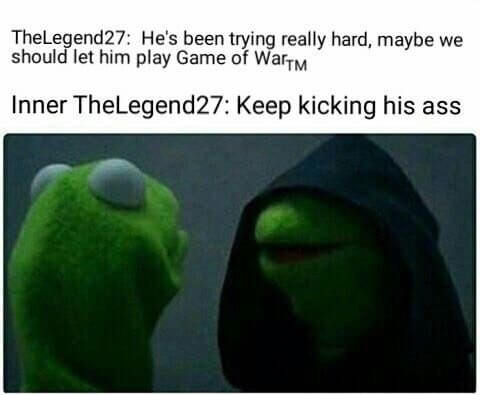 Source: Spicy Meme Weekly
10. Let's be honest—TheLegend27 makes some great memes!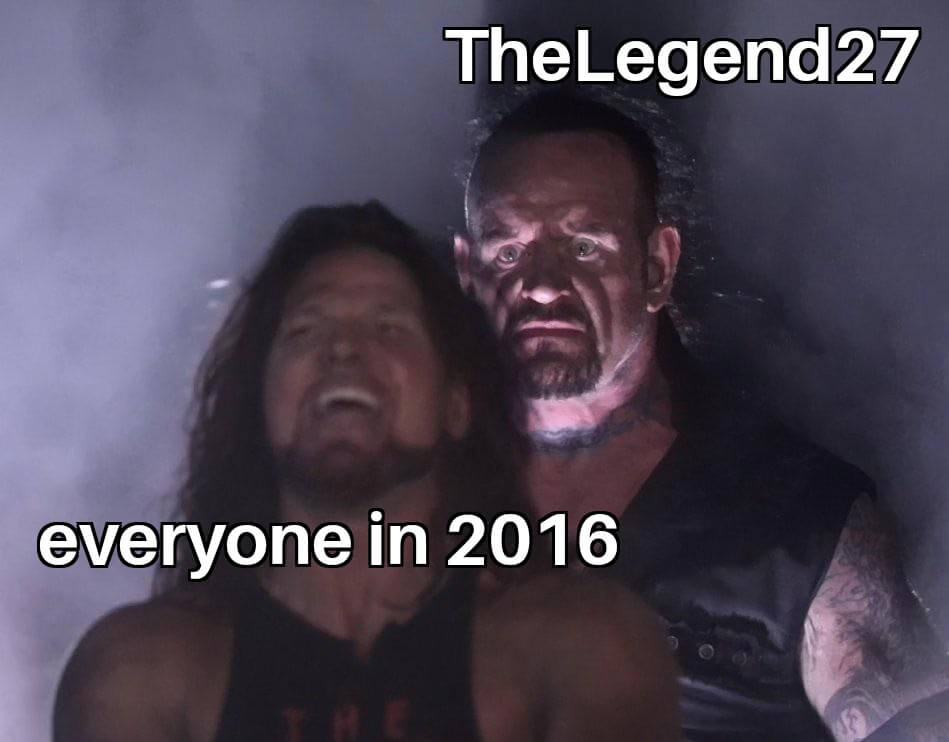 Source: Reddit
If you enjoyed getting to know TheLegend27 (but maybe not losing against her), then you might like some of our other memes. Check them out!