The new Game of Thrones trailer is already out, as well as a few exciting photos from the new and last season of this incredible saga that has kept us on the edge of our seats and sofas for the past 8 years. There are a lot of theories around the corner as to what to expect from this last piece of the game and some of them are based on the trailer and the exclusive pictures that HBO has released so far. Also, Lena Headey might have given us a massive hint to what is coming next. It's not much, but for some die-hard-fan is just enough to visualize the entire scene.
Lena Headey: "Should I go down those stairs?"
One of the pictures released by HBO has Lena Headey's Cersei looking down at someone or maybe entertaining the thought of killing someone who might stand in the way of her ambition. She is definitely still on the Iron Throne, as we see it in the background and her face does not really show happiness.  Lena Headey is currently on a tour to promote her new movie called "Fighting With my Family" and she admitted in an interview that she's "either looking at Peter [Dinklage] or I'm thinking, 'Should I go down those stairs?'" On the Good Morning America show Cersei was also challenged to blink once if Cersei, Jon Show, Daenerys or Tyrion die in the final season and she didn't. We don't know if she didn't take up on the challenge or if she actually did and that means none of these character will die. But, can we get a happy ending with all of them alive?
"It's about all of these disparate characters coming together to face a common enemy, dealing with their own past, and defining the person they want to be in the face of certain death. It's an incredibly emotional haunting bittersweet final season and I think it honors very much what [author George R.R. Martin] set out to do—which is flipping this kind of story on its head", said co-executive producer Bryan Cogman regarding the final season.
Jaime wearing a Stark armor?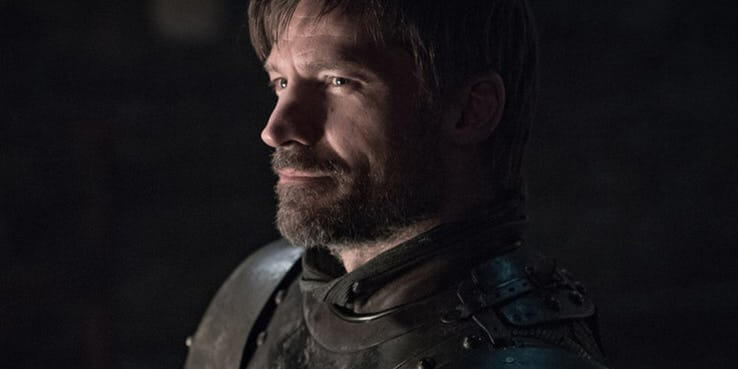 Another picture that got our attention is that of Jamie Lannister wearing what appears to be a Stark armor, or at least one that resembles the armor of Robb Stark: particularly dark and with the neck and shoulder pieces resembling that of the long-gone son of Ned Stark. This might not be that surprising taking into consideration that Jamie left King's Landing at the end of Season 7 and also left her sister and lover, Cersei, to pursue a greater cause, that of the humanity's very existence. Since Winterfell is the first place that the great army of the undead will attack, it is fit that all the characters, Daenerys and Jon, Tyrion and Arya should meet up there to discuss the destiny of the entire realm.
Aren't you all excited of what might happen?