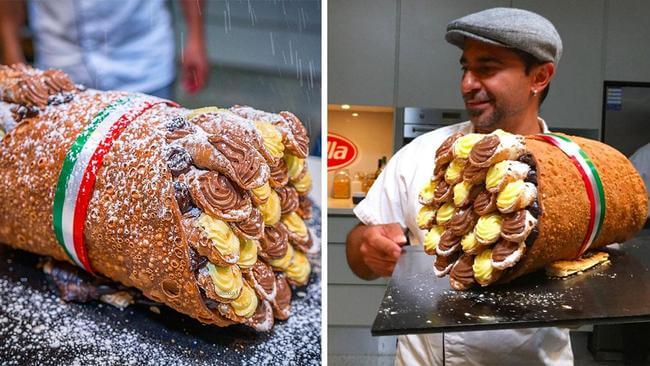 What do you get when you stuff dozens of creamy crunchy cannoli into one giant flaky pastry shell?? We call it cannoli heaven, but the folks at Pasticeria Caruso in Sydney call their custom creation The Bazooka.
Get a load of the piles of creamy filled cannoli stuffed into the sweet and crispy pastry tube. If this doesn't make your mouth water, we don't know what will. This decadent delight can only be special ordered off their catering menu in lieu of a cake or single cannoli platter.
The Bazooka gained internet fame when it was featured in a class on the art of cannoli making given by the Pasteciria chefs. After Instagram went crazy with pics of the sweet concoction, foodies everywhere had to know more about it.
In the meantime, if you want your own bazooka, you'll have to find a way to get to Sydney, or maybe you could download their class and learn to make it yourself!
SEE ALSO: This Is The Best Oreo Fudge Recipe Ever Made
Source: sobadsogood