Get your dog ready for Halloween with these Star Wars costumes for dogs and have him stronger with the force! Doesn't really matter if you go with a Master Yoda costume or follow the dark path of a Stormtrooper or even Darth Vader, this gallery has the perfect dog Star Wars costume line up for you to choose from. 
Star Wars craze keeps going and it seems it's only getting more and more intense as time goes by. Fans worship the popular franchise from the very beginning and the original trilogy and collect everything that has something to do about it, not to mention Halloween costumes presenting Star Wars characters.
Yet some fans go further with the Star Wars craze than others. For example, some put even their pets into Star Wars pet costumes.
Let's check out some Star Wars dog costumes that are totally into the craze, or at least their owners are.
The Coolest Star Wars Dog Costumes and where to get them:
Obi Wan Kenobi – Amazon.com
The Bark Star – Unknown, it's a homemade one.
Princess Leia and Darth Vader – Amazon.com
Aw2D2 – Amazon.com 
Chewbaca – Amazon.com 
The perfect Ewok – Link
Yoda – Halloween Costumes
Another Yoda – halloweencostumes.com
Chewbaca in different variation – Amazon.com
Stormtropper – Amazon.com
C3PO – Amazon.com 
Star Wars tie – Unknown
Yoda with hands – Amazon.com 
BB8 Droid – Amazon.com
Yoda Backpack – Amazon.com 
Darth Vader – Halloweencostumes.com
Cute Ewok – Halloweencostumes.com
Bantha – Halloweencostumes.com
Princess Leia again – Halloweencostumes.com
AT-AT – Amazon.com
BB8 again as a hoodie – eBay.com
1. The cutest Obi-Wan Kenobi ever! The first Star Wars dog costumes on the list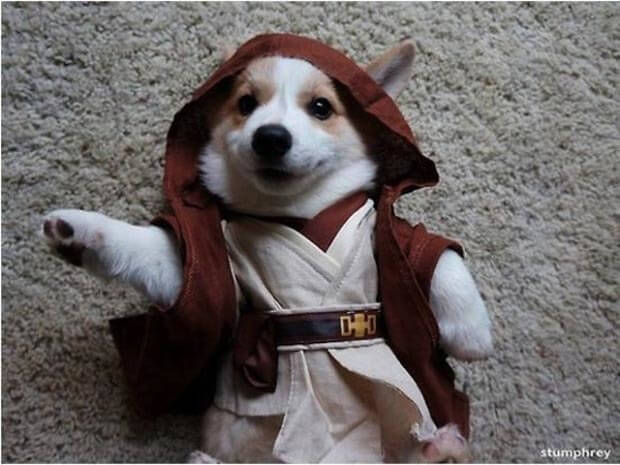 Obi Wan Kenobi is always a fan favorite when it comes to Star Wars costumes for dogs, and this one is no exception, with the sleek outfit and hoodie this one is a great choice for your pet.
2. The Bark Star – get it? Like the death star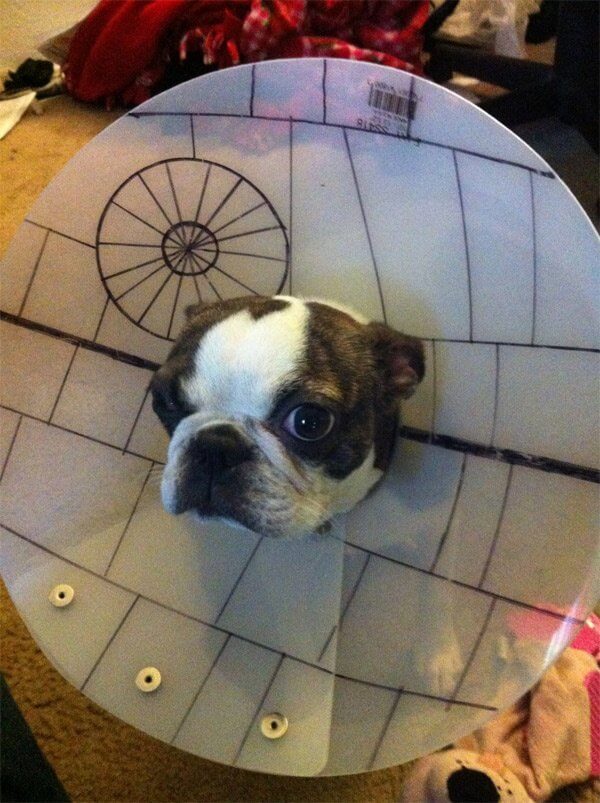 This one will be a little hard to walk around with, but it is very cool either way even if it's just for the photos. The Death Star or as we call it, the Bark Star. This will be the talk of the party, we can promise you that.
3. Princess Leia and Darth Vader, hope there will be no fight, both are cute.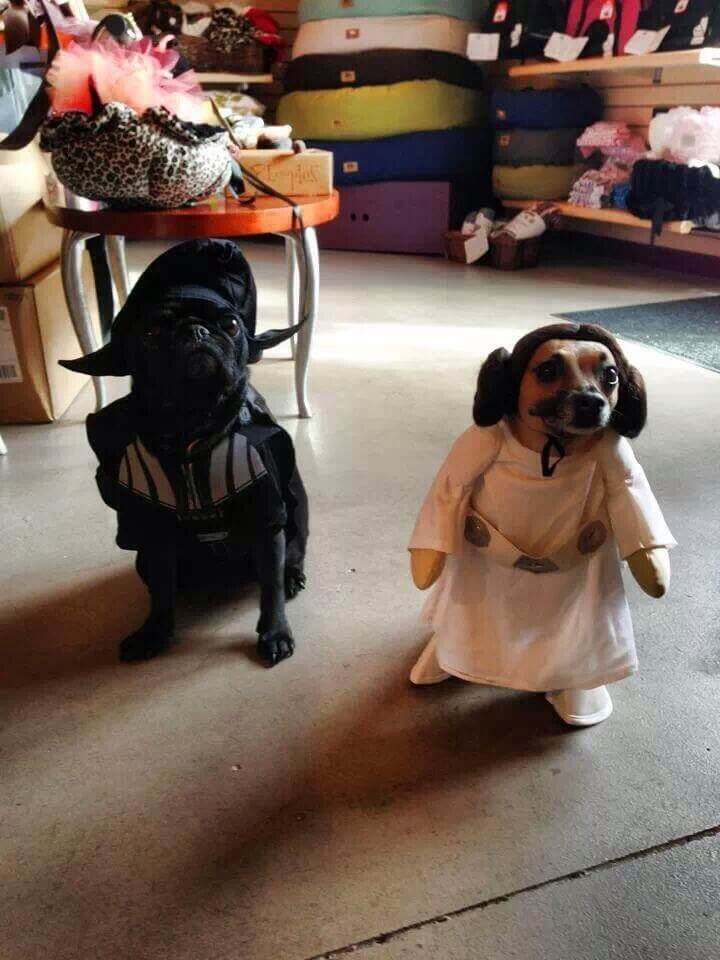 A due of both princess Leia and Darth Vader, while in the movies these two are enemies and fight every chance they get, in the costume world these two will be the cutest pair in every event.
4.  Aw2-D2. Love this picture of a dog Star Wars costume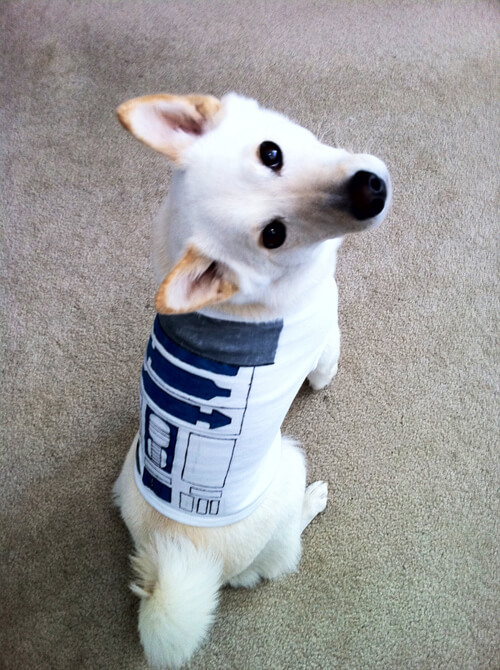 You get it? We changed the name of the robot to AW because it's too cure. Obviously this is a costume for your dog as R2D2 and your dog will love every second of it because of all the treats people will give him.
5. Lol! This is perfect! Chewbacca…bet he likes to chew the toy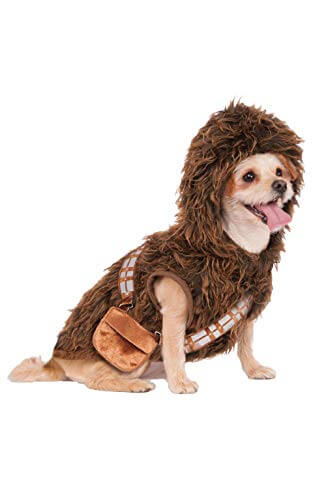 A complete Chewbaca dog costume that comes with a side pack, while dogs are naturally furry, to give this costume the edge, they actually added more fur just to make sure it looks like the real thing.
6. Watch out of this Ewok he is dangerous!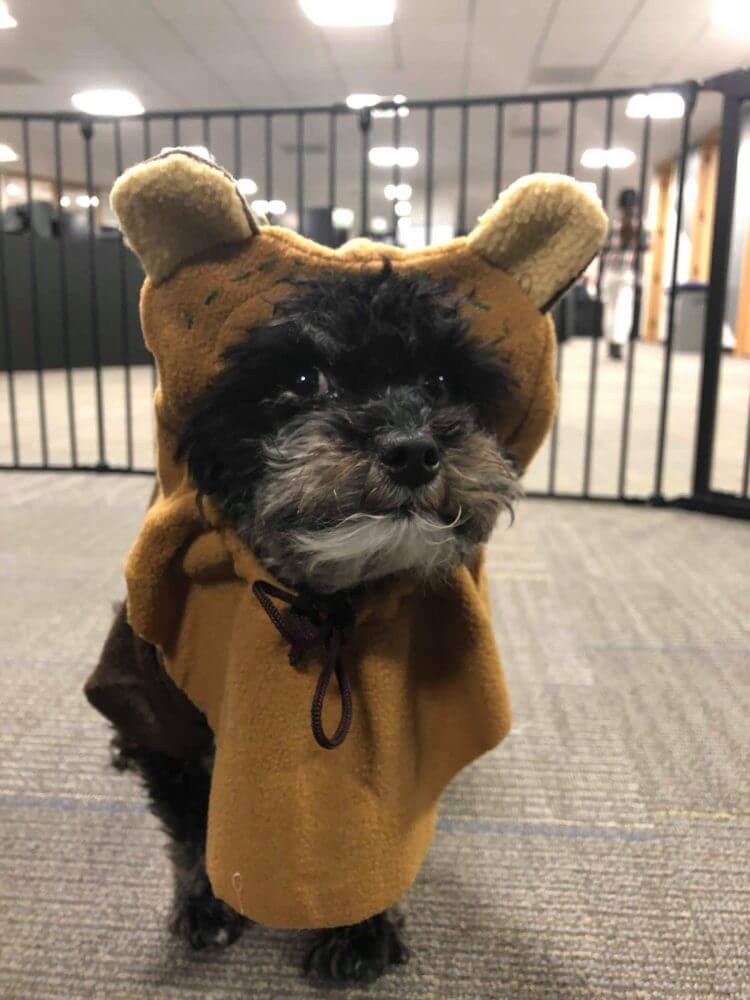 I don't know if the dog makes the costume or the costume makes the dog, either way getting this will be a great idea. Ewoks are a perfect addition if you have more than one dog in your home and you want to mix things up a little bit.
7. Yoda looking great! Need a weird and confused advice? Ask this dog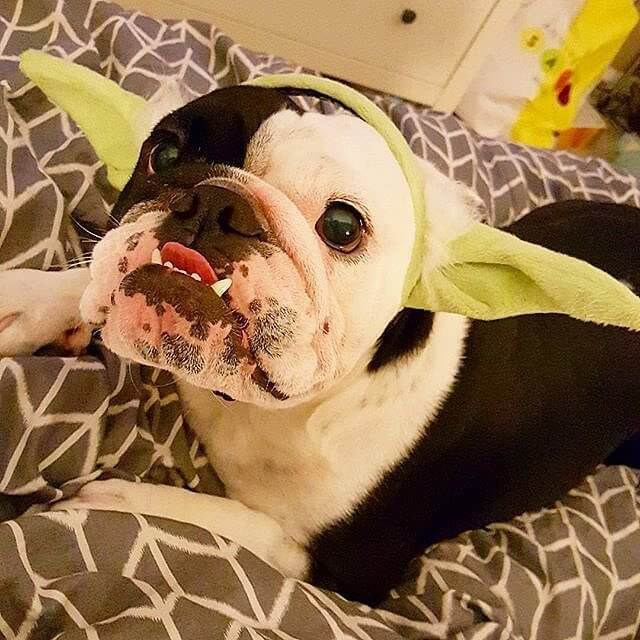 Yoda is one of the most popular characters in movie history, this costume comes with just the ears, but because of the popularity of Yoda, that's all you really need.
8. I wanted to be the dark lord!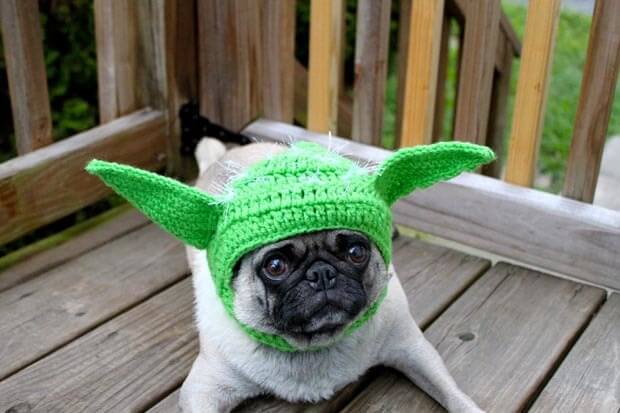 This is a combo dog costume and a hat, for those cold winter nights, you can get this for your dog and make sure he looks cool and keeps warm.
9. This duo are my favorite from the list! Just look at them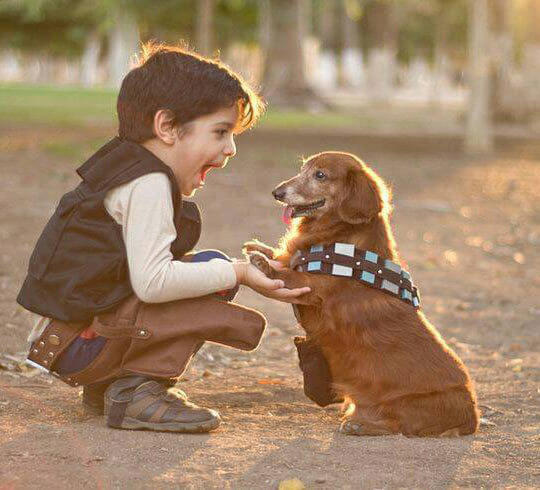 Dress up with your dog to show him you too can have fun. This due costumes are for dogs and humans alike. The Chewbaca and Han Solo outfits will be a hit!
10. This mask won't last long…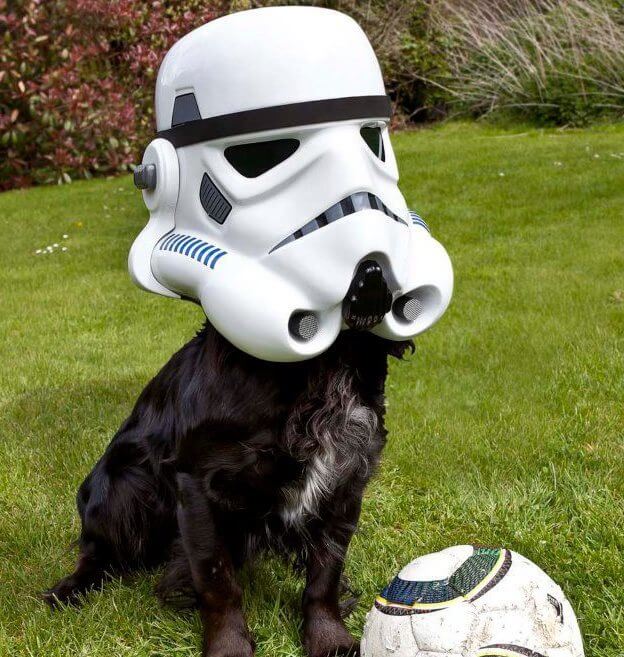 Stormtroopers are a fan favorite, they show up in every movie, and they are always like a little bit silly and dumb right? Can't shoot for their life but they way they look just makes them feel so cool, even though, they are not.
11. Look how cute am I, and you said I'm more C-3Po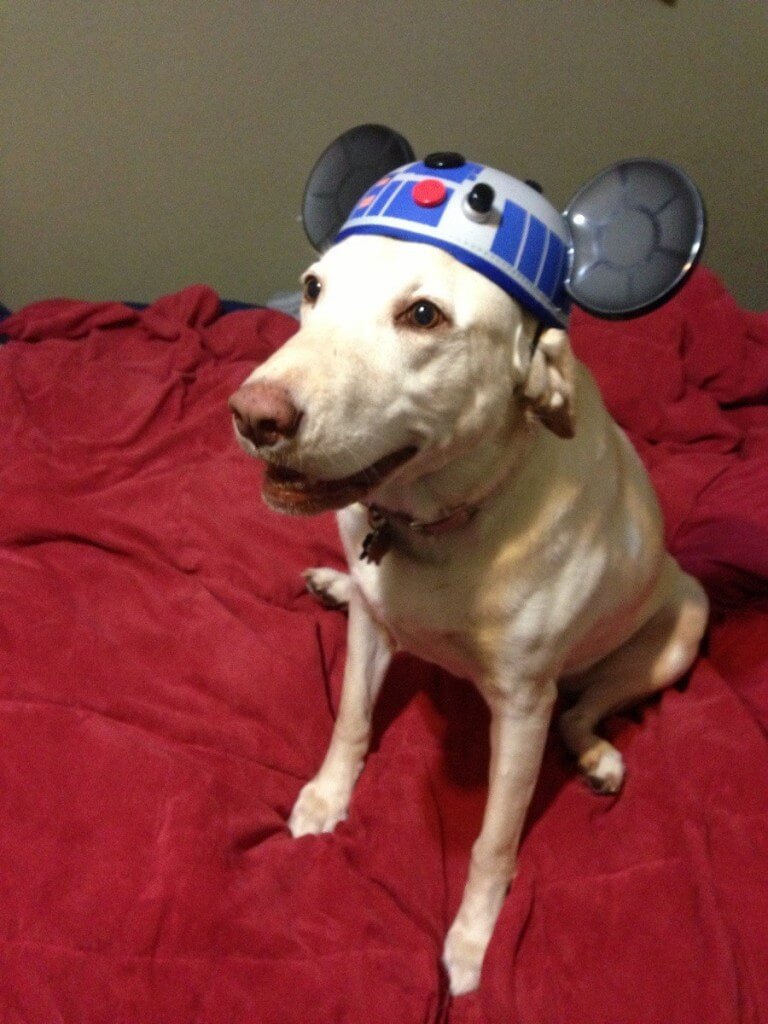 A simple version of the R2D2 robot with just the ears. Because dogs are already such cute animals, sometimes all you need is the addition of the ears and you're set.
12. Nice and smooth… subtile and cool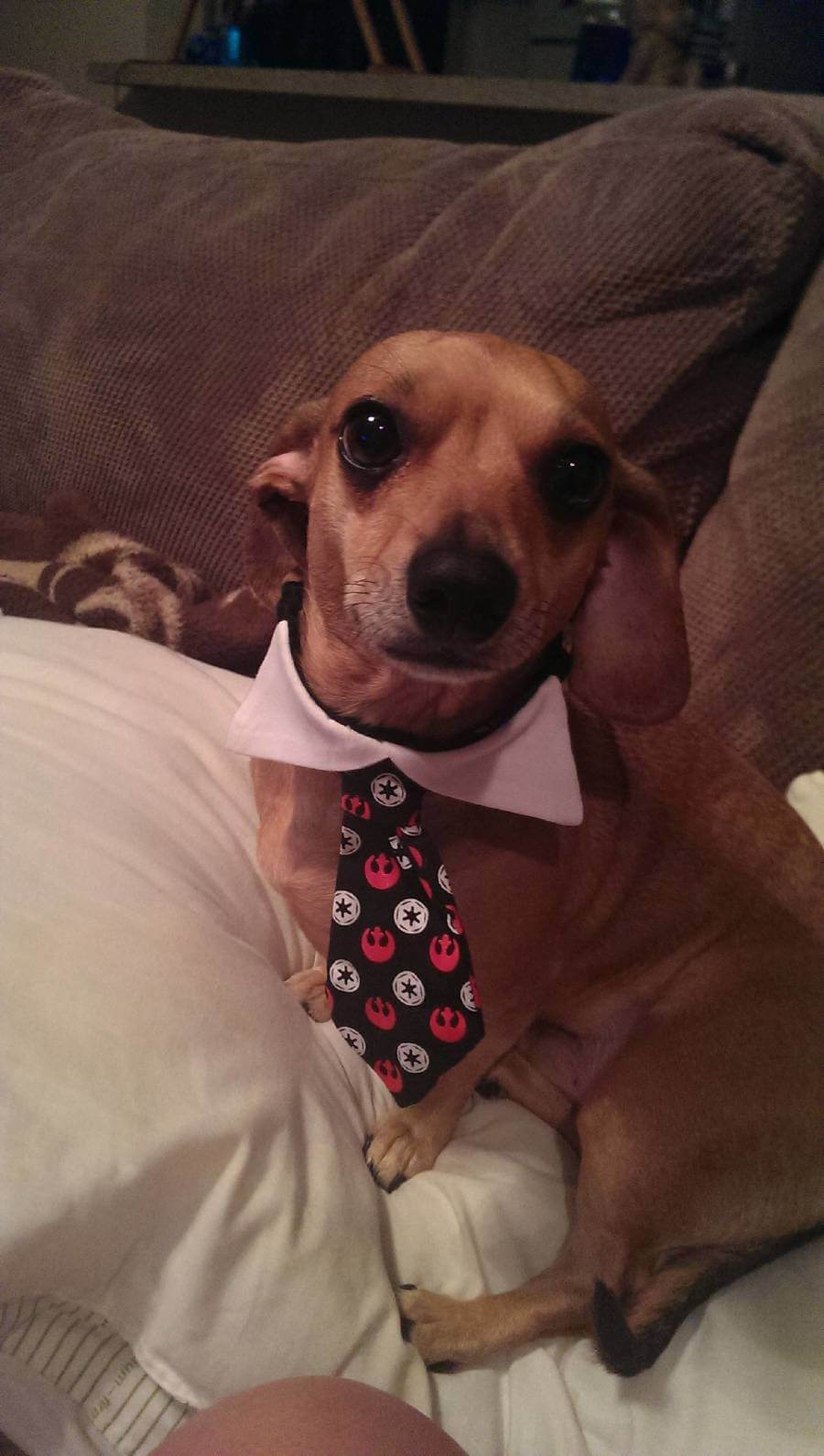 Sometimes all you need is just a small piece to make everything look great!, This tie with the Star Wars symbols is honestly more than enough when considering dog Star Wars outfits.
13. I know, I look wise, right? Hear me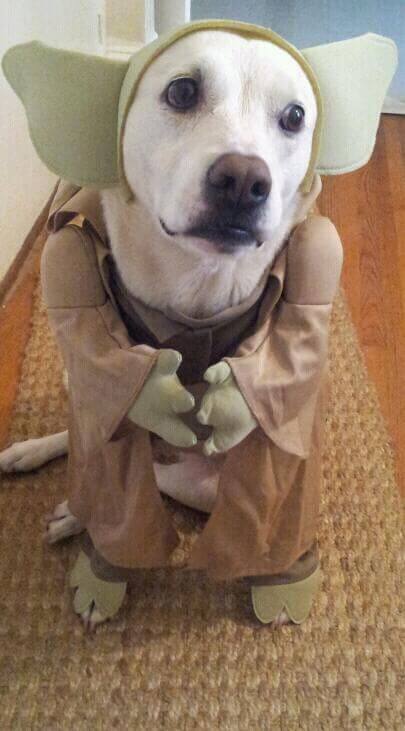 This Yoda pet costume does not only come with ears, it actually has hands and body, making it far superior to the regular Yoda costumes we saw online.
14. Damn, all costumes of R2D2 were sold …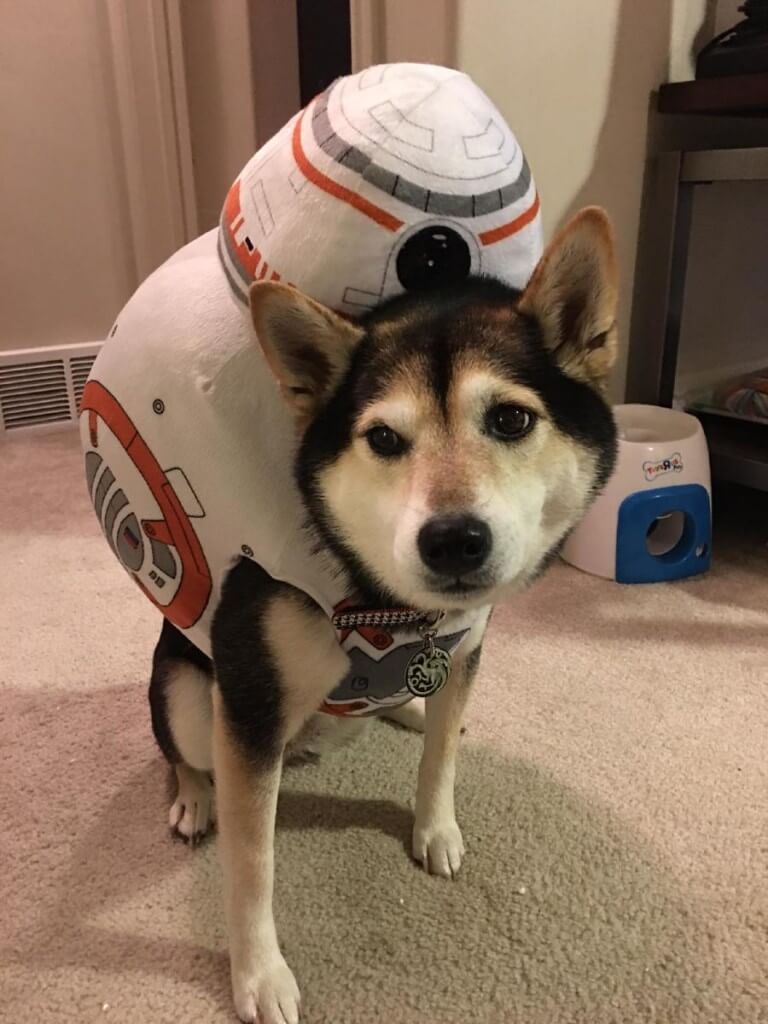 Not really sure about this one, as it looks more like a backpack than a costume, it's a BB8 robot costume that you put on your dog and it looks like he is carrying the robot on his back.
15. Let's play Star Wars!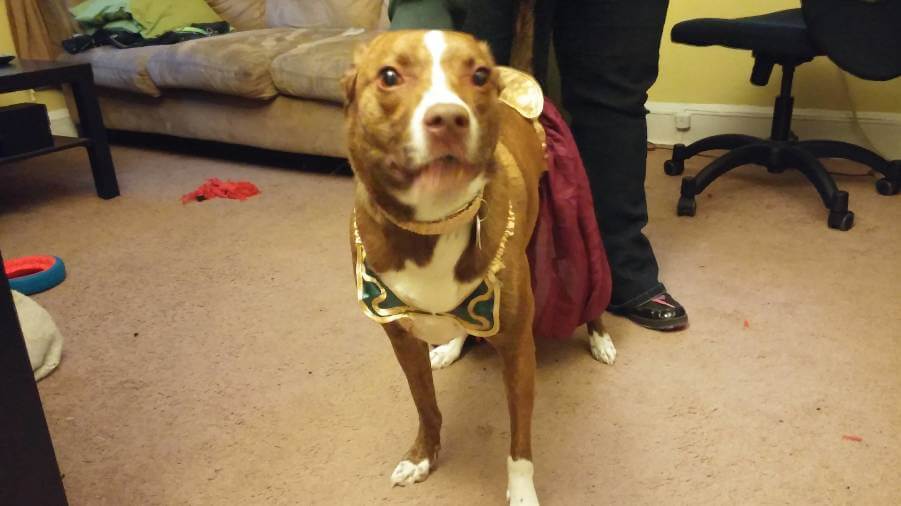 Is it just me, or is this dog just looks like Princess Leia naturally? She doesn't really need the costume, what a gorgeous dog!
16. I will take care of old Yoda, no worries!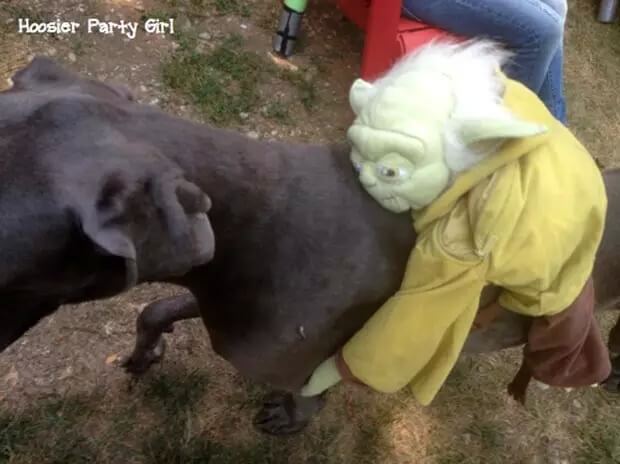 A Yoda costume riding a dog, simple but gets the job done.
17. ( the Imperial march theme )
This costume makes it look like the dog is walking on two feet, and also with the helmet it makes it look like he is Darth Vader, so that's a cool combination.
18. Yub yub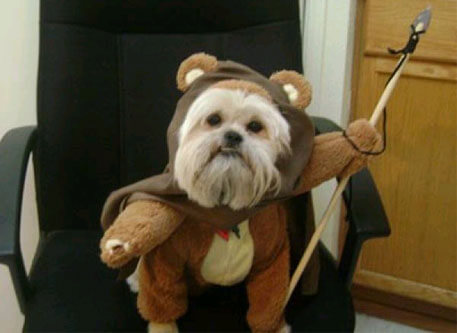 Ewok assemble! An Ewok costume for your pet dog is always a great idea, pair that with the spike and you are good to go.
19. Silly Bantha dog Star Wars costume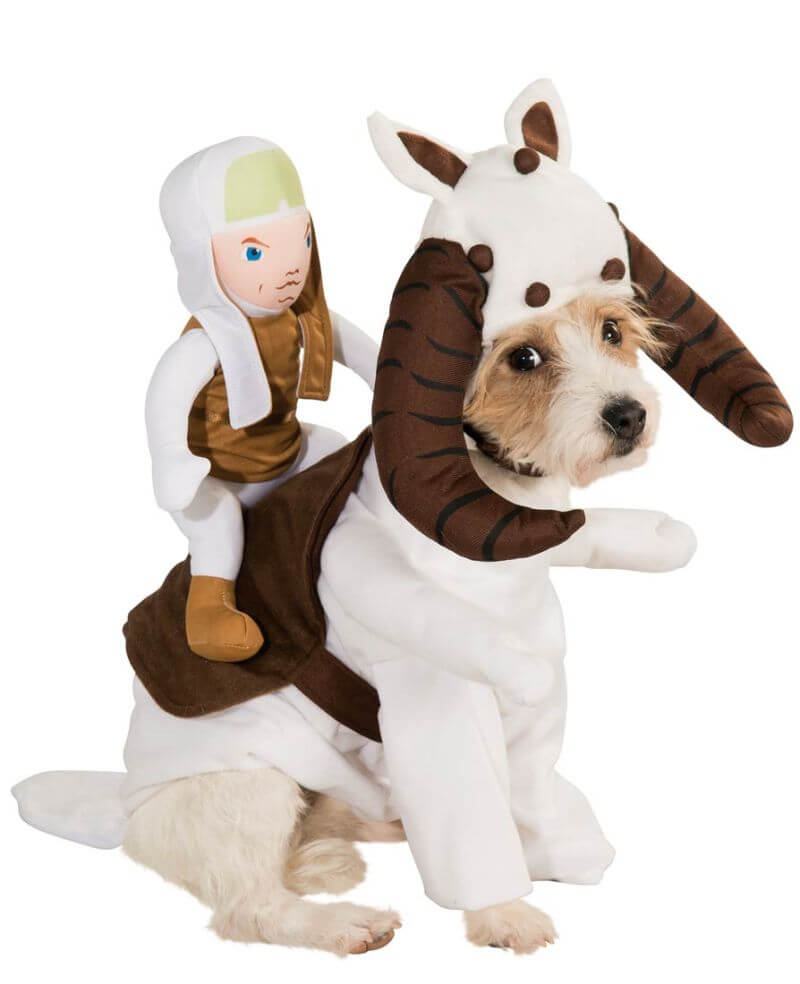 Not your usual costume, this Bantha dog costume is a rare one, turn your pet into the strong creatures you love to see in the movies.
20. Princess Leia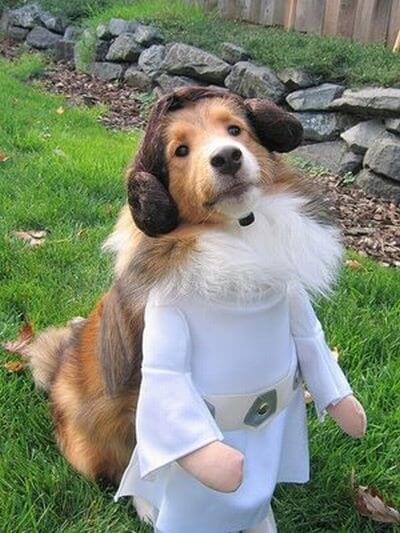 Comes with the dress we think, nice overall.
21. Pug totally digs it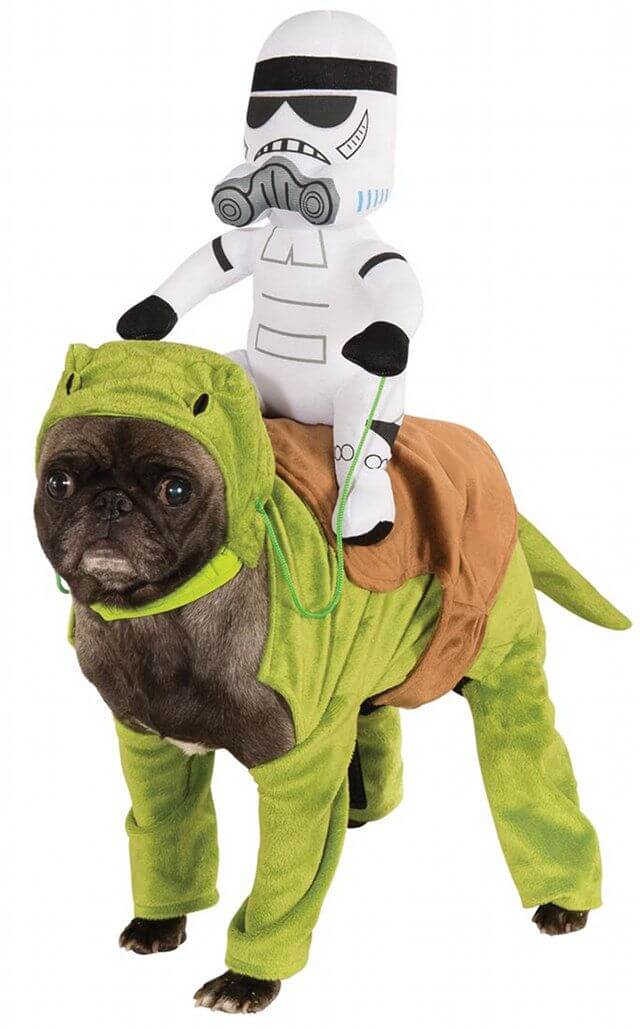 22. Wow! Impressive Star Wars costume for a pooch.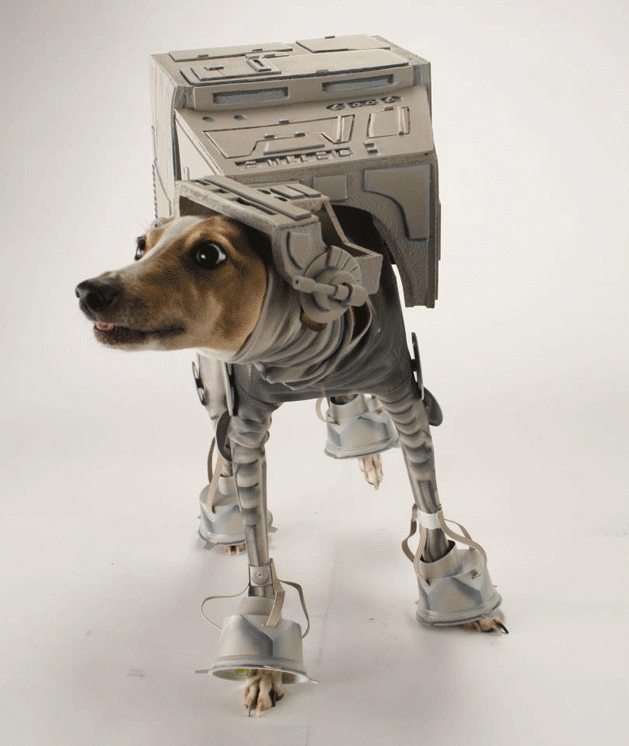 While this looks very impressive, we wonder if it's not too heavy on the dog's back. Either way it obviously looks amazing!
23. BB-8 is getting more and more popular among dog fans.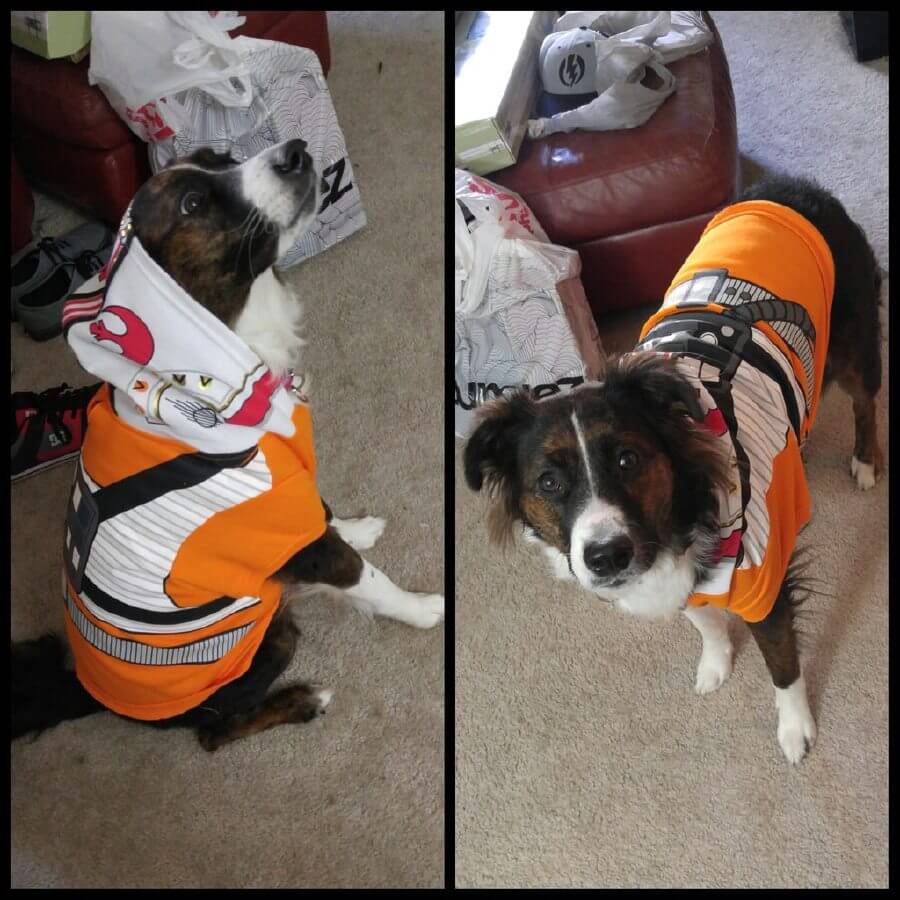 After the last Star Wars movies, BB8 became very popular, and we understand why many people buy this costume for their dog.
Are you a hardcore Star Wars fan and dog owner? Have similar photos to these? Please, share with us or share this star wars dog costumes post. *Please note some of the images may be different from the actual costume.