Whether you are a live-action role-playing enthusiast or not, you have to see the viral video Lightning Bolt (a.k.a Ogre Battle LARP).
This is where to start if you want to get to know better the mysterious world of LARP.
You can't miss the guy dressed with a kilt who during a medieval battle of Dungeons and Dragons starts repeating "Lightning Bolt" while throwing tiny beanbags at a second player with an Ogre costume.
What is a LARP?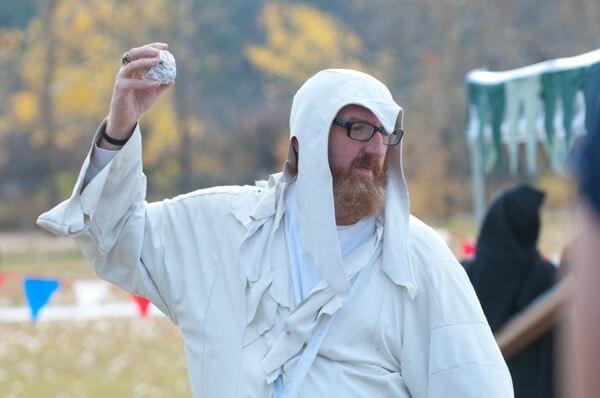 A LARP is an abbreviation of a role playing game where the participants take part and play the action figures themselves. 
A LARPER is commonly known as Live-Action-Role-Player. 
Here's the conversation between the Wizard and Ogre
Ogre: Aargh!
Wizard #1: Lightning Bolt! Lightning Bolt! Lightning Bolt! Lightning Bolt! Lightning Bolt!
Wizard #2: Sleep!
Wizard #1: Lightning Bolt! Lightning Bolt!
Wizard #2: Sleep!
Wizard #1: Lightning Bolt!
Ogre: Death!
Wizard #1: Death!
Ogre: Urgh! (Dies)
How an anonymous LARP player became famous as lightning bolt
Back in 2003 the video was popular in the LARP community but the LARP virgins made it go viral as a comedy video. How to blame them, honestly?!
Wouldn't you laugh at a man dressed with unusual clothing yelling "Lightning Boit!", "Sleep!" and "Death!" to another costumed man while throwing unidentified objects ?!
But how did the Lightning Bolt protagonist become so famous? In September 2003 MilkandCookies was one of the first websites to host the video.
The community had many negative reactions, but all
publicity is good publicity as long as someone talks about it. So, the Lightning Bolt guy became instantly famous.
His real name is Brandon Boucher, and in an interview, he stated that the video was actually an ad made for the website www.legendsroleplaying.com and one of their games.
Are you wondering what is LARP? Well, here it is: LARP is a simulation game in which a bunch of people role-play their favorite characters set in a fictional universe.
They will use a specific language, props, weapons and anything else that can make the game more realistic.
There are several sub-genres when it comes to LARP, such as science fiction, medieval age, video games sets and other alternate universes. Interesting, isn't it?
Lightning Bolt traveling the web
The video was referenced in many forums and blogs causing rumors about who was the person who recorded the video.
Amtguard were believed to be the creators but Brandon Boucher denied. The video can be found also in the Urban Dictionary. In fact, it was added to the famous website in 2007. Another famous site that picked it up is Digg.
The meme was uploaded on YouTube in December 2005 and spread quickly. Soon enough a number of derivatives followed.
It became so popular that if the the topic of LARP comes up, there will probably be someone replying with "Lightening Bolt!" which shows that the video became an integral part of the LAAP culture and among non-LARPers.
An example can be found on the blog Weregeek by cartoonist Alina Pete, who uses it in one of her illustrations.
Brandon Boucher, known as the Lightening Bolt guy was even featured in an episode of Comedy Central called "LARPer's Web Redemption " screened on June 2nd 2010.
Here are some of the best examples of the Lightning Bolt guy!
Let us know which one you love the most!
1. The one and only: the original Lighting Bolt Guy!
2. One of the MANY derivatives out there:
3. A Pokemon fight version that will have you LMAOing:
4. A special edition that you might like:
5. Here's a quiet one – we promise it will be just as funny as the previous Lighting Bolt guy videos!
6. This parody is absolutely precious! DEATH!
7. Here's LARPing with Russ, Part 1: LIGHTING BOLT!
8. Would you like an iLightning on your iphone?? We would!
9. Here's Hero Envy's version! You'll love it!
10. Finally, another Hero Envy video about our beloved Lightning Bolt guy:
Are you part of the LARP community? If not, as a non-LARPer you must go and watch the Lightening Bolt! meme right now.