Show me the carfax meme is the kind of memes that sites likes ours really love. Check out below the list of the most popular carfax memes and tell us which one is your favorite. 
Can't buy a brand new car? No big deal, you can just get a secondhand one off of Craigslist or check out your local car yard, right? But we warned: you might have to risk dealing with some wear and tear from its previous owner. Then suddenly, remember that Carfax exists! 
Carfax is a leading service in providing American buyers with the history of used cars, including previous owners or accidents it may have been involved in.
This is supposedly a fool-proof way of telling if a car is good or not to buy right? Sure! It's used by many people when they purchase secondhand cars. In fact, it's been so commonly used that the term Carfax doesn't even apply to just cars anymore.
As expected, the collective genius of the internet gave way to turning Carfax into a hilarious meme to mess around with customers and even other businesses.
It all started when Carfax's mascot, the Car Fox, started telling people watching its advertisements to always "ask for the Carfax!" when buying a used car.
It eventually became so repetitive that people started using it on any product they wanted, just to mess with other people! So here are 20 hilarious situations brought to you by the show me the carfax meme and the beloved web!
1. Someone seems a little too desperate to sell their car. Just show me the carfax meme
Source: Know Your Meme
2. When in doubt… just ask for the Carfax.
Source: Meme Generator
3.  Still looks pretty good for its age if you ask me!
Source: CHEEZburger
4. What do you have to lose?
Source: AWW MEMES
5. I'd be more concerned over what the Carfax report says
Source: MemeCenter
6. Guess you could say it's been battle-tested.
Source: CHEEZburger
7. Seems like this isn't the only accident Carfax can prevent.
Source: Meme Generator 
8. Every secondhand seller's fear.
Source: esmemes
9. Sometimes you just gotta know where he's been and who's been driving him.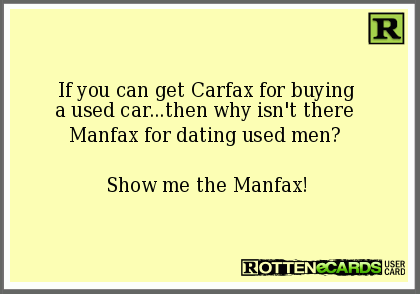 Source: kappit
10. Just a small bump, put that in the Carfax report
Source: CHEEZburger
11. The Car Fox will do anything to make sure you ask for that Carfax.
Source: wattpad
12. Imagine being rich… and still asking for the Carfax.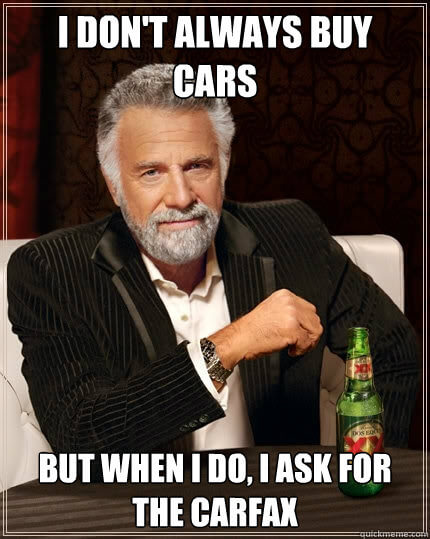 Source: quickmeme
13. A little more than just a scratch, I'd say.
Source: iFunny
14. Car Fox needs a break from all the carnage he's seen.
Source: reddit
15. Hope you don't have a cat registered to drive a car.
Source: CHEEZburger
16. Even the Jedi gotta sell their old rust buckets.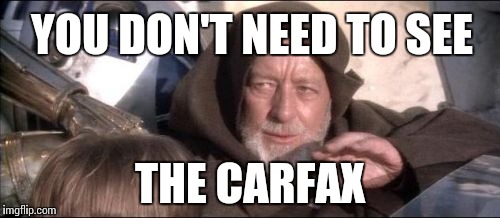 Source: imgflip
17. Now that's just overdoing the carwash.
Source: CHEEZburger
18. Carfax can't keep up with the big brain moves.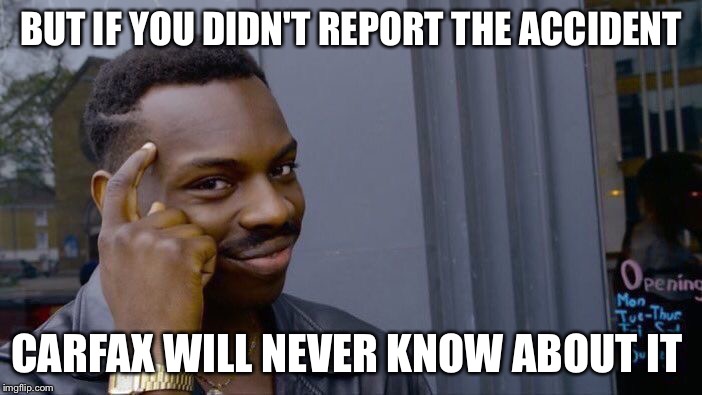 Source: imgflip
19. Car Fox is always watching.
Source: CarThrottle
20. Hey-if it drives, it sells!
Source: CarThrottle
Show me the carfax meme was meant for a site like this, honestly, please share this article with your friends.