Contemporary artists are known for developing and creating a very eloquent new notion, approach and general or abstract principle. Their arts are produced at the present period of time and often known as Modern Art, thus bringing the art outside the box into whole another level and concept.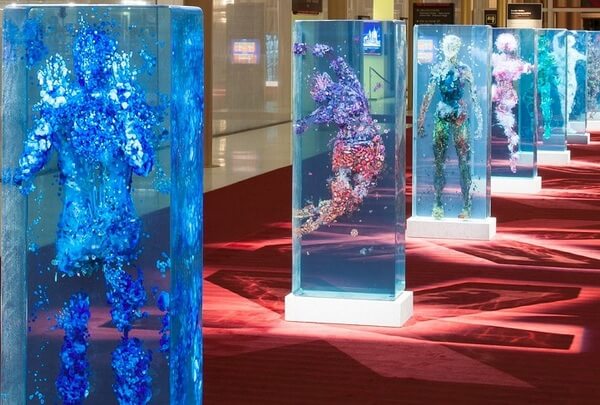 Dustin Yellin is a contemporary artist based in Brooklyn who has garnered a recognition throughout the world and won a significant critical attention for his approach in bringing about an eccentrically excellent collages confined within layers of glass. His latest exposition known as Psychogeographies, a collection of life-size human-formed figures, were ordered to be made for the annual art series by the New York Ballet. Thousands of individual artworks such as paintings, drawings and encyclopedia or magazine are heaped and piled between vertical planes of glass to depict 3D structures which are used to conscientiously combine pieces together forming these meticulous sculptural paintings.
Yellin's workart normally emphasizes on living organism's transcendental transformation, though this exhibit is somehow an evocative of systematic art which became popular in the 19th century. Largely similar to microorganisms confined under a microscope, his sculptures are seemingly acknowledged yet strange and extrinsic at the same time, creating visible makeup from the realistic natural aspect with a touch of fancy and imaginary elements. The entire process to this work is extremely requires a lot of time and dedication, having the 12 glass layers that took him 6 years to finish.
Psychogeographies allows for an interesting study of the human form, from a decidedly abstract perspective. Psychogeographies is now on permanent display at the Kennedy Center for the Performing Arts in Washington, DC. This kind of work, opens the mind of people from conventional approach to human form and get outside the box to an abstract point of view.












Source: MyModernMet