Birthdays are something that most people look forward to. It's another reason to celebrate levelling up in this game called life, and for the most part, these are times of happy celebrations. 
Every family has birthday traditions that have been passed on from generation to generation. Whether you have cake or other yummy food, games, or rites of passage during a certain age, traditions can be a big part of your birthday celebration.
One of the most well-known birthday traditions is greeting the celebrant, usually with a happy birthday song. This song is a nearly-universal tune that almost every part of the world sings for birthday celebrants in their own language. 
There are certainly other ways to greet people with a happy birthday, but nothing quite compares to the original phrase and song.
Before we talk about fun ways to greet your friends and family on their birthdays, let's take a look at the history of birthday traditions, including greetings and the famous happy birthday song.
Celebrating birthday traditions 
Apart from the "Happy Birthday" tune that we all know and love today, there is no previous official record of specific songs being used at birthday parties. 
It's one of the things that unites us as people – the happiness and familiarity of a happy birthday song that we all know, no matter where we're from.
There are many other birthday traditions that differ around the world. In fact, Germany popularized the traditional birthday cake as we know it sometime during the 18th century. After its popularity spread during the Industrial Revolution in America, it gradually spread throughout the rest of the world. 
But where did celebrating birthdays originate from? It may not be attributed to just one culture, but the Egyptians definitely had a hand in influencing how we celebrate birthdays. After they noticed the effects of aging, they decided to commemorate the birth of "the common man."
Birthday greetings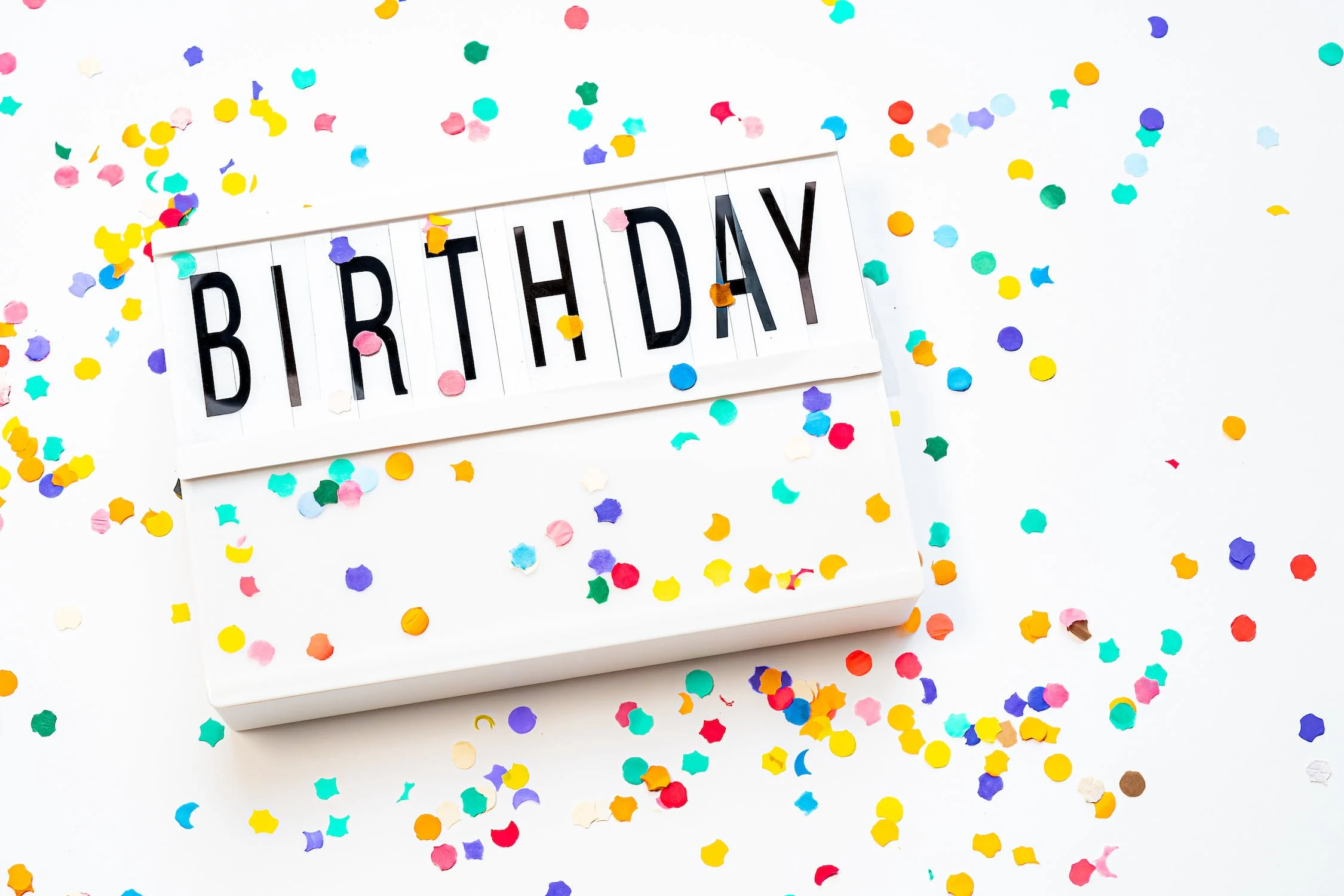 The "Happy Birthday" song we are all familiar with has a bit of controversy regarding who actually composed the tune. More than one artist has been given credit for coming up with the famous song. 
The melody of the song was based on school teachers' greeting song. This was composed by the Hill sisters of America in 1893, though many are doubtful of this account. 
The first time the combination of the famous melody and lyrics that make up the "Happy Birthday" song came about was in 1912. The lyrics were then updated in 1924 and then published in a songbook by Robert Coleman. 
The song was registered for copyright in 1935 by The Summy Company. The Hill sisters were given credit as the authors of the song.
So what?
Now that we know the origins of how we greet each other happy birthday, many of us might agree that it has become a bit worn out. 
Who else thinks that "Happy birthday to you" is such a boring way to greet a dear friend or loved one?
This is why we decided to compile 65 funny ways to say happy birthday. The next time your friend has a birthday, use one of these, and they're guaranteed to remember your greeting!
All the funny ways to say happy birthday
1. Another year without dying. Good on you!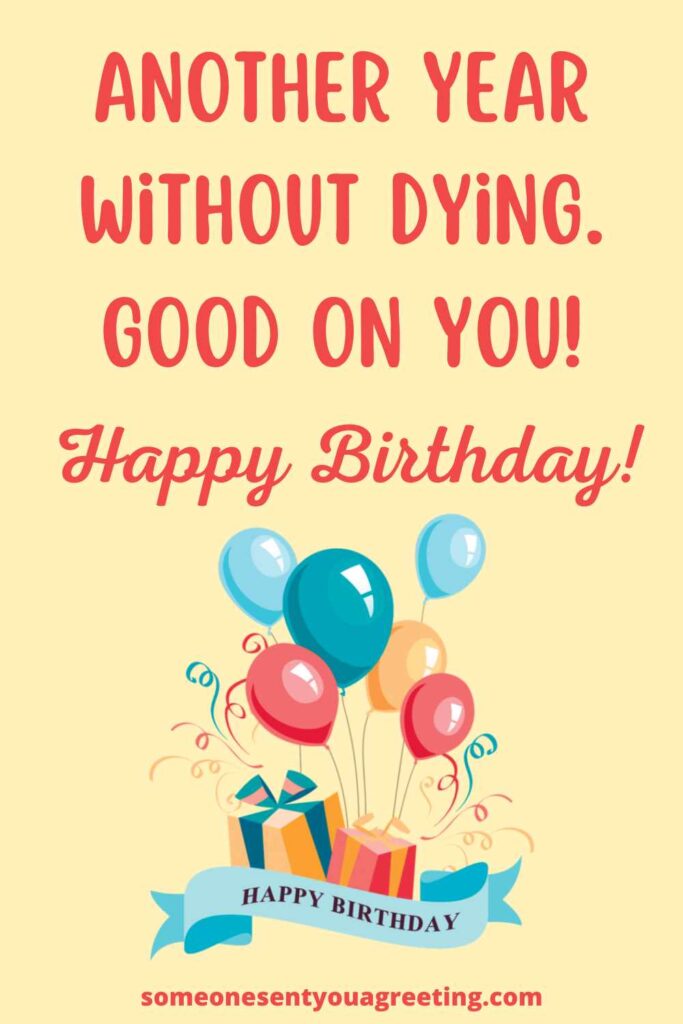 2. If you were Jesus, today would be Christmas!
3. Happy birthday to you and 1 in 365 people worldwide.
4. Happy year-older-you day.
5. Did you know that birthdays are good for you? Studies show that the more of them you have, the longer you live!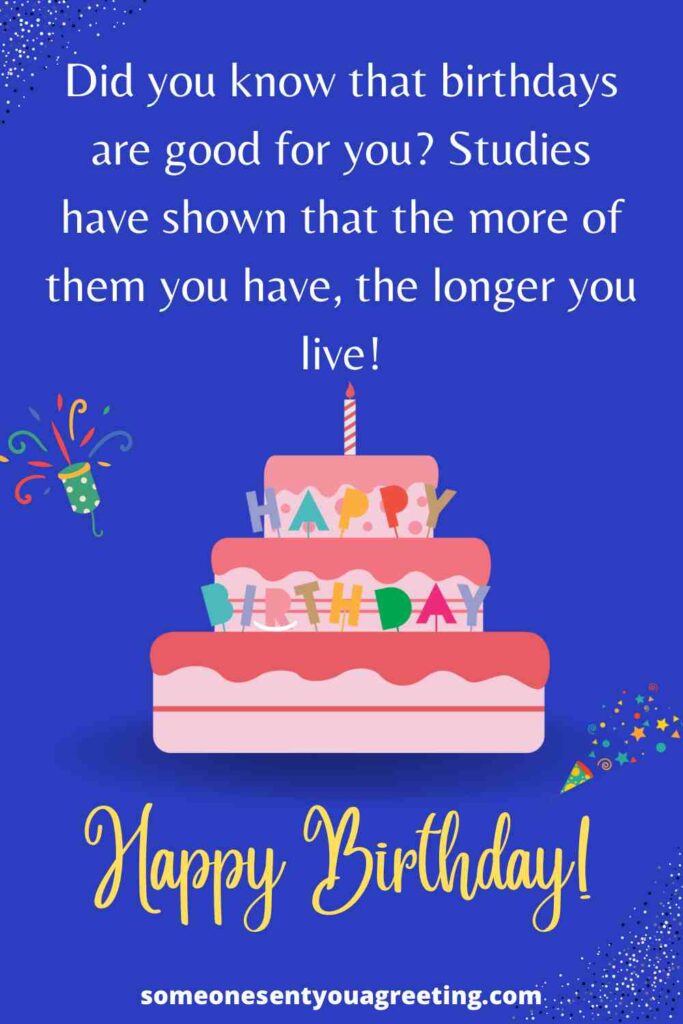 6. You're a really hard individual to shop for… so I didn't get you anything. Happy birthday!
7. Wee! Another spin around the sun!
8. The secret of staying young is to live honestly, eat slowly, and lie about your age. Happy birthday!
9. Happy better-than-the-alternative.
10. Another birthday has crêped up on you!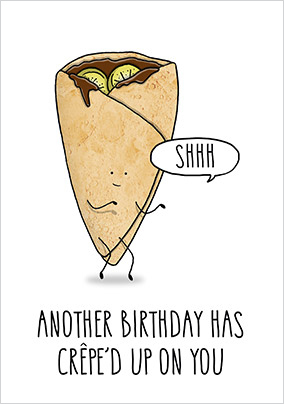 11. Smart, good-looking, and funny. But enough about me. Happy birthday!
12. You're still hot after all these years… just not as hot as your birthday cake will be once all those candles are lit!
13. May your Facebook wall be filled with birthday wishes from people you've never met, haven't seen in years, or genuinely couldn't care less about.
14. Happy birthday, Dinosaur.
15. Happy birthday! I'm not saying you're old, but your birth certificate is on papyrus.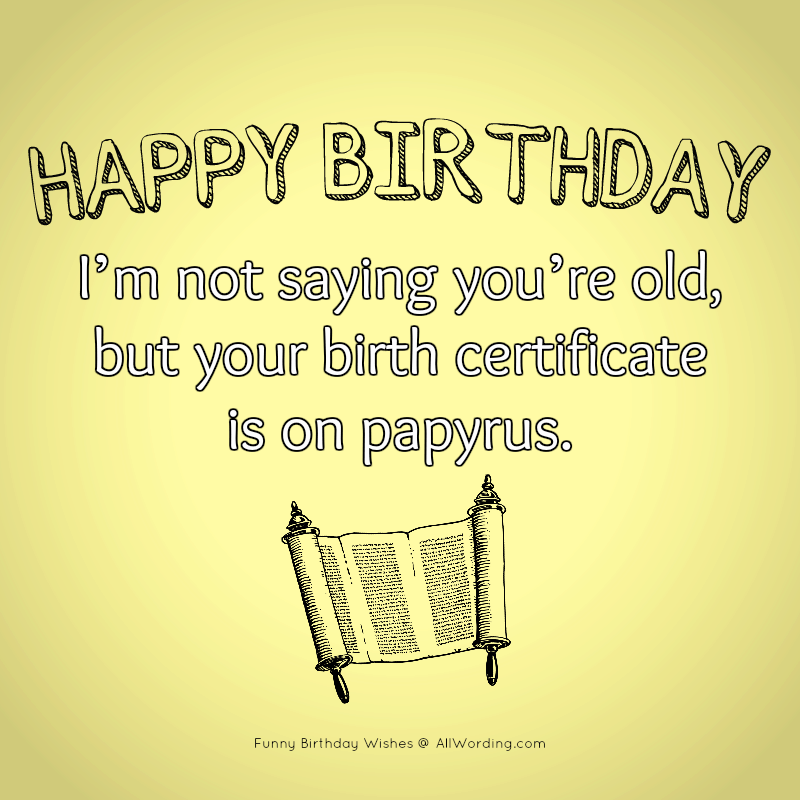 16. Congratulations on another year of skillful death evasion. Happy birthday!
17. Happy 500th birthday, you vampire. May you stay forever young.
18. Birthdays are like cheese. They stink more the older they get. Happy birthday.
19. Happy birthday! The only thing getting old is that phrase!
20. Happy birthday. Thank you for always being older than me.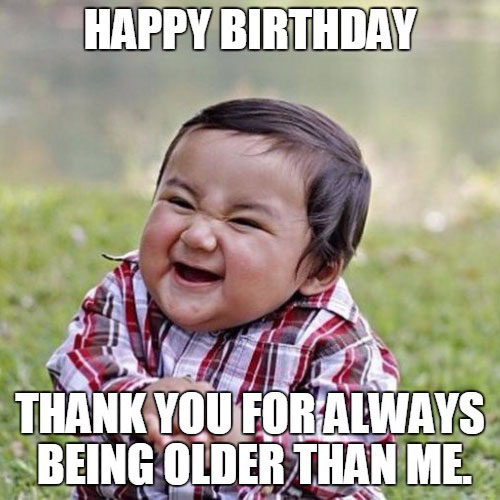 21. Happy birthday! Can you believe we used to think people our age were adults and had their life in order?
22. Well done – you have still been alive for several years!
23. I hope you see the day when you have no teeth. Happy birthday to you.
24. Enjoy the dash between the two dates on your tombstone.
25. Older, wiser, drunker. Happy birthday!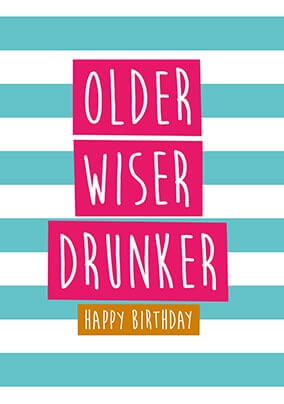 26. Of all the people I know, you are one whose birthday is today. 
27. At least you're not as old as you will be next year… if you make it!
28. Have a mucking farvellous birthday!
29. Happy stuff-your-face-with-cake day!
30. Don't fret over another birthday. You were already old! Happy birthday!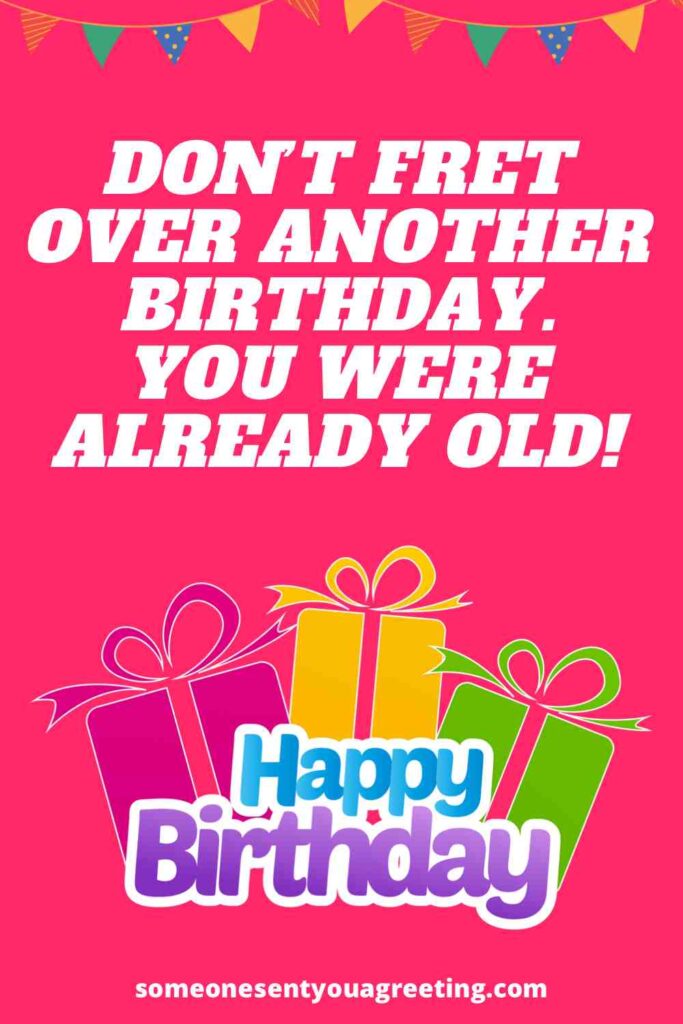 31. I can never forget your birthday. It always comes after the day you remind me of it. Happy birthday, bro.
32. Another year, another 584 million-mile trip around the sun. May your next lap be your best yet.
33. Your birthday cake has an impossible job. Because no one holds a candle to you.
34. May your day be more beautiful than a unicorn farting rainbows.
35. Happy birthday, you old tool.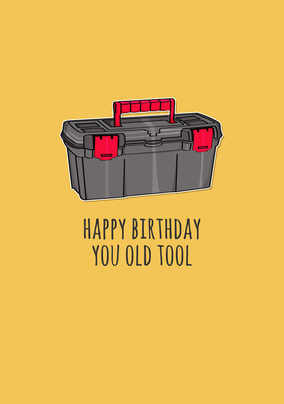 36. Birthdays are like boogers. The more you have, the harder it is to breathe!
37. Happy birthday… congratulations on now being of the age where understand the horror of waking yourself up with your own fart!
38. May the best of your birthdays be today, and today be the least of the best yet to come.
39. I hope your birthday is better than the card I sent you.
40. In dog years you're dead! Happy birthday!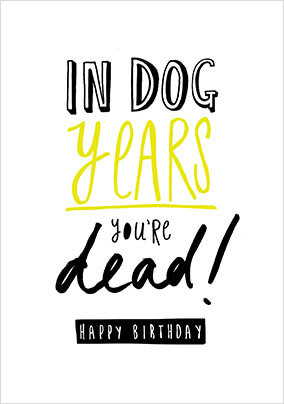 41. You're the least famous person I know of who was born on your birthday.
42. I know I'm a little late but that's only because I wanted to be the last one to wish you a happy birthday!
43. Getting someone as awesome as me to send a birthday message to you, has undoubtedly been your biggest achievement this year.
44. I know you had lots of birthday wishes yesterday, but who is thinking of you today? Me, that's who. Happy belated birthday!
45. Another year older. What a drag!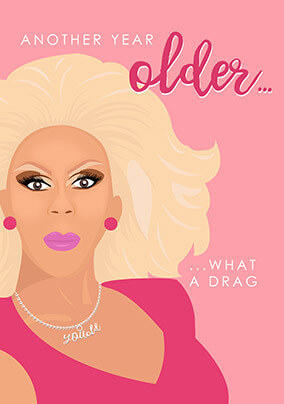 46. Sorry I forgot your birthday – here's an excuse to make today all about you too!
47. It's so tough to believe that you are getting older, that I decided to wish you a happy birthday late this year.
48. It wasn't my fault… Facebook forgot to remind me about your birthday!
49. Why celebrate a birthday when you can have a birth-week/month? Happy birthday!
50. I eat cake because it's somebody's birthday somewhere.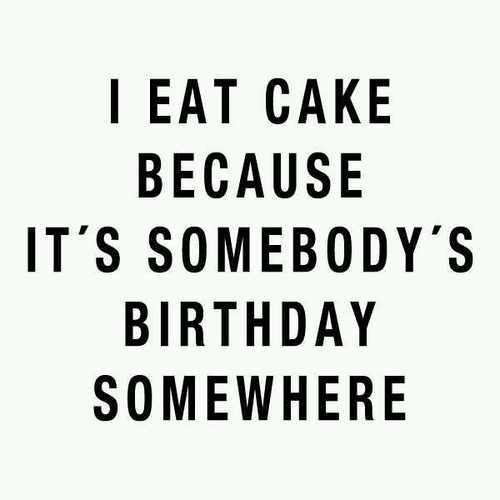 51. Sorry I missed your birthday… hopefully you'll have another one next year…
52. I'm sorry my birthday wishes are belated—I honestly didn't think you'd live this long. Happy birthday!
53. Sorry I wasn't there with you to mourn the loss of your youth. Happy birthday!
54. You know what they say — if somebody forgets your birthday you don't get any older. You're welcome!
55. The most effective way to remember your wife's birthday is to forget it once!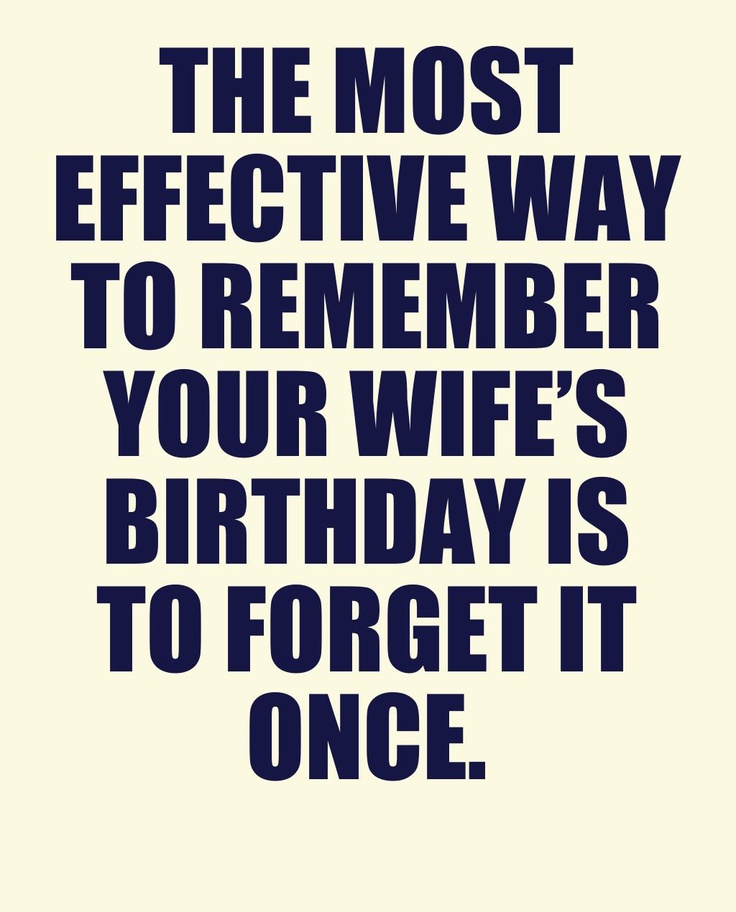 56. Aging is the worst side effect of birthdays.
57. You're amazing, wise, super cool, fantastic, brilliant, intelligent – but don't get too excited. I'm only saying all these things because I'm a couple of days late! Happy birthday!
58. Birthdays are like vacations. You don't have one too often and they come and go too quickly.
59. Two things that are inevitable for any living person are birthdays and taxes.
60. I missed your birthday, and now you're even older!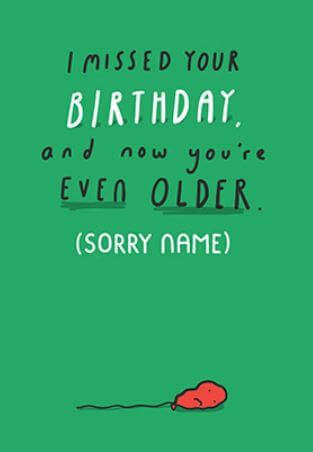 61. My policy on cake is pro having it and pro eating it. Happy birthday!
62. Happy anniversary of the day you were abruptly ripped from the warm comfort of your mother's womb into this cold, unforgiving world.
63. Remember that growing old is mandatory, but growing up is optional!
64. Happy birthday! I'm your karma!
65. This card is also your present.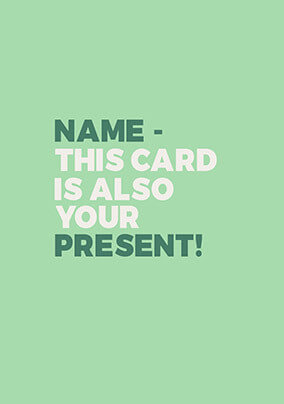 These funny birthday greetings may soften the blow of time passing by as you age. Instead of making time your enemy, you might as well enjoy everything it has to bring. But to make time less daunting, try checking out these 27 Cool Clocks That Will Show You The Time In Creative Ways!
We feature all things funny and interesting on The Awesome Daily. Hope to see you in our next post!