Florida State memes are a thing of beauty, you can say many things about Florida, but all of them will be hilarious! 
The State of Florida is famous for many reasons: nice beaches, sunny days, alligators, voted Trump in the 2020 elections, and because of a famous meme, the Frustrated Florida State Dad known also as FSU Dad.
It all started in September 2016 from the picture of a man with a solemn look during a football match between Florida State Seminoles against Ole Miss Rebels. People jumped right on it and started writing funny captions trying to guess the reason behind his disappointment.
Where the heck did Florida State memes come from?!
On the 5th of September 2016, while ESPN was broadcasting the football game between Seminoles and Ole Miss, a mysterious fan of Seminoles appeared on the screen with a hopeless disconsolate expression on his face which seemed to be caused by how his team was playing.
Right after the video, users on Twitter start commenting. One user in particular, @MarkEnnis, published a picture of the man with the following description "FSU dad is not mad, he's just disappointed,". The post became popular and reached 400 likes and 290 retweets in less than 24 hours!
…And then?
Not a long time after, one more Twitter user that goes by @UncleChaps used the same screen picture with the disappointed FSU supporter accompanied by the caption "When you see Colin Kaepernick sitting during the anthem".
This post, as the previous one, shortly reached 530 likes and 180 retweets. The same day, the Twitter community started using the picture of the unknown man in funny contexts of frustration. It became so used and retweeted that it ended up in news sites articles like Fox Sports, USA Today, Larry Brown Sports, UpRoxx, and Fansided.
Would you like to see a really cool collection of Florida State Memes? Well, there you go!
1. Are you seriously sitting during the anthem, Colin Kaepernick??!!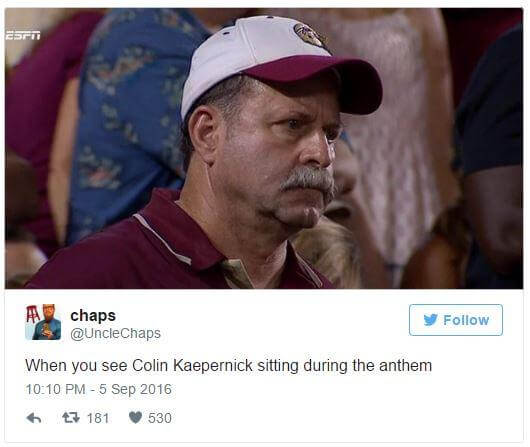 2. What the heck is a Harambe?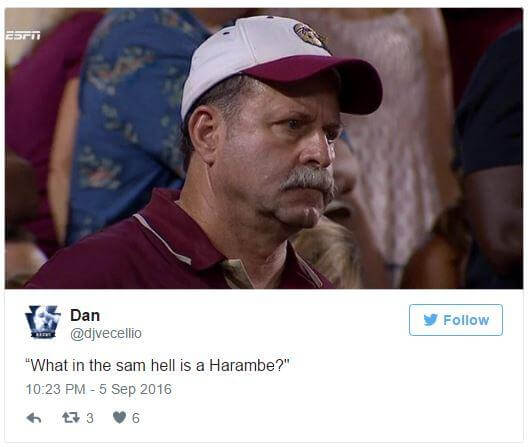 3. WHAT? Dale Earnhardt Jr is out for the year??!!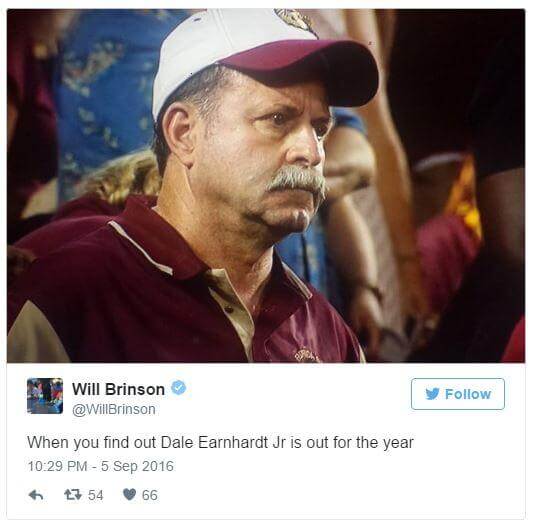 4. The only thing you sell is propane and propane accessories?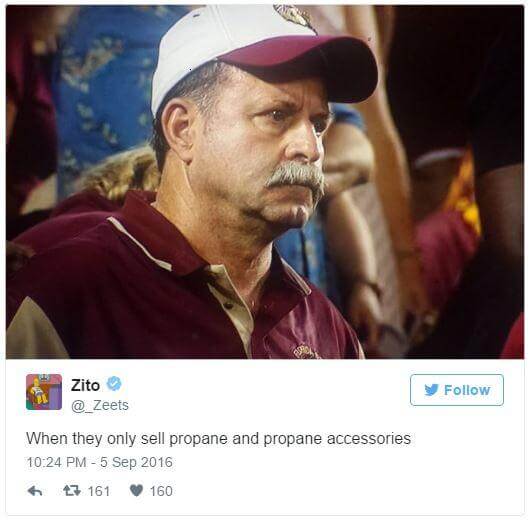 5. You're all wrong, he is not mad! He is just upset!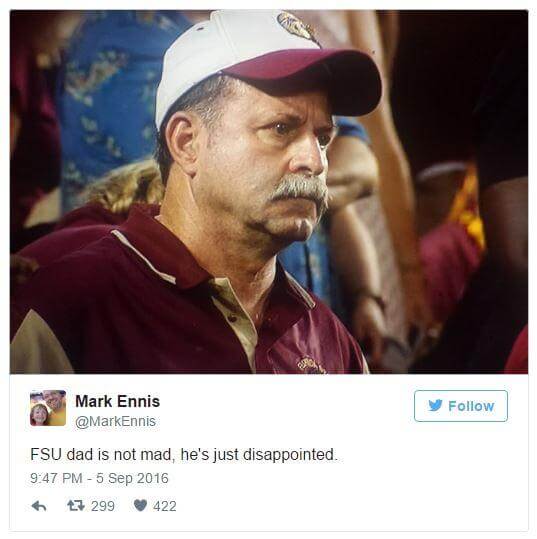 6. College? No thanks! I would rather have a rap career, dad!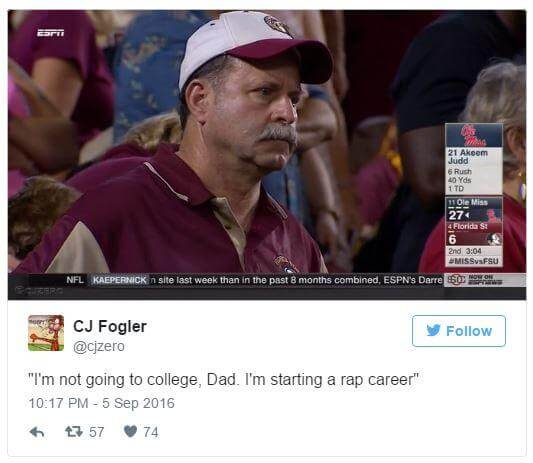 7. What is a meme? What is twitter? What are millennials?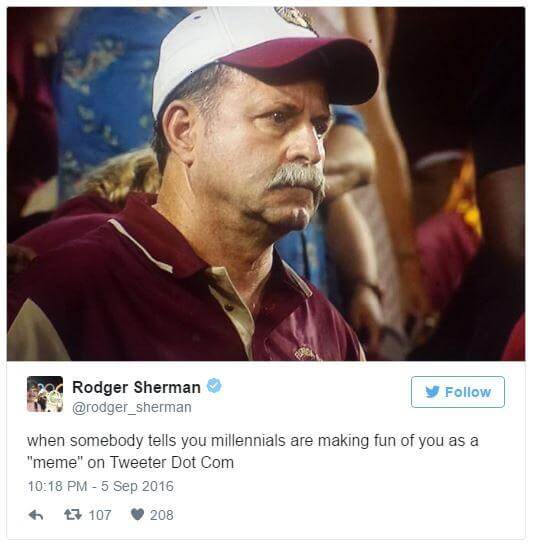 8. Oh Florida… WHY?!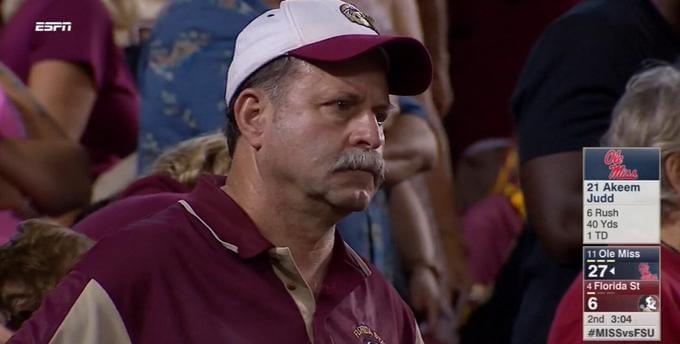 9. I dub thee: Fail Earnhardt!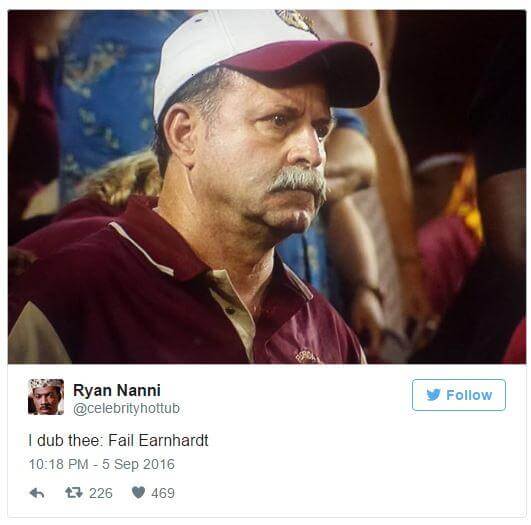 10. When you hear how they did Harambe: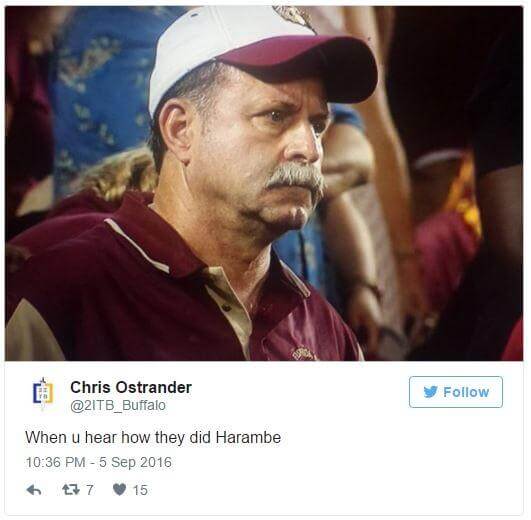 11. Chipotle with no guac? That's ridiculous!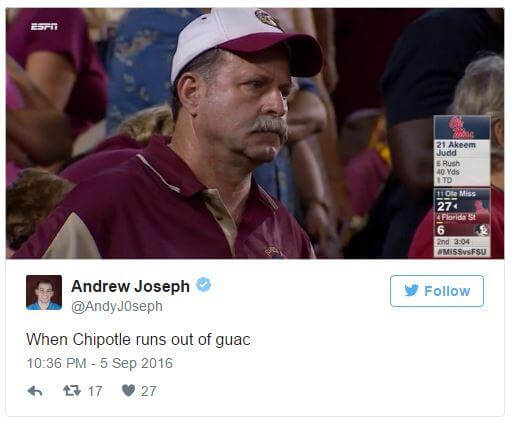 Sometimes fame can come in unexpected ways from normal life moments. Would you like to have your face recognized at a national level because of a new meme? Let us know what would be a meme that defines your daily life. we are curious!
All images via: Knowyourmeme.com