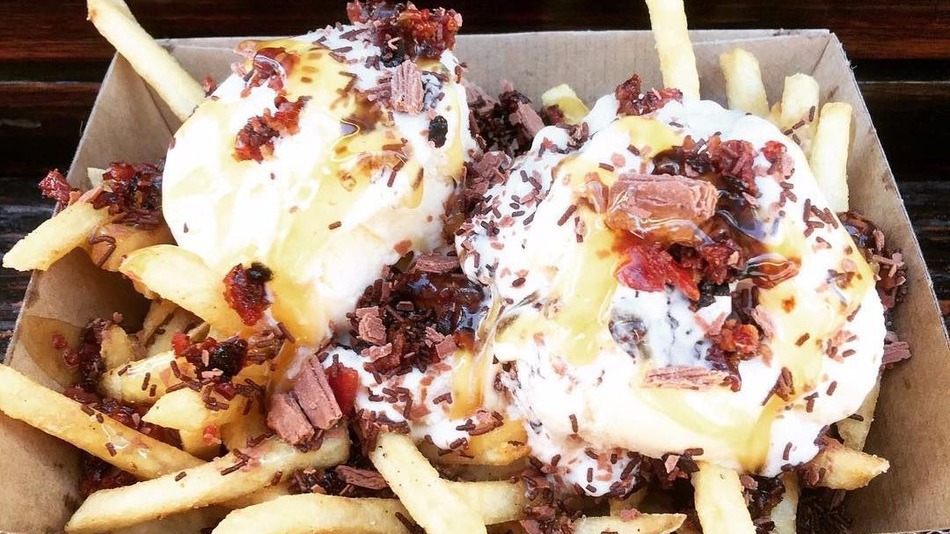 SEE ALSO: Everyone Is Going Apeshit Crazy Over This Canberra Cafe's Insane Milkshakes
Ahhhhh… French fried potatoes…the French fry… fries…chips….. What you call them doesn't matter because this has crispy crunchy yummy mainstay of the world has been a favorite for decades. It's the perfect side dish for any food, or a delicious meal all on its own.
We've covered them in cheese, chili, hot sauce and sour cream and who hasn't dipped their salty crunchy fires into the ice cream admit it – you have.  Well this not-so-new fad is finally catching on worldwide.  Check out some of these mouth watering morsels before you say NO!
At Bar Luca in Sydney Australia try the "Blame Canada".  A golden bed of fries holding two scoops of rich ice-cream topped with a signature smoky caramel sauce sprinkled with maple bacon and dark chocolate sauce
Another of Sydney's fine eateries, Devon on the Danks is offering its decadent truffle soft serve ice cream on a bed of golden fried potatoes.
Moving on to Adelaide, Australia we find the Sugarshack Diner has pulled out all the stops by serving up sumptuous sweet potato fries topped with creamy Nutella!
Let's change continents and check out Japan to get this McDonalds creation- the Chocó potato.  Those famous McDonalds' fries drenched in white and dark chocolate sauce! We'd like to see that on the dollar menu!
If this is all too much for you, we say stick with the classic.  A pile of warm salty fries dipped in a Good old soft serve ice cream.
Source: Mashable