What's the most incredibly paint job you've ever seen or ever heard of? We'll give you some suggestions to consider before answering this question.
What you are about to see below is some magic, some real magic for which artist Noel Cruz is responsible. She is one of those artists who can change people's minds. If you think that dolls are just toys for kids, see what this Filipino doll artist does with them.
Currently living in the USA, artist Noel Cruz is a painter. Nothing unusual? Well, she paints, pardon, repaints regular dolls making them into real one-of-a-kind pieces of art. She's been giving them real faces of actors and movie characters. Her paintings stress on detail so much that they become natural lifelike persons.
These repainted dolls are sold as collectors' items and quickly became widely popular. Well, we say it's no wonder. Just take a look below and you'll see what we mean! More info: ncruz.com | Facebook | Instagram
#1 Emma Watson (you could say it's a picture, not a doll)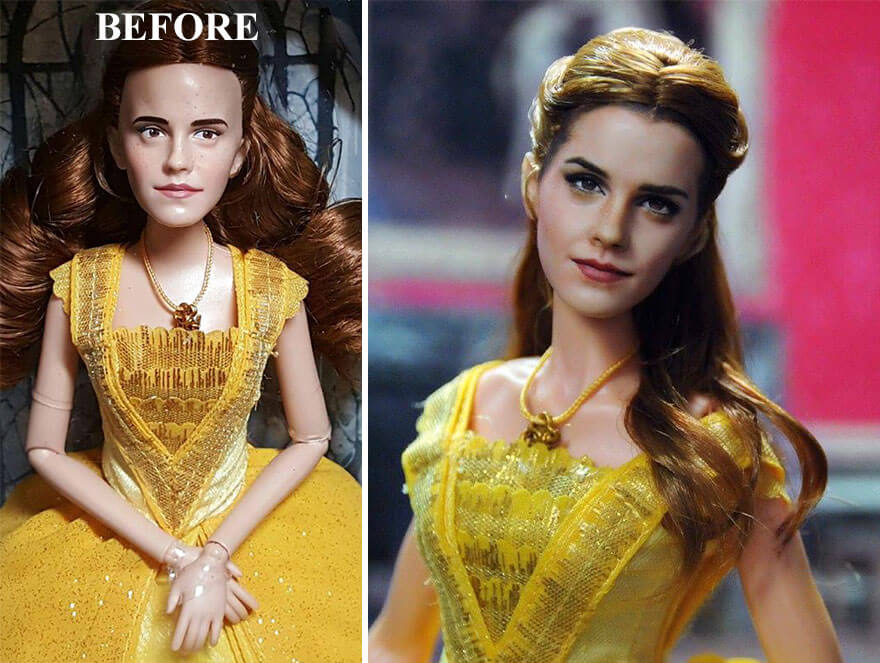 #2 Angelina Jolie  (those eyes!)

#3 Jim Parsons (we love the cheeks)

#4 Ralph Fiennes (Thank God!)

#5 Gal Gadot (she also received a nice hairdo)

#6 Marilyn Monroe (Now, that's some real Marilyn Monroe!)

#7 Johnny Depp (she worked magic with that cute beard)

#8 Naomie Harris (nothing but Wooaw)

#9 Cher (Do you believe in art after all?)

#10 Daniel Radcliffe (his skin seems so real!)

#11 Princess Diana (This is what we call regal art)

#12 Cate Blanchett (Such elegance!)

#13 Emma Watson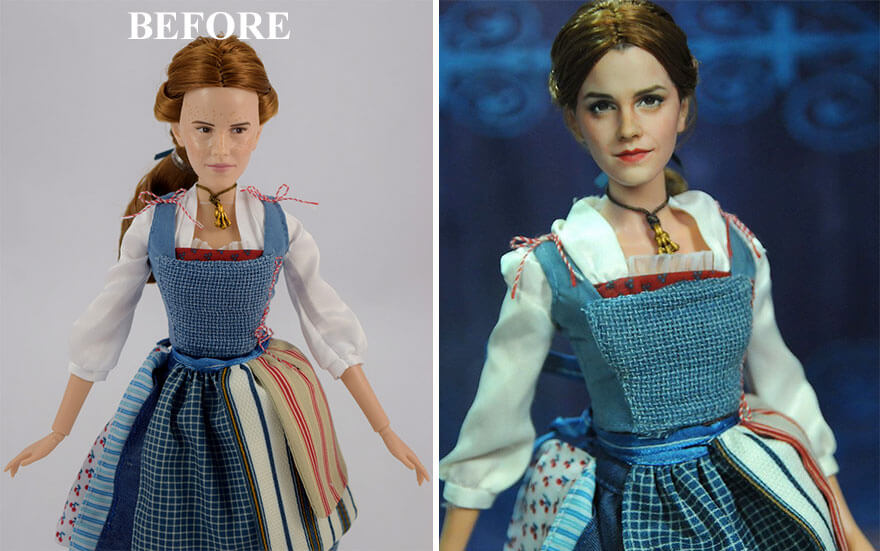 #14 Helena Bonham Carter (the lips say it all)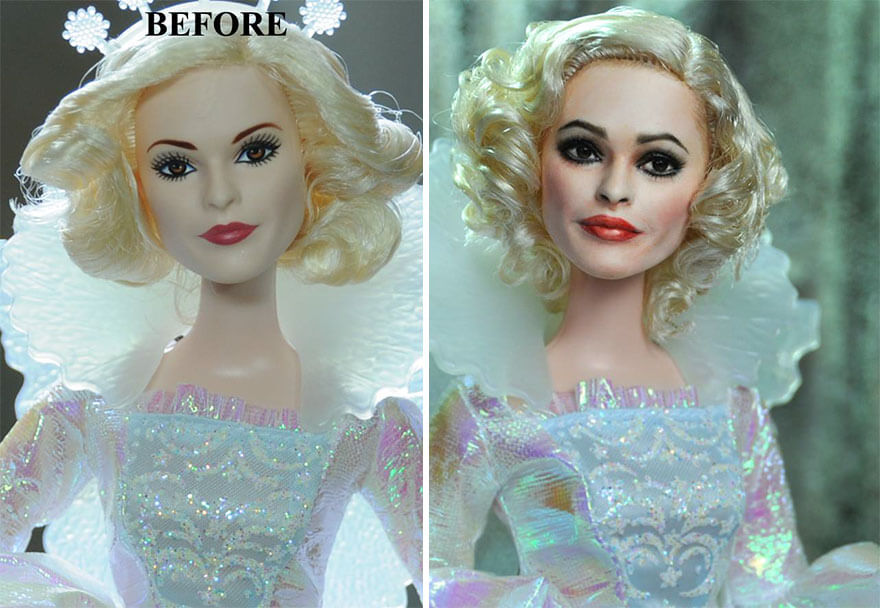 #15 Jennifer Lawrence (thos eyes, again!)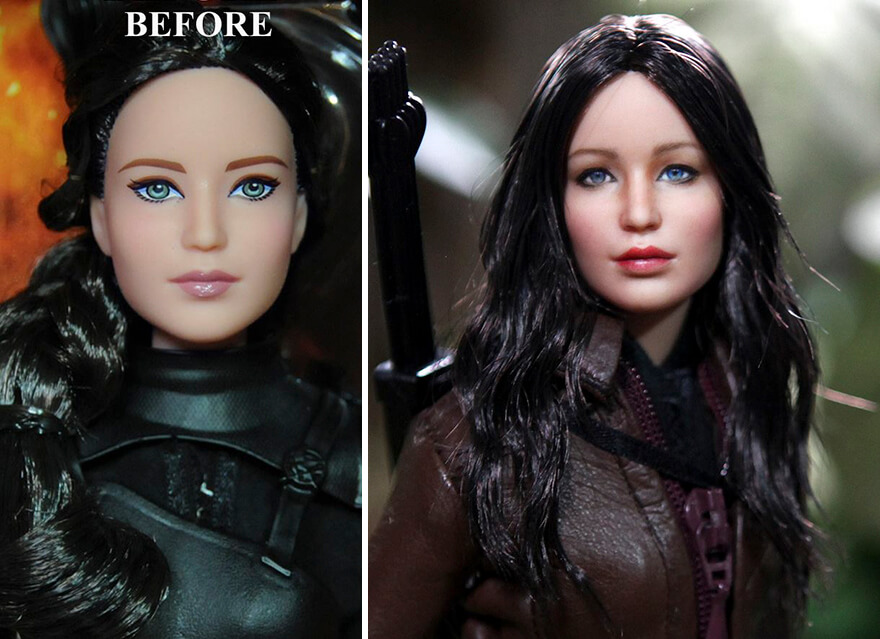 #16 Liv Tyler (she is almost breathing)

>#17 Jennifer Lopez (The diva has arrived

#18 Gal Gadot (again, such a wonder!)

#19 Cher (makes us all believe in art)

#20 Lucille Ball

#21 Judy Garland (the cheeks, they're alive!) 

>#22 Ian Somerhalder (Uuu, handsome!)

 

>#23 Jennifer Lawrence

#24 Skull Boy 

#25 Mia Wasikowska 

#26 Johnny Depp

#27 Diana Ross 

#28 Meryl Streep (a grand artist repaints a grand artist) 

#28 Vivien Leigh (those piercing eyes!) 

#29 Michael Jackson (the king is alive!) 

#30 Farrah Fawcett 

#31 Cristopher Reeve (Super art)

#32 Robert Pattison

#33 Cassandra Peterson 

#34 Glenn Close

#35 Jackie Kennedy

#36 Jennifer Lopez

#37 Kristen Stewart 

#38 Cyndi Lauper 

#39 Helena Bonham Carter

#40 Elizabeth Taylor

#41 Luke Evans

#42 Audrey Hepburn 

#43 Elizabeth Taylor

#44 Clark Gable 

#45 Lady Gaga (this transformation is gaga)

#46 Lady Gaga

#47 Kate Middleton  

#48 Ian Somerhalder

#49 Princess Diana 

#50 Selena

#51 Ben Affleck (He looks so batman) 

#52 Emma Watson

#53 Selena 

#54 Angelina Jolie (tres jolie art) 

#55 Heath Ledger 

#56 Jean Harlow 

#57 Emily Browning 

#58 Ashley Greene

#59 Jennifer Lawrence

#60 Elizabeth Taylor

#61 Elle Fanning

#62 Ian Somerhalder (that's a truly handsome guy!) 

#63 Kristen Stewart 

#64 Vivien Leigh 

#65 Beyonce 

#66 Carrie Fisher

#67 Cher

#68 Paulina Porizkova

#69 David Boreanaz  

#70 Emma Watson 

#71 Janet Jackson (So good, I'm gonna scream!) 

#72 Gal Gadot

#73 Jackson Rathbone

#74 Marisa Tomei

#75 Josh Hutcherson  

#76 Kendall Jenner 

#77 Lindsay Wagner 

#78 Mariah Carey 

#79 Amy Winehouse

#80 Madonna 

#81 Whitney Houston  

#82 Lily James

#83 Karlie Kloss

#84 Dan Stevens (the secret is in the his eyes) 

#85 Marilyn Monroe

#86 Audrey Hepburn

#87 Natalie Portman 

#88 Joan Crawford  

#89 Steven Tyler