You're going to see a very interesting and unusual angel here, pretty dangerous. He's quite a naughty one as he apparently likes knives and actually wears them like precious jewellery. We're joking, he's made of knives, 100,000 to be precise.
This knives angel is the creature of Alfie Bradley, it is 26ft tall  and it serves as a monument against aggression and violence. It was built in the memory of those who lost their lives to knife attacks all over the UK. Many of the knives are actually "murderers" as they come from real stubbing cases and have blood on their blades, at least metaphorically speaking. It's quite a bloody angel, don't you think?
Looking at it, it resembles a little bit with a Transformer, wouldn't you say? A Transformer with some sharp edges. Leaving jokes aside, we think it is a brilliant and powerful idea. The angel's face shows anguish and his hands are stretched out like asking: "Why? Why did you make me?" meaning "why did you give me life? Why did you give me these knives to build my body?" We think it gives out a very powerful message.
It was made at the British Iron Works in Shropshire. If you want to go there and take a closer look, you will see that many of the blades have names engraved on them, the names of the one that were being stabbed, the ones whose blood stained the angel's body, metaphorically speaking.
Is this the angel of killing asking you "Why? Why did you do it? Why do you keep doing it?" ? Probably. The metaphor is very strong here. The creator of the sculpture wanted to get it to stand on the 4th plinth at Trafalgar square, but was rejected by the government. But if you'd like to see it there, you can sign the petition here: Www.change.org/p/support-the-knife-angel-campaign-help-us-to-get-the-knife-angel-to-trafalgar-square-and-take-place-on-the-forth-plinth
This angel sculpture is made from 100,000 knives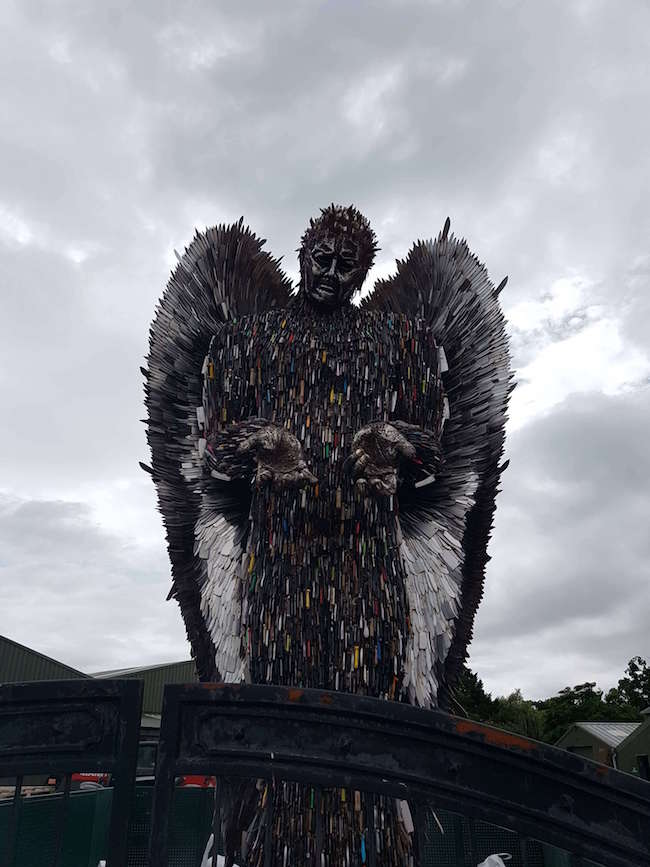 Most of the knives are actually ones that have been used by attackers
The creator of the knives angel sculpture wanted to convey the message of peace and stop the violence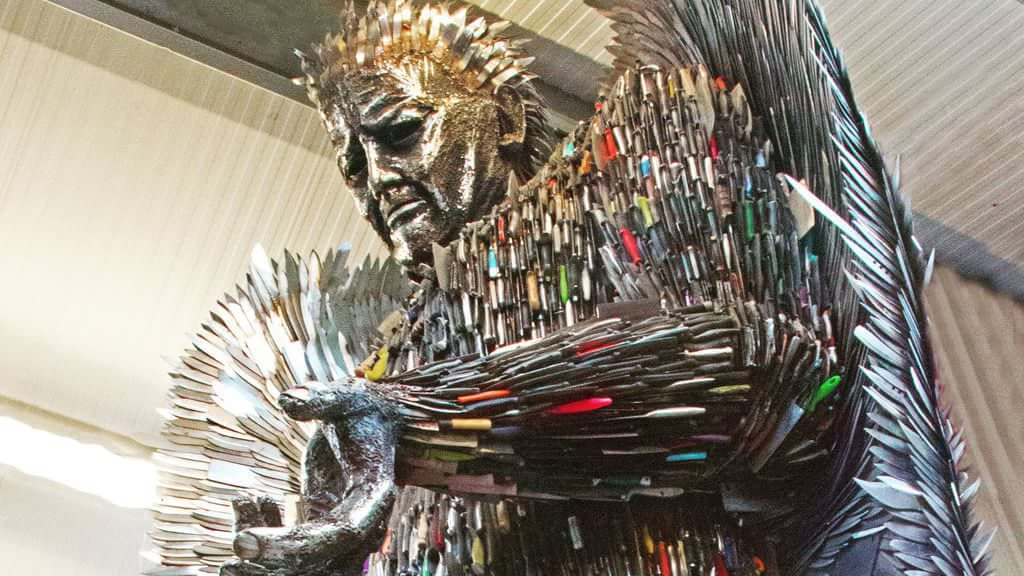 It was created by artist Alfie Bradley from the UK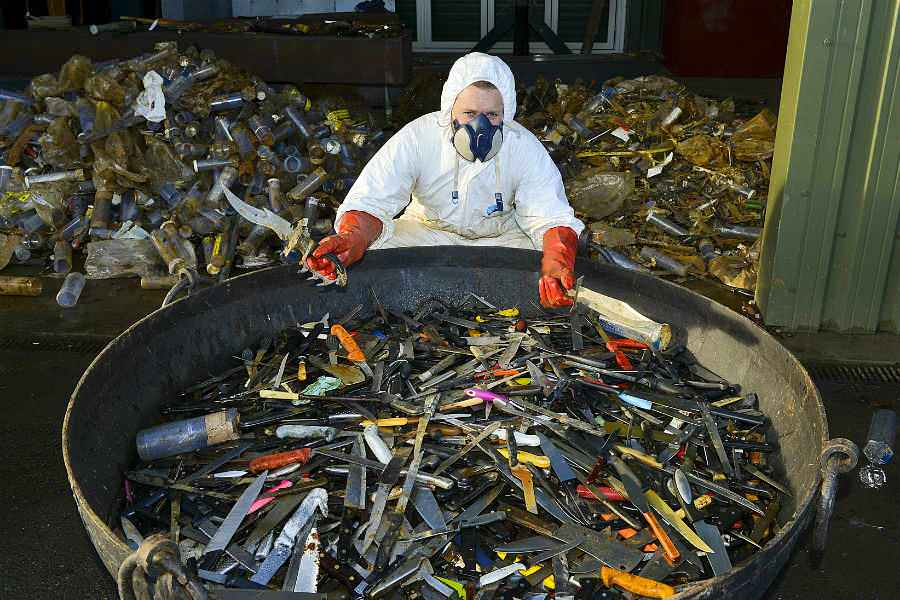 Obviously you can imagine that building such a statue from sharp knives is quite dangerous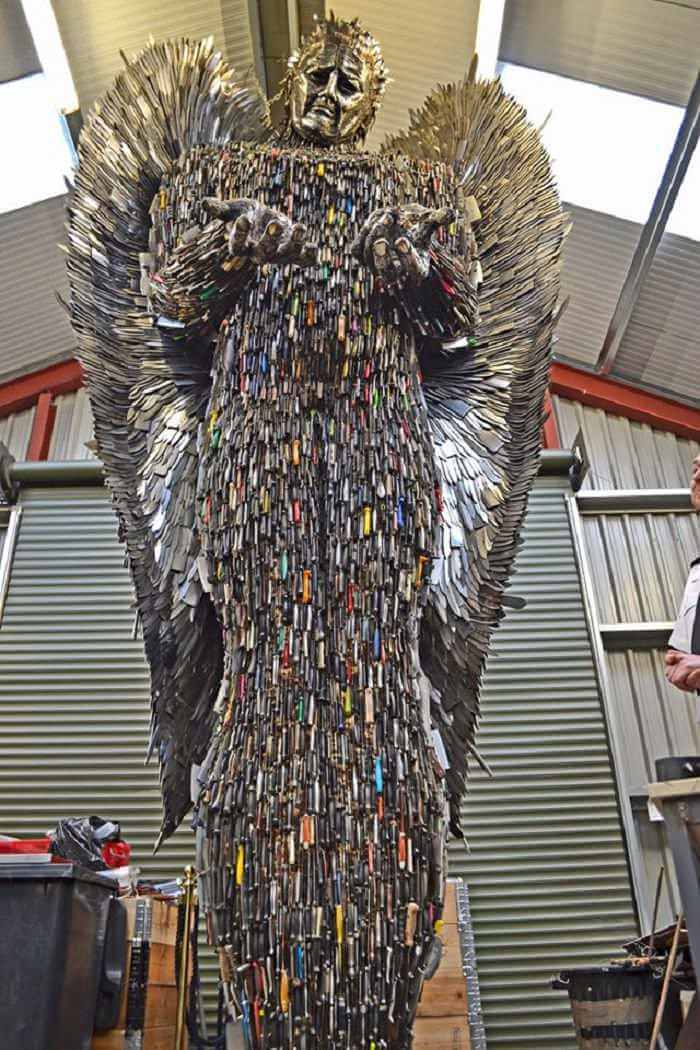 The sculpture is 26ft tall and like we said is built from 100,000 real knives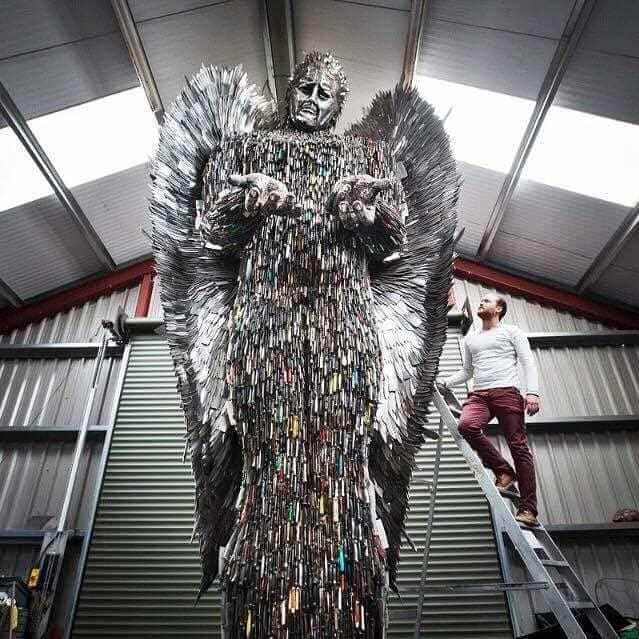 The arms of the sculpture are extended as if to say " Please stop the violence "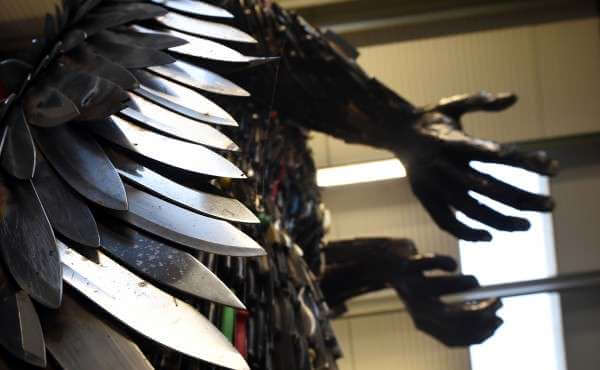 The artist and his unique creation