If there's one thing that America proves time and time again , its that bacon is the best food ever ! There is more bacon in the USA than most countries combined , and it's the one food that will never get out of style , because there is not enough style in the world to threaten bacon . some just serve it with eggs , others do more interesting things , that's why in the list below you can see the best 20 spots for bacon lovers in the country 
1 : The Whole Bomb – Kaiser Tiger , Chicago, IL
This cool bar does a lot of things with bacon , but if you're there , you must order the Whole Bomb . it starts with 2lbs of ground pork and beef which is wrapped up in a 16 strip bacon wave that sits on the smoker for three hours . The 5lbs log is than sliced for sandwiches or you can go Mexico style and eat it like a burrito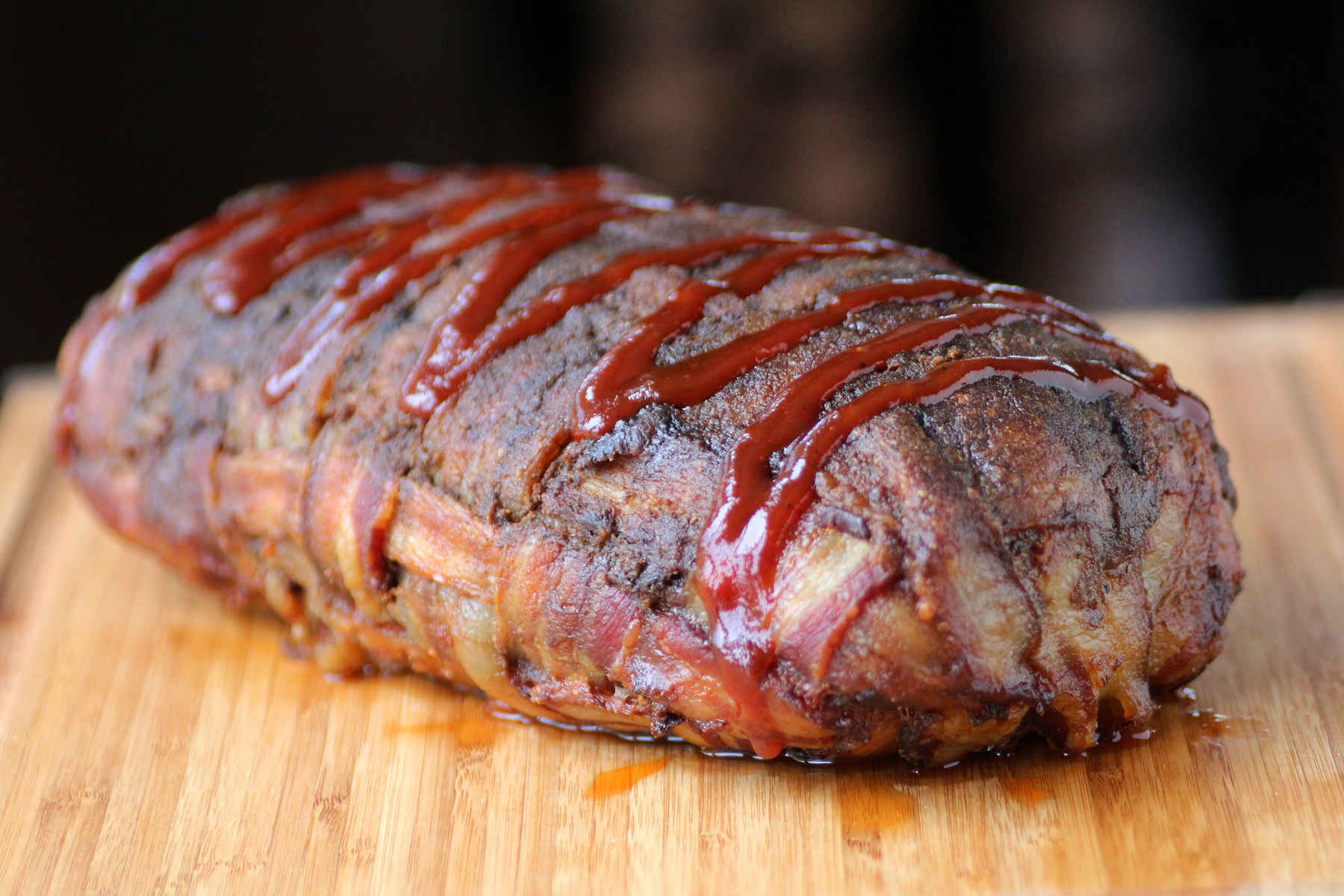 2 : Chicken & waffles with bacon – Bacon , Austin TX
This place has swine in every course of the menu so you cant really go wrong here . But we recommend going for the chicken and waffles , why? because it's a mountain of poultry whose secret weapon is the thick chunks of bacon they bake right into the batter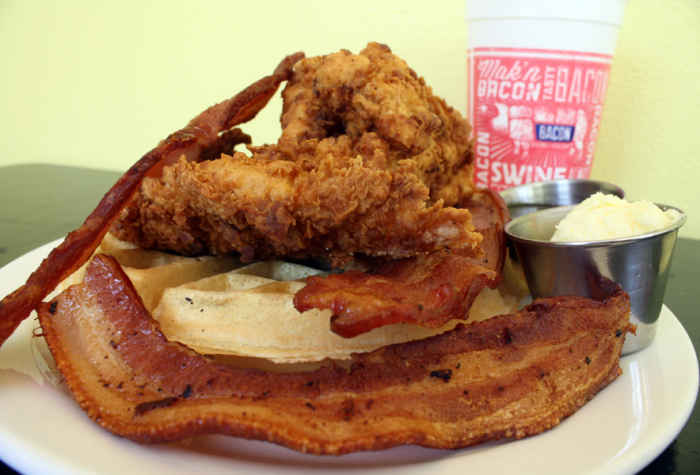 3 : The bacon sampler – Tails & Trotters , Portland , OR
This butcher shop specializes in everything pig , Besides just sitting on the counter and watching them slice all sorts of bacon , you should actually buy some of the many bacon types they have in store and make your own sandwich with their delicious swine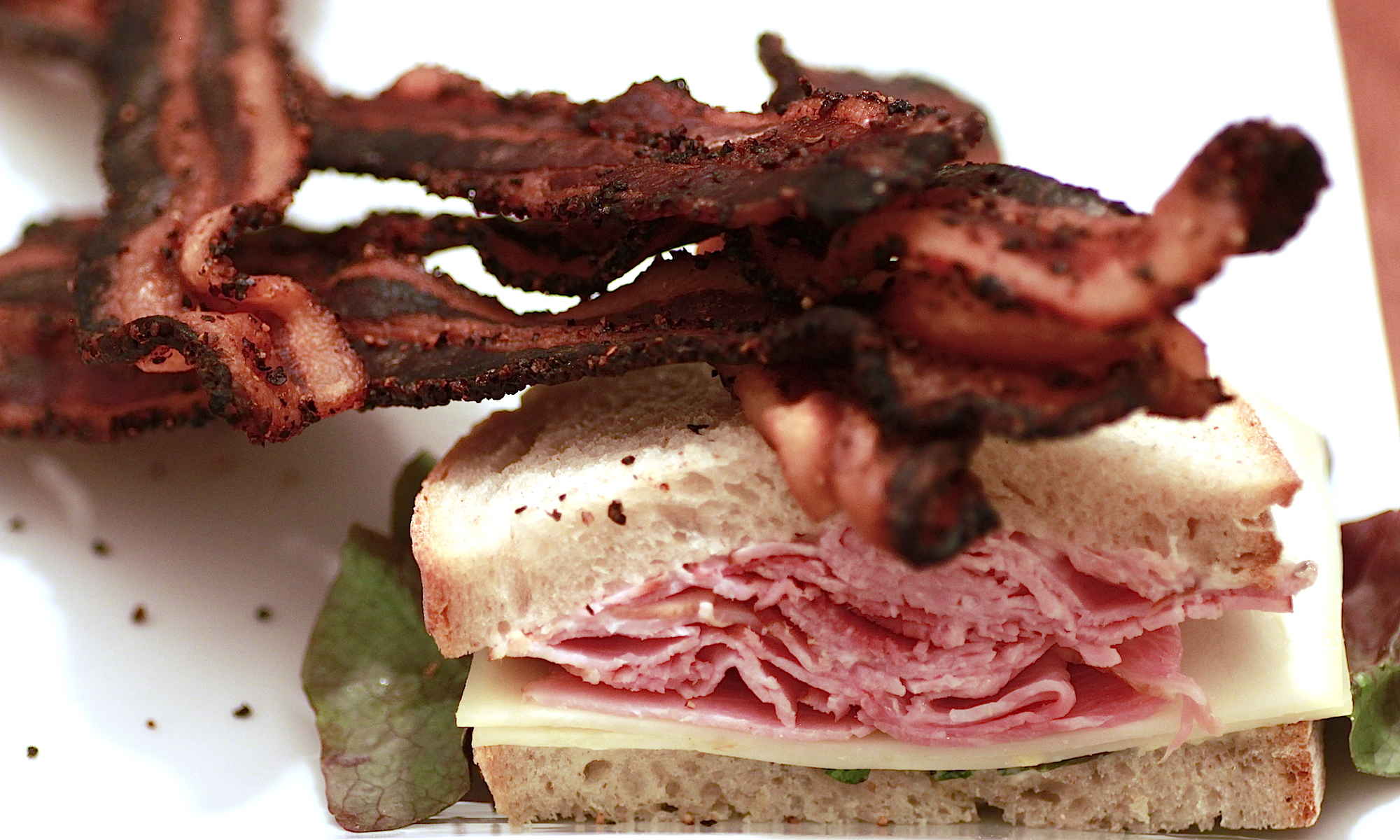 4 : Sunnyside pizza – Bar Cento , Cleveland , OH
This place does it's own meats in-house , which is already good news ! When you're there eat the pancetta which is laid down on papper-coated crust before being topped with provolone eggs . Those eggs fry in the grease as the pie coocks at very high temp . you will not be sorry with the result , it's basically a pizza with egg yolk and bacon juice , yummy !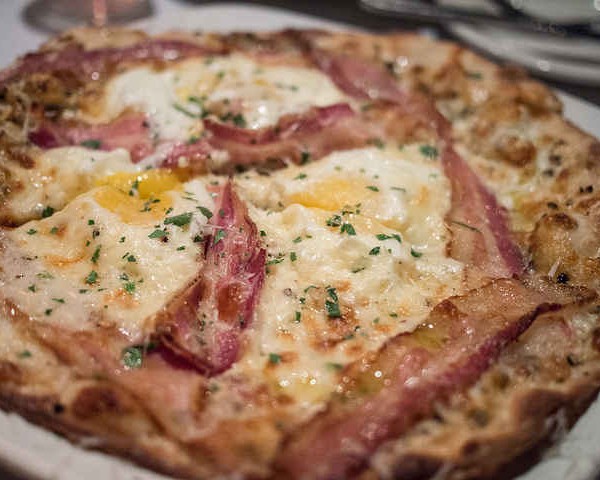 5 : Bacon Loves Lobster Roll – BarBacon , New York , NY
this cool place serves only bacon in it's menu , so if you're an indecisive person , you're gonna have a problem here , we recommend starting with the four-variety bacon tasting and than move along to their Bacon Loves Lobster Roll , You're welcome !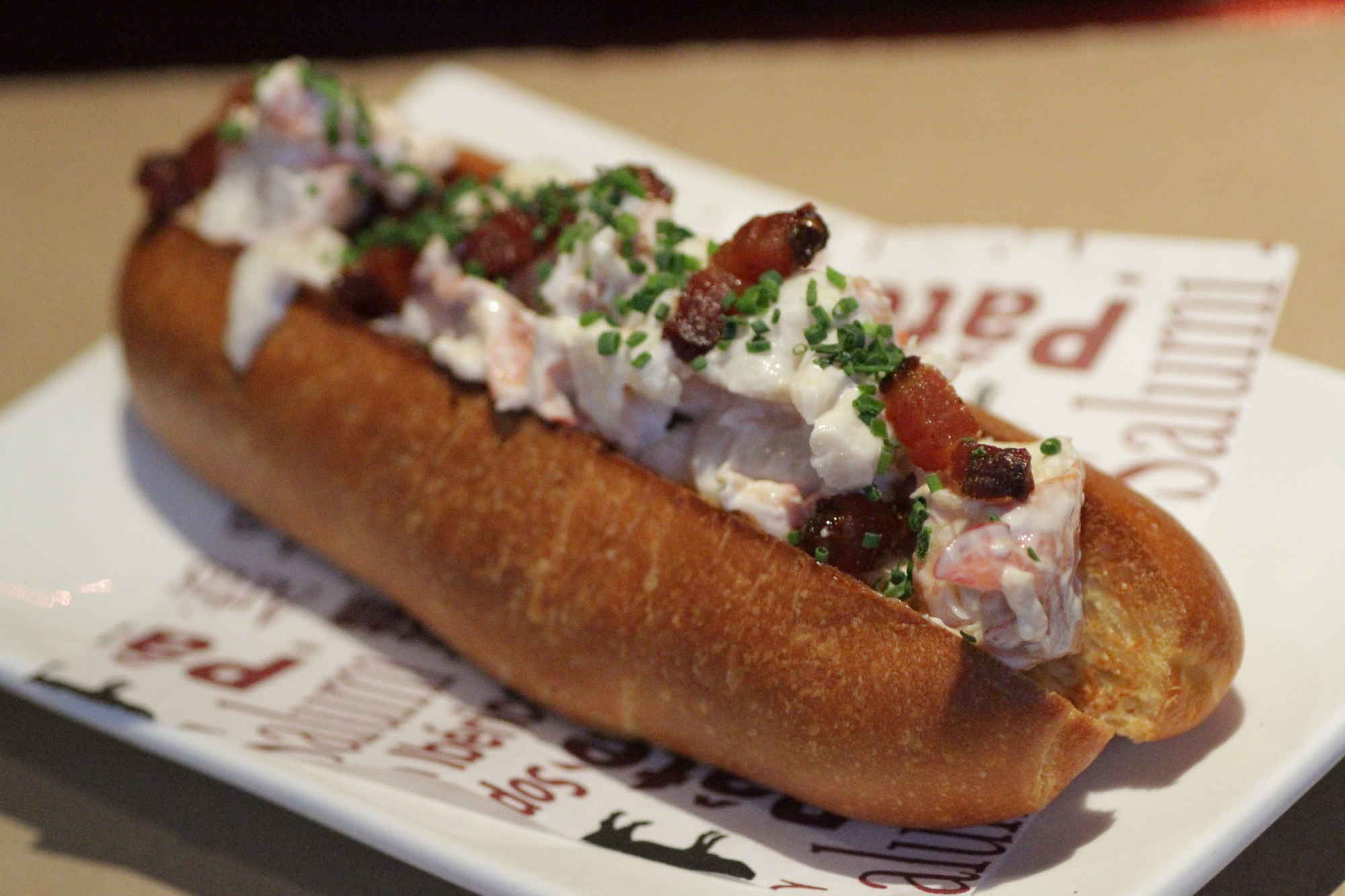 6 : The Spicy Red Neck – Crif Dogs , New York , NY
An oasis of late night snacks bar . half the hot dogs on the menu are wrapped with bacon , but do try the Spicy Red Neck , it has a wiener with bacon , Cole slaw , chili and jalapenos , but honestly , you can get anything here and be happy with it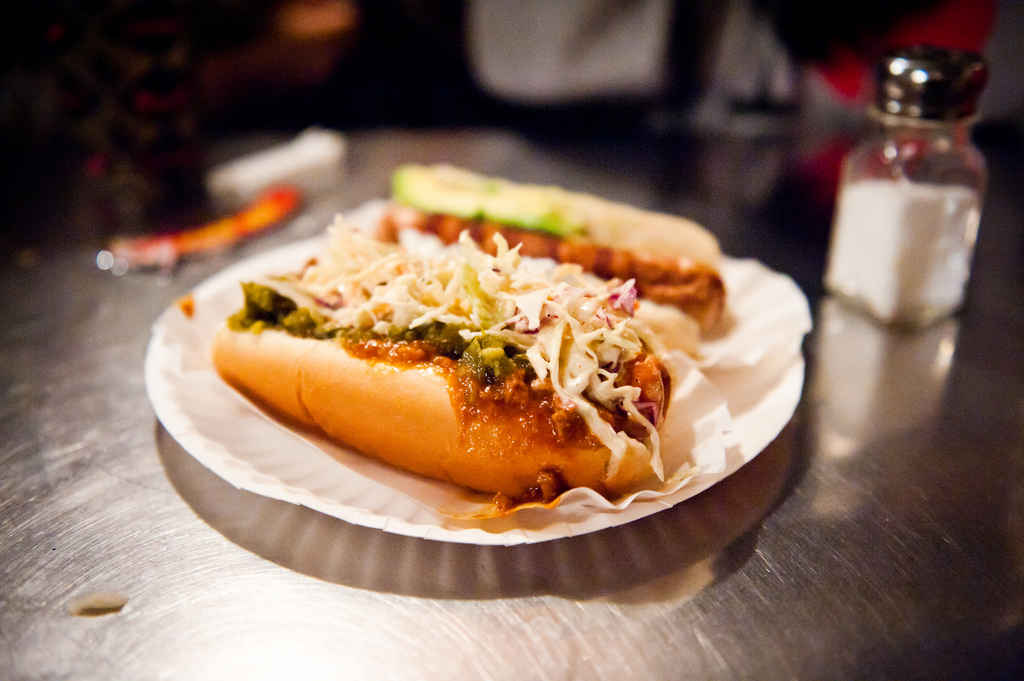 7 : Chicken-fried bacon – Sodolak's Original Country Inn , Snook , TX
All the reasons everyone ever told you about not eating chicken-fried steak are dumb ! but if you're not eating the chicken-fried bacon you're really dumb ! this is the most american food , hands down , Sodolak's is the best place to get it and there is no discussion here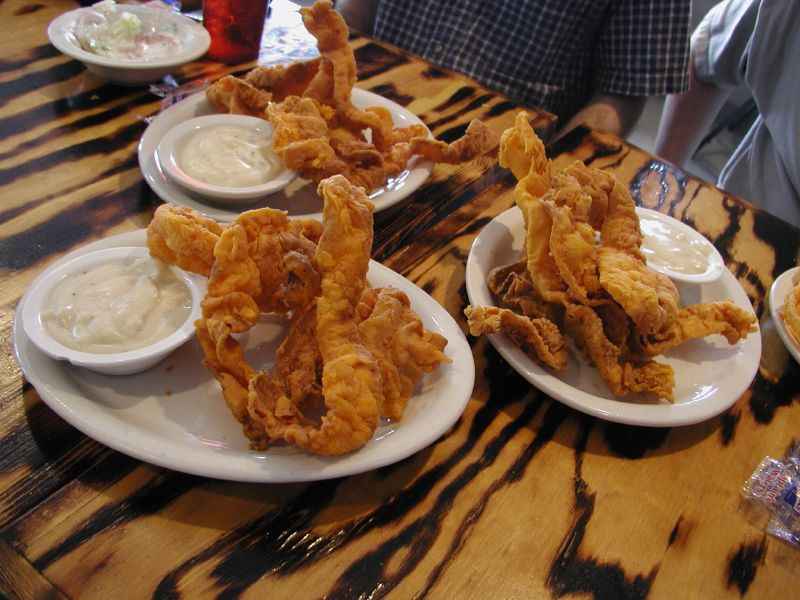 8 : Heart Attack Dog – Cousin's Grubhouse , Philadelphia , PA
This place is a temple to bacon , opened since the 50's Grubhouse has been serving bacon in creative ways longer than most other places have been in business , one of the highlight dishes is the Elvis Melt ( bacon , banana , peanut butter and bacon powdered sugar ) or their bacon wrapped , chili-topped Heart Attack Dog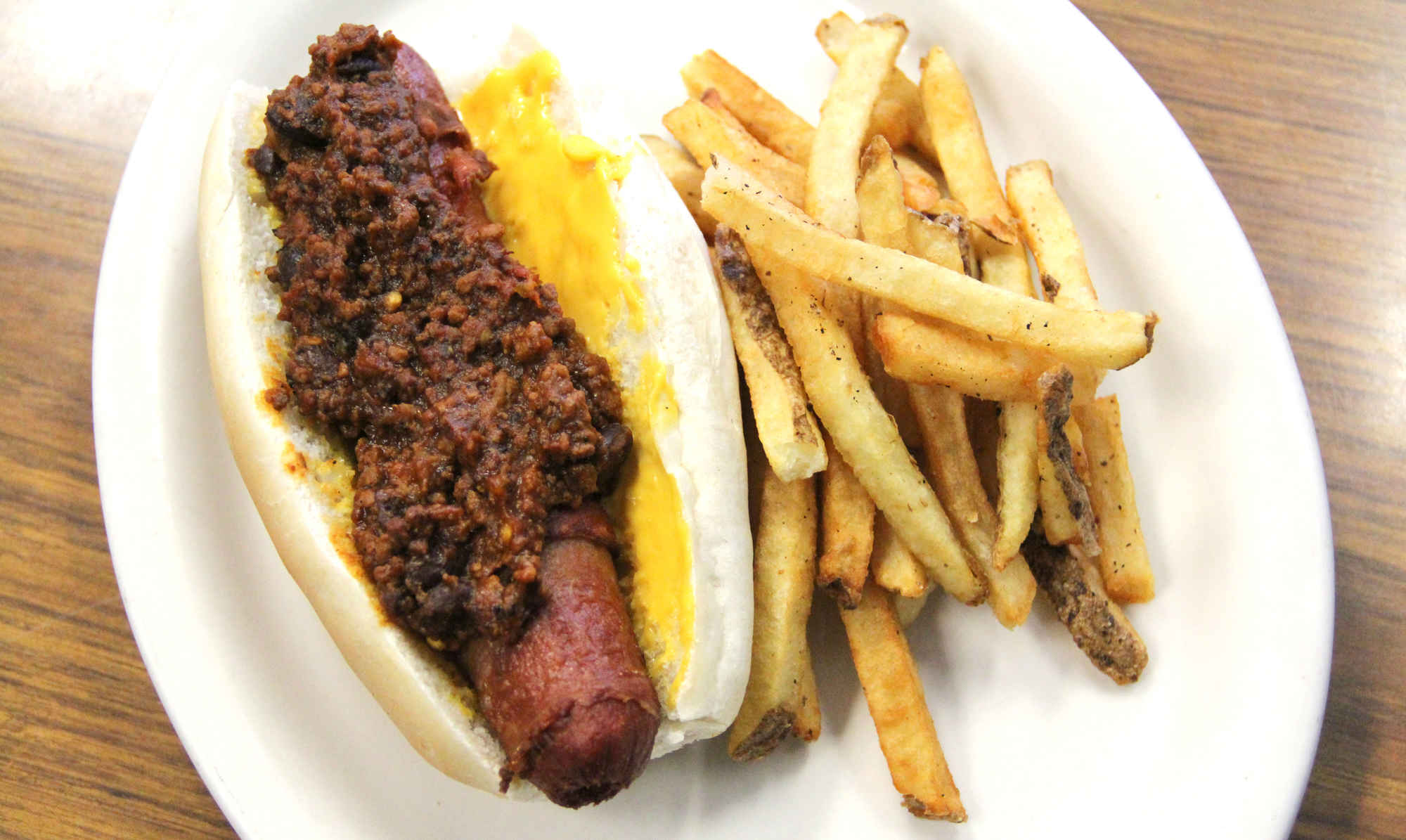 9 : The 1lb BLT – Tony's , Birch Run , MI
This old school family place serves a BLT sandwich with 1 pound of bacon in it . think about it , driving down the I-75 and stopping for a huge thing like the 1lb BLT , than just drive home  , that's crazy ! and Tony became a local legend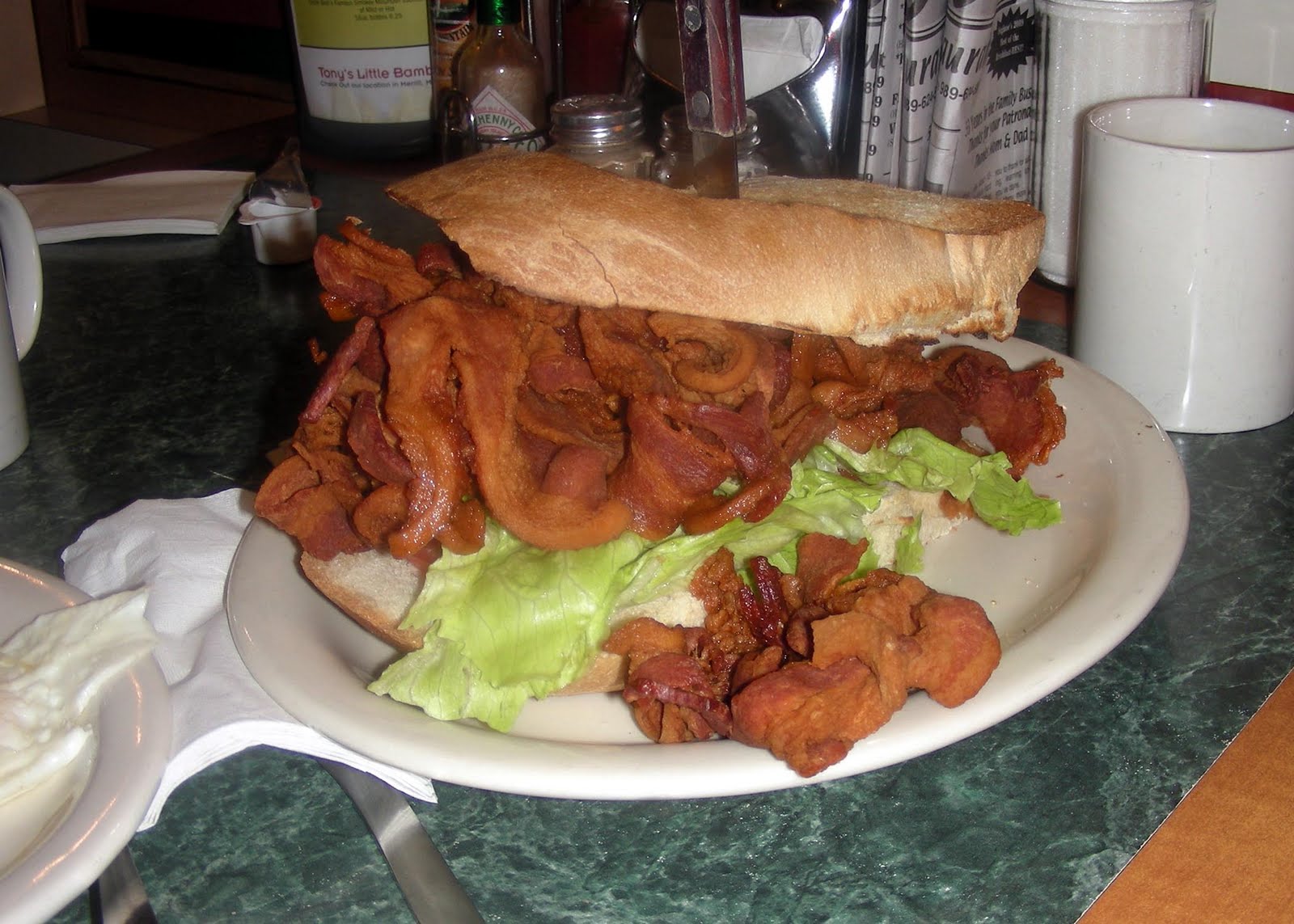 10 : B'B'B' Bacon Burger – Slater's 50/50 , San Diego , CA
You cant talk about bacon places in America and not mention this place . Slater's 50/50 was a pioneer in creative applications of bacon , their patties are half beef and half bacon ( get it ? ) every dish served here is great ! but you wanna get the B'B'B Bacon burger to really enjoy your meal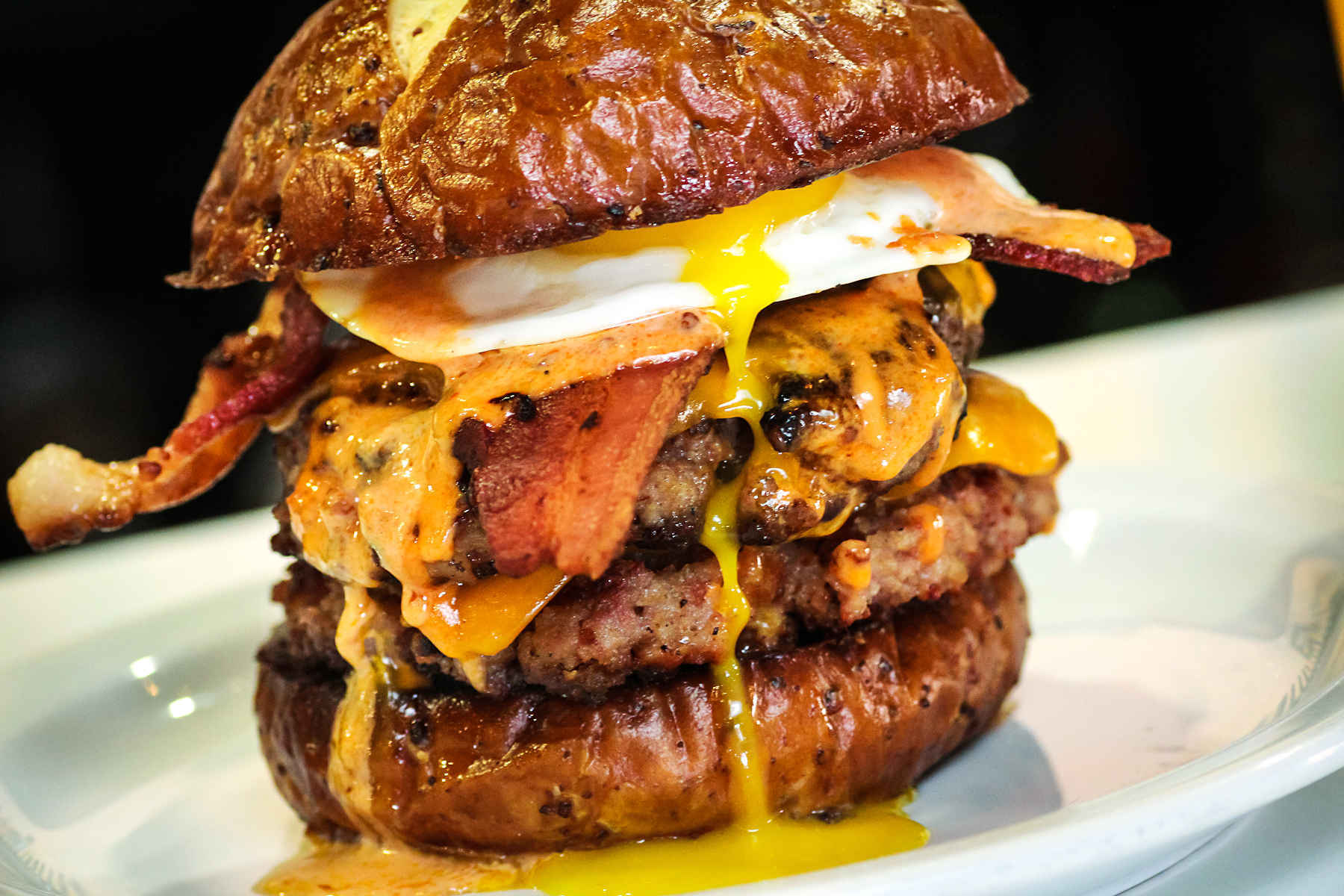 11 : Bacon Old Fashioned – The Patterson House , Nashville , TN
This place is one of the most loved spots in town , and besides being an awesome place ! it's got one of the nation's best liquid applications of bacon . The Bacon Old Fashioned , its made with legendary Benton's bacon-infused bourbon , maple syrup and coffee pecan bitters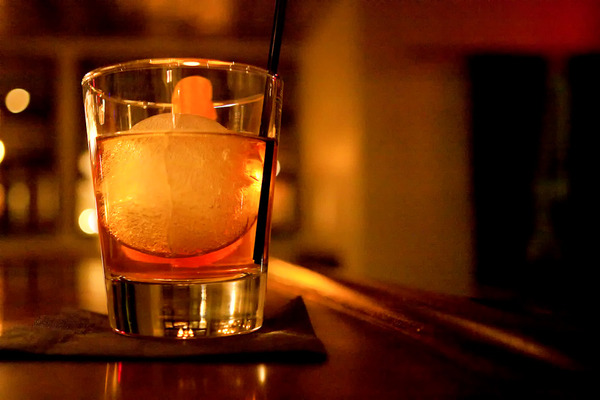 12 : Irish nachos – Harry's Bar & Grill , Brighton , MA
Bacon on nachos , that's all you need to know , go there  and order it . But if you wanna go into details well this place take it a bit further than that, instead of chips , they use WAFFLE FRIES , now try stop thinking about it , good luck !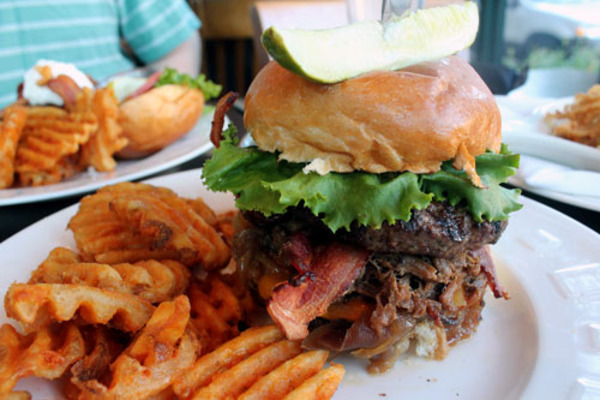 13 : Bacon-wrapped meatloaf with beer gravy – The Comet Cafe , Milwaukee , WI
Every Sunday is bacon night at this great place , but you can still get plenty of bacon here every day , especially with their meatloaf with beer gravy that's served with bacon-chive mashed potatoes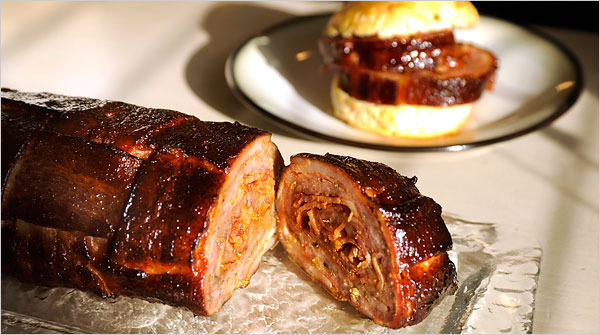 14 : The Notorious Bacon Sundae – Green Goddess , New Orleans , LA
The only dish in this list that is sweet , this can be a great desert to a full bacon meal . It's called the Notorious Bacon Sundae . It's made with coffee pecan brittle ice cream & bacon caramel , and all of this is topped with Nueske's applewood bacon , plus the hopes and dreams of every american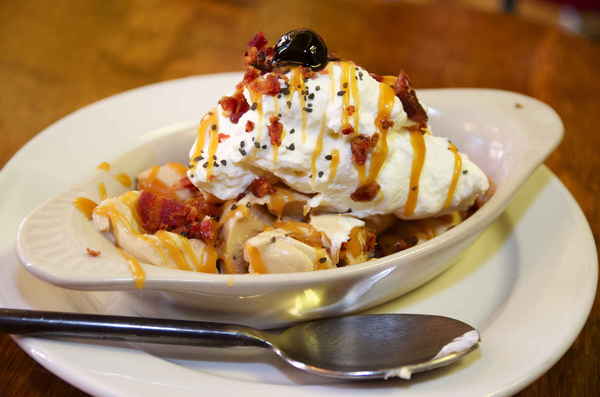 15 : Shrimp and grits with bacon – Big Bad Breakfast , Oxford , MS
It's a bit of a wait to sit at this place , but it's totally worth it , one of the best here is the Shrimp and Grits , in which bacon is cured with brown sugar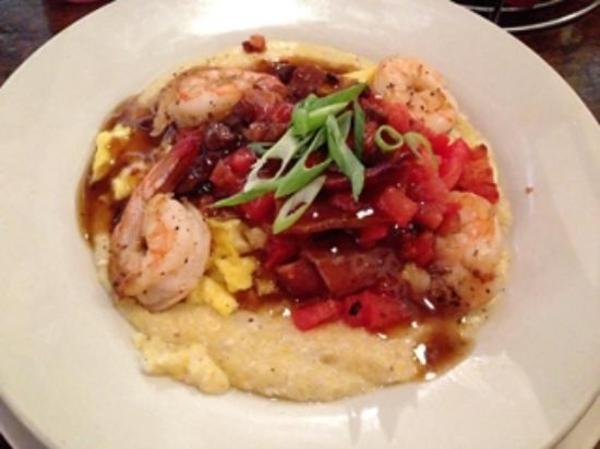 16 : LA street dogs – Carts outside the Staples Center , Los Angeles , CA
The familiar " Danger Dogs " can be found in the streets of LA , the best ones are outside the Staples Center , you get a dog wrapped in bacon and covered in veggies . they're cheap , crispy pork heaven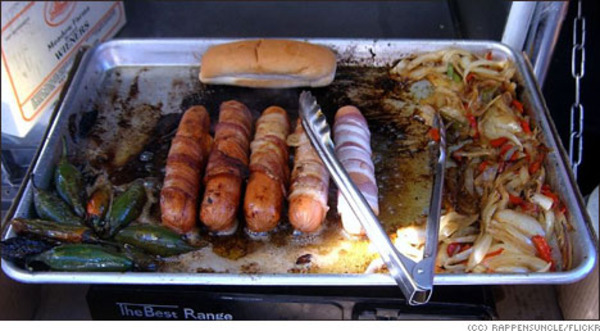 17 : The Bacon Bouquet – Bacon Bacon , San Francisco , CA
This is a well known place in SF , they drive a truck across town but if you go to their brick and mortar shop you can get a nice experience with their Bacon Bouquet .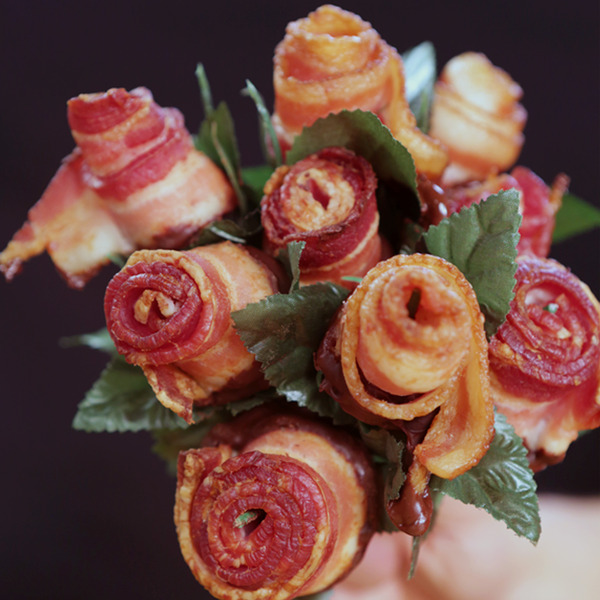 18 : Pimento cheese jar – Bacon Bros . Public House , Greenville , SC
This restaurant was funded by Chef Anthony Gray and his partners Jason Callaway , Mike Porter and Eric Bergelson , and no , they are not brothers , their entire existence is to please their pork loving audience with tons of house-cured and smoked meats that give their menu a uniquely meaty twist . Try their pimento cheese jar . you wont regret it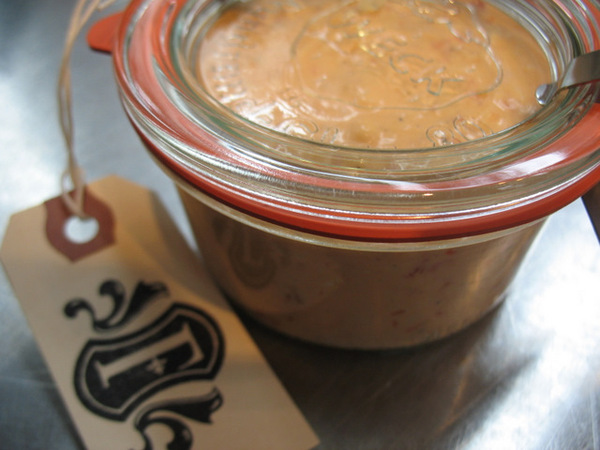 19 : Pork wings – Saloon on Calhoun , Brookvile , WI
Everything here is just exploding with bacon . they even have a bacon happy hour from 4 – 7 with free bacon for everyone . Get the pork wings which are baked pork loins wrapped with bacon and deep fried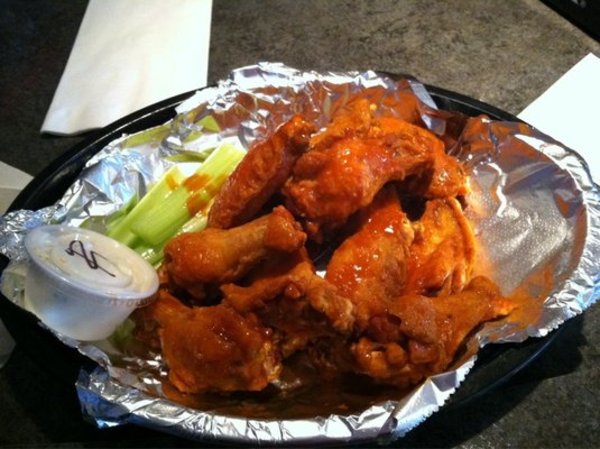 20 : Mount Saint Hell Yeah – Hypnotic Donuts , Denton , TX
Ever since America fell in love with donuts you see them with bacon toppings , but no place does it better than Hypnotic Donuts in Dallas , this is a must eat if you're in the area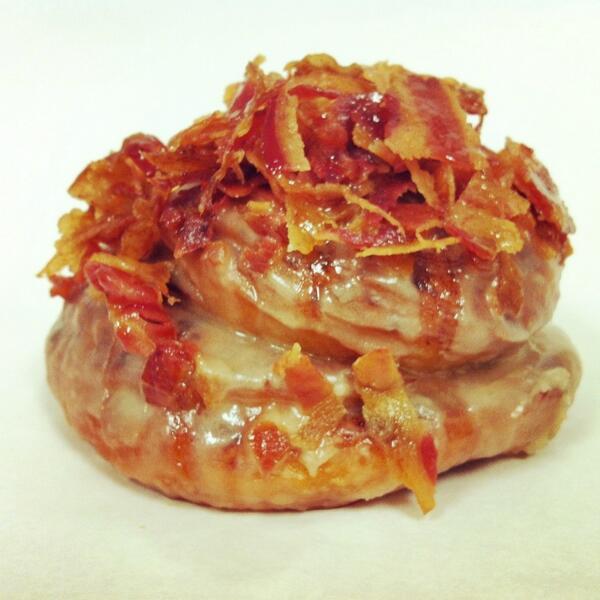 Source : Thrillist