These shelter dogs was once running in the streets homeless and nobody to feed them and take care of them were now in the prime spot as Ball boys at Brazil open in Sao Paolo, Brazil held last week.
Four used to be street dogs named Costela, Frida, Isabelle and Mel were patiently waiting at the sides of the tennis court while two international ranked players joined in an exhibition match in Brazil.
As soon as the ball gets off the court, the trained dogs will immediately pick it up and give it to one of the players, the dogs were obviously getting more attention than the tennis players which were: Roberto Carballes Baena of Spain and Gastao Elias of Portugal.
The dogs have undergone training for months getting ready for this particular role they have on the court, and they are absolutely loving it, but beyond all that, the prime role of these dogs is to raise awareness of animal adoption in Brazil.
"The idea is to show people that a well-fed and well-treated animal can be very happy. We have more than 1,000 dogs in our care," Marli Scaramella, the organizer of the initiative, told Fox News Latino. According to her, Frida, Costela, Isabelle and Mel are native residents in a shelter in Sao Paolo whom with others are waiting  for their new family.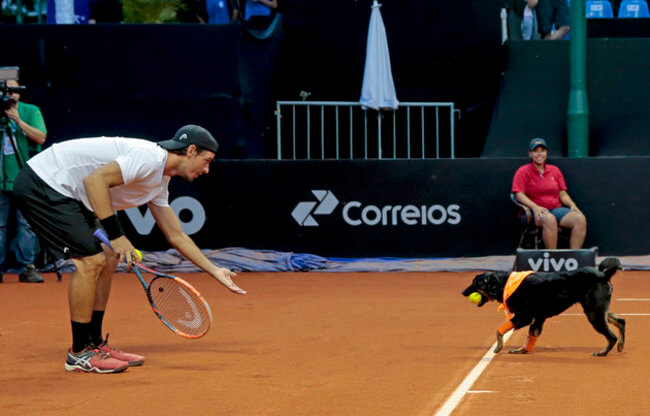 Watch the adorable video below:
Source: Huffingtonpost