Do you know Moon Moon? He's the king of memes, the reigning crowned king of What is Your Werewolf Name meme, the most "meme-able" wolf on the planet. If you think we're talking rubbish, just scroll down a little bit and you'll see for yourself. Yes, he is The Wolf.
The creation of Moon Moon
But how is it that Moon Moon got so famous? Well, surprisingly, he was first created as an alter ego for the Tumblr user Kitchiki. This Kitchiki got the idea of Moon Moon from some sort of a name generator. You will see it below, it is titled "What is your werewolf Name?" You might recognize it. Kitchiki posted the image with the "What is your Werewolf Name?" followed by the caption: "My name is frickin moon moon. I'd be the most retarded wolf. Oh shit, who brought fuc**ng moon moon along?"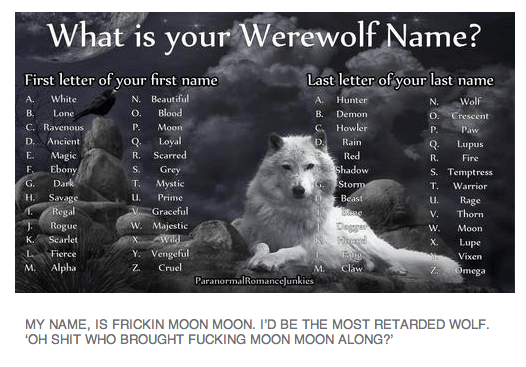 How popular is the silly wolf? Just see this search data and info below:
The post gained more than 158,00 notes in the first two weeks. And that's how it started. Moon Moon became the retarded wolf, the outcast of the pack because of its strange behaviour and looks….
After Kitchiki's post, another Tumblr user, Frukas posted a comic that shows a wolf pack while hunting and Moon Moon sticking its tongue out and rushing "get the thing". The idea spread rapidly on social media as people began to post memes with Moon Moon the retarded wolf.
Social media accounts or single topic blogs were created in Moon Moon's honour. If you don't believe us, just search "The Marvelous Moon Moon" on Tumblr, or @MoonMoontheWolf on Twitter. Or how about "The Official Moon Moon Blog" or "Fuck Yeah Moon Moon". Also, let's not forget about the Facebook page "Moon Moon the Wolf". It all spread to Imgur, Tickled and Reddit and God knows where else.
But we say it's not in vain. Moon wolf Moon really is the most meme-able wolf you've ever seen. Just see for yourself!
Here's a short video telling the story of the retarded wolf meme:
Here are a few examples of the Moon Moon wolf