It's not easy to become a Military Working Dog. There are harsh criteria in selections of puppies first and then follows hard training in order to be prepared for very demanding and responsible positions. Sometimes human lives depend on these canine soldiers, so only the best of the best are capable of doing this job.
In the gallery below meet thirteen awesome military dogs with great careers in the army and great results. As you will see, they all also look super cool besides being super military working dogs.
1. Ricky, a Belgian Malinois at Maritime Safety and Security Team San Francisco.
Ricky is wearing a hoisting vest, eye protection and hearing protection during training at Coast Guard Base Alameda, (Coast Guard/Brandyn Hill)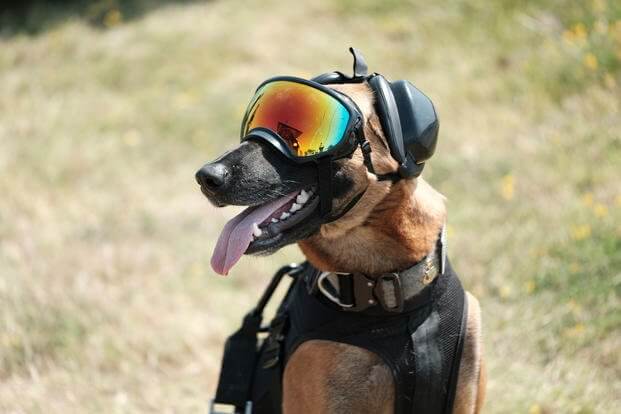 2. Reisja, a 7-year-old Belgian Malinois from the Department of Defense (DoD) K-9 Unit.
Reisja during training exercises at Arlington National Cemetery (ANC), Arlington, Virginia, March 1, 2018. (U.S. Army/Elizabeth Fraser)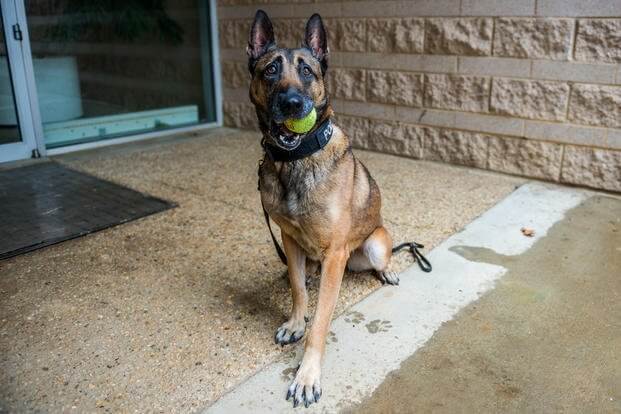 3. Tommy, a Chief Explosives Detection Canine.
Tommy in the moment of applause in his honor during his retirement ceremony in St. Marys, Georgia. July 27, 2017. (U.S. Coast Guard/Anthony L. Soto)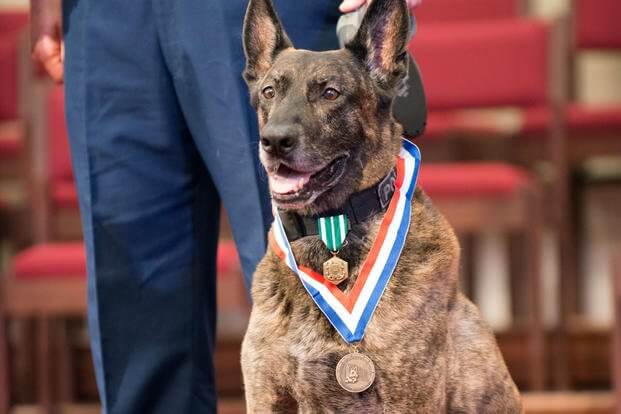 4. Sgt. Chesty XIII, the official mascot of the U.S. Marine Corps, right, stares down his successor Recruit Chesty, left.
The photo was taken during training at Marine Barracks Washington, D.C., March 20, 2013. (U.S. Marine Corps/Dengrier Baez)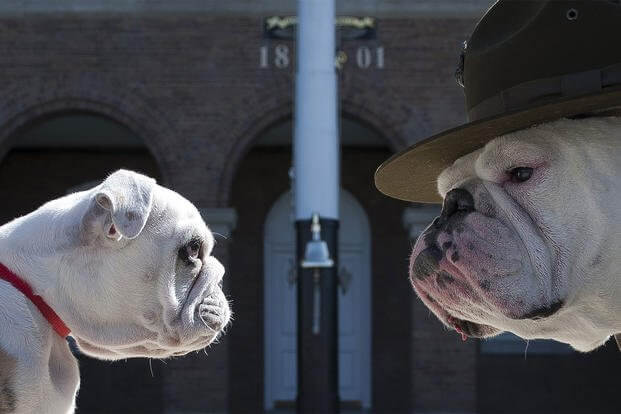 5. Military Working Dog Diego onboard Naval Support Activity (NSA)
During aggression training with Master-at-Arms 1st Class Casey Kaiwi. Souda Bay February 28, 2018. (U.S. Navy/Joel Diller)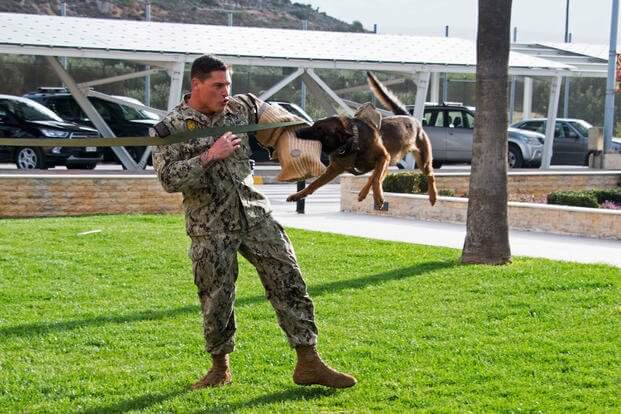 6.  Military Working Dog (MWD) and dog handler
U.S. Marine Corps Lance Cpl. Hunter Gullick, dog handler, Provost Marshal's Office, K9 Section, Marine Corps Base, Camp Smedley D. Butler. Kadena Air Base, Okinawa, Japan, Oct. 5, 2017. (U.S. Marine/Rebecca L. Floto)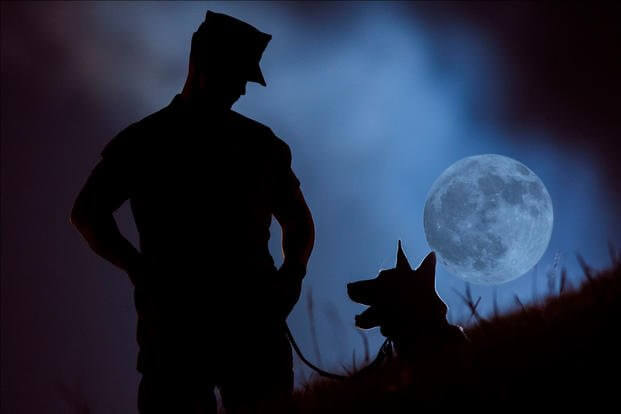 7. Luke, a retired military working dog.
At the United States War Dogs Association display at the 2016 Shaw Air Expo and open house, "Thunder Over the Midlands," at Shaw Air Force Base, S.C., May 21, 2016. (U.S. Air Force/Zade Vadnais)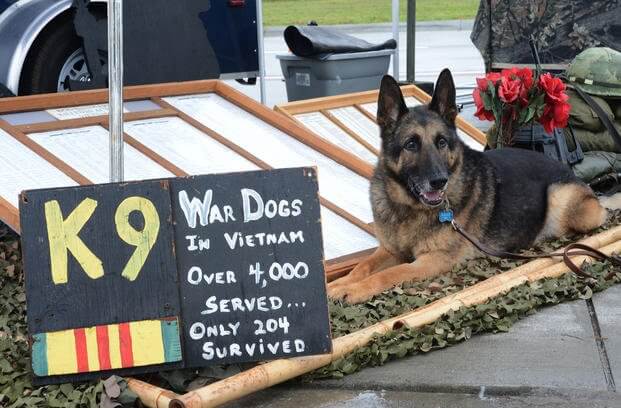 8. Mica, retired U.S. Air Force military working dog.
Tyndall Airmen provide a final salute at the end of her final patrol Nov. 14, 2016, at Tyndall Air Force Base. (U.S. Air Force/Javier Cruz)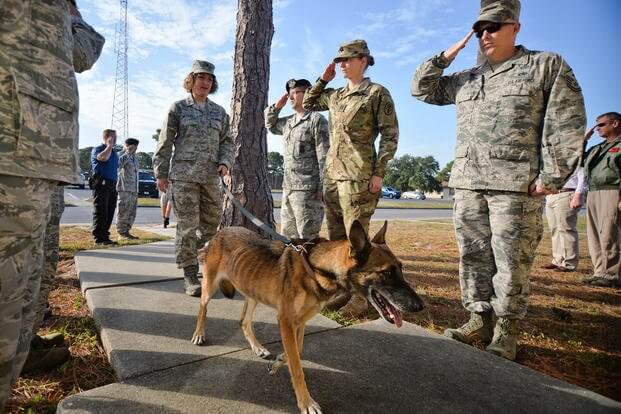 9. Marco, a military working dog in the U.S. Air Force.
Selfie with Maj. Ryan Natalini, 2nd Security Forces Squadron commander and Senior Airmen Travis Hansen, 2nd Security Forces military working dog handler at Barksdale Air Force Base, La., Sept. 8, 2017.  (U.S. Air Force/Stuart Bright)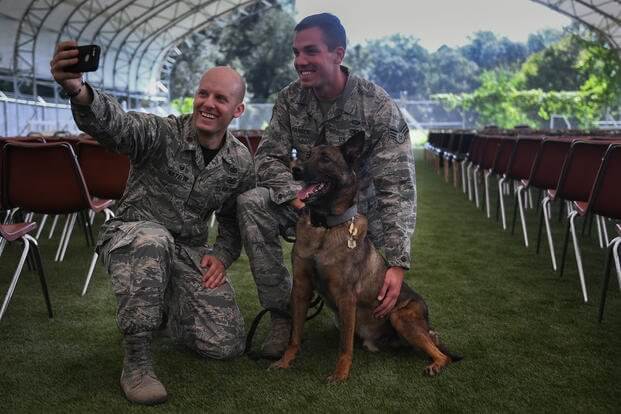 10. Lucca, a retired Marine Corps military working dog.
Camp Pendleton Feb. 29, 2016. before Lucca's retirement. He served until his twelve. He was injured by exploding device in Afghanistan. Lucca received the Dickin Medal, a European award that acknowledges outstanding acts of bravery or devotion to duty by animals serving with the armed forces or civil defense. (U.S. Marine Corps/Caitlin Bevel)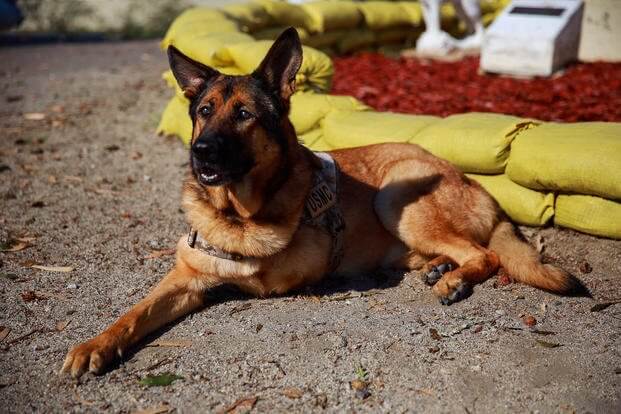 11. Spidey, a military working dog assigned to Law Enforcement Det.
Waits by his handler, Marine Cpl. Zack Barkley, from Statesville, North Carolina, during a live-fire exercise on the flight deck of the Wasp-class amphibious assault ship USS Iwo Jima (LHD 7) March 4, 2018. (U.S. Navy/Daniel C. Coxwest)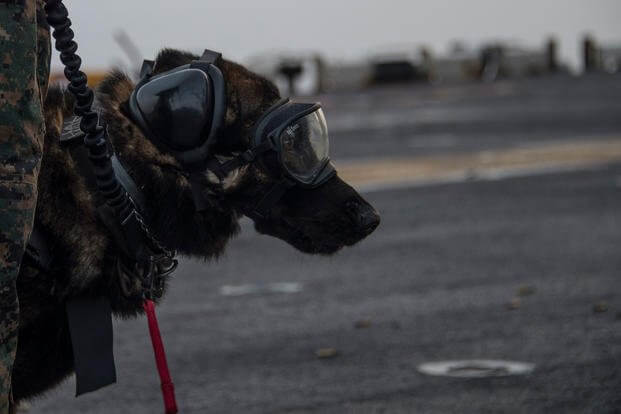 12. Darius, military working dog.
Poses with the dog handler U.S. Air Force Senior Airman Dante Tost, 355th Security Forces Squadron, at Davis-Monthan Air Force Base, Ariz., Jan. 4, 2018. (U.S. Air Force/Michael X. Beyer)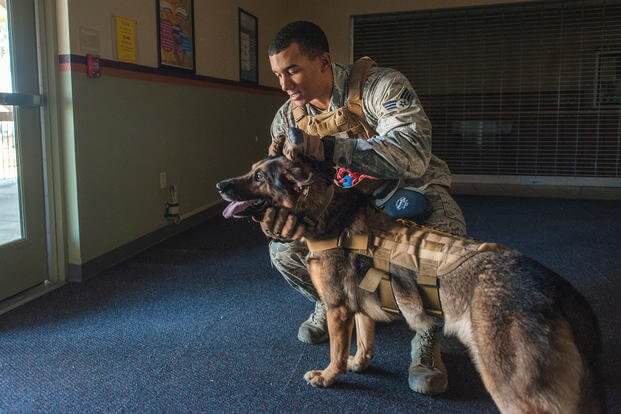 13. K9 at night
Camp Pendleton Marines conduct night-time K9 training Jan. 24, 2018. (U.S. Marine Corps/Lukas Kalinauskas.)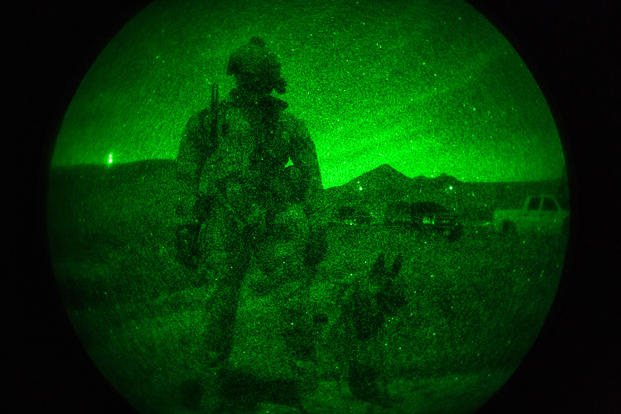 Via: military.com