Announcing a pregnancy is always a joyous time for the expecting couple. It is also a celebration for their family and friends.
There are many funny ways to say i'm pregnant, but if you want something more creative, then we've got you covered. Funny pregnancy announcements can involve your friends, your baby's older siblings, and even the family pet!
However you decide to announce your big news, all that matters is that you're happy with how it turned out. Hopefully, it'll make you as the parents laugh too! 
Have fun sharing your wonderful news with these 55 funny and creative ways to say that you're pregnant:
Funny Pregnancy Announcements
1. Netflix and Chill
Netflix and chill is always fun, especially if you love cuddling up and getting cozy with each other.
You can get a onesie for your baby that says "Kinda looks like Netflix and chill went a bit too far…" for a super cute and funny way to let everybody know that you're pregnant.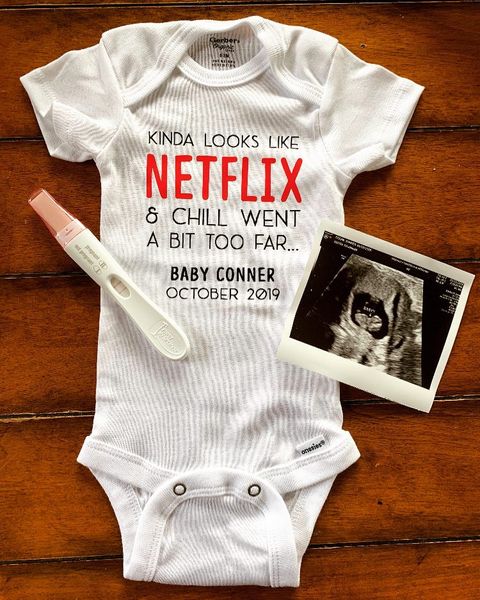 2. Dad Jokes
A lighthearted way to make your pregnancy announcement memorable is to make a dad joke. Text your husband or partner a few dad jokes throughout the day.
Sooner or later, he's bound to ask why you keep sending them. You can then tell him it's time to practice his dad jokes!
3. Bun in the Oven
This little strategy is simple but also fun! Take a burger bun and place it in the oven. Ask your partner to check if there's something in the oven.
Once they go check and discover that there's a "bun in the oven," they'll get the hint and be surprised.
4. Baby Themed Meal 
For a sneakier idea that'll keep your husband or partner guessing, try ordering or serving meals where every food item has the word "baby" in it.
Try foods like baby back ribs, baby spinach, baby carrots, baby corn, Babybel cheese, and others. He might notice the odd combination of ingredients and ask about the meal.
This is the perfect opportunity to ask him what the common theme is, and then wait for him to realize what it means!
5. Ice Ice Baby 
A "punny" pregnancy announcement is always great to share with friends and family. You can take a picture with two bags of ice and your baby bump to say "Ice, ice, baby!"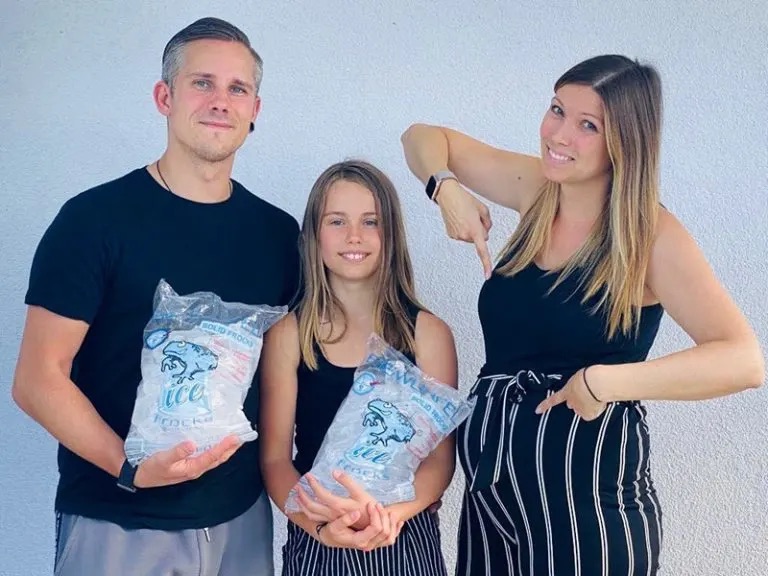 6. Big Brother or Sister Shirt
If you already have a child, you can dress them up in a "big brother" or "big sister" shirt at family or friend gatherings.
Once the other adults read the shirt, they'll realize that you're expecting. The best part is that your child will love being part of the surprise!
7. Blindfolded Guessing Test
One funny pregnancy guessing game couples can try involves a blindfold.
Expecting mothers can blindfold their partners and do a taste test of pureed foods, including baby foods. Husbands or partners will keep guessing the food until they get it.
8. Fun Games
It's also fun to reveal the big news with family or friends during game night. Some great options for games to try are charades, celebrity heads, or hangman.
9. Customized Beer or Wine Label
If your significant other enjoys beer, wine, or even a favorite soda or juice that comes in a bottle or can, you can print out a label for their drink.
Print out a "first-time dad" label in the brand's design. Offer to bring them their drink, and then wait for them to notice!
10. Pregnant Again Rollercoaster
Sometimes pregnancy is even more exciting the second time around, as shown by this mom-to-be. Parenthood is definitely a lot like a rollercoaster ride – you never know what twists and turns to expect!
Holding up a poster on a ride is a fun way to surprise your partner with the news. Just imagine the look on their face once they see the photos (and your poster!) after the ride.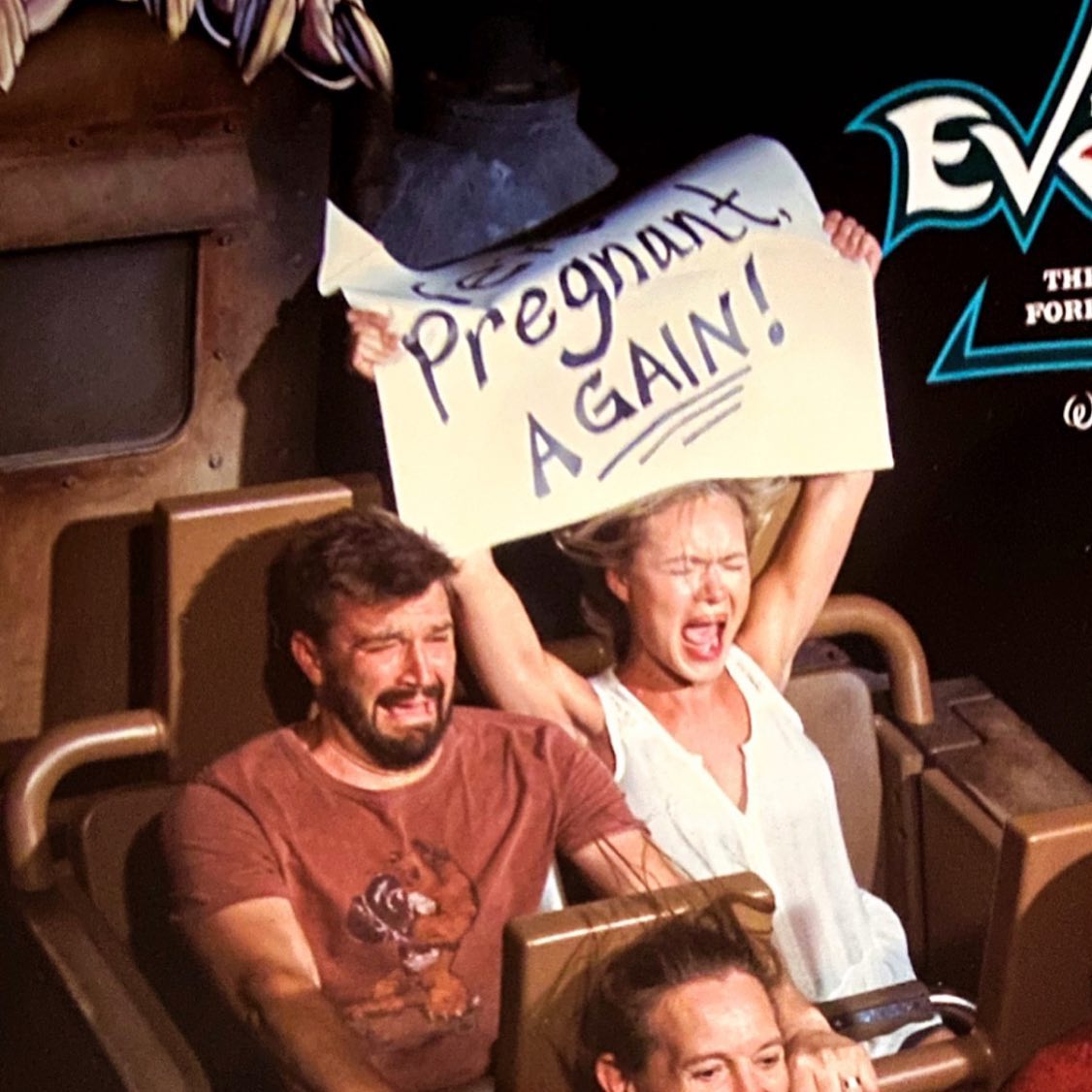 11. Group Picture Announcement
A trendy and funny way to announce a pregnancy is during a group picture. Gather everybody together, set the camera up on timer mode, and get ready.
Instead of asking everybody to say "cheese!" you can say "Everybody say (your name) is pregnant!" 
12. Table for Three
Another way to tell your partner you're expecting is over dinner. Make a reservation at your favorite restaurant and request that they set the table for three people rather than two.
The third plate should have "congratulations!" written on it. When you and your partner sit down to have dinner, they'll eventually connect the dots!
13. Diaper Delivery
This method is more straightforward, but it's also a funny way to announce to your partner that you're actually pregnant. Order some diapers and ask your partner to pick up the delivery when it arrives.
If they aren't home, wait until they get back so you can open the package together.
They may be confused at first as to why you ordered diapers and other baby essentials, but it won't take too long for them to figure out what you're trying to say!
14. Baby Bump
A classic and funny way of announcing your pregnancy is to wear something with the word "bump" written over the belly.
Your partner can hold a sign that says "under construction." You can even wear hard hats and try to match your outfits or signs to the signs around your street!
15. Prego Jar
Using a jar of pasta sauce is not exactly an orthodox way of announcing that you're expecting a baby. But the brand Prego is so spot on that it's perfect for a funny and cute photo op!
This couple used a jar of Prego pasta sauce to share their news, sharing that their little "meatball" was on the way. Funny and super cute!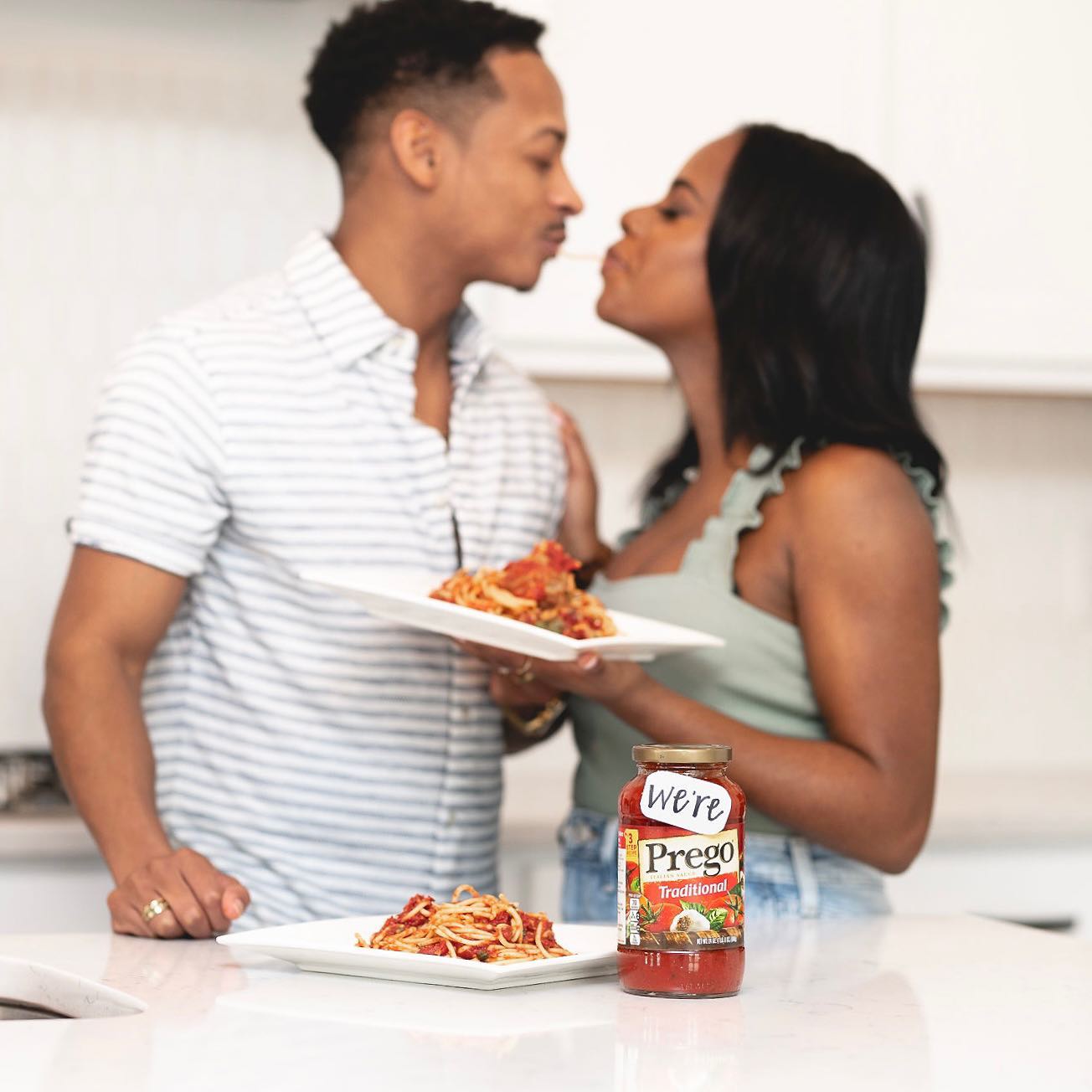 16. Baby Backpack
For couples that love the great outdoors, this is a great announcement idea. Arrange a photo op with you and your partner wearing your hiking packs and holding up a smaller backpack.
Post it on your social media with captions like "on a new adventure" or "conquering a new mountain." Your family and friends will put two and two together and figure out that you're expecting!
17. Seedling 
Get any seedling of your choice and put it in a pot between two larger plants. Post the picture on your socials with the caption "A little sprout is coming!" Your family and friends will surely pick up on what you mean!
18. Baby Jumpsuits
Another creative way of telling the world that you're pregnant is by gathering a few baby clothes and hanging them on your clothesline.
You can add a baby jumpsuit, socks, and booties, then take a picture! People will know you're pregnant as soon as they see it.
19. Career-Themed Puns
Career-themed puns are a great way to announce your pregnancy. For instance, if you and your partner both work in tech, then you can create personalized t-shirts that say "Loading…" It will show friends and family that you're working on developing your next great achievement — your little baby.
20. Plant Mom to Real Mom
There was a huge increase in people taking care of house plants over the pandemic, so much so that the phrases "plant mom" and "plant dad" became popular.
This mom is getting ready for the real deal! At least the baby will be in a house that's beautiful and green.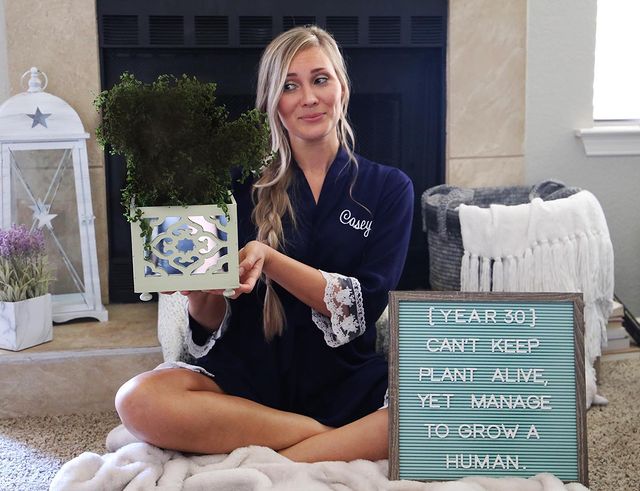 21. Bicycle and Tricycle 
If you're looking for a cute, unique, creative, and fun way to tell everyone your big news, then this idea is for you.
Take a photo of you and your partner riding bikes. Place a cute little tricycle behind you to show that your baby is soon to follow!
22. Posing with a High Chair
Pose with a high chair placed next to you or in between you and your partner. Holding a sign announcing your pregnancy will add some fun and excitement!
If you want to use this creative pregnancy announcement concept, purchase a baby high chair in advance or borrow one from a friend.
23. Surfboard Reveal
If you're a surfer or paddleboarder, this unique and entertaining baby announcement idea is for you. Take a photo of yourself on your surfboard or paddleboard and place a mini version between you and your partner.
A tiny boogie board should work for this.
24. Sports Ball Baby Bump
Sports fans will love this creative pregnancy announcement idea! Wear a T-shirt that was resembles the ball from your favorite sport.
It can look like a basketball, baseball, volleyball, etc. as it crosses your belly. After that, snap a picture and send it out on your socials!
25. Pet Announcement
This is a fantastic idea for a do-it-yourself baby announcement. One of the best pregnancy announcement ideas, since everyone loves a cute pet photo, is to design your dog or cat a scarf, T-shirt, or sign with the words, "My parents are buying me a tiny human."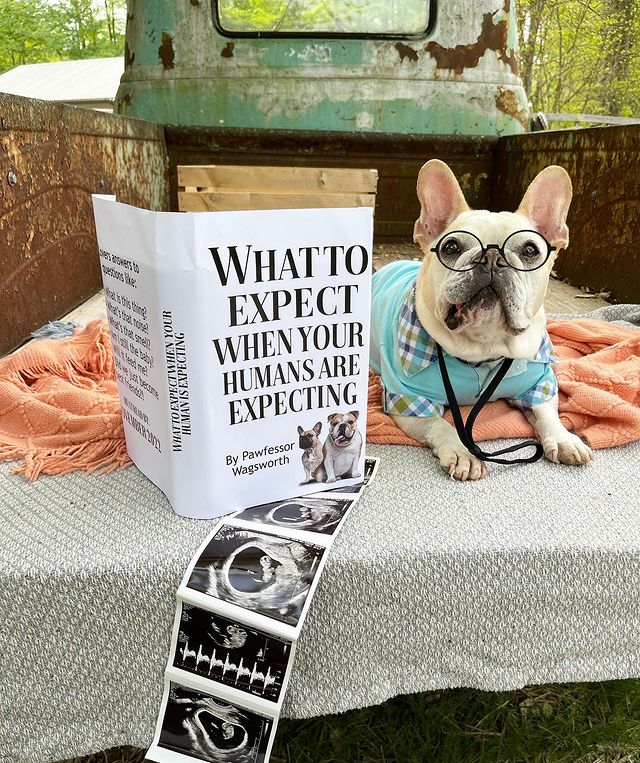 26. Survival Kit
A baby is an adorable new challenge! Making "survival kits" for your partner, grandparents, or other family members (such as incoming aunts and uncles) is a creative way to let them know you're expecting.
A baby book, personalized T-shirts with "Dad" or "Auntie" on them, baby necessities like pacifiers, chocolate bars for making it through late nights, and other items are all great to include in the kits.
27. Unwrapping the Baby Bump
Your pregnancy surprise will delight everybody! Tell your family or friends that you have a gift for them and fasten a ribbon around your belly. To share the news, stand up and show them your bump!
28. Baby Blocks
For this baby announcement concept, consider your own childhood and gather the classic and adorable wooden blocks.
You should be able to find them online or at toy stores. Put them behind you to spell out something like "We're having a baby!" 
29. Balloon Baby Announcement
For this idea of a virtual pregnancy announcement, you'll need a bunch of helium-filled pink and blue balloons.
To ensure that they are directly behind you when they float up, tie a ribbon to each and fasten them to the ground.
Cover them with a thick covering, such as a blanket, before your virtual call.
Take off the covering when you're ready to show the surprise, then let them rise! You could pick just one color to reveal the gender if you're using this chance to plan a gender reveal party.
30. The Office Baby Announcement
This hilarious pregnancy announcement quote with a little Dwight Schrute will make The Office fans laugh.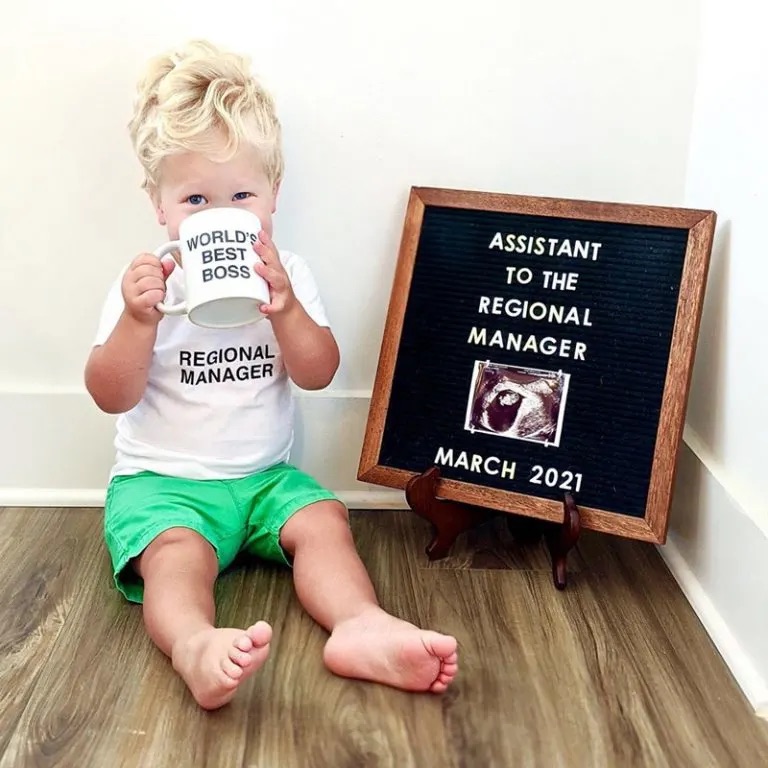 31. Coming Soon Baby Bump
Displaying your baby bump is always fun. To make it more creative, wear a shirt that says "Coming soon!" You can even use skin-safe face or body paint to write the message directly onto your belly!
32. Pregnancy Riddle
Get creative by getting your family and friends on a call and giving them some riddles to solve.
Prepare a few puzzles that reveal different baby items. The final riddle should reveal that you are pregnant!
33. Bedtime Story
Choose your favorite children's book and make some minor changes to the plot.
Start reading it aloud to your online audience, but after a few pages, start telling a different story that culminates in the announcement of your pregnancy!
34. Scratch-off Tickets
This is a cute idea for a virtual pregnancy announcement, but it takes some work to get it ready. You must first order specially crafted scratch-off cards with your message on them.
Choose a statement like "We're having a baby!" Send the cards to your loved ones and tell them to hold off from revealing the message until after you have a call.
During the call, they can reveal the word hidden in their scratch card and put the message together for a big surprise!
35. Read the Fine Print T-Shirt
Wear this to a picture shoot or to tell your relatives the next time you see them that you are pregnant! Remind everyone to always read the fine print!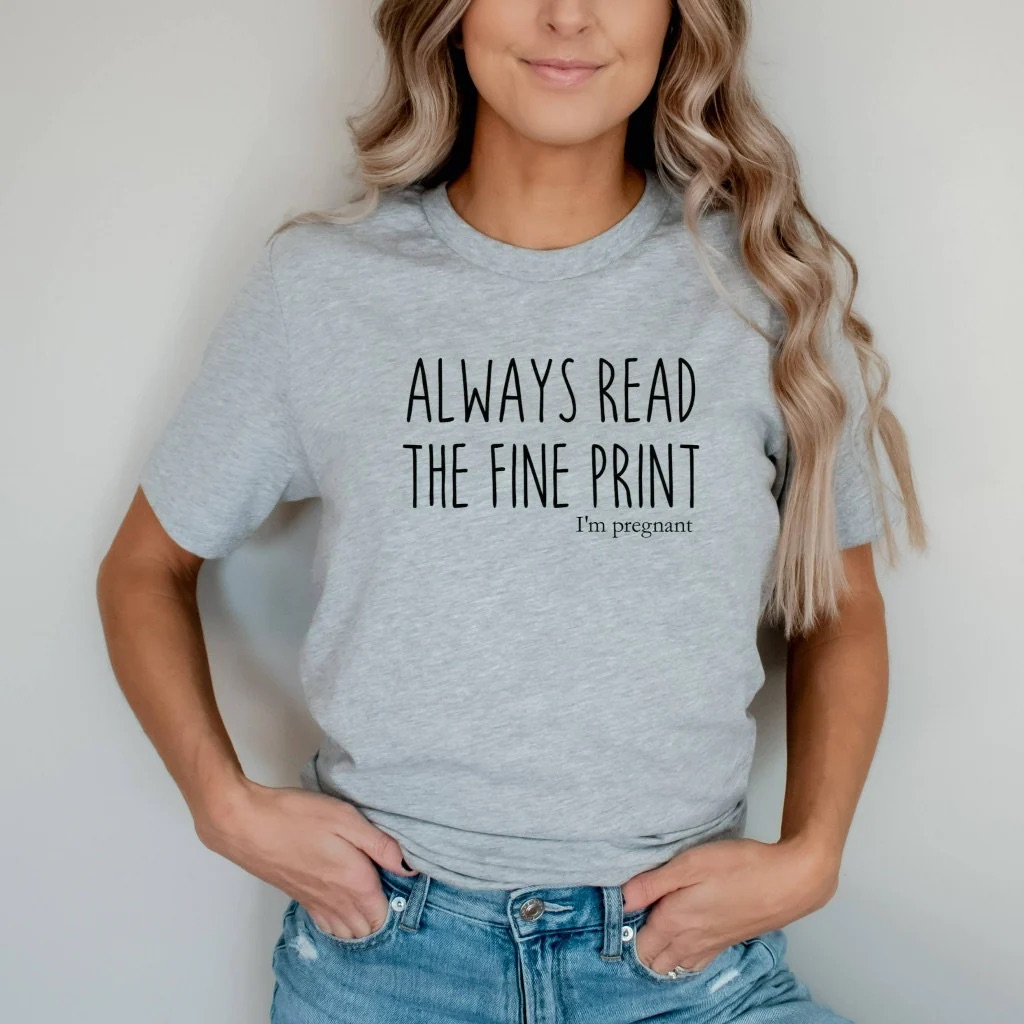 36. Baby Shoes
Get a small pair of baby shoes and place them next to your shoes on the mat. Tell your family you'll need the shoes in nine months when they notice.
37. Baby Onesie
There are numerous ways you can use a onesie or other small baby outfit you purchase to announce your pregnancy.
Throw it in with your partner's clothing so he discovers it while he folds, or hang it on the clothesline. You can also just leave it someplace simple to find and see the response. 
38. E-Card
To use this strategy, get everyone on a call and send them a pregnancy announcement e-card via email, but tell them not to open it just yet.
Tell your loved ones to log onto their email accounts and click open on the count of three while you're still on the phone.
39. Pregnancy Cravings
This is another original and brilliant pregnancy announcement that would work well in a virtual environment.
Make it clear that you're eating stereotypical pregnancy craving items while talking to your family and friends – the weirder, the better!
Make them weirder with each meal. For example, slather peanut butter on a pickle and take a bite or top a chocolate-chip cookie with hot salsa.
Your cue to reveal your pregnancy is when someone inquires about your strange eating habits.
40. Funny Letterboard
Use a humorous letter board to announce your pregnancy. Big Sister's greatest efforts to avoid having any siblings appear to have failed.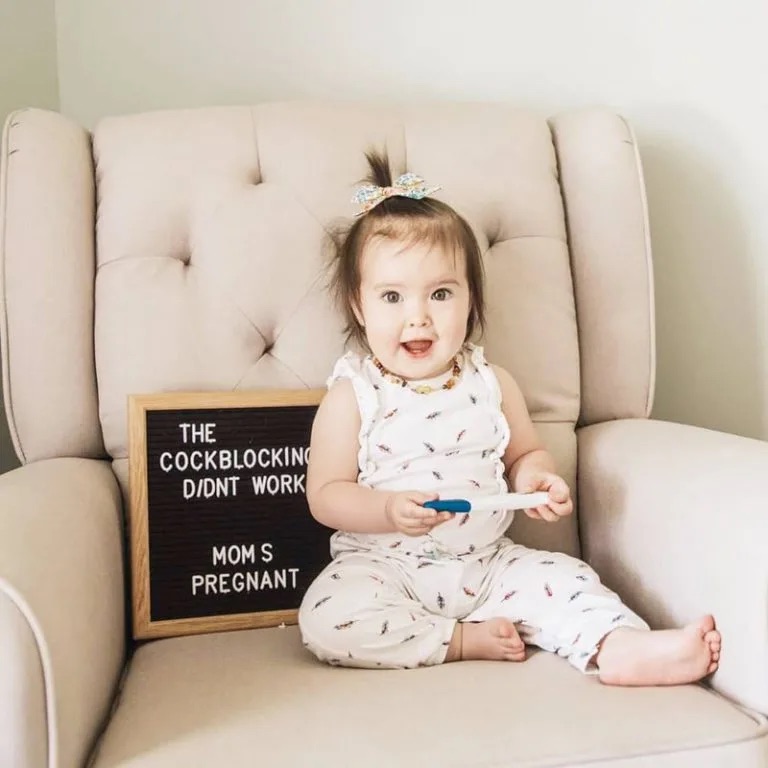 41. Only Child Expiration Date
If you are expecting your second baby, your first child will no longer be your only child.
Make a lovely T-shirt or draw a chalkboard drawing with your due date as the "only child" designation of your child's expiration date.
42. Here We Grow Again
Here's another fun opportunity to create cute puns! Take a picture of your family wearing shirts that say, "Here we grow again! " while holding baby booties or a rattle.
43. Baby Shark
This viral tune has turned into a classic for kids, so turn it into a creative pun! You can say that your little shark is due due due due due! You can also wear a little fin and pretend to be Mommy Shark. 
44. Copy and Paste
If you're expecting twins, there's a lot you can do creatively when it comes to announcing the news! Use baby T-shirts that say "copy" and "paste."
You could also have something like "We wished for one…" printed on one and "…but got two!" written on the other.
The great part about this concept is that your kids can still wear these shirts after they are born. It will also help you tell your twins apart!
45. Quarantine Pregnancy
Funny quarantine pregnancy announcements are always amusing. If you conceived during the lockdown, then this is the best way to announce it!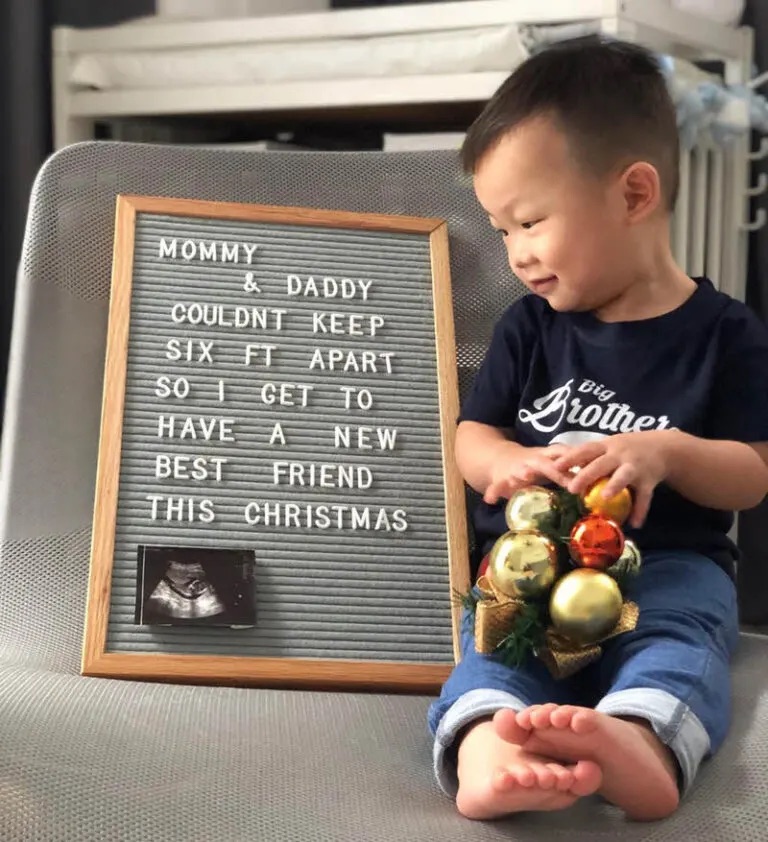 46. Blindfolded Game
Play this hilarious pregnancy announcement game with your parents. Have them put on blindfolds and ask them to tie their own shoes.
Substitute baby shoes for the next pair after they finish their own shoes to see if they catch the clue. Be sure to record it all on video for something memorable to look back on!
47. Fortune Cookie Message
Have a nearby bakery create fortune cookies, and give them tiny strips of paper with your news messages. Give the cookies to your loved ones on takeout night to announce your pregnancy!
48. Pizza Party
Invite your friends over for pizza, and make the food yourself. Add ingredients like pepperoni or peppers to write messages like "I'm pregnant!" on each pie. See the looks on your family members' faces as they notice!
49. Eating for Two
A cute and simple way to announce that you're pregnant is to say that you're now eating for two!
50. Movie Poster Pregnancy
Put your best creative foot forward with this funny baby announcement. Include your due date in the film's release date, and include your last name in the cast list. Coming soon to a crib near you!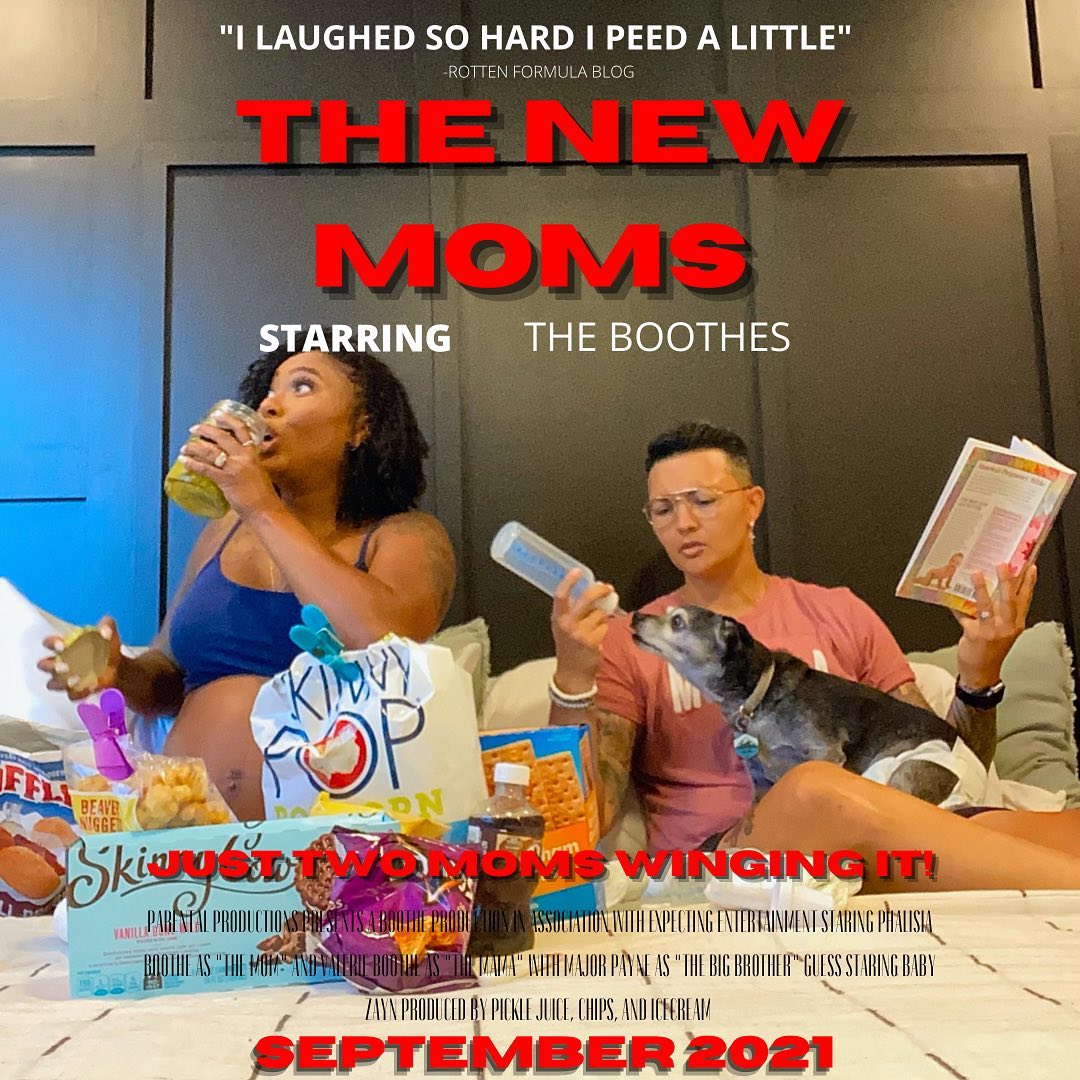 51. Scavenger Hunt
Bring your family over and specify a time for everyone to show up. The scavenger hunt's first clue should be posted on your front door.
You and your partner will be in the same room when you announce your pregnancy, allowing you to observe as your family walks from room to room deciphering the clues. Tell them the surprise when they arrive where you are!
52. Plate Reveal
Have a dinner party for your family and purchase personalized plates with a statement like "We're having a baby!"
Give everyone their food and watch for the cheers as the first person finishes their meal and sees the message on their plate. You can put "You're going to be a grandfather" and other similar messages.
53. Family Shoe Line Up
A picture of a row of shoes, including yours, your partner's, and a few baby booties, would make a lovely pregnancy announcement post.
If you have a cat or dog, you might display your own and your partner's socks on your feet, along with small baby socks next to the paws of your pet.
54. Bump Ahead Sign
If you're already starting to show, it'll be easier to show off your bump next to a road sign that says "bump ahead." If you haven't developed a baby bump yet, it'll be a more challenging puzzle to solve! Take a photo next to the sign and post it on social media. 
55. Big Brother or Sister Election Poster
A cute way to announce that your child is going to be an older sibling is by using a customized election poster. He or she may be running for the role of big brother or sister!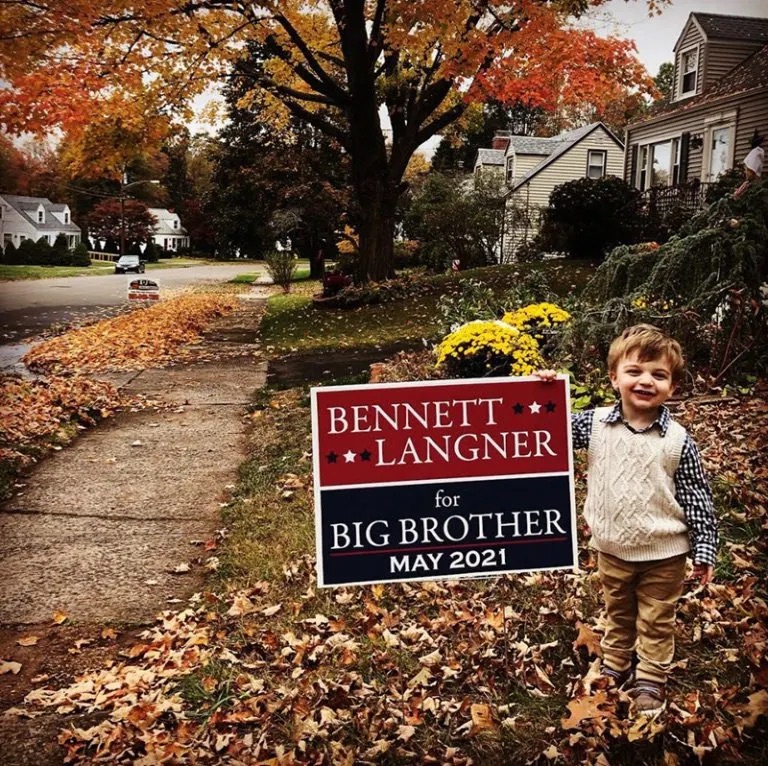 If you enjoyed the punny ways of announcing a pregnancy in this article, check out our other articles like these funny bear puns on The Awesome Daily!