Today's technology is truly amazing, especially when it comes to our smartphones. We can do an endless array of things with these gadgets, from monitoring our health to finding out names of songs we don't know. A decade ago, we didn't even think that these things would exist let alone smartphones.
New technology is being developed every day, and we are constantly faced with more options than ever before.
However, there are times when old technology continues to wow us with its practicality. It may not seem like anything special with so many advancements around us, but when it works, we continue to be amazed by it. 
AirDrop is one such technology that is still a mainstay with Apple gadgets like iPhones, MaCbooks, and others.
But what is AirDrop, and what makes it so special? 
Here we'll tell you all about it – with some memes of course!
What is AirDrop?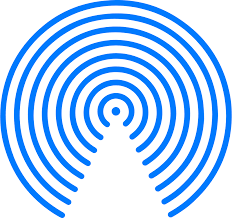 Before we dive into the memes, it's important to know what AirDrop is. This feature allows iOS and macOS products to share files wirelessly with other devices in close proximity. It uses Bluetooth and WiFi to do this.
Different operating systems in the Apple ecosystem can share anything from music to word documents and images with one another. Whether from iOS to another iOS device or from iOS to MacOS, AirDrop makes everything easy. 
The Fun of Using AirDrop

Of course, it didn't take long for people to figure out that you could also airdrop files and images to strangers who had their AirDrop settings on. Sometimes users would randomly get pictures from other people without even realizing it – and the results are usually hilarious.
Without further ado, here are 55 funny pictures to AirDrop.
Hilarious Airdrop images list 
1. What better place to receive random images through AirDrop than at school? You never know what you'll get.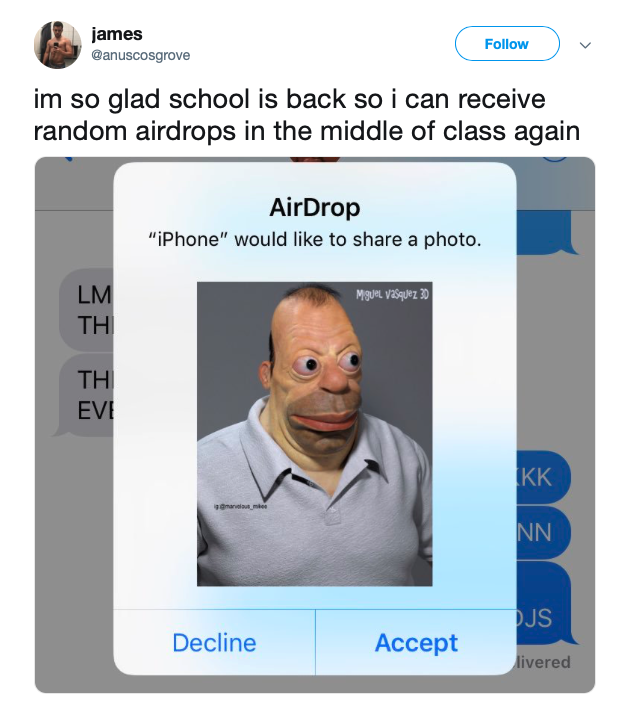 2. If you don't accept the AirDrop request, then you're messing with the croc and will get the gloc. We don't make the rules.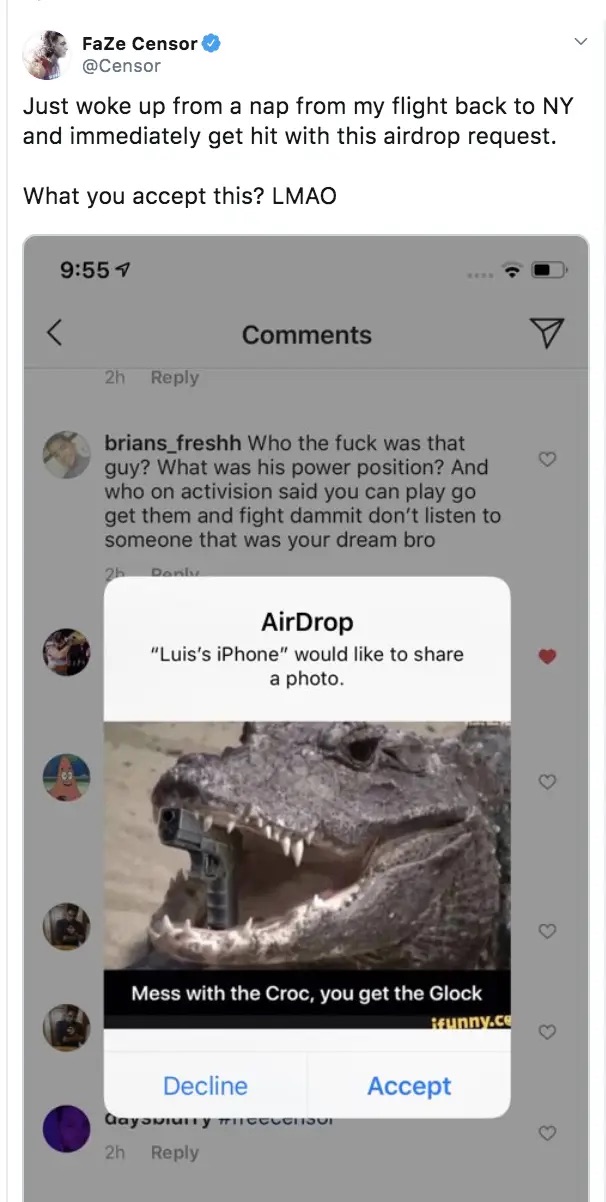 3. If this guy was having pickles for lunch, he wouldn't be able to look at it in the same way after receiving this AirDrop.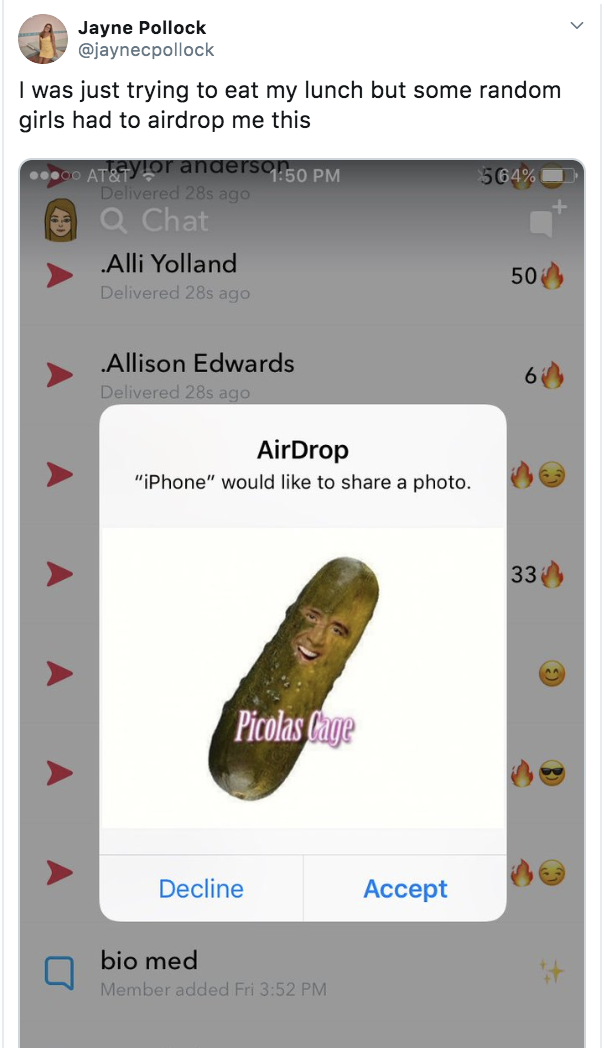 4. Apparently you don't escape random AirDrop images even after high school. This university student will be having nightmares for sure.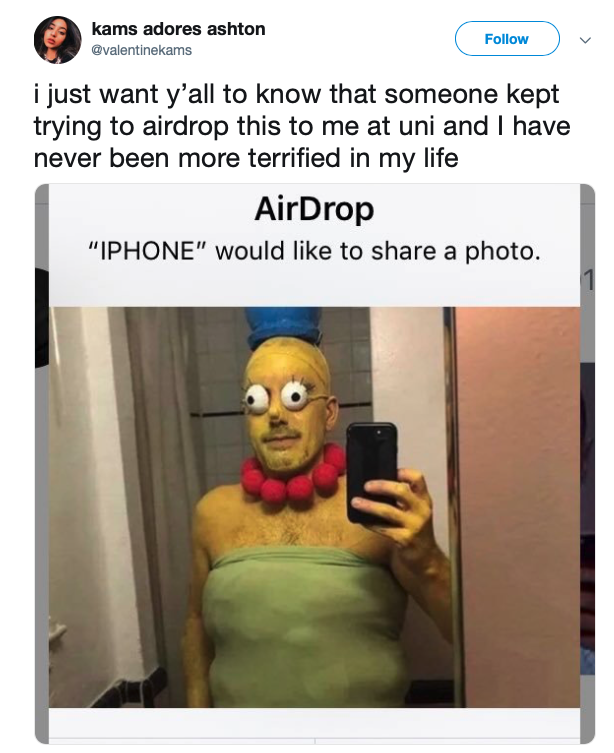 5. Shrek is apparently really popular at Disneyland, so much so that someone will randomly AirDrop you a photo while you're there.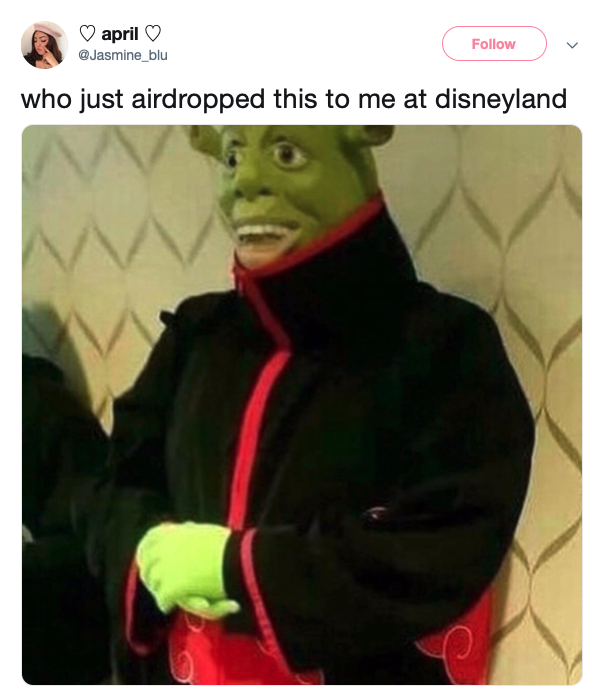 6. If this photo doesn't make you uncomfortable, then it will at least make your feet feel weird.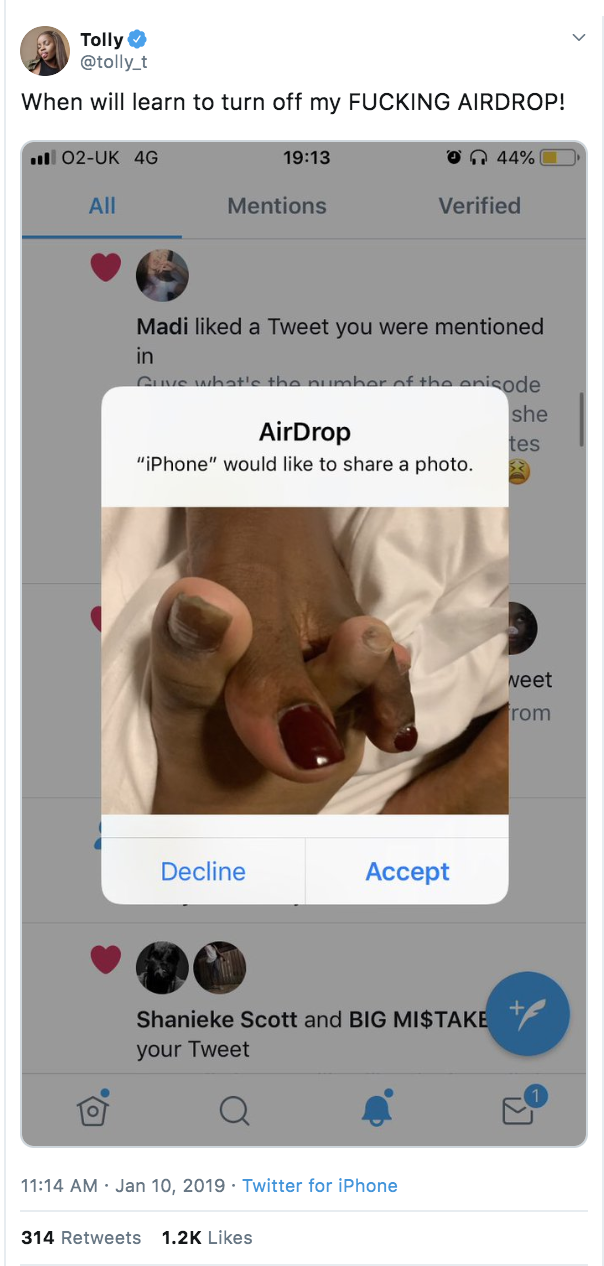 7. What's one way to ruin a cute Pokémon? Give it massive feet.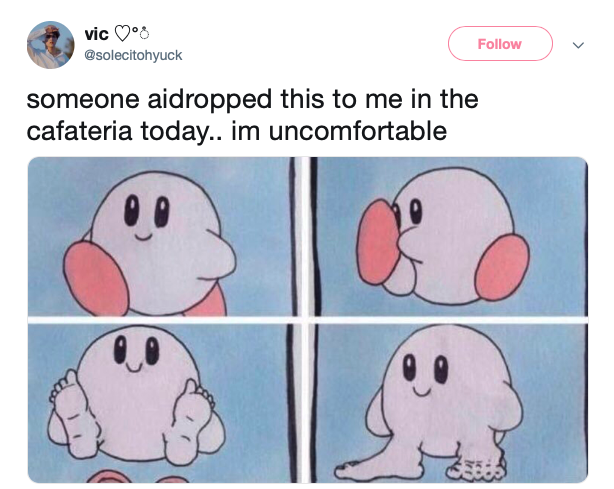 8. We don't know what's more disturbing: the food she's holding or her expression.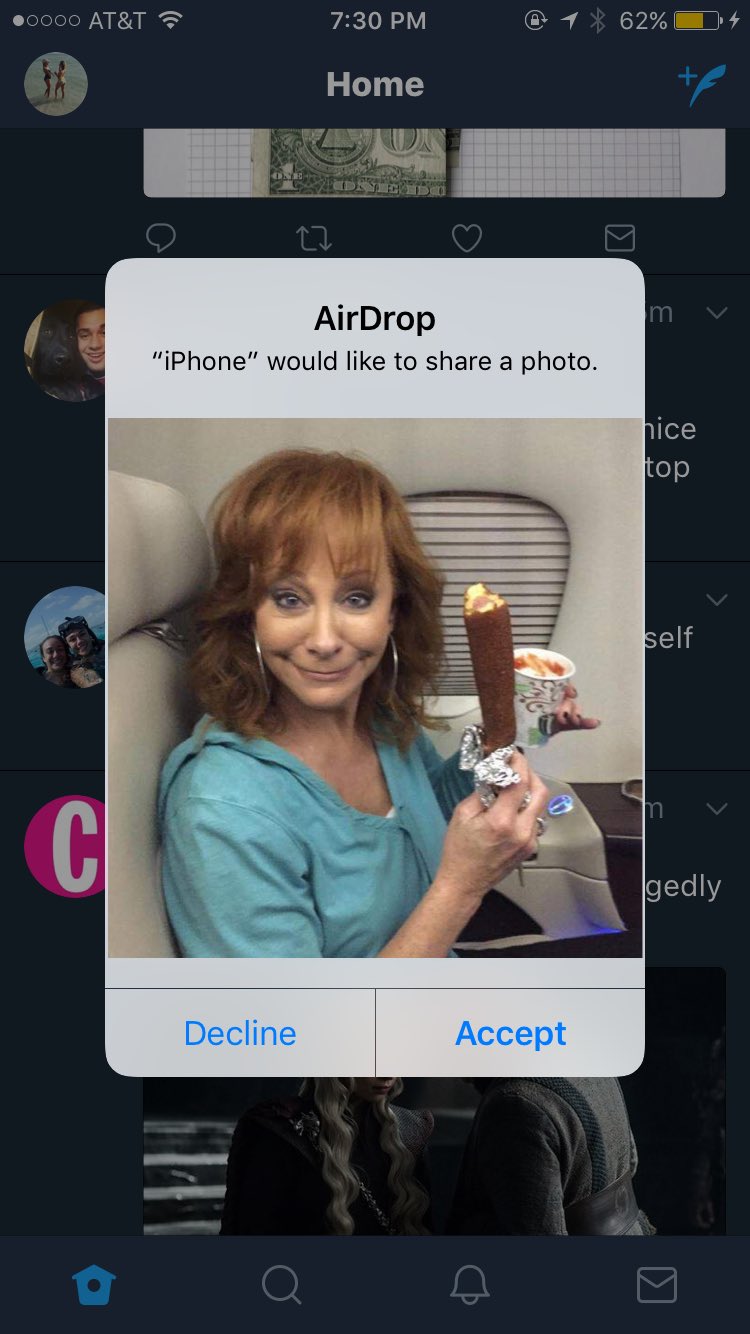 9. You may not be at Disneyland, but Shrek is still following you everywhere. Shrek is life, and Shrek is love.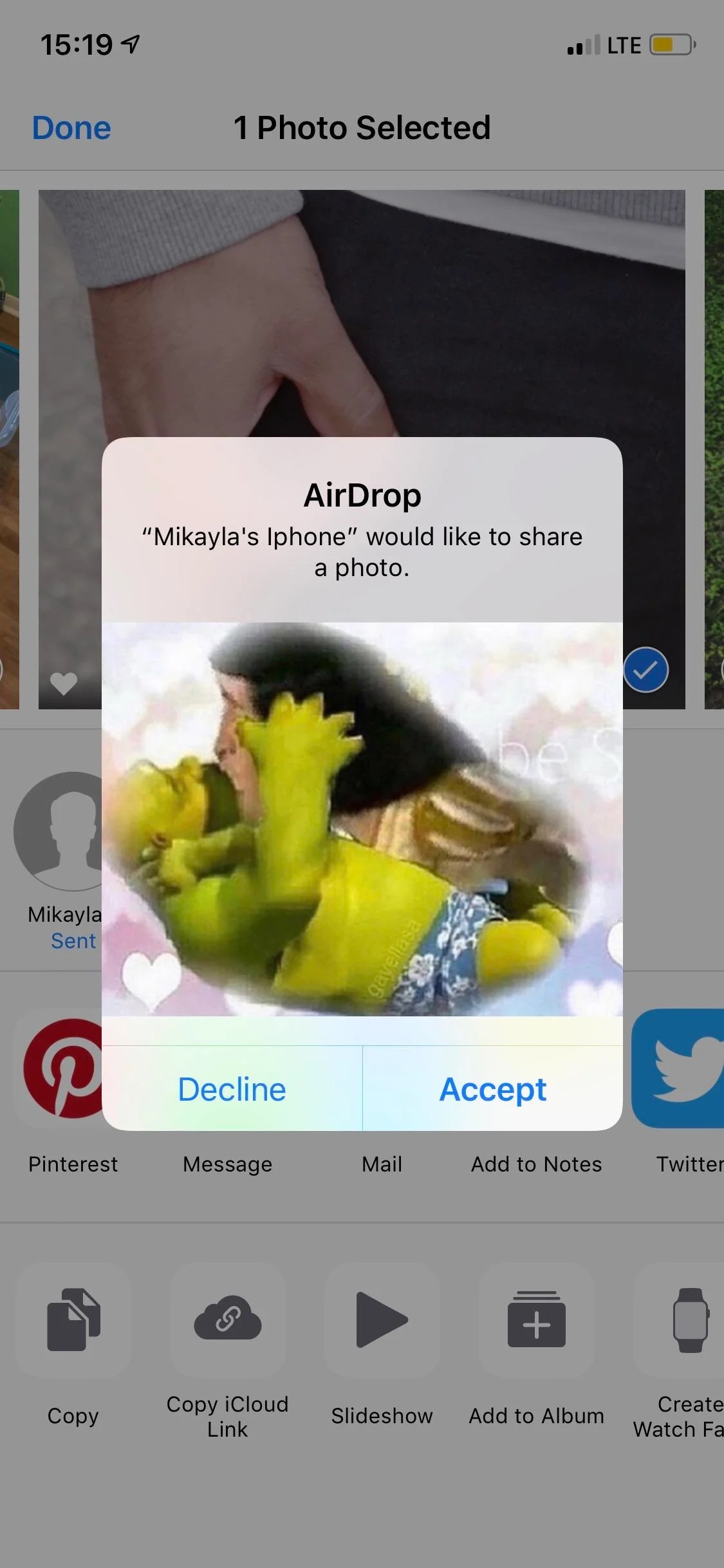 10. This teacher definitely knows how to keep up with technology and use it to make sure his students are paying attention! Plus points for the use of a meme from The Office, too.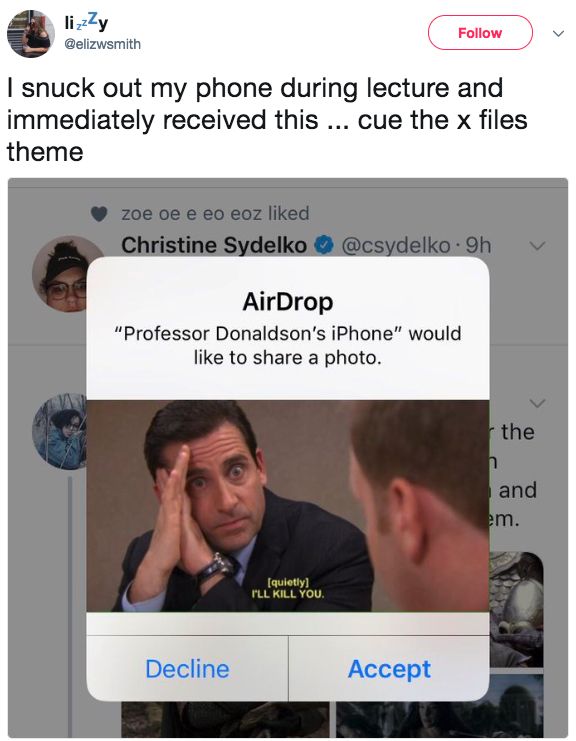 11. It's super annoying when someone in the movie theater is using their phone since the light is so bright. What do you do? Send them something via AirDrop!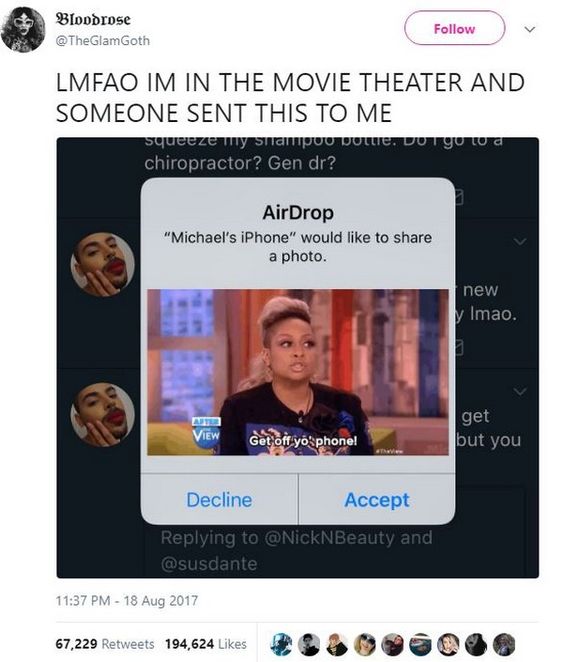 12. What's more questionable, Disneyland Resort trying to AirDrop you something or the fact that it's a suspicious-looking Mickey Mouse?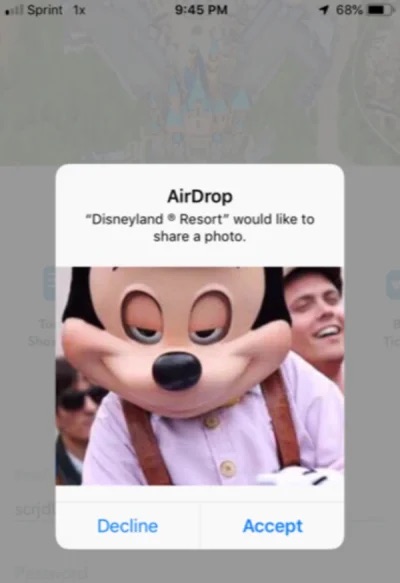 13. This AirDrop is confusing, offensive, and yet hilarious all at the same time. We'll let you be the judge.
14. This image of a monkey getting a haircut can fit into so many other images. Would you accept this AirDrop request? Because we probably would!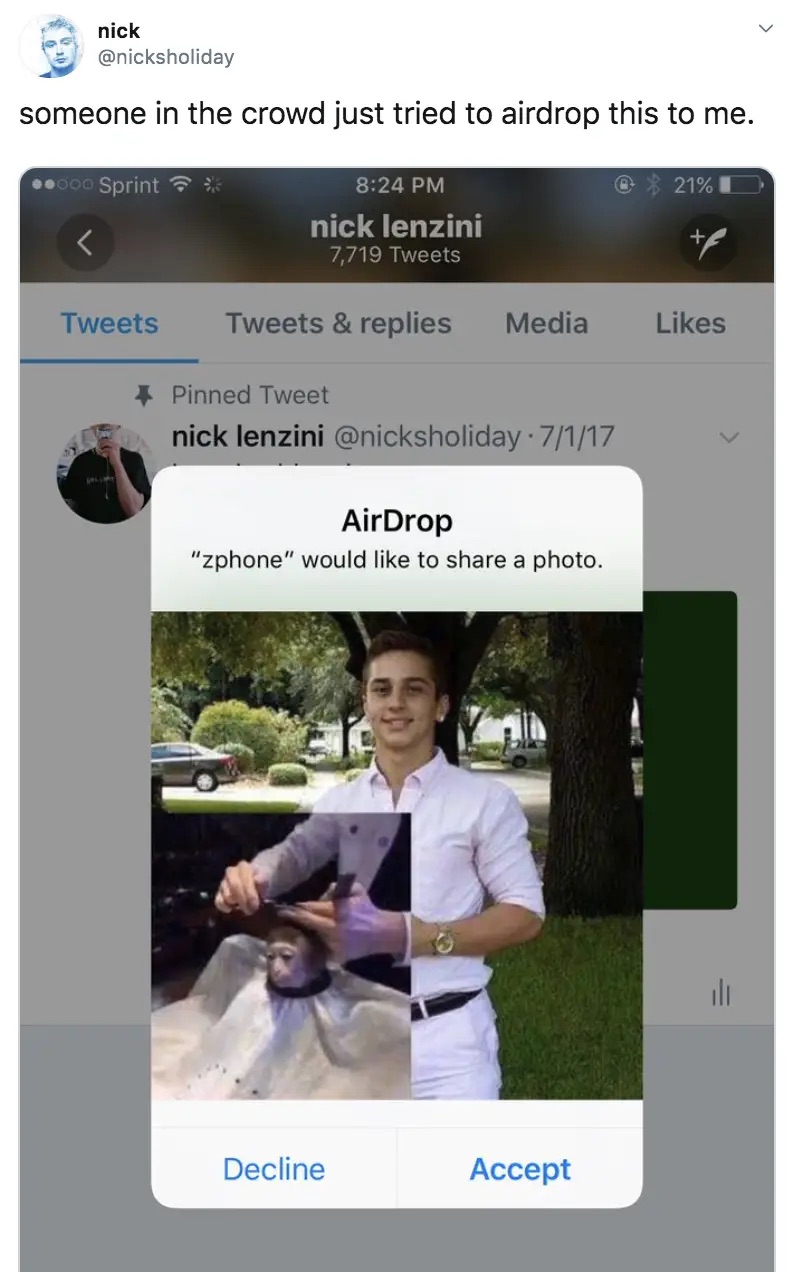 15. What a wholesome AirDrop! A dog that looks exactly like the clouds outside the airplane window.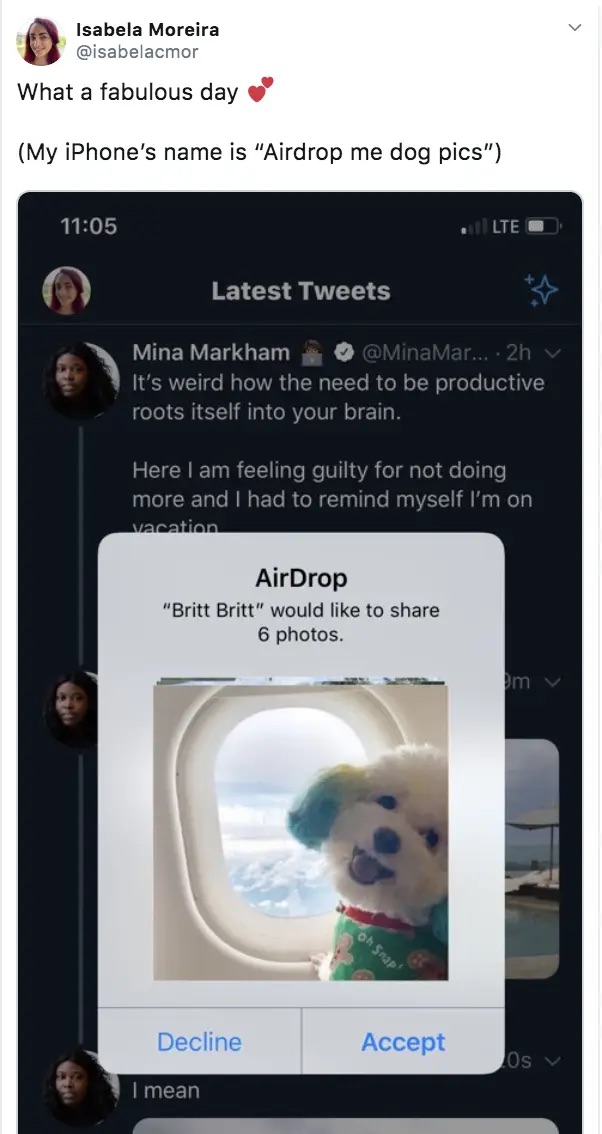 16. It's difficult to understand why anyone would want to AirDrop this strange face to another stranger, but whatever floats their boat.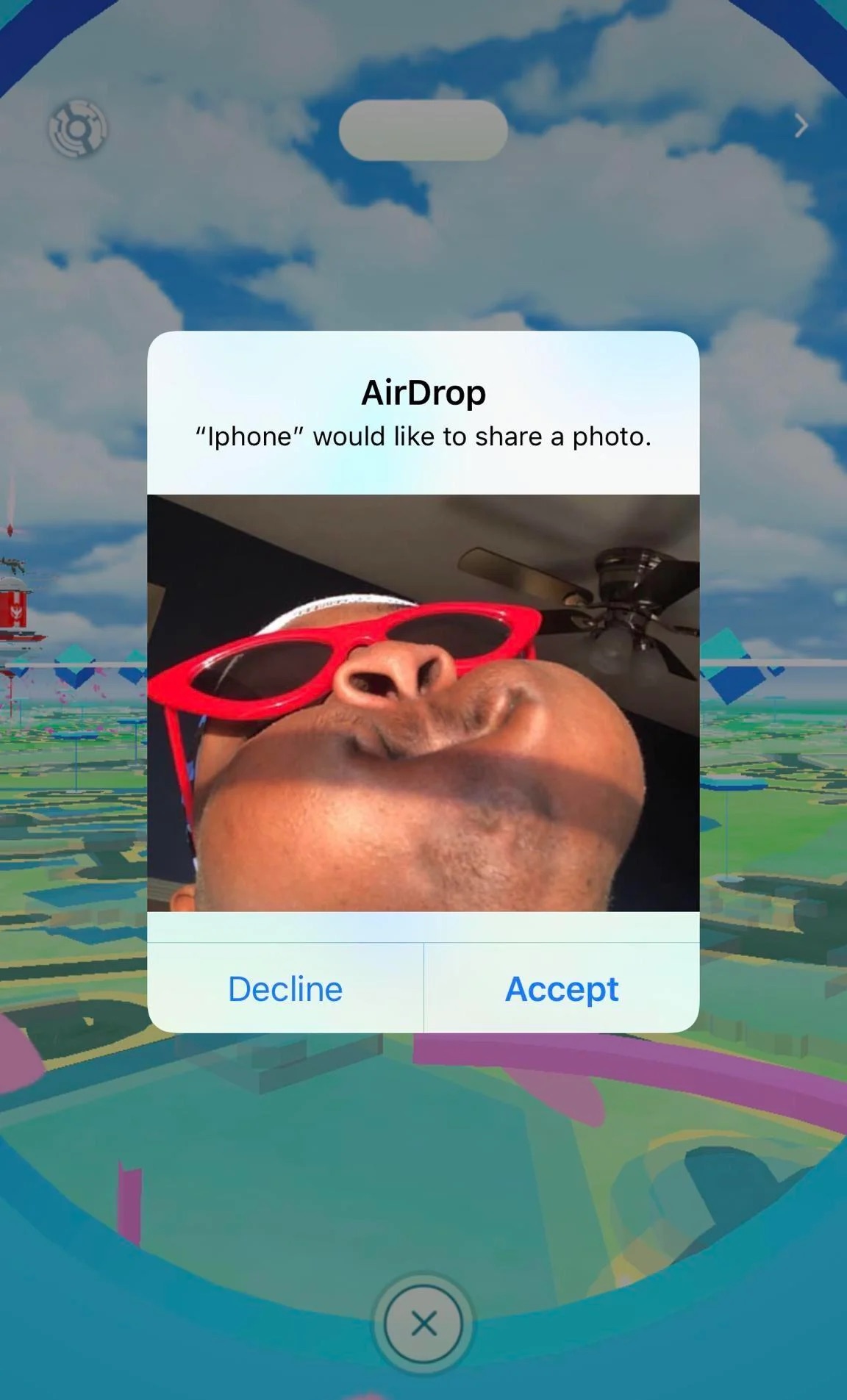 17. You have got to love AirDrops from strangers in random places!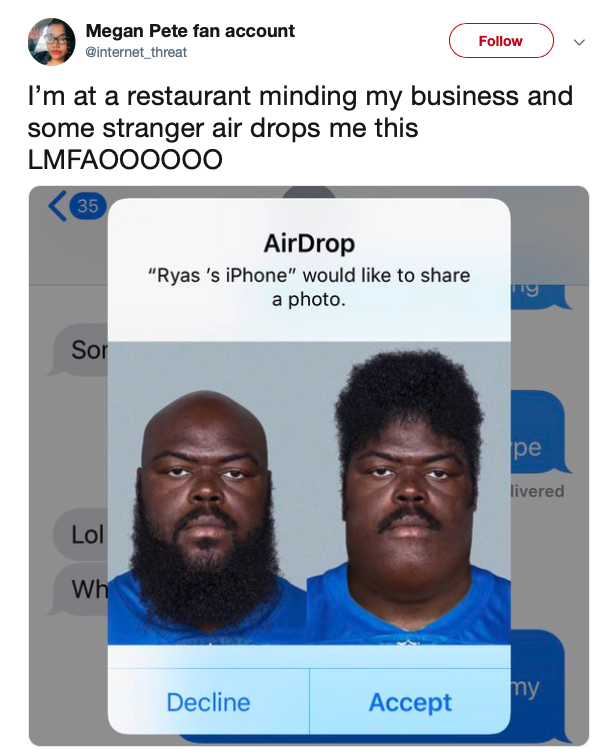 18. This AirDrop request is so terrifying that we wouldn't blame you for hitting the 'decline' button right away.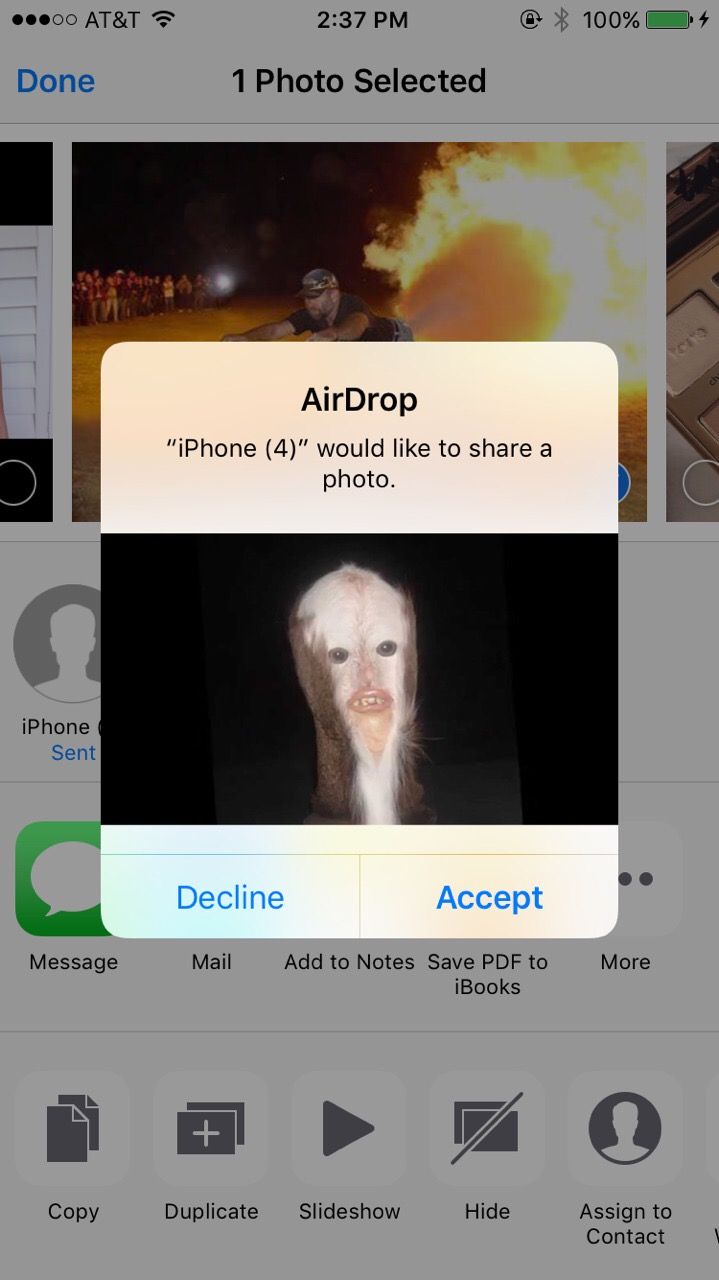 19. Ahh yes, another Shrek AirDrop request. Of course, we accept!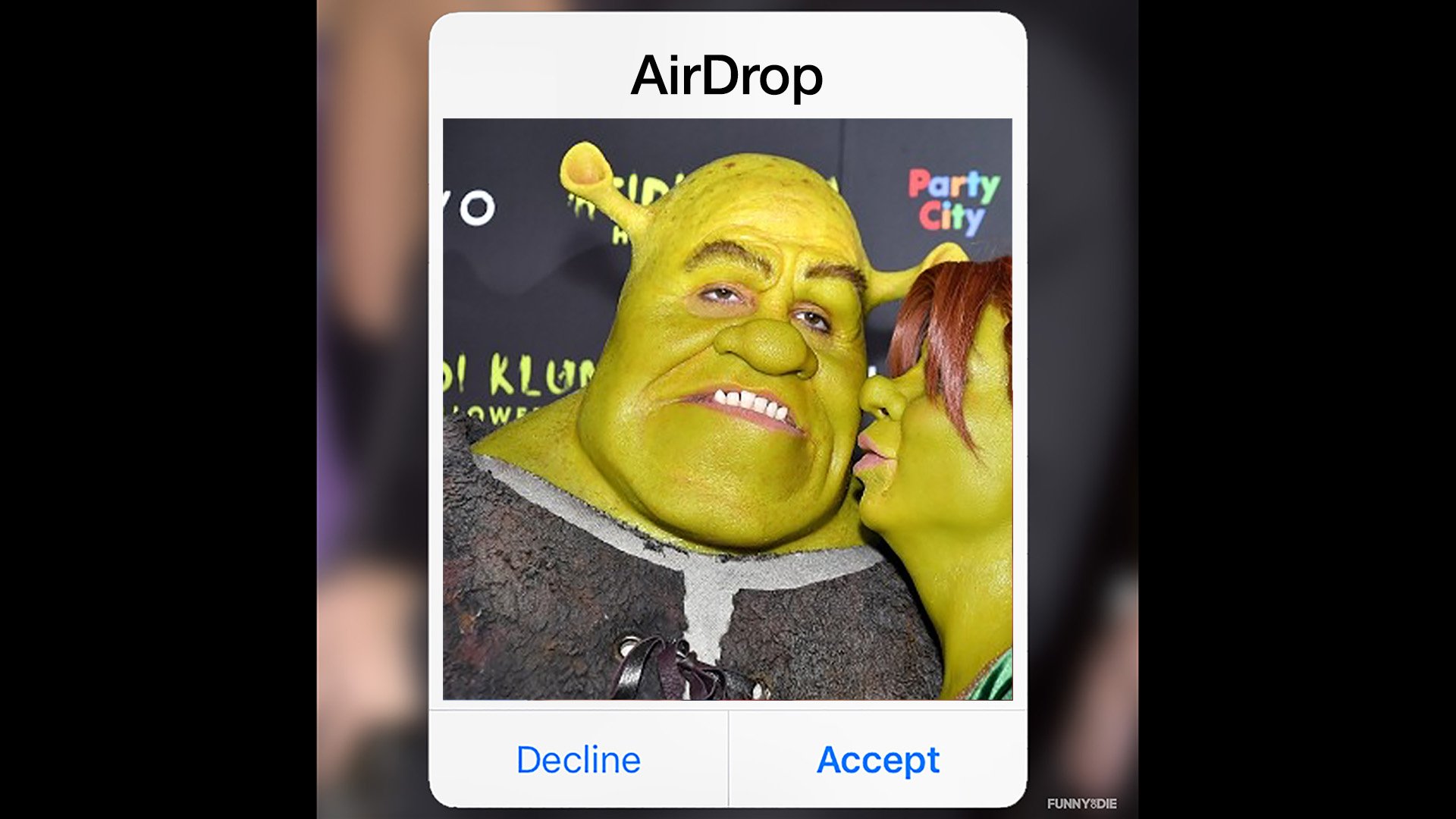 20. There's nothing like seeing Shrek in his underwear on your phone in the middle of the day.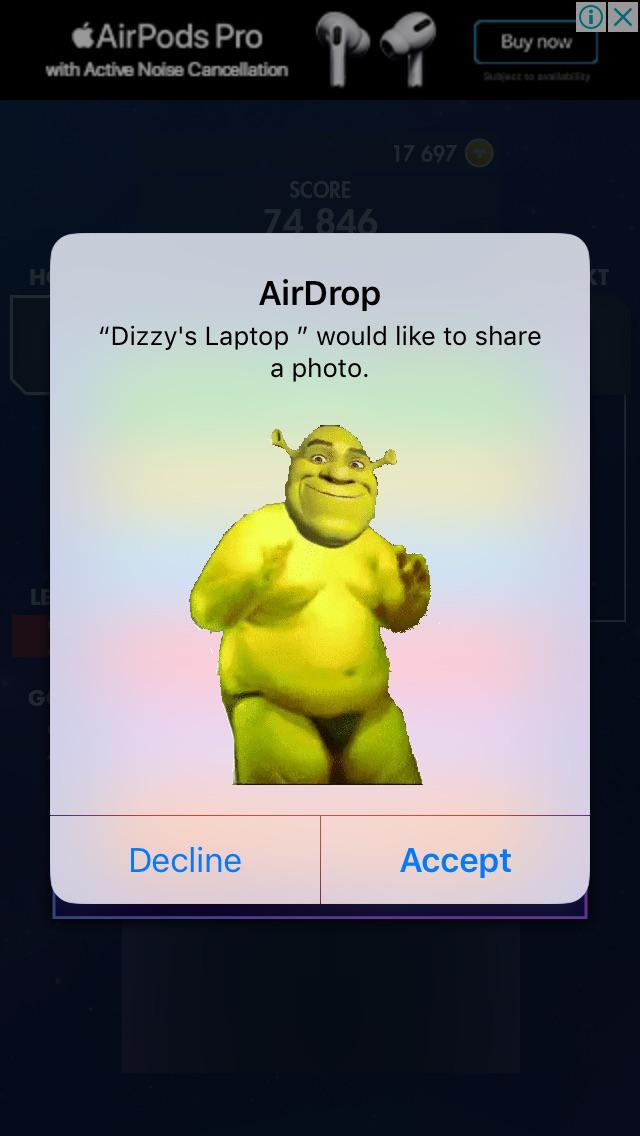 21. Would you accept this random AirDrop?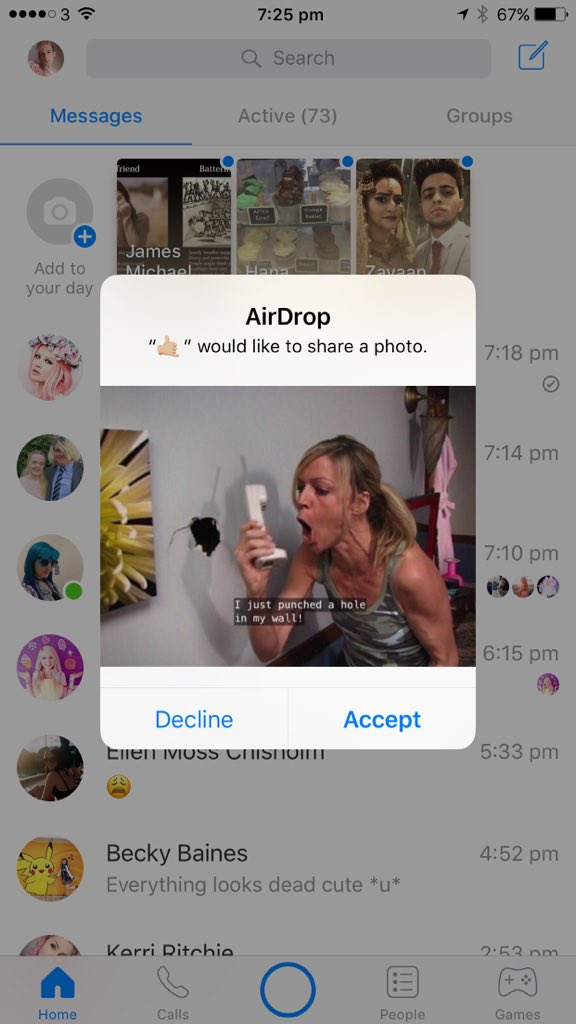 22. You might just make the same face when you see this AirDrop request.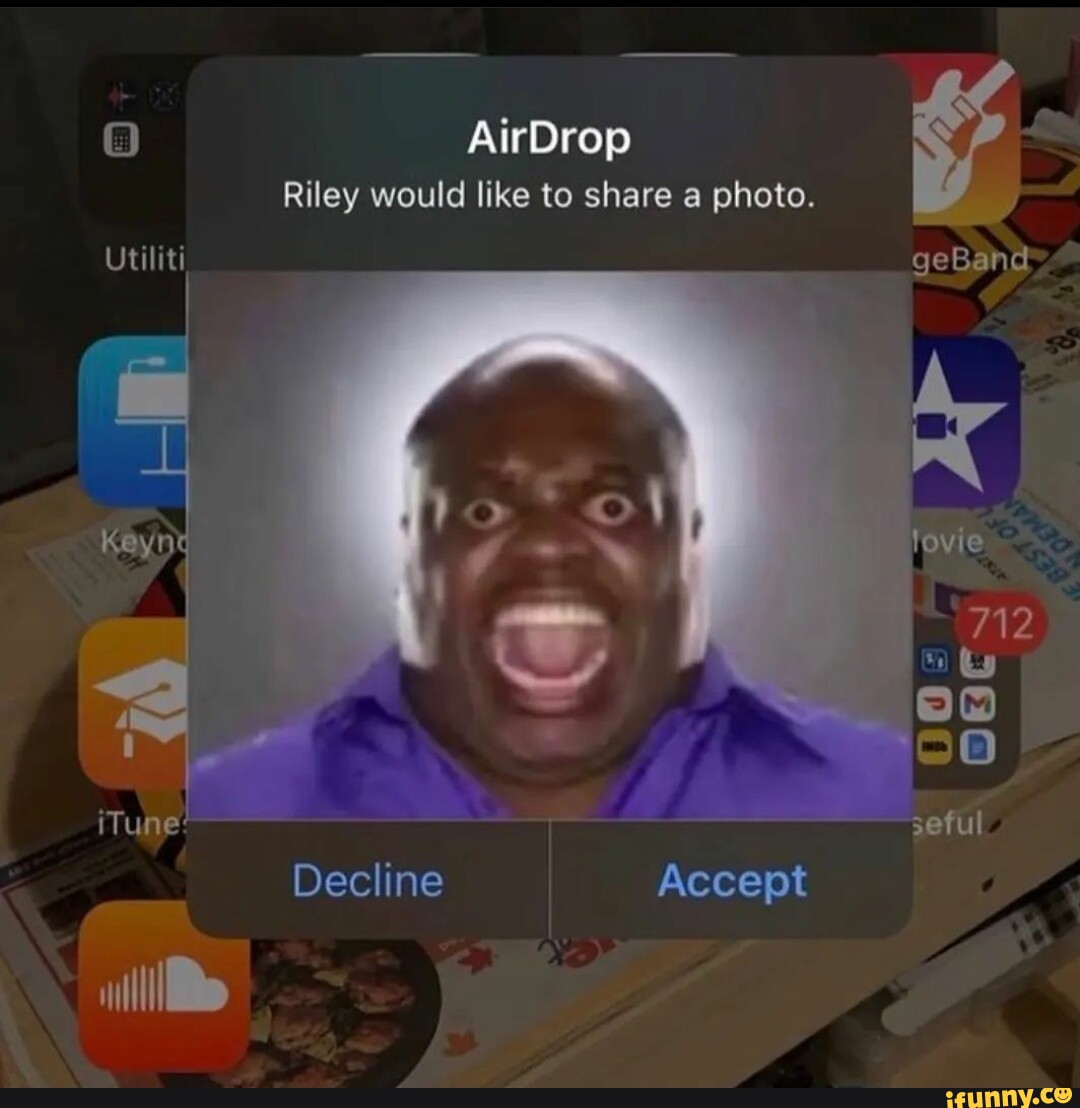 23. Well, this is certainly one way to get a girl's attention — and her number, too!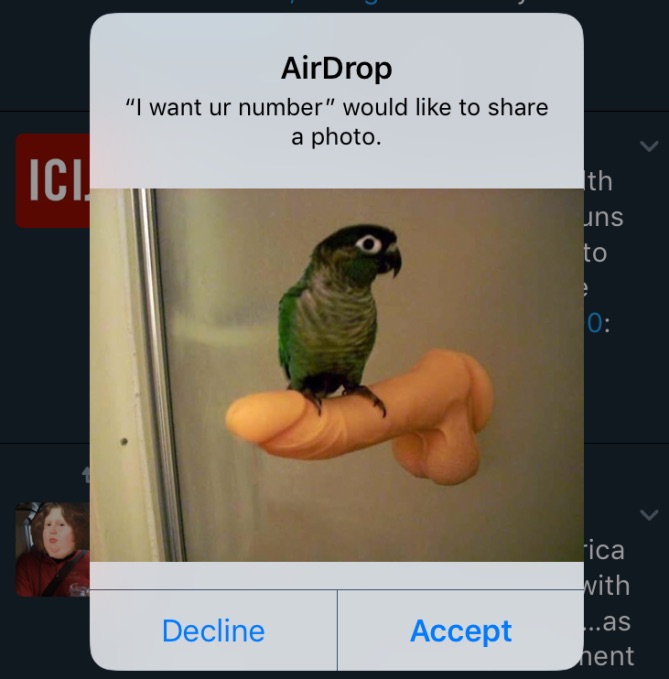 24. This is probably one of the most random AirDrop images on this list. Still… would you accept?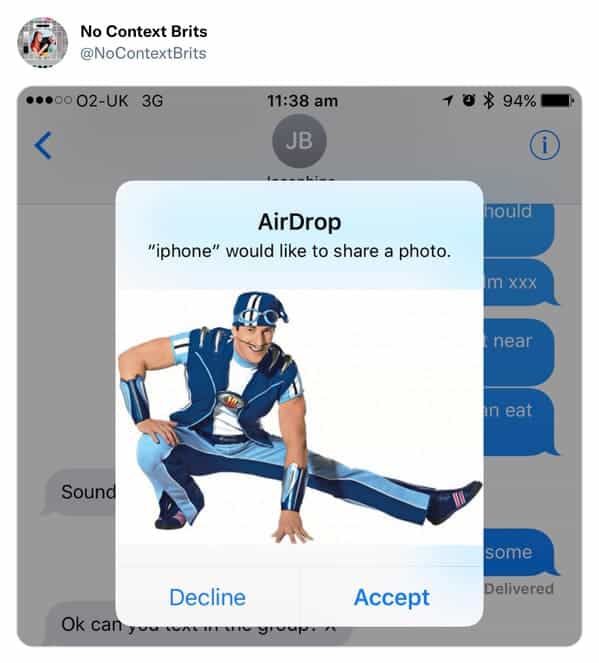 25. Cool pug in shades? Definitely going to accept, no questions asked.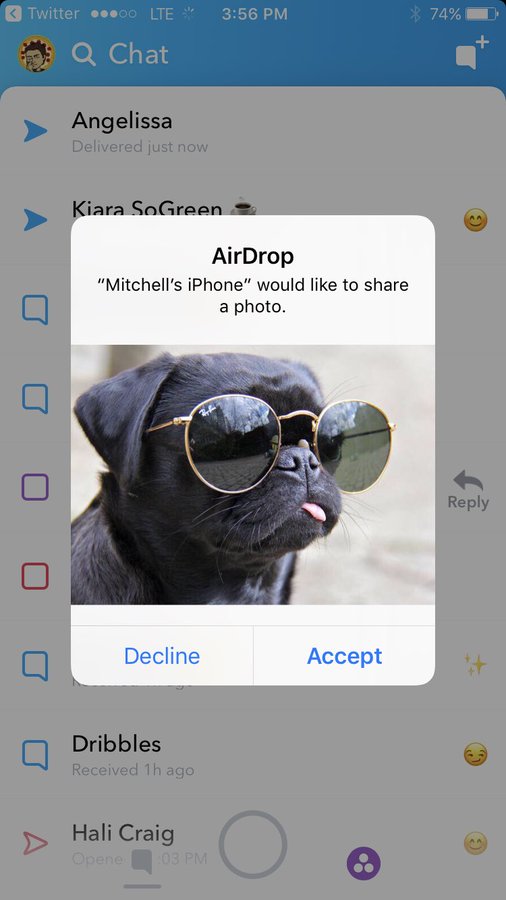 26. Dog would like to share a photo. Human will accept.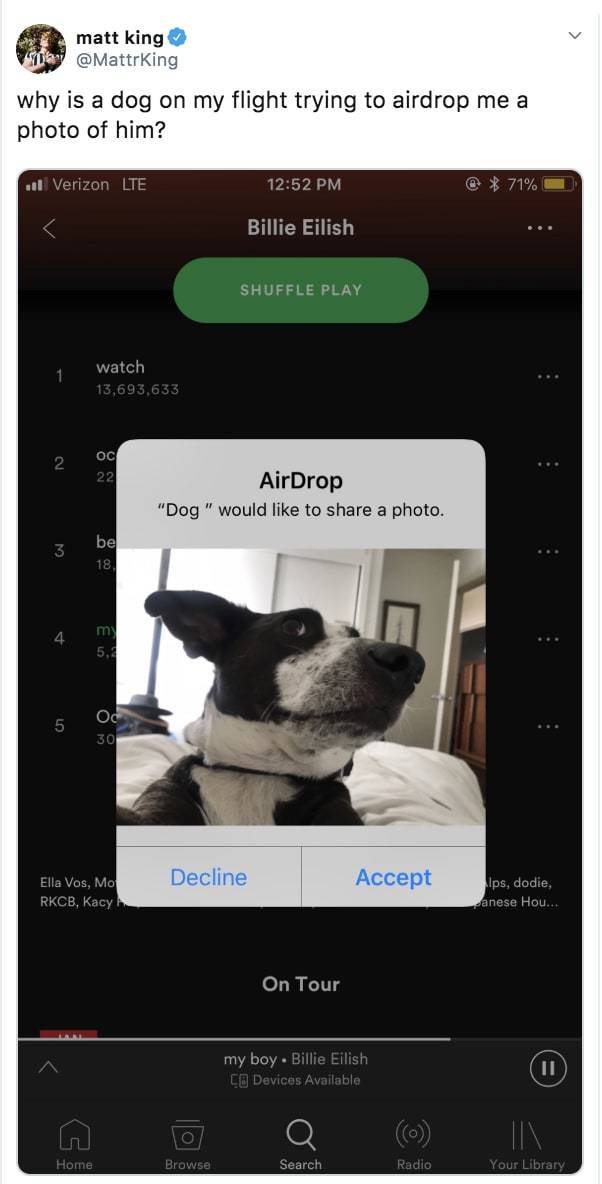 27. This dog looks completely deranged, but because he's cute, we'll make an exception.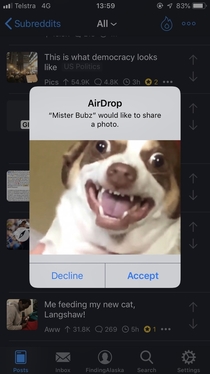 28. Random unflattering selfies are the best types of AirDrop photos to send out.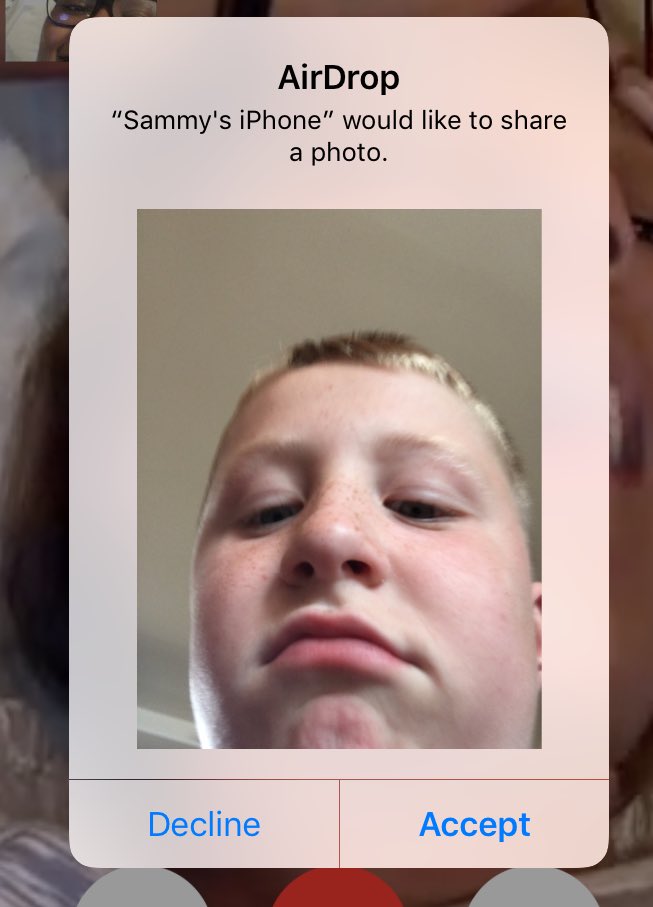 29. Random and funny or creepy? We're not quite sure either.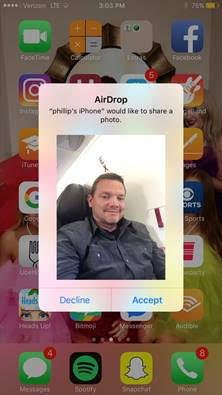 30. A moose with a weird but cheeky grin? A random AirDrop, for sure, but not the worst.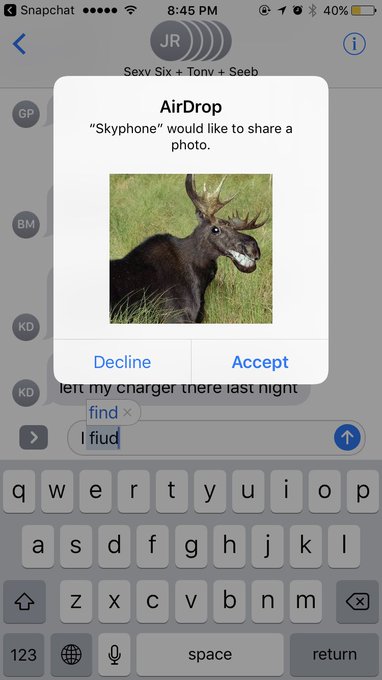 31. This drawing of weird legs is so random we'd want to accept the AirDrop request.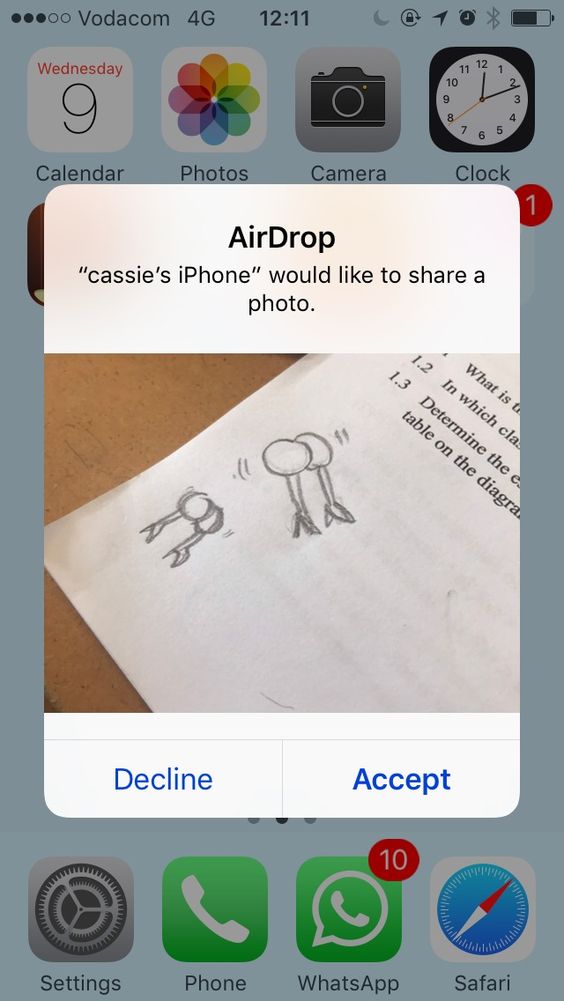 32. Well, that's one way to find out that your parents are splitting up. Not good!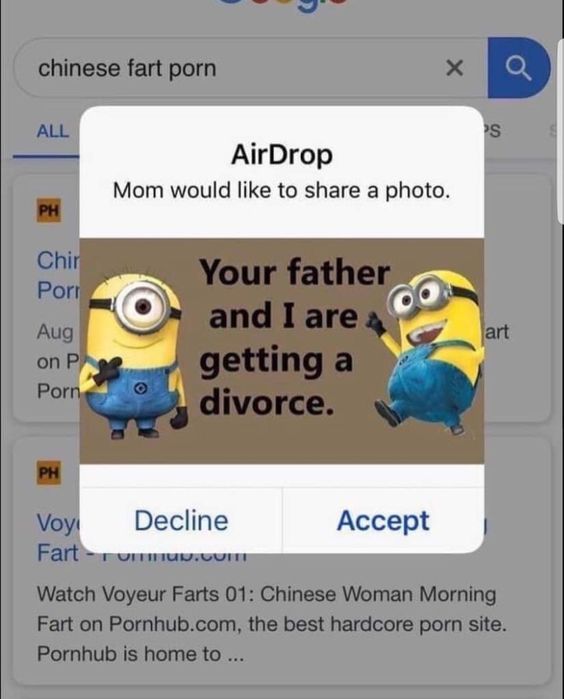 33. Spongebob has always been weird and funny, but this AirDrop request makes you wonder whether it's really supposed to be a kids' show.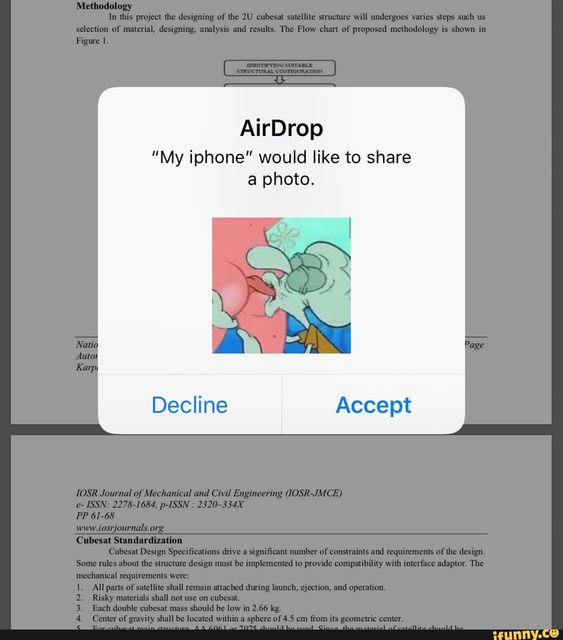 34. A fat cat standing up waiting for Froot Loops is always going to be accepted when AirDropped.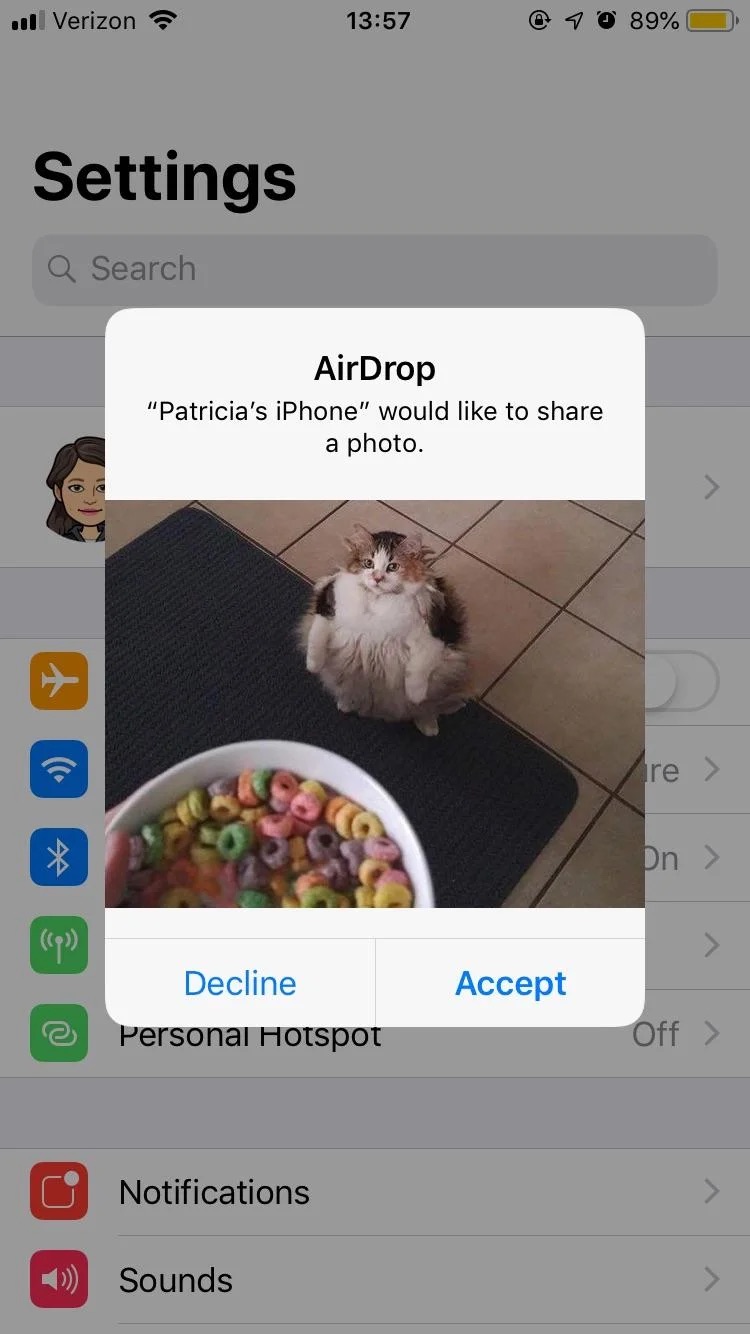 35. At least someone acknowledged this nice message that was sent via AirDrop to all the passengers!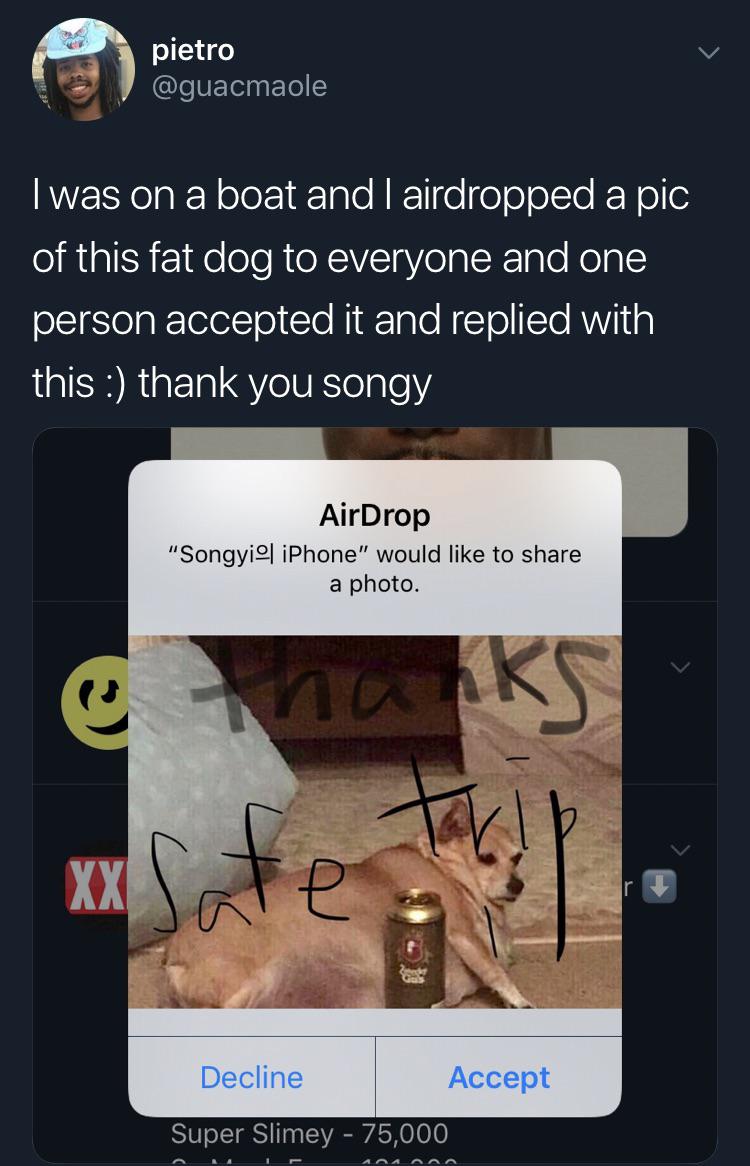 36. Random AirDrop commencing in 3, 2, 1…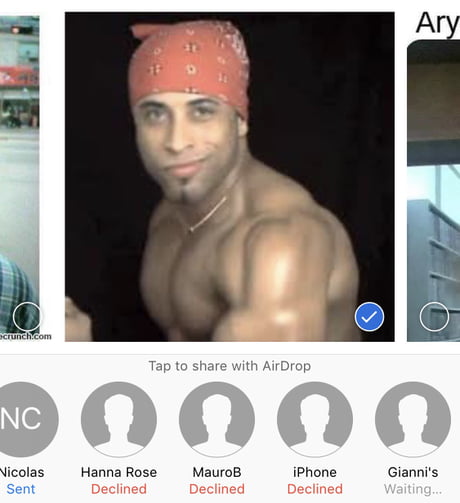 37. Another smart teacher using AirDrop to tell their students to stop being distracted and to get back to work!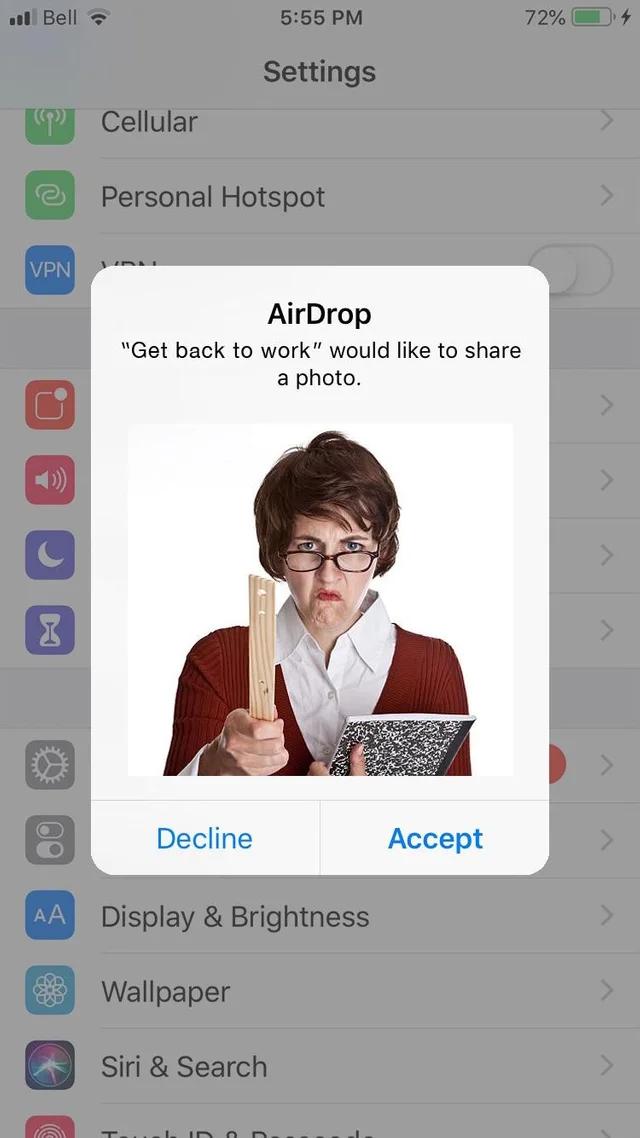 38. This AirDrop image is so relatable.
39. This is the stuff that nightmares are made of.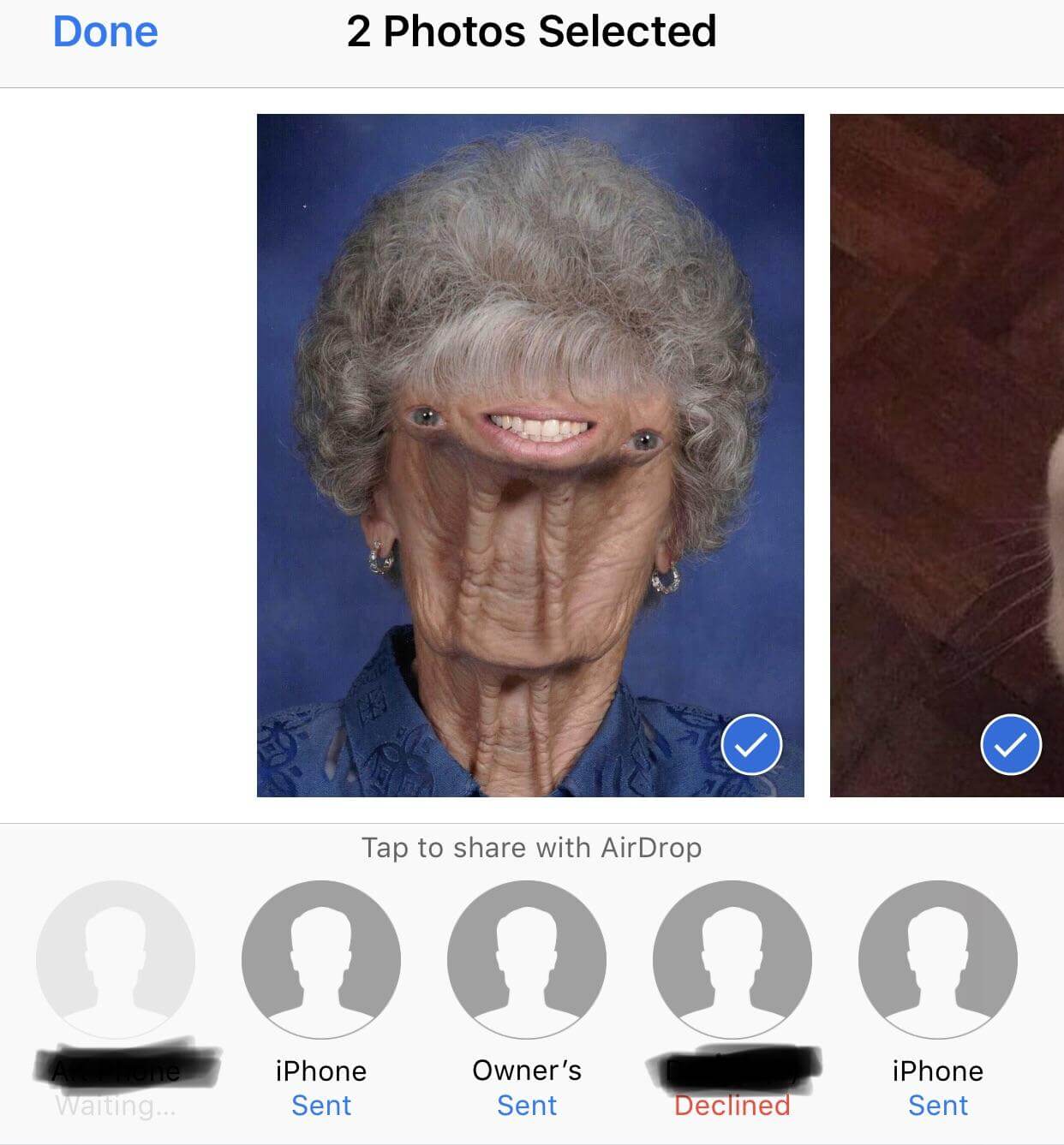 40. Cat snail? Definitely accepting this strange but welcome AirDrop request.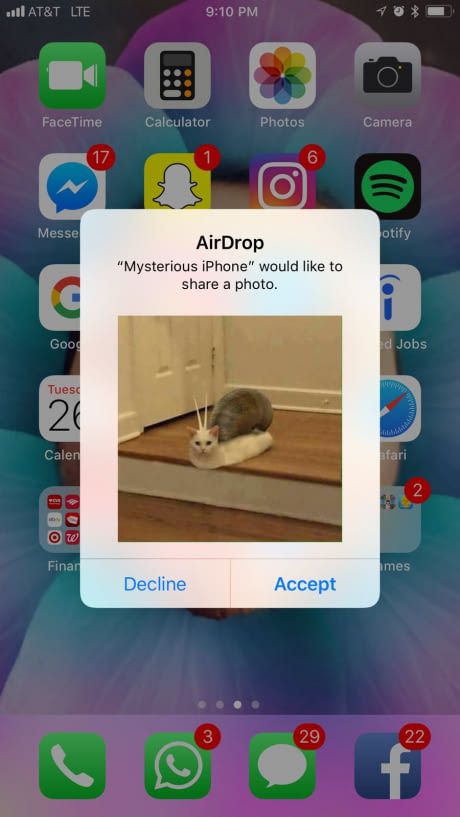 41. Have you ever wondered how Spiderman eats? Well, now you know.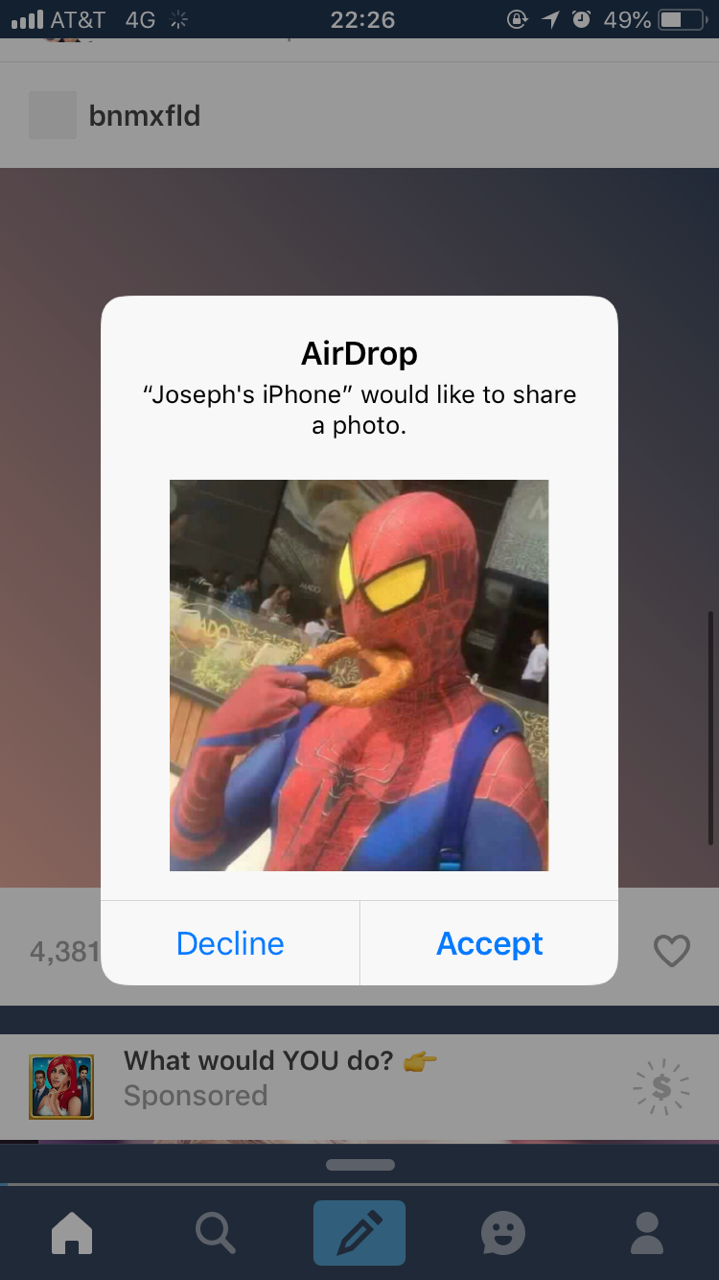 42. It's hard to tell which way this dog is facing, but it looks like an alien!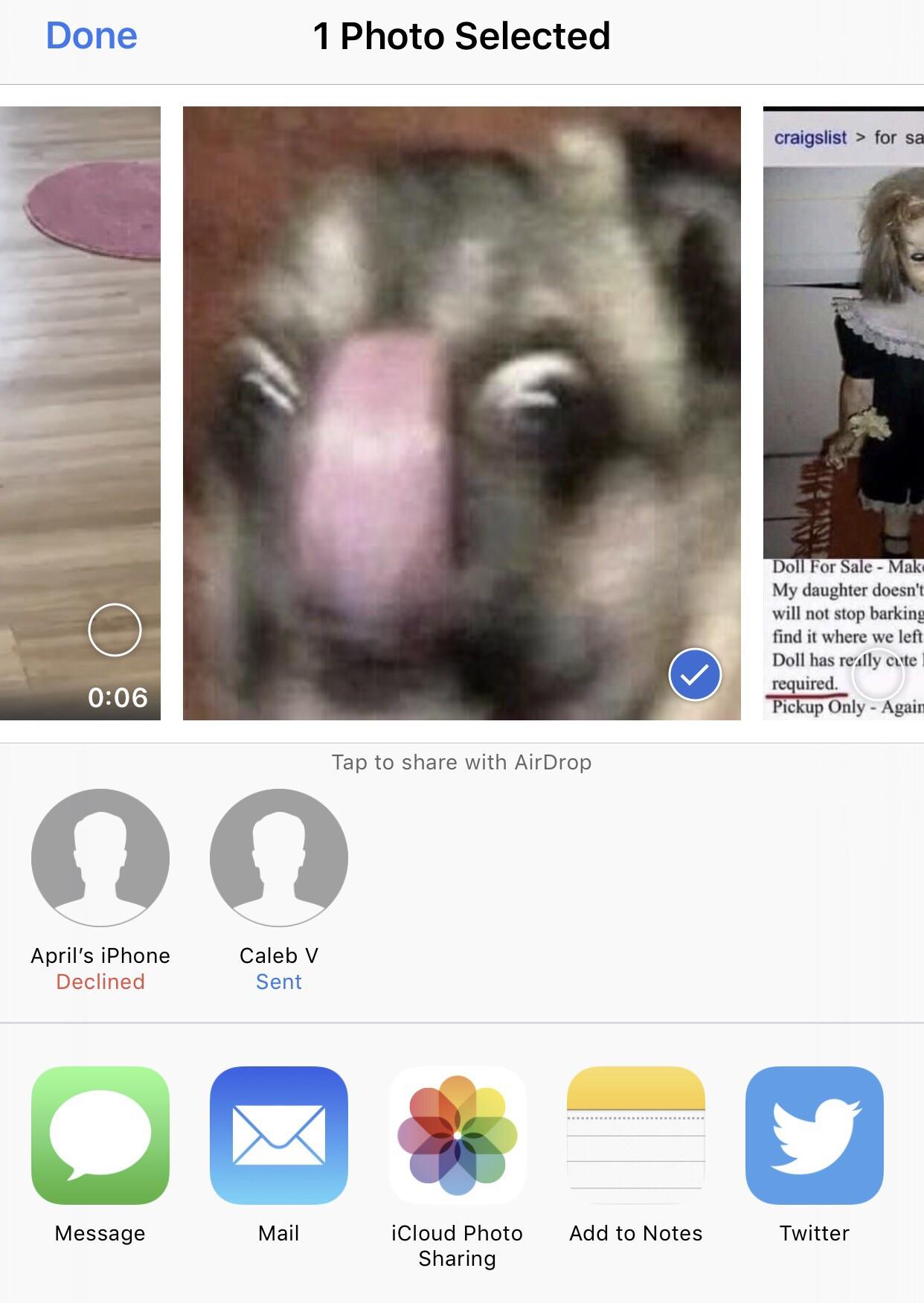 43. This dog's eyes seem to be staring straight into your very soul.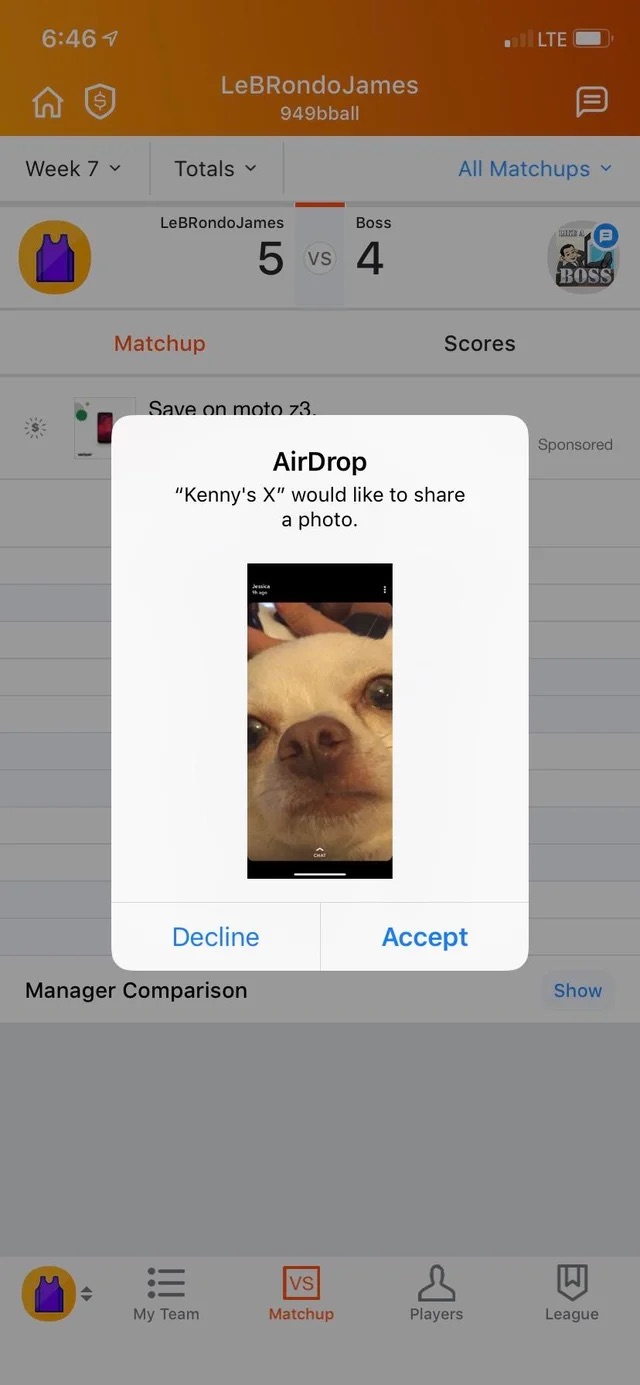 44. We have so many questions about this AirDrop request…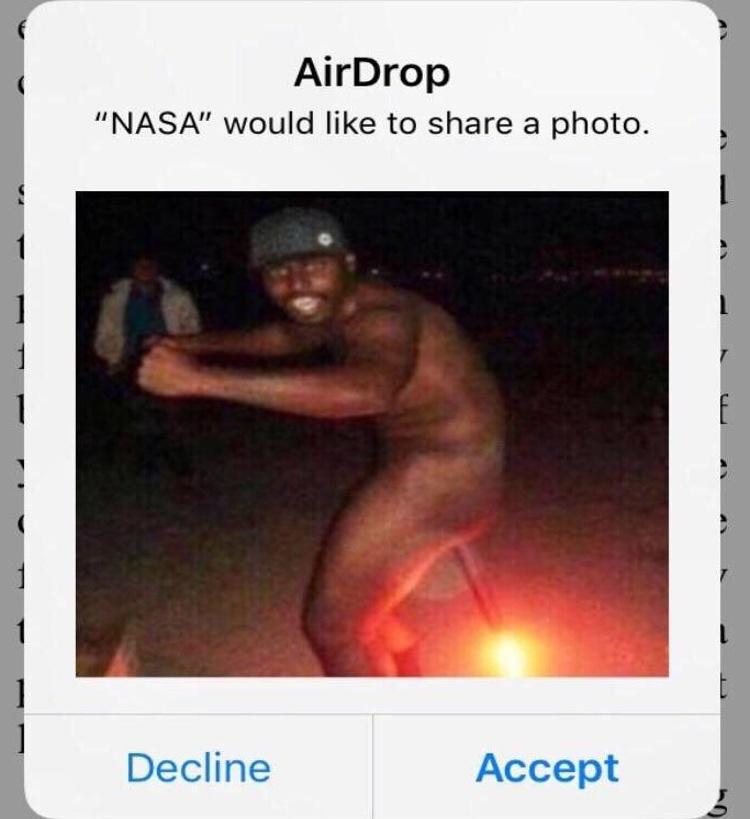 45. Another exceptional selfie that made its way to someone's phone.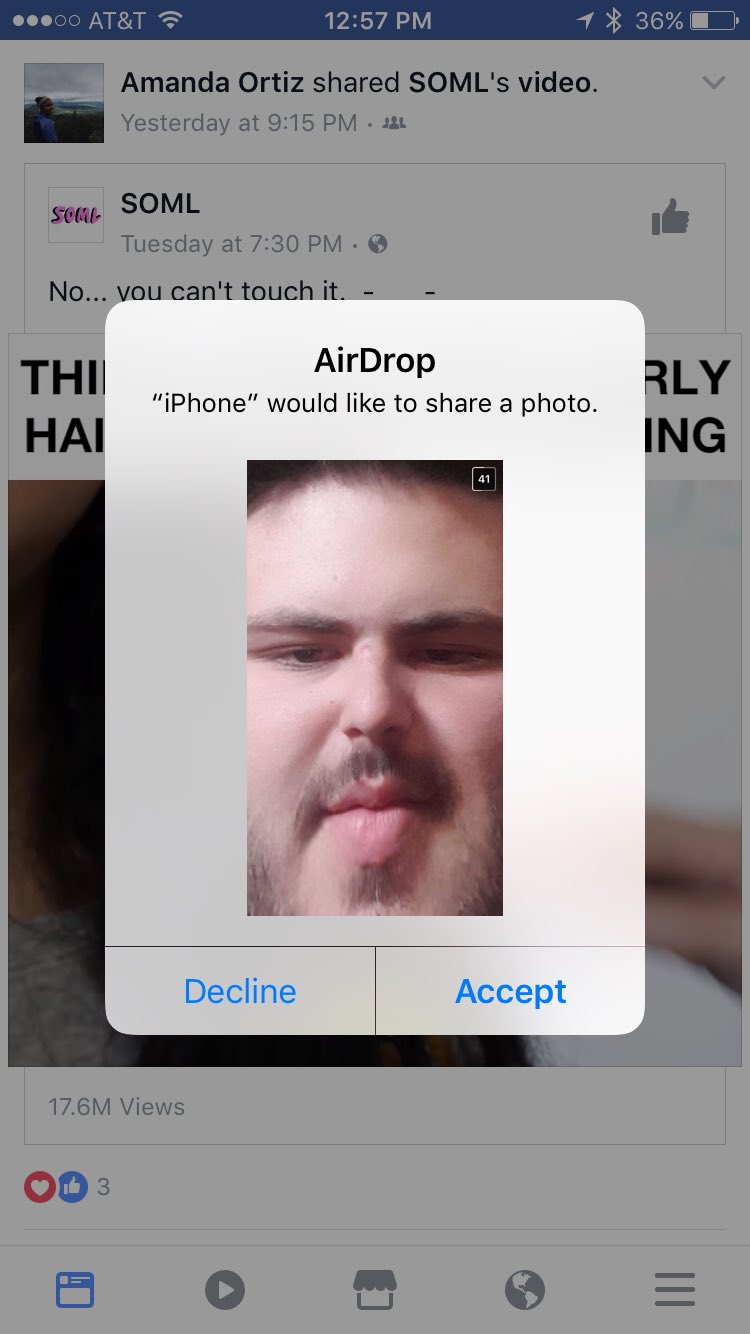 46. If you ever wondered how close the cops were, now you know — close enough to AirDrop you their picture!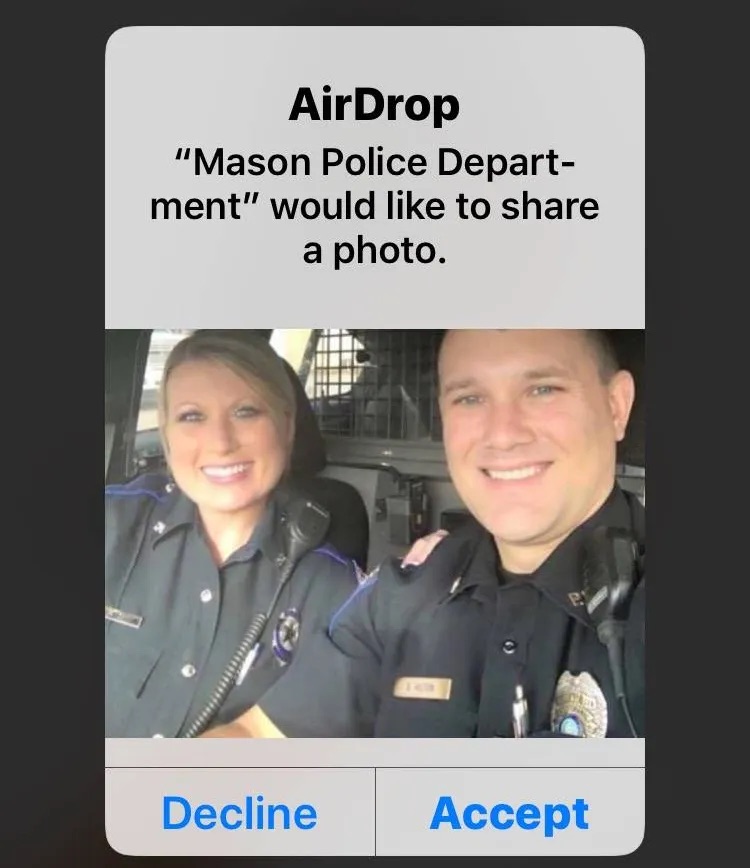 47. Saying thank you with a picture of a dog just makes everything better!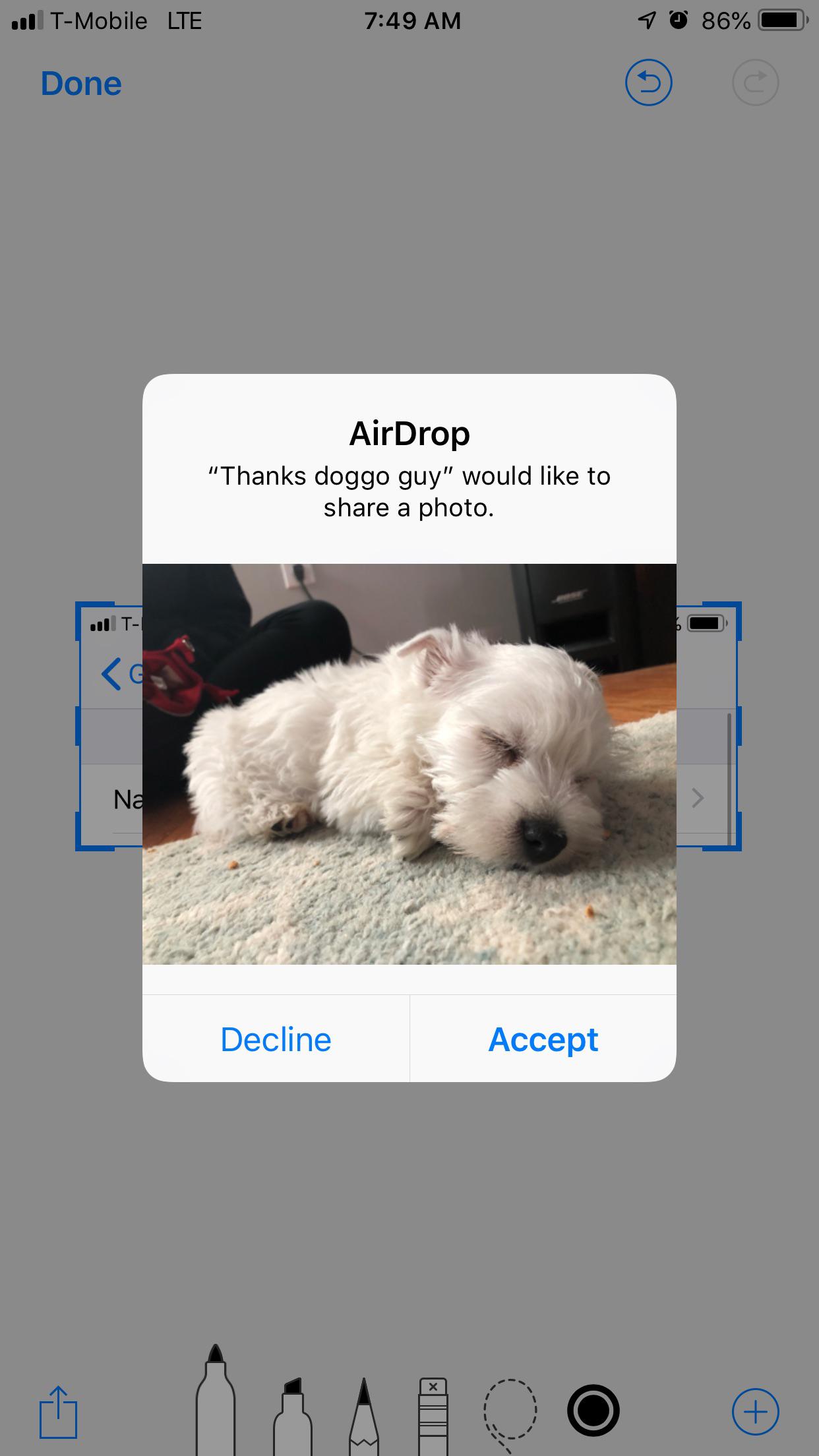 48. This Grinch isn't just going to steal Christmas. He's going to steal your phone too!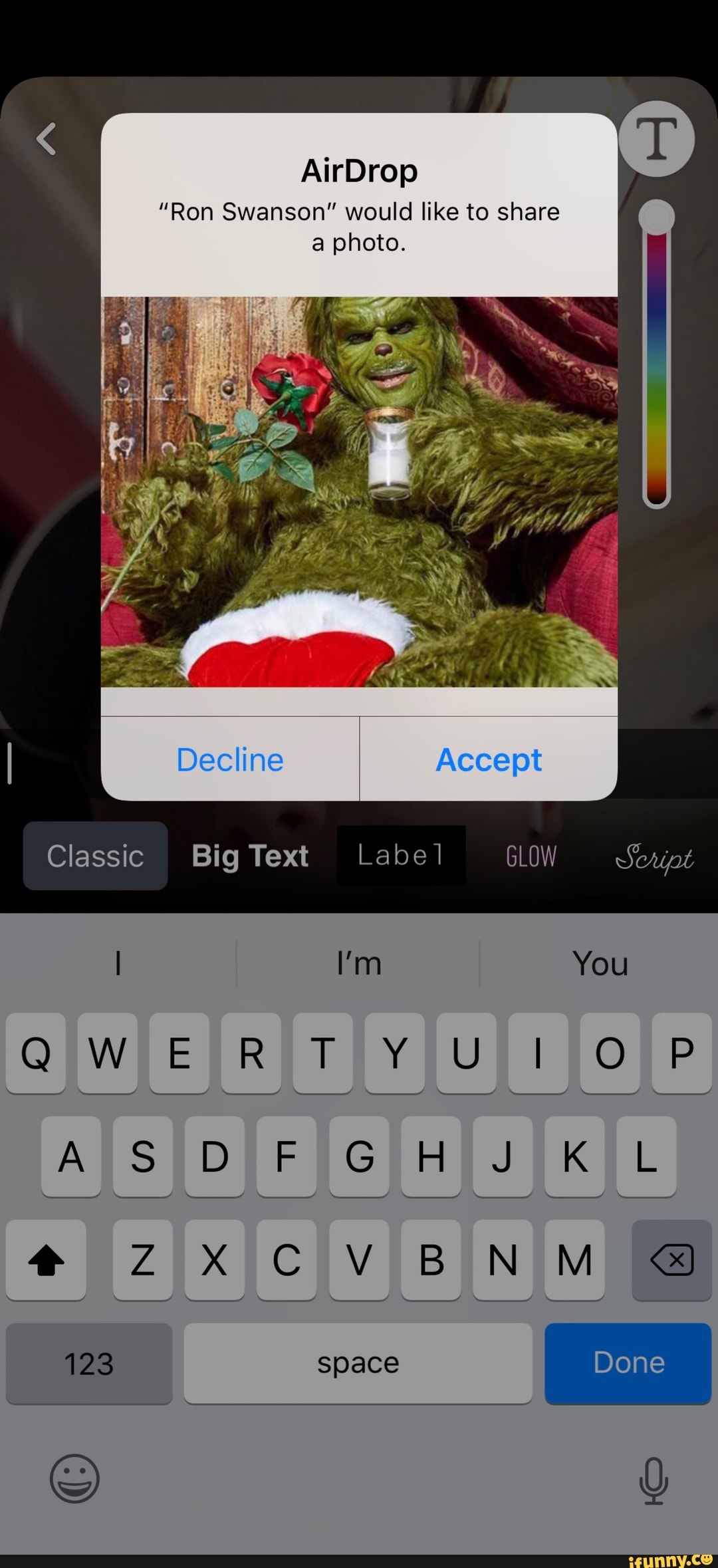 49. Armed and dangerous — nobody mess with this man!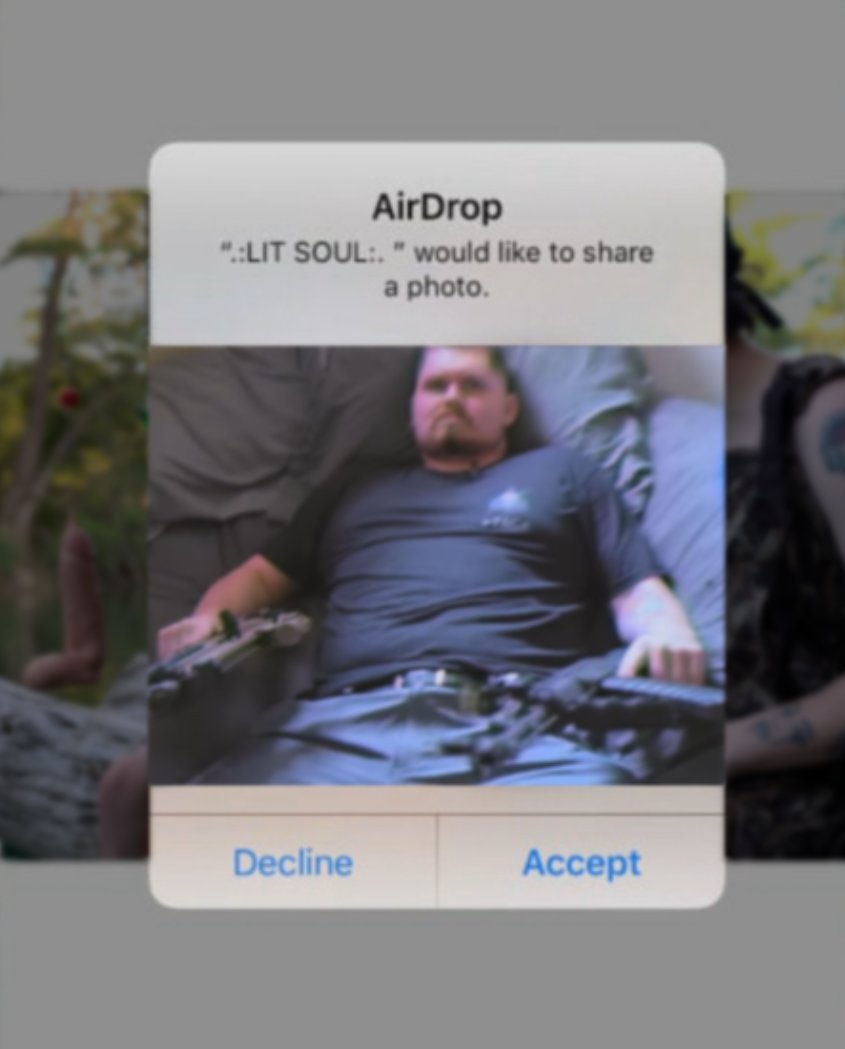 50. Another disturbing AirDrop of what looks like a live-action Patrick Starfish.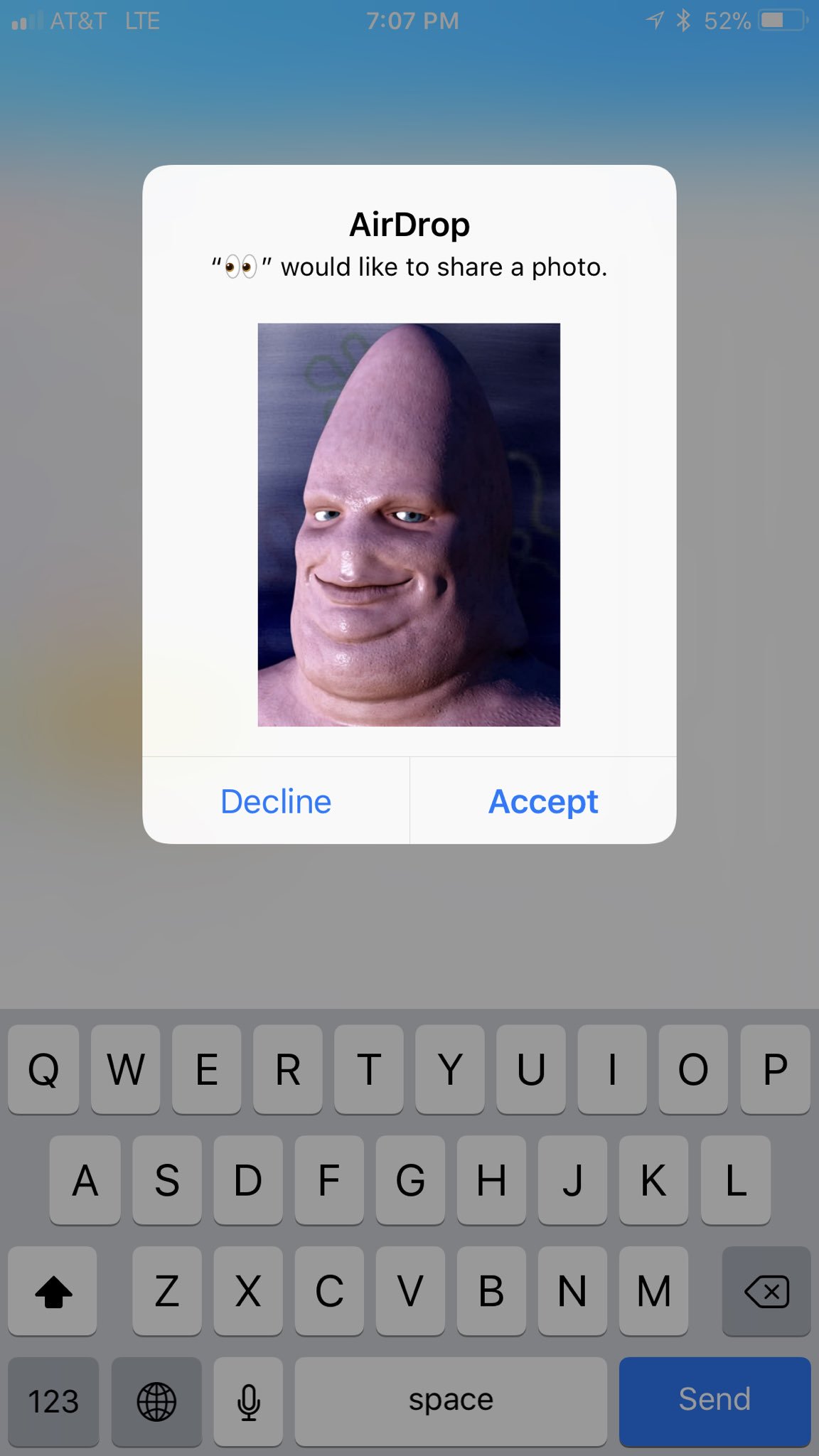 51. It looks like this iPhone is sharing a photo that resembles a renaissance painting.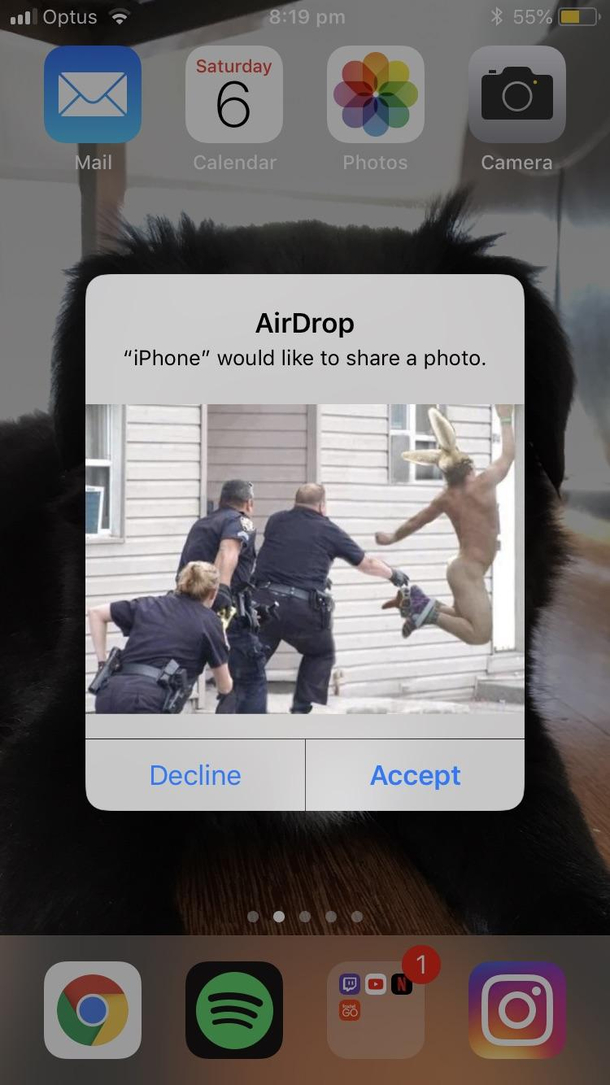 52. Wouldn't it be nice to receive this message from a random stranger?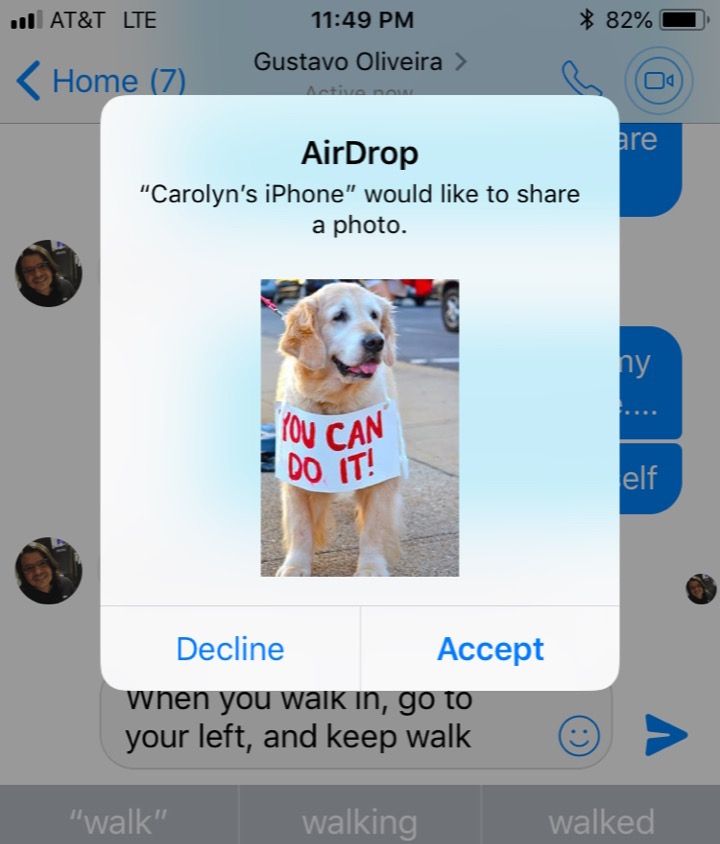 53. Another good dog to brighten up everybody's day!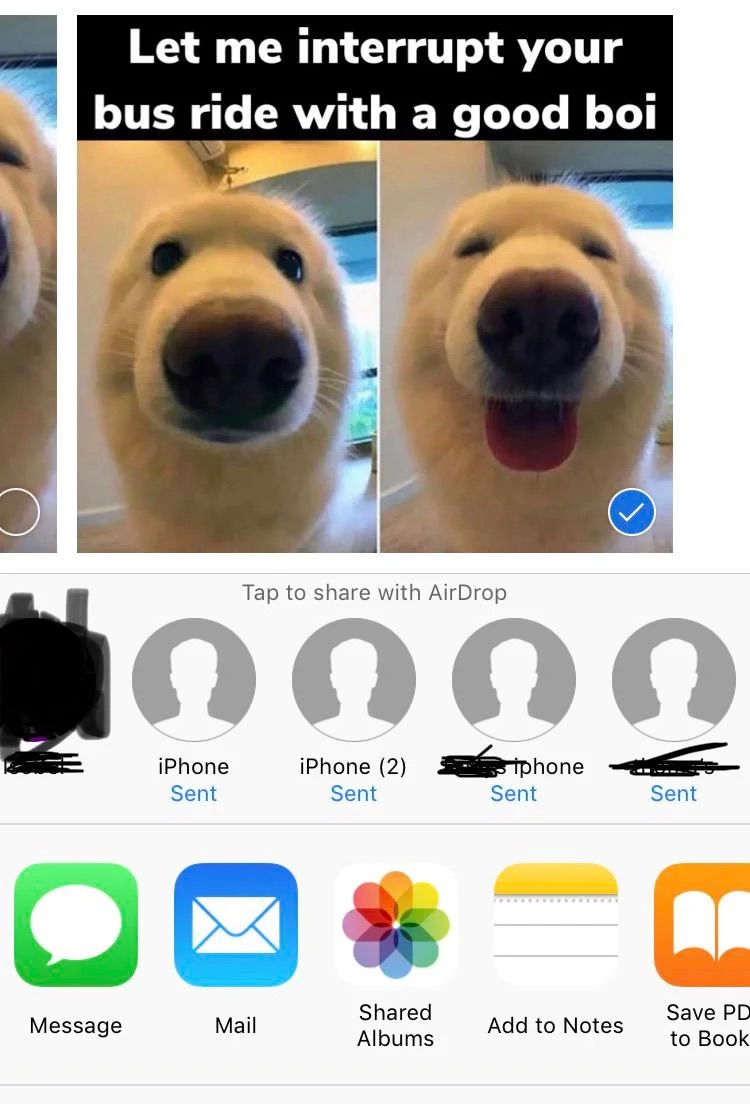 54. A sloth astronaut… that's it, we're disabling AirDrop for now.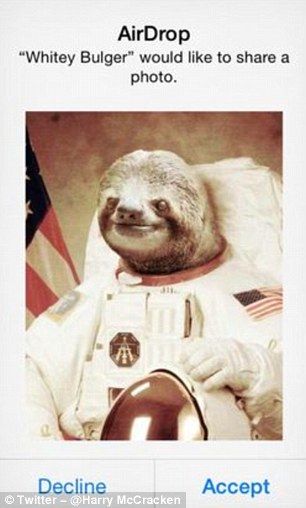 55. Well, if Luke doesn't have any pants on, we won't want to accept any more AirDrop requests from him.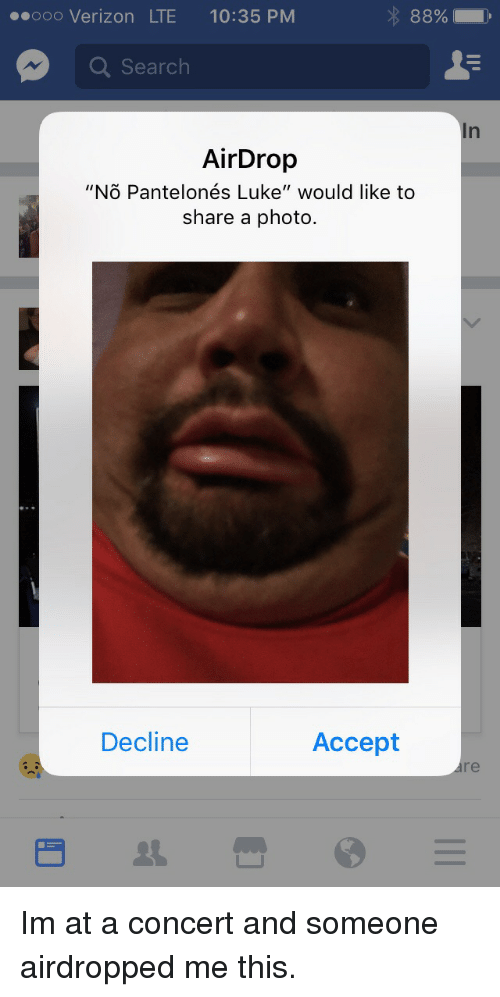 Now that you've seen what kind of images people might AirDrop, you might want to keep yours turned on… or off!