Leaving out deliciously mouth-watering cookies for Santa to eat during Christmas eve is one of the thrilling traditions of celebrating the Holiday season. Though some just do it for the kids fun but it's definitely worth doing as part of the fun and entertainment.
In celebration with the Christmas holiday, Chief Executive Officer and Founder of Dog for Dog, Rocky Kanaka came up with an idea to never leave our Santa Paws behind. They should also have their own cookie treat this holiday! With his recent recipe, you can also give them these dog-friendly gingerbread cookies for them to enjoy.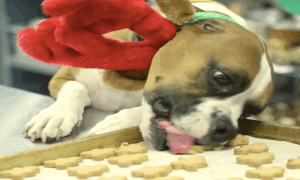 According to Kanaka, ginger flavored cookies would be the best treats for pups, not only because it's delicious but it's perfectly good for their health since it aids in digestion and immunity. And it promotes normal blood circulation for dogs and decreases inflammatory diseases.
And yes, they are absolutely enjoyable and delectably flavorful! For sure, North Pole pups will crave for more of these once they've tasted it.
For more details and instruction on how to bake these delicious gingerbread cookies, visit this website.
Source: barkpost