If you don't want to read the whole apple rosettes recipe here is the short version: Take dough, cut apples, wrap apples in dough, bake until cooked, don't fuc* it up, the end. Yup, that's pretty much all there is to it. But obviously like anything else you cook or bake, to do it right, you have to put in the work, the love and the patience. It's about the process, not the finished product.
This recipe which is awesome for apple loving people will be the light of your party we can guarantee it, your guests will be asking about it for years and the taste it will leave in their mouth will be all worth it.
Here is what you need to make the apple flower recipe: 
1 Pkg puff pastry which has been thawed in the refrigerator, 8 small tart apples, 1 fresh lemon, 8 TBSP sugar, 2 TBSP cinnamon, 1 egg for egg wash, extra sugar and preheat your oven to 400 degrees.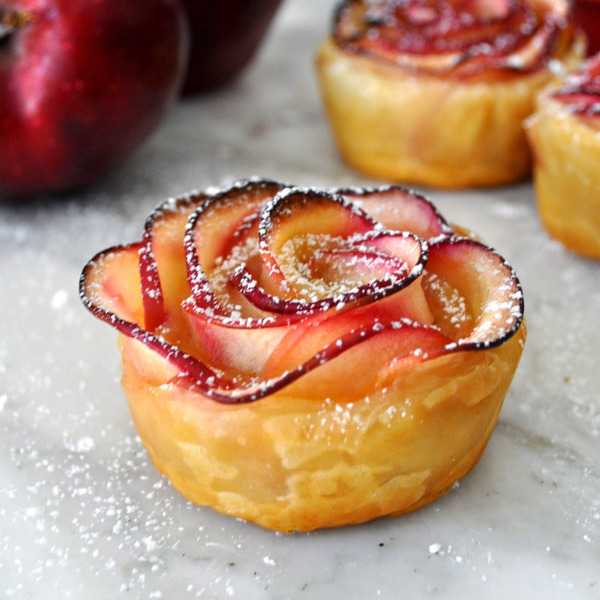 Step 2:
Put a pot with water on heat and let it boil, meanwhile cut the apples into thin slices and add them to the pot with the lemon juice then turn the heat off, put a lid on the pot and let the apples steam for a minute. We want the apples to be soft but not mushy. So as soon as you feel they're soft, drain the water from the pot and put the apples on a paper towel to cool off and dry.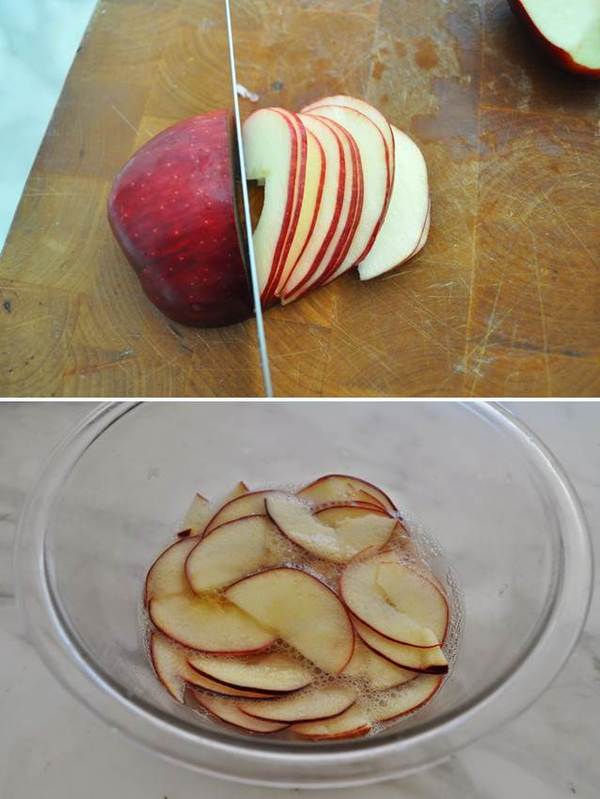 Now take a sheet of puff pastry and place it on a well-floured surface, brush the pastry with the egg wash, sprinkle it with 4 TBSP of sugar and 1 TBSP of cinnamon, now cut a 1 inch strip along the long side of the puff pastry and place the apple slices that they will slightly overlap each other and start rolling the pastry.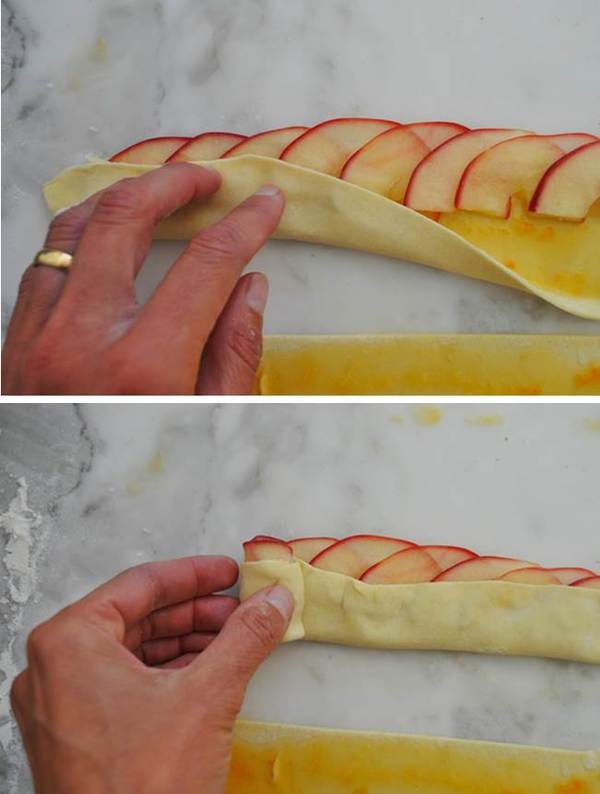 You should be able to place 9 -11 slices on each stripe.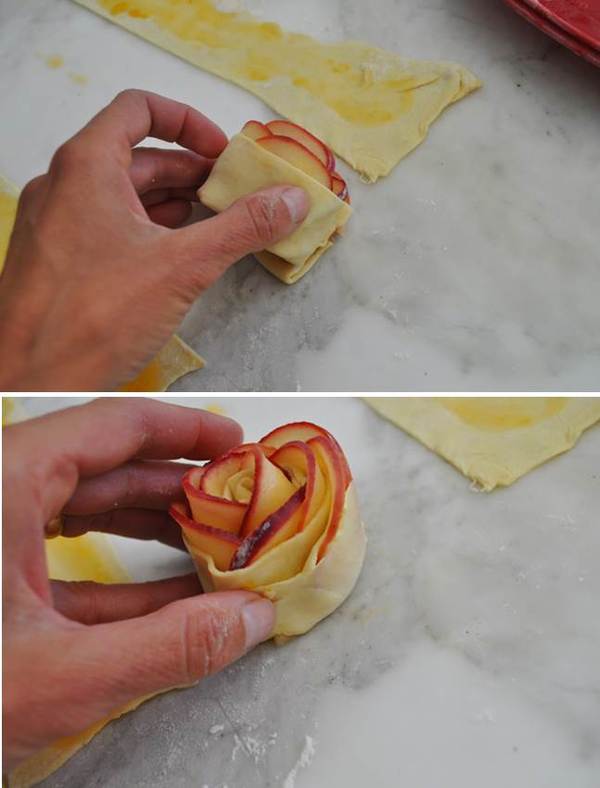 –ad–
[the_ad id="71924″]
Put the finished rolled pastry or rosettes in a mold or just on a baking paper.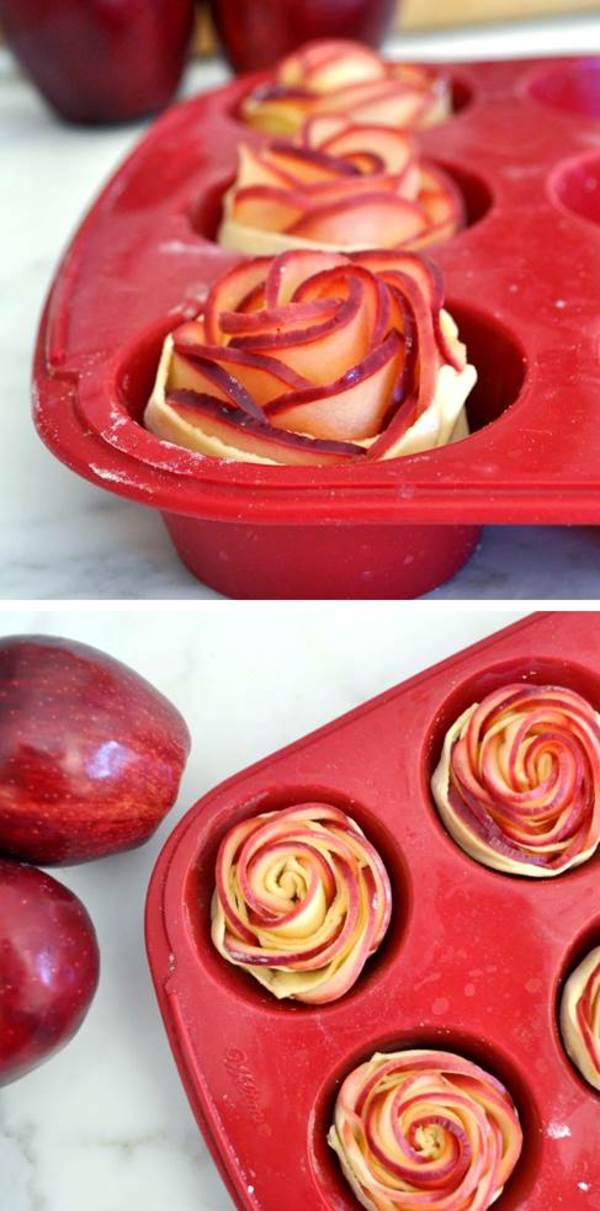 Before placing in the oven, sprinkle with more sugar and put the mold or baking paper with the rosettes in the refrigerator for 15 minutes.
Now place a pan with water in the bottom rack of the oven. This will help to keep the bottom of the rosettes from burning, bake the rosettes on the rack just over the water for 15 – 20 minutes but make sure to check them regularly. You don't want them to burn, but you want the party to be crispy.
When they are done let them cool off outside the oven and serve!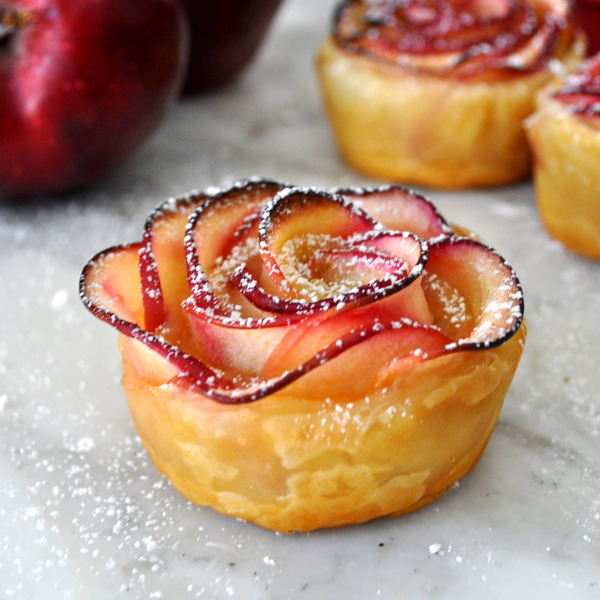 Source: Imgur | Cooking with Manuela