50 Shades of Grey has been a target of Internet mockery and parody more often than any other movie in the recent pop culture history. Twitter account with a name 50 Nerds of Grey is one of the most hilarious examples of that phenomenon. This Twitter account has amassed over 200k followers and once you scroll down the gallery of nerd-erotica jokes you will know why this is a case.
Yes, the twists are of the erotic kind, but you can casually read them in front your grandma and don't get a blush. Nerds are known for being persons of high libido getting into the action fast and often, right? No, not really. So, that's the catch supporting the humour of this Twitter account. If you have a good laugh reading these 39 50 nerds of grey tweets in this gallery, make sure to follow 50 Nerds of Grey for more and don't' forget to share this post with your friends once you come to your breath again.
More info: Twitter
#1 50 nerds of grey just gets it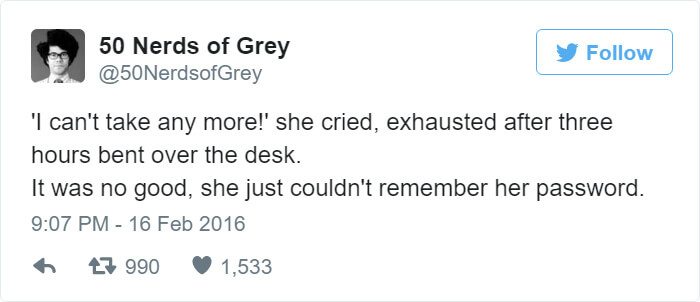 #2 Look at my eyes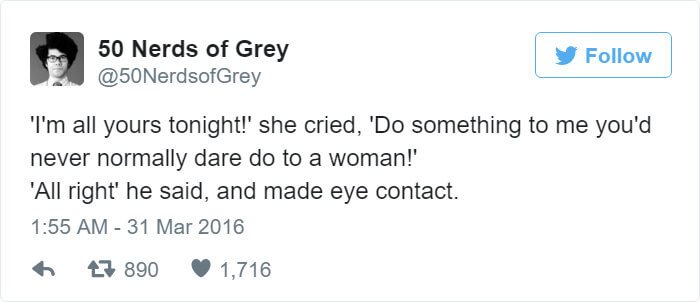 #3 No one likes these damn movies. It's a form of Chinese torture it's what it is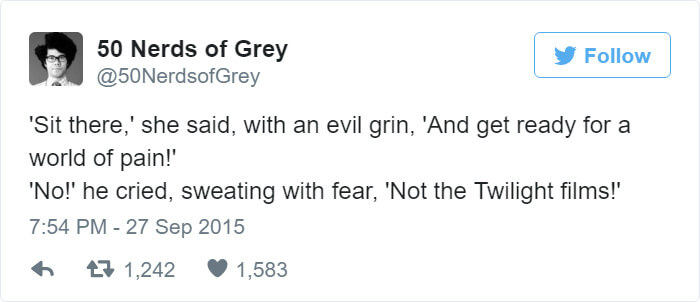 #4 I also like to live dangerously

#5 That's not exactly what i meant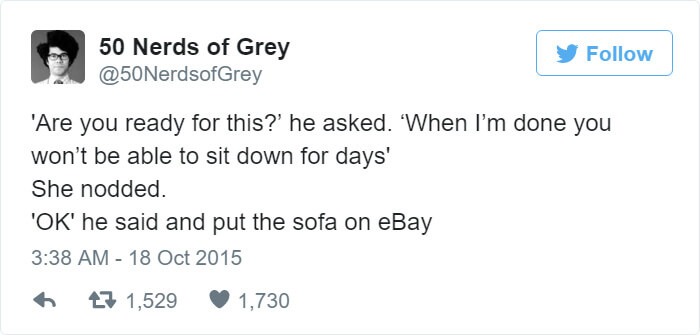 #6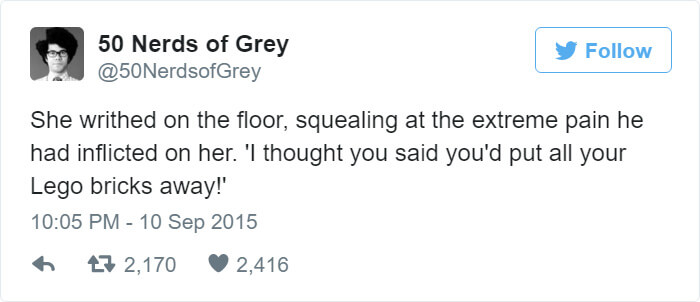 #7 That's as hard as it gets in my book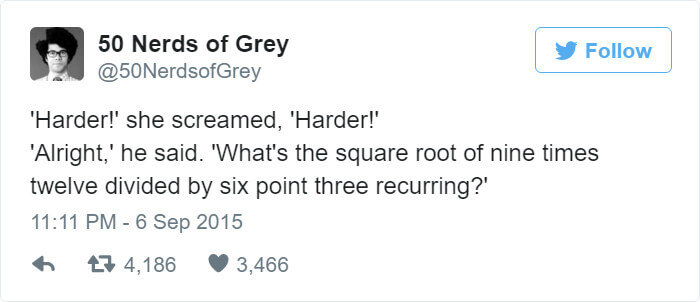 #8 BDSM = Batman,Dungeons & Dragons, Star Trek and Mathematics

#9 Always use a safe word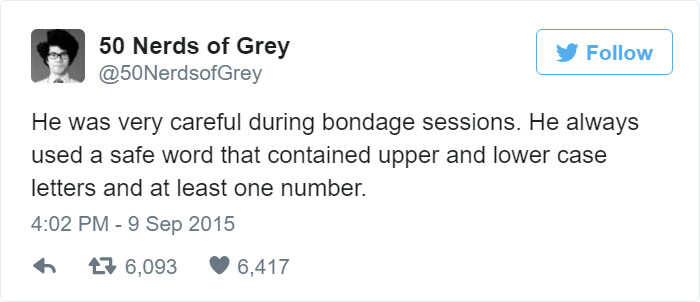 #10 Because wifi is life basically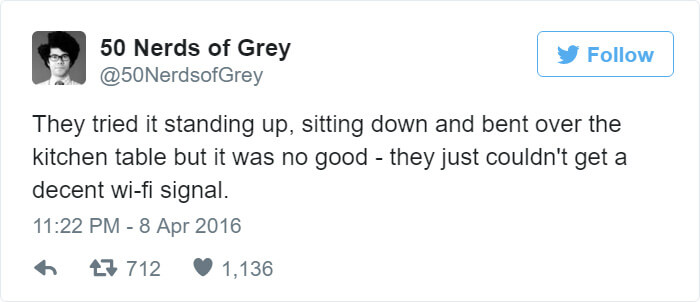 #11 don't worry, it will fit

#12 That's dirty i guess

#13 Geeks have the best Halloween costumes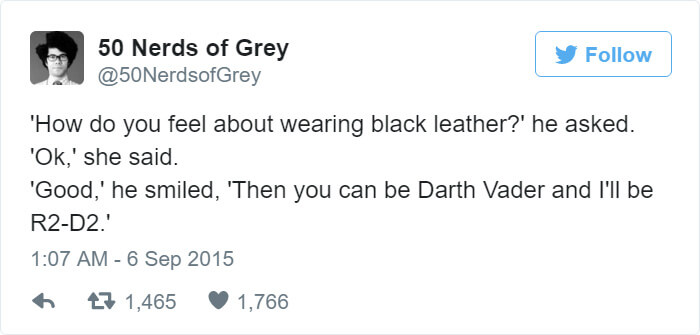 #14 Harry Potter changed nerd sports forever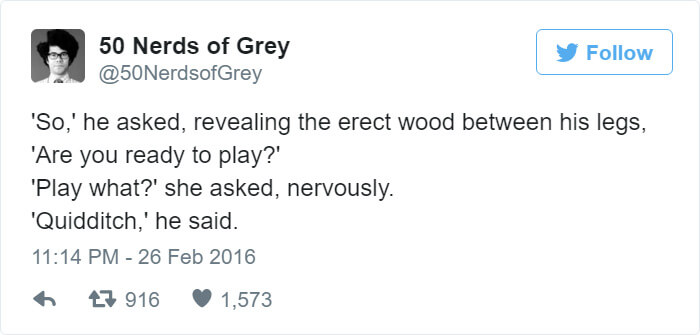 #15 You gotta smack that bottle hard to get it out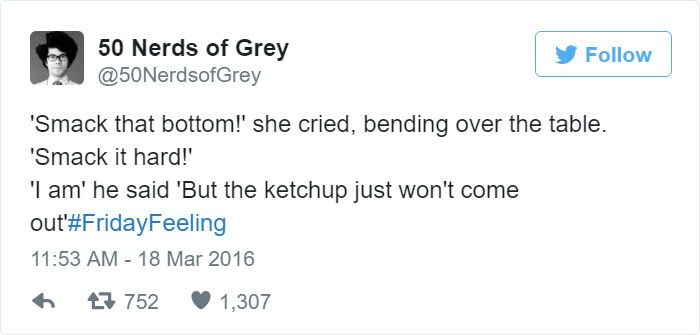 #16 OMG is he really married?!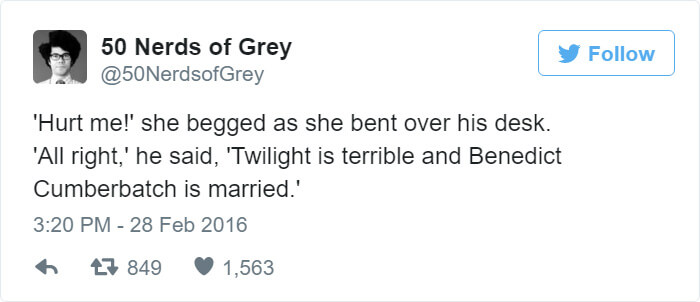 #17 Just eat your donut already man
#18 I can't believe there's a new Harry Potter book out!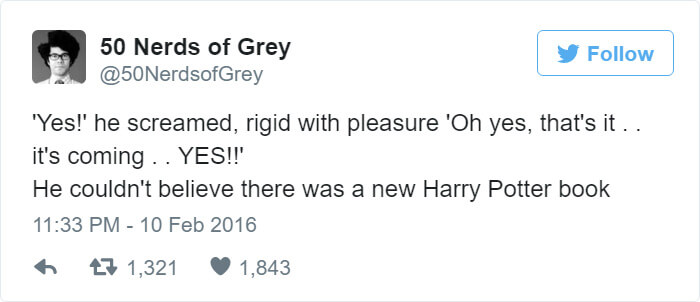 #19 Learn to restart your PC already woman!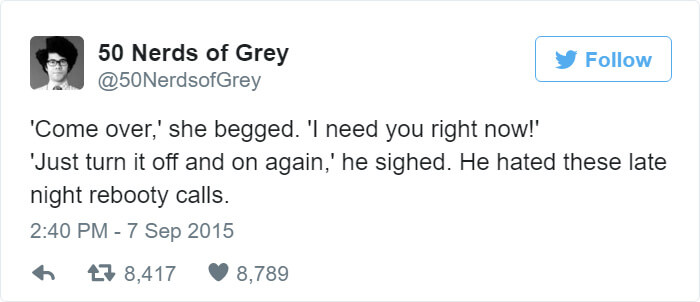 #20 Ahh the perfect spot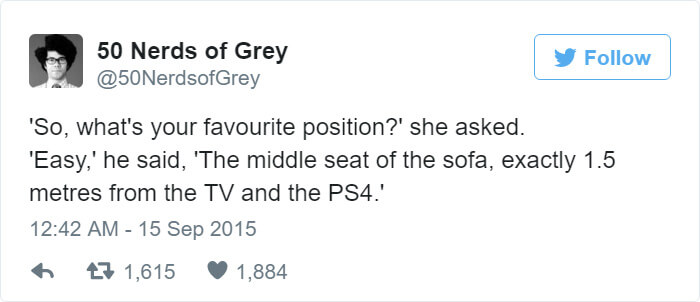 #21 Control, Alt, Delete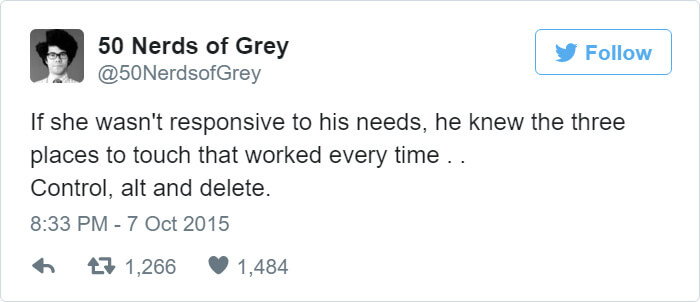 #22 What are you doing, you crazy crazy man

#23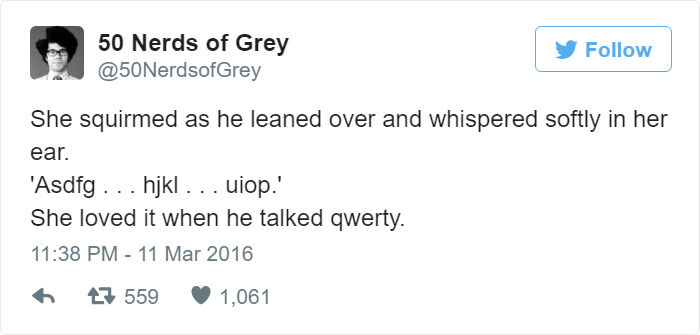 #24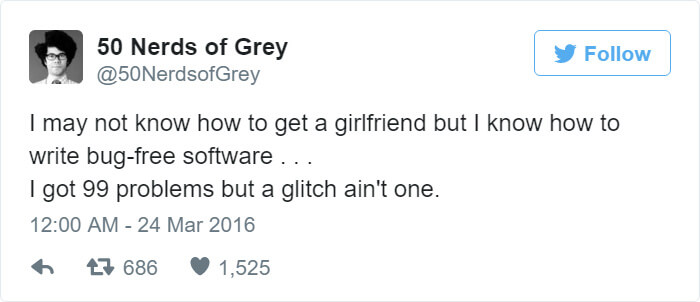 #25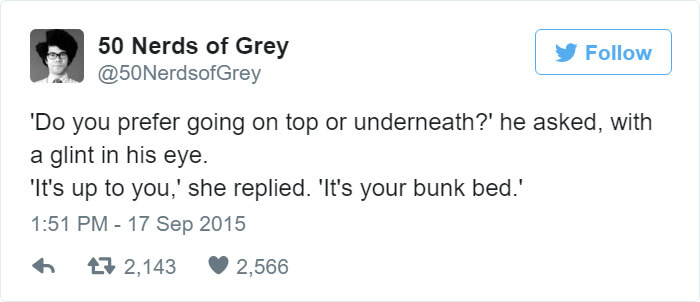 #26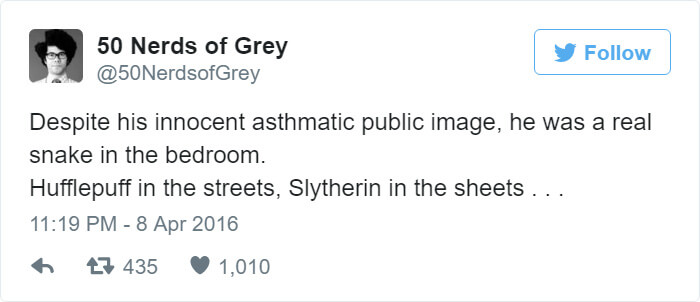 #27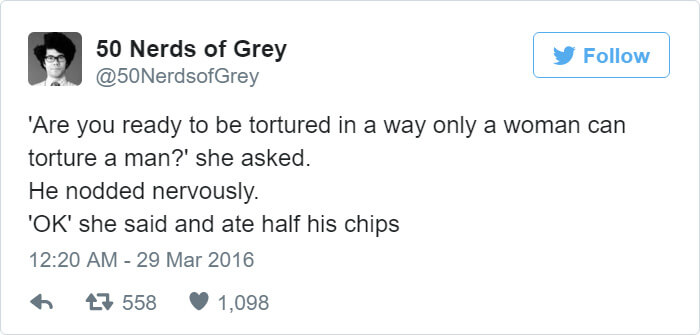 #28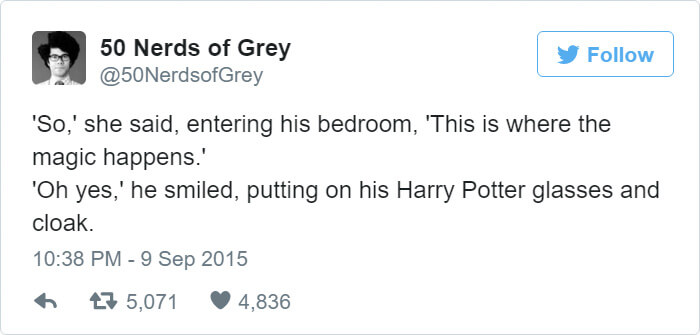 #29
#30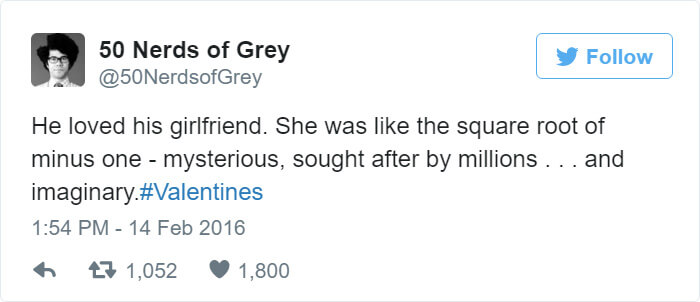 #31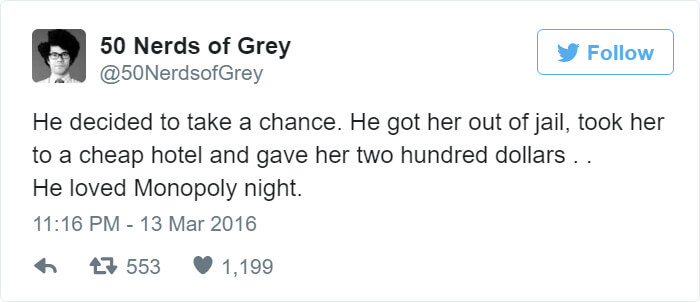 #32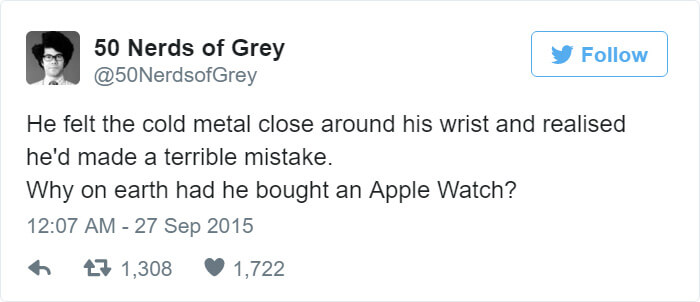 #33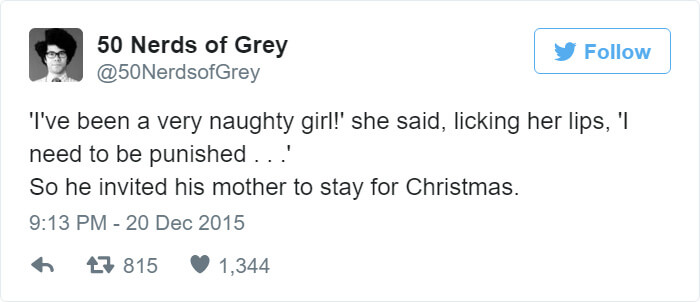 #34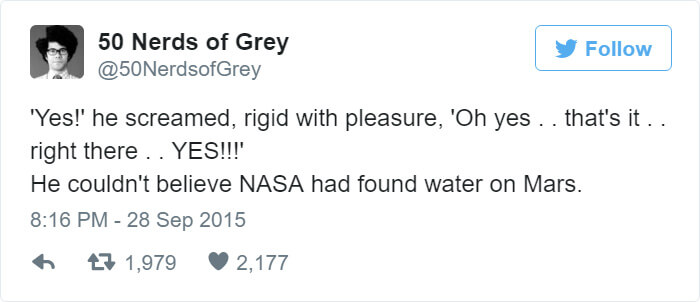 #35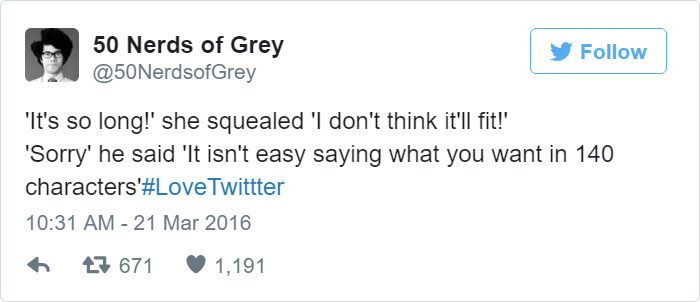 #36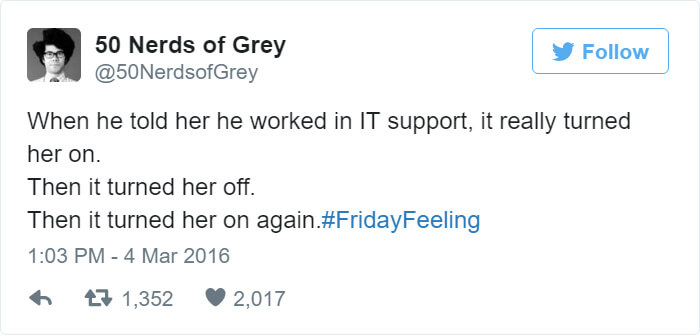 #37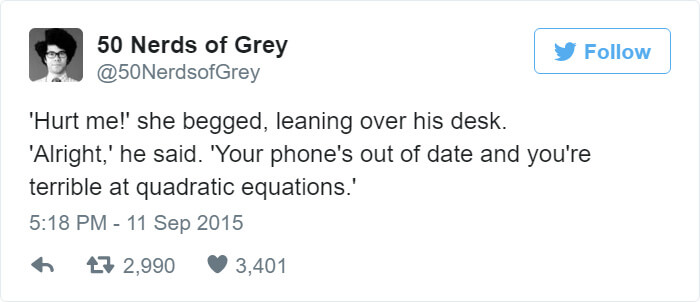 #38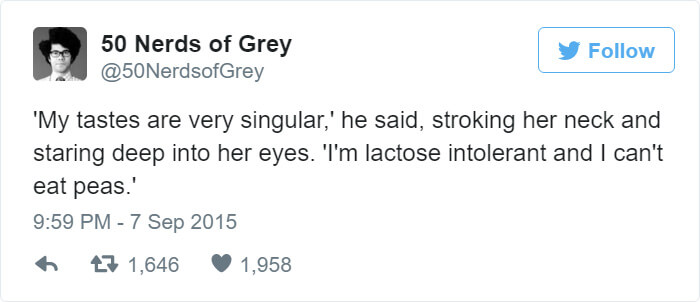 #39

Don't forget to share these funny 50 nerds of grey tweets with your friends