78,801 photos were submitted by 4,738 photographers for the 2019 World Press Photo of the Year Contest and what you are going to see below are the best of the best, the most emotional press photos of the year 2019. One of the most tragic photograph is the one depicting a little girl and her mother being stopped at the US border and taken into custody by the US border officials. After being made public, the photograph created a lot of controversy and made president Donald Trump reverse his "zero tolerance" law.  "I could see the fear on their faces, in their eyes. As the Border Patrol took people's names down, I could see a mother holding a young child. At that moment, (when the border officials asked the mother to set the child aside) the young child broke into tears, and she started wailing. I took a knee and had very few frames of that moment before it was over."", said John Moore, the author of the photograph. Mother and daughter were just trying to make a happier life for themselves far away from their poverty-stricken and violent country of Honduras.

Scroll down for 21 more of these emotional press photos of the year!
1. The most emotional press photos of the year: "Dakar Fashion" By Finbarr O'reilly
This one won first Prize in Portraits, Singles. These 3 ladies are modeling for the Dakar Fashion Week, which includes a lavish street show where everyone can participate in. The designer in this picture is Adama Paris and the placement is Medina neighborhood.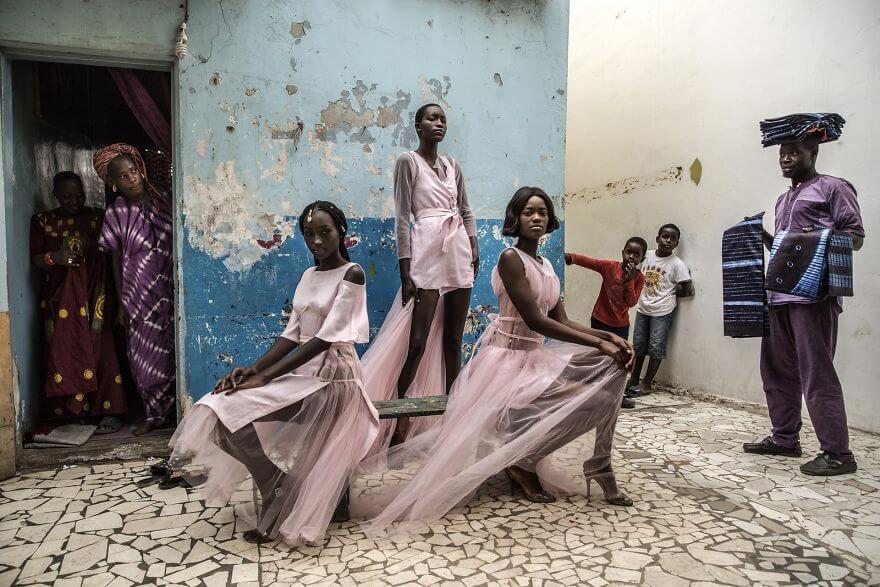 2. One of the most emotional press photos: "Yemen Crisis" By Lorenzo Tugnoli
This series won 1st Prize in the General News, Stories category. Yemen is still a conflict zone and the numbers show a great tragedy going on: 8.4 million people on the brink of starvation and 75% of the population in need of humanitarian assistance. Dubbed "the world's worst man-made humanitarian disaster", the conflict in Yemen made food unaffordable and brought the currency to collapse

3. "Akashinga – The Brave Ones" By Brent Stirton
This picture won best Environment Singles Prize. The protagonist's name is Petronella Chigumbura and she's a member of Akashinga ("The Brave Ones"), a female, anti-poaching unit prepared to work with the locals in Zimbabwe for the sake of community and the environment. The women of Akashinga come from disadvantaged backgrounds and are given a job and a noble life purpose: to help community live in harmony with the wildlife.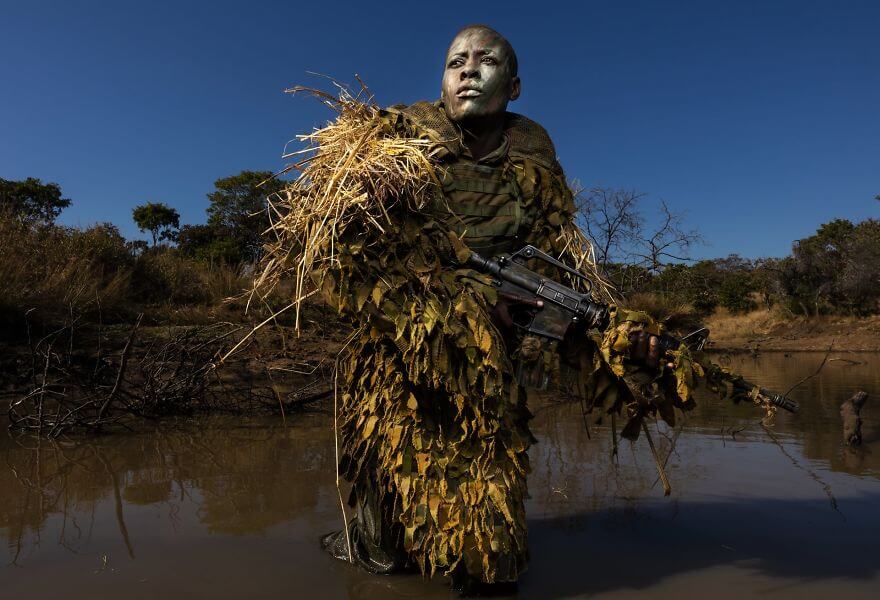 4. "Flamingo Socks" By V
2nd Prize in Nature, Singles depicts a Caribbean flamingo curiously looking at its socks which are meant to help heal its severe wounds from captivity.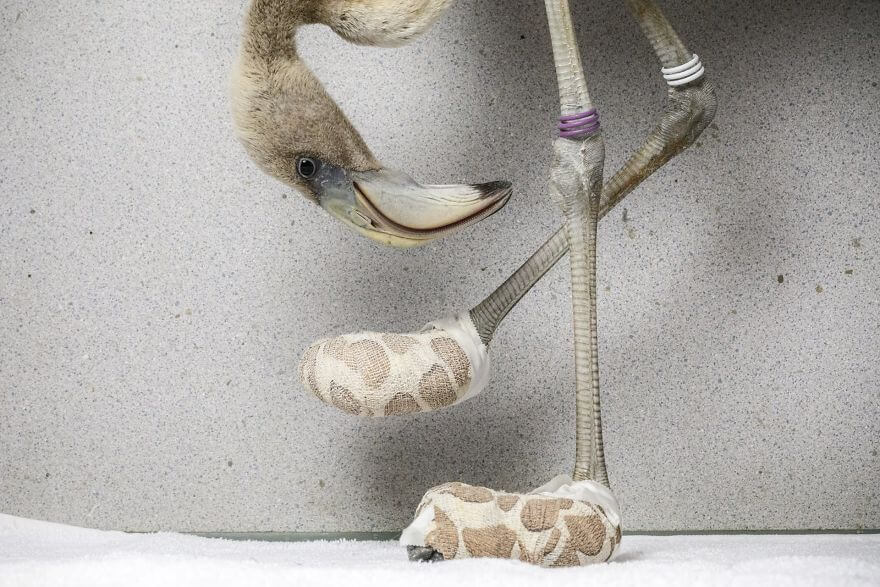 5. "Colombia, (Re)birth" By Catalina Martin-Chico
This is 2nd Prize in Contemporary Issues and it shows Angelina, a former guerrilla giving getting pregnant and giving birth in the FARC transition camp  in San Jose del Guaviare, Colombia. Her story is not for the faint of heart. She was abused by her stepfather when she was 11 years old and shortly after she joined the FARC, under the nickname of "Olga". The Colombian government came to a peace agreement with the FARC rebel movement in 2016 and most of the female FARC members began giving birth and trying to transition to a more normal, everyday life.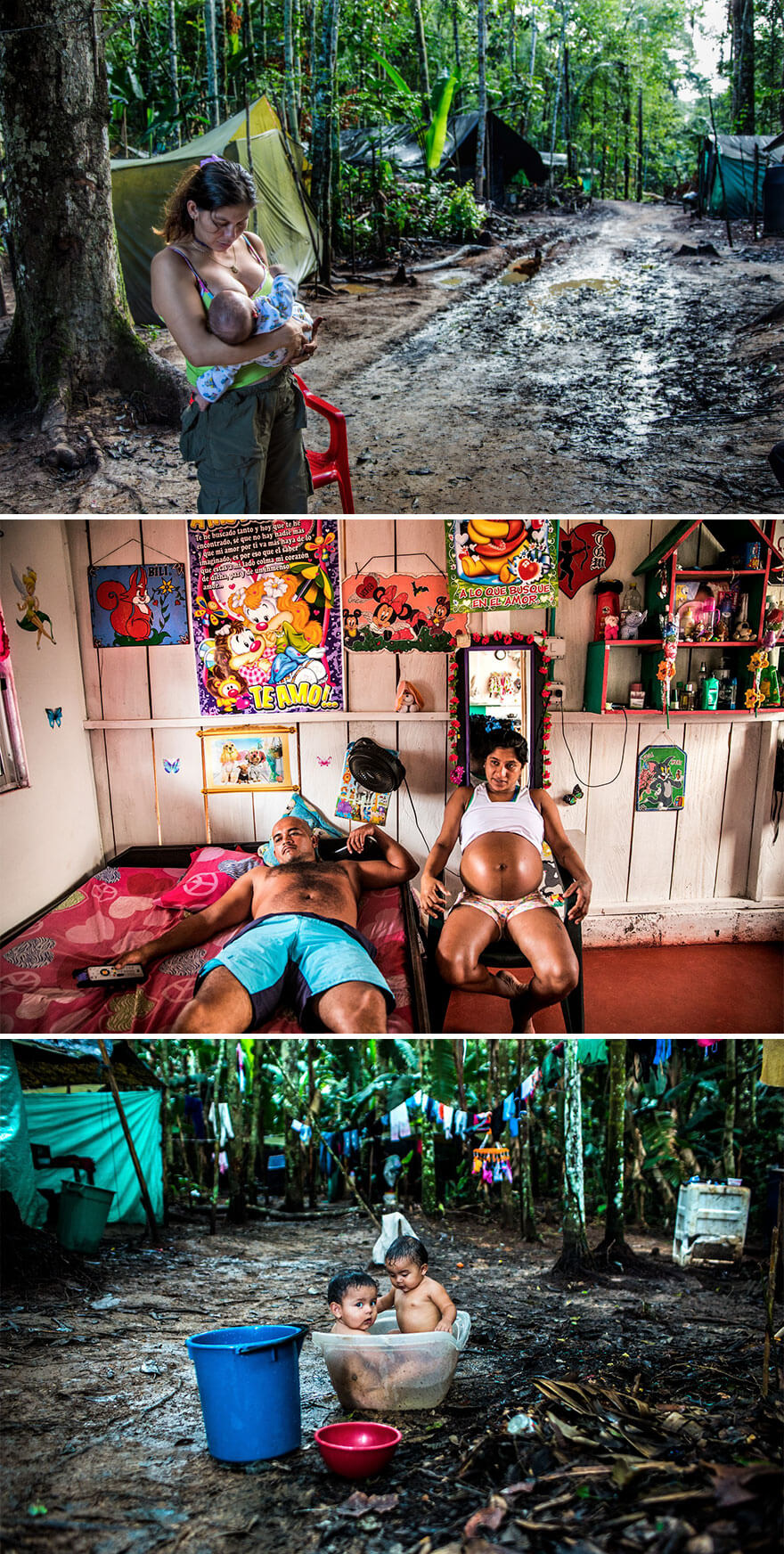 6. "Afghan Refugees Waiting To Cross The Iranian Border" By Enayat Asadi
Another piece of emotional press photos, this won the 3rd Place in "Contemporary Issues". At the eastern border of Iran, on 27th July, two companions are waiting for transportation. They are of Afgan nationality and they are fleeing from the poverty, insecurity and violence present in their country.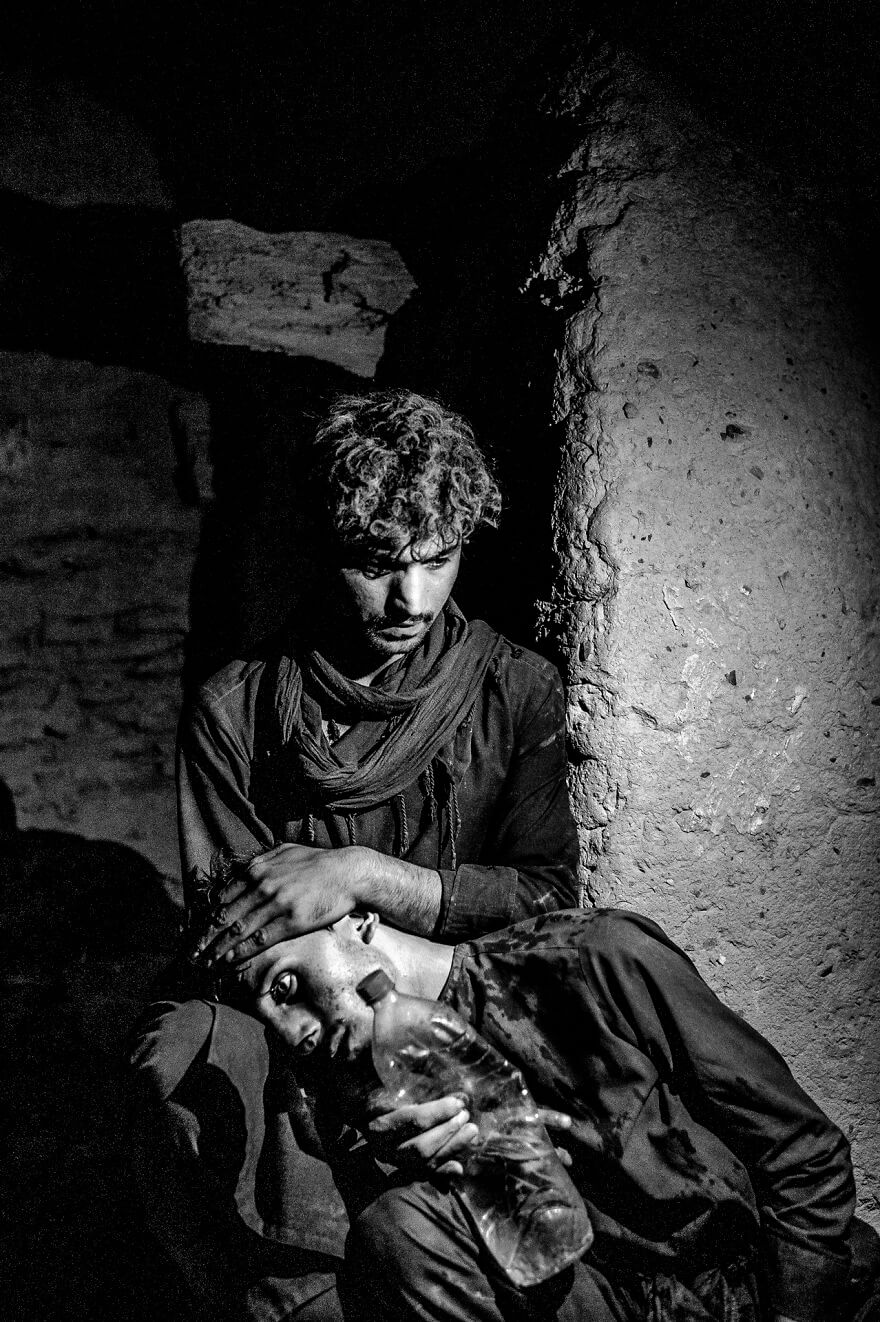 7. "Living Among What's Left Behind" By Mário Cruz
This is the Pasig River, in Manila, Philippines, declared biologically dead in the 1990s. A child lies on a mattress in the middle of a sea of floating garbage. In 2017, the Pasig was among the 20 most polluted rivers in the world. The garbage layer is so dense that you can actually walk on the lake.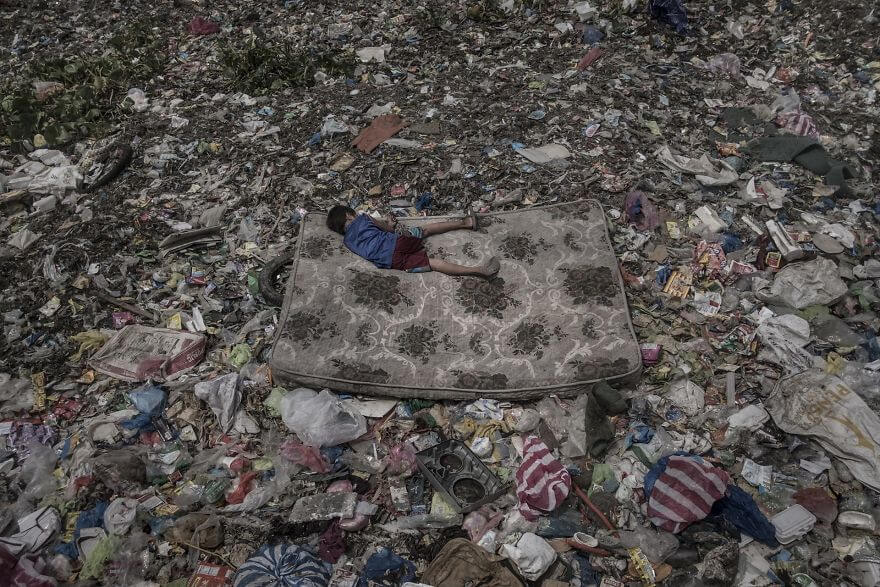 8. "Meet Bob" By Jasper Doest
2nd Prize in the Nature, Stories is the rescuing of Bob, a Caribbean flamingo who flew into a hotel window and was badly injured. Bob is now living with Odette Doest, his savior.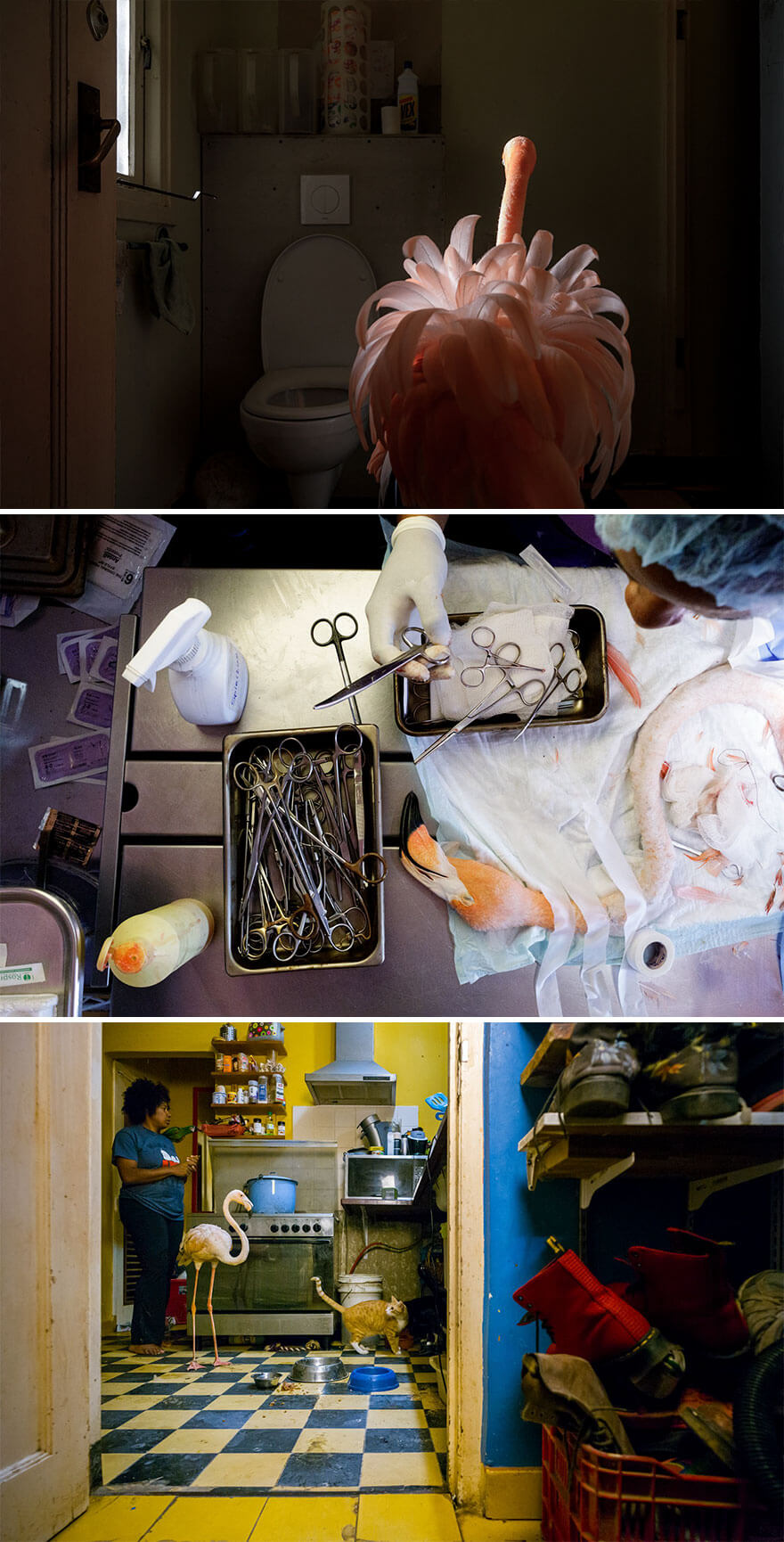 9. "Syria, No Exit" By Mohammed Badr
2nd Prize in the Spot News, Stories Category is secured by this series depicting the events of February 2018. The final assault on Eastern Ghouta consisted of air bombardment and gas attack leaving 4,829 wounded and 1,005 killed between 18th February and 3rd March.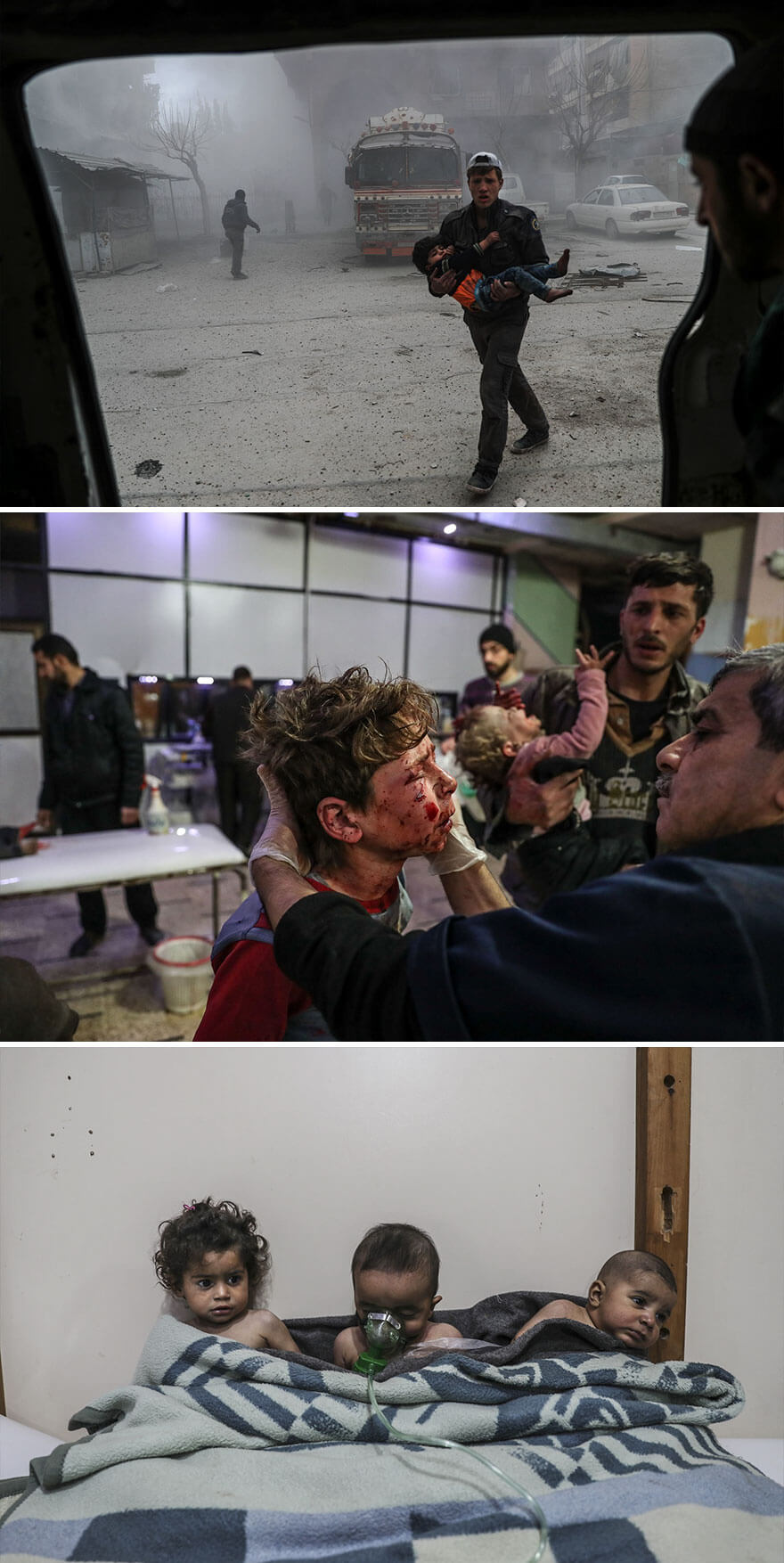 10. Blessed Be The Fruit: Ireland's Struggle To Overturn Anti-Abortion Laws" By Olivia Harris
The 1st Prize for Contemporary Issues, Stories goes to Olivia Harris. The story is quite complex. In the first photo, we see a girl painting the portrait of Savita Halappanavar. This name might not mean anything to you, but to the people of Dublin, Ireland it does. Savita died in 2012, of severe sepsis, because she was not granted an abortion. On May 25th, the same year, a large majority of Irish people voted against the abortion laws.  Now, the abortion for any pregnancy of less than 12 weeks is free in Ireland.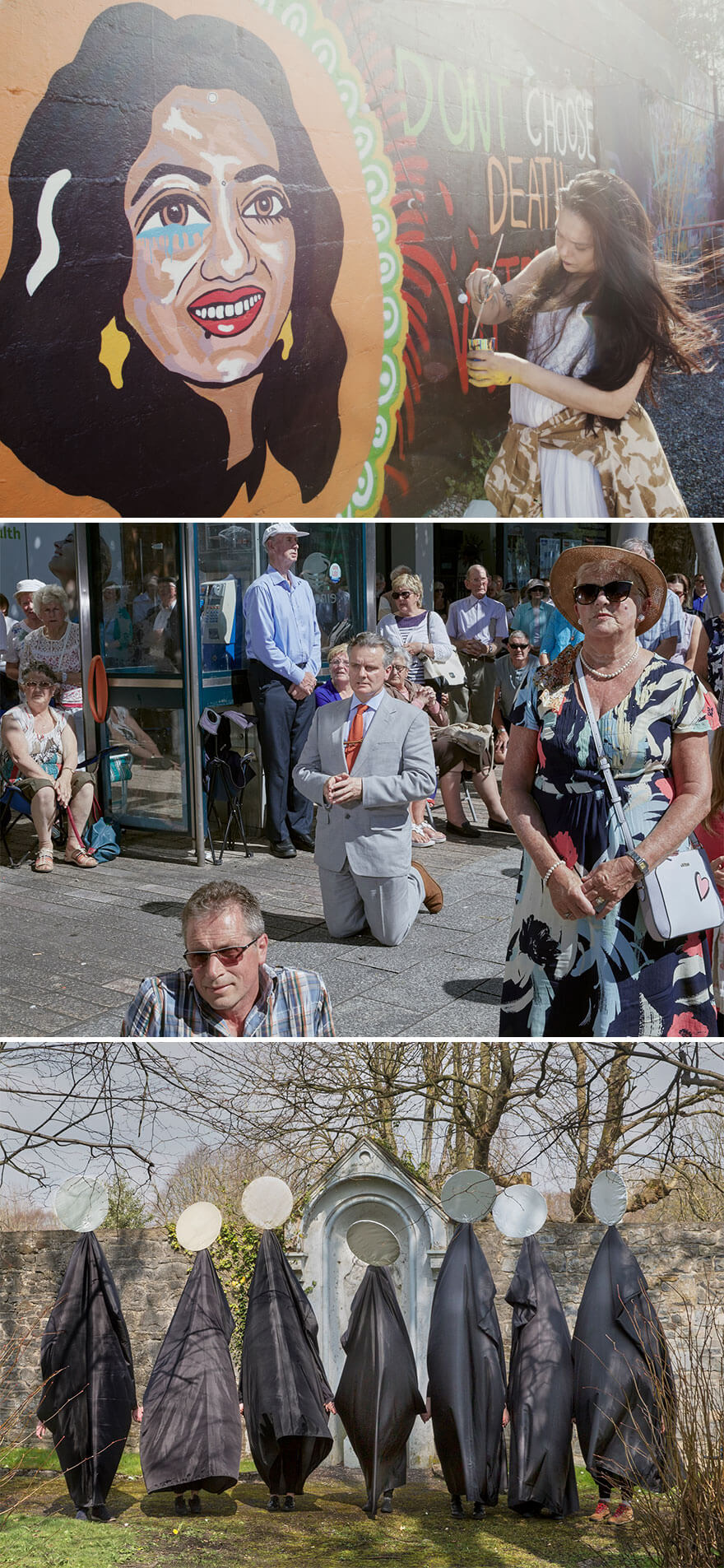 11. "Crying Girl On The Border" By John Moore
This is Sandra Sanchez and her daughter during a month-worth of traveling through the Central America and Mexico to reach the US for asylum. Under the current Trump Administration, there is zero tolerance  for immigrants and they are stopped at the border, usually kids are separated from parents and sent to different detention facilities. This picture was published online and the US Customs and Border Protection felt the need to confirm, afterwards, that Yanela, the little girl crying here and her mother were not separated by the officials. However, the public outcry convinced Trump to reverse the policy.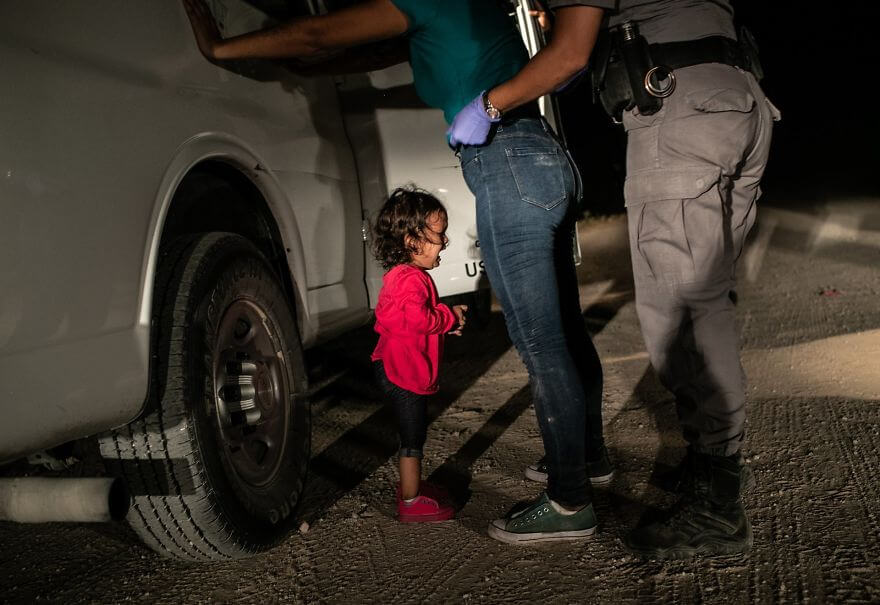 12. "Never Saw Him Cry" By Michael Hanke
The Czech Republic Para Ice Hockey team captain, Zdenĕk Šafránek has participated in 3 Paralympic Games. He has been in a wheelchair since 2003, when he was working at an auto repair shop. He's a very tough person, both mentally and physically. Apart from the Hockey Team, he is also a mountain biking and handcycler and the Czech Republic's champion paraboxer.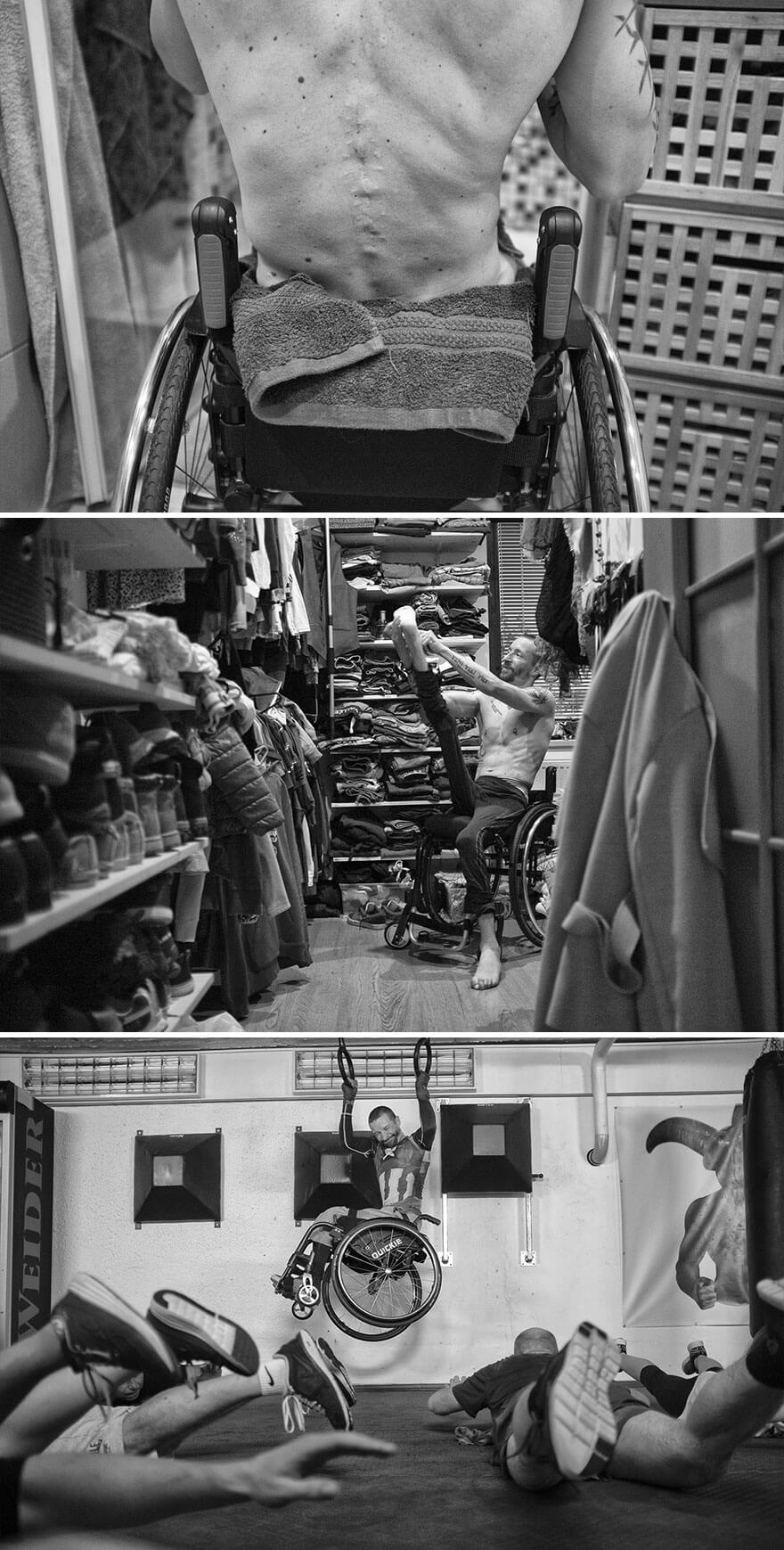 13.
"When I Was Ill" By Alyona Kochetkova
3rd Prize in Portraits, Singles. It depicts the author herself during treatment for cancer, struggling to eat after surgery and chemotherapy.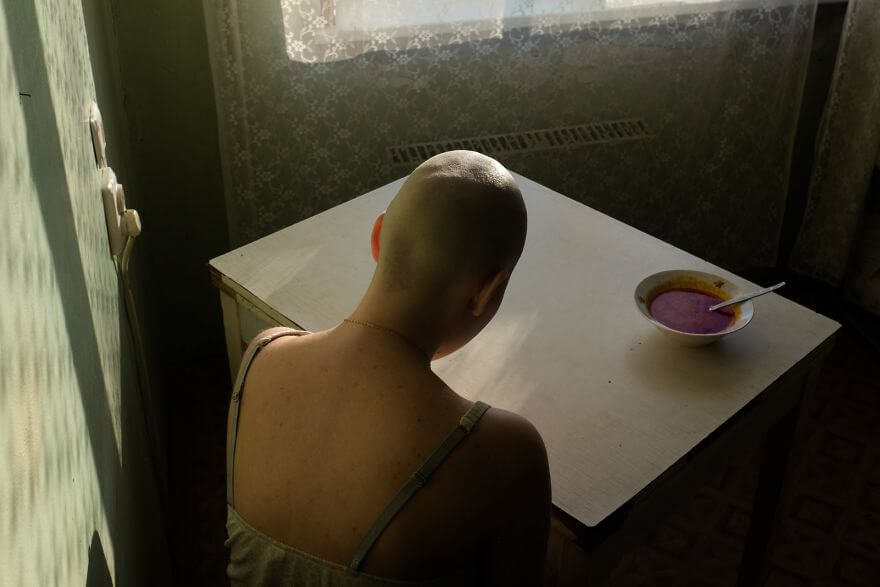 14.
"God's Honey" By Nadia Shira Cohen
This is Yucatan, Mexico and these are its beekeepers.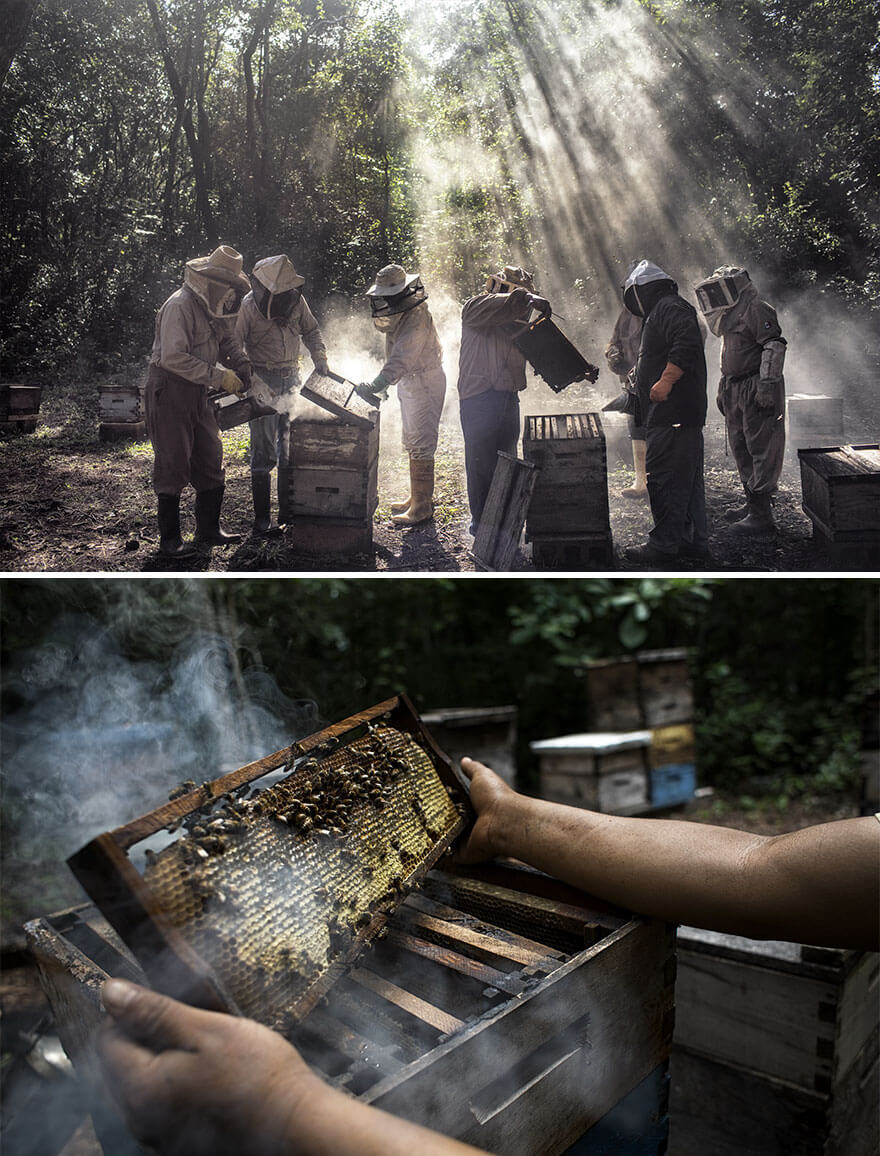 15.
"Evacuated" By Wally Skalij
Environment, Singles, 2nd Prize, but it could as well be 1st Prize. The absolute desolation of this picture speaks for itself. These are two alone, evacuated horses tied to a pole in the middle of California wildfires.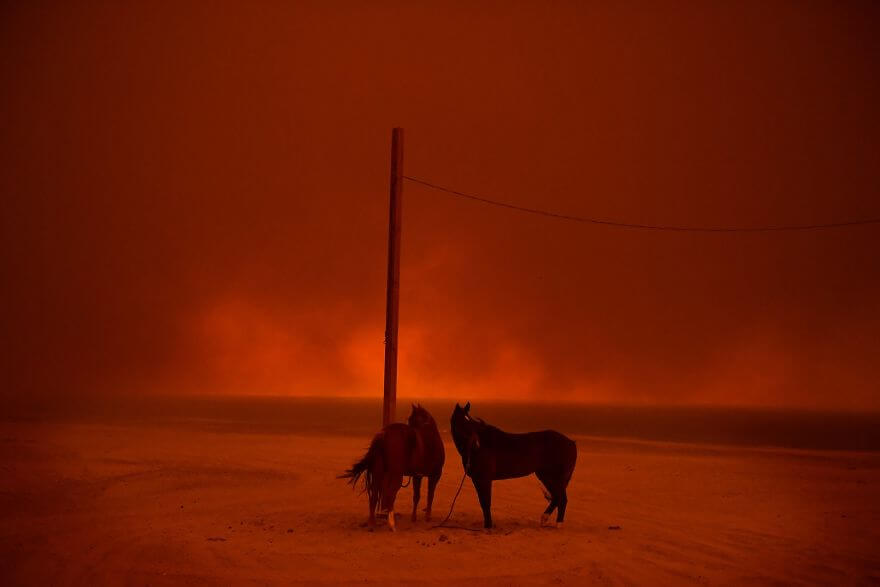 16.
Ambulance Bomb" By Andrew Quilty
Afghanistan, 27th January. An ambulance exploded and killed 103 people and injured 235 more.  The ambulance had passed unnoticed through 2 security points before being detonated.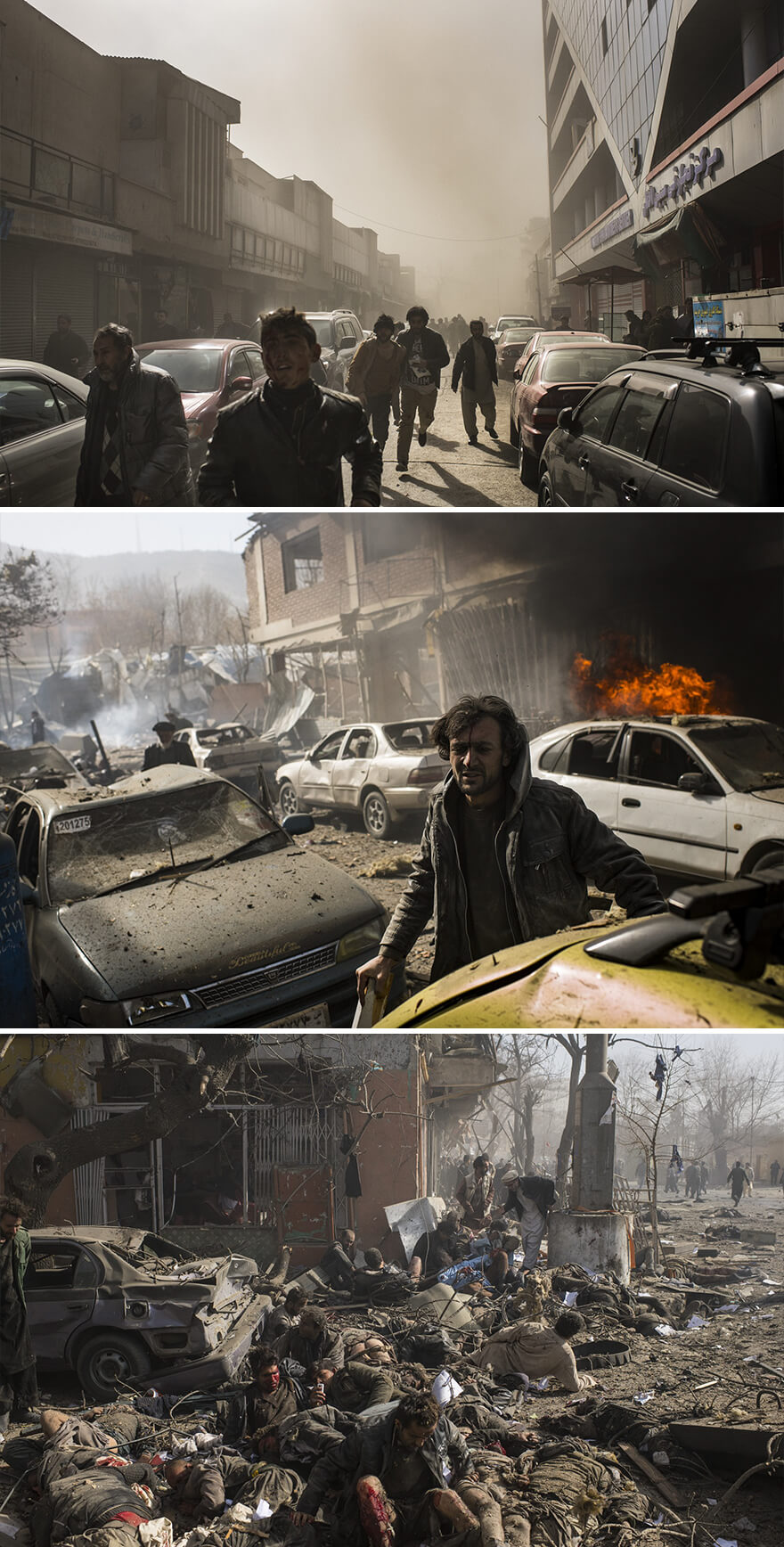 17.  "Harvesting Frogs' Legs" By Bence Máté
This is Nature, Singles 1st Prize. As you can see, these are frogs with severed legs. The picture was taken in Romania, in April. The frogs have no legs because their feet are frequently harvested for food. They simply cut the poor animals' legs and then just throw them back into the water.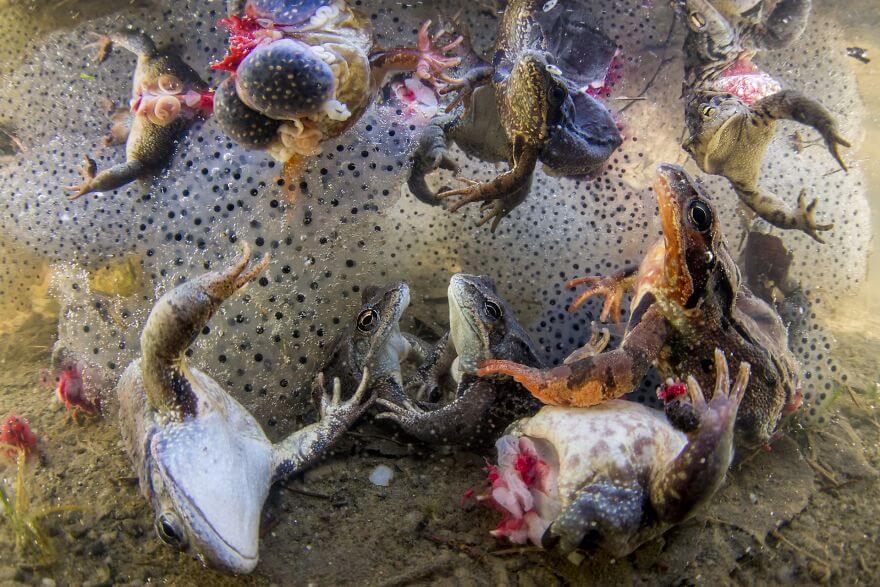 18. "Glass Butterfly" By Angel Fitor
This is Nature, Singles 3rd Prize and you might have a hard time reading this picture. What you're seeing here is a winged comb jelly. There is very little information on this species and their biology and this very photograph is mind-blowing.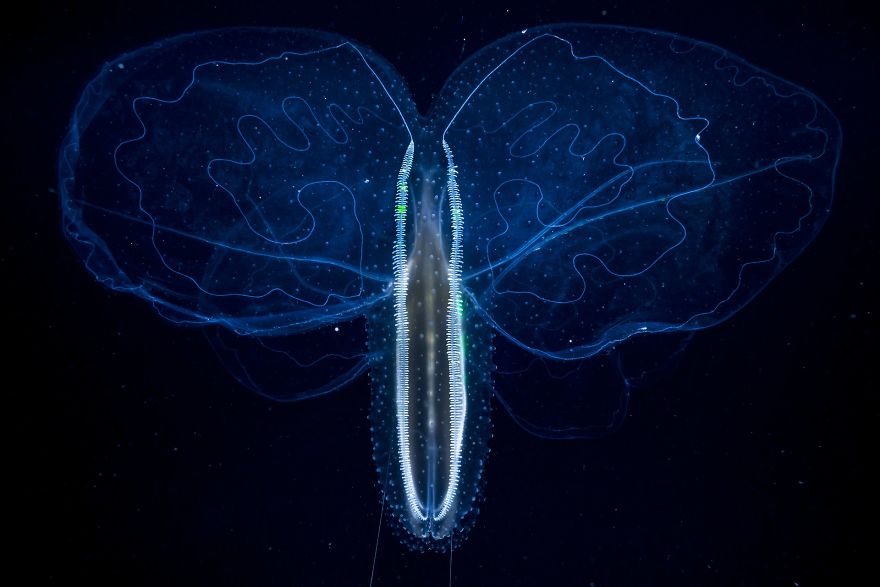 19. "Land Of Ibeji" By Bénédicte Kurzen And Sanne De Wilde
This is Portraits, Singles 1st Prize and these two are twins. It might not be anything surprising at first, but you should know that Nigeria has the highest population of twins in the world. Moreover, the southwestern town of Igbo-Ora, also known as "The Nation's Home of Twins" hosted a festival called Twin Festival which was attended by over 2,000 pairs of twins.

20. "Still Life Volcano" By Daniele Volpe
San Miguel Los Lotes, Guatemala. This is an abandoned home full of ash after the eruption of Volcan de Fuego on June 30.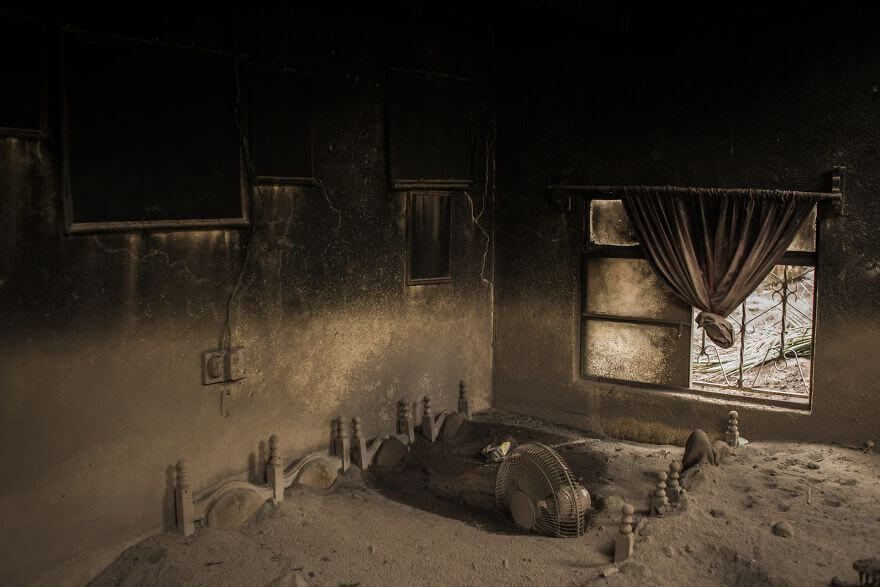 21. "The Cubanitas" By Diana Markosian
This photograph won 1st Prize in Contemporary Issues, Singles. It depicts Pura's "quinceañera" celebrations in Havana, Cuba. This is a Latino tradition which marks a girl transition into womanhood, preparing her for marriage. Pura's fifteenth celebration is more special in this case since she had been diagnosed with brain tumor at a young age and told she wouldn't live beyond the age of 13. It seems she did.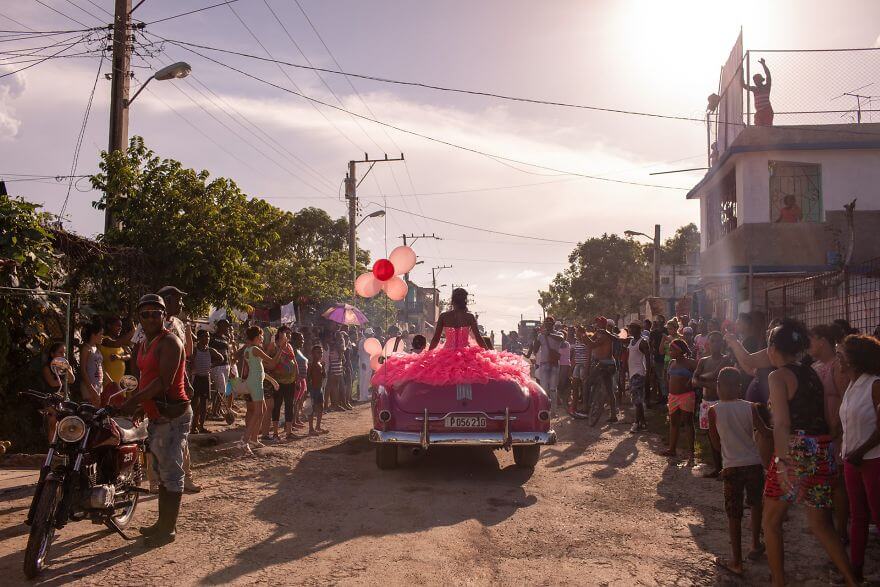 Via artFido