The "puts on sunglasses" or "takes off sunglasses" meme started circulating from one of the famous character in CSI Miami Lt. Horatio Caine.  Lt. Horatio is played by actor David Caruso. As the boss of the investigative team in the beach area in Manhattan, he often is expected to solve the crime or be ahead in the investigation over everyone else.
Every episode starts with Horatio being called for a crime scene and he usually stands on top of a body and speaks a short but puny dialog about how he thinks the person died or been murdered. The scene always ends with Horatio putting on his sunglasses before saying the punch line and with the song "Won't Get Fooled Again" by the Who in cue of the lyrics "Yeahhhhh!").
The meme internet universe goes crazy when he puts on his sunglasses. That gesture signifies that the episode show is about to begin. So like all good things, when the internet got a hold of this priceless moment, it became a popular meme.
Here are the 10 meme-worthy "puts on sunglasses" we collected over the meme internet universe.
Puts on sunglasses #1 Let's start with Lt. Horatio "the boss", himself.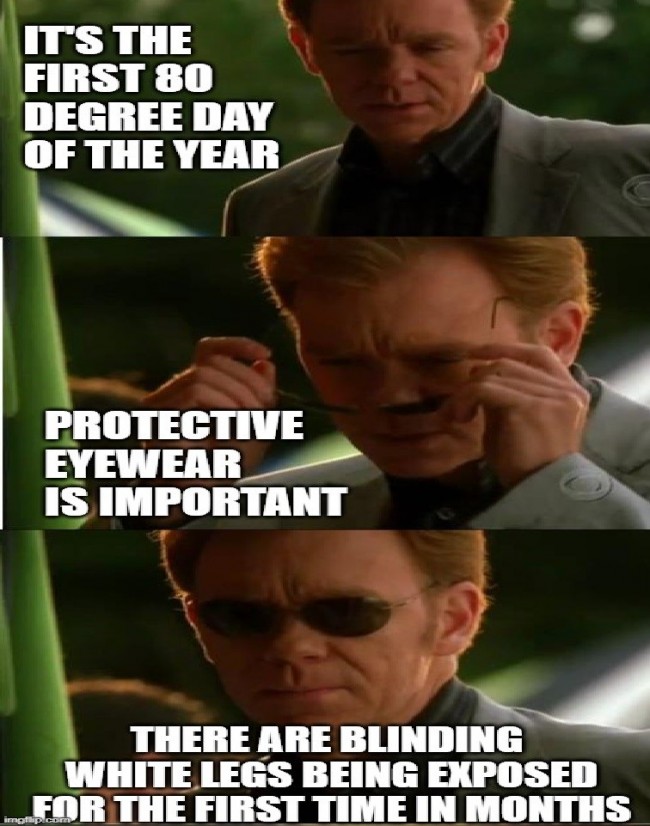 Photo from https://imgflip.com/i/2z26b9
This is how you put on your glasses the CSI way! Miami, is where the sun is always up and shining! You definitely need some protection. And oh, a dependable sunglasses is also needed to protect your eyes from looking at those girls in skimpy bathing suits on the outskirt of Miami Beach.
#2 What if he misplaced his sunglasses?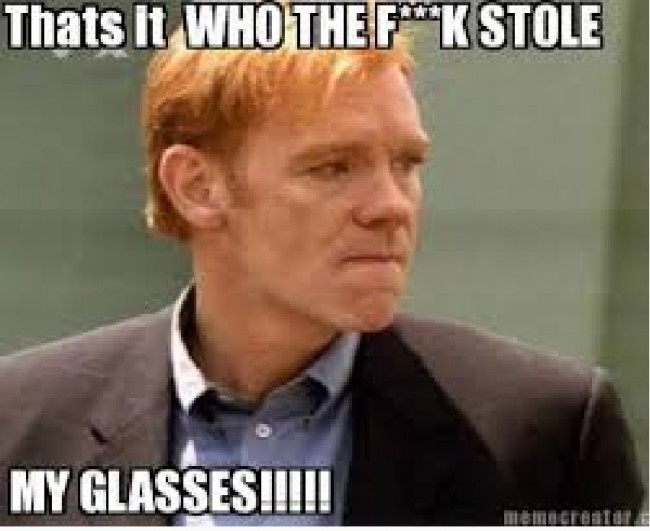 Photo from Facebook account CSI: Miami Memes
How do you think the CSI Miami boss will react if he cannot find his signature sunglasses? How could the show end? Probably, no cue for the "Yeahhhh!"
#3 What if Lt. Horatio dropped a joke? Would it be funny?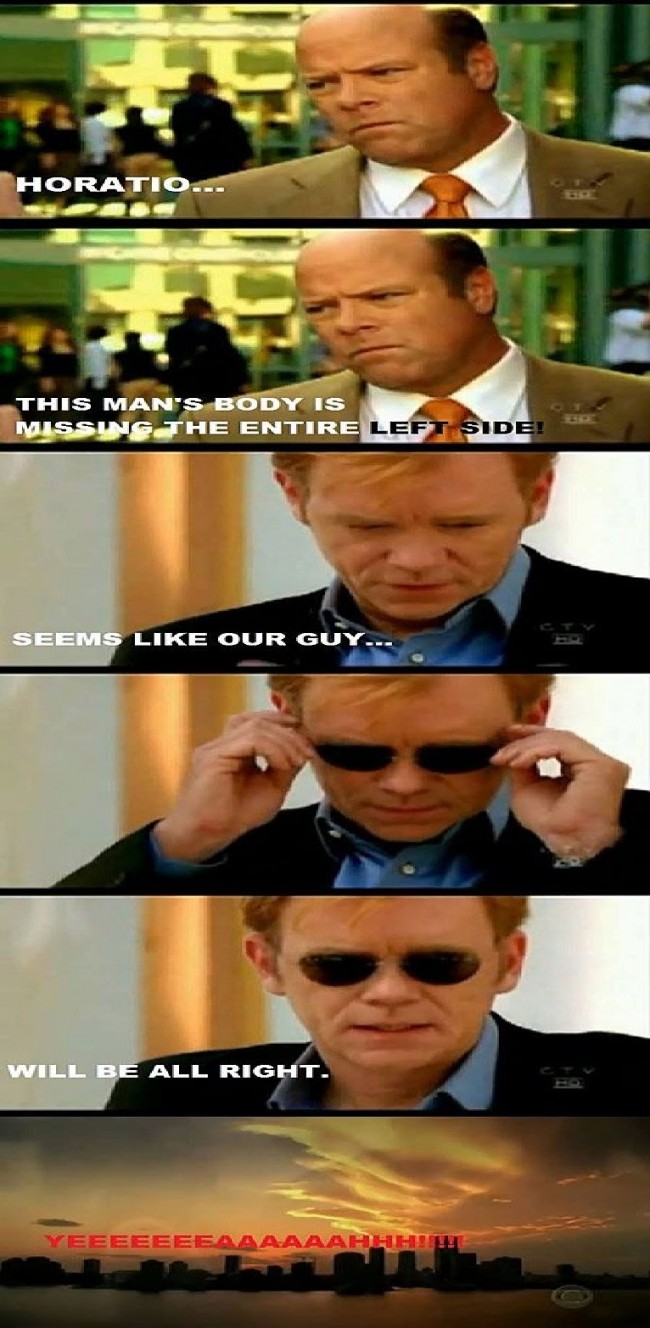 Photo from https://www.pinterest.ph/daisymay95/lines-with-horatio/
The meme template above are ripped from one of the CSI Miami scenes, his co-investigator probably stating an observation expecting Lt. Horatio to give his conclusion based on the crime scene. However, he answered in a pun.
Will you laugh at the joke?
#4 Anyone up to a Putin meme entry?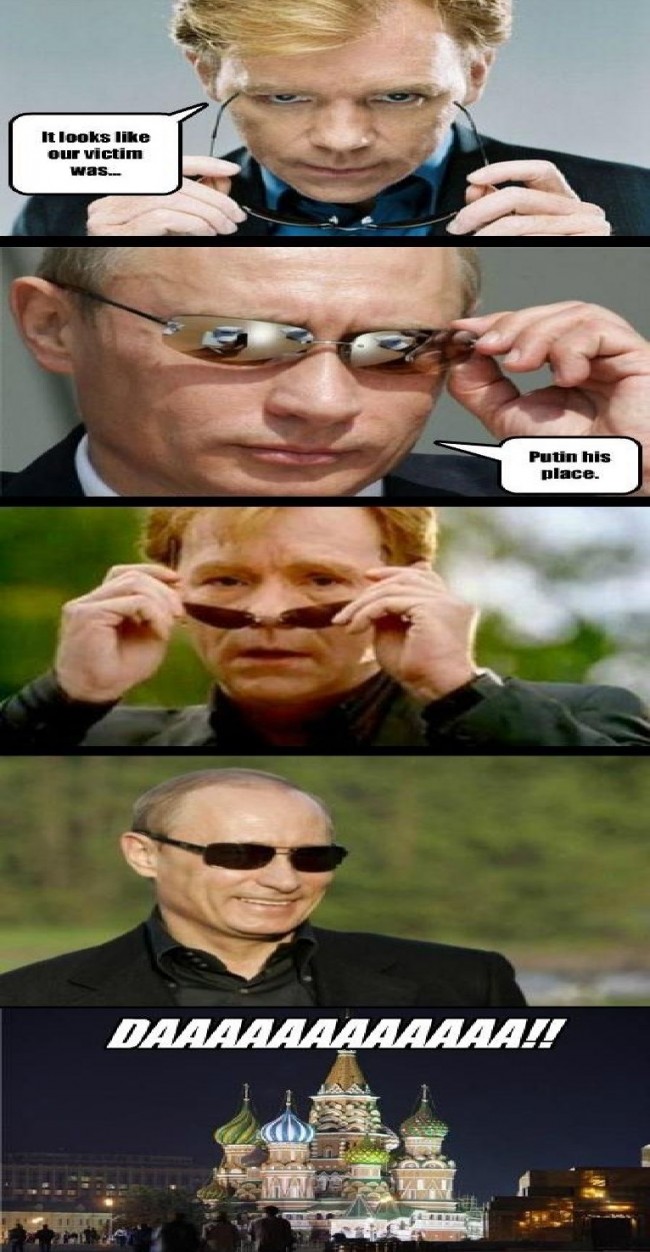 Photo from http://memerial.net/tag/david-caruso/date
Russian President Vladimir Putin is one of the favorite meme platform for all types of meme. Well, I bet it would be hilarious too if we check out who puts on sunglasses better: Is it our man CSI boss Lt. Horatio or Russian leader Putin?
#5 What if he forgot about his sunglasses?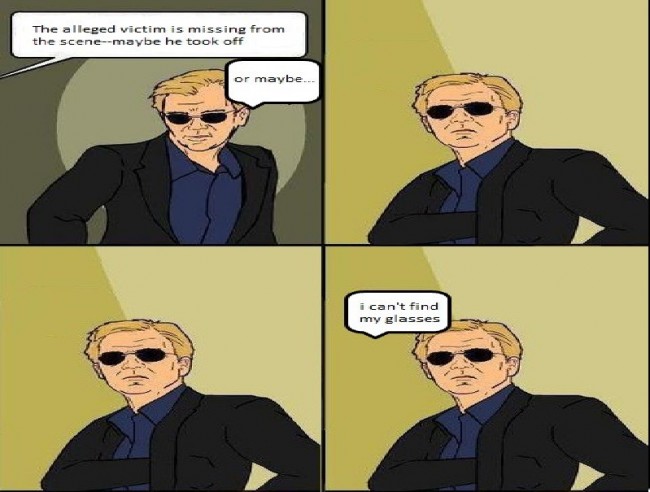 Photo from https://smitalonline.blogspot.com/
Imagine Lt. Horatio is pre-occupied with an investigation. He can't think well without his reliable sunglasses. But then, he did not realize he was wearing it already? We are sure you are rolling while laughing with this idea, right?
#6 Puts on sunglasses… while ordering your fries.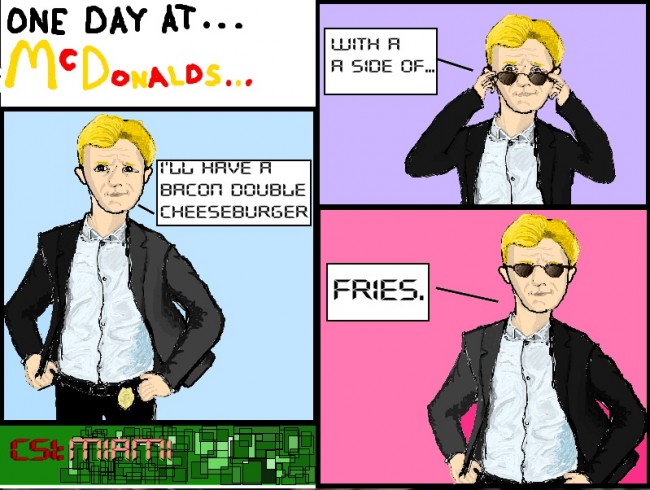 Photo from Deviant Art account user Joo-JooEyeball  
Makes you laugh when you imagine Lt. Horatio ordering fries in a McDonalds burger joint. He has to inform the crew about his order with his signature sideways stare while he puts on his sunglasses. Then, slowly looks up, to whisper his next order.
#7 I don't do fashion. I am the fashion.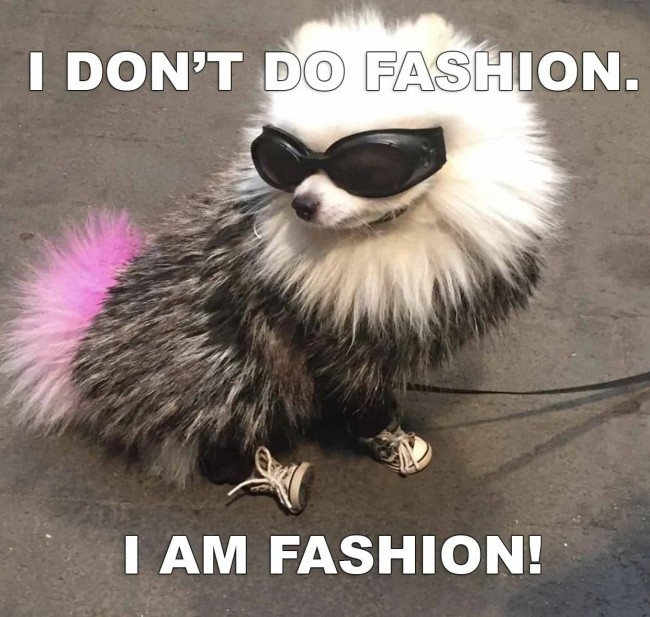 Photo from https://www.fashionwindows.com
Who does not like miniature dogs? Adorable, right. Well, the glasses hyped the look more. Don't you think? Do you think this dog can keep up with Lt. Horatio's sunglasses? Or did this miniature dog raised the bars for being the boss? The Who song cue please… "Yeahhh!"
#8 Jojo reference meme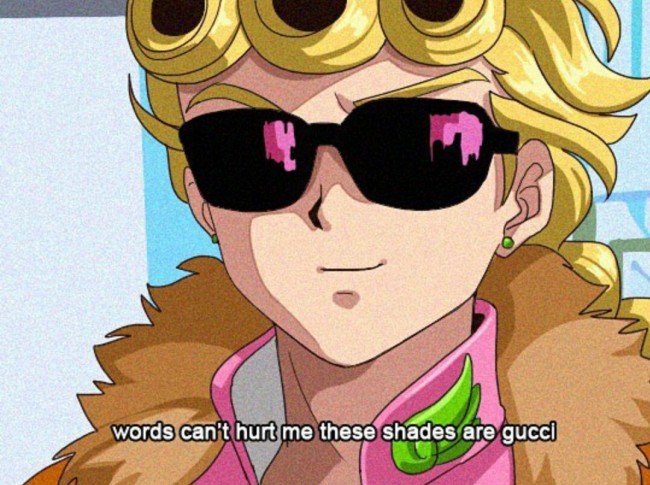 Meme from https://me.me/i/words-cant-hurt-me-these-shades-are-gucci-how-i-10298138
Jojo Bizarre Adventure anime is quite popular for almost all meme. With the luxurious and lavish outfit worn by the anime characters, the over the top dialogue will surely make you laugh out loud. What do you think is the brand of Lt. Horacio's shades?
#9 Leonardo just don't give a cent.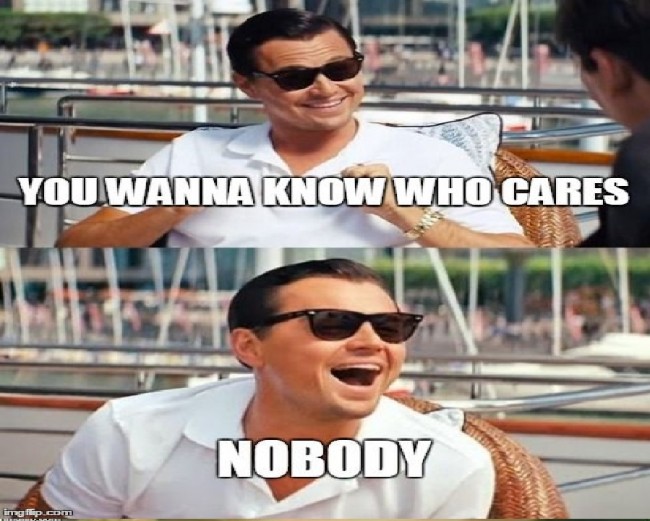 Copied from Pinterest by Sashay Chantez
The meme is a crop from the movie Wolf Of Wall Street where Leonardo Dicaprio was nominated for Best Actor in Oscars. His role there is a fierce and a heartless but successful stockbroker who spent his time carefree on drugs, money, sex, and other vices. The movie almost won him Oscars. Do you think he was able to match Lt. Horatio's signature "puts on sunglasses"?
#10 Let us end the list back to the originator of the "puts on sunglasses" – Lt. Horatio!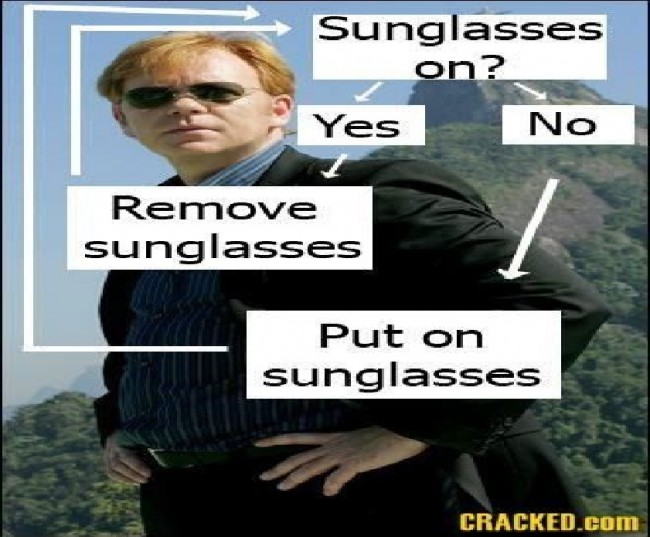 Photo from Pinterest account user Marisa Bouchard
For those who do not get the "puts on sunglasses" Lt. Horatio style, meme creators also prepared an instructional meme so that you can ride the tide.
And the verdict?
We know there are more Horatio and other "puts on sunglasses" meme worth to mention. Tell us on the comment section below if you think the meme you saw over the internet deserved to be mentioned above.