Everybody, meet Kruzah, the Mozart! Yes, he is the Mozart of horses. His favourite instrument? The rubber chicken. He can play that toy like no one ever. If you don't believe us, you can watch him perform in person below.
Kruzah is from Australia and someone thought of giving him a rubber chicken and we, the internet, shall thank him for that. The horse is enjoying every minute spent in the company of his toy, pardon, musical instrument and we are dealing with some major cuteness overload.
Watching him, we shall learn to appreciate the little, simple everyday things that can make us happy if we learn to treasure them more.
Kruzah is one lucky guy who had a rough start in life, but eventually learned how to make it. He was born a "dummy foal", says his owner, Debbie Barber. "Dummy Foal" is a rare condition that make horses be born starved of oxygen. When he was just a little baby, our little Mozart Kruzah had an ugly swelling around his brain that demanded a total blood transfusion. But he is a happy and lucky guy and today he is the perfect definition of "healthy".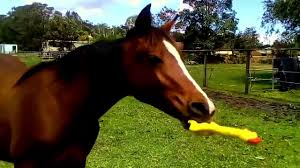 Healthy in every aspect of life, so healthy and happy that he will make us all smile seeing him play his rubber chicken.
Kruzah, you are such a wonder! Keep up the good work, buddy and maybe you will write a symphony one day, a symphony of joy and excitement and a celebration of life!
Now, we dare you, play the video below and try not to smile, let alone laugh. Just try, we dare you!
H/T: elitedaily