Sine Benjaphorn is a very courageous and imaginative woman who likes to do things a little bit different than the rest of us. She's taken cosplaying to another level with her food-inspired outfits that are both hilarious and brave and speak of our world's weight and looks problem and judgement.
"I love to eat, so I thought that food should be part of my costumes. I have a lot of fun making every costume and me and my relatives eat them afterwards", she says.
She's a 22-year-old girl from Ratchaburi City in Thailand. If you didn't get it yet, she uses food to recreate famous gala costumes or movie/animated characters. From Rihanna, all the way to Kim Jong-Un, the super crazy girl finds ingenious ways of recreating costumes and puts her famous "counterparts" in hilarious situations.
It all started as a way to promote her own plus-size clothing shop, but she rapidly became famous online for her Rihanna or Darth Vader impersonations. She is supported by her mother and her aunt. There is an unspeakable amount of work in all that you are going to see below. For example, for a jackfruit costume she used over 30 Kg of fruit. For the future, she plans to recreate a Disney Princess. We are excited to see what will happen there. More info: Facebook
1. Some deliciously-looking prawn crackers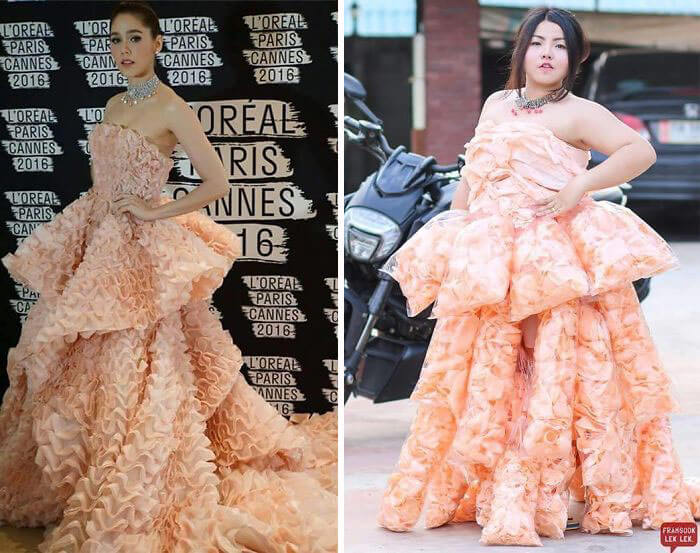 2. Ready to eat? Thought so!
3. Some Enoki Mushrooms for a fashionable night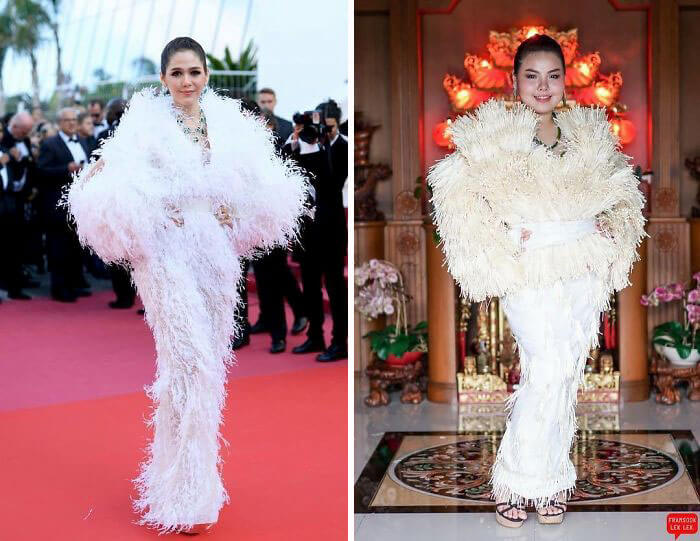 4. I always thought that jacket looked like bags of Lays chips, but here's the proof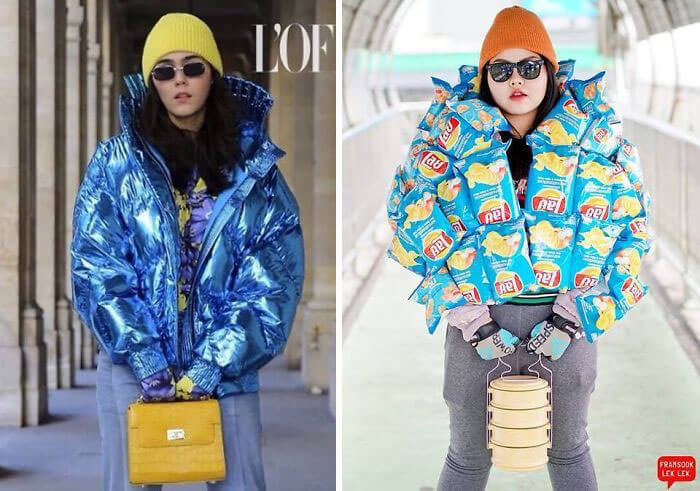 5. Pan and cabbages. What else could you wish for?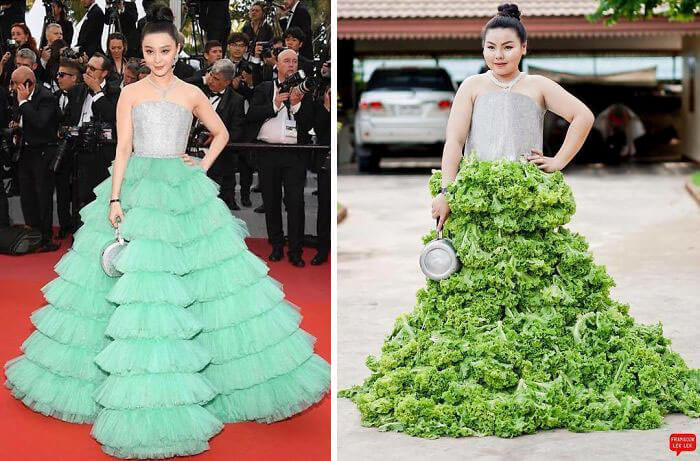 6. Rihanna or meat?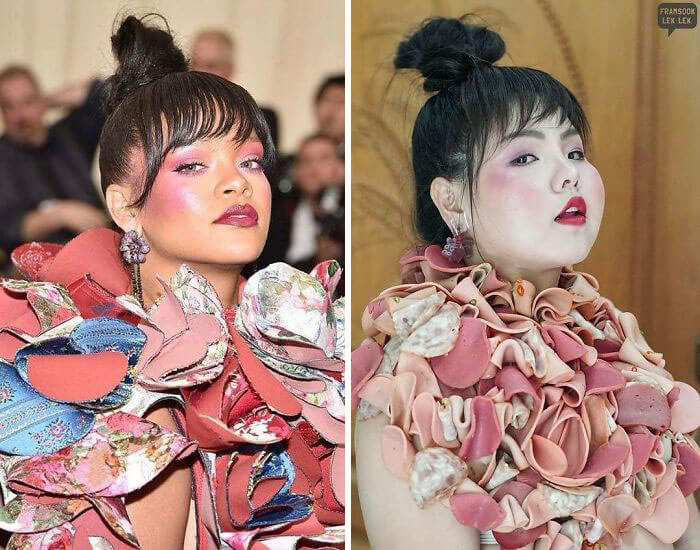 7. "Put a basket on her head", they said. "It will be fun", they said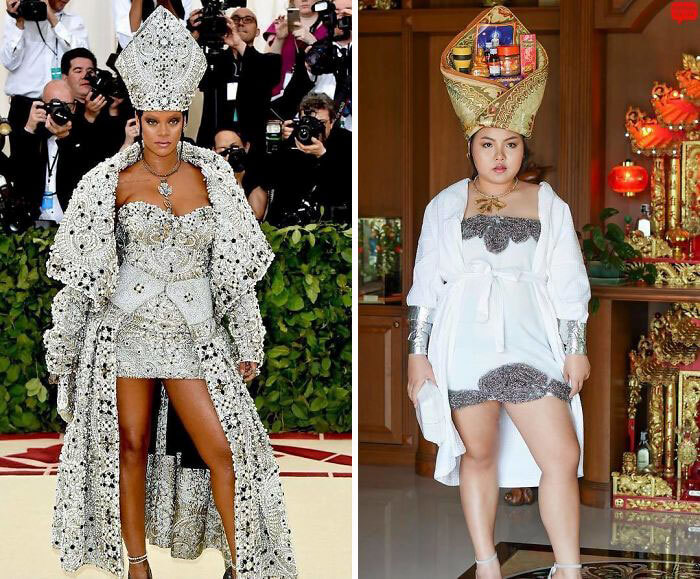 8. Nescafe gives you wings, right?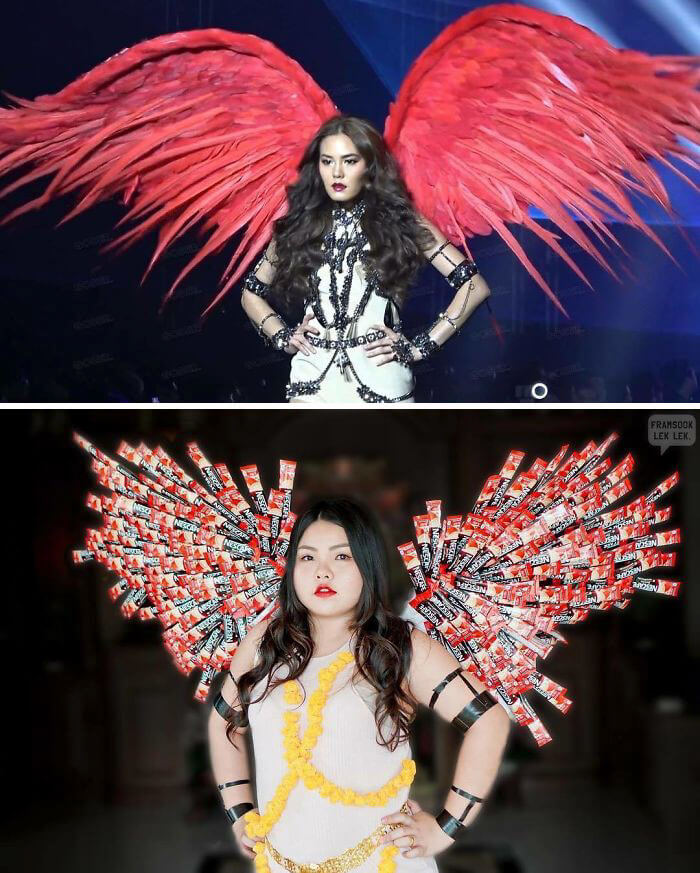 9. This is blasphemy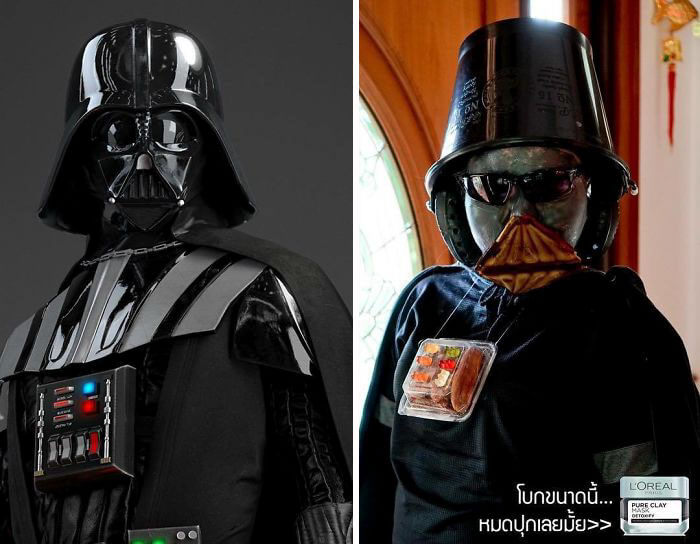 10. Steamed Chicken + Many Chicken Wings + Eggs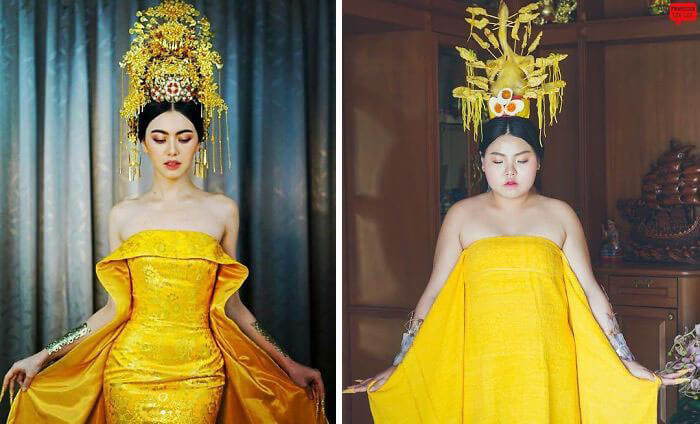 11. Waffles. Just that!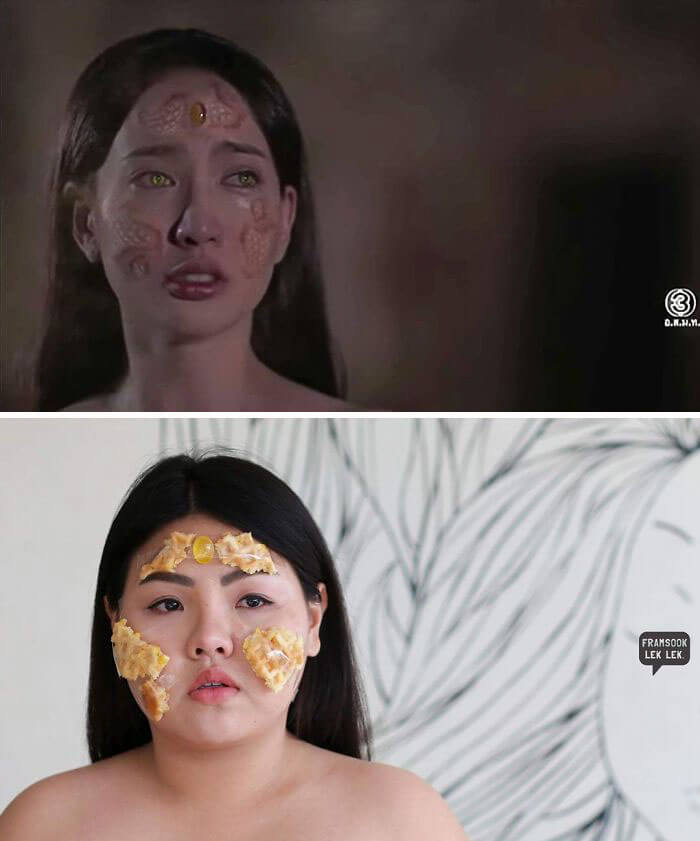 12. Going bananas!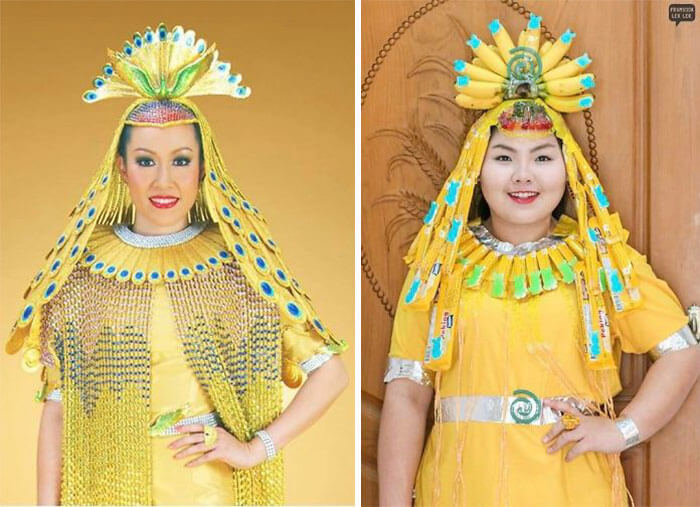 13. You could almost not see the Vermicelli, that's how fashionable they look on a white dress. Or not?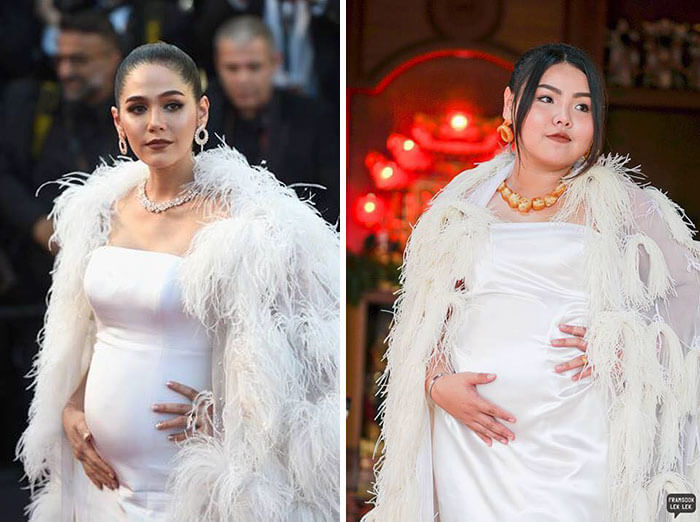 14. Starbucks has it all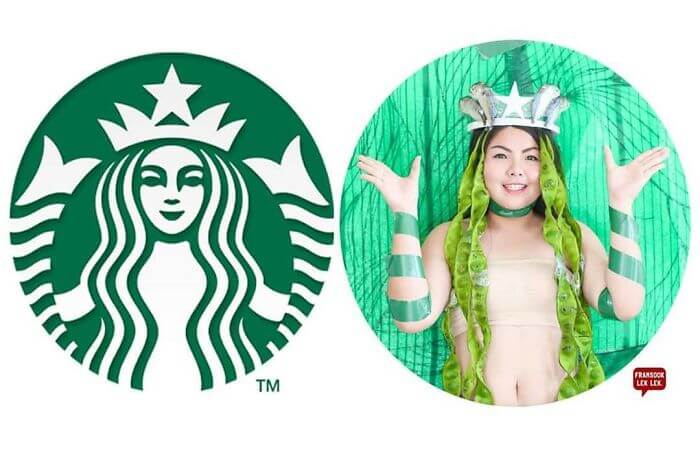 15.  One Pack Vs One Piece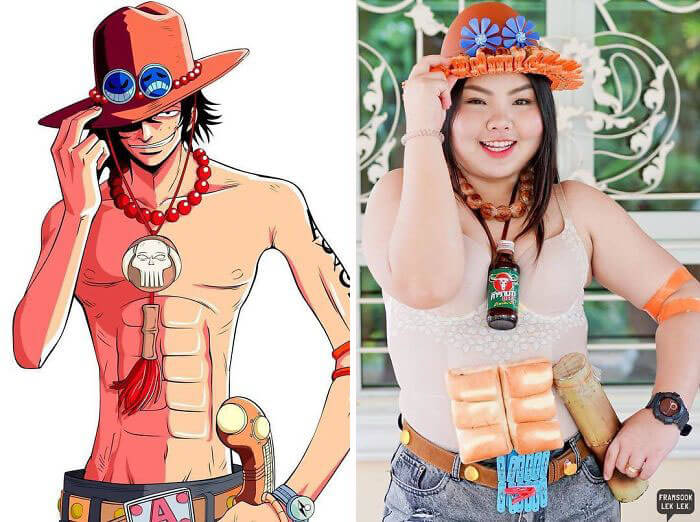 16. Which Ariel looks better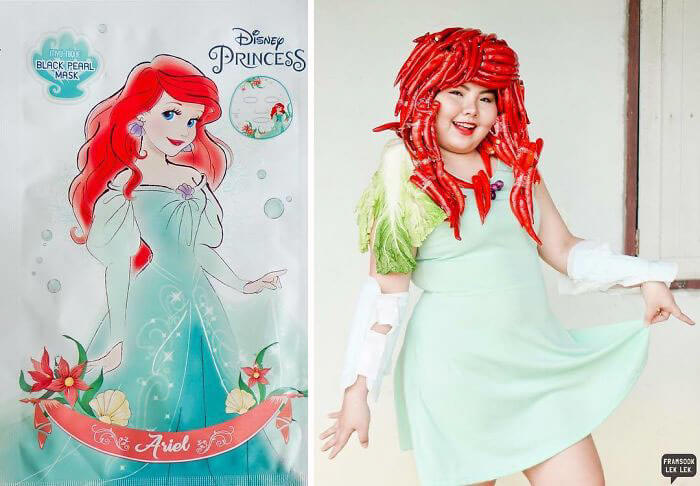 17. Some snacks for going to the movies, right?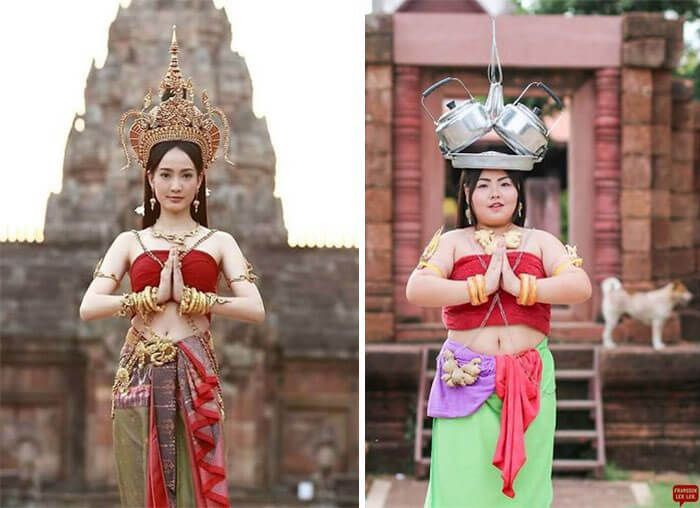 18. Ok, hold your breath: Prawn Headdress + Fried Fish Pin + Ferrero Rocher Bracelet + Big Fried Fish Decorative Belt. No, it's not a meal, it's an outfit!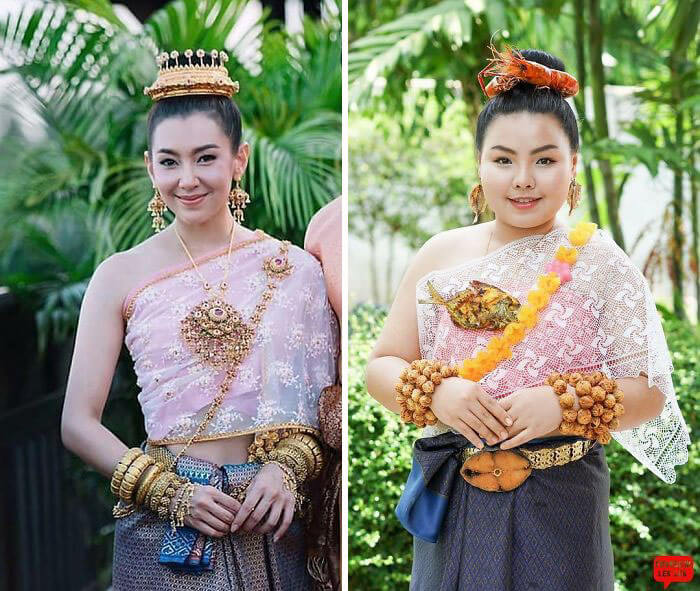 19. Flushing a little bit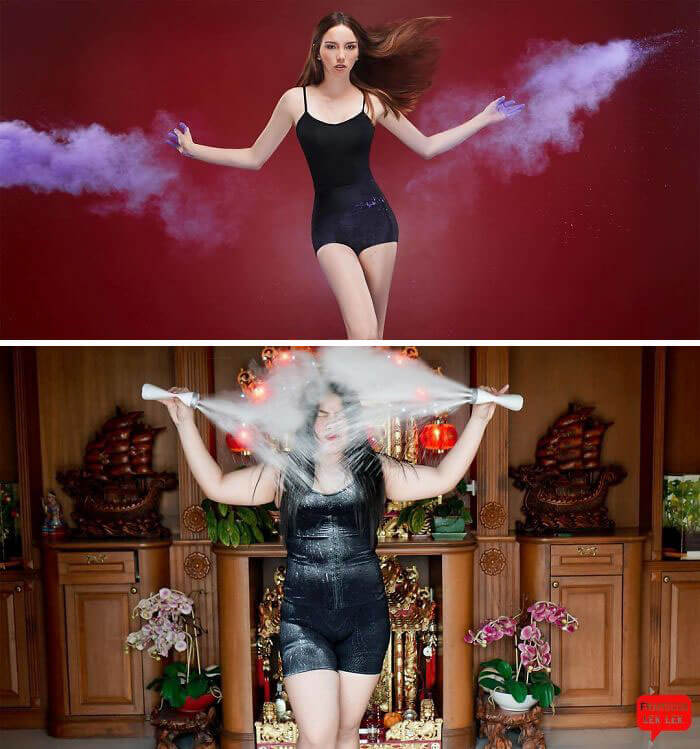 20. How about some Apple and Durian?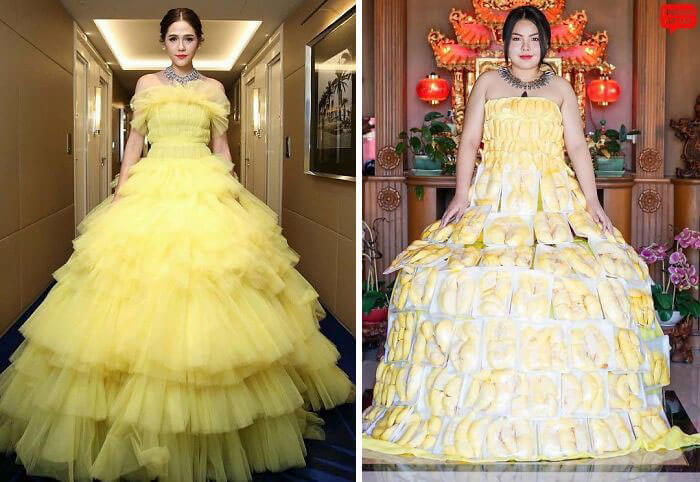 21. Bnk vs Kfc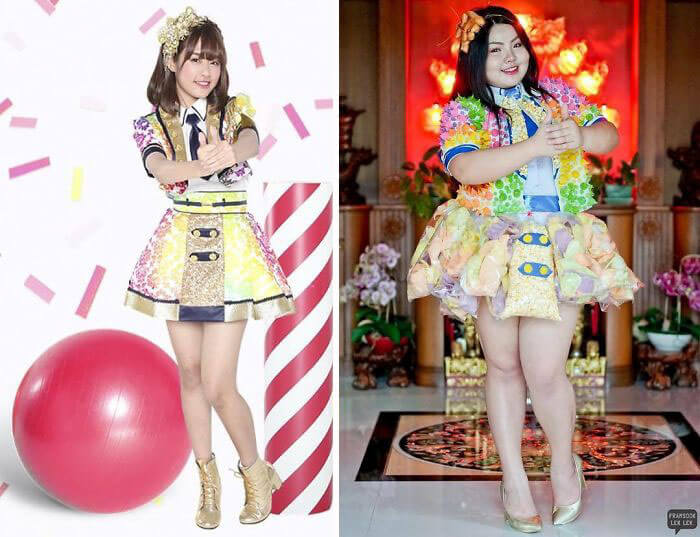 22. Just kick it!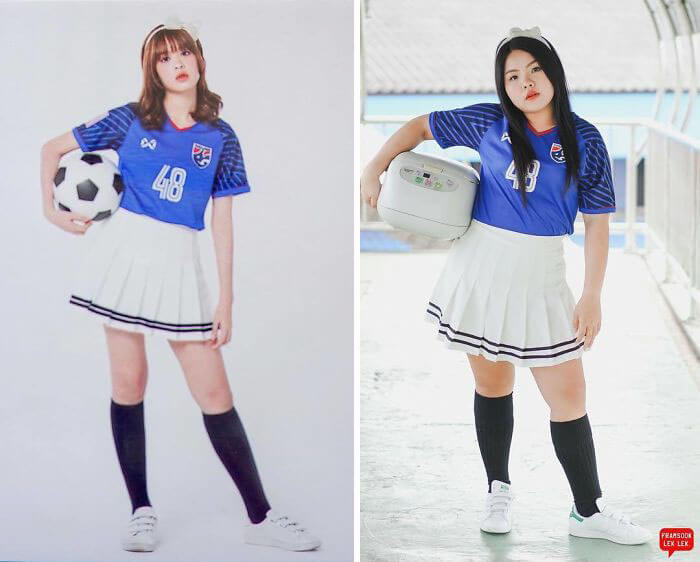 23. On the journey to proper eating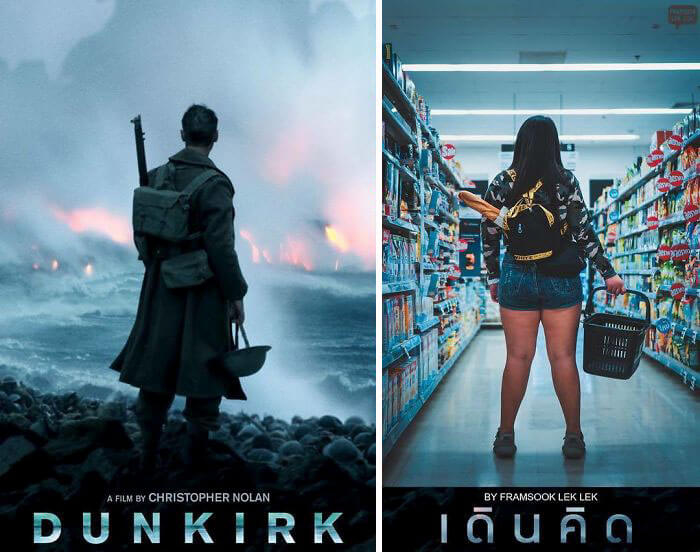 24. Hot and Pretty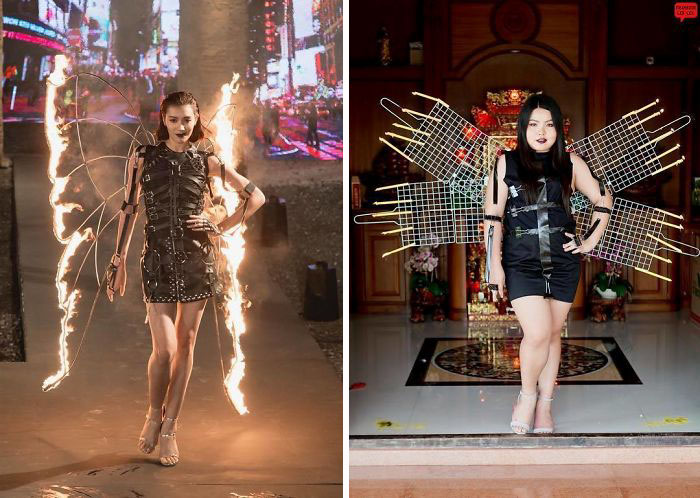 25. How about some food accessories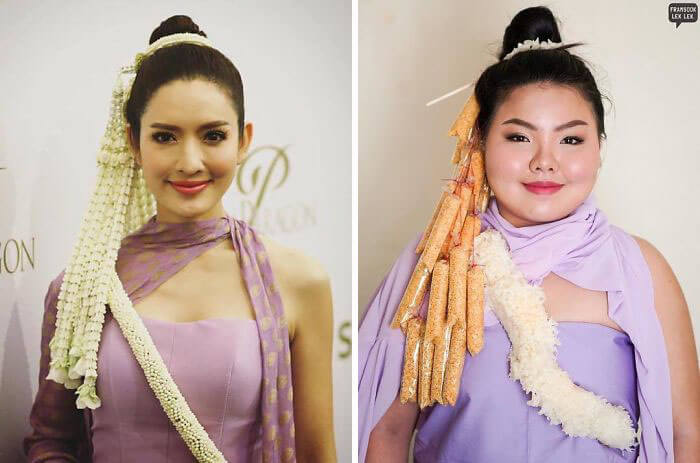 26. Vermicelli hit again!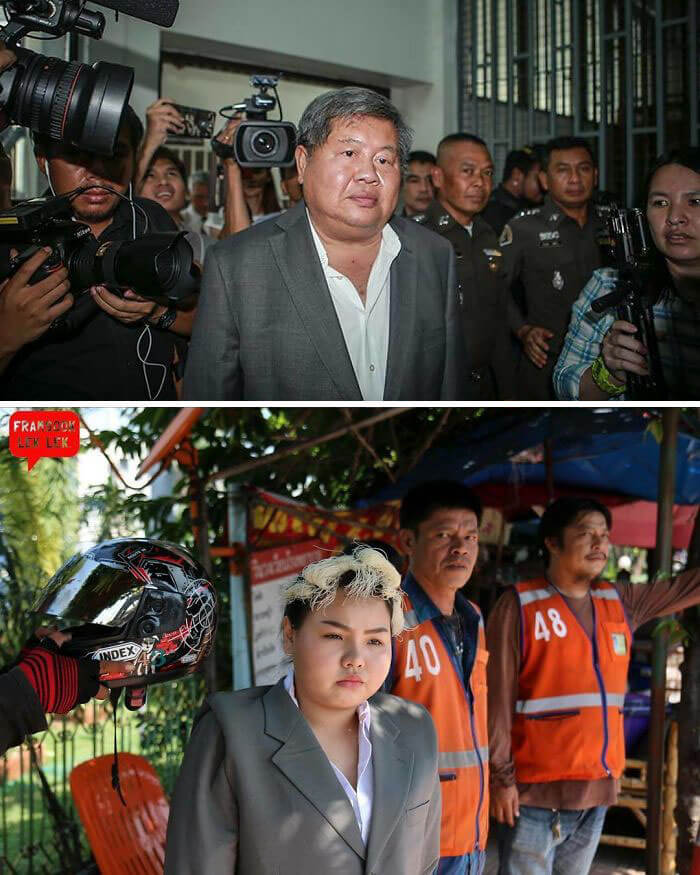 27. Green plants are what you need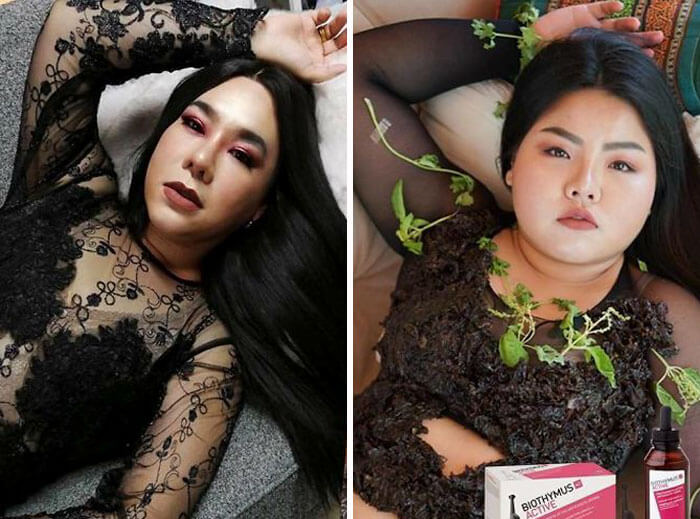 28. How about some food hair accessories?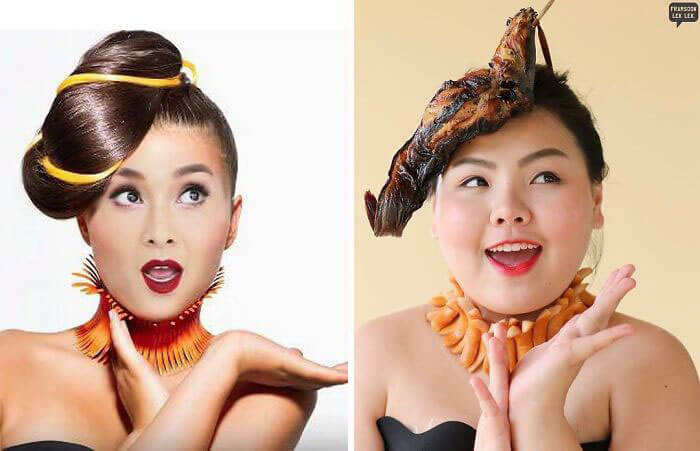 29. Sometimes, pizza can really hurt your feelings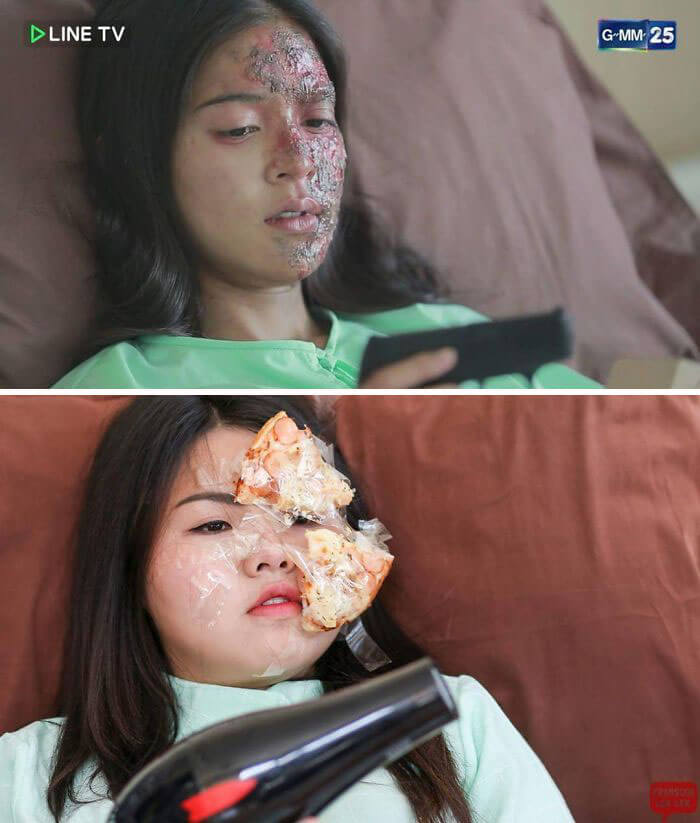 30. Durian again!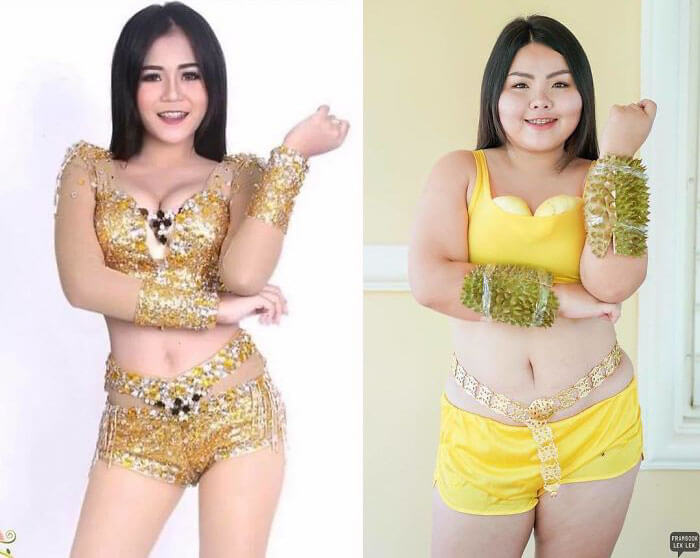 31. Disney princess mode on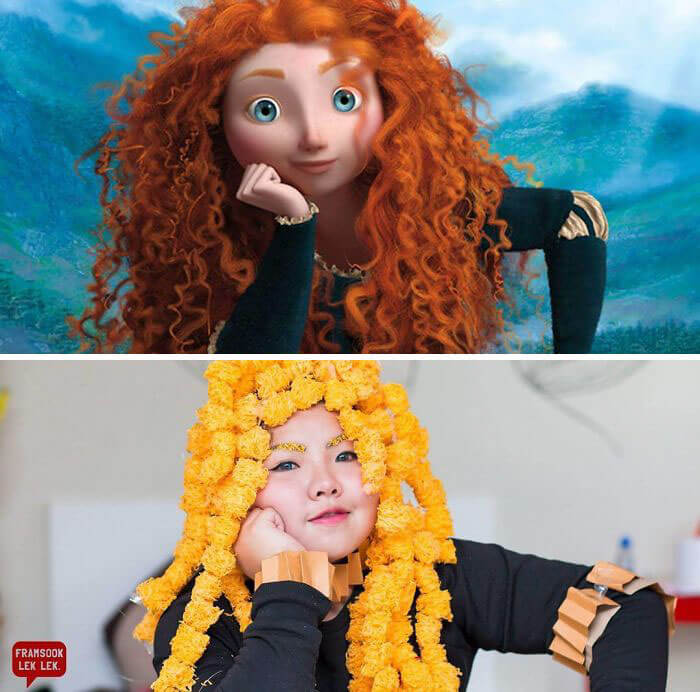 32. There's nothing else left to say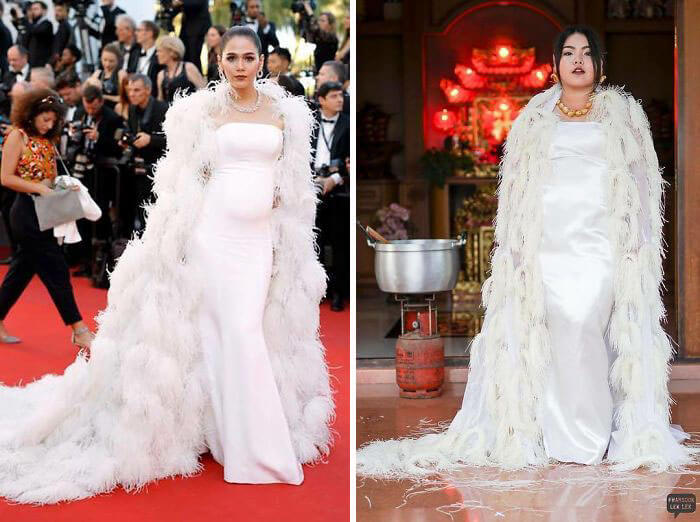 33. Miss Universe and her little unfortunate sister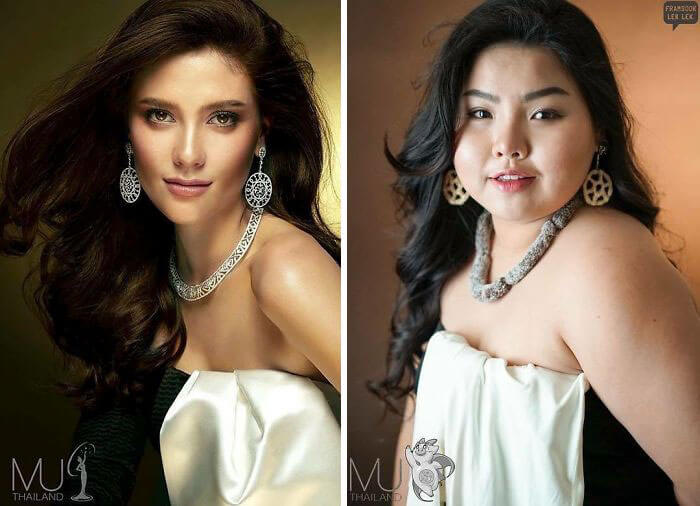 34. They look the same to me. Only, you've got to be careful which you eat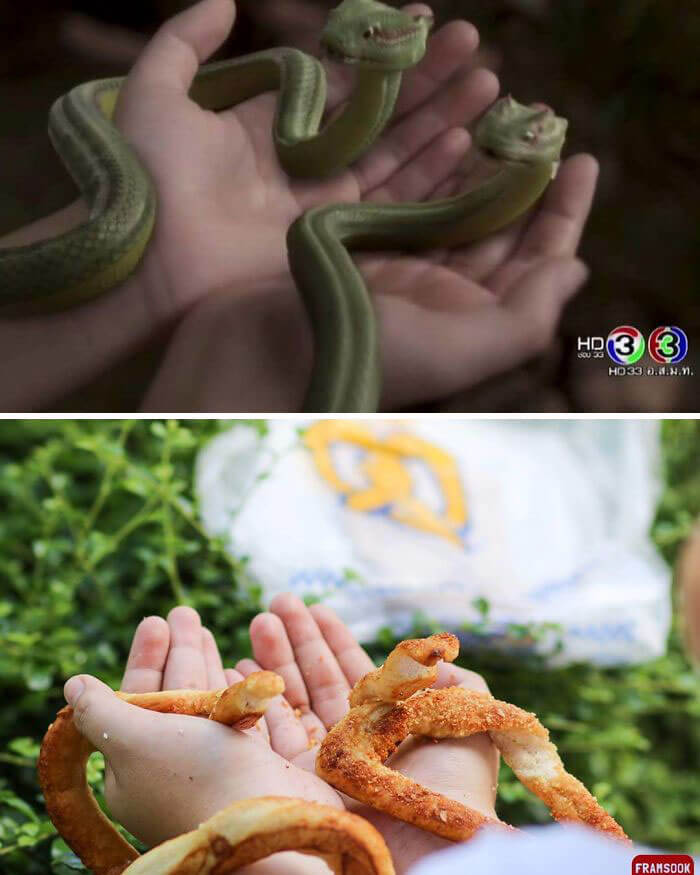 35. Will luck be on your side?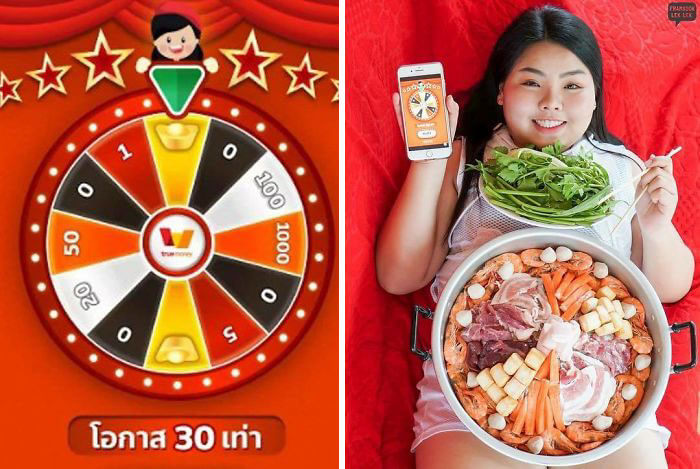 36. Sun shines bright on us!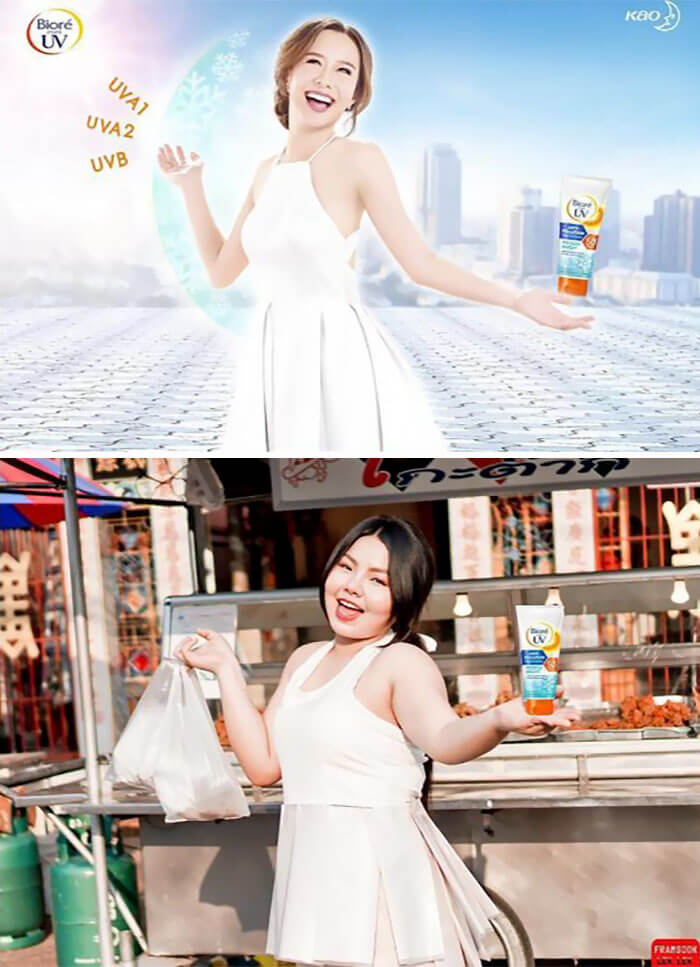 Image source: framsook_lek_lek
via: demilked