We cannot deny the fact that not just kids are joyful to see rainbow colors but adults also. Rainbow colors are happy and vibrant colors and they imply a delightful feeling with which they communicate such a positive emotion. Some people love it because they don't have to think and choose for colors  because all are included.
https://www.youtube.com/watch?v=-nFcEbzEpac
Well, rainbow colors can be seen anywhere so don't be surprised with this newest and latest trend in food where it is muticolored. With the debut of the Rainbow Grilled Cheese a few weeks back, Foodies were saddened by the news that it was only available in Hong Kong. But not so long when the Chomp Eatery introduced their own version of the delightfully colorful dish. They call it a Unicorn melt in an LA-based restaurant. This new melt revealed by Chomp is made up of White American and Provolone cheese, which they named as "Unicorn Milk" The cheese undergoes a very whimsical transformation and the entire process is not so tedious. The by-product is served on a toasted sourdough bread.
For only $6 you can treat yourself with this multicolored Unicorn Melt at Chomp Eatery in Santa Monica. Hurry up and have a wonderful taste of this delectable food.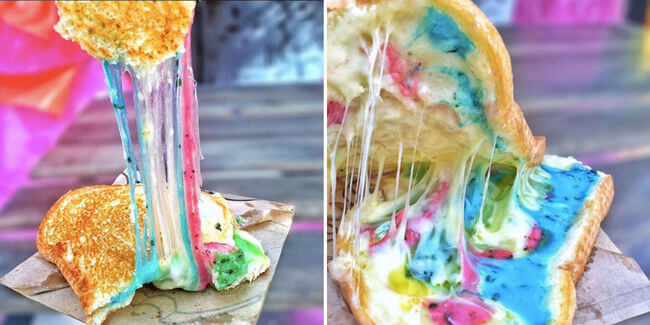 Source: Foodbeast