Mr Cool Ice makes you think about a lot of different situations or people but never about what actually it stands for. The expression Mr. Cool Ice is the alias of Tommy Steinberger, known for his huge number of tattoos of skulls and words. 
How did Mr Cool Ice start
The exact origin of MR. Cool Ice photos are unknown. There is just an unspecified number of posts of the picture linked to a now-deleted interview with Steinberger on Starblind, a German site.
Despite not having a specific date, the most recent post that we know of the photographs of Steinberger shirtless was posted on the 28th of August 2005, on the website BME.
Spread 
In time the image of the German man was shared on many platforms including Democratic Underground, pocketfives, Something Awful, and many more. 
One user on pocketfive called v-dog decided to share Mr. Cool Ice' s story on May 17th 2007. They wrote: 
"His hometown is Mainz, he is 33 years old and has gone by Mr. Cool Ice for the last 13 years. He basically states that's just who he is period."
"They do a tour of his apartment and we discover that he is a clean freak. Everything has to be spotless and in the right place."
"The 2 girls on the talk show are basically making an ass out of him and a direct translation from the girl sitting closest to him is 'You look like Shit'."
"He has spent over 4,000 euro's to get his tattoos which is about 6, 000 USD."
On September 14th, 2008, YouTuber iancities posted a video of Mr. Cool Ice photographs together with some Jonas Brothers music. The post got fourty thousand views in ten years. 
A couple of years later, on the 24th of September, 2010, Mr. Cool Ice gave an interview to Sensor Magazine about his daily lifestyle and routine. The article featured many photographs of Mr. Cool Ice. 
On July 28th, 2011, a YouTube user, JeremyUte shared a video of Mr. Cool Ice on a german day-time talk show called Die Oliver Geissen Show. The video received over 63,000 views in seven years. 
On June 6th, 2018 Somf_machine , a Reddit user, posted an English translation of the interview: 
"Mr. Ice: I made up the name myself, so it's mine, patent-registered on me, mmmh, so I basically started here – by myself, Frank wasn't there – to design the skull. (cut) The logo originated from the fact that I wanted to have a skull… you know, on the jackets, too, back then when the tattoos weren't… uuh, uhhhm somehow, not to be realized in the near future and stuff… and I really wanted the skull. So, but they only had 'Heavy Metal' skulls everywhere but they're aggressive to me. That's a direction I didn't wanna follow. So that's why.. we did it at the t-shirt shop, took it from a skeleton, changed the glasses… that means removed the eyes, put in glasses, added veins, brought out the teeth – really brought them out for the smile, so it would fit the name… he shouldn't be aggressive, maybe a bit (? I don't understand that word, at all) but also the peace maker type."
Here's a few pictures of Mr Cool Ice, enjoy!
1. Mr Cool Ice is SO COOL!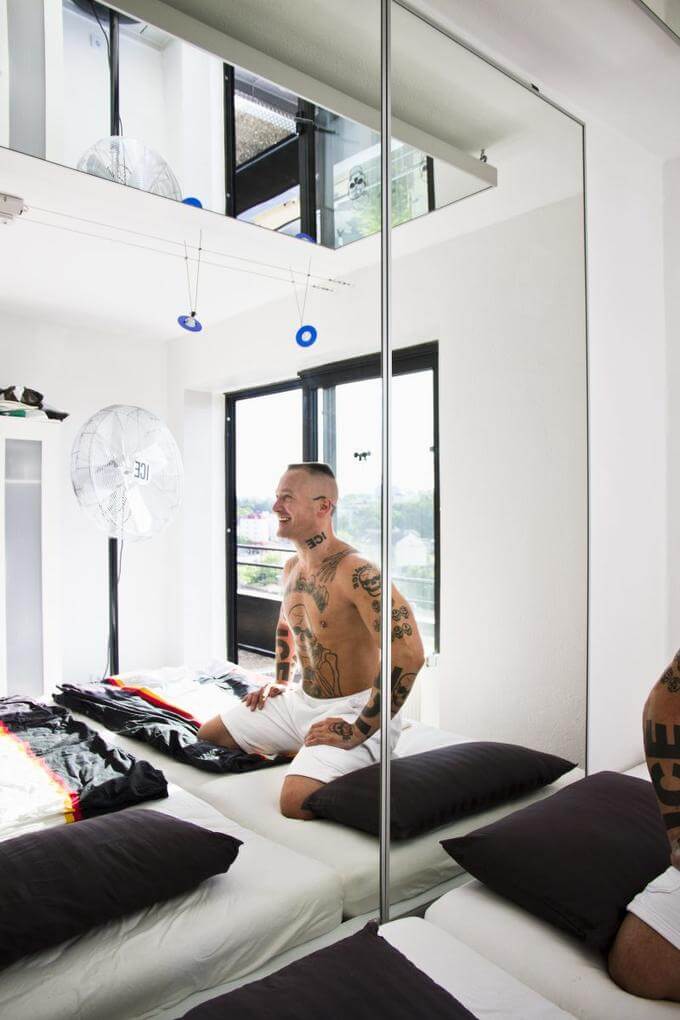 2. A first peak of his cool tattoos: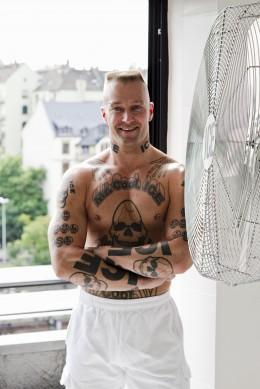 3. Full frontal pic of his amazing tattoos: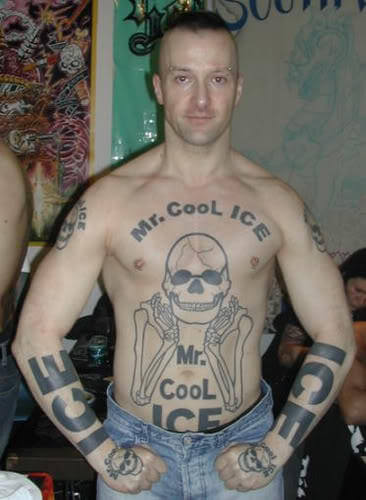 4. And a full picture of his back tattoos: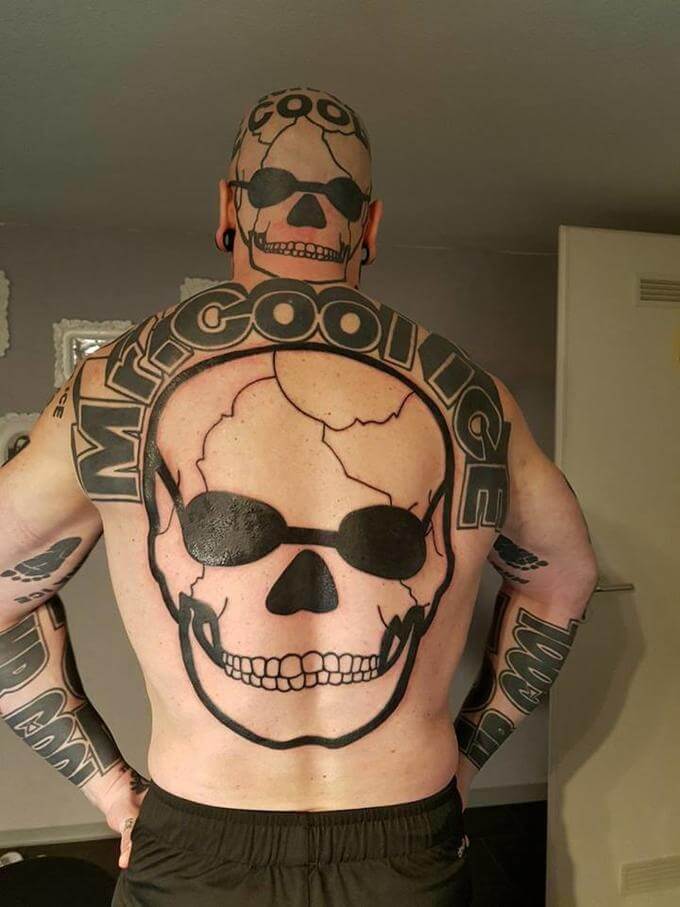 Mr Cool Ice is a really cool man. What name would you have chosen? Comment down below and also let us know if you have any tattoos. Remember to share it with your friends. 
All images from Knowyourmeme.com