You came here looking for funny Amazon reviews. And we all know that Amazon is a wonderful world where you can buy pretty much anything your heart desires. They've gone from selling books to selling just about everything you could imagine. On Amazon you can buy anything from yoga pants to Hello Kitty wine and even the top laptops for editing or working. Don't believe me? Go ahead and look. It's there.
What's even better than the ridiculous products on Amazon is the reviews on these products. There are some real Amazon funny reviews out there. And they are hilarious. The sarcasm in some of these reviews is so thick you could cut it with a knife. Actually, I'd pay to see a standup routine of just someone reading their own hilarious Amazon reviews out loud.
It's a new age, people. The internet is everything. Pretty soon comedians will all be out of work. No one would leave their home they'd just sit at the computer reading hilarious Amazon reviews.
Read some of these LOL Amazon reviews we've compiled here. Would you buy any of these products after reading their reviews? Let us know what you think in the comments section.
Below are 41 funny Amazon reviews that should get their own pages
1. A Bic ballpoint pen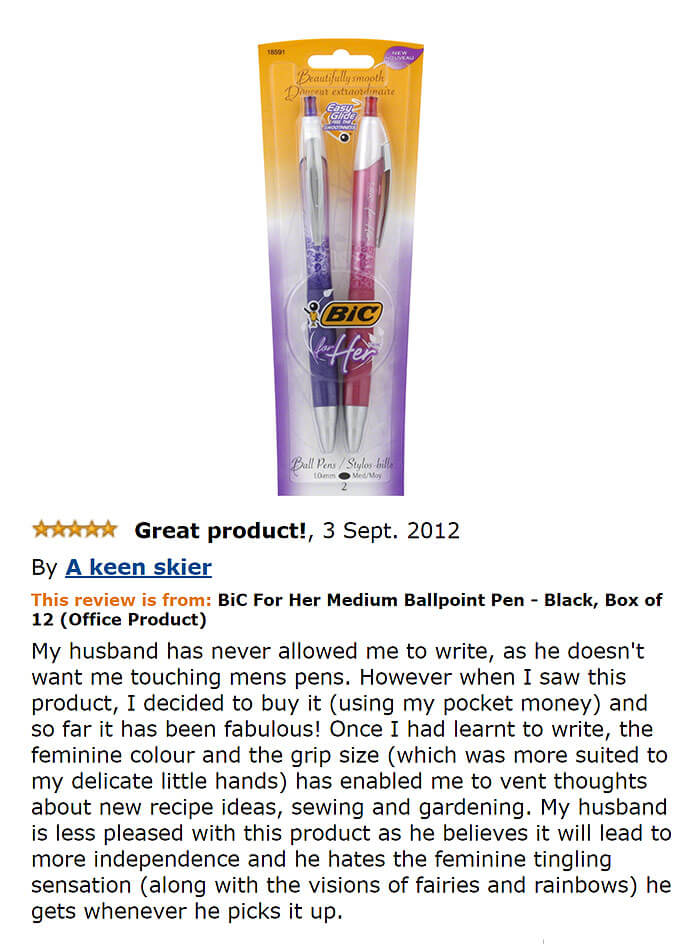 2. This huge swiss army knife changed my life is the second item on our funny amazon reviews list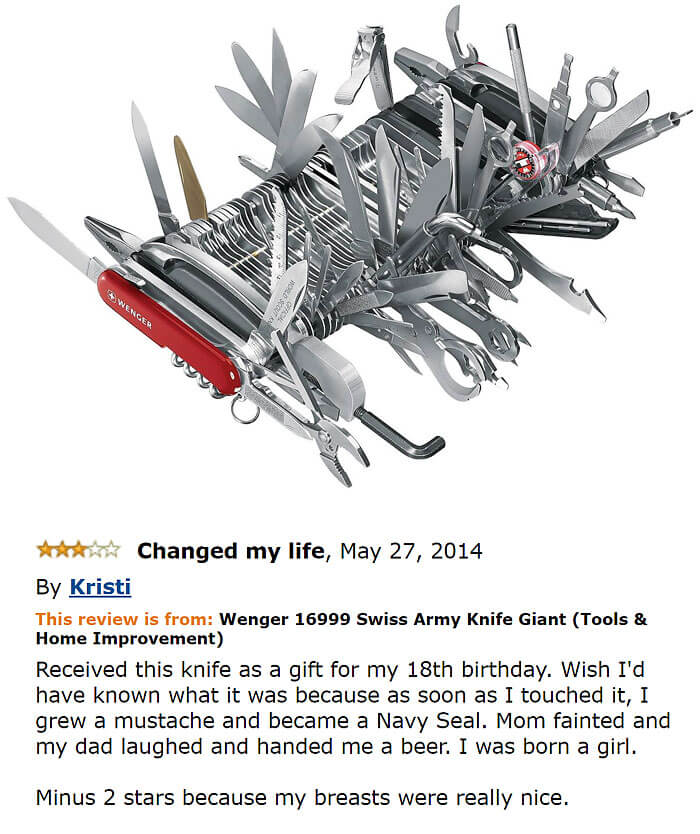 3. Where is my baby's belly button?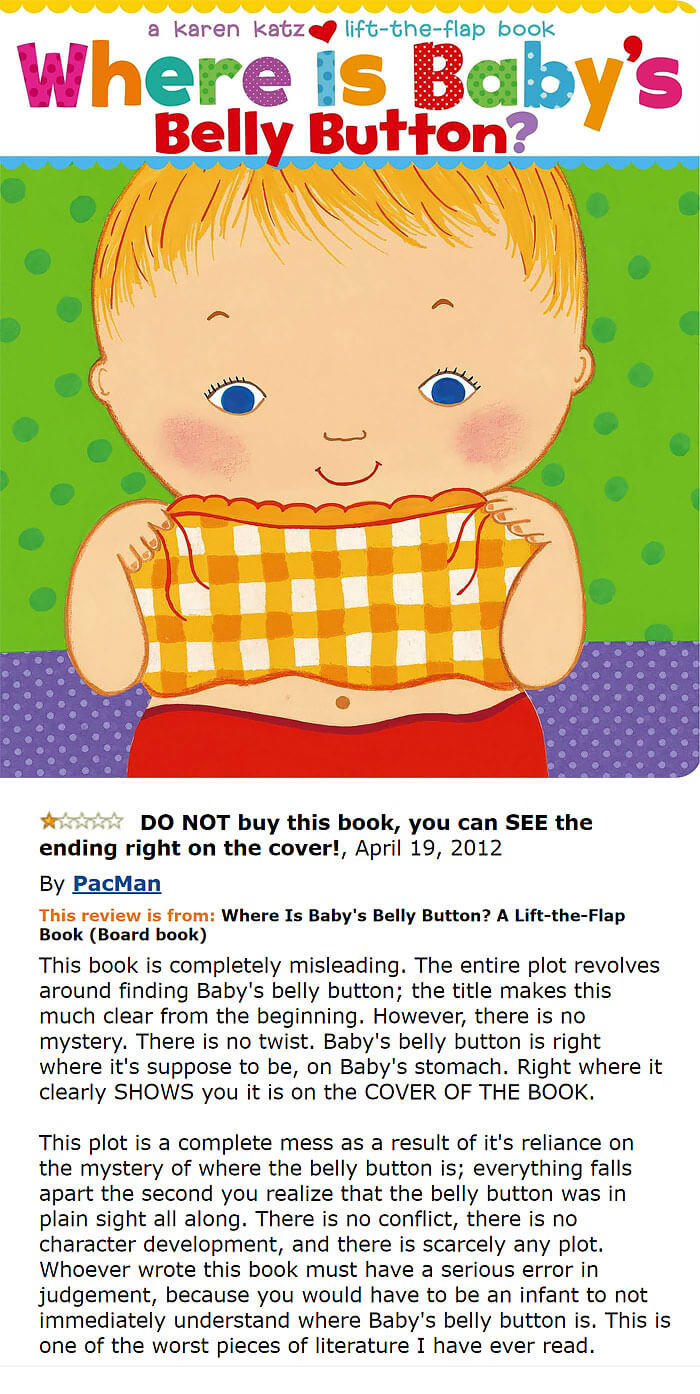 4. Kindle waterproof case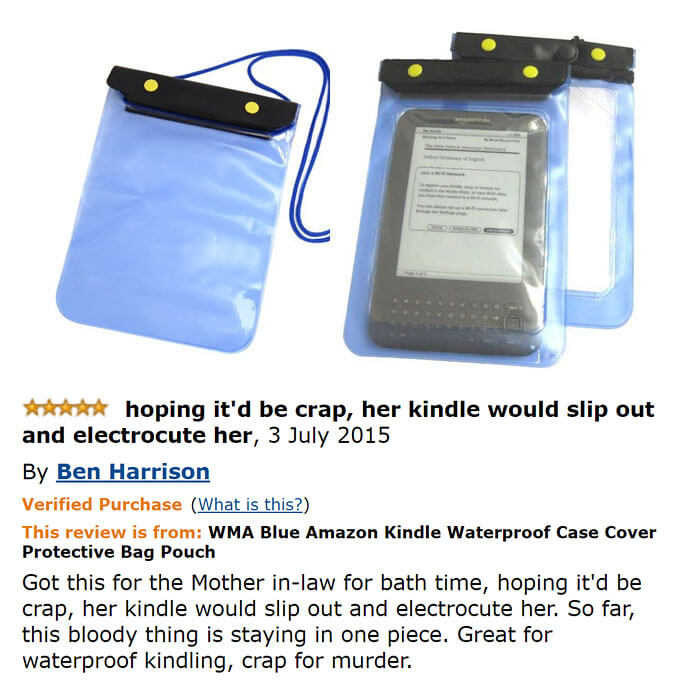 5. A banana slicer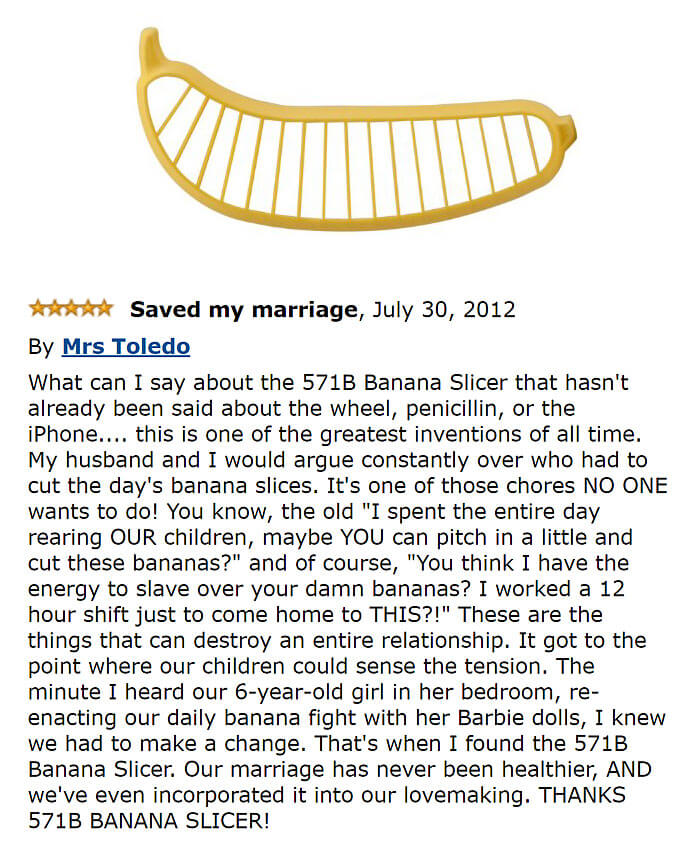 6. Multi color glitter bottle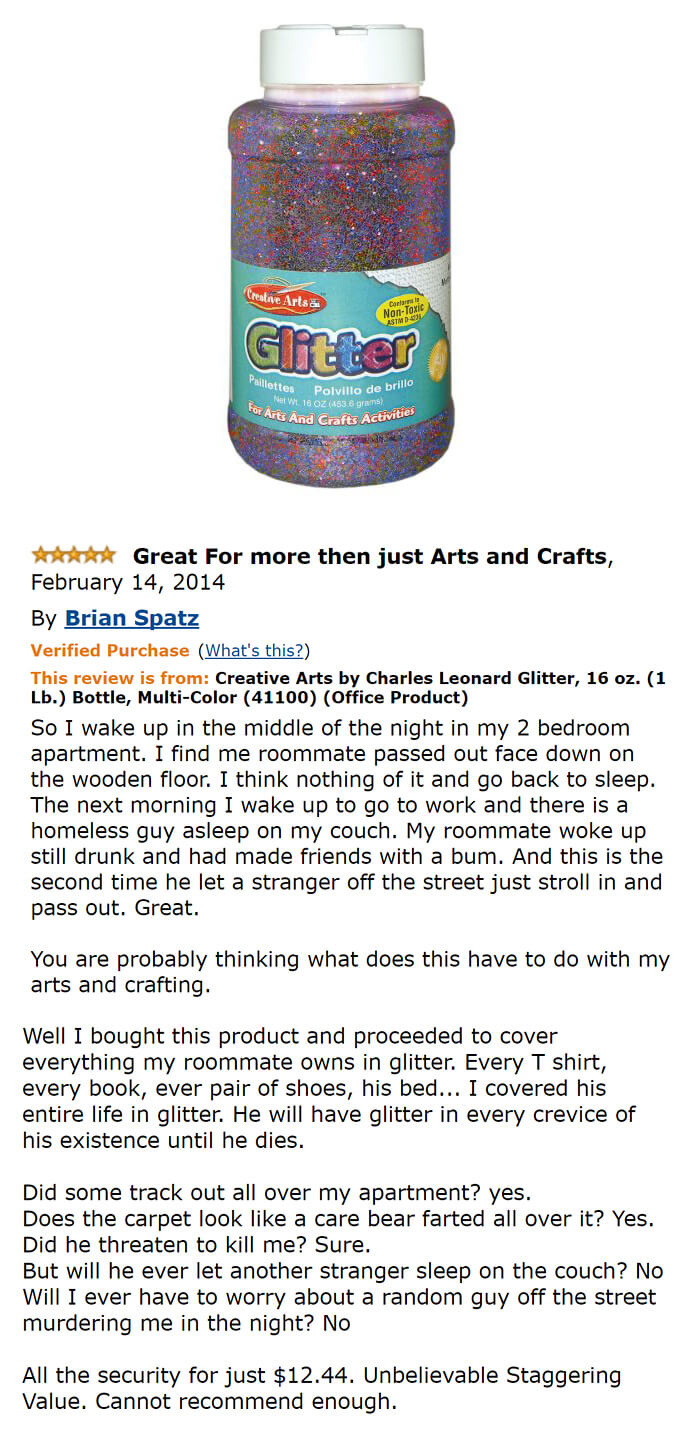 7. Star Wars battlefront PS4 game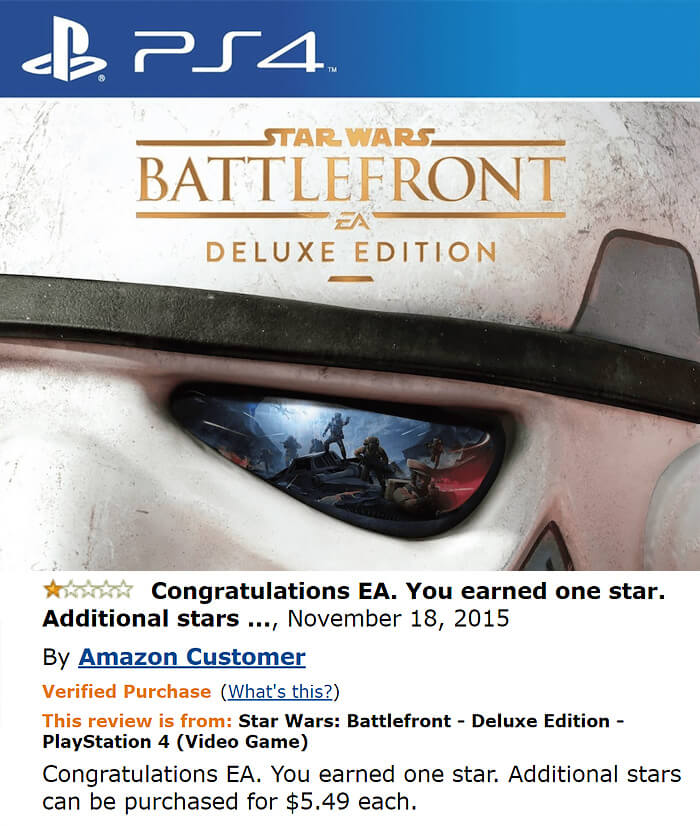 8. Some gummy bears

9. An overhead penguin mask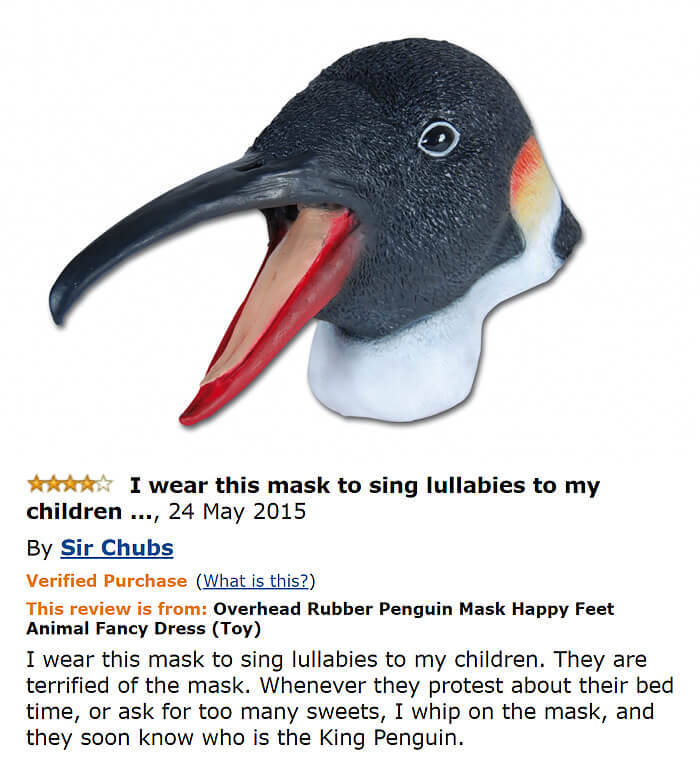 10. 6′ buddha maitreya meditation pyramid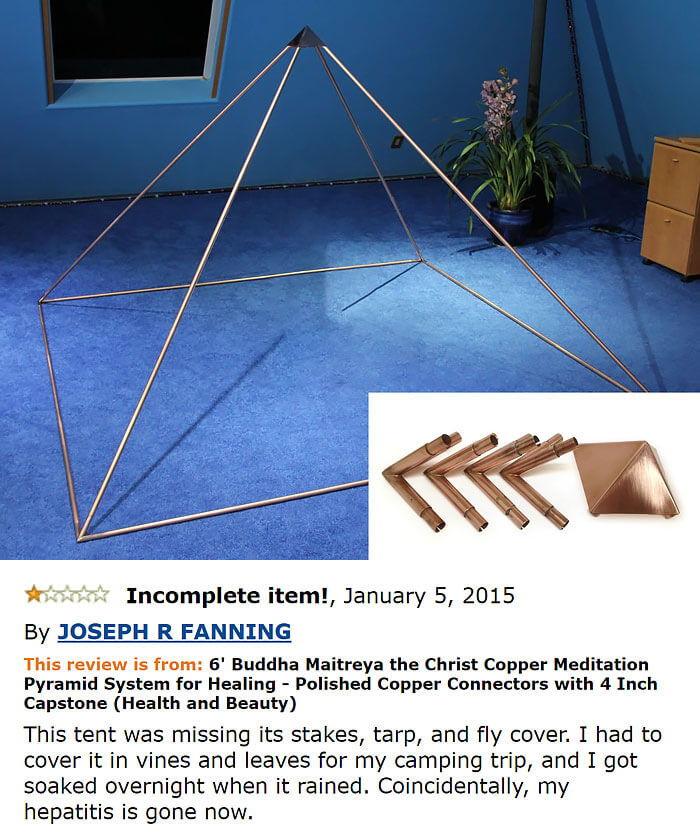 11. Veet removal hair removal gel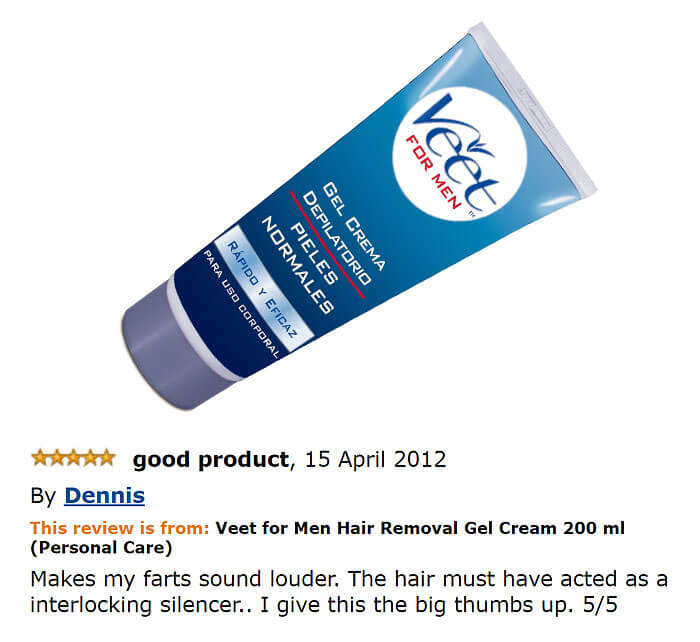 12. A UFO detector – Yeah! for Real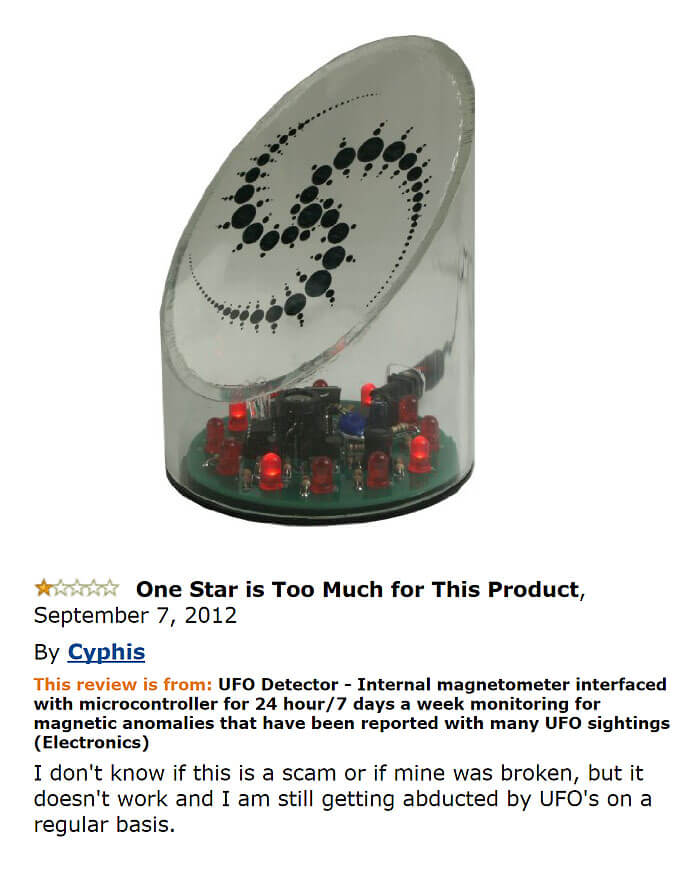 13. Nexus silent mouse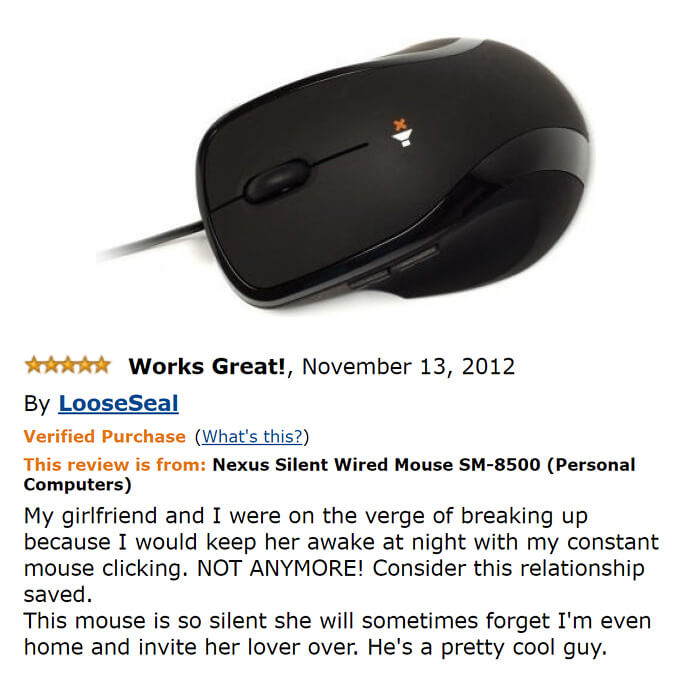 14. The Wolf Of Wall Street Movie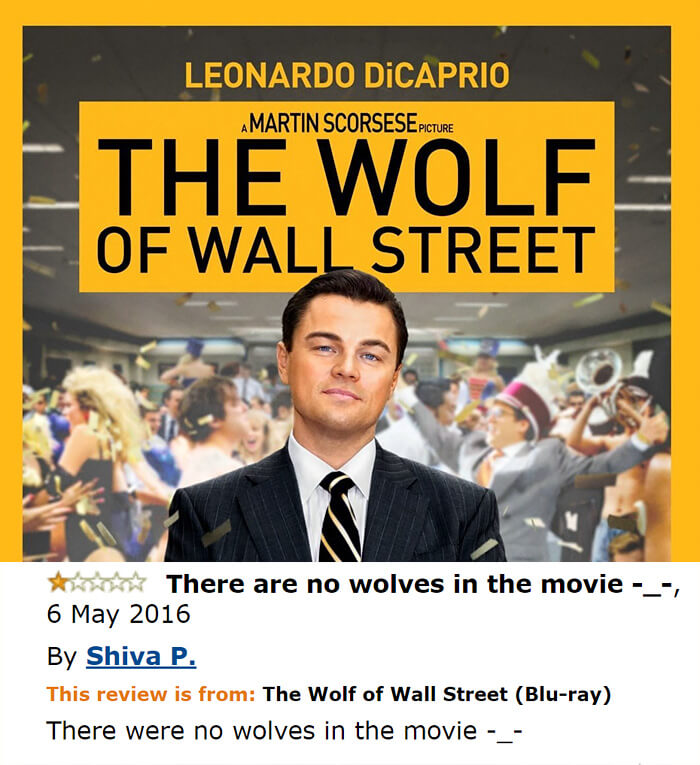 15. English grammar for dummies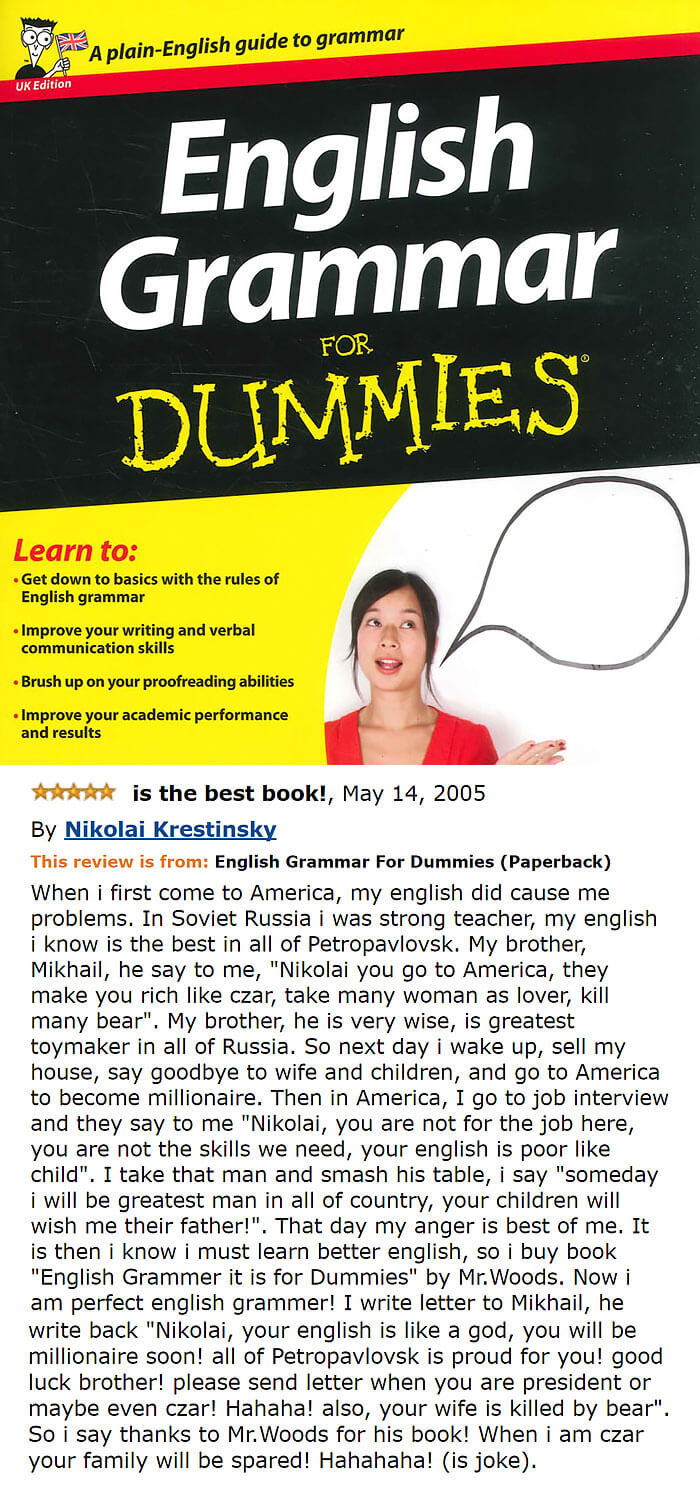 16. AKDL1 link cable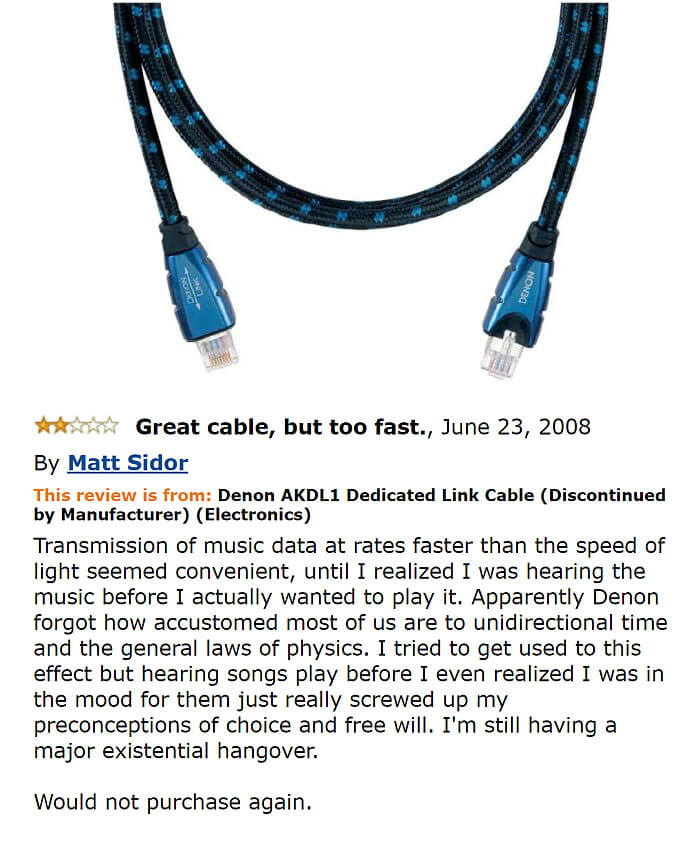 17. Pure Brown Seaweed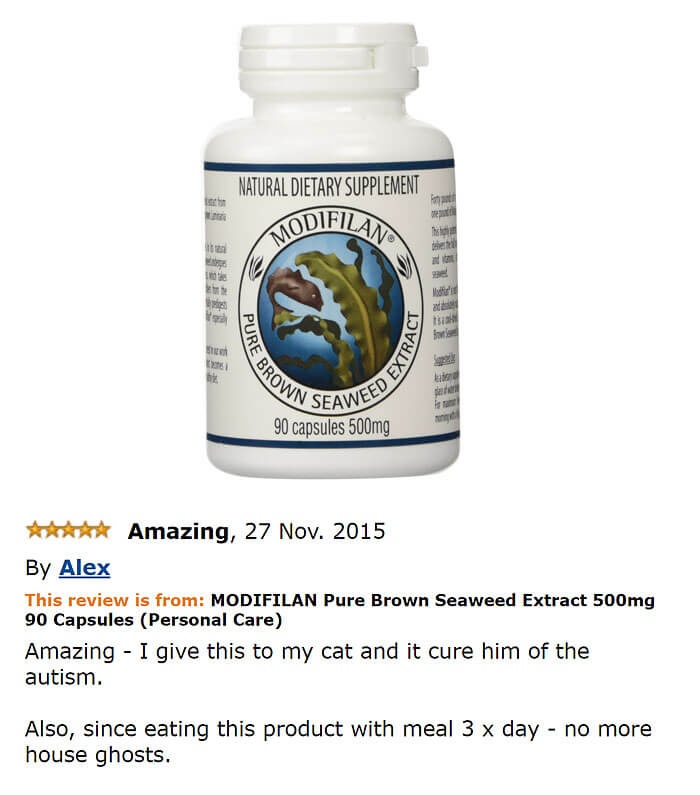 18. Microsoft Windows 95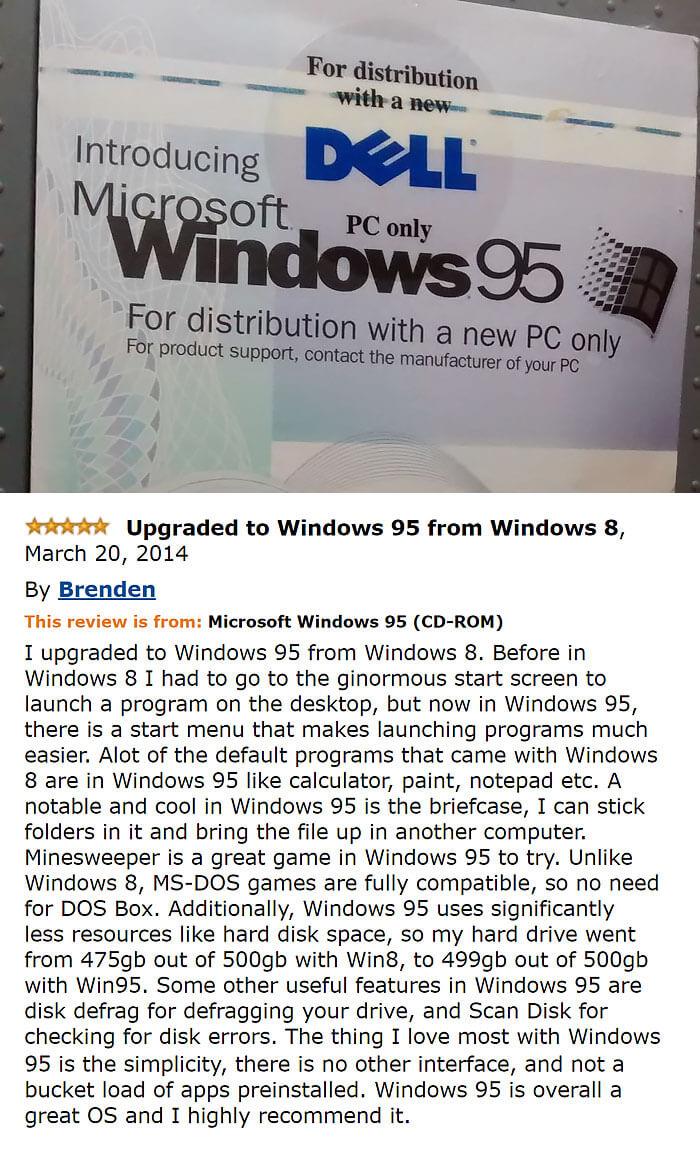 19. Uranium Ore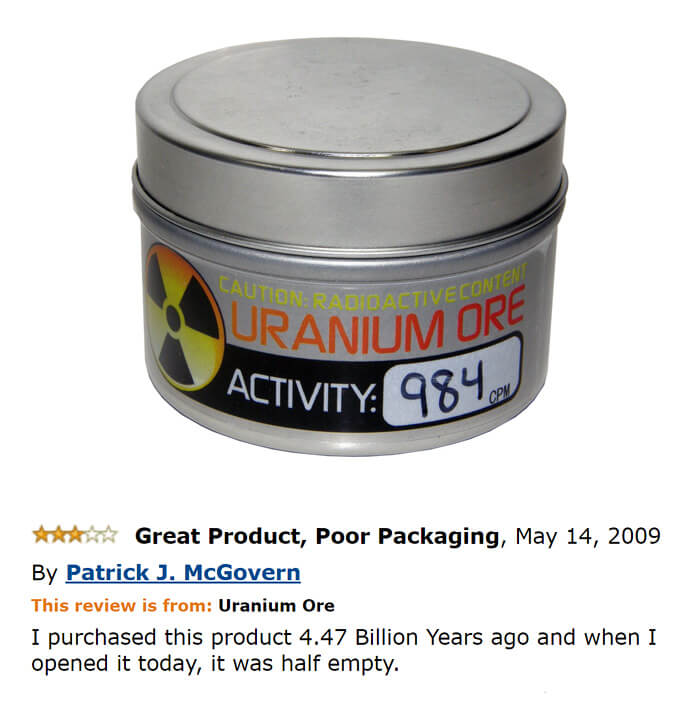 20. Male chastity device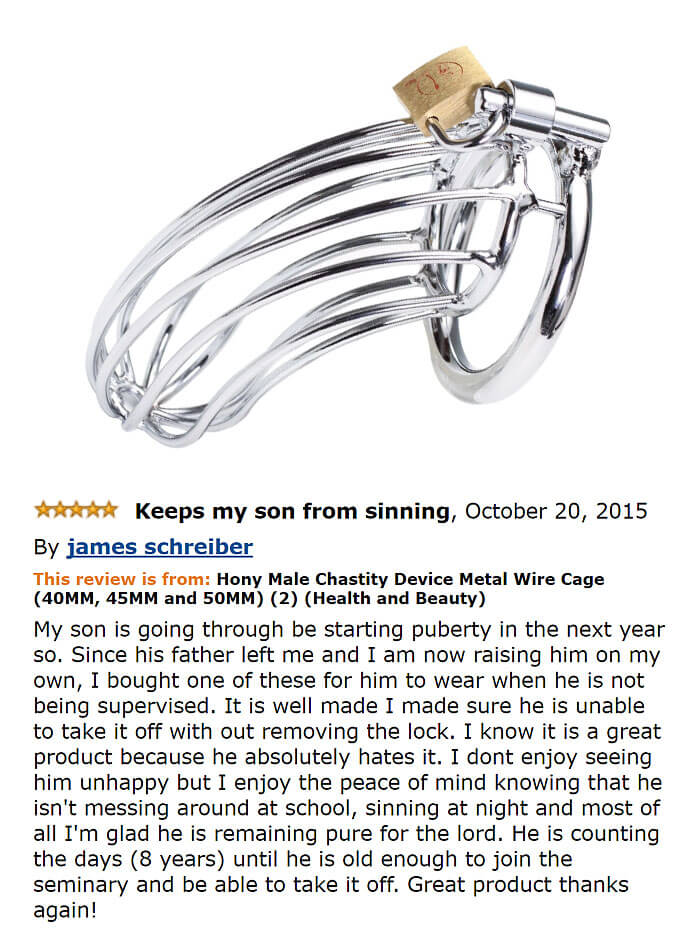 21. NIKE air galaxy shoe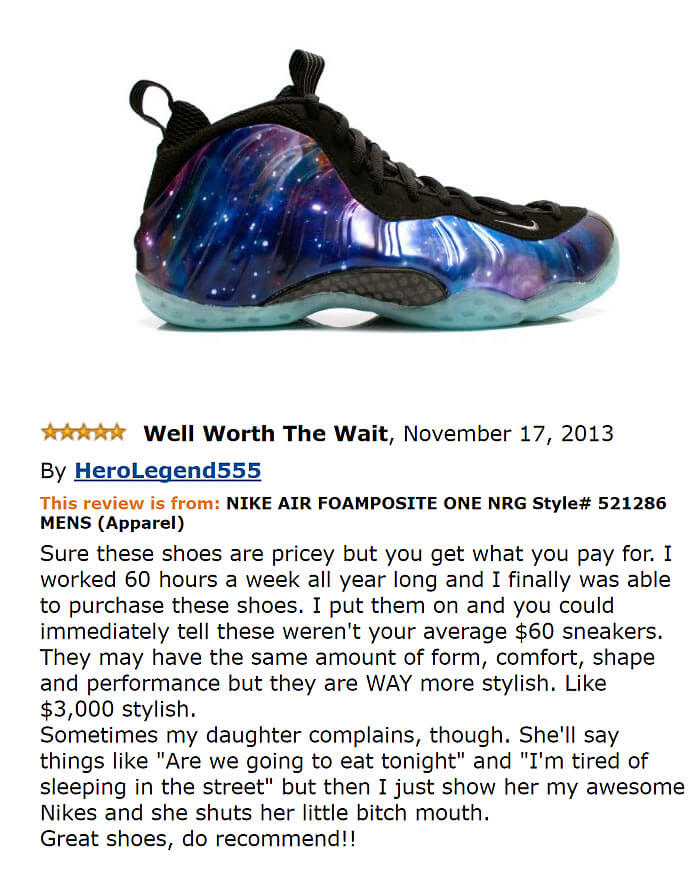 22. Microwave for one book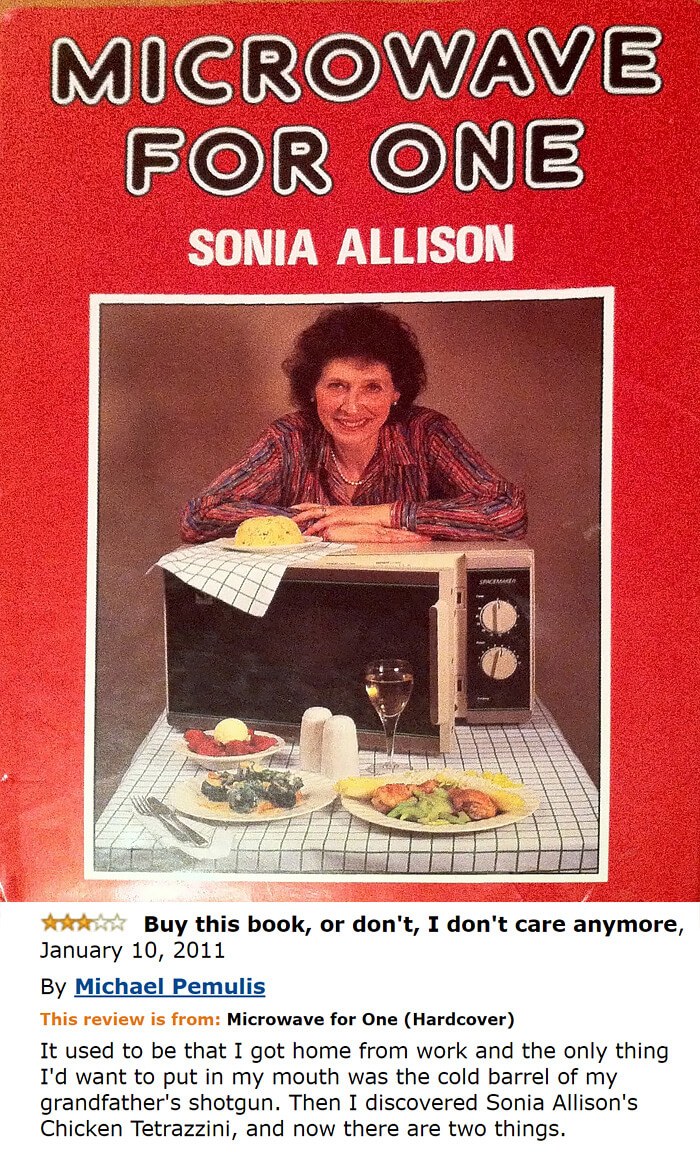 23. Tattoo fade cream

24. Knuckle Blaster gun

25. A horse head mask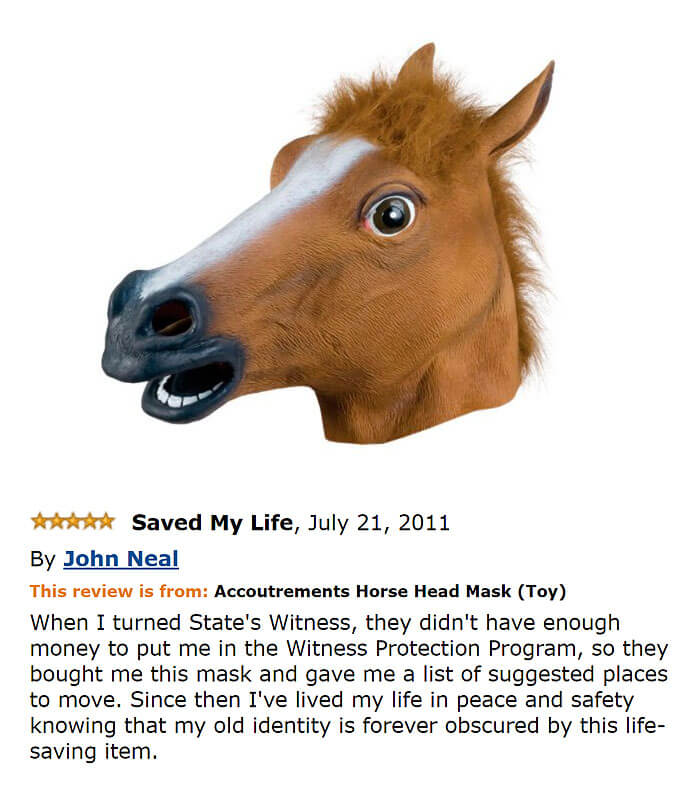 26. a USB wall charger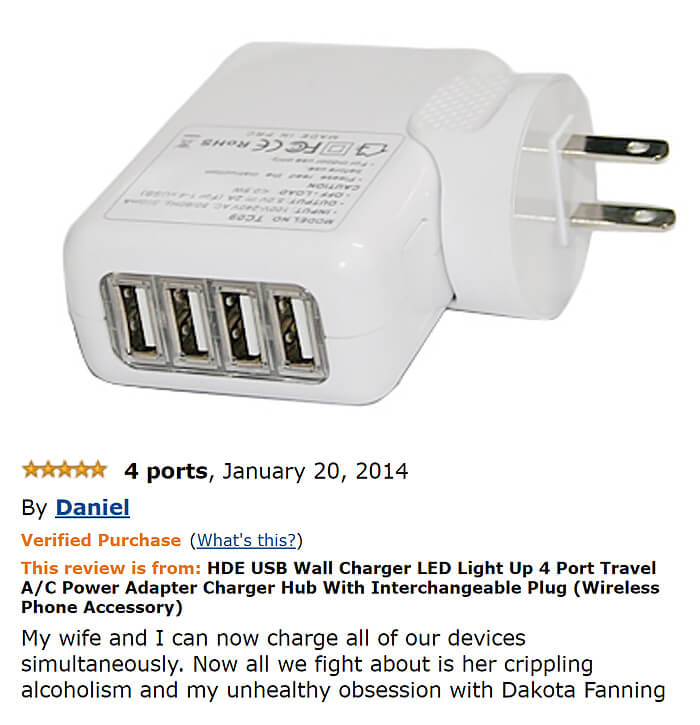 27. Kegel Pelvic Floor exercise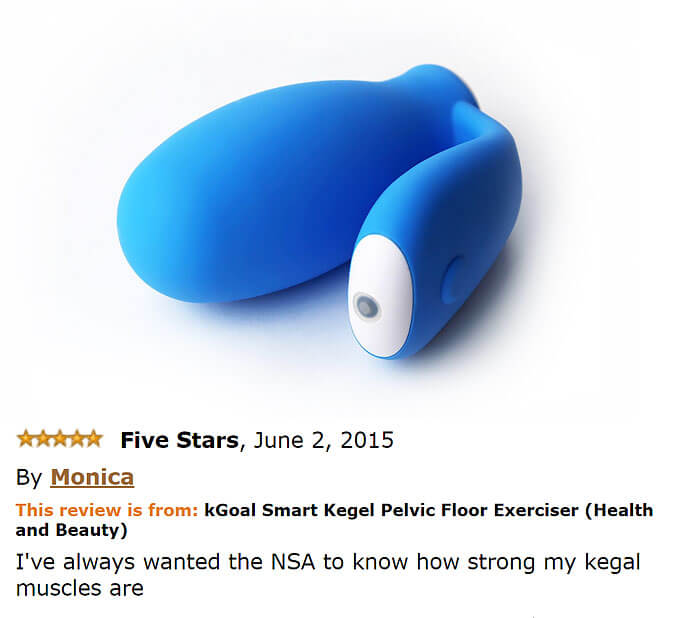 28. Zenith men's watch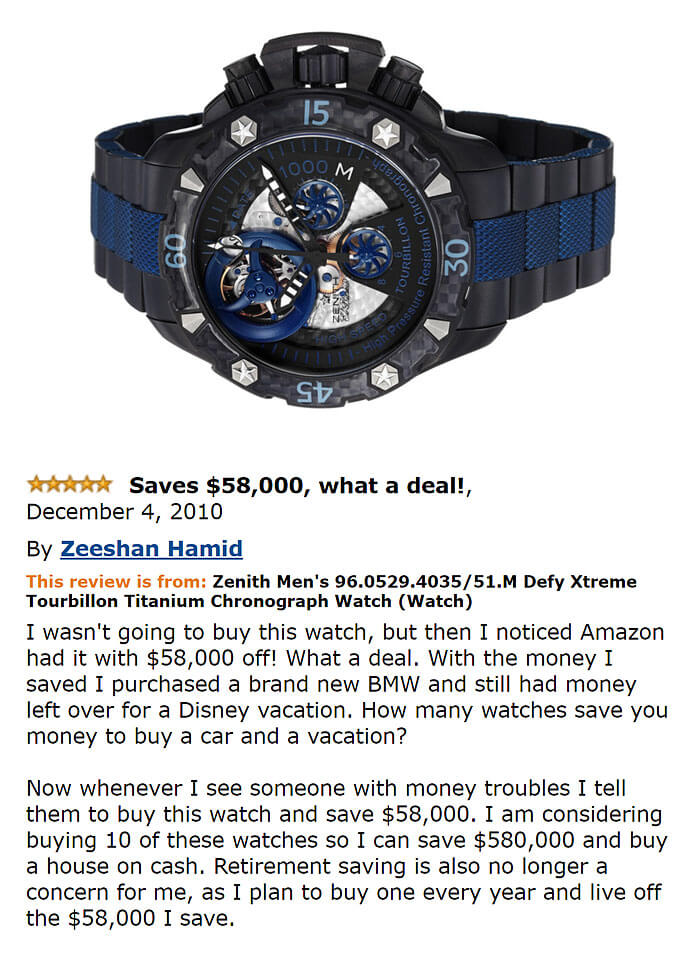 29. The Holy Bible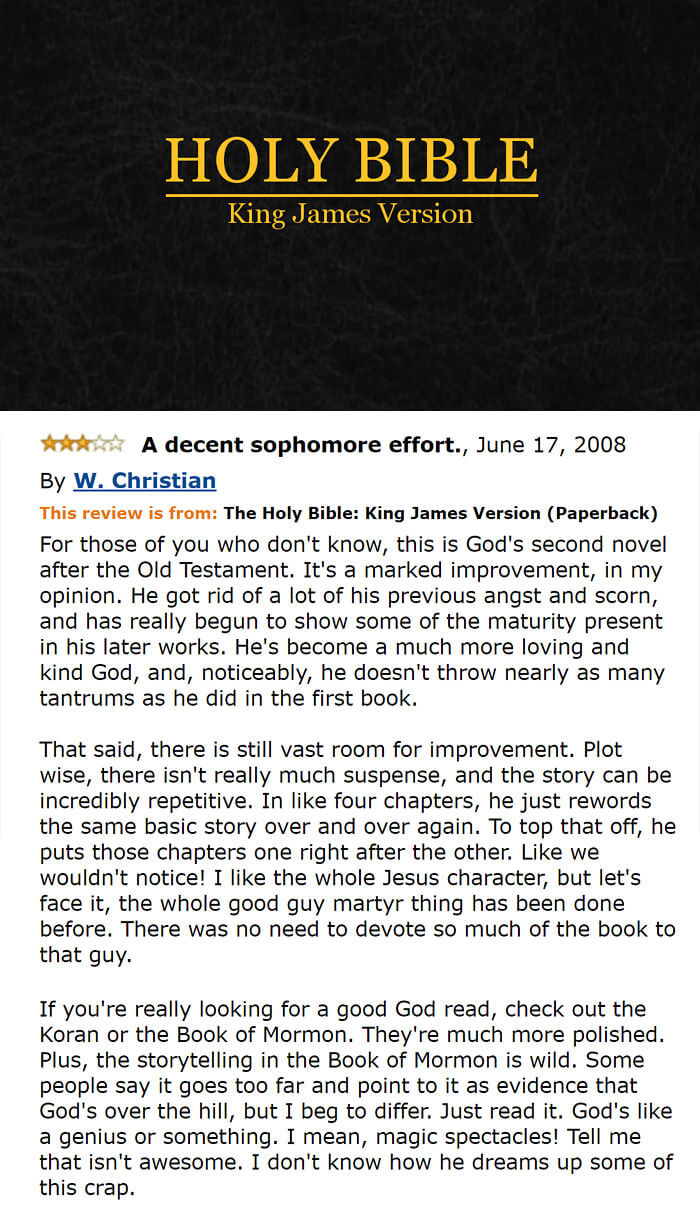 30. A cool T-shirt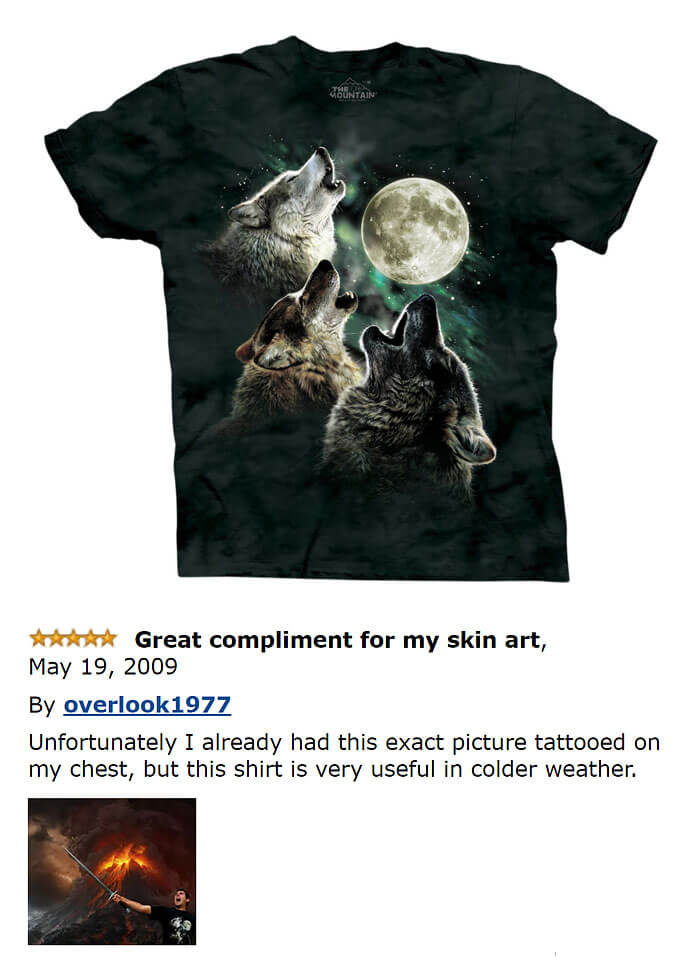 31. Zippo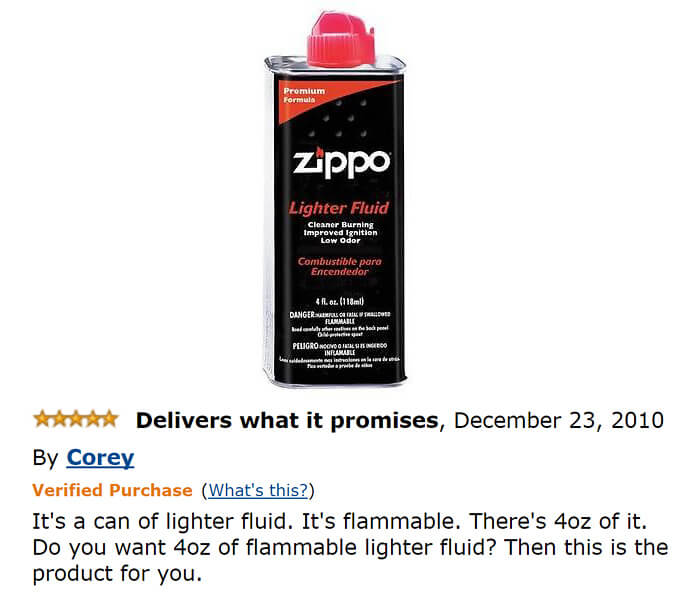 32. 3D smart TV by LG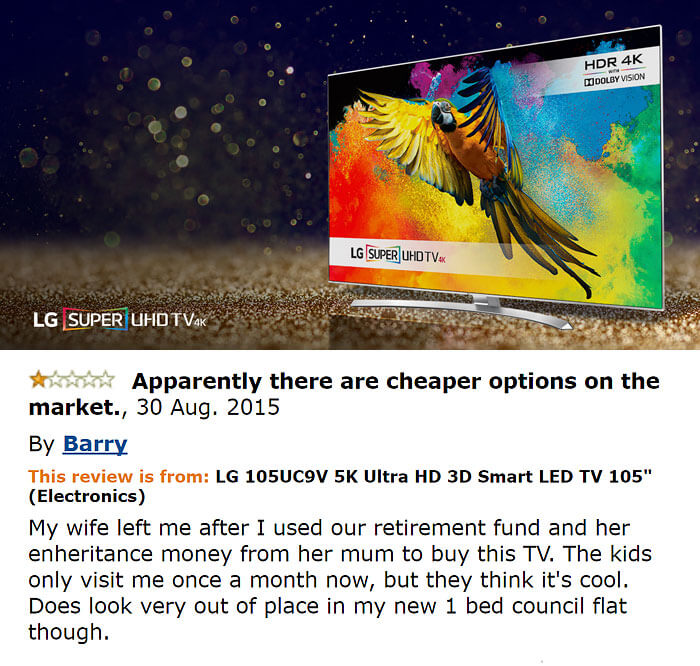 33. Mitre football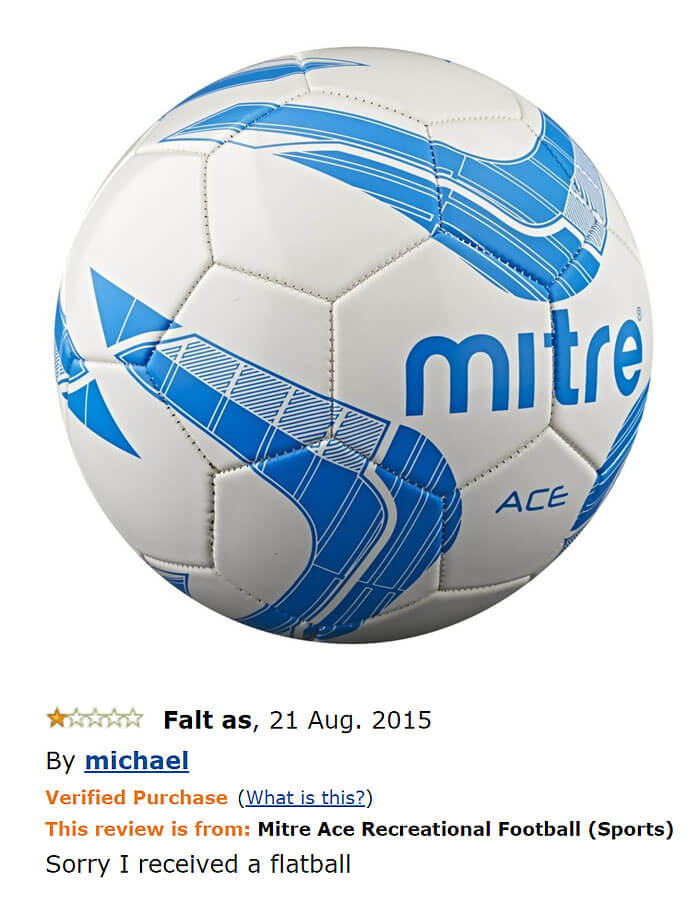 34. This cool dinosaur shirt is everything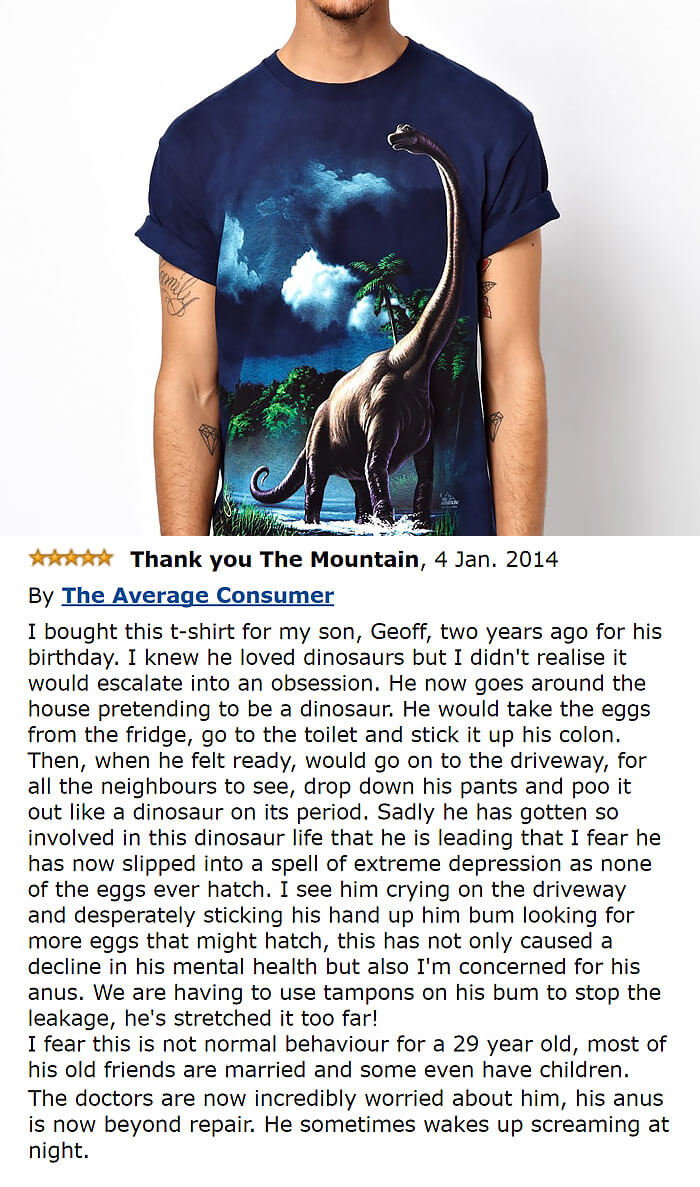 35. NOPE. This game is simply not emough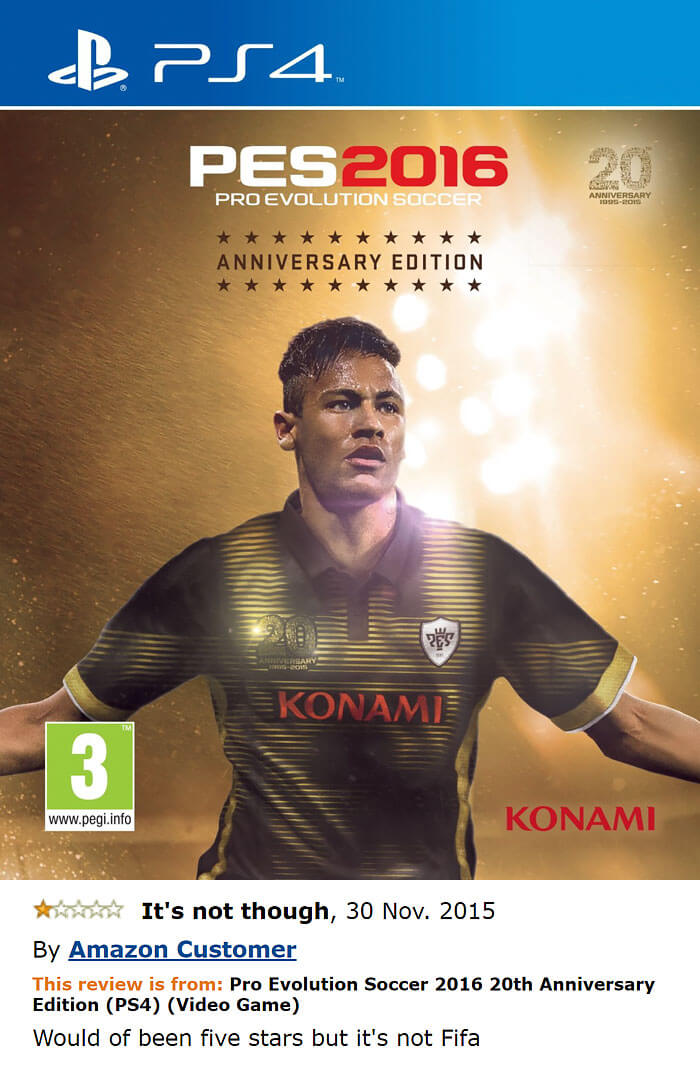 36. If you don't want your spouse to spank you, don't get this.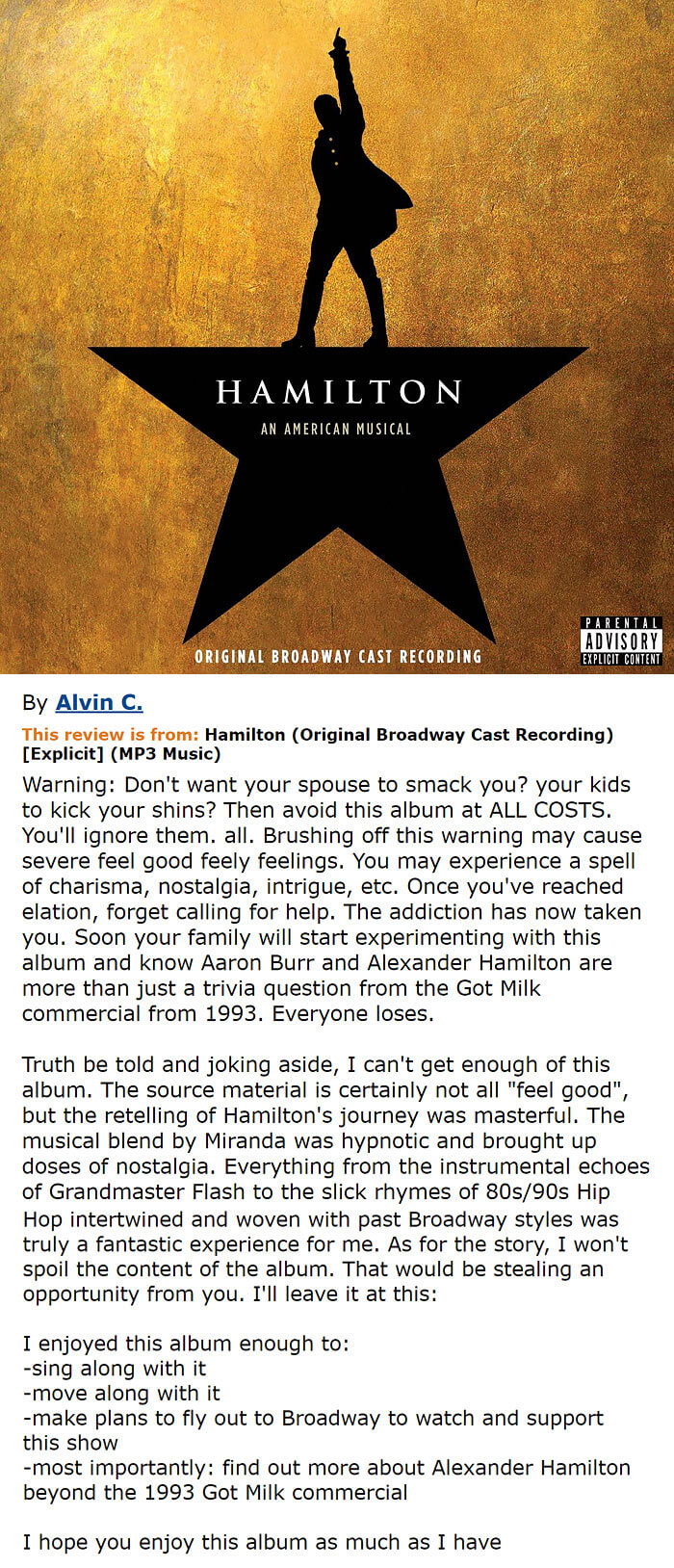 37. These are just good cups, nothing more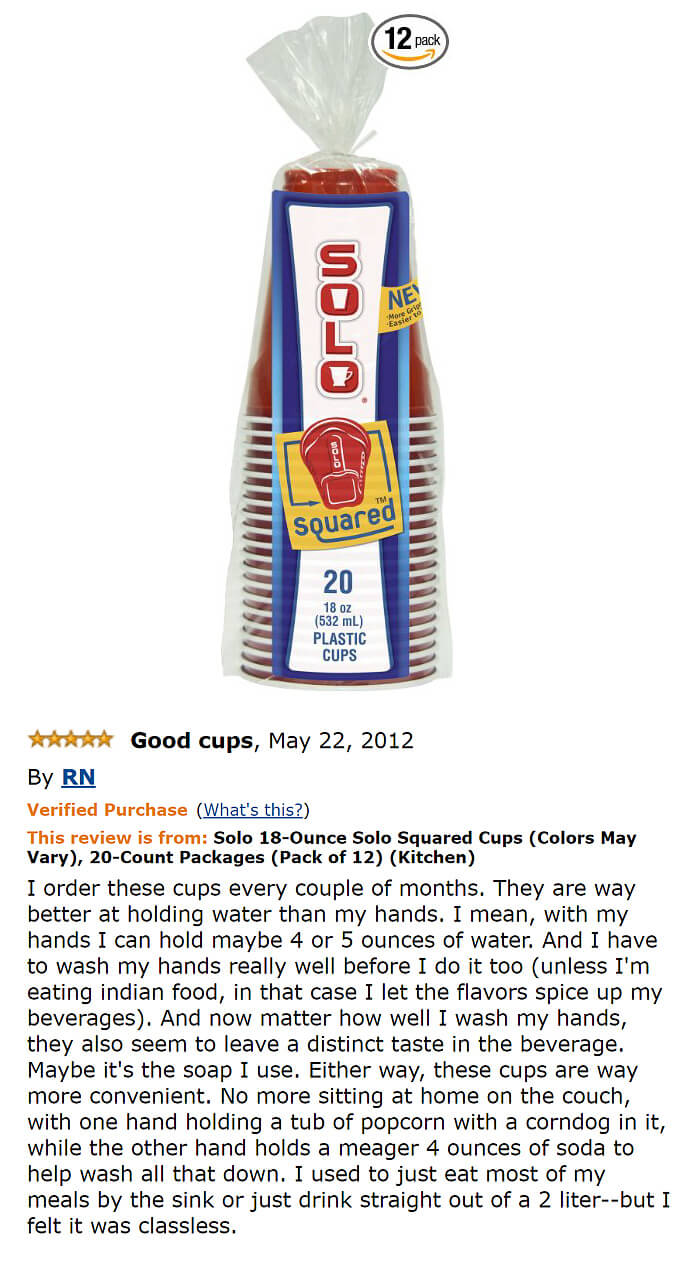 38. This is not a good weapon. It's actually a toy.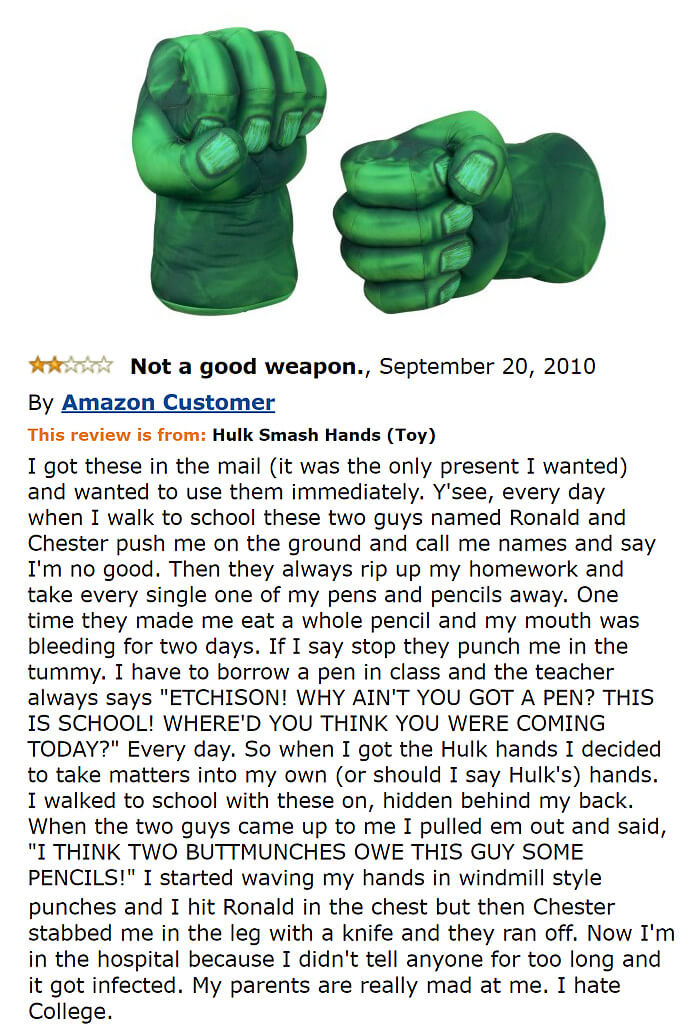 39. I never knew ice cube trays can change my life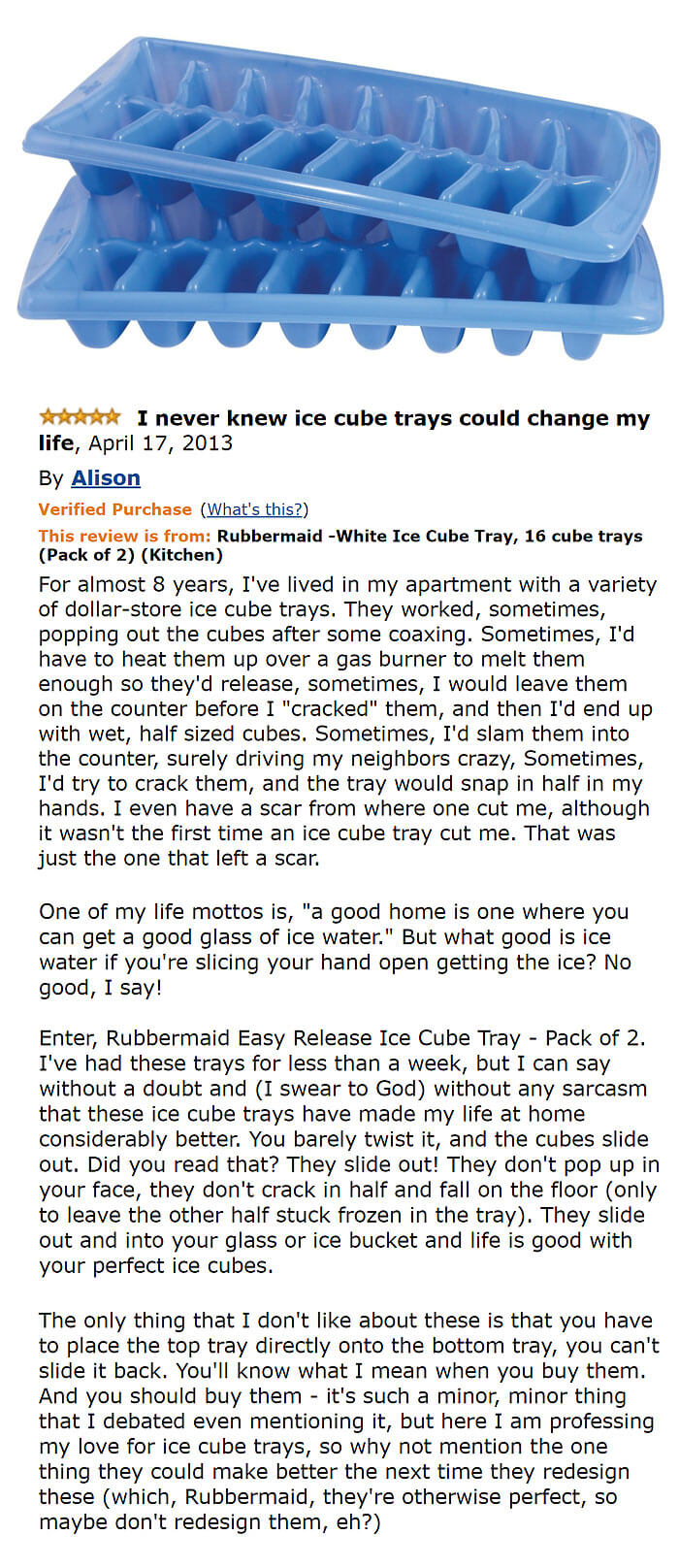 40. This product literally survived a tornado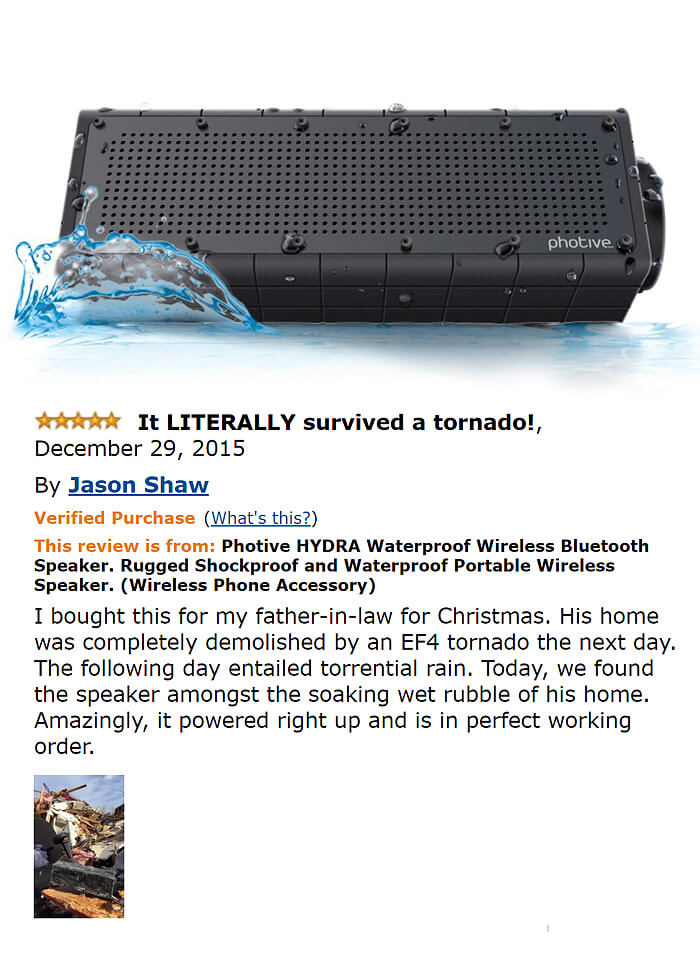 41. I once was blind, now I can see, LOL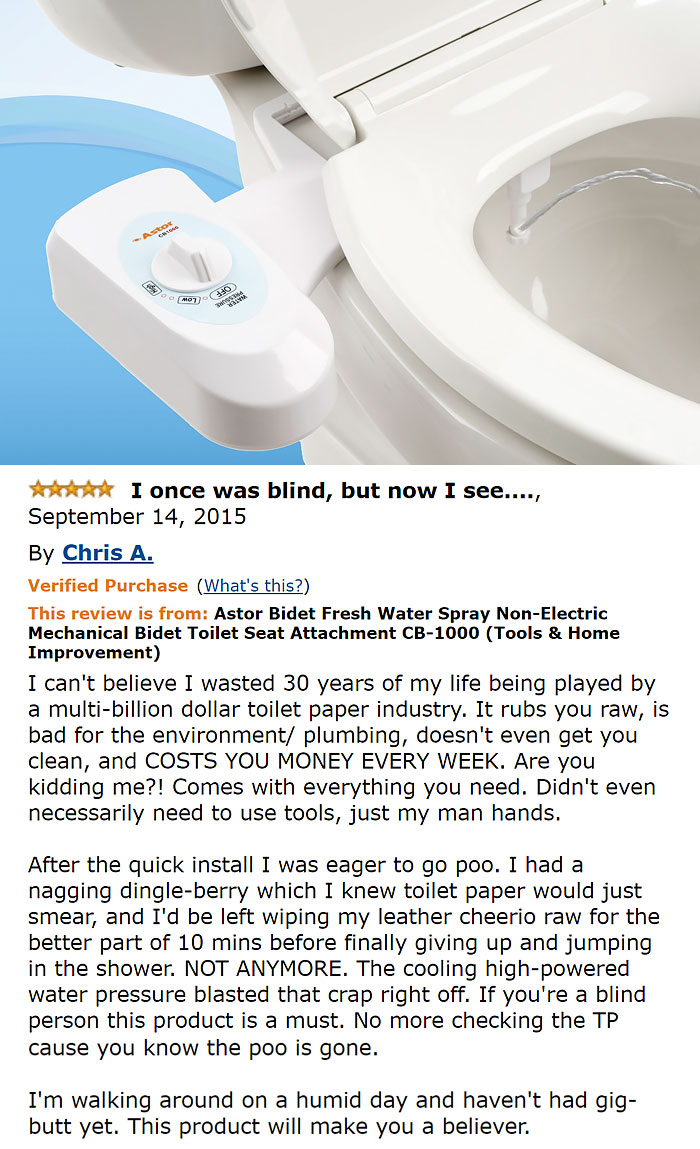 If you buy stuff on Amazon too and find the funny amazon reviews hilarious as us, please share with your friends.