Movies are not suppose to be easy. Most movies are complex and take an enormous amount of time and work to complete, and if you do everything right, you just might succeed in creating a master piece that will be watched by millions.
However, even the best movies can sound stupid if you try to explain them badly. Meet " Explain A Film Plot Badly " the hashtag that is exploding right now on Twitter and gets us laughing every single time.
The rules of poorly explained movies:
You have to use 1 sentence only
You can't really mention the name of the movie
You have to be funny
The funniest one sentence movie summaries
1. Every Harry Potter Movie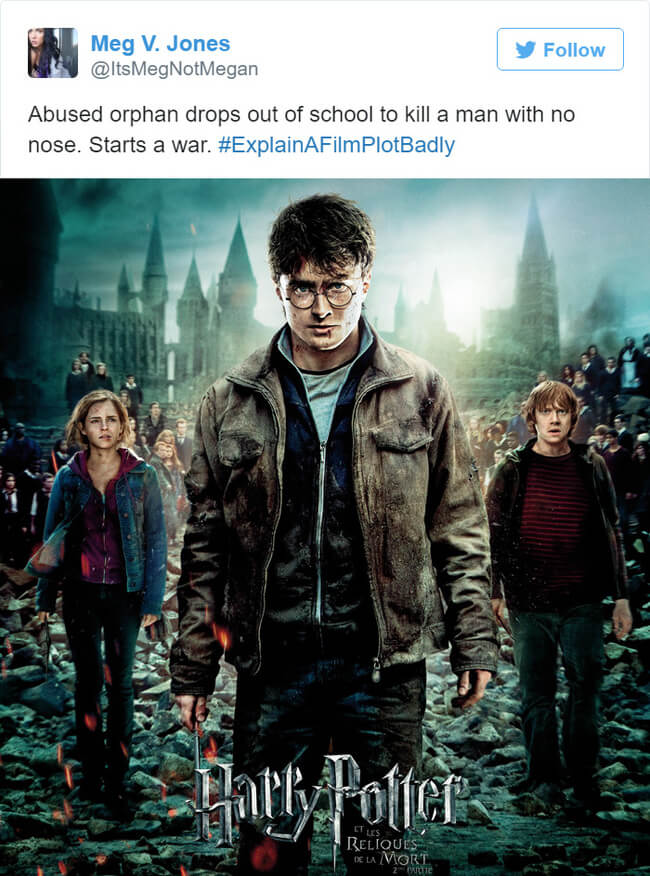 Well, I guess this is true, every movie of that franchise is pretty much the same story with slight variations. Try harder Harry.
2. Twilight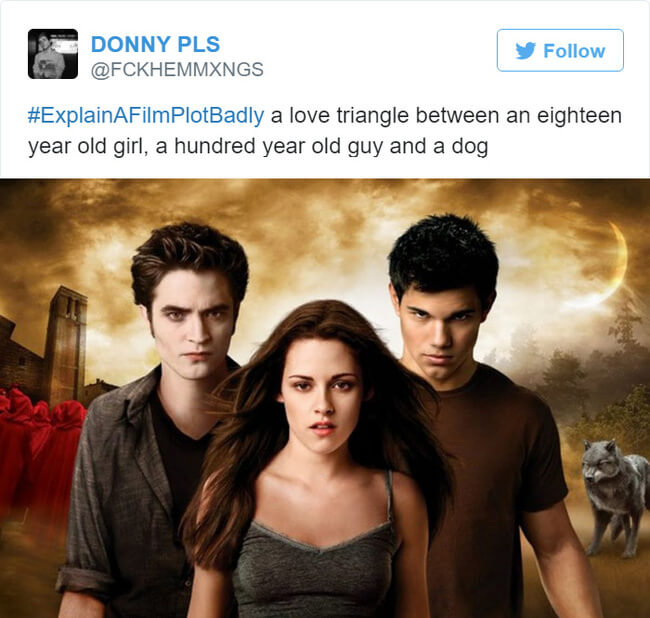 LOL, this one sentence movie description made me laugh and cry and the same time, because it's both funny and not legal.
3. It should be a love story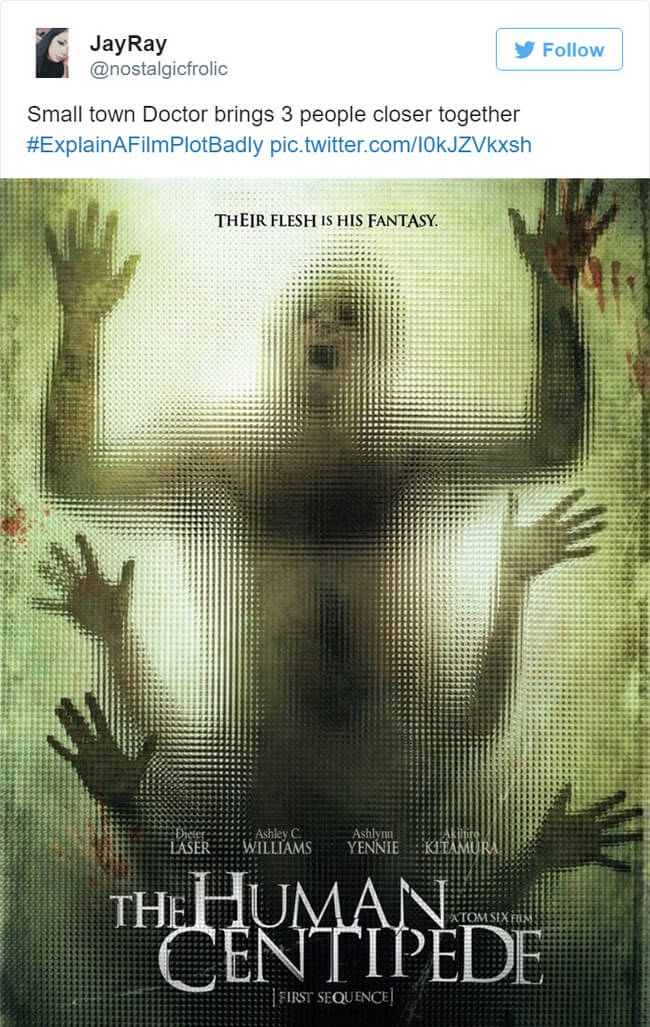 And they can never be apart again. That's how close he got them. If you didn't watch this one, fair warning, it's probably exactly what you think it is, and it's not pretty.
4. The Maze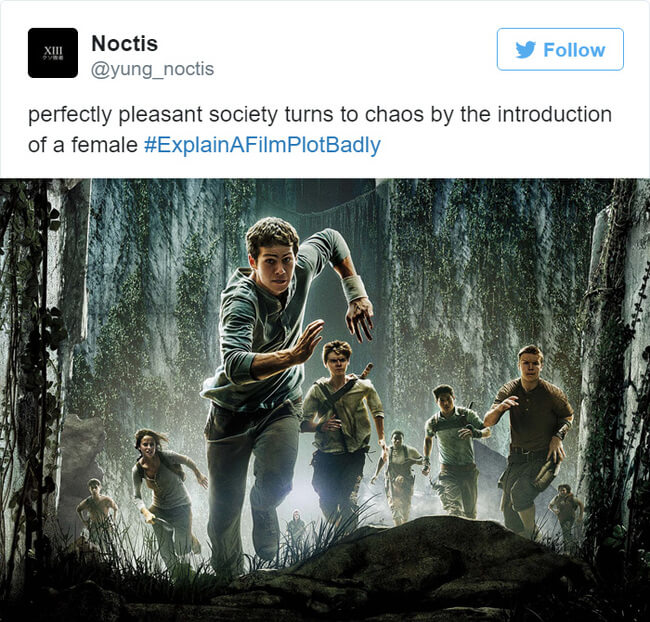 These guys were having the time of their lives, all of the sudden a chick appears and everyone is loosing their shit. Come on guys, what's going on.
5. The Matrix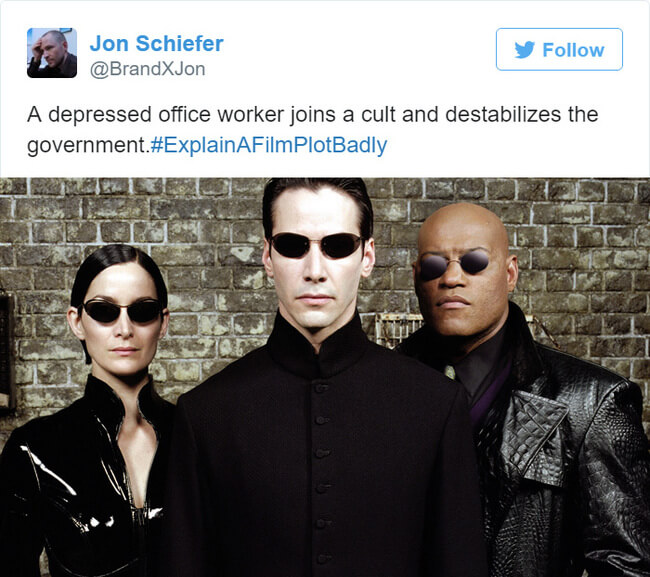 I am actually impressed by the way they explained this complex movie in just one sentence. The Matrix movies are one of the most difficult ones to understand, so this is an achievement.
6. Frozen – someone should sue her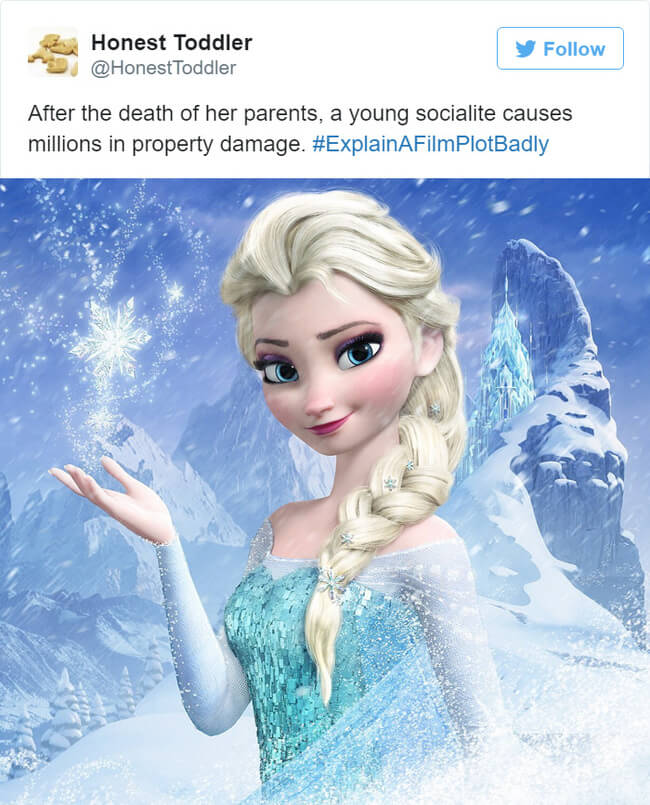 Not sure about this one, they could have done better. Maybe something like: " Teenage girl looses her shit because she's too cold all the time "
7. Star Wars The Force Awakens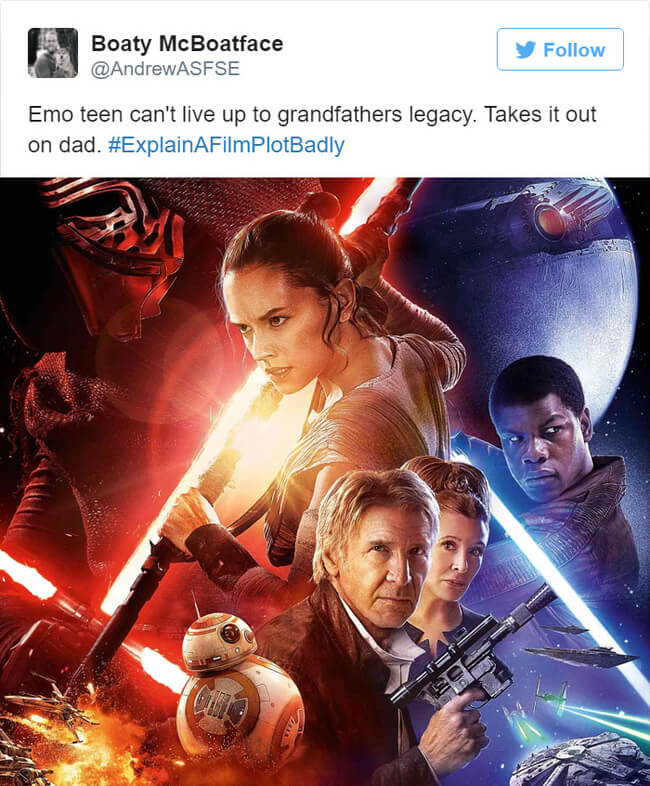 Yup, this is spot on, if this wasn't a Star Wars franchise movie it would have been pretty much any other teen movie that ever came out.
8. James Bond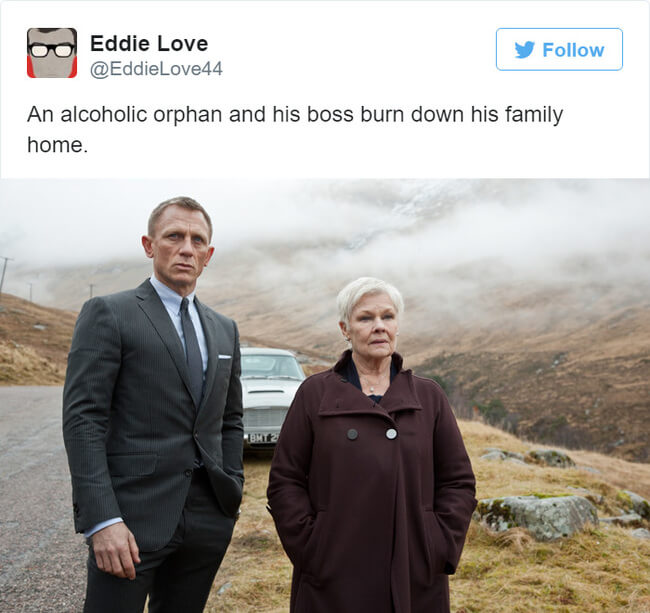 From the look on their faces, they loved this short description of the movie, what's not to love, betrayal, fire and explosions and some mom and son drama. Good stuff
9. This movie was ahead of it's time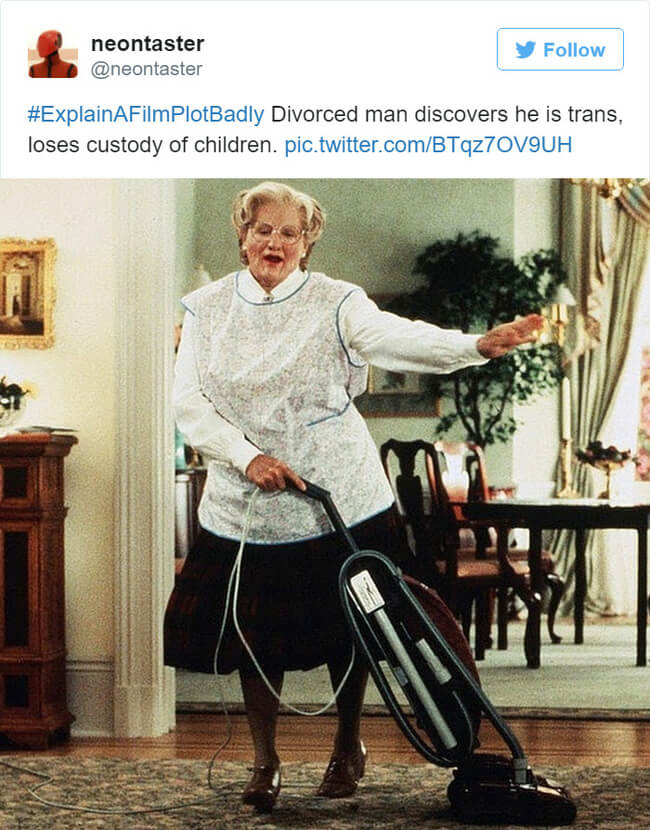 Yes, way ahead of its time, and it's pretty sad when you think about it, maybe the movie had a hidden message we all missed about Robin Williams?
10. Star Wars is shining on the explain a film plot badly list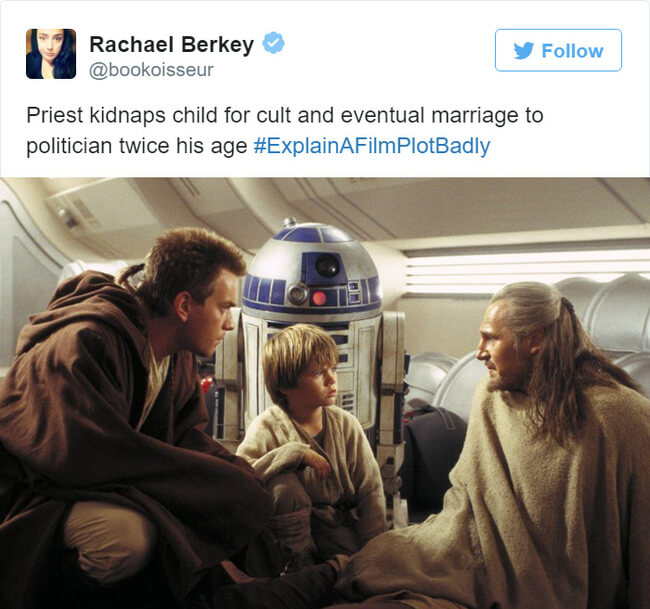 To be honest, the Star Wars movies were the reason we started this list of explain a film plot badly because they are so F up if you really think about it. The characters have major life issues.
11. Avatar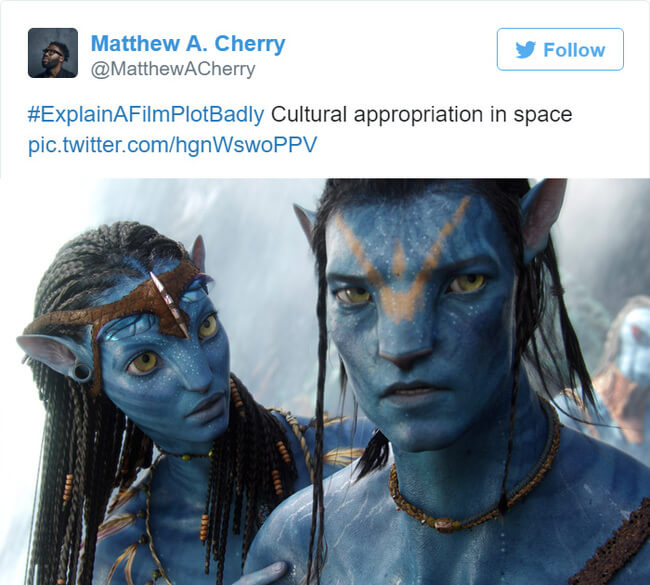 Avatar is basically about racism and we all loved it. What does that say about us as a society? We should really think and work on ourselves.
12. And loses her every single time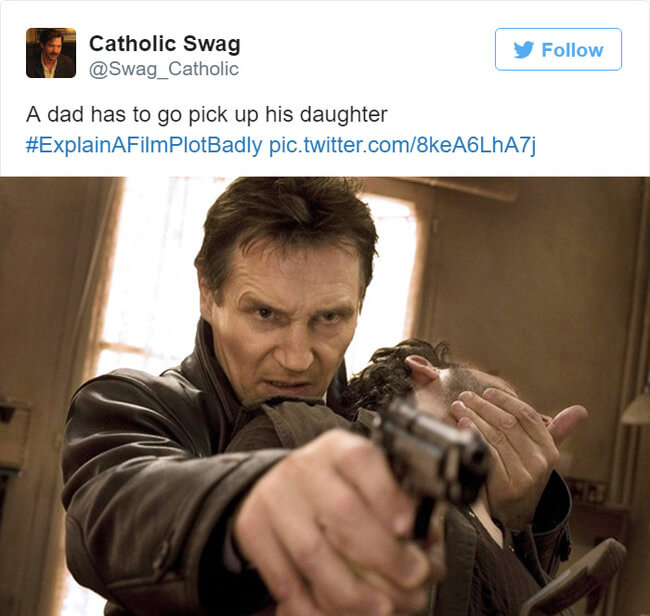 This is pretty much every dad, every day before picking up his daughters from school. The stuff we've seen, you have no clue kids. Appreciate us.
13: MmMmMmMmM Baaaaacon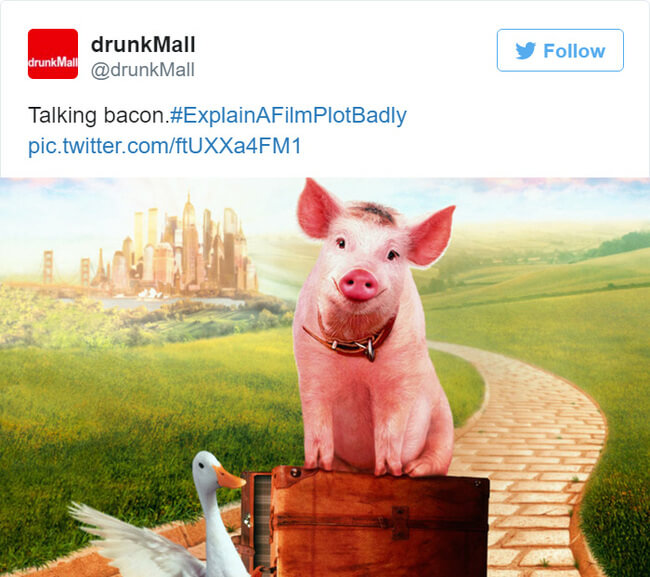 Why is this not on my plate and cooked to perfection, that's all I want to know. The movie is ok too.
14. The Amazing Spider man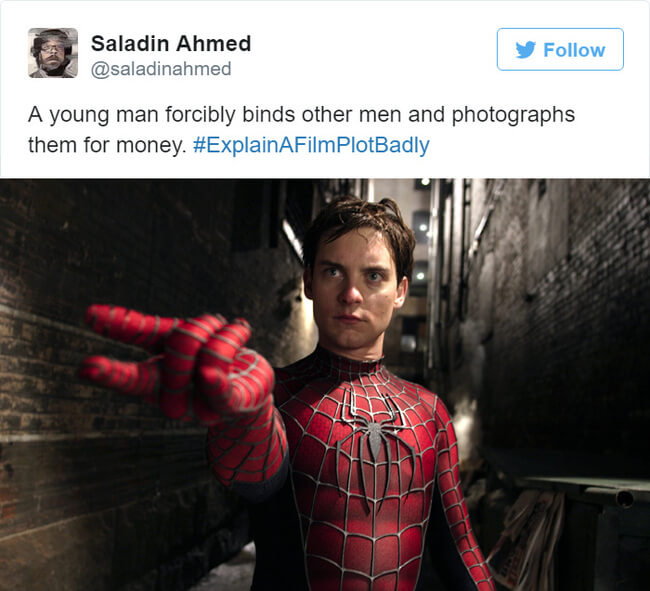 When you put it that way, Spiderman is pretty sadistic right? Why would you do that to people. You could do it in so many other more pleasant ways.
15. Elf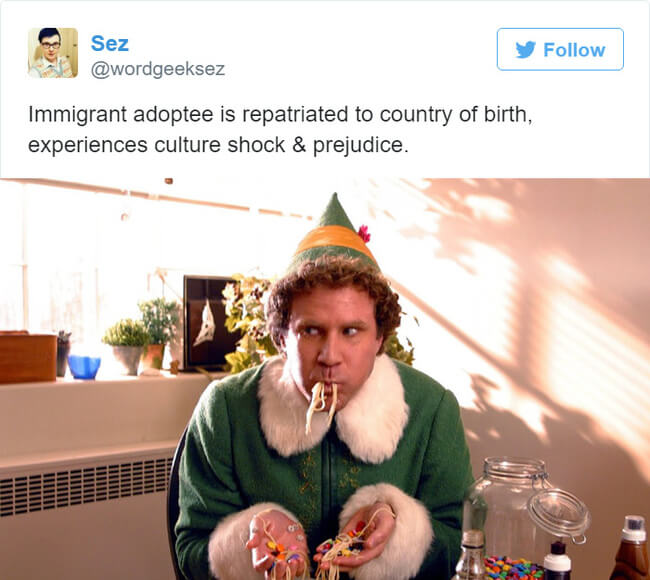 Will Ferrel is the master of comedy, and when we try and explain his films badly, honestly, it just comes out better than the original title. Because he's that funny.
16. We all know Kylo is a little bit*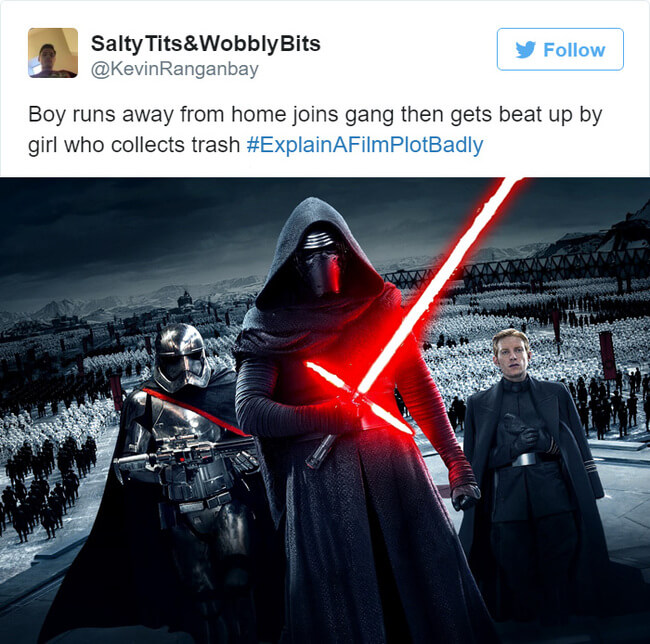 He should have trained harder, that's the message of the movie. The kid should have trained better and come more prepared. It's educational.
17. The recipe to popularity in high school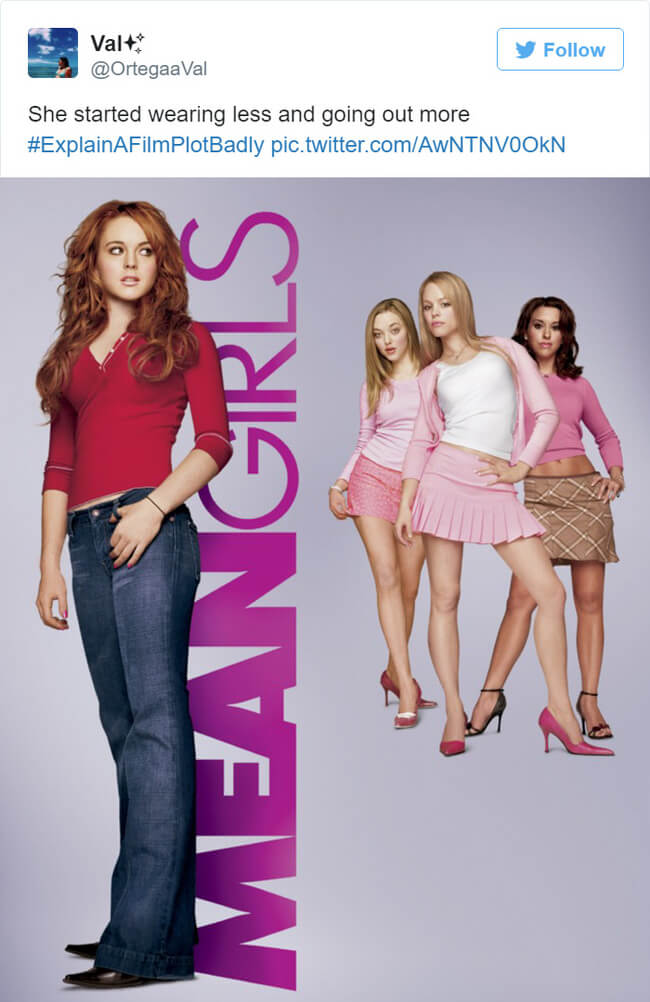 This sends a terrible message to young girls and guys, but it actually does describe the movie in one sentence and pretty accurately
18. Every damn time!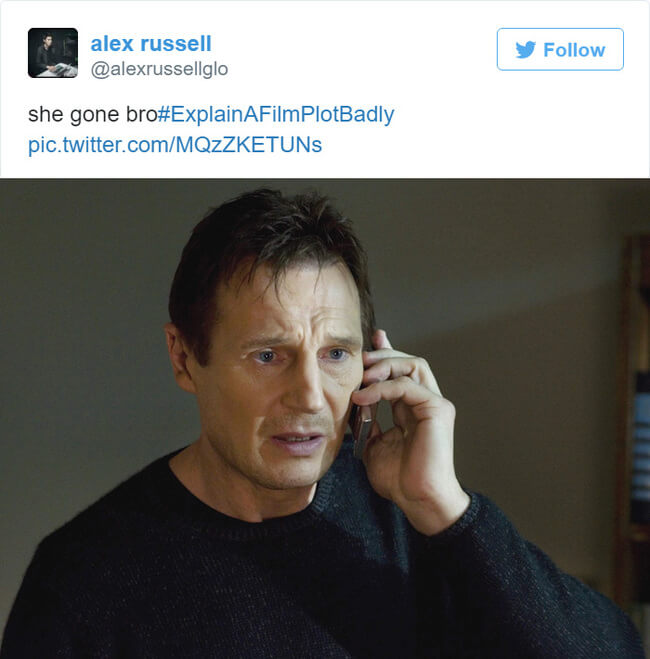 This dad should really do a better job at watching his kids. They keep getting snatched and he keeps getting them back.
19. Aladdin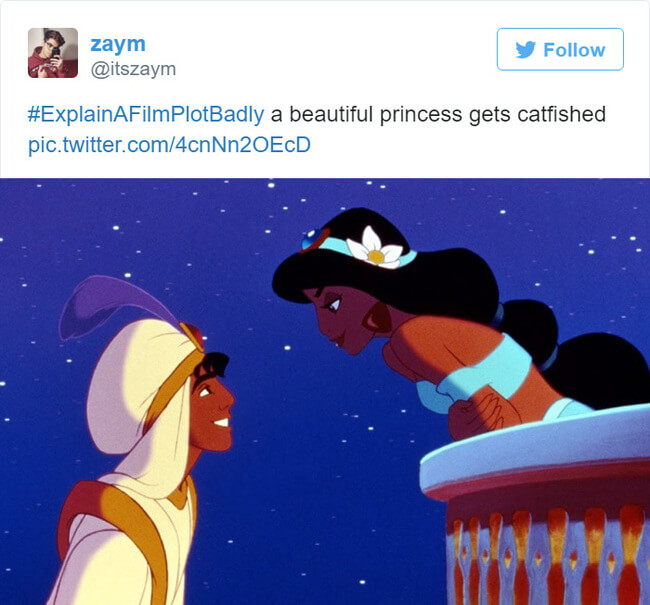 This is exactly what this movie is about, a rich princess gets cat fished by a hustler, this should be studied in schools as to what not to do in relationships.
20. The Notebook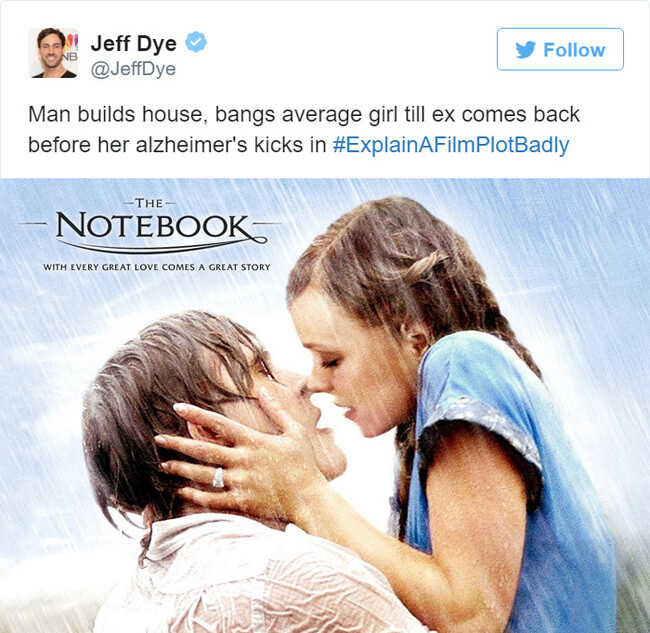 This sounds like the worst movie ever even when you boil it down to a one sentence plot. I honestly wouldn't want to watch this movie after reading this one line movie description.
21. But I don't want to drown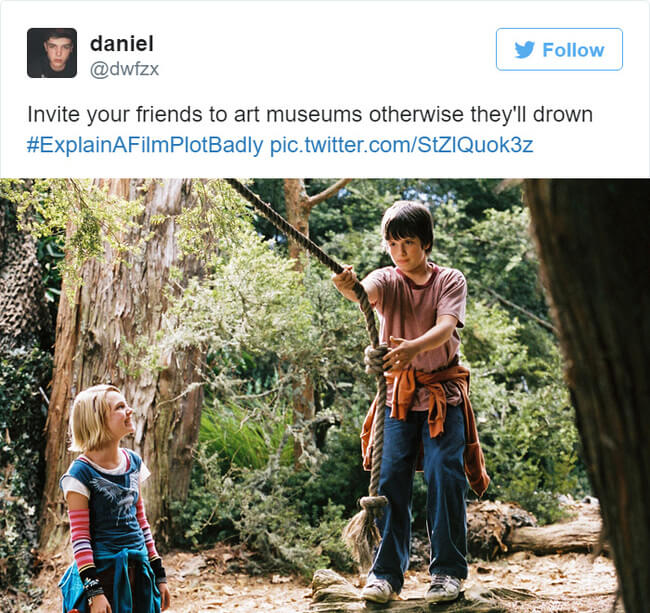 Yeah, this kid pretty much forced everyone else to go with him and do what he wants.
22. Seriously Kylo – don't even try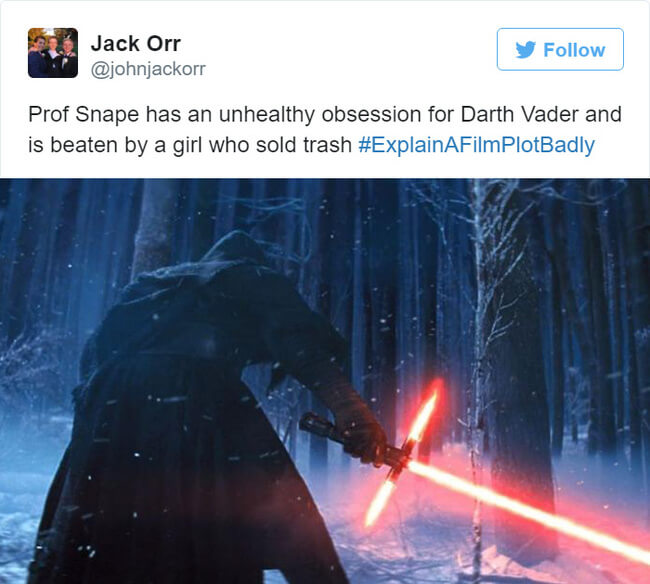 Did we already mention that the Star Wars movies were the reason we wrote this post in the first place.
23. Why are we still talking about this movie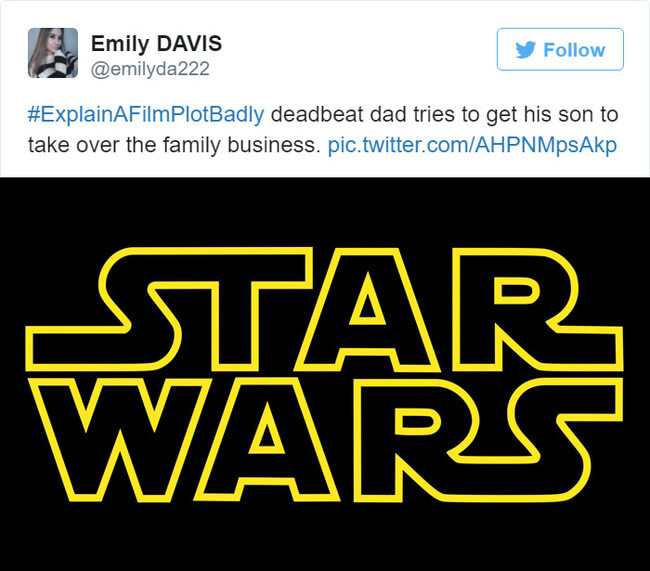 I love this description. Darth Vader trying to convince his son to take over the family business is a hilarious short description of this movie. And just nails it!
24. Whoa! So Batman is racist!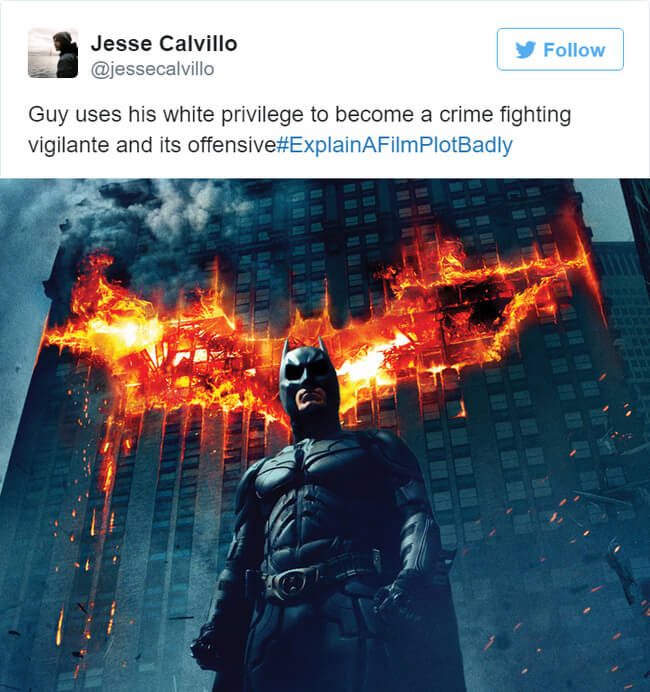 25. Paranoid Billionaire afraid of immigrant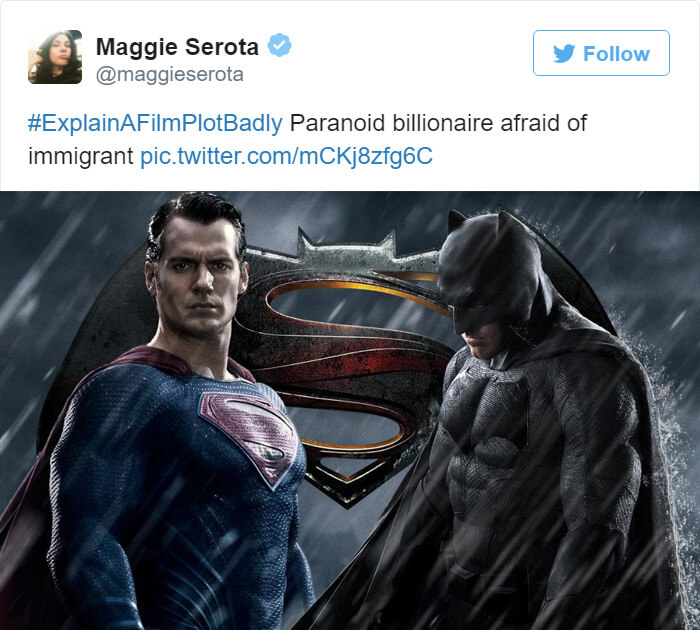 When Batman met Superman. It's like when Harry met Sally, only very different.
26. A guy learns to love a girl without her Instagram filters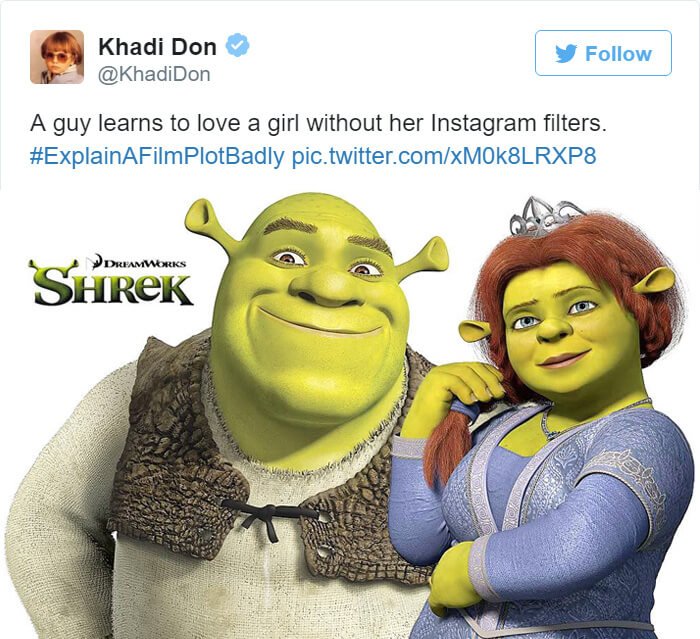 Spot on! #nofilter
27. Boy spends 7 years being a third wheel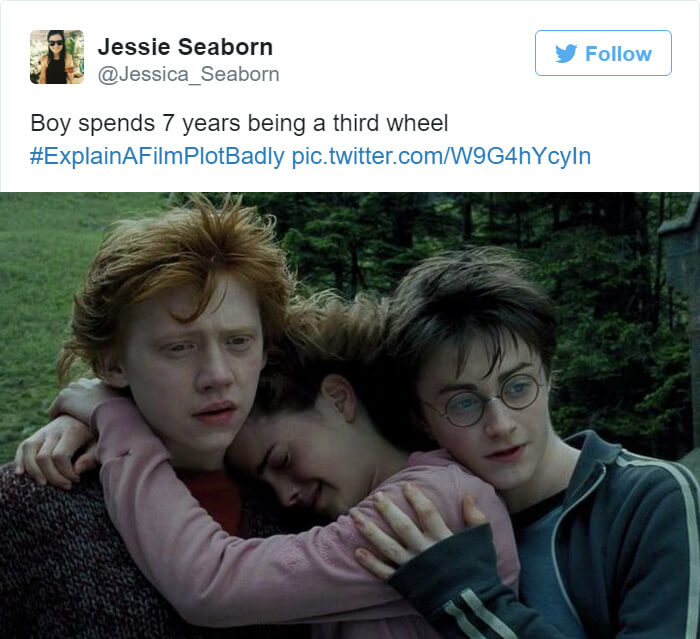 Dude, move on, get your own girl or something. Let it go.
28. Ball is life
This is actually a very easy movie to describe in short.
29. Adopted kid's older brother won't let him hold the hammer
The whole Thor movie series is about his relationship with his younger brother. Wild
30. Girl has to pretend she's a man to be taken seriously.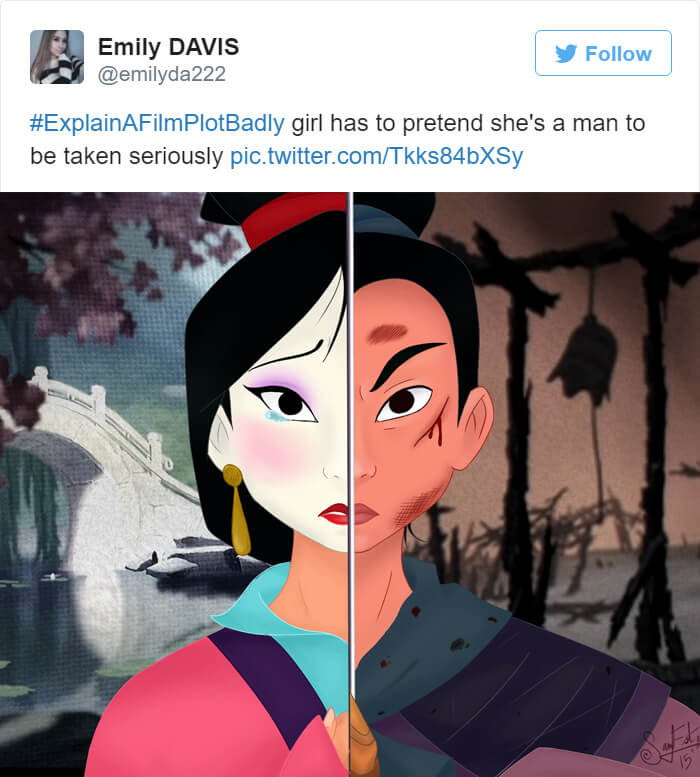 It's sad, but this is the true story of this move.
31. A family's airbnb experience goes very wrong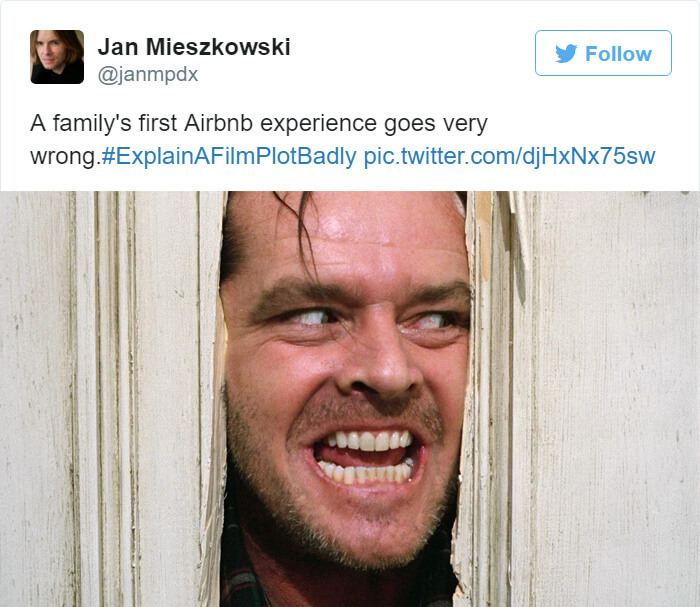 The craziest movie on this list gets the most accurate and hilarious one sentence movie title.
Never thought about it like that. Bruce Wayne does have privilege, so this is actually spot on.