A good food challenge is always fun, but the problem is that most of them are too hard to complete. If you think you can complete one of these, tell us in the comments, better yet, prove it!
1: Try this 11 pounds, 30 inch pizza at Big Pie in the Sky In Georgia if you dare. For a fee of $50 if you finish this massive pizza challenge you will win $250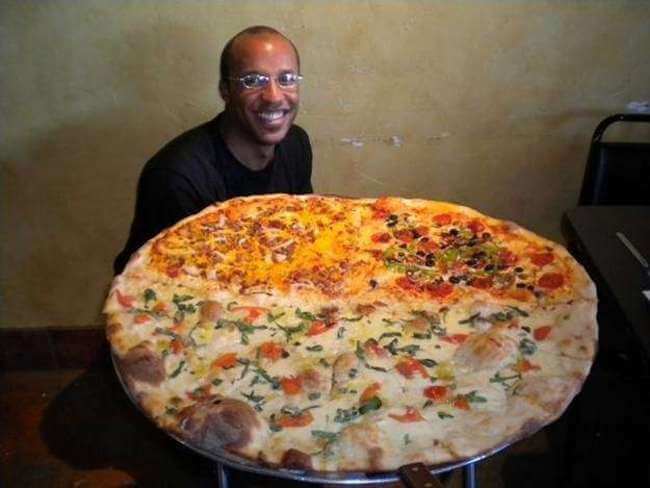 2: If you're in New Jersey, take on this 105 pound burger in just one hour, but you can do it with 10 friends, Just stop by Clinton Station Diner and try your best, if you make it you will win $5,000!

3: If you also like to live dangerously, take this food challenge in the form of a 48 ounce bowl of soup with the hottest chili sauce in the world. Once you get out of the hospital if you somehow manage to finish this, you will earn a cool $1,000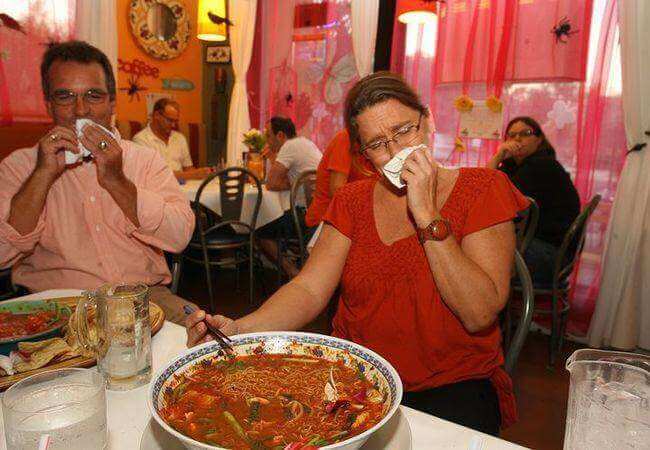 4: 45 minutes is not nearly enough time to try and complete this food challenge. It's three burgers inside two pizzas with triple American cheese, and onion rings & triple chili fries all covered in triple Fallout Sauce, which made out of Ghost Peppers if you don't know , the hottest chilies in the world. Have fun:)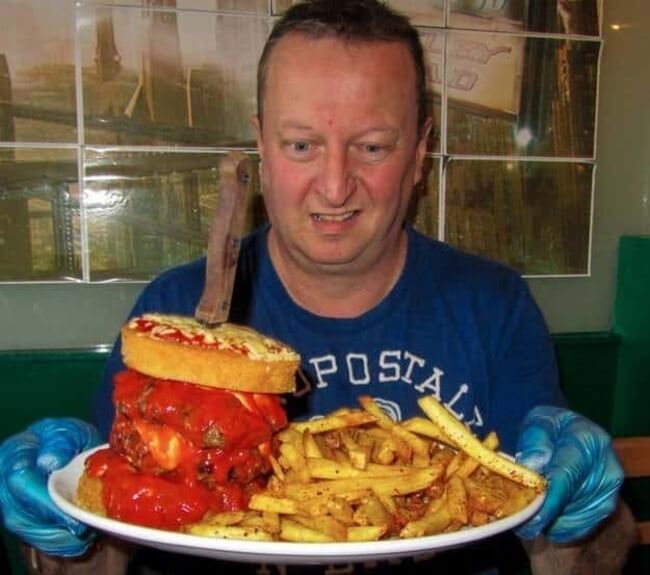 5: This seven pounds food challenge from Jack-N-Grill is a breakfast burrito with potatoes, a full pound of ham, dozen eggs and a whole onion. are you up for the challenge?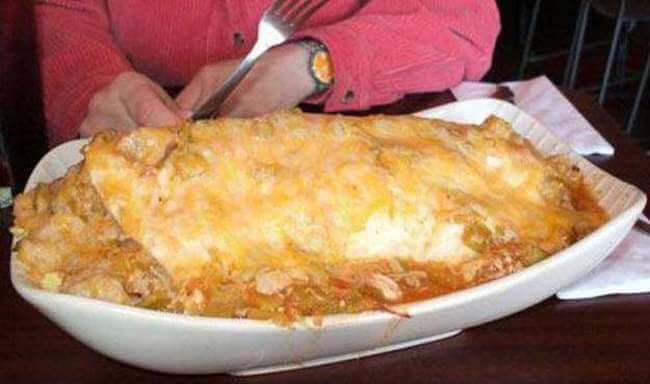 6: Looks at this 16 scoop sundae and try to hold it in. It has three brownies, three bananas, whipped cream, chocolate syrup and a whole lot more. But before you go all crazy, finishing this yummy challenge will only get you a picture on the wall.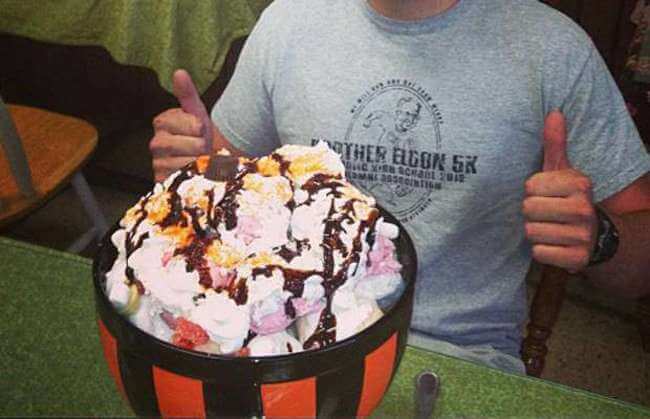 7: You and a friend can try and tackle this pizza challenge, a 22 inch, 10 pound pizza filled with cheese, meats, veggies and peppers. Go to town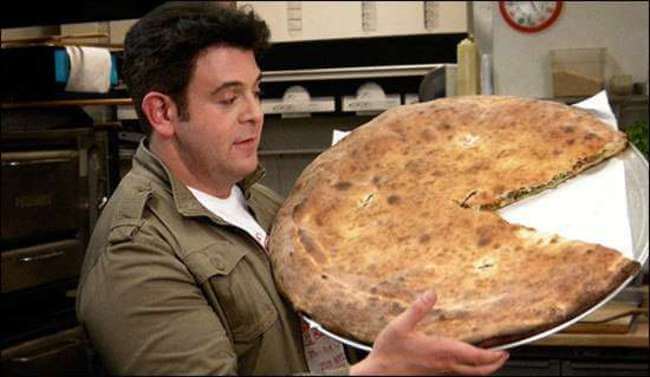 8: OK, this is serious, it's called The Ultimate Destroyer and it's a 12-inch hoagie bun, inside there's half pound of pulled pork, half pound of hickory smoked sliced pork, half pound of hickory smoked ham, half a pound of hickory smoked turkey breast, three half pounds of hickory smoked hamburgers, half pound of smoked brisket, smoked BBQ sausages and a lot of fuc*ing sauce. Phew, did we leave something out? I think this thing have everything in the world inside. After you die trying this, you only get your photo on the wall ( of your corpse)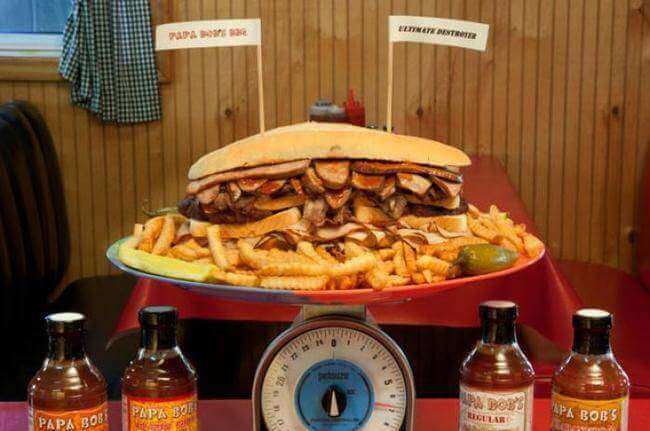 9: If you like pancakes like me, and you can complete this food challenge in 45 minutes, you get a T-shirt, your money back and a souvenir coffee mug. All this at the California Pancake house in Fresno. By the way, if you thought it's easy just know it's a 25 inch pancake with 10 eggs, four ingredients of your choice, a cup of cheese and two cups of potatoes. Good luck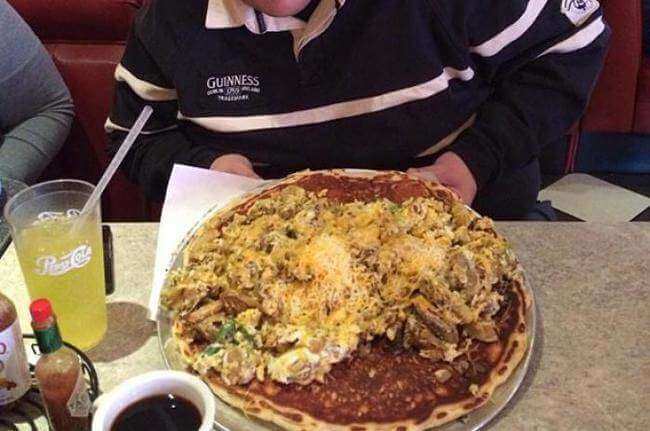 10: Trimbo's Pizza will give you a T-shirt and put your picture on the wall if you can eat this five pound stromboli in under 1 hour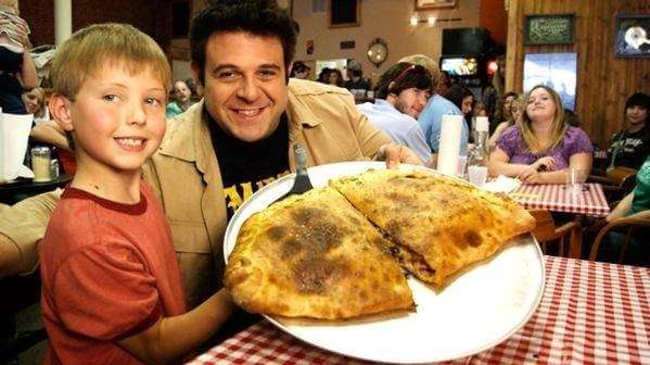 11: Now here's a food challenge i can get behind: This massive sundae is served in an actual kitchen sink, already winning in the creativity department, it holds three sliced bananas, eight scoops of ice cream, eight servings of toppings, a shit load of whipped cream, toasted mounds and cherries. If you can complete this in under the current record ( 20 minutes ) you get free ice cream for 1 year
12: This looks…OMG, it's called The Big Fat Ugly, for a reason, it's a sandwich with four cheeseburgers, double cheesesteak, chicken cheesesteak, gyro meat, grilled chicken, bacon, sausage, mozzarella sticks…do we need to go on? Really? Chicken fingers, chicken nuggets, mac n cheese bites, fried mushrooms, jalapeno poppers, pizza bites, onion rings…give me a second to swallow my puke, mini corn dogs, hash browns, American cheese, ketchup and mayo. You need to try and finish this food challenge in just 15 minutes to get a free T-shirt and sandwich. Blaa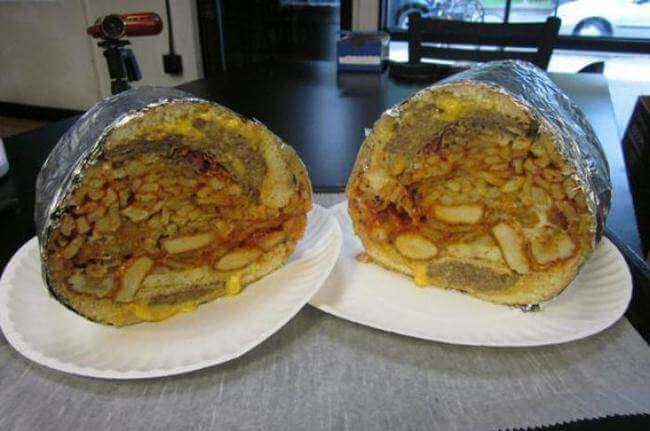 13: If you want to eat for free, all you need to do is eat this 72-ounce steak, a bread roll,ranch beans, shrimp cocktail, salad and baked potato. Easy as pie, mMmMm…Pieeee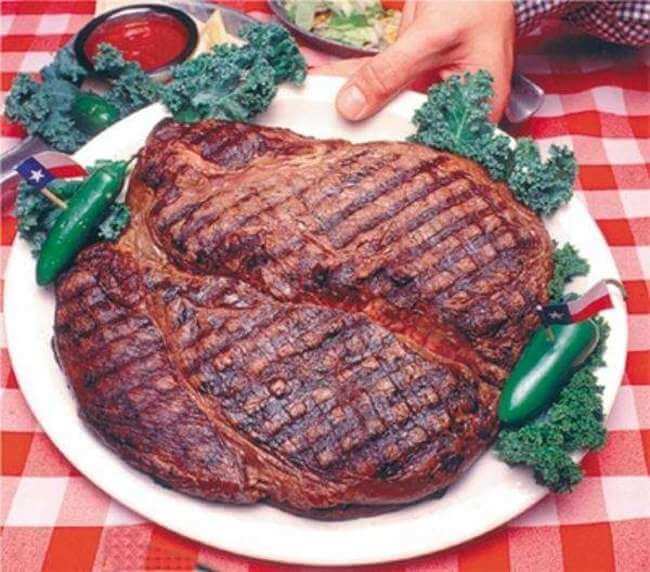 14: Here's a food challenge for you: take 45 minutes and try to eat this 5 pounds of ground sausage,pork and beef wrapped in a slow-cooked brown sugar bacon with fries or potatoes on the side. You can try this at Paddy's Log in Chicago.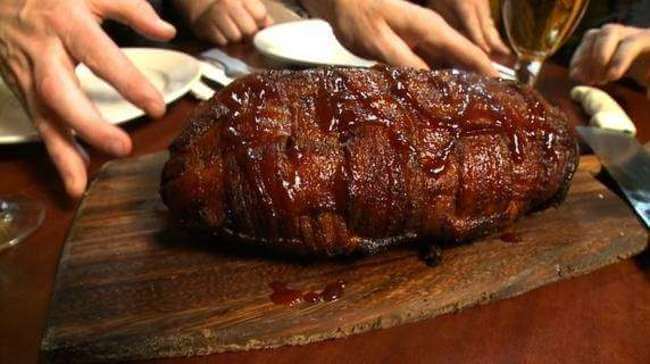 Source: Imgur