Something unusual has happened at this year's Miss America competition, which was held this week at Boardwalk Hall in Atlantic City. Miss Colorado decided to show the audience and judges something beyond beauty and entertainment talent – her heart.
Miss Colorado name is Kelly Jonson; she is 22 years old and she works as a nurse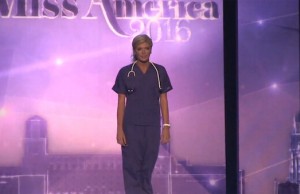 This educated young woman, who graduated as the valedictorian of her nursing class at Grand View University in Des Moines, Iowa, had a really inspirational monologue this Wednesday at preliminary rounds of the 95th annual Miss America. She emphasized the importance of being a nurse; the way her job influences patients' lives at the personal level and pointed out that nurses are in fact lifesavers. She recalled the moment when she realized that, and the fact that she will never be just a nurse. In her monologue, she described her relationship with a patient who suffered from Alzheimer's diseases. Joe, that's his name, said to her these kind words that opened her eyes:
"Although you say it all the time, you are not just a nurse. You are my nurse, and you have changed my life because you have cared about me."
"Patients are people with family and friends, and I don't want to be a nurse that ever pretends," she concluded.
You can listen to her inspirational monologue at the link bellow, and note that the final round of Miss America competition coming up on Sunday in Atlantic City.
[youtube http://www.youtube.com/watch?v=nYoCW1DQWQE]
Source: Today