Somewhere between the walls of the Gu Guanyin Buddhist Temple in the Zhongnan  Mountains, in China, rests the oldest Gingko Tree in the world. Every autumn, this majestic, out of this world tree turns from green to a bright yellow leaving a blanket of golden leaves on the ground like it's heaven. You can see the amazing golden blanket from a helicopter, that's how eerie it is. Every year, tourists are attracted by this immense and ancient tree which have lived to see more than 14 centuries of our world. Unfortunately, there are not too many of its kind left and that saddens me and reminds us that beauty fades away at some point and all you've got left is your memories and the footprint it left imprinted in you.

In case you need another 58 reasons to visit China…
Gingko Bilboa is more of a "living fossil"
Apparently, this tree belongs to the rocks of the Jurassic and the Cretaceous periods. So, yes, somehow, it is from another world, a world that has died out a long time ago, but he stood the sands of time to bring its testimony to our current days. According to the Kew Gardens in London, this tree is "the only member of its genus, which is the only genus in its family, which is the only family in its order, which is the only order in its subclass".
This tree would once adorn the gardens and temples in the East, as it is native only to China. It was around 1700, that it was also brought to Europe. Unfortunately, deforestation played a major role in its decline and today there are only a few Gingko Biloba trees left. They should be protected and taken good care of because they originate in a period older than that of the dinosaurs. Somehow, they managed to survive and still stand tall to this day.
This 1,400-year-old Gingko Tree still stands tall in the Gu Guanyin Buddhist Temple
I have done a few research on the matter, and it seems that the genome of the Gingko Biloba tree has 10.6 billion DNA nucleobases and about 41,840 predicted genes. Just for comparison, the human genome has only three billion. This is one answer to why this tree species survived so much and went through so many periods in time that there is almost no one older on this planet than it.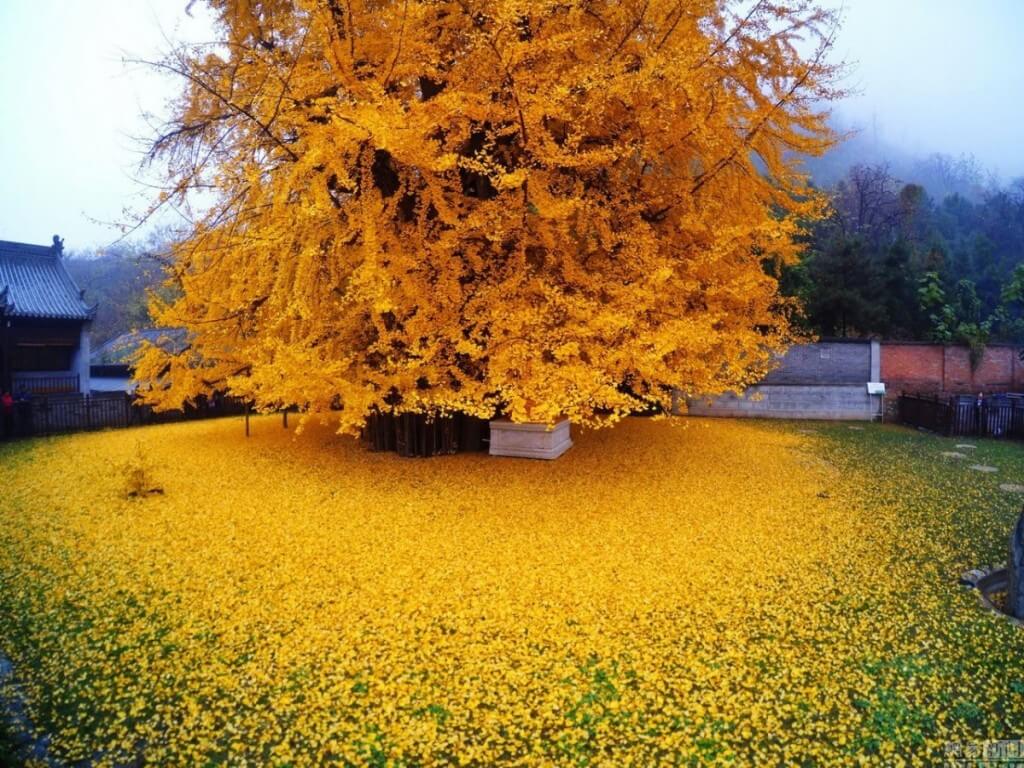 Everything you need to know about the Gingko trees
Gingko trees grow to be up to 35 meters tall, but there are so specimens in China which are over 50 meters tall. Its deep roots resist to any wind or snow damage. As the tree ages, the crown becomes wider and during autumn, the leaves turn bright yellow offering a spectacular view to anyone who happens to pass by. Somehow, this tree can resist to all sorts of diseases and insects and this is why we still got him here with us.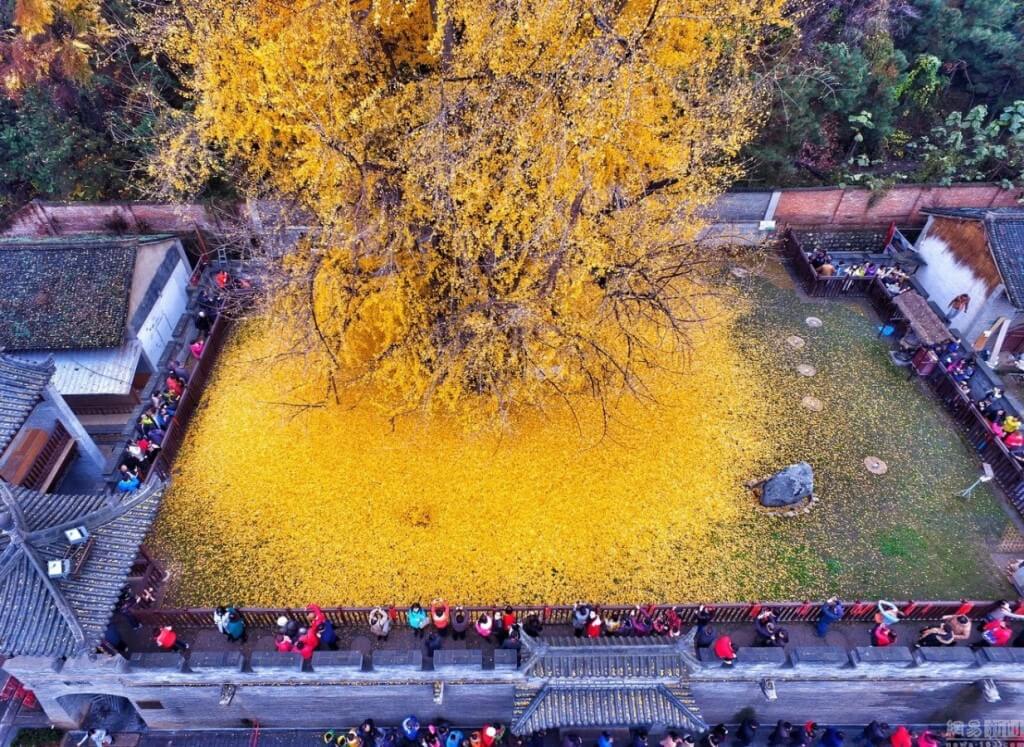 The Gingko tree has a spectacular self-healing power
The Gingko tree likes disturbed sites and can grow along rocky slopes or cliff edges with no problem. The Gingko can vegetatively grow from embedded buds near the base of the trunk in case the soil is eroding. Old trees can even grow aerial roots below large branches in case their huge crowns are in danger of being damaged. These aerial roots do not just stay there, they can reproduce completely when touching the soil.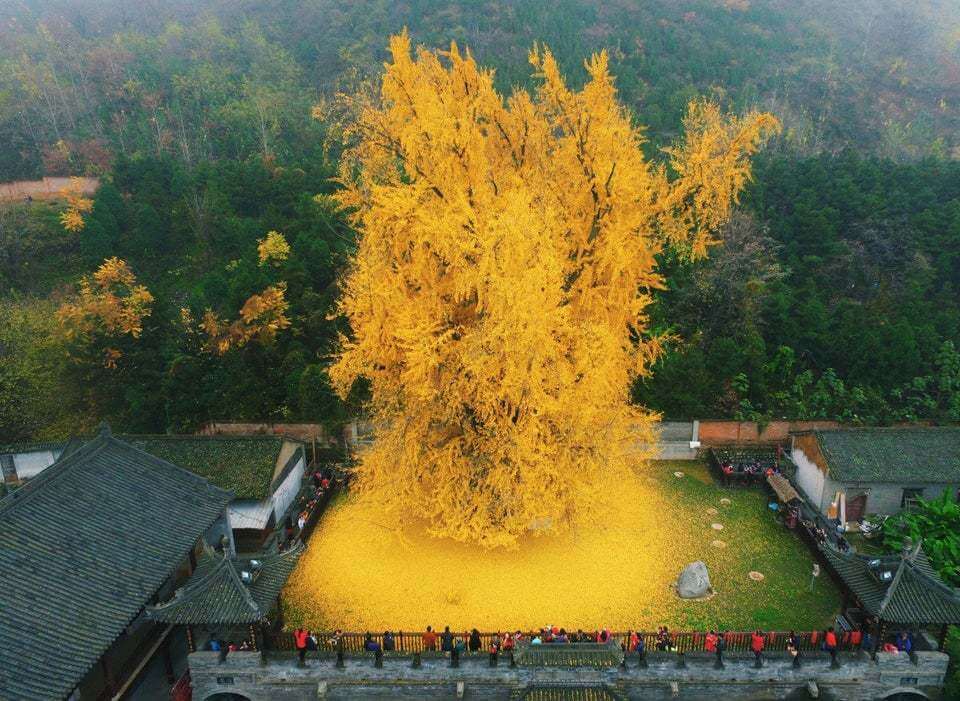 Yes, this tree is wonderful and it is worth a trip to China to stand below this amazement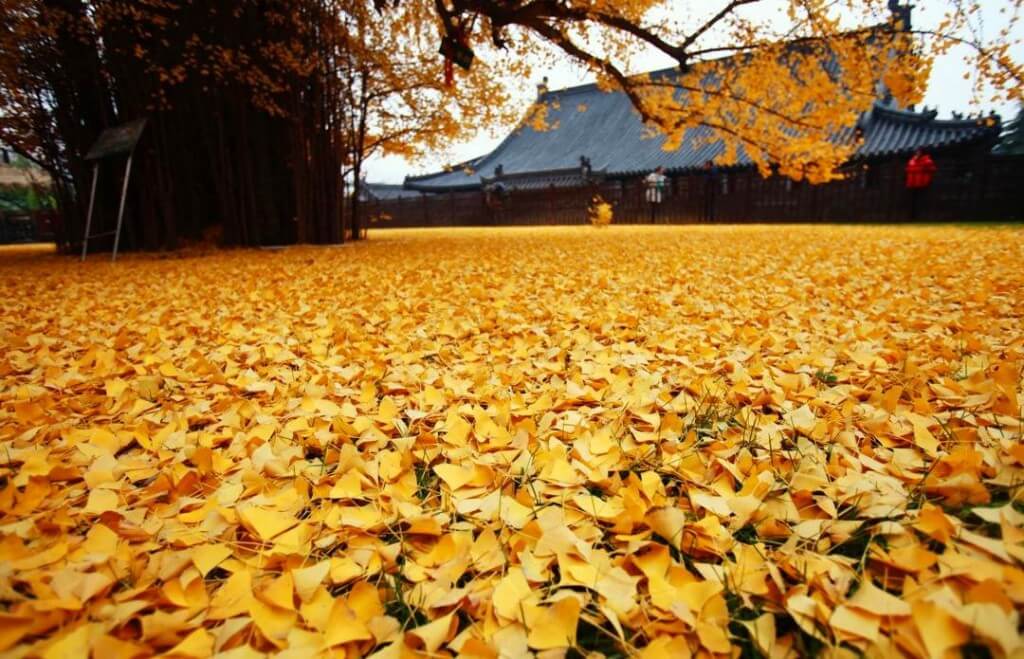 Just imagine walking in this "field of gold"
Images: Yicai.com
Via Can You Actually