Public displays of affection right? Wait…if you're a woman reading this then you have no idea what i'm talking about, but the guys, the guys know the struggle. We don't want to be next to them, and we don't want to do them ourselves, the only reason we ever do those things is because our naggy girlfriend or wife makes us.
But then of course every now and than comes a guy who actually loves doing it and ruins it for the rest of us, this time it was Tom Hiddleston and Taylor Swift who ruined relationships for everyone, forever! Just look at the photo.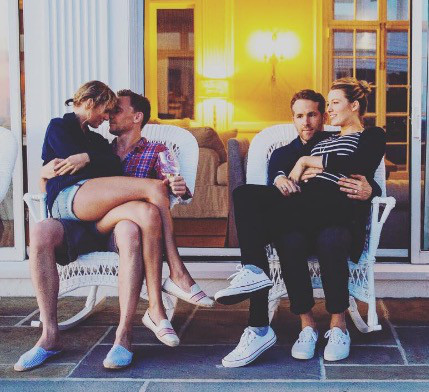 Now take another look at the photo and notice Ryan Reynold's face, this little photo got Twitter to lose it's shit because while you try to ignore the fact that Swift and Tom are about to make out Ryan's face says " What am i? Why am I here? ", we only assumes that he starts questioning his own existence and just going through a list in his mind of places he literally rather be right now. Somalia and Rwanda comes to mind to name a few, Sitting in this chair between these two couples faking a romantic moment just to get a few likes. Kill me now.
Don't worry Ryan, Twitter knows your pain:
Could Ryan Reynolds look more bored if he tried…?! pic.twitter.com/FFYTYVZDeB

— R1 Breakfast with Nick Grimshaw 2012-2018 (@R1Breakfast) July 6, 2016
"I now know what to call the Deadpool sequel: Deadpool: DeadInside."
– Ryan Reynolds' internal monologue pic.twitter.com/DaNBlFlz3q

— Mother Suspiriorum Fan Account (@coucouaaron) July 6, 2016
https://twitter.com/BeatFassbender/status/750455294266859525
@VancityReynolds your life used to be awesome, until you were stuck spending July fourth playing "douches in love" w/ Taylor swift & co.

— Andrew Strafaci (@CynDrew) July 6, 2016
https://twitter.com/Bxkii/status/750683065014480896
Ryan Reynolds i want to go home pic.twitter.com/guio4gUZce

— Funny Tweets (@FunnyThingsUK) July 6, 2016
based on this pic, Ryan Reynolds should be Bond; only one with sufficient testosterone to look uncomfortable #freeryanreynolds

— @Baldwhinger (@JMC_Starbug) July 6, 2016
Ryan Reynolds looks like he's trying to decide the best way to escape https://t.co/FiFEhJMinL

— One of those Crazy Wesker Kids (@OhMySaunders) July 6, 2016
Is this look "Do I tell my beautiful wife that she's getting a leeettle too heavy for lap rides?"❤️ @VancityReynolds pic.twitter.com/gRea6j2k9T

— Catherine with a "C" (@CathsTake) July 6, 2016
The @DailyMailUK's snapchat is amazing today. Ryan Reynolds is all of us. pic.twitter.com/GXbhH9rKGM

— Shupette (@Shupette) July 6, 2016
https://twitter.com/CMaeTay/status/750675832444579846
https://twitter.com/CMaeTay/status/750676109113430016
https://twitter.com/chriztineb/status/750675756418736128
We heard that Ryan and Lively managed to escape this horrible place before losing their minds, thank god. But as for Swift and her new sweetheart, We give it three more months.
Source: brobible