If you're having a rough ending to this year, you need to step back a little, take a deep breath and remember all the good things that happened this year. If you can't, take another big breath and watch this cute little white rhinoceros taking his first steps ever.
He was born this Christmas Eve at the Toronto Zoo and he's the first white rhino calf to ever been born at the Toronto Zoo. The newborn is cute, but not so little, he weighs about 62 kilos and "has very hairy ears", reports the zoo.
The little baby is currently under observation since the first 30 days are quite important for him and his mom, Zohari.
"Zohari's genetics are very valuable to the White Rhino Species Survival Plan which makes this birth particularly significant. Zoo staff were monitoring her 24/7 for several weeks and their passion and commitment should be commended. The Toronto Zoo is working hard to help raise awareness and funds to save this species and other rhinos in the wild"
said Maria Franke, Curator of Mammals, Toronto Zoo.
The Zoo is currently involved in a major conservation plan for the survival and well being of the white rhino which is listed as Near Threatened on the International Union for Conservation of Nature. Apparently, the yet-to-be-named little baby has only about 21,077 fellows left on this planet. There was a time, though, when there were only 20 left in the wild in South Africa Umfolozi Game Reserve and since then, they are fighting to put the species back on track. And since a white rhino's gestation period is about 425-496 days, the efforts are no trifling matter.
The happy mom rhinoceros and her new baby born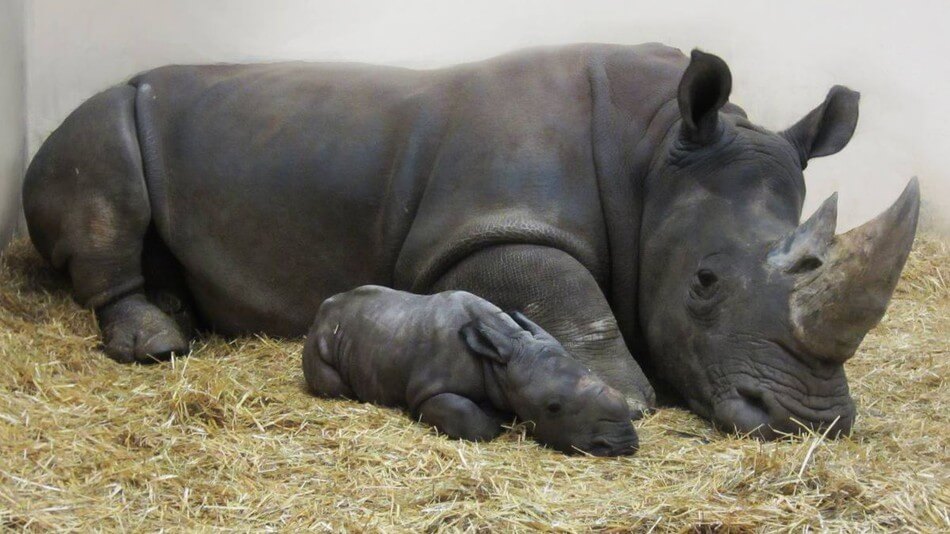 Why are they nearly extinct? Because their beautiful horn is a very much sought-after as a black market item.
So, the white rhino species is entering the new year with 1+. You rock, white rhino!
[the_ad id="71925″]