We've done it again, this time with a list of funny no soliciting signs that will surely make you laugh. You may have seen a "no soliciting" sign here and there and wondered what it meant, what is soliciting, who does it, and who do they do it to, you know, before you start laughing, why not learn a thing or two.
Keeping solicitors away can be as easy as putting up a sign. People usually put up "no soliciting" signs to request (or even demand!) not to be disturbed by solicitors. But where you place the sign and what it says can make all the difference in how effective it is. 
Be sure to put your sign where solicitors can immediately see them. This can be in your yard, around your property, or right on your front door. 

The content of your sign will also matter. Boring "no trespassing" or "no soliciting" signs might not get the message across. 
So what should you do? Add a bit of humor, of course!
Here is a big list of funny no soliciting signs that you can take inspiration from.
Funniest no soliciting signs we found
1. These homeowners seem to have done everything, from believing in Jesus to buying all that they need. So solicitors, just go away!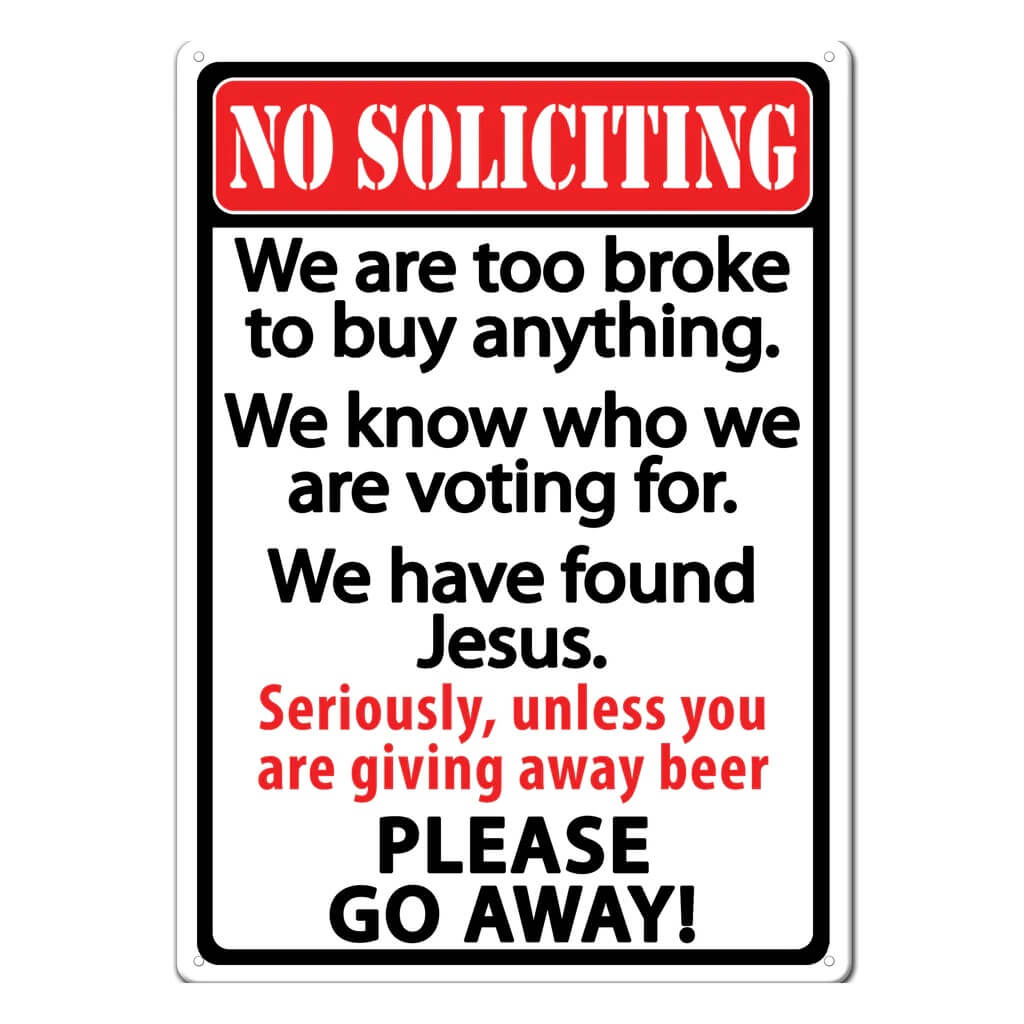 2. So many solicitors have come through these homeowners properties that it's beginning to get difficult to hide the bodies… beware.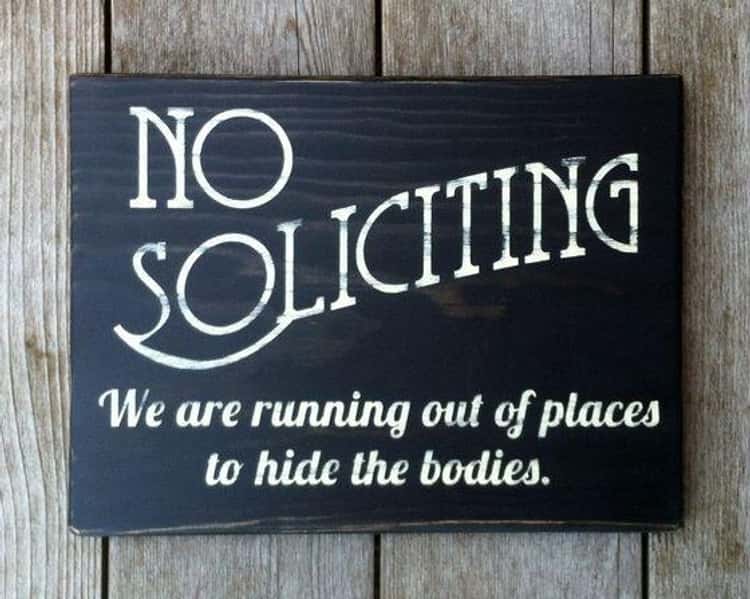 3. Carlos the burrito guy is the only one allowed in these parts.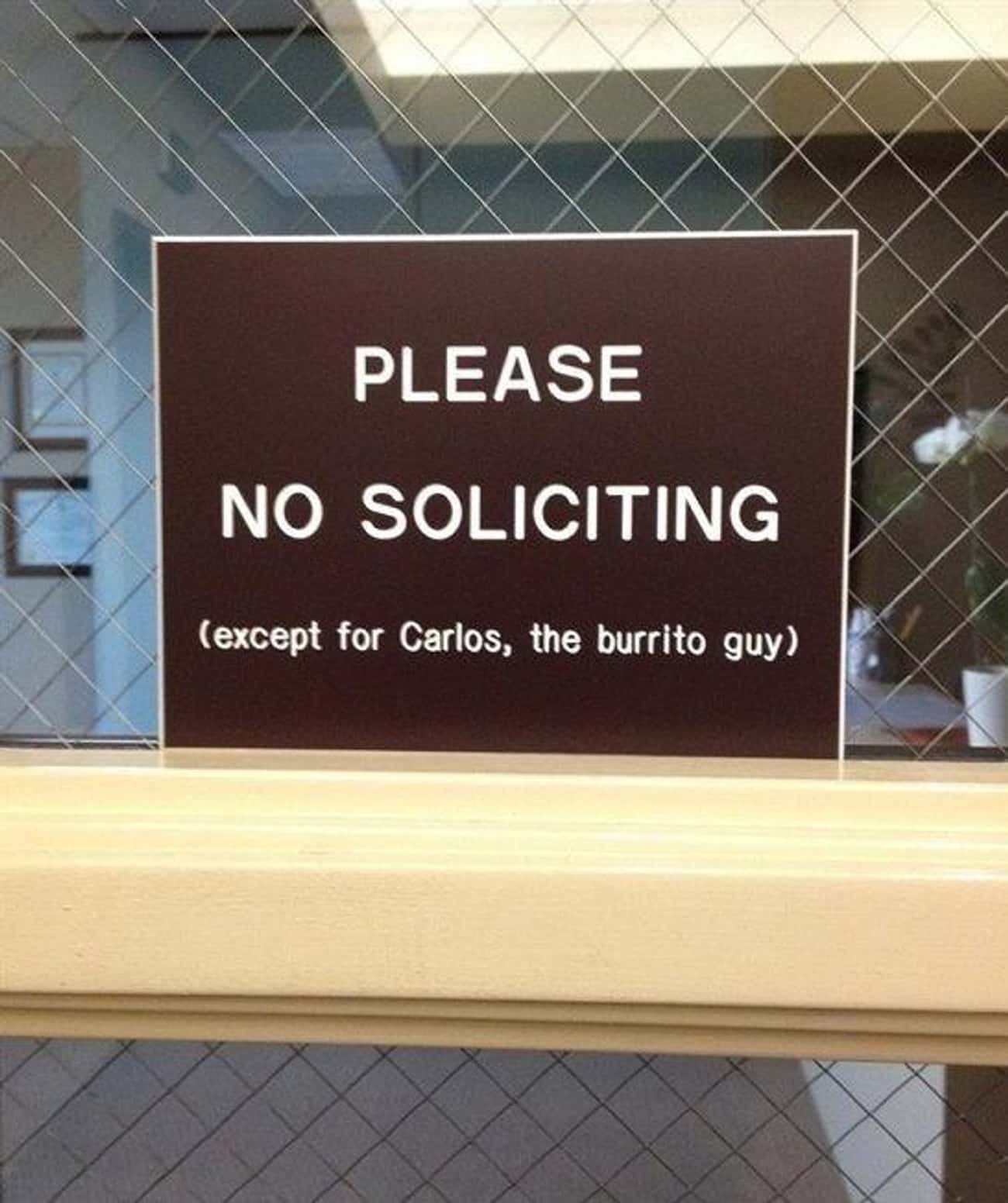 4. If solicitors aren't afraid of the mister in the house, then they had better be scared of the missus!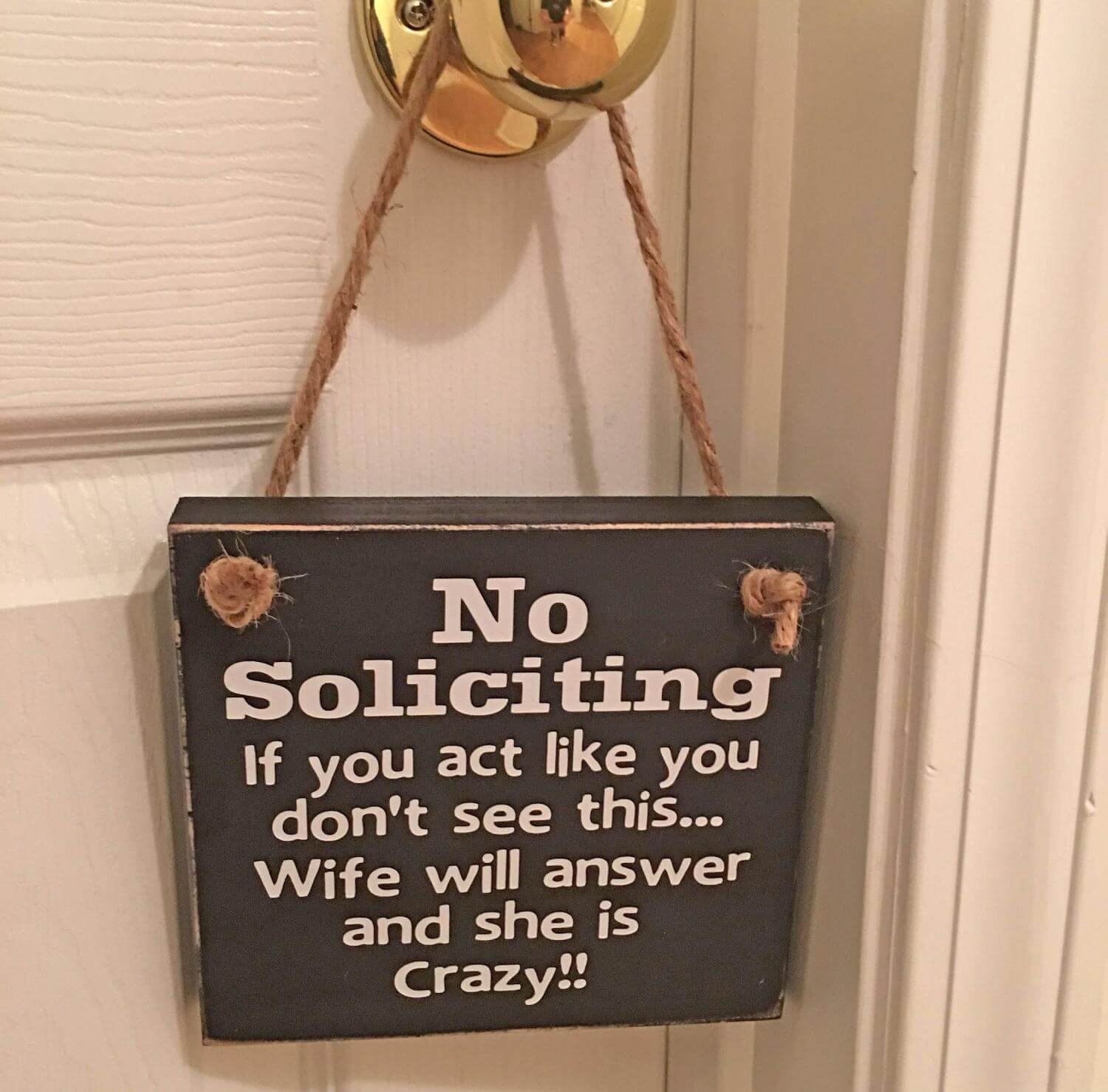 5. Just please don't make it awkward anymore, these people have had enough of weird introductions and rejections!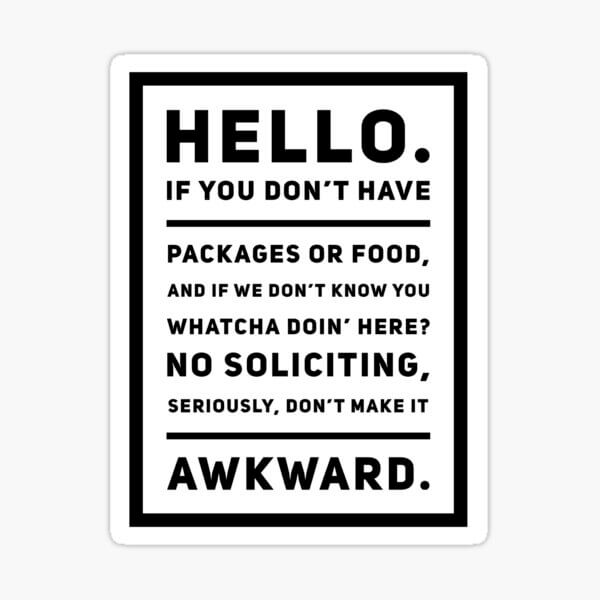 6. This home, on the other hand, welcomes solicitors! The catch is that they charge $20 per minute of soliciting.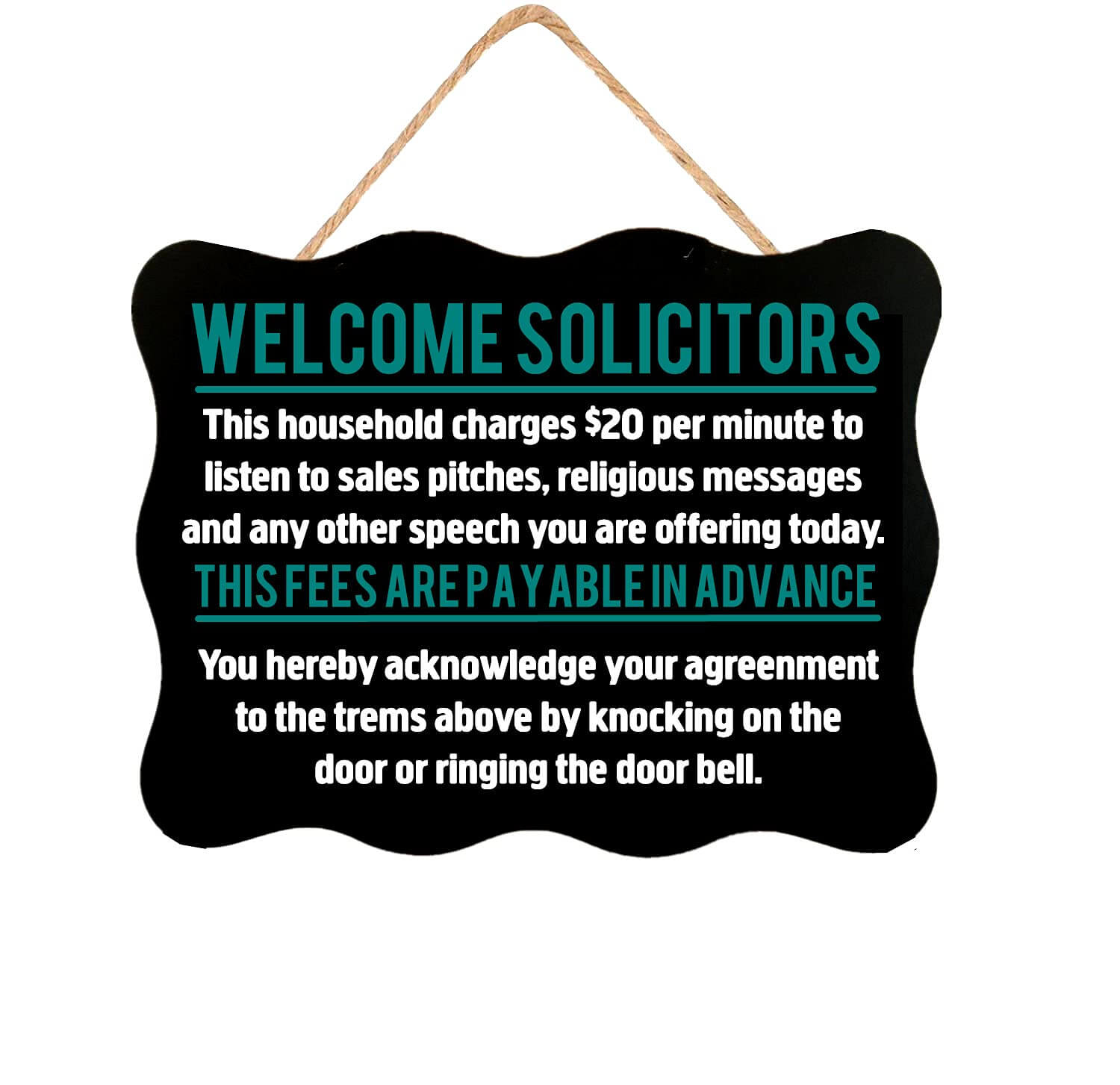 7. Unless you've got wine or are prepared to do some laundry, then you better not try to do any soliciting at this residence.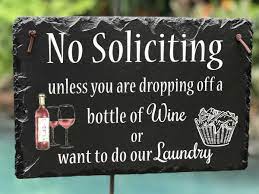 8. No soliciting is allowed here. Just ask the dog – he hates strangers.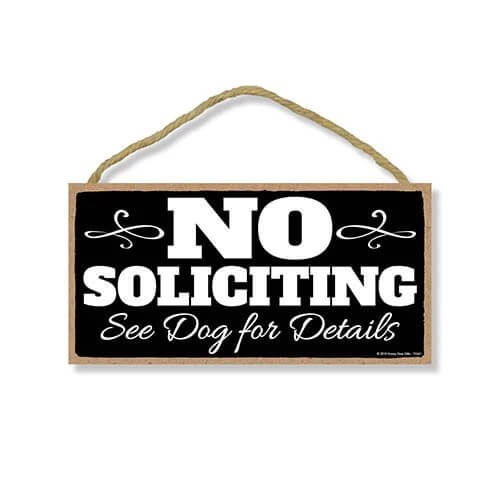 9. Please just don't ring the doorbell anymore.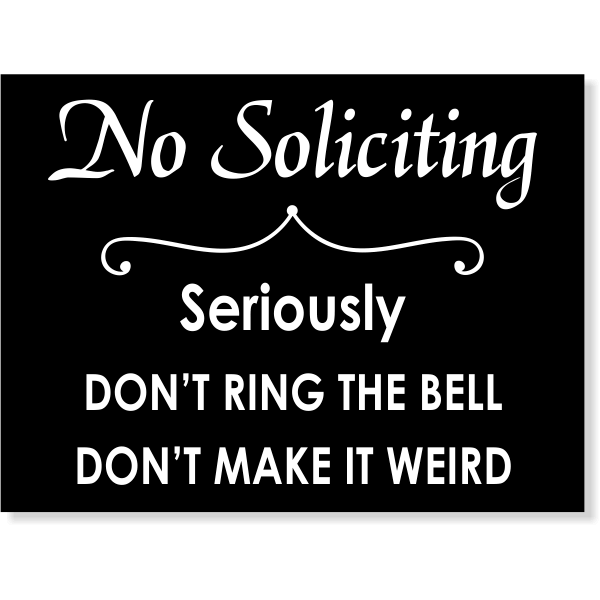 10. Nobody is allowed to solicit here except girl scouts, Amazon, and wine delivery. Otherwise, meet their pet tyrannosaurus rex!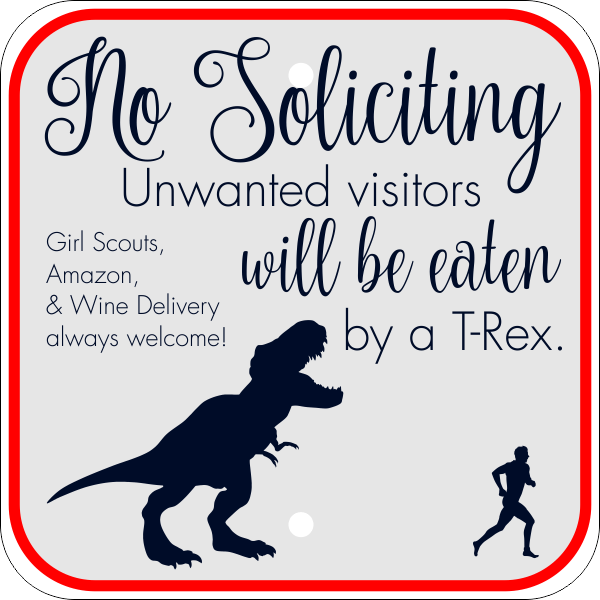 11. These homeowners are obviously Star Wars fans, and they do not want you soliciting on their property!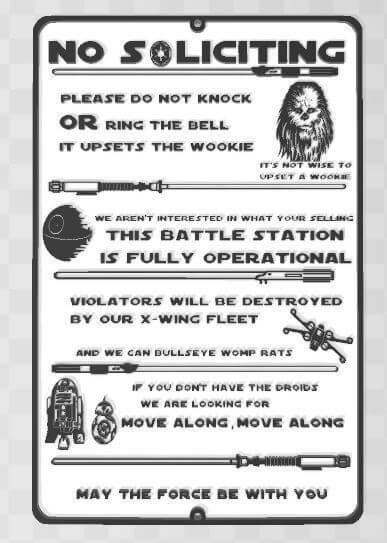 12. Some solicitors are straight up crazy, so these people would like you to sell your crazy somewhere else!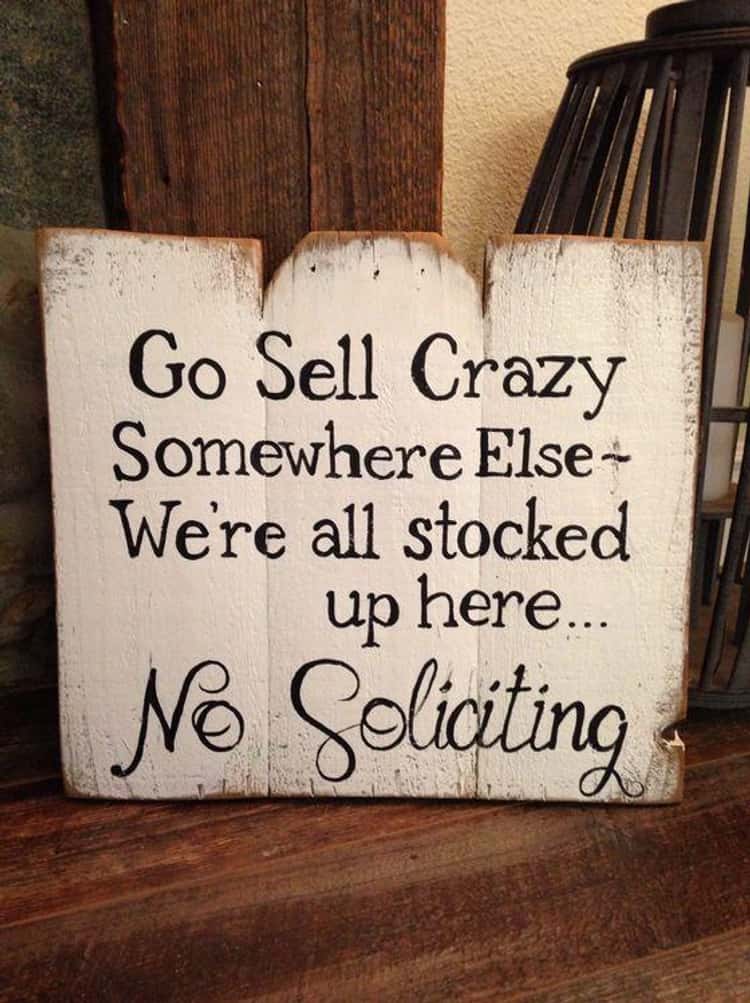 13. This is straight up dangerous for solicitors and trespassers! Beware.
14. Hiding is tiring work too! Please stay away.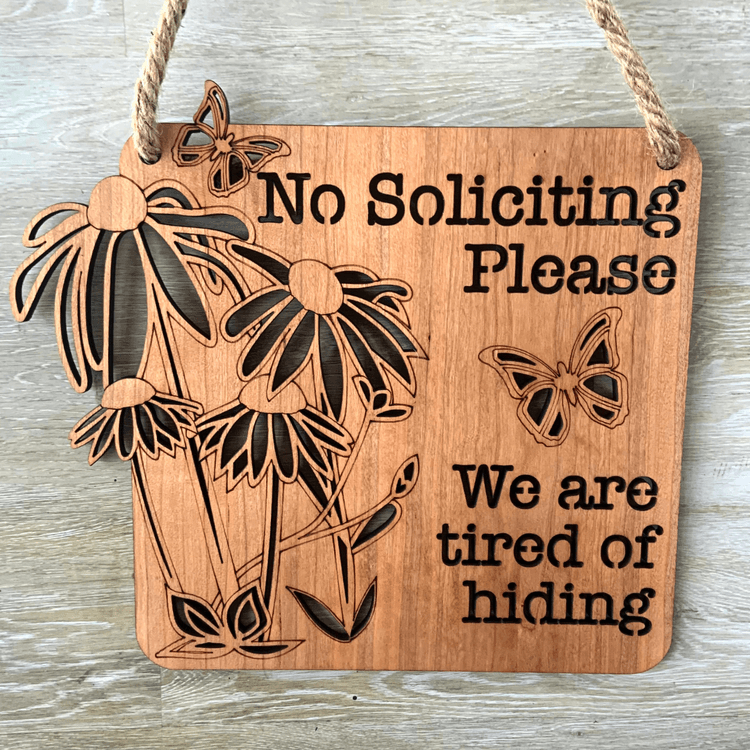 15. No soliciting unless you have thin mints. That's our policy!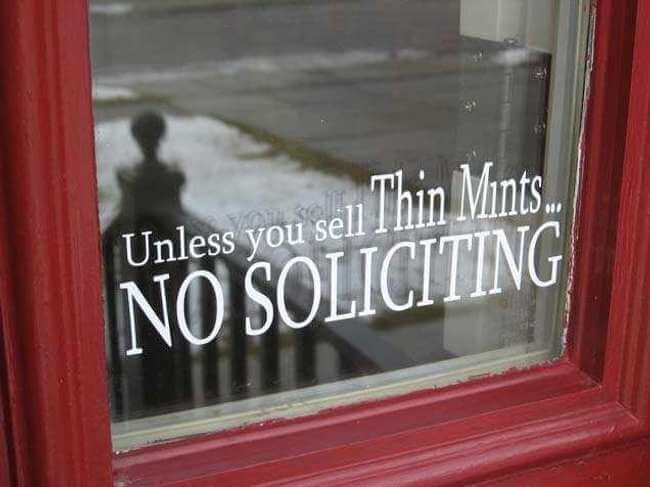 16. If you insist on soliciting and trespassing, then it's time to assume that you're a danger to my home. Get ready to face the consequences.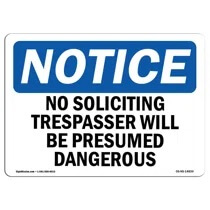 17. Everything you do will get caught on this home's camera system. So don't even bother soliciting!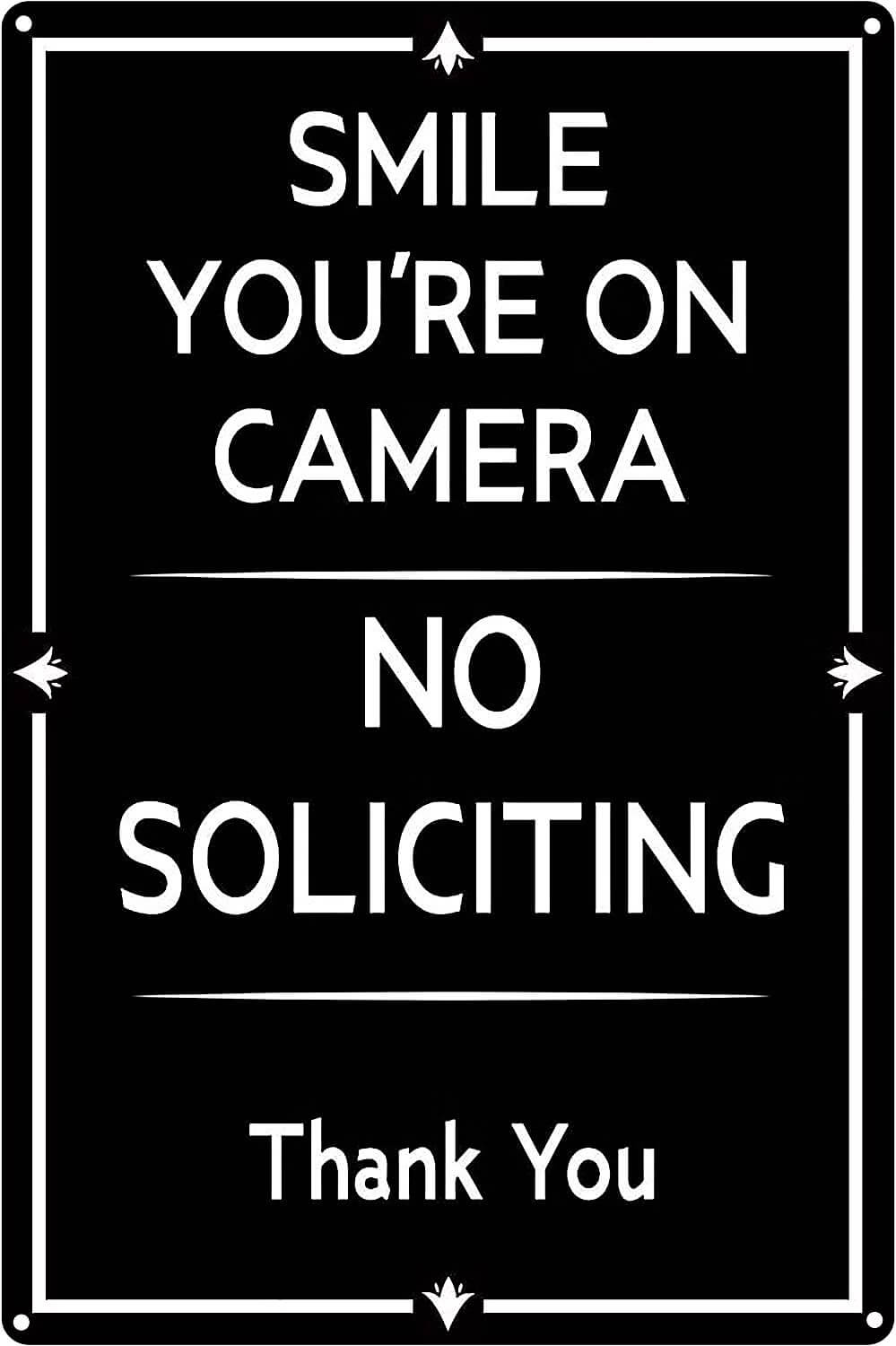 18. Nah, we're good. No thanks to you.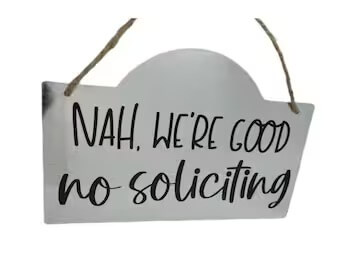 19. Here's another dangerous property for solicitors, and they double tap to make sure violators won't survive!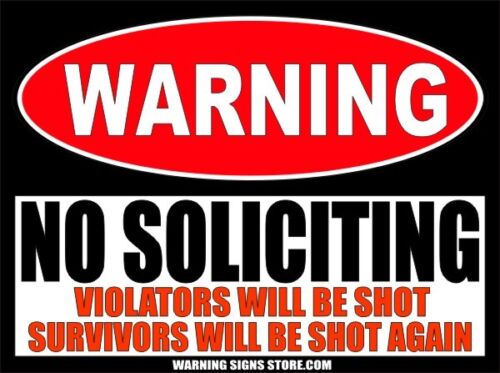 20. If you ignore the sign, then the homeowners have every right to ignore you. That's just the way it is.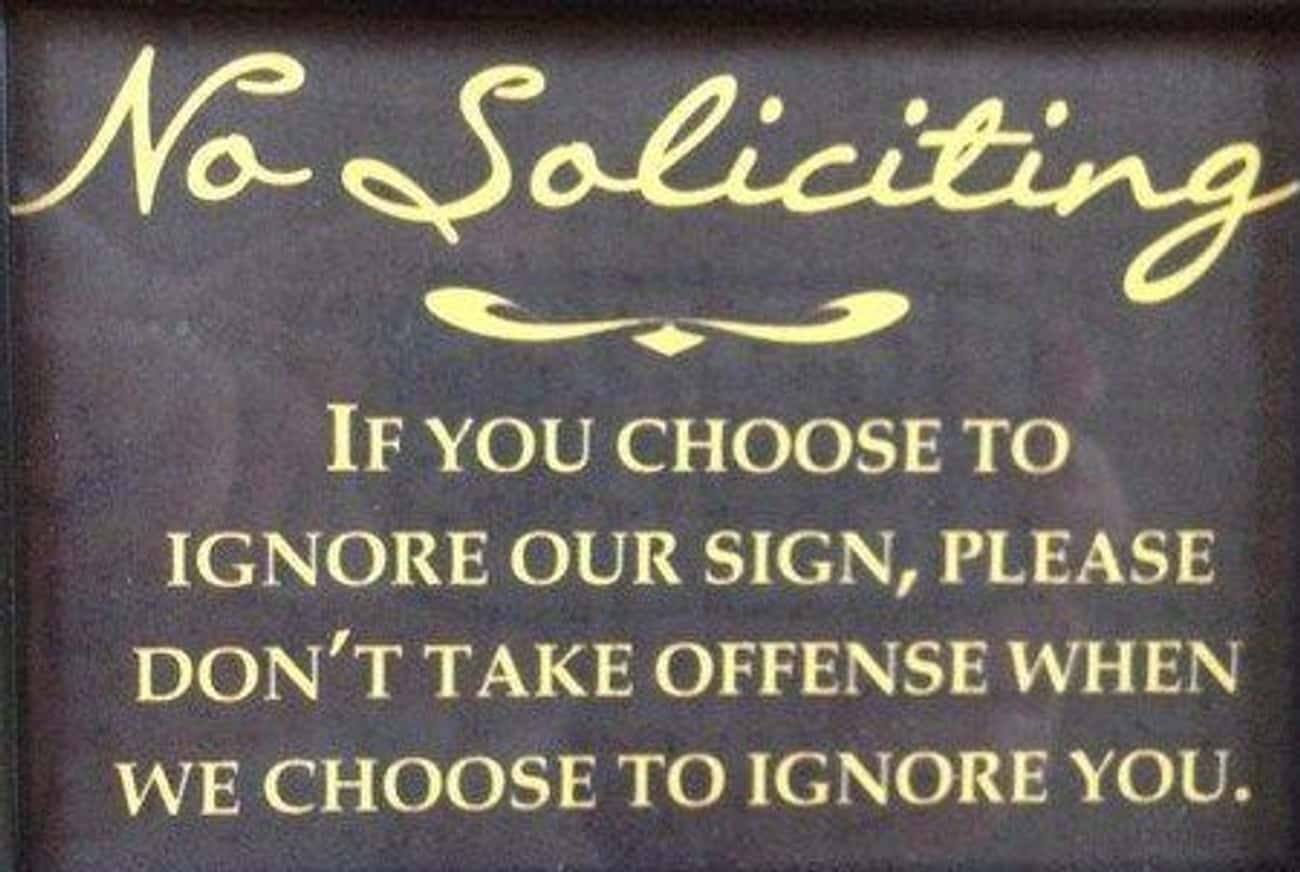 21. Here's another home with an even higher rate per minute of selling!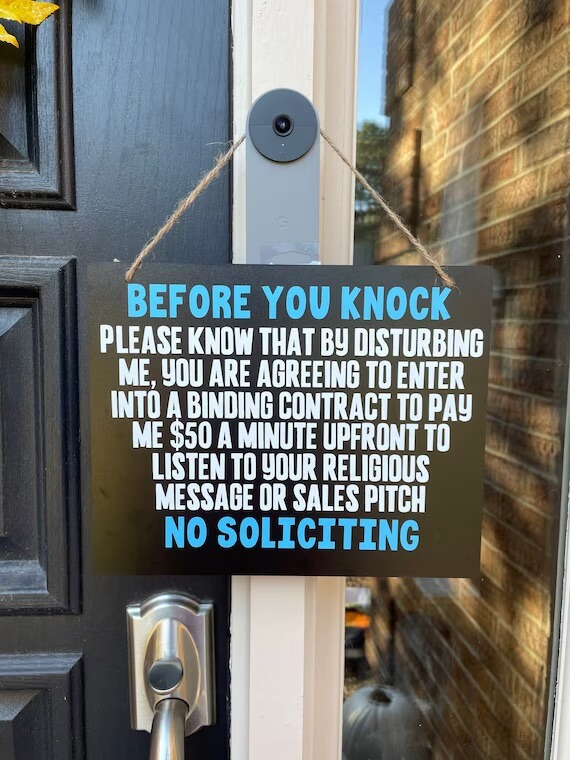 22. Ammunition is expensive these days, so solicit and trespass at your own risk.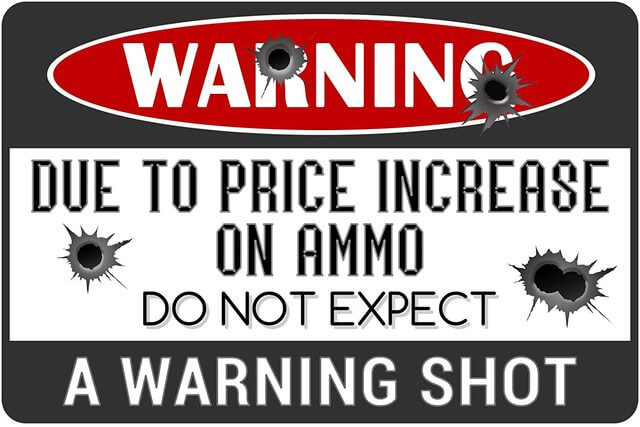 23. Beware. Just beware.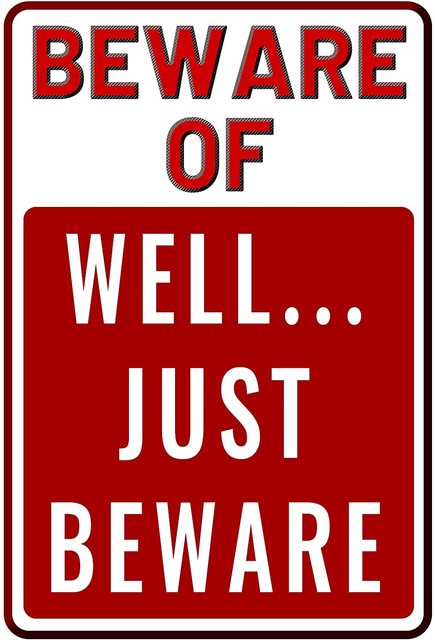 24. This person just doesn't care anymore, as long as solicitors don't step foot on his property. Please, go away!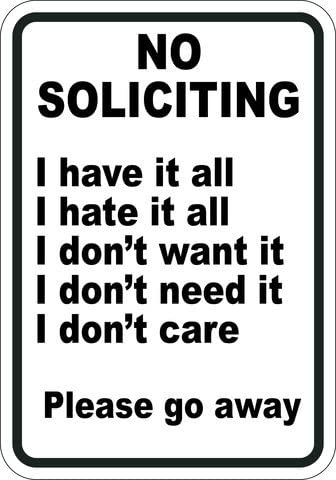 25. Nobody can do any soliciting here unless they're kids!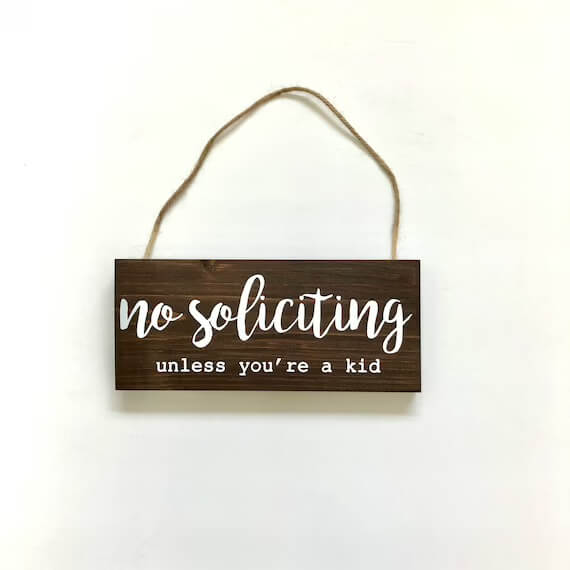 26. Here's what "go away" really means for this household!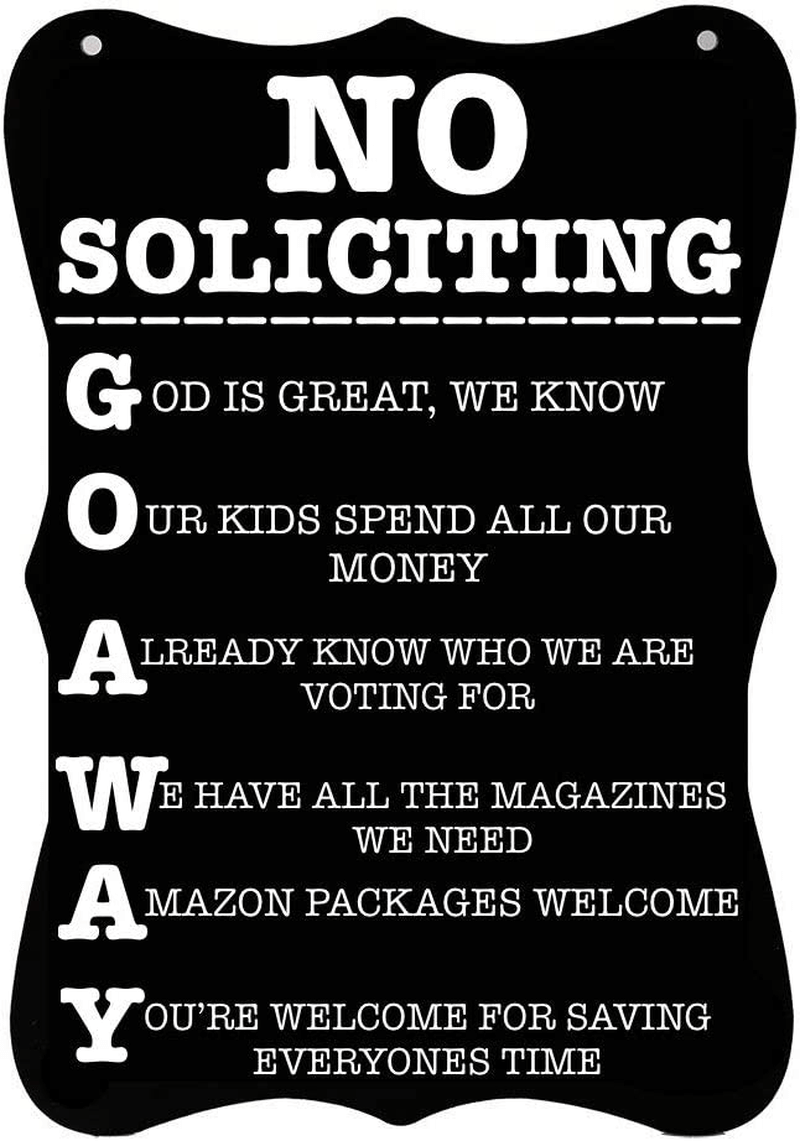 27. Solicitors and trespassers ought to heed this warning.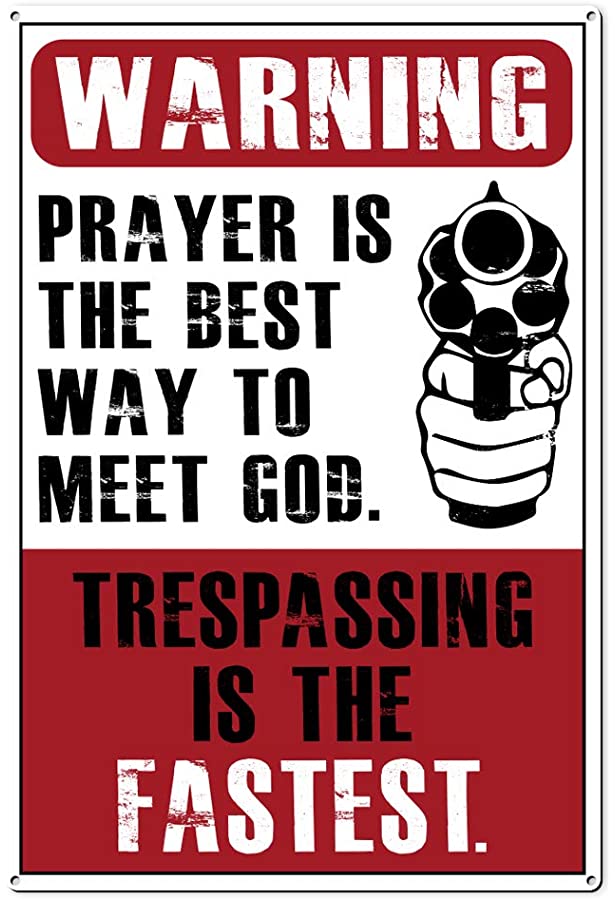 28. No soliciting, no questions, no nothing!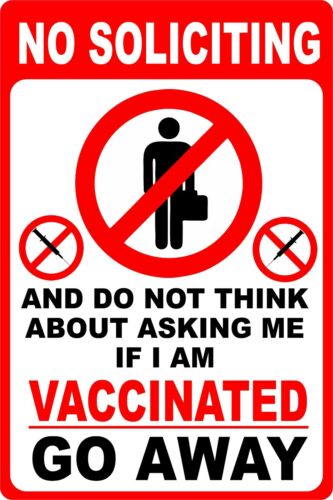 29. All these things will happen if you decide to solicit at this home: an angry homeowner, an angry dog, and a bad situation!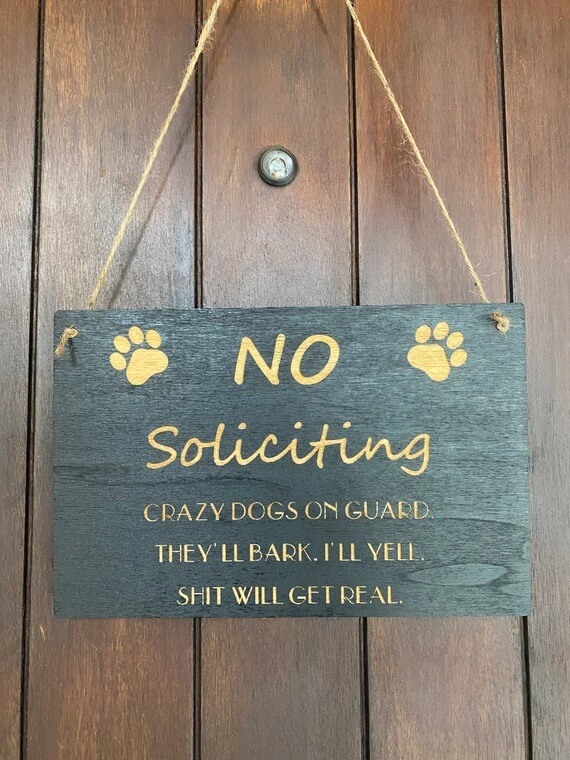 30. Unless the house is on fire, there is a package for delivery, or the homeowner has won the lottery, then you as a solicitor better not ring that doorbell!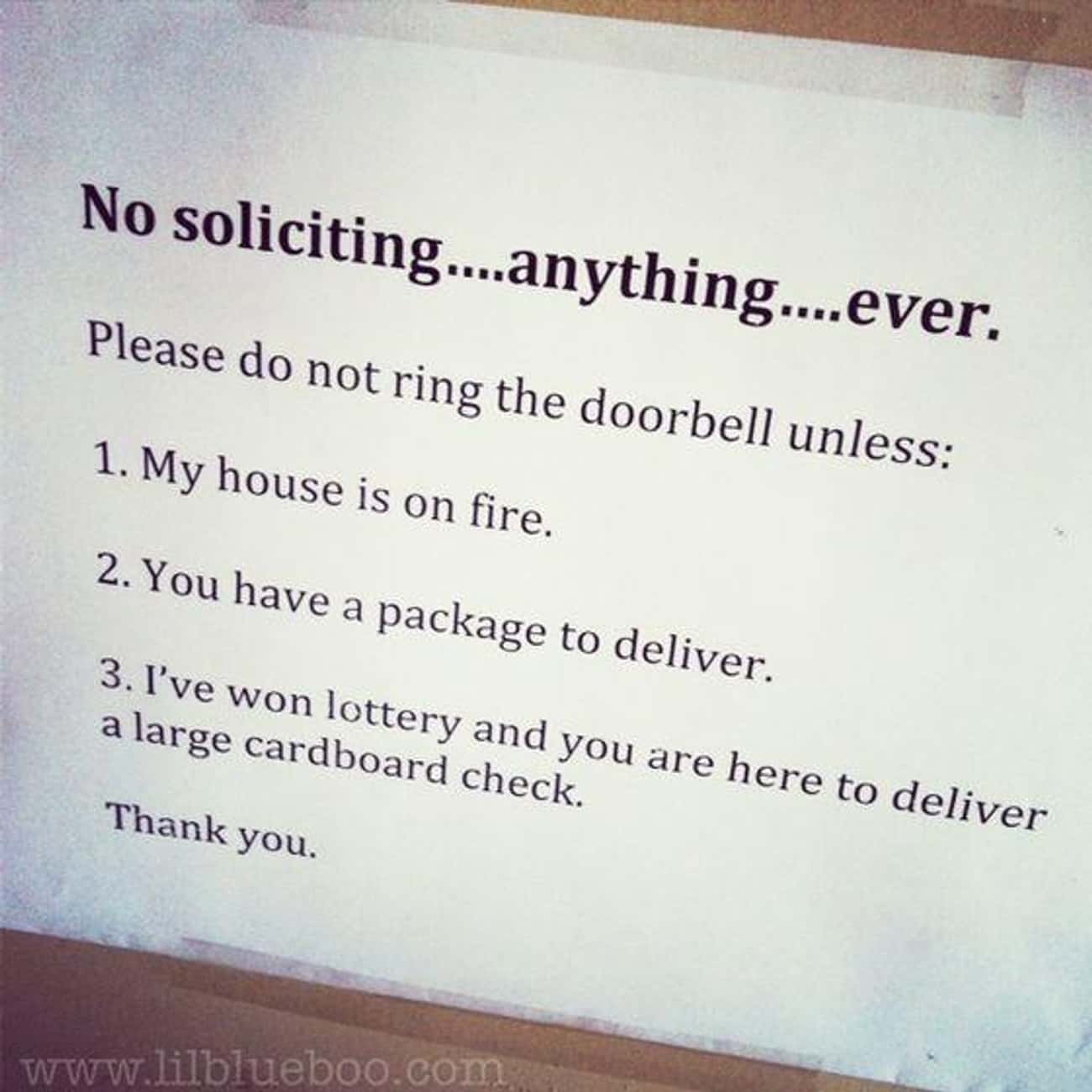 31. This sign is a subtle way of saying "Please don't knock… or else."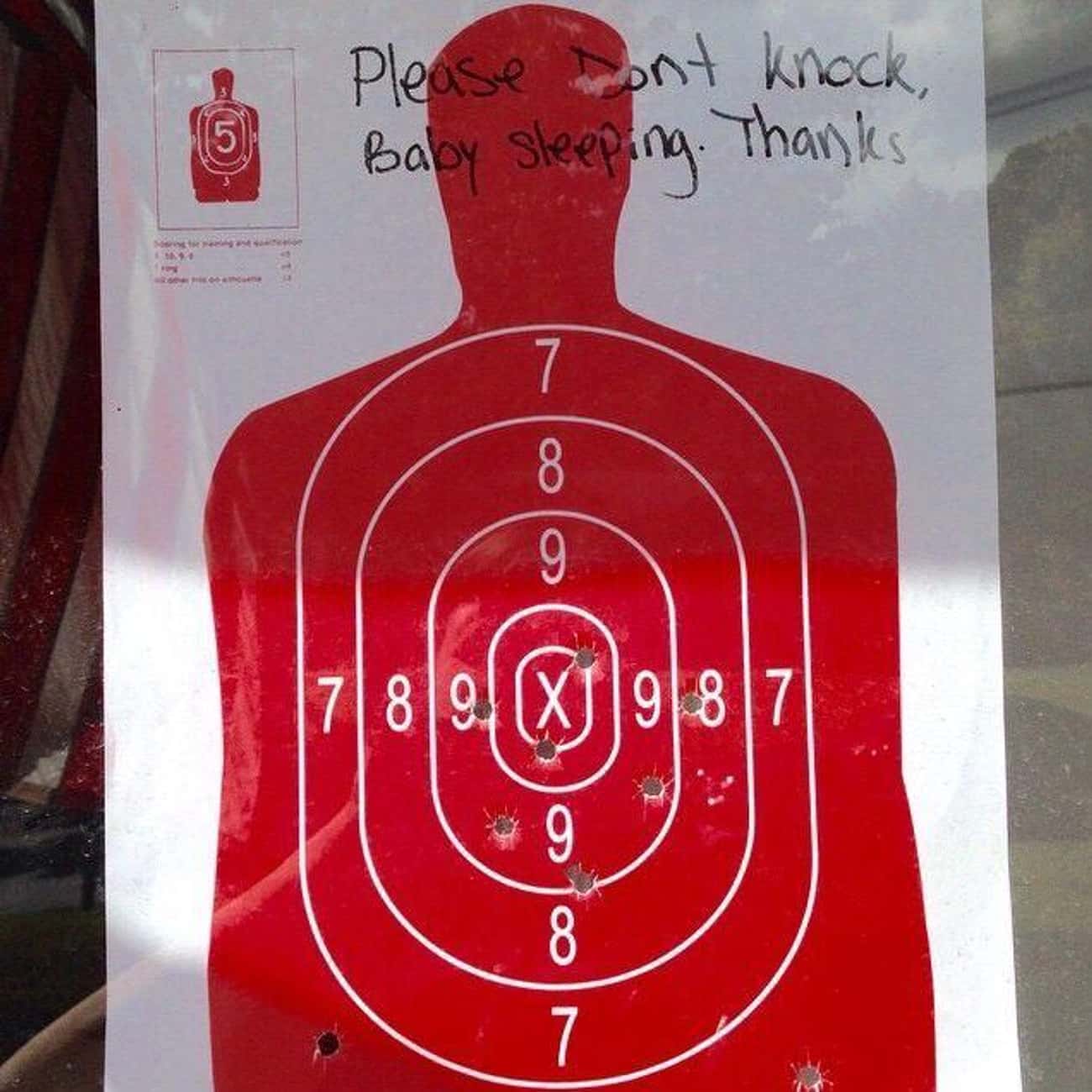 What is soliciting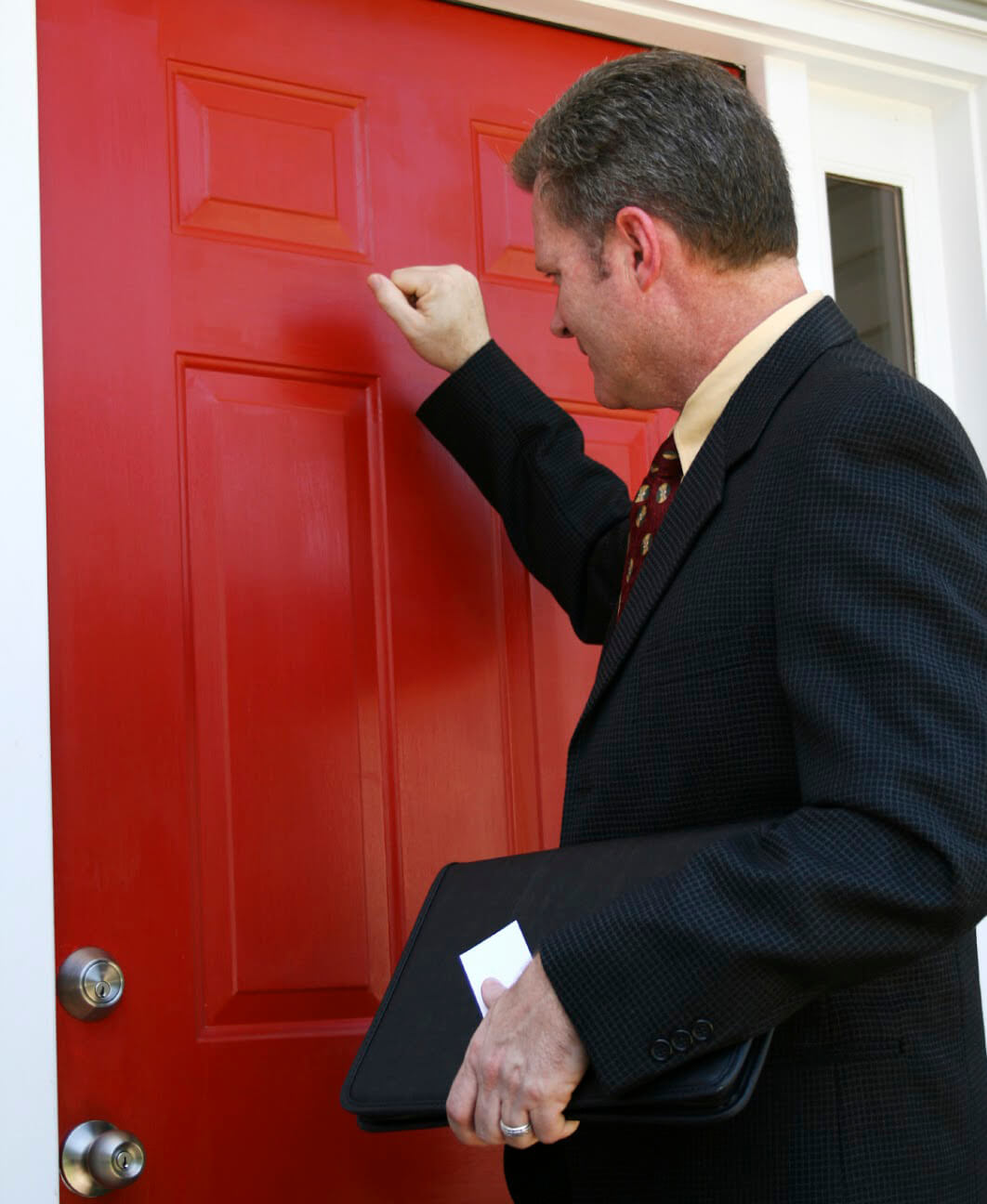 Soliciting is basically asking or trying to get something from someone. Sometimes you'll see this in movies as door-to-door salesmen trying to sell homeowners something or people from religious groups attempting to spread the word.
Solicitors usually sell tangible goods or services, whether it's stuff that's actually useful or other gimmicky products. They can also sell intangible things, such as insurance policies or services like lawn clean-up. 
The thing is, not everybody wants to deal with these solicitors. And unfortunately, homeowners are very attractive communities for a lot of commercial, religious, and even political solicitors. There are even laws in different places regarding soliciting, whether it's none at all or some that are allowed.
Solicitors may be welcome in some homes, but it seems that the majority of homeowners just want their privacy to be respected – and who can blame them?
If you're still looking for a good laugh, check out this list of hilarious business signs and this list of funny out of order signs to keep you going.