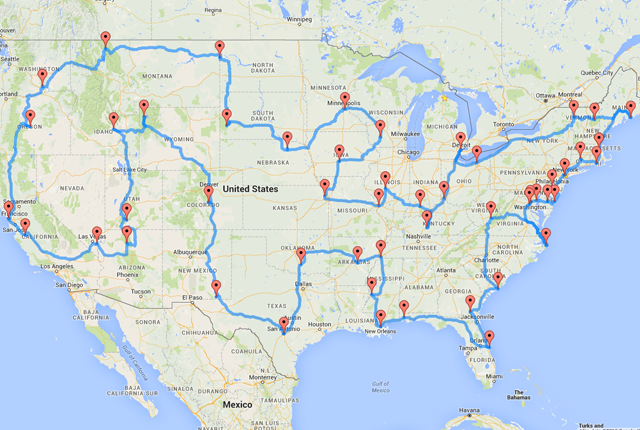 This map shows an optimum road trip in the U.S and while at first glance it looks a little bit weird and hard to get, don't scratch your head just yet. Obviously a " perfect " road trip is very depending on your personal preference and how long you want to spend your time driving. But this is a really good route to chose.
Discovery News staffer Tracy Staedter decided to bite this test and see what she gets, with the Michigan State University doctoral student, Randy Olson and the man behind the Where's Waldo algorithm they started to form this ultimate U.S road trip. The rules of the challenge will be: It had to touch all of the 48 continental states, and every stop along the way must be on National Natural Landmark, a National Historic Site, a National Park, or a National Monument, and of course, the entire route had to be confined to car travel and within U.S. borders.
The list begins with the Grand Canyon, but you can technically start anywhere as long as you stay in sequence after that starting point. Staedter assumes that it would take around nine days to drive it through, but in a more rational view, it will take a two to three months to complete this trip.
Check out Olson's blog for more in-depth info on how he created the algorithm for this route. But after determining the stops,the main goal of the algorithm was to discover the shortest distance between points.
Olson wrote to Staedter: "Instead of exhaustively looking at every possible solution, genetic algorithms start with a handful of random solutions and continually tinker with these solutions, always trying something slightly different from the current solution and keeping the best one, until they can't find a better solution any more."
The route has one stop in Washington D.C and two stops in California, the result is a 50 stops road trip that takes you through the heart of American culture.
Here are the points:
1. Grand Canyon, AZ
2. Bryce Canyon National Park, UT
3. Craters of the Moon, ID
4. Yellowstone National Park, WY
5. Pikes Peak, CO
6. Carlsbad Caverns National Park, NM
7. The Alamo, TX
8. The Platt Historic District, OK
9. Toltec Mounds, AR
10. Elvis Presley's Graceland, TN
11. Vicksburg National Military Park, MS
12. French Quarter, LA
13. USS Alabama, AL
14. Cape Canaveral Air Force Station, FL
15. Okefenokee Swamp Park, GA
16. Fort Sumter National Monument, SC
17. Lost World Caverns, WV
18. Wright Brothers National Memorial Visitor Center, NC
19. Mount Vernon, VA
20. White House, Washington, D.C.
21. Colonial Annapolis Historic District, MD
22. New Castle Historic District, DE
23. Cape May Historic District, NJ
24. Liberty Bell, PA
25. Statue of Liberty, NY
26. The Mark Twain House & Museum, CT
27. The Breakers, RI
28. USS Constitution, MA
29. Acadia National Park, ME
30. Mount Washington Hotel, NH
31. Shelburne Farms, VT
32. Fox Theater, MI
33. Spring Grove Cemetery, OH
34. Mammoth Cave National Park, KY
35. West Baden Springs Hotel, IN
36. Abraham Lincoln's Home, IL
37. Gateway Arch, MO
38. C. W. Parker Carousel Museum, KS
39. Terrace Hill Governor's Mansion, IA
40. Taliesin, WI
41. Fort Snelling, MN
42. Ashfall Fossil Bed, NE
43. Mount Rushmore, SD
44. Fort Union Trading Post, ND
45. Glacier National Park, MT
46. Hanford Site, WA
47. Columbia River Highway, OR
48. San Francisco Cable Cars, CA
49. San Andreas Fault, CA
50. Hoover Dam, NV
See the full interactive map here and for the love of god, just hit the road!
Source: Mentalfloss