Well, that settles it, Oprah Winfrey is running for office in 2020. Not really, but you would think that too after hearing her awesome speech at the Golden Globes, she received the prestigious Cecil B. DeMille award and when she took the stage, she gave the most heartfelt and inspirational speech aiming for women and young girls specifically, leaving us all in awe and thinking like " Damn, she would make a great president! "
The Cecil B. DeMille award is given every year to a person in the entertainment industry who had a significant impact and outstanding contributions on the world of entertainment. It was first introduced in 1952 by the Hollywood Foreign Press Association and the first person to recieve the award was director Cecil B. DeMille.
Oprah Winfrey is the first African-American woman to receive this prestigious award and she took the honor and opportunity to convey a powerful message to young girls everywhere, and it was incredible. Oprah started the speech by saying this award was a personal achievement for her as she was too a young girl watching the ceremony on TV and seeing the first black man honored on stage ( Sidney Poitier ) dreaming big for her future and wishing she will once be on that stage too.
Fast forward some 54 years and there she was, remembering that same girl and taking the opportunity to speak directly to other girls who are watching her receiving the award and saying you can do this too. She then continued and talked about the current issues of women in the entertainment businesses and how powerful men take advantage of their power by abusing and using girls and women who only try to chase their own dream in a harsh industry. The most powerful part was when she said " Their time is UP!
" I want all the girls watching here now to know that a new day is on the horizon! And when that new day finally dawns, it will be because of a lot of magnificent women, many of whom are right here in this room tonight, and some pretty phenomenal men, are fighting hard to make sure they become the leaders who take us to the time when nobody ever has to say 'Me too' again. "
The internet community could not ignore the powerful speech Oprah gave and started declaring her for presidency before she even announced anything. Many celebrities and other people wrote on Twitter and other social media saying she needs to run: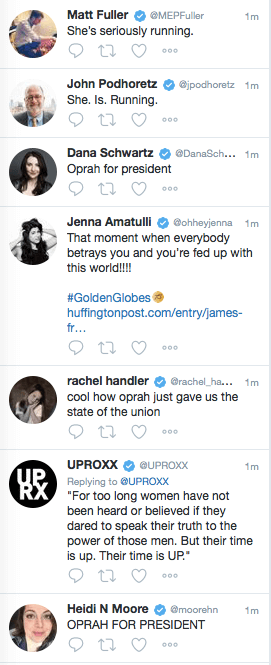 [the_ad id="71924″]
Here are more tweets from people who desperately want her to run
— Marc (@MarcSnetiker) January 8, 2018
We love this tweet showing Dwayne johnson looking at Oprah as she speaks and you can literaly see he's thinking about joining her on the ticket LOL
When Oprah is speaking at the Golden Globes and your goals shift to VP… pic.twitter.com/3ghEVMmCwF

— Joy Reid (@JoyAnnReid) January 8, 2018
https://twitter.com/donaldglover/status/950203300367933440
Would you vote for her? It's going to be an intersting 3 years