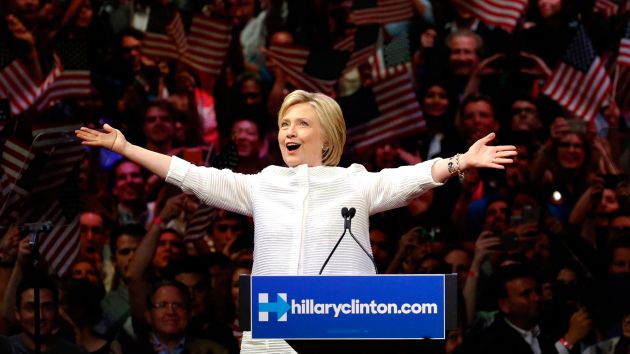 She's done it! Hillary Clinton has made history by becoming the first woman to become a presidential nominee. Thirty minutes before the polls closed in California, Hillary already gave a victory speech in Brooklyn. At that time Clinton had a total of 2,383 delegates after winning the Democratic primary in New Jersey and officials securing her spot as the democratic presidential nominee. History is made!
See her new Twitter profile picture:
Tonight, we can say with pride that, in America, there is no barrier too great and no ceiling too high to break. pic.twitter.com/7vbGPJe543

— Hillary Clinton (@HillaryClinton) June 8, 2016
The question on everyone's mind on Tuesday night was not if Clinton will win, but if Sanders would cut his losses or try to stay on until July when the Democratic Convention in Philadelphia is happening.
Meanwhile, Clinton already started her presidential campaign by digging into the competition Donald Trump " Donald Trump is temperamentally unfit to be president and commander in chief," she said
Watch Clinton victory speech below:
https://www.youtube.com/watch?v=E-PzhOqo2BM
source: motherjones