"Hey, you! Yes, you! Pay attention to the traffic signals! If you don't want to do that, you'll get wet. Sounds good? Just try it!". This is what pedestrian crossings metaphorically say to you in China's Hubei province. They've recently installed five bright yellow posts in one of the city's busiest intersection.
If a pedestrian does not listen to traffic lights and want to cross the street on red, these yellow, apparently cute posts will spray him with water.
The pylons have speakers also. They inform pedestrians if it's ok to cross the street. If the light is red it also says "Please don't go through. You will be sprayed with water". So, you won't just find yourself wet with no clue why. You are also warned. If you do not want to listen, motion sensors detect you are attempting to cross the street and blast you with a mist of water.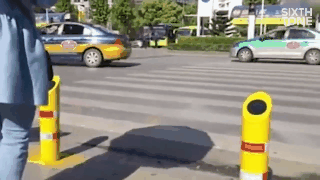 The posts also have some little traffic lights that turn green when you are allowed to cross the street and red when you have to wait.
"To avoid the laser hurting children's eyes, we reduced the height from 1.2 meters to 0.8 meters", said Wan Xinjiang, deputy head of publicity for the Daye public security bureau.
And this is not everything. These pedestrian monitors also come with some facial recognition technology that can identify the jaywalkers. The posts take pictures of the people who cross the street on red light and send them to the police database. This is not everything these yellow, little evil structures do. Once they've taken your picture, it will also be displayed on a massive screen across the intersection so that you will feel ashamed you crossed the street when it was a red light.
This is a pilot project that cost over $200,000. Apparently, it had success so far as it kept people from crossing the street on red light. Is it the future? Do we need these kind of yellow posts to make us respect traffic lights? Can't we just respect them as it is for our own good?
via: gizmodo