Have you seen this awesome video yet of a water bucket with a camera inside filming animals drinking? Well, it's been circling the internet for the past week or so and it's adorable as it gets! A clever guy named John Wells first uploaded this video online, he's from Southwest Texas The Field Lab which is an alternative energy and sustainable living field laboratory and you can see from the video some pretty cool desert animals coming for a drink. You can see bees, chickens and even a donkey.
" I was pleasantly surprised during the edit to see that George the rabbit made an appearance. I know him from all the other rabbits because of the tiny notch in his ear. The swimming bees were rescued by the way so no worries. "
John Wells decided to move from the big city life of New York to the middle of nowhere and bought an off the grid lifestyle. Besides this cute water of bucket video, John is already known in his niche as the guy who managed to built a modern house that runs on solar power and composting for just $1600. Now you might think living so far out in to the desert is boring or lonely, but just looking at this video you quickly realise that John is never really alone.
Here's some chickens drinking from the water bucket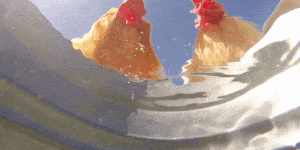 George the rabbit ladies and gents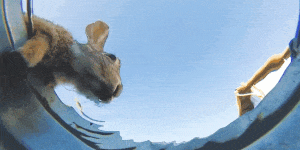 This video is a clever idea and the results don't disappoint. Share this bucket of water animals video with your friends.
More info: The Field Lab | YouTube