Dolly Parton had just turned 74 this year and she had triggered a whole Social Media frenzy. On Tuesday, she has posted a collage of four different pictures of herself with the caption: "Get you a woman who can do it all 🙂 ". The collage was formed of 4 pictures of the singer, songwriter and actress taken throughout the years, in which she looks completely different. One was labeled as a profile picture for Linkedin, one for Facebook and the last two for Instagram respectively Tinder.

In these pictures, she's both classy and casual, both fashionable and Playboy-hot. The world went crazy and now the Internet is swarmed with hilarious memes inspired by Dolly Parton. This is how the #DollyPartonChallenge happened and tons of other celebrities contributed to making this trend huge.
The country singer and actor might have triggered the biggest meme trend of 2020. It's true, we're only at the beginning of it, but who knows? Celebrities like Ellen DeGeneres, Mark Ruffalo, Jimmy Kimmel, Miley Cyrus or Viola Davis has posted four photos, each representing another version of themselves and some of them are really hilarious.
The idea is to show that you can also be a professional, but know how to act casual and be trendy for Instagram. As for Tinder, well, you need to show your hot side there as well. Celebrities have taken this challenge seriously and their posts are ridiculously funny. You should check them out, maybe make your own #DollyPartonChallenge.
The #DollyPartonChallenge also had a precursor
What you should know is that this kind of memes first surfaced in June 2016 on Twitter. Still, it was all a little bit scattered, people would post different pictures of themselves, with the caption: "me on Linkedin vs me on Facebook" or "me on Instagram vs me on Snapchat". Still, it didn't have the same effect as with Dolly Parton.
Dolly Parton is still an icon and celebrities were quick to follow in her footsteps, thus rolling the snowball. Now, the whole of Social Media is laughing and reproducing this kind of pictures and you've got to love it. When Ellen DeGeneres is posting something on her Instagram, it can instantly get up to 1.3 million likes in a day, so this explains why the #DollyPartonChallenge which might not look that original, got this huge so quickly.
The fun thing is that the country singer Dolly Parton created this huge Social Media trend on the same day she wrote the timeless classics "Jolene" and " I Will Always Love You". This shows the entertainer is still at the top of her game and can change her style and adapt to the times as well as her Linkedin / Facebook / Instagram/ Tinder memes show.
1. Who can do the #DolyPartonChallenge better than Doug the Pug?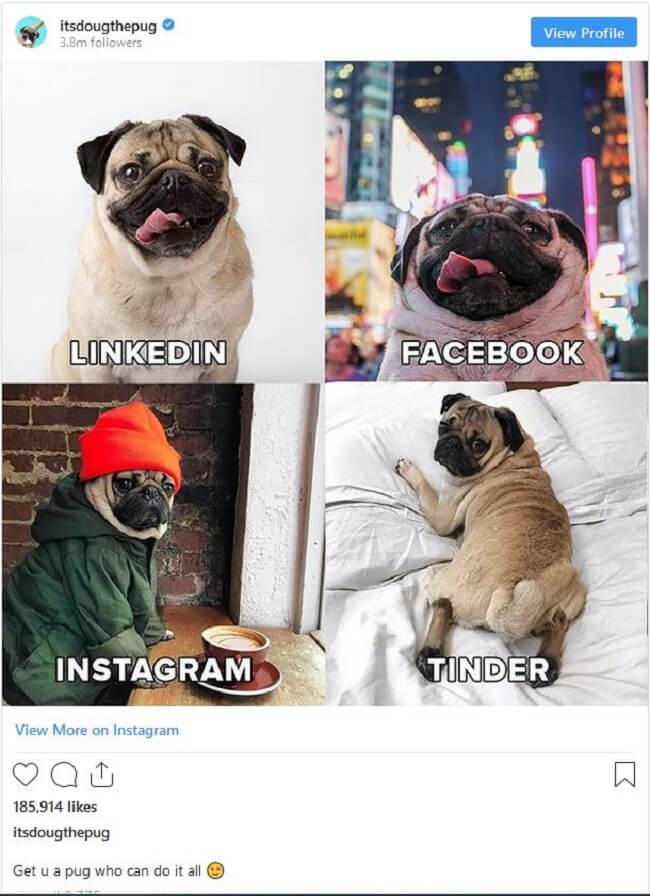 2. Amazon Prime couldn't help it, either and the Fleabag cast was in the spotlight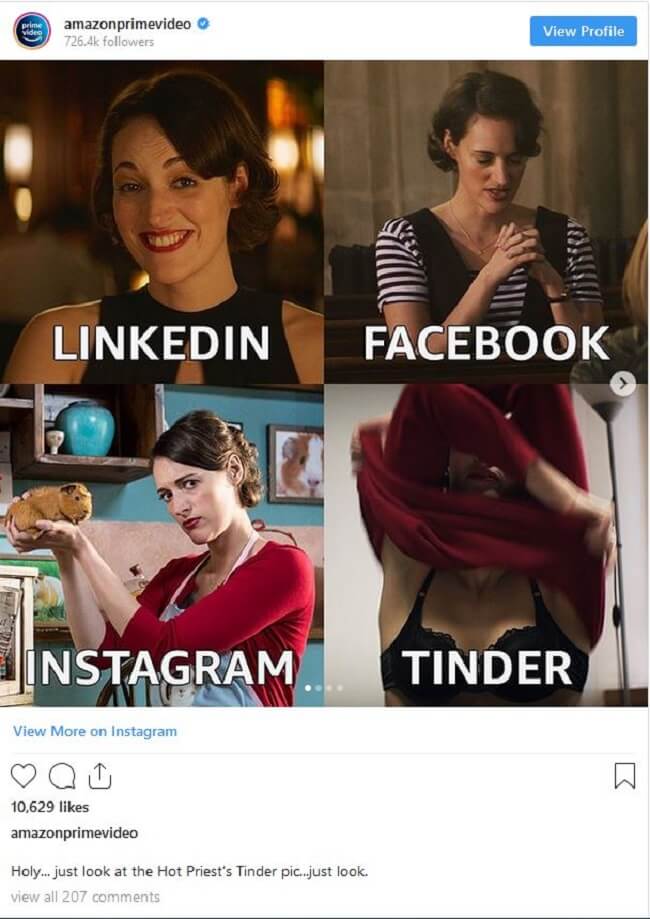 3. The "nice" guy Gordon Ramsay joined the party and he didn't use the word "idiot", not once!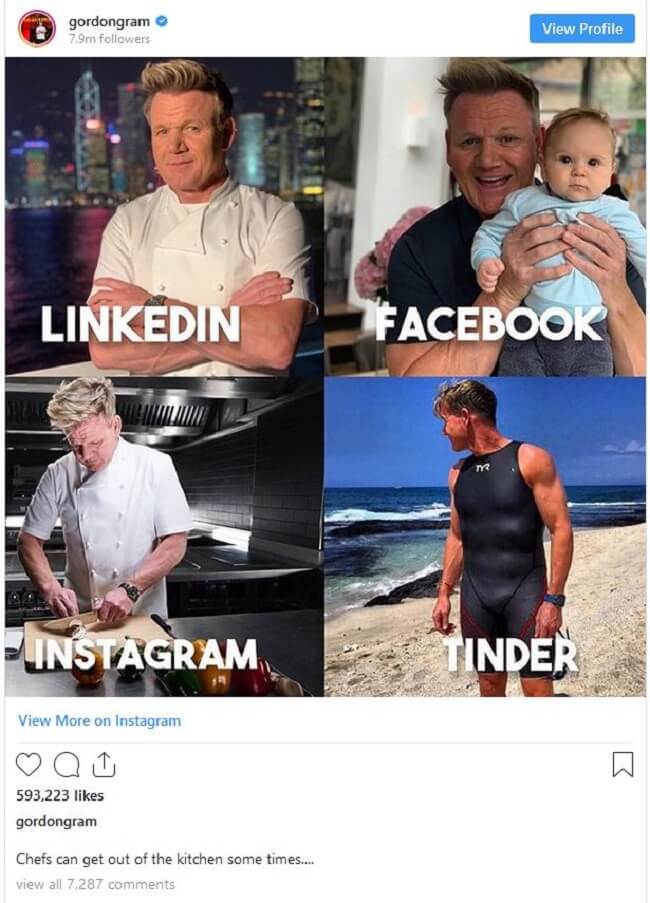 4. We can't help but stare at that Tinder photo…Oh, girl, Janet Jackson…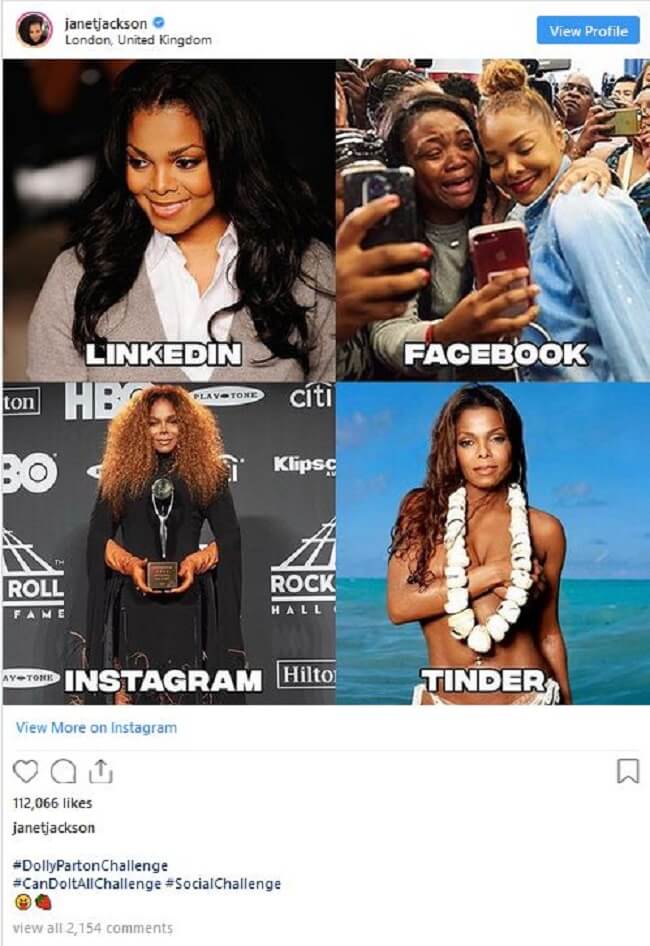 5. The force is strong with this one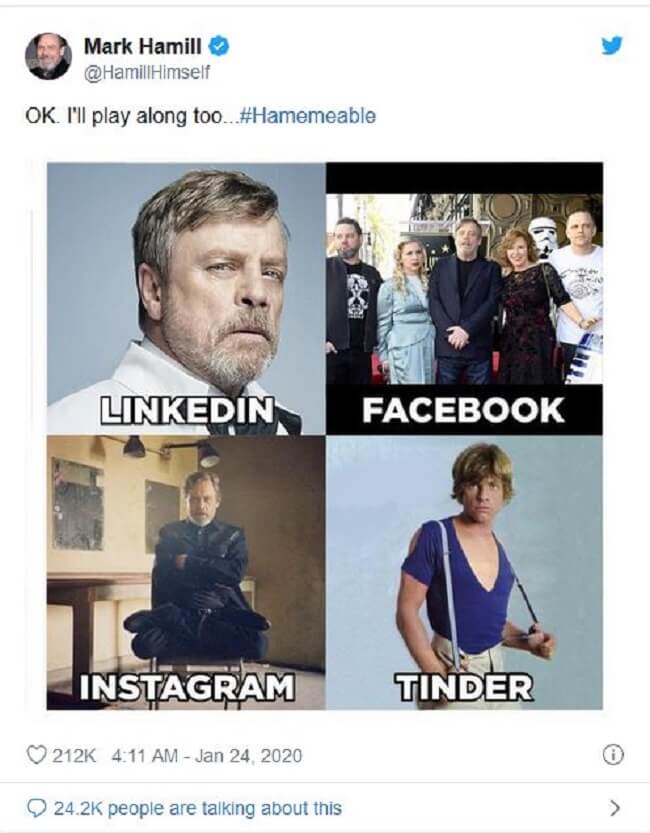 6. Mindy Kaling and her eenie, meenie, miney, mo
For Linkedin, she chose a picture from "The Office" and you can't help but remark the caption "The Business Bitch". So, going next, we've got family for Facebook, a lot of clothes for Instagram and a black bodysuit picture for Tinder. Probably my favourite so far…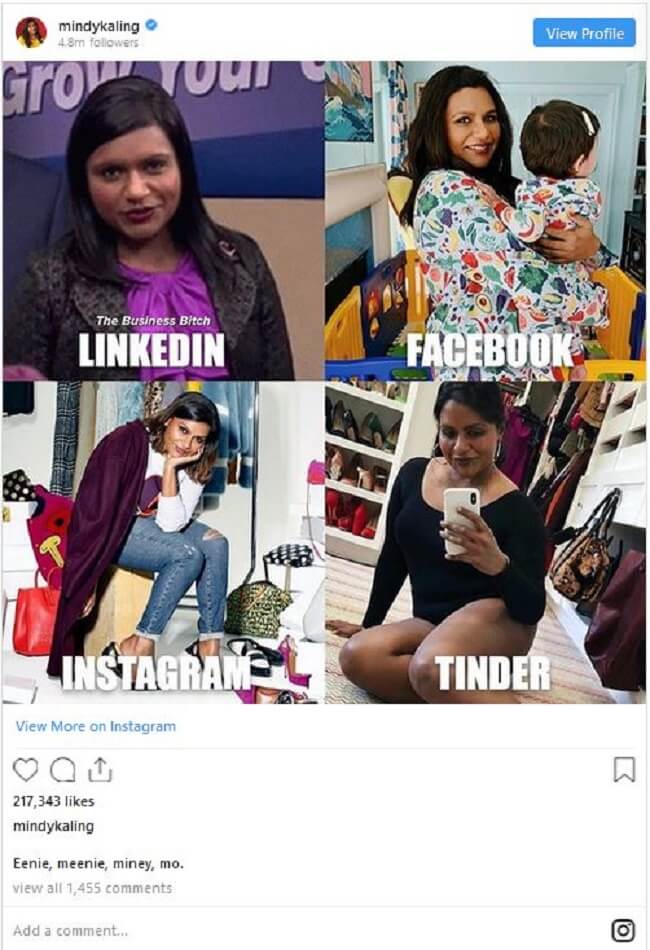 7. If there was social in "The Office"… Let your imagination go wild in this one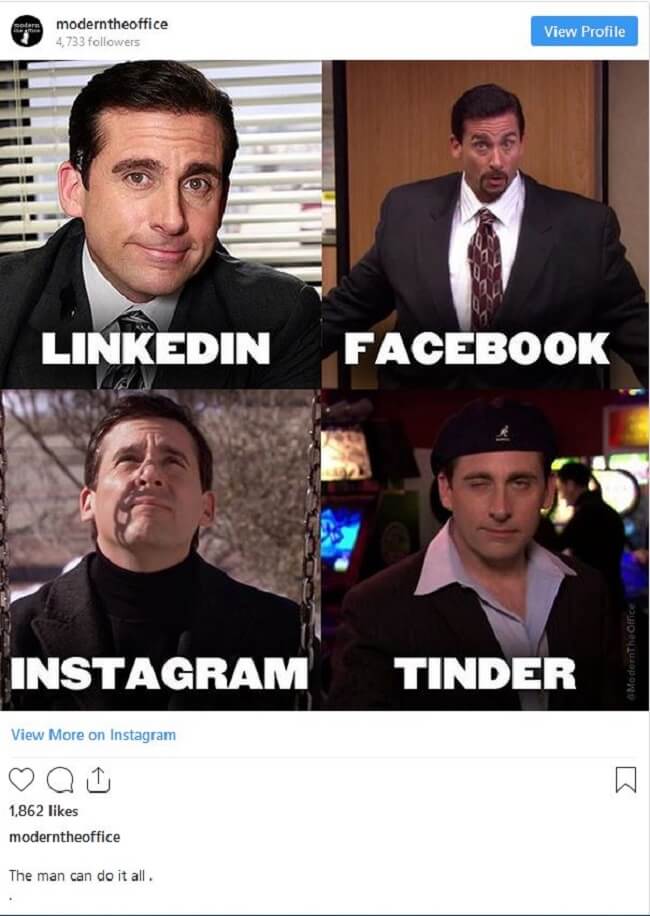 8. If Conan O'Brien were Dolly Parton…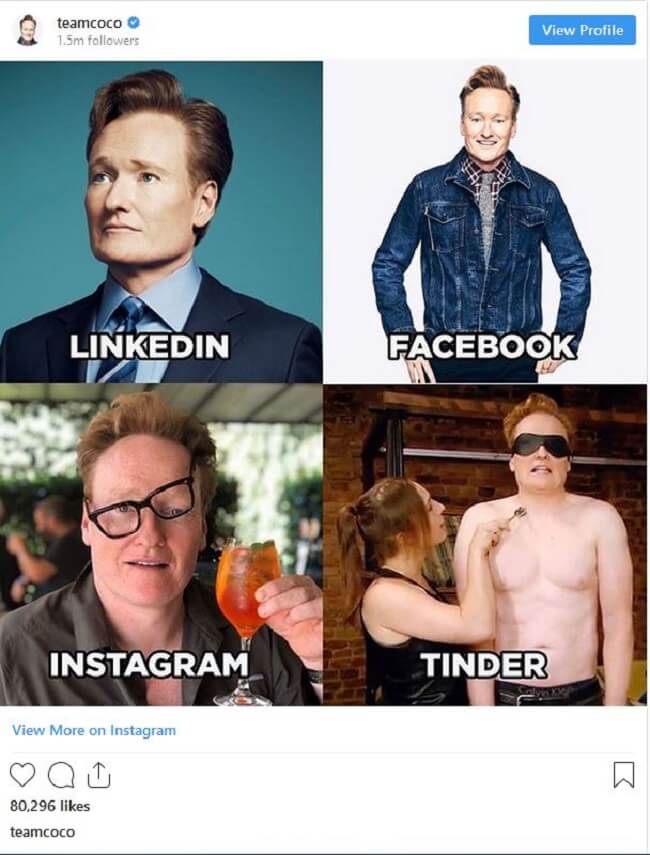 9. Andy Cohen looks like he knows how to handle Social Media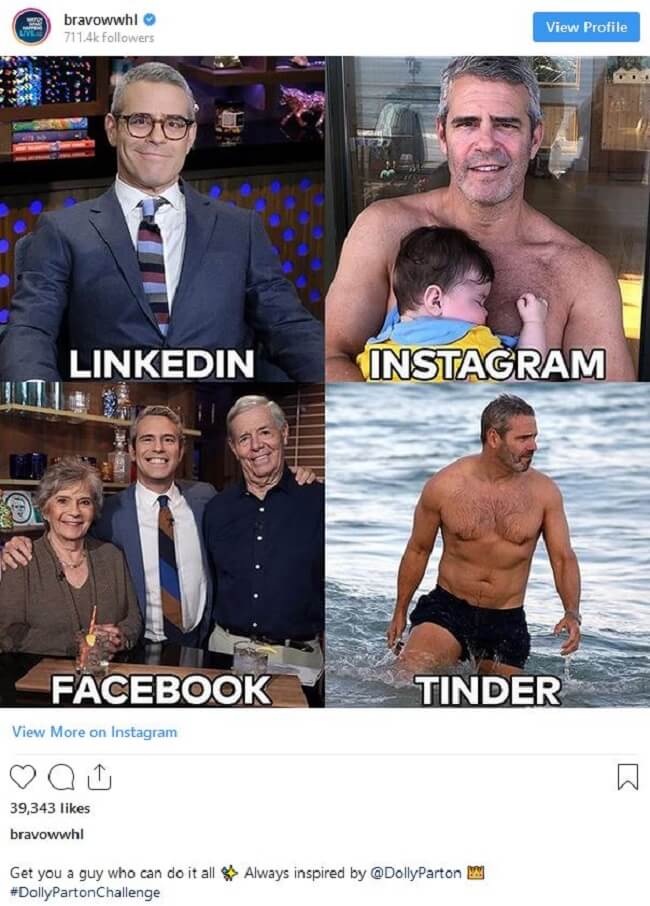 10. Colton Underwood is a guy of many talents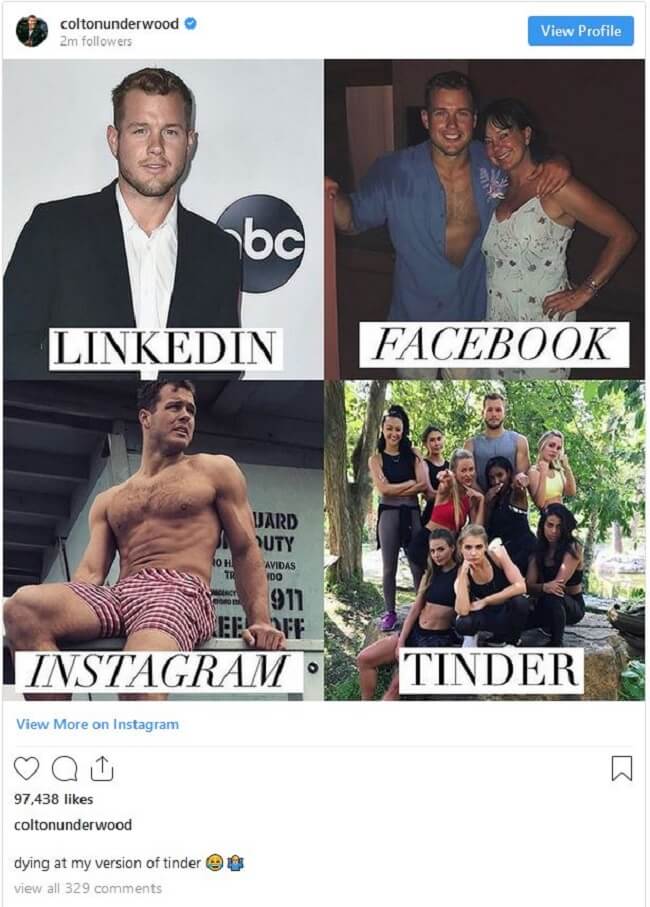 11. James Cordon tried his hand at the #DollyPartonChallenge as well. What do you think?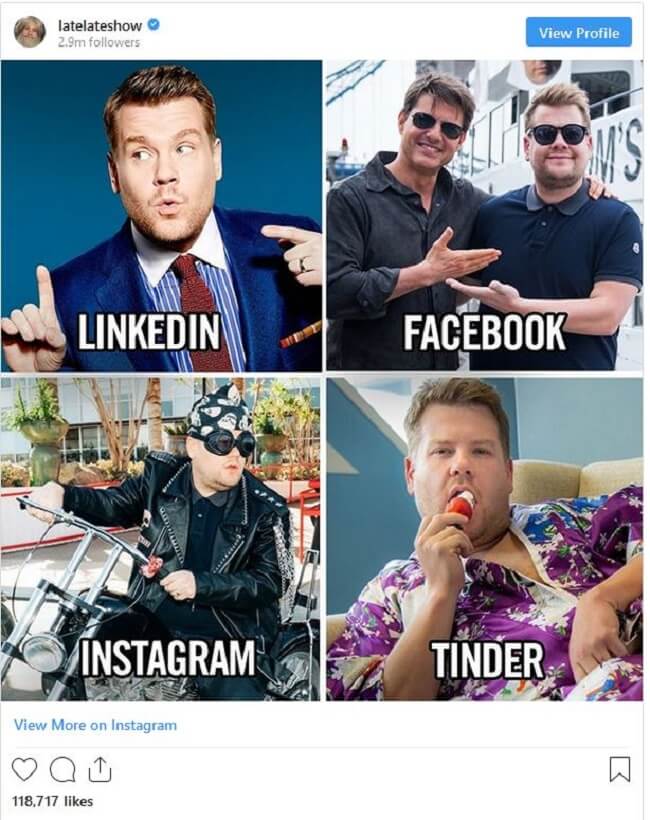 12. Would you swipe right on that Tinder pic?
Former Bachelorette contestant Tyler Cameron said he would definitely swipe that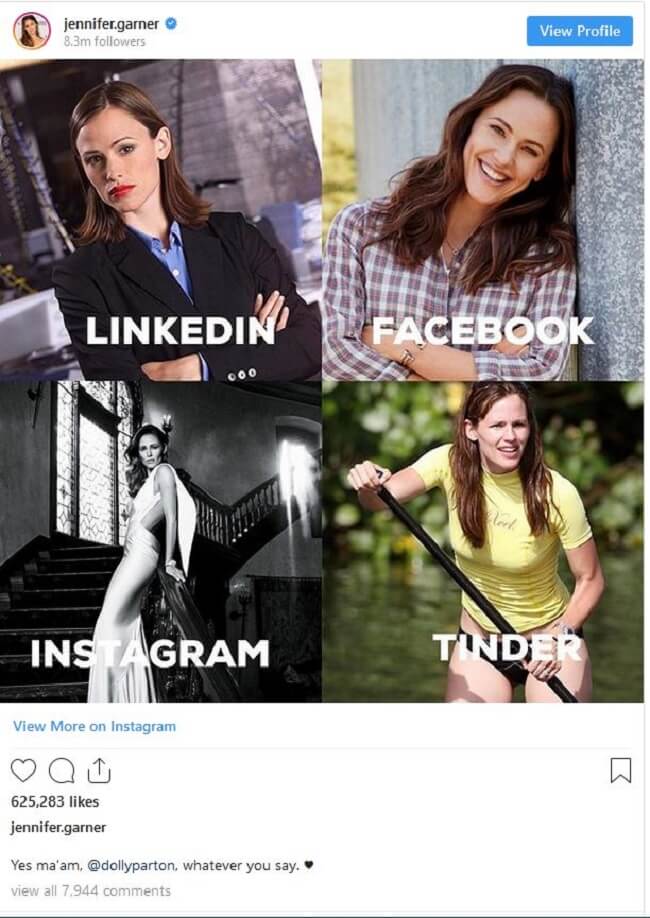 13. Jimmy Kimmel might have been a good Tinder match, wouldn't you think so?
14. That Tinder and Instagram pic…You rock, Kerry Washington!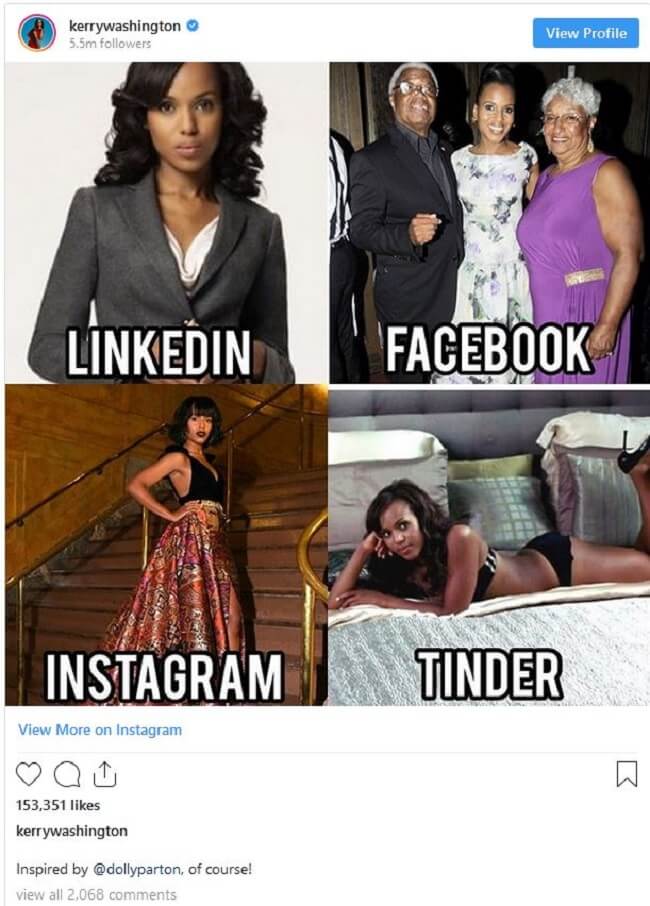 15. Mark Ruffalo is a smart guy. He used his entire Avengers gang to sport one of the best Instagram pics out there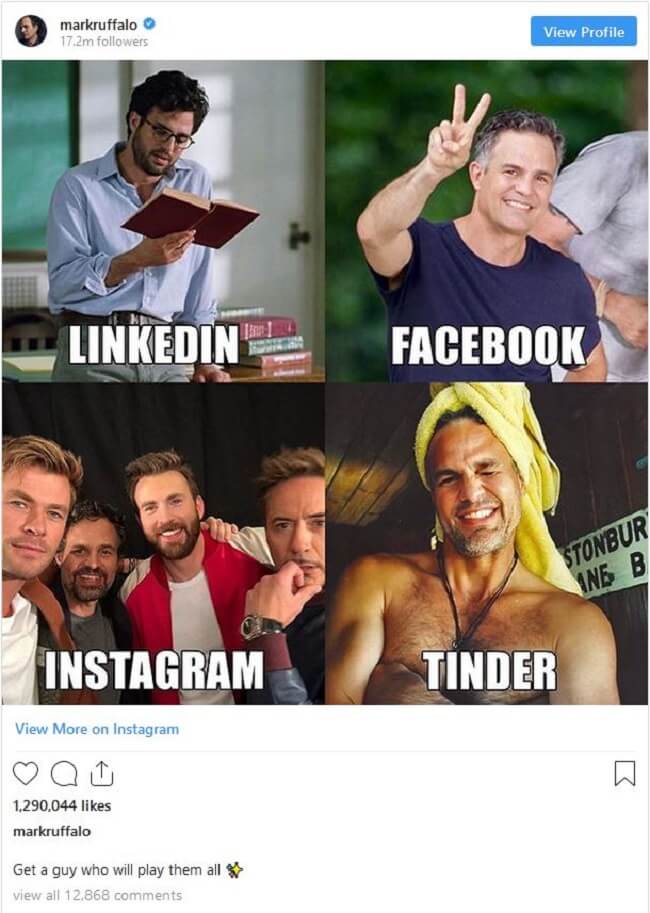 16. Miley Cyrus looks more like a Tinder kind of girl. I wonder why…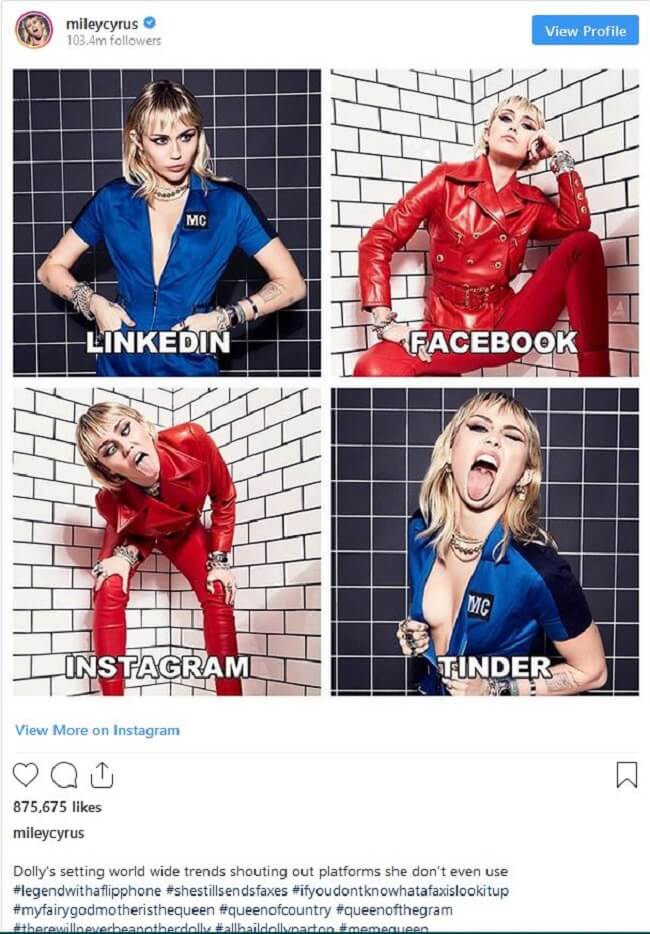 17. Oh, damn! Swipe right on Nick Viall now, please!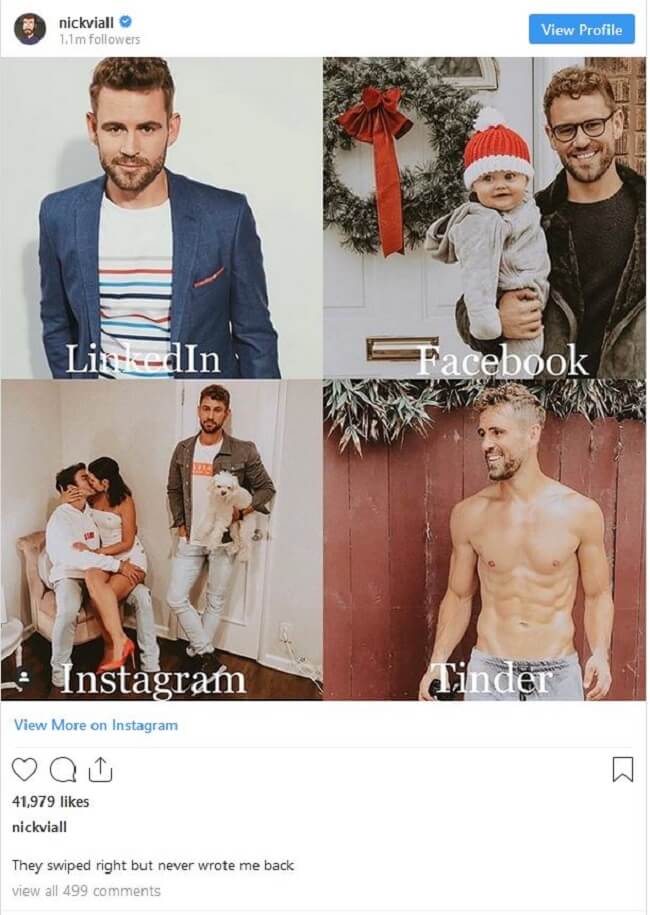 18. I just love Ellen's sense of humour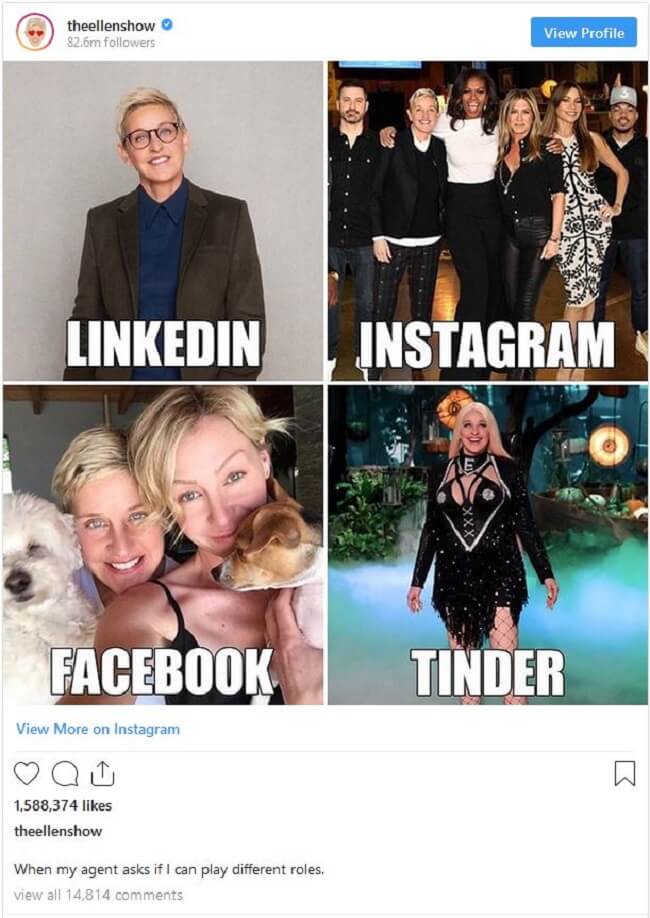 19. Viola Davis knows how to handle a Social Media challenge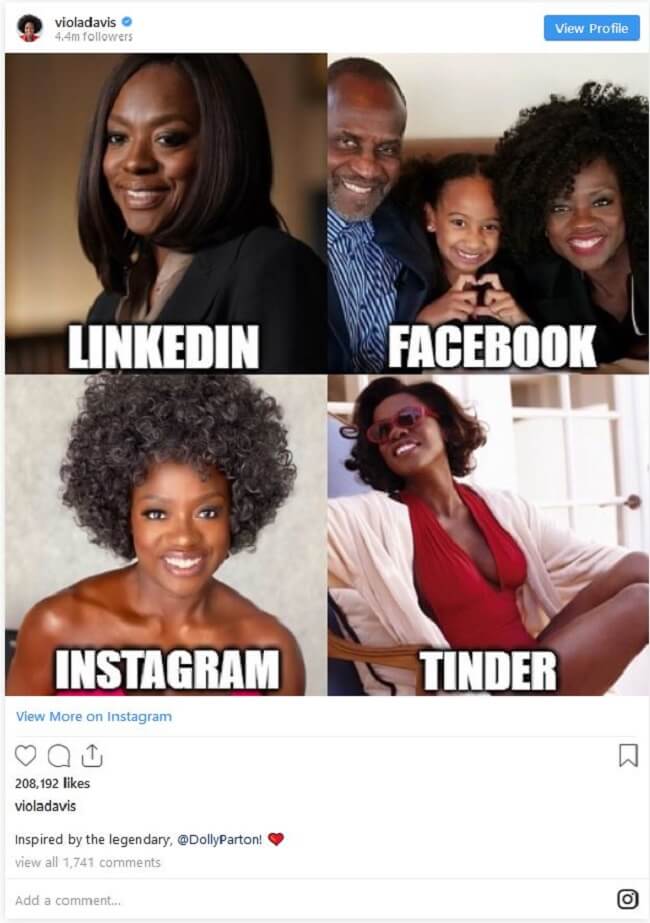 20. Will Smith's Tinder looks so '90sish…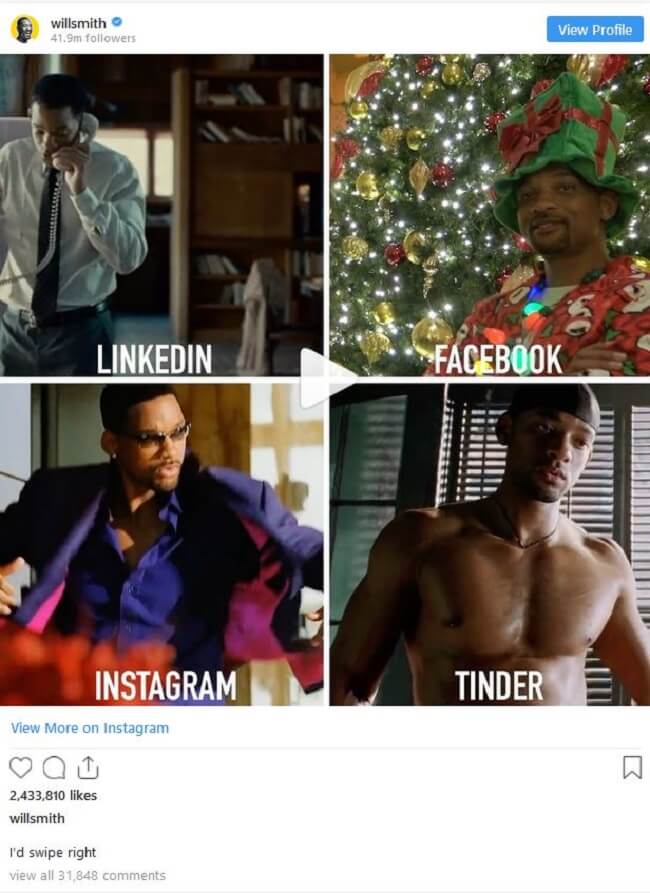 Via Elite Daily / Harpers Bazaar / Know your meme